NEW | Excavators - 301.7D CR
*The model image shown is for demonstration purposes only. Contact dealer for complete unit details.
Listing Details
Description
Model:
301.7D CR
Product Family:
Excavators
Manufacturer:
CAT
Year:
2017
Serial Number:
0LJ801151
Location:
KONA, HAWAII
Unit Number:
H15842
Machine Spec Detail
General Machine Specifications
The new Cat® 301.7D CR gives you a blend of power, control and stability to make your working day easier and more productive.
Engine
Engine Model
Yanmar 3TNV76
Net Power
17.7 HP
Displacement
40 in³
Gross Power - ISO 14396
24.3 HP
Rated Net Power - 2,200 rpm - ISO 9249
17.7 HP
Weights
Operating Weight
3726 lb
Operating Weight - With Canopy
3726 lb
Transport Weight - With Canopy
3550 lb
Travel System
Gradeability
30°/58%
Travel Speed
2.8 km/h-5.6 km/h (1.74 mph-3.48 mph)
Hydraulic System
Operating Pressure - Equipment
3481 psi
Operating Pressure - Travel
3481 psi
Operating Pressure - Swing
2610 psi
Auxiliary Circuits - Primary and Secondary - Maximum Flow
9 gal/min
Auxiliary Circuits - Primary and Secondary - Maximum Pressure
3335 psi
Maximum Bucket Force
3190 lb
Maximum Stick Force - Long Stick
1640 lb
Maximum Stick Force - Standard Stick
1890 lb
Pump Flow at 2,200 rpm
10.5 gal/min
Blade
Height
9 in
Dig Depth
15 in
Lift Height
11 in
Width
990 mm/1300 mm (3 ft 3 in/4 ft 3 in)
Service Refill Capacities
Fuel Tank Capacity
5 gal (US)
Hydraulic Tank Capacity
5.3 gal (US)
Dimensions (Approximate) - Standard Stick
Boom Swing Angle - LH
65°
Boom Swing Angle - RH
57°
Height
7.75 ft
Length - Undercarriage - Extending
5.27 ft
Maximum Boom Offset - LH
1.37 ft
Maximum Boom Offset - RH
1.75 ft
Maximum Dig Height
11.27 ft
Maximum Digging Depth
7.61 ft
Maximum Dozer Dig Depth
1.28 ft
Maximum Dozer Lift Height
11 in
Maximum Dump Height
8 ft
Maximum Reach - Ground Level
12.6 ft
Maximum Vertical Dig Depth
5.18 ft
Tail Swing Radius
660 mm/722 mm (2'1"/2'4")
Transport Length - Arm Lowered
11.76 ft
Undercarriage Width - Extended
4.27 ft
Undercarriage Width - Retracted
3.25 ft
Width
2.4 ft
Dimensions (Approximate) - Long Stick
Boom Swing Angle - LH
65°
Boom Swing Angle - RH
57°
Height
7.75 ft
Length - Undercarriage - Extending
5.27 ft
Maximum Boom Offset - LH
1.37 ft
Maximum Boom Offset - RH
1.75 ft
Maximum Dig Height
11.64 ft
Maximum Digging Depth
8.14 ft
Maximum Dozer Dig Depth
1.28 ft
Maximum Dozer Lift Height
11 in
Maximum Dump Height
8.38 ft
Maximum Reach - Ground Level
13.11 ft
Maximum Vertical Dig Depth
5.64 ft
Tail Swing Radius
660 mm/722 mm (2'1"/2'4")
Transport Length - Arm Lowered
11.76 ft
Undercarriage Width - Extended
4.27 ft
Undercarriage Width - Retracted
3.25 ft
Width
2.4 ft
Operating Specifications
Counterweight
110 lb
Stick Length - Long
43.2 in
Stick Length - Standard
37.1 in
Engine And Service Access
listofrelationships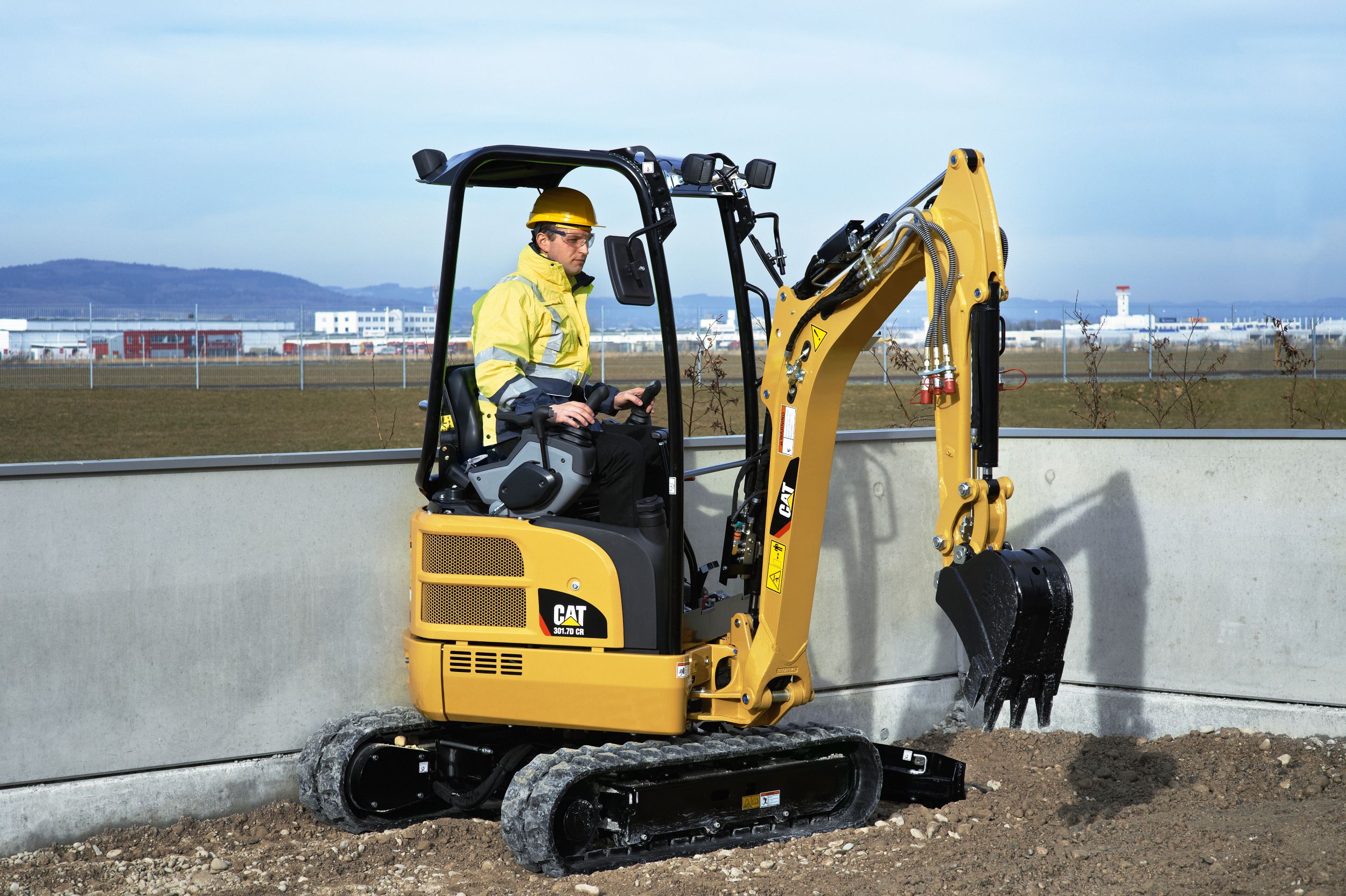 I am interested in this listing