New | 330D MH Material Handler
More powerful engine, improved cooling system, increased hydraulic pressure, and cab riser options lead to increased productivity and lower operating cost.
Engine
Engine Model
CAT® C9 ACERT™
Net Flywheel Power
268.0 hp
Net Power - ISO 9249
268.0 hp
Net Power - SAE J1349
252.0 hp
Net Power - EEC 80/1269
268.0 hp
Bore
4.41 in
Stroke
5.87 in
Displacement
537.0 in3
Engine Manufacturer
Caterpillar
Aspiration
Turbo
Weights
Operating Weight
98386.0 lb
Upper
25975.0 lb
Counterweight
18327.0 lb
Undercarriage (includes carbody)
33625.0 lb
Two-Piece Front (with cylinders)
16003.0 lb
Grapple/Adapter
4456.0 lb
Operating Specifications
Max. Reach
52.5 ft
Cab Riser - Fixed
6.4 ft
Cab Riser - Hydraulic
8.5 ft
Generator Set
26.8 hp
Performance
High Range Max. Travel Speed
3.11 mph
Max. Drawbar Pull
66093.82 lb
Service Refill Capacities
Fuel Tank
163.8 gal
Cooling System
10.6 gal
Engine Oil
10.6 gal
Swing Drive
5.0 gal
Final Drive (each)
2.1 gal
Hydraulic System (including tank)
108.0 gal
Hydraulic Tank
46.0 gal
Hydraulic System
Maximum Flow (each of two pumps)
74.0 gal/min
Max. Pressure Implements
5076.0 psi
Max Pressure - Heavy Lift
5221.0 psi
Max. Pressure Travel
4900.0 psi
Max. Pressure - Swing
4264.0 psi
Pilot System Max. Flow
11.0 gal/min
Pilot System Max. Pressure
566.0 psi
Rotate Circuit for Grapple Max. Flow
13.0 gal/min
Rotate Circuit for Grapple Operating Pressure
2000.0 psi
Generator Auxiliary Pump Max Flow
42.0 gal/min
Generator Auxiliary Pump Max Pressure
2500.0 psi
Drive
Maximum Drawbar Pull
66094.0 lb
Maximum Travel Speed
3.1 mph
Dimensions
Operating Height - to Top of Cab (Fixed)
17.44 ft
Operating Height-to Top of Cab (Hydraulic)
20.19 ft
Operating Height to Top of Cab (Hydraulic Cab - Lowered)
11.67 ft
Shipping Height - Cab Tipped
11.81 ft
Operating Width
12.04 ft
Shipping Length
42.16 ft
Tail Swing Radius
11.43 ft
Ground Clearance
2.36 ft
Counterweight Clearance
4.84 ft
Rear of carrier to end of boom
42.16 ft
Swing Mechanism
Swing Torque
104070.0 lb ft
Swing Speed
10.0 RPM
Track
Track Shoes
24.0 in
Gauge
142.0 in
Shoes (each side)
49
Rollers (each side)
9
Overall Track Length
197.6 in
Special features provide for aggressive performance, reliability, and excellent productivity.
Fixed Riser
CAT® designed and built, 1.95 m (6'5") manual tilt cab riser provides for operating height with excellent visibility for loading and unloading processing equipment, trucks, and rail cars. Access to the cab is provided by a ladder to the platform extending around the cab riser. This platform allows for windshield cleaning. The cab riser can be manually tilted forward 90 degrees for shipping.
Hydraulic Cab Riser
Optional hydraulic cab riser provides up to 2.6 m (8'6") of additional operating height. There is easy access to the cab platform provided by handrails attached to the riser.
Operator Controls
The ability to modulate grapple open-close function is provided on the right side joystick. The rotate function is also modulated by using a slider switch mounted on the joystick.
Cooling System
External debris filters allow easy access for cleaning. This prevents clogging from dirt and dust entering the cooling system. The optional automatic reversing fan purges dirt and dust from the cooling system.
Generator Set
A 20 kW (26.8 hp) hydraulically driven generator set can power magnets up to 1.68 m (66") in diameter.
Caterpillar 330D Material Handler fronts are purpose designed and built for excellent reach, flexibility, and lift performance to meet all requirements of material handling applications.
CAT® Two-Piece Front Linkage
Offers a maximum horizontal reach of 16 m (52'6") from swing center and maximum vertical reach of 16.9 m (55'5"). This front is an excellent match for the 0.96 m3 (1.25 yd3) grapple or a 1.68 m (66") magnet. An optional 14.6 m (47'1") two-piece front linkage has a maximum vertical height of 15.8 m (51'11"). This front is an excellent match for the 1.15 m3 (1.5 yd3) Orange Peel Grapple or the 1.68 m (66") Walker magnet.
Material Handling Booms and Sticks
Designed and built for performance and long service life.
Welded Box-Section Structures
Efficiently designed with thick, multi-plate fabrications in high stress areas, which allows structures to flex, dissipating stress and maximizing strength.
Stress Relieving Booms and Sticks
Maximizes strength and minimizes structure weight.
Dual Stick Cylinders
Provides excellent geometry for working close in to the machine or at full reach.
Heavy Lift
Provides additional lift capacity for handling of heavy, robust objects.
ACERT™ Technology meets U.S. EPA Tier 3 emission regulations, with exceptional performance capabilities and proven reliability.
Engine
Six-cylinder, turbocharged engine built for power, reliability, and economy will allow the machine to consistently perform at high levels. The CAT® C9 engine is designed for low emissions and will meet EPA Tier 3 emissions requirements.
The 330D MH structural components are the backbone of the machine's durability and provide for excellent stability.
High and Square Undercarriage
Provides excellent over-the-side stability required to handle heavy loads and improve productivity. Provides excellent ground clearance required to clear obstacles.
Heavy Duty Upper Frame
The upper frame is specifically designed for the scrap and material handling applications. It is built of higher strength material and thicker steel sections to handle increased swing loads from the longer front and heavier counterweights used in material handling.
A variety of grapples and magnets are available to maximize machine performance in material handling applications.
Walker Magnets
The Walker 1.68 m (66") Lift Master magnet can be used with the 330D MH. These magnets have been designed and engineered for scrap processing applications. Ask your dealer salesperson for information on the Walker Magnet.
Orange Peel Grapples
The 0.96 m3 (1.25 yd3) and the 1.15 m3 (1.5 yd3) Orange Peel Grapples are available attachments.
Work Tool Selection
When choosing a work tool, please consider the work tool application, the variation of the density of material to be handled and productivity requirements. Check with your Cat® dealer for more details on specifications, sizes, and other work tool types.
Simplified service and maintenance features save you time and money. Your CAT® dealer offers a wide range of services that can be set up under a customer support agreement when you purchase your equipment.
Ground Level Service
The design and layout of the 330D MH was made with the service technician in mind. Many service locations are easily accessible at ground level allowing critical maintenance to get done quickly and efficiently.
Pump Compartment
A service door on the right side of the upper structure allows ground-level access to the pump and pilot filter.
Radiator Compartment
The left rear service door allows easy access to the engine radiator, oil cooler, and air-to-air-after-cooler. A reserve tank and drain cock are attached to the radiator for simplified maintenance.
Air Filter Compartment
The air filter features a double-element construction for maximum cleaning efficiency. When the air cleaner plugs, a warning is displayed on the monitor inside the cab.
Capsule Filter
The hydraulic return filter, a capsule filter, is situated outside the hydraulic tank. The filter prevents contaminants from entering the system when hydraulic oil is changed and keeps the operation clean.
Fan Guard
Engine radiator fan is completely enclosed by fine wire mesh, reducing the risk of an accident.
Diagnostic and Monitoring
The 330D MH is equipped with S•O•SSM sampling ports and hydraulic test ports for the hydraulic system, engine oil, and for coolant. A test connection for the CAT® Electronic Technician (CAT® ET) service tool is located in the cab.
Extended Service Interval
The 330D MH service and maintenance intervals have been extended to reduce machine service time and increase machine availability.
CAT® Dealer Maintenance
Choose from your CAT® Dealer's wide range of maintenance services at the time you purchase your machine. Preventive Maintenance will help you to avoid unscheduled repairs and diagnostic programs such as Scheduled Oil Sampling and Technical Analysis are available.
Product Support
You will find nearly all parts at our dealer parts counter. CAT® Dealers utilize a worldwide computer network to find in-stock parts to minimize machine downtime. You can also save money with remanufactured components.
Machine Selection
Make detailed comparisons of the machines you are considering before you buy. What are the job requirements, machine attachments and operating hours? What production is needed? Your CAT® dealer can provide recommendations.
Customer Support Agreements
CAT® Dealers offer a variety of product support agreements, and work with customers to develop a plan that best meets specific needs. These plans can cover the entire machine, including attachments, to help protect the customer's investment.
BOOM
9.2 m (30'2'') MH Boom Includes high pressure twig welded steel tubes
ELECTRICAL
80 ampere alternator
Working lights, cab mounted (two)
Horn
Light, storage box mounted
OPERATOR ENVIRONMENT
Bolt on FOGS capability
Polycarbonate windows except laminated glass in retractable front windshield/tempered glass in removable lower windshield and sliding upper door window
Rear window exit
KAB 84/E4P suspension seat with adjustable armrest and 76 mm (3'') retractable seat belt (cloth)
Monitor
Pop-Up skylight, with sunscreen
Windshield wiper/washers (upper/lower)
Positive filtered ventilation
Bi-level air conditioner with auto climate control heater and defroster
Instrument panel and gauges
Interior lighting
Coat hook
Ashtray with lighter
Literature compartment
Storage compartment suitable for a lunch box
Neutral lever for all controls
Pre-start monitoring system (alert if there is a shortage of hydraulic oil, engine oil, or engine coolant)
Modulated grapple open-close controls using RH joystick
Toggle switch in RH console to switch between magnet and grapple operation
Travel control pedals with removable hand levers
Platform next to cab for improved access
Washable floor mat
Sunscreen on windshield
Beverage holder
AM/FM Radio with two stereo speakers
POWER TRAIN
Cat C-9 Diesel engine with 24V electric starting
Emissions package to meet EPA Tier 3 requirements
Radial seal air filter
Automatic engine speed control with manual return to idle (not functional when hydraulic generator is in operation)
Water separator in fuel line
Power mode selector (2 modes)
Two speed auto-shift travel
Side by side cooling package
Removable external debris filter covering air inlets (Hi-Ambient)
Straight line travel
Muffler
Air precleaner
Block Heater
Electric priming pump
UNDERCARRIAGE
High square carbody
Hydraulic track adjusters
Track type undercarriage with grease lubricated seals
Idler and rear section track guiding guards
600 mm (24") triple grouser shoes (49 sections)
Heavy duty track rollers
OTHER STANDARD EQUIPMENT
Heavy duty upper frame with bottom guards
Door locks, caps locks, and Caterpillar one key security system
Mirrors (frame-right, cab-left)
8330 kg (18,375 lb) Material Handling Counterweight
Automatic swing parking brake
Fine swing control
Travel alarm
Ether and cold weather starting aids
Secondary engine shut off switch
Extra batteries/Heavy duty starter
Cold Start receptacle
Crosshead adapter
Product Link ready
HYDRAULIC SYSTEMS
Fully pressurized hydraulic system
Auxiliary pump and lines to drive generator
Medium pressure auxiliary hydraulic circuit for powering rotating grapples (includes pump, valve with flow control and lines)
High pressure grapple open/close hydraulic circuit, flow control on grapple open and shutoff valves at end of stick
Regeneration circuit for boom and stick
Boom and stick lowering check valve
Heavy Lift Mode
listofrelationships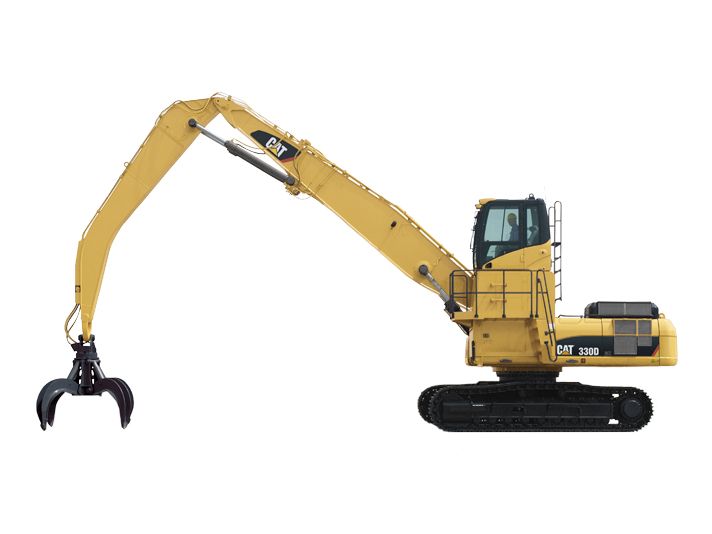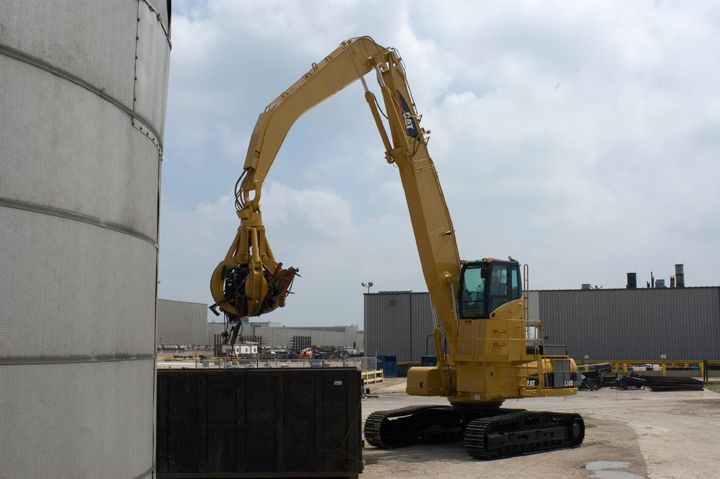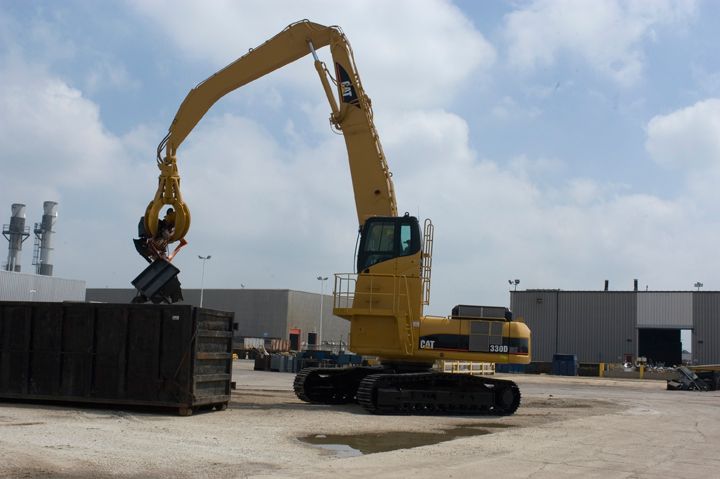 Select Product Category