The Cat® 973D Track Loader is the only track loader in this size class. Furthermore, it leads the industry in operator comfort, performance and versatility. Designed to be productive, this machine will give you complete satisfaction in a wide range of tough applications in the most efficient and productive way. Its design also delivers strength and durability with excellent control and unmatched ease of operation. Discover how much more you can get with this one work force machine ...
Engine
Flywheel Power
263 HP
Engine Model
Cat® C9 ACERT™
Net Power - ISO 9249
263 HP
Net Power - SAE J1349
263 HP
Net Power - EEC 80/1269
263 HP
Bore
4.41 in
Stroke
5.86 in
Displacement
537 in³
Net Power - Cat
263 HP
Undercarriage
Track Shoe Type
Double Grouser, Extreme Service
Track Shoe Width - Standard
21.6 in
Track Shoe Width - Optional
26.6 in
Track Rollers - Each Side
7
Number of Shoes - Each Side
40
Track on Ground
115.3 in
Ground Contact Area - Standard Shoe
4991 in²
Ground Contact Area - Optional Shoe
6138 in²
Ground Pressure - Standard Shoe
12.4 psi
Ground Pressure - Optional Shoe
10.1 psi
Grouser Height - Double Grouser
1.92 in
Track Gauge
85 in
Drive System
Type
Hydrostatic drive with infinite machine speeds up to 11 km/h (6.8 mph)
Drive Pump
Two, variable-displacement, slipper-type axial piston pumps
Track Motor
Two, variable-displacement, bent axis piston motors
Maximum System Pressure
6527 psi
Hydraulic System - Implement
Cycle Time - Dump
1.4 s
Cycle Time - Raise
6.5 s
Float Down
2.7 s
Output - Maximum
91.4 gal/min
Relief Valve Setting
3988 psi
Type
Closed Center Load Sensing
Service Refill Capacities
Fuel Tank
164 gal (US)
Cooling System
11.6 gal (US)
Crankcase - With Filter
7.7 gal (US)
Final Drive - Each
7.5 gal (US)
Hydraulic System - Equipment, Power Train and Tank
89.8 gal (US)
Hydraulic Tank
49.9 gal (US)
Pump Drive Box
1 gal (US)
Pivot Shaft
0.8 gal (US)
Electrical System
Type
24V DC
Battery Capacity
1400 CCA
Battery Voltage
12
Battery Quantity
2
Alternator
95 amp, Heavy-Duty, Brushless
Weights
Operating Weight
61857 lb
Shipping Weight - Without Bucket
55997 lb
Buckets
Capacity - General Purpose
4.2 yd³
Capacity - Multi-Purpose
3.92 yd³
Bucket Width - General Purpose
114.56 in
Bucket Width - Multi-Purpose
112.91 in
Operating Specifications
Maximum Travel Speed
6.8 mile/h
Ripper Specifications
Type
Parallelogram
Overall Width/Beam
86.6 in
Shank Cross Section
74 x 175 mm 2.9 x 6.9 in
Ground Clearance
34.96 in
Penetration
15.6 in
Ripping Width
72.4 in
Cylinders - Bore
5.1 in
Cylinders - Stroke
9.3 in
Addition to Machine Length Due to Ripper in Transportation Position
23.1 in
Number of Pockets
3
Penetration Force - Ground Level
22500 lb
Ramp Angle
28.5 °
Ripper Weight - With 3 Shanks
3747.8 lb
Standards
ROPS/FOPS
ROPS/FOPS
Brakes
Brakes
Cab
Cab
Air Conditioning System
Air Conditioning
The air conditioning system on this machine contains the fluorinated greenhouse gas refrigerant R134a (Global Warming Potential = 1430). The system contains 1.9 kg of refrigerant which has a CO2 equivalent of 2.717 metric tonnes.
The All-purpose Performer
Standard Equipment
ELECTRICAL
Alternator, 95 amps, 24 V, heavy duty brushless
Alarm, backup
Horn, electric
2 Maintenance free batteries, 1,400 amps
Converter 24V/12V
Switch, main disconnect
Starter, electric (24V)
Four halogen lights, two forward facing, roof mounted; two rearward facing, integrated in A/C unit
OPERATOR ENVIRONMENT
Pressurized, sound suppressed, ROPS/FOPS cab
Cab with tinted glass and side sliding window
Air conditioning and heating
Heater, defroster with automatic temperature control
Seat, fabric-covered, air suspended
Seat-mounted controls
Seat belt, retractable
Electronic Monitoring System
Gauges for:
Electro-hydraulic implement control joystick
Radio ready, includes 24 to 12V converter, speakers, antenna and two 12 volts power outlets
Mirror rearview
Coat Hook
Adjustable armrest
Transmission control, Joystick or V-lever and steering pedals
Storage lockable compartment under armrests
Floor mat, rubber, heavy duty
Windshield washers and wipers, front and rear
Durable metal roof
Parking brake switch and "brake-on" indicator light
POWER TRAIN
Caterpillar C9 ACERT diesel engine
Modular cooling system for engine air intake, oil and water
24 volt electric starting
Electronically controlled, on-demand fan cooling system
Extended Life Coolant
Fuel priming pump electric
Electronic Hydrostatic Control (EHC) for transmission with travel and work modes
Closed Loop Hystat transmission with DSR Software
Muffler, under hood
Water separator
UNDERCARRIAGE
2160 mm/85 in track gauge
End Section Track Guiding guards
Hydraulic Track Adjuster
EWL track (40 sections, 215 mm /8.5 in pitch)
Five piece sprocket track
Seven track rollers, lifetime lubricated
Conventional idlers, lifetime lubricated.
Oscillating track roller frames
Two carrier rollers per track
Track Master Link
Guard, idler
OTHER STANDARD EQUIPMENT
Sound Suppression, Exterior
Z-bar loader linkage
Load sensing variable displacement implement pump
Implement cylinders with integrated positioning sensors
Operator programmable lift and tilt kickouts
Engine enclosure with lockable doors (5 mm/0.2 in perforated holes)
Hinged radiator grill
6.35 fins per inch radiator and cooler cores
Ecology Drains
Hydraulic Oil, HYDO Advanced 10
Cab, tilt jack, hydraulic
Optional Equipment
ELECTRICAL
POWER TRAIN
HYDRAULIC
Hydraulic oil, biodegradable
BUCKET
BUCKET ATTACHMENTS
Teeth, extra duty, 8
Teeth, penetration, 8
Cutting edge, bolt-on
UNDERCARRIAGE
Track, 500 mm (19.7 in), flat
Track, 500 mm (19.7 in), alternates flat and DG GR shoes
Track, 675 mm (26.6 in), Trap Hole
DBL GR
TRPL GR
SGL GR ES
GUARDS
Guard, tilt cylinders
Guard, track roller
OTHER ATTACHMENTS
Radio AM/FM, CD
Heater, engine coolant, 120V
Heater, engine coolant, 240V
Product Link
Machine Security System
Antifreeze, -50° C (-58° F)
973D VALUE PACKAGES
Rear protection STD
Rear protection HD
Ripper package
Maintenance package, deluxe
Lights additional, package
Protection, windshield, lights
Striker bar package
Counterweight package
Hydraulic 2W, Joystick
Hydraulic 3W, MP Joystick
Hydraulic 3W, GP Joystick
Hydraulic 4W, MP joystick
Hydraulic, 2W, 2 levers
Bucket GP, 3.0 m³ (3.98 yd³), package
Bucket MP, 2.8 m³ (3.6 yd³), package
Bucket GP, 3.0 m³ (3.98 yd³), package
Bucket GP, landfill, package
Bucket wide, 3.3 m³ (4.37 yd³), package
Bucket GP, 3.0 m³ (3.98 yd³), HD, pack
Bucket MP ES, 2.8 m³ (3.6 yd³), package
Bucket MP, landfill, package
listofrelationships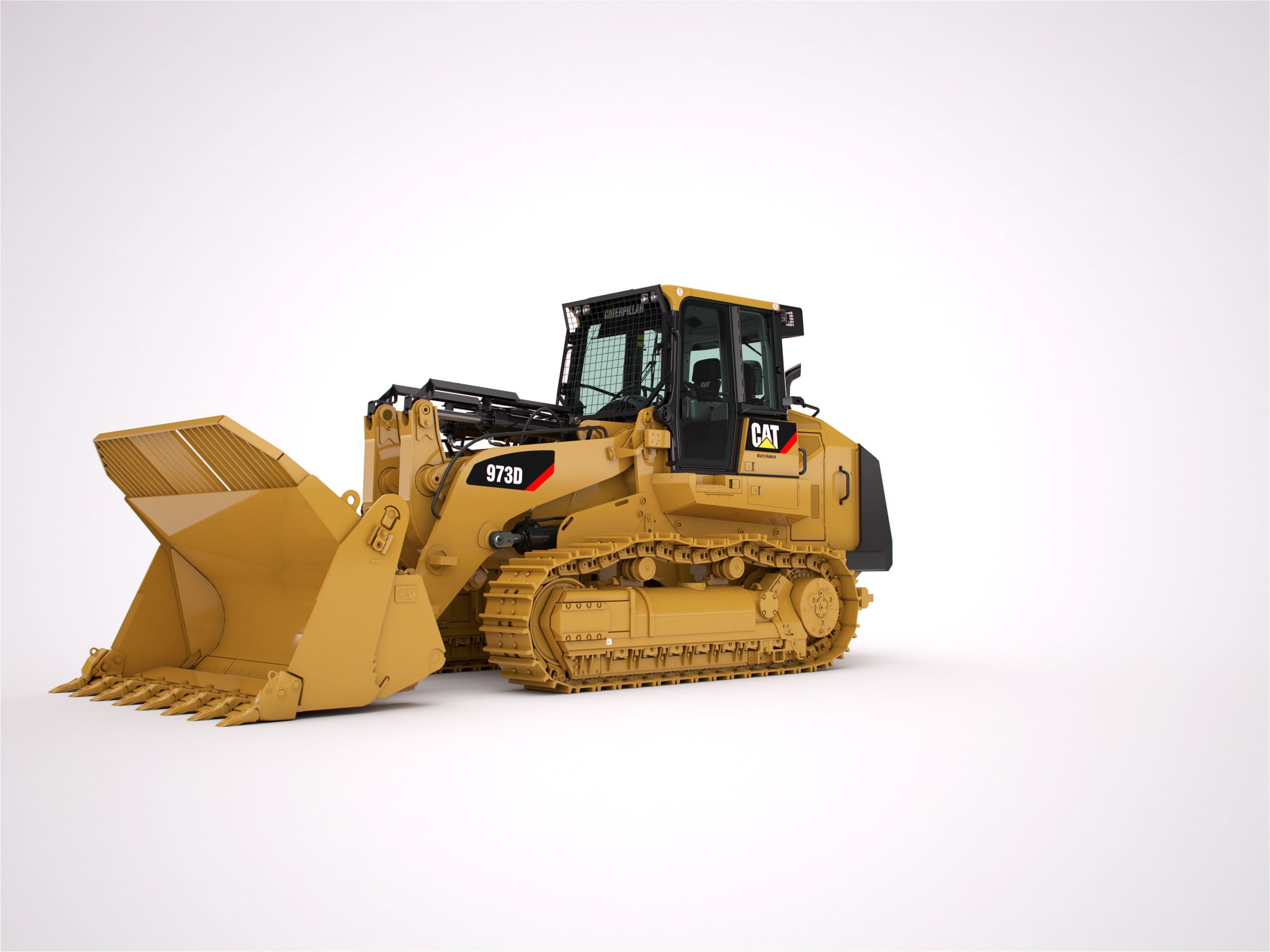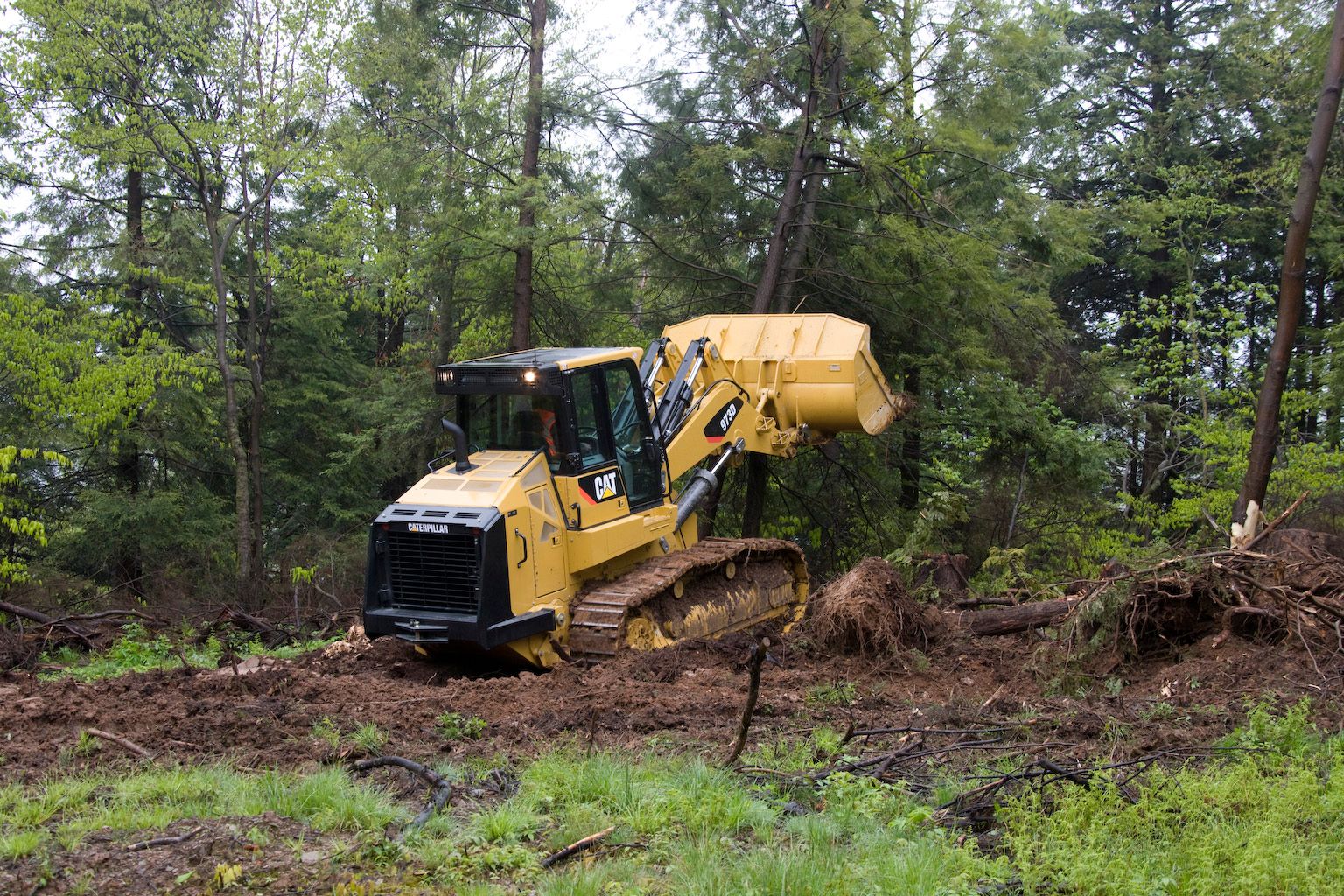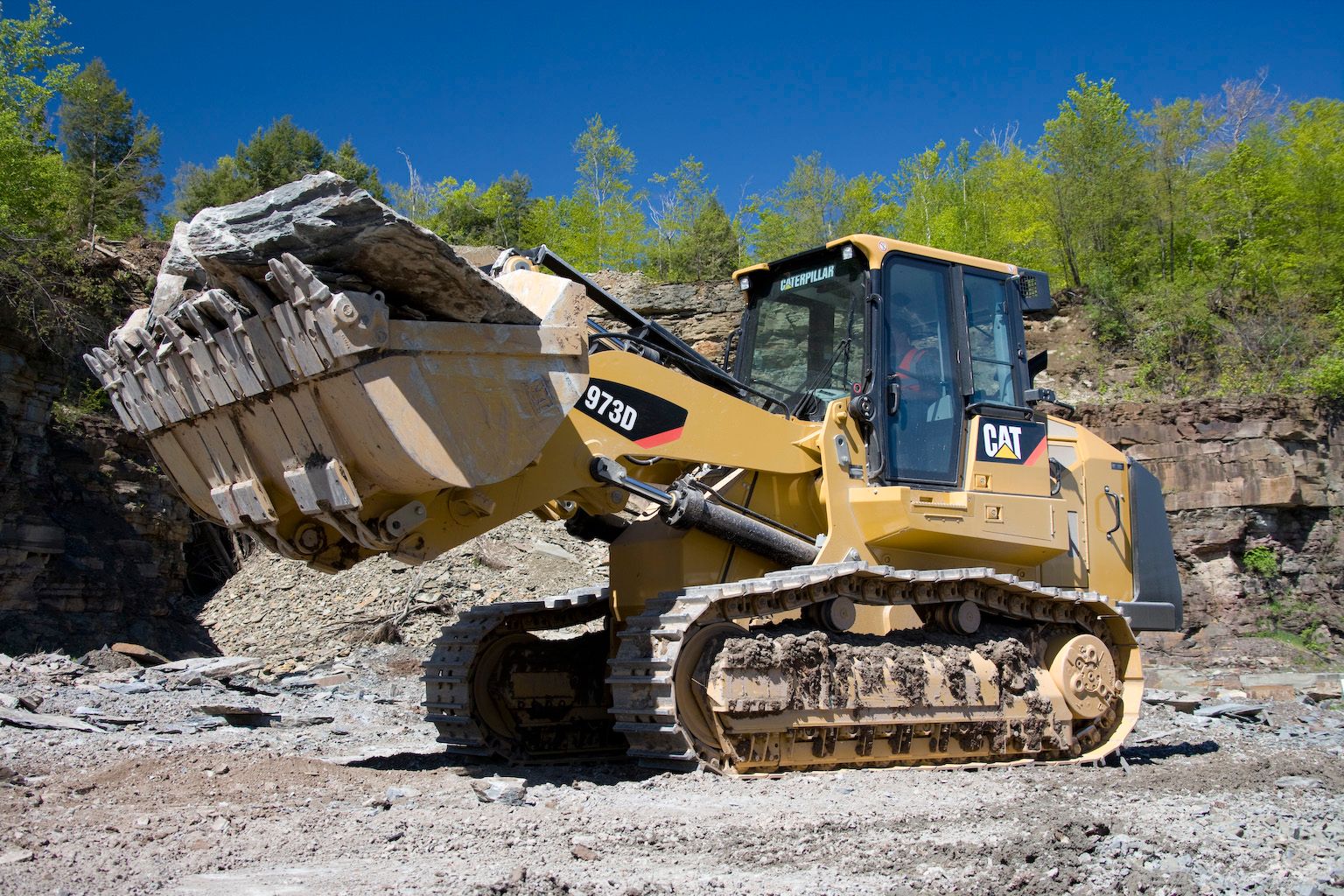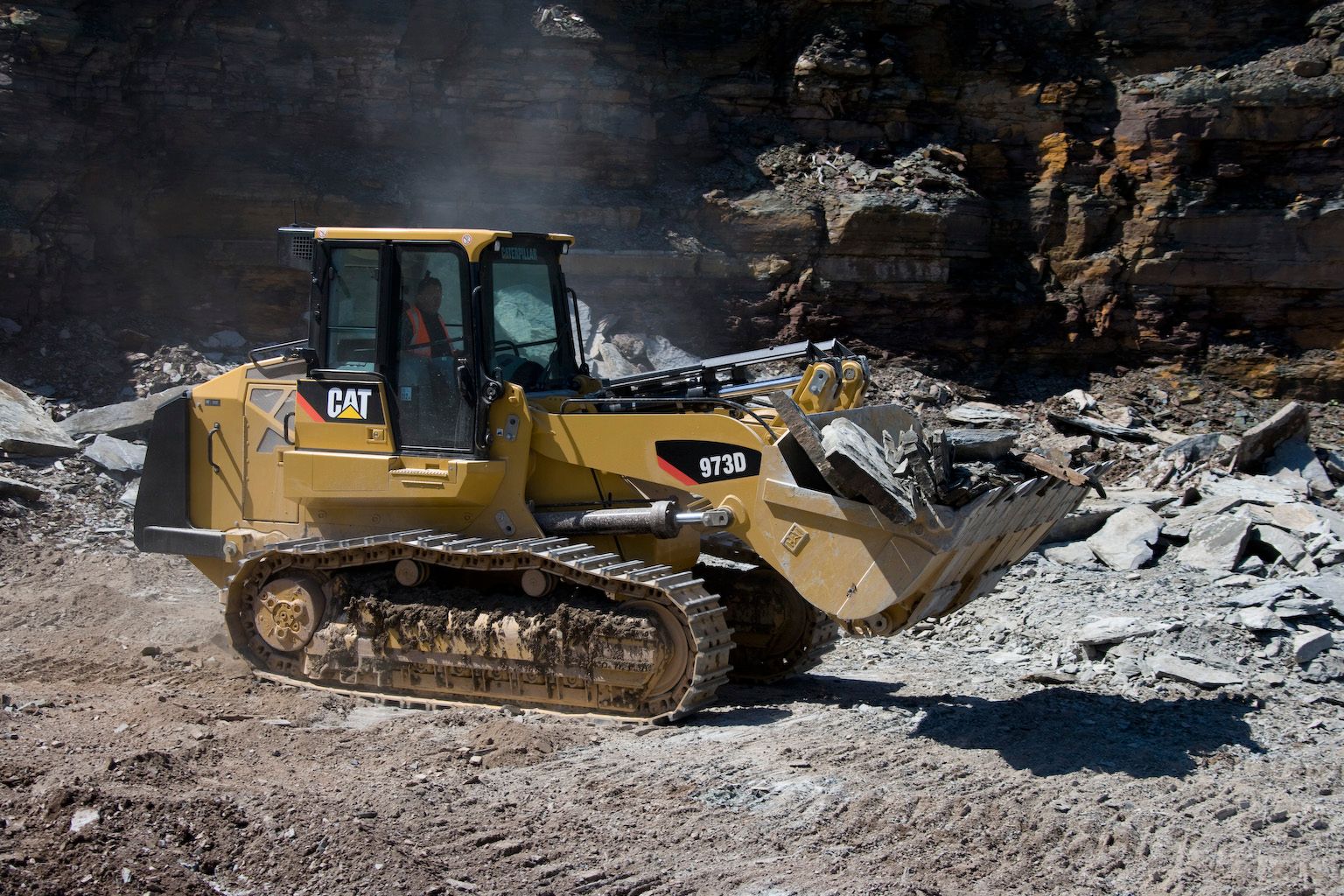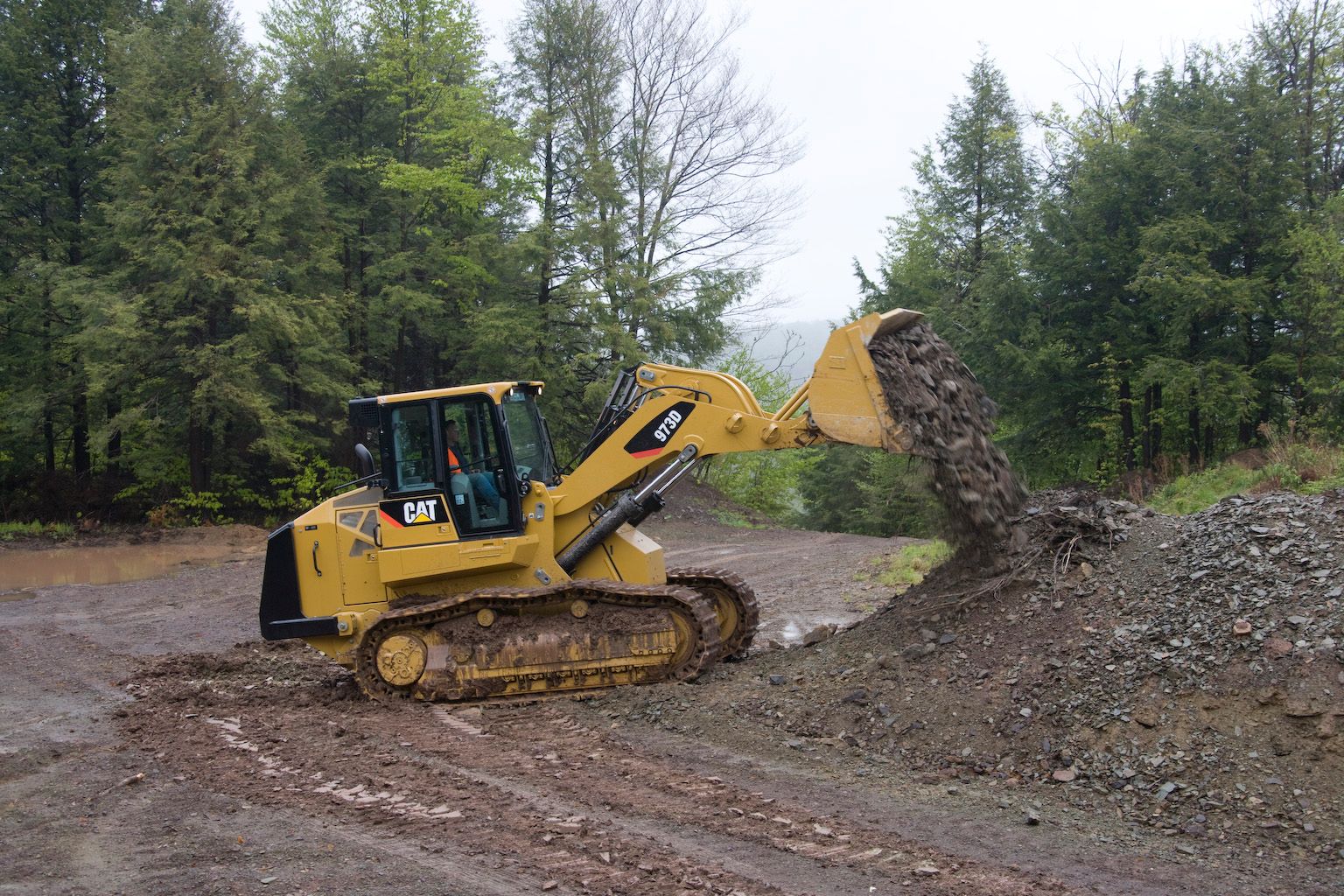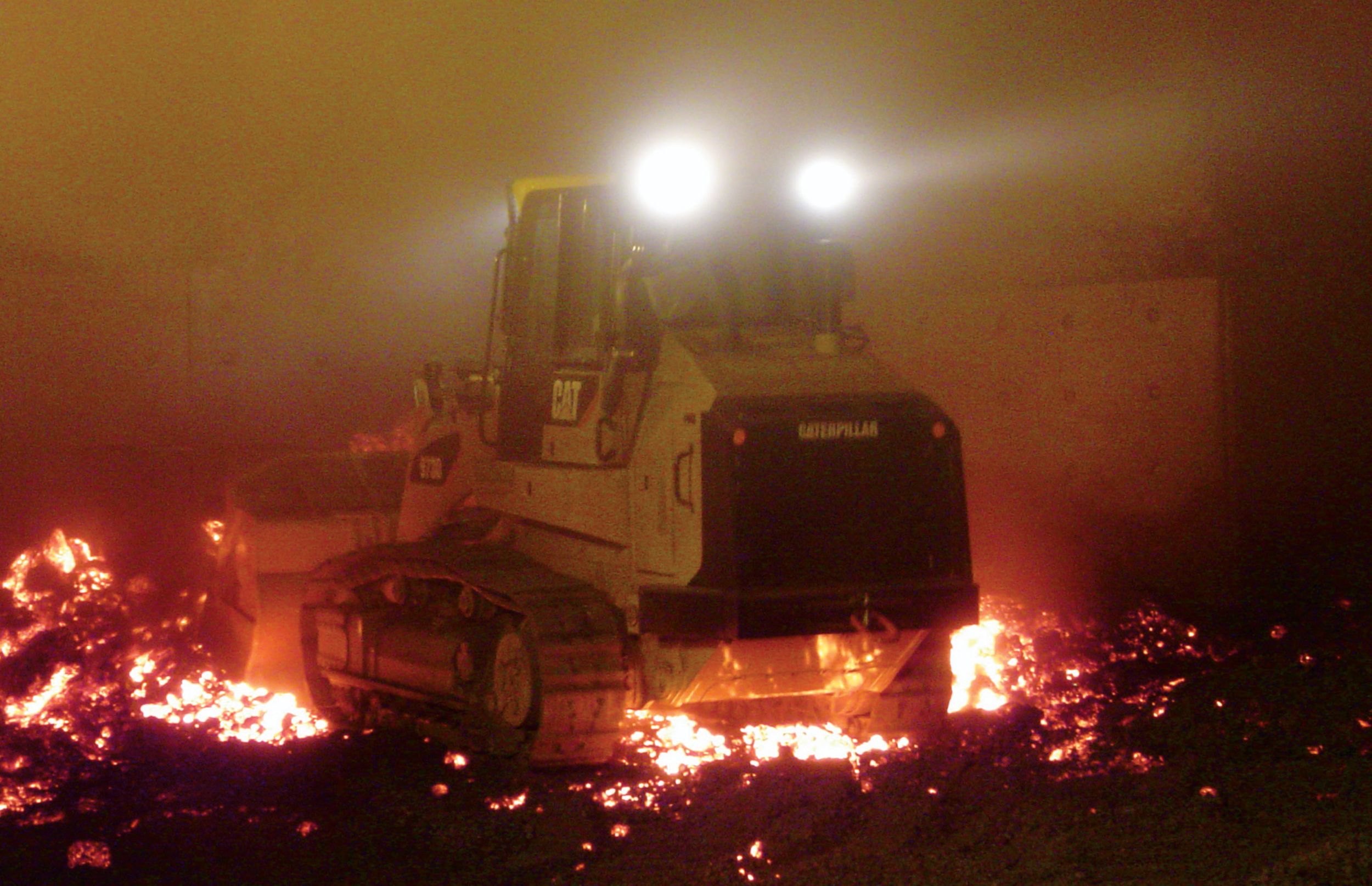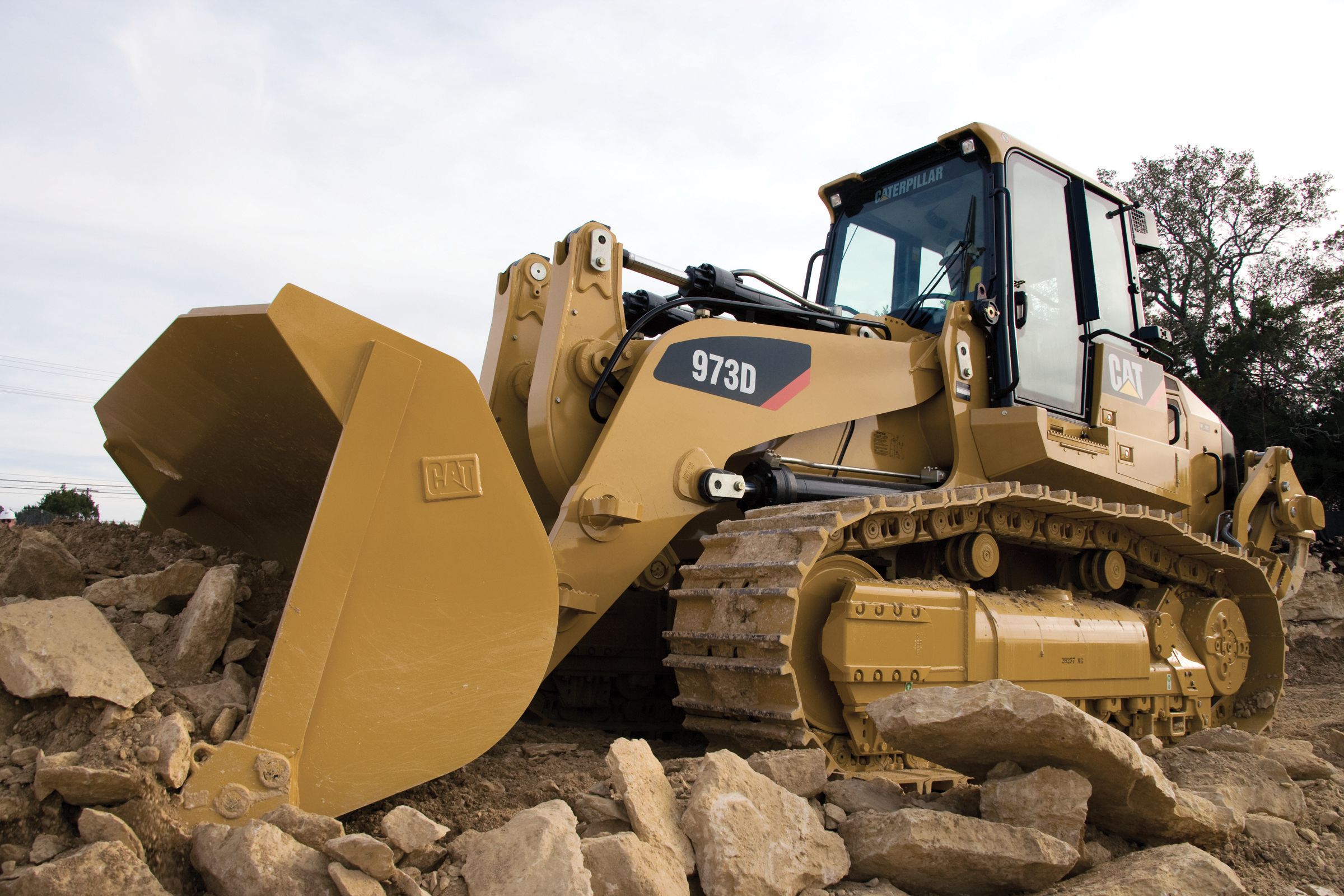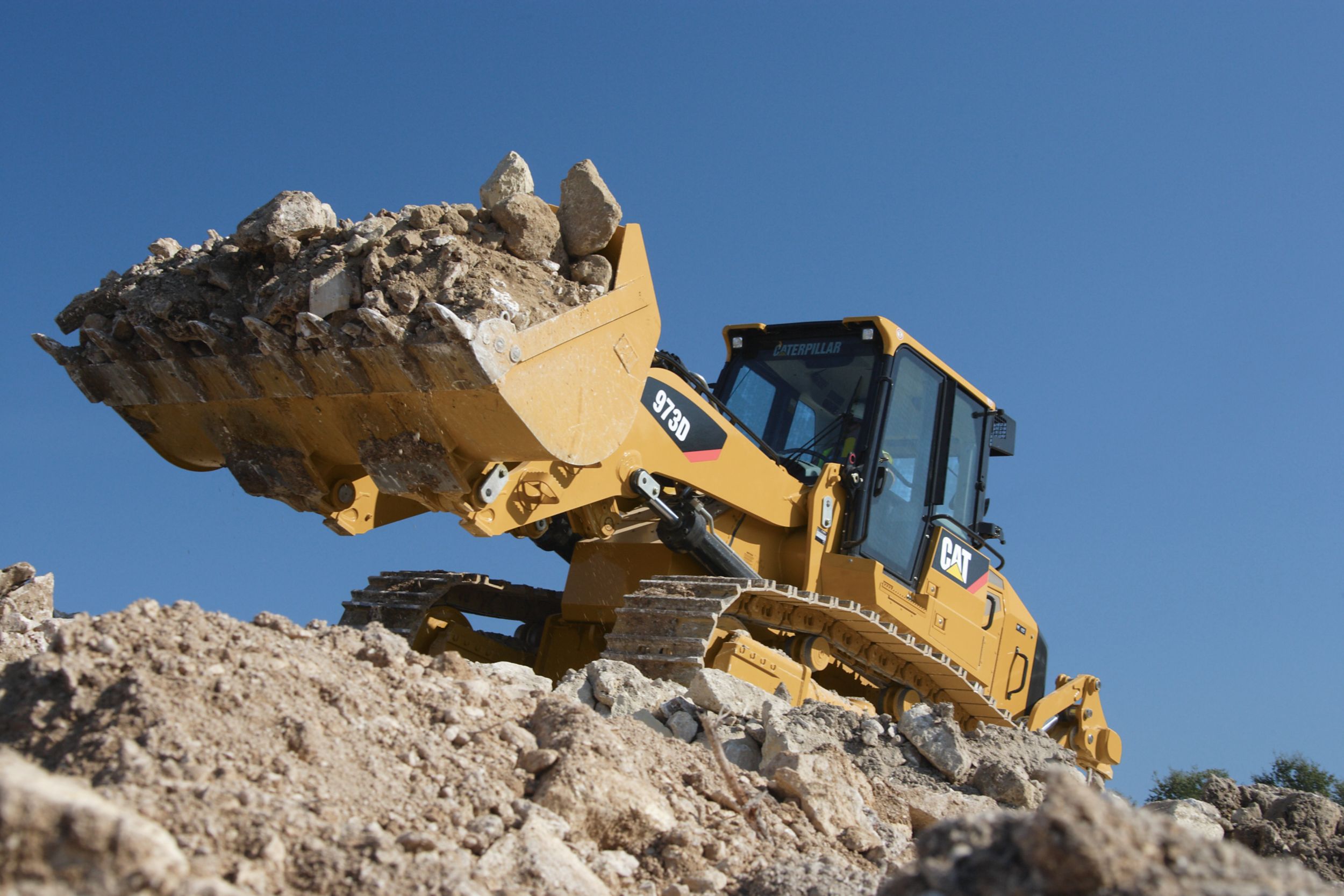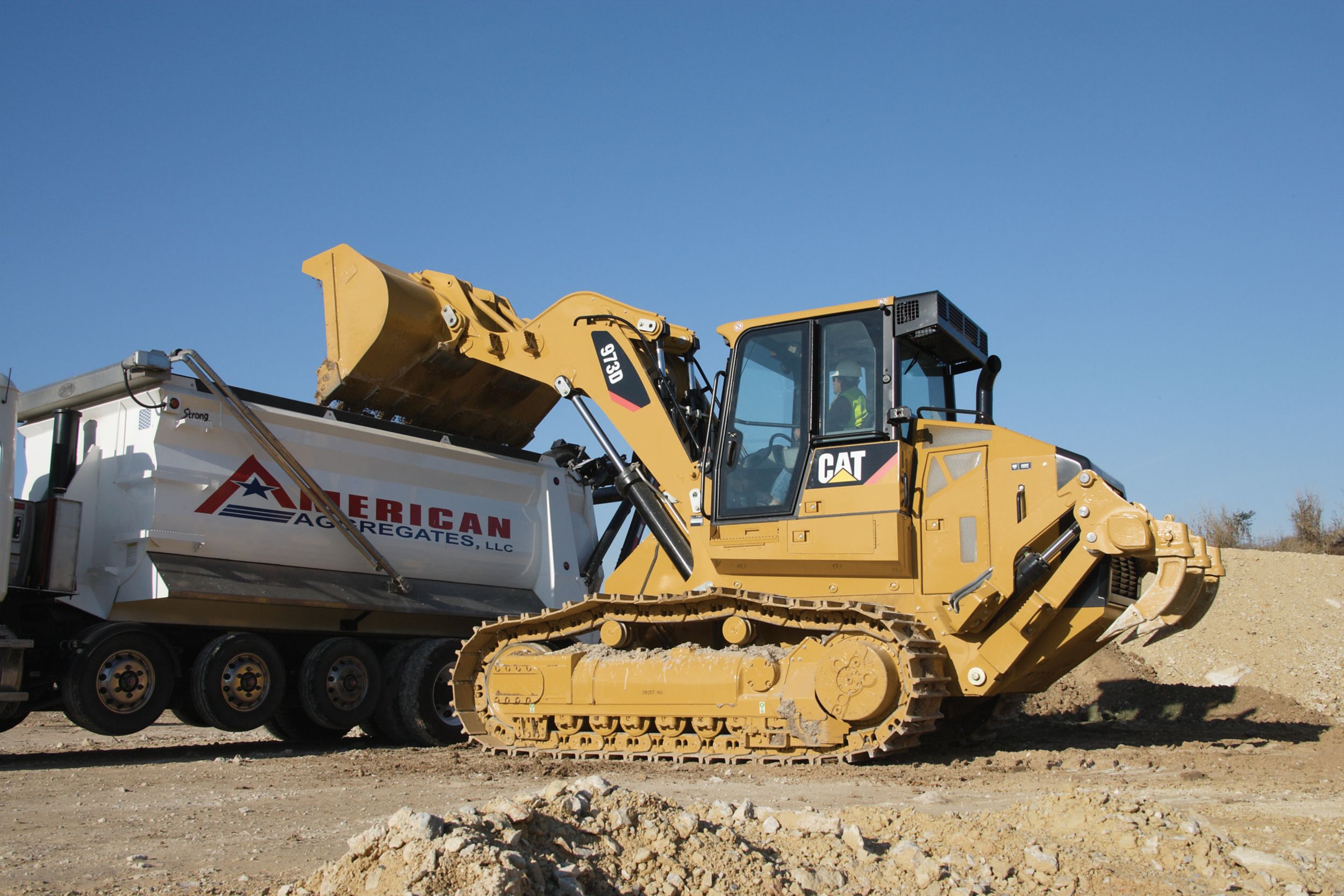 Other Models in this Category
Select Product Category