New | 623K Wheel Tractor-Scraper
Quick loading, high travel speeds and the ability to load and dump on the run yield fast cycle times, allowing Cat Wheel Tractor-Scrapers to consistently deliver high productivity at the lowest cost per ton.
Engine
Flywheel Power: Tractor/Scraper
304 kW (407 hp)
Engine Model
Cat C13 ACERT™
Flywheel Power: Tractor
407.0 hp
Note
Cat C13 ACERT engine meets U.S. Environmental Protection Agency (EPA) Tier 4 Final/EU Stage IV engine emission standards.
Rated Engine RPM
2000.0 RPM
Scraper Bowl
Scraper Capacity: Heaped
23.0 yd3
Transmission
Top Speed (Loaded)
33.5 mph
Dimensions
Height - Overall Shipping
158.9 in
Length - Overall Machine
542.0 in
Width - Overall Machine
141.1 in
Height - Top of Cab
142.6 in
Height - Scraper Blade Maximum
20.5 in
Width - Tractor
133.1 in
Width - Inside of Bowl
120.0 in
Width - Outside Rear Tires
128.9 in
Front of Tractor to Front Axle
122.8 in
Wheelbase
329.5 in
Rear Axle to Rear of Machine
89.7 in
Ground Clearance - Tractor
21.9 in
Axle to Vertical Hitch Pin
17.0 in
Height of Top of Elevator
148.3 in
Width - Overall Machine - Ladder Down
149.2 in
Width - Rear Tire Centers
90.2 in
Service Refill Capacities
Fuel Tank
216.09 gal
Crankcase
8.08 gal
Cooling System
11.89 gal
Diesel Exhaust Fluid
8.0572 gal
Hydraulic System
21.926 gal
Transmission System
24.76 gal
Cab
Exterior Sound Level
The exterior sound power level for the standard machine (ISO 6393) is 111.5 dB(A).
ROPS/FOPS
Meets SAE and ISO standards
Safety Criteria Compliance Standards
Brakes
ISO 3450:1996
Falling Object Protective Structure (FOPS)
ISO 3449:2005 Level II
Reverse Alarm
ISO 9533:2010
Rollover Protection Structure (ROPS)
ISO 3471:2008 for up to 17 084 kg (37,664 lb)
Seat Belt
SAE J386:JUN1985
Steering System
ISO 5010:2007
Travel Speeds (Runout)
Transmission Gear: Eighth
33.5 mph
Transmission Gear: Fifth
13.6 mph
Transmission Gear: First
3.1 mph
Transmission Gear: Fourth
10.1 mph
Transmission Gear: Reverse
5.7 mph
Transmission Gear: Second
5.5 mph
Transmission Gear: Seventh
24.8 mph
Transmission Gear: Sixth
18.4 mph
Transmission Gear: Third
7.5 mph
General Data
180° Curb-to-Curb Turning Width
38.71 ft
Elevator Flight Spacing
20.0 in
Fuel Tank Refill Capacity: Scraper
201.0 gal
Maximum Depth of Cut
10.3 in
Maximum Depth of Spread
18.3 in
Maximum Floor Opening
4.4 ft
Number of Flights
15
Operating Weight (Empty)
88061.0 lb
Overall Length
45.18 ft
Overall Shipping Height
12.37 ft
Overall Width
11.71 ft
Rated Load
25 038 kg (55,200 lb); 25.1 tonnes (27.6 tons)
Scraper Capacity: Heaped
23.0 yd3
Scraper Capacity: Struck
18.8 yd3
Tires: Scraper
33.25R29**E3
Tires: Tractor Drive
33.25R29**E3
Top Speed (Loaded)
33.5 mph
Width of Cut
10.3 ft
Implement Cycle Times
Bowl Lower
3.5 Seconds
Bowl Raise
3.0 Seconds
Ejector Extend
6.45 Seconds
Ejector Retract
9.7 Seconds
• Tractor Serviceability Improvement - The filter bank located at the rear of the engine compartment has undergone improvements for serviceability by raising the filter bank up for easier access.
• Engine Over Speed Protection - In the event of an engine over speed situation, the compression brake or brakes will automatically engage with no operator input. The machine determines the over speed condition based on rate of acceleration and applies compression brakes automatically.
• Advanced Cushion Hitch - With similar technology as the Cat® Advanced Ride Management seat suspension, this software allows the cushion hitch to prevent end stroke by having the ability to predict end stroke events and manage the rate of dampening. The desired result is improved hitch repair, reduced maintenance and improved operator ride in rough conditions.
• High Pressure Steering - 620K Series steering system design requires significantly less steering effort. The reduced steering effort will allow for decreased operator fatigue and a more efficient operator resulting in possible higher rates of production late in the work cycle.
• Load Assist Option - The 623K now is offered with the Load Assist option like the 621K and 627K.
• Draft Arm Overflow Guards - The open bowls now come standard with bowl side overflow guards to help prevent material from flowing over the bowl sides and falling onto the draft arms where material becomes lodged between the bowl side and draft arm resulting in decreased work cycle times.
• Auto Stall - In cold weather conditions the machine will use the Auto Stall feature to help warm up the transmission oil faster resulting in the machine shifting out of torque converter drive (2nd gear) faster than on previous models.
• Differential Lock Engagement Protection (Standard) - This standard feature allows the machine to prevent the operator from engaging the differential lock when damage could occur.
• Cab Improved - The interior of the K Series cabs has improved the operator comfort and visibility by redesigning the dash area and key pad placement.
• Machine Speed Limit - This feature is designed to take the place of top gear selection. If the machine top speed needs to be limited the operator can select the top speed through the display or the top speed can be set in ET. This will allow the machine to find the correct gear that works best for the engine and transmission. Allowing the engine and transmission to select the correct gear to pull the load in most cases resulting in a lower engine load factor and lower fuel burn verses using top gear selection that required the machine to run at engine speeds at or close high idle.
• Ground Speed Control - Ground Speed Control sets the desired top speed by the operator if job site conditions or segment speed limits require a speed less than full run out. Machine Speed Limit is intended for use when top speed needs to be limited for longer durations and Ground Speed Control is intended for use when the top speed needs to be reduced for shorter segments or intermediate periods of time. The operator can set the desired top speed and the machine will find the correct gear that works best for the engine and transmission. Allowing the engine and transmission to select the correct gear to pull the load in most cases will result in a lower engine load factor and lower fuel burn verses top gear selection.
Standard Equipment
POWER TRAIN - TRACTOR
Cat C13 ACERT engine with MEUI™
Cat engine brake
Electric start, 24 Volt
Air cleaner, dry type with precleaner
Fan, hydraulic
Ground level engine shutdown
Radiator, aluminum unit core, 9 fins per inch
Guard, crankcase
Muffler (only for less or non-regulated regions engine arrangement only)
Starting aid, ether
Braking system: - Primary and secondary, wet disc, hydraulic - Parking, hydraulic-released, spring-applied - Throttle lock
Transmission: - 8-speed planetary power shift - ECPC control - APECS software - Programmable top gear selection - Transmission hold - Differential lock - Guard, power train - Standard tire spin reduction - Ground speed control - Machine speed limit - Differential lock protection
POWER TRAIN - SCRAPER
Braking system: - Primary and secondary, wet disc, hydraulic
ELECTRICAL - TRACTOR
Alternator, 150 Amp
Batteries (4), 12V, 1,000 CCA, maintenance free, high output
Electrical system, 24V
Lighting system: - Headlights, halogen - Turn signals with hazard function, LED floodlights, (2) cutting edge (1) bowl, halogen side vision (2)
Starting/charging receptacle
ELECTRICAL - SCRAPER
Alarm, backup
Lighting system: - Brake lights, LED - Turn signals with hazard function, LED
OPERATOR ENVIRONMENT - TRACTOR
HVAC system, heat, AC, defrost
Thermostat control of HVAC system
Coat hook
Lunchbox platform with holding strap
Diagnostic connection (2)
12V power ports (2)
Differential lock (1)
Dome courtesy light
Horn, electric
T-Handle implement control
Mirror, rearview
Radio ready
ROPS/FOPS cab, pressurized
Keypad switches: - Throttle lock - Wipers/washers - Hazard lights - Retarding level select - Work lights on, off - Information mode on Messenger Display
Safety tab rocker switches: - Regeneration control (Tier 4 Final/EU Stage IV only) - Parking brake
Seat belt, static two-piece
Seat, Cat Advanced Ride Management (ARM), Cat Comfort Series 3, rotates 30 degrees
Steering wheel, tilt, telescoping, padded
Windows, right side emergency egress
Windows, sliding
Windows, laminated, zipped in
Windshield wipers, front and rear windows, includes washers
Door lock
Messenger Display
Gauges, warnings include: - Coolant temperature - Engine oil temperature - Hydraulic oil temperature - DPF temperature - Fuel level - Park brake - Implement lockout - Brake system - Regeneration required - Throttle lock - System voltage - Secondary steering - Bail down - Ejector auto - Differential lock - Apron float - Transmission hold - Cushion hitch - High beam lights - Action lamp - Engine speed, rpm - Gear selection - DEF fill levels
FLUIDS
Extended Life Coolant to -37° C (-34° F)
OTHER STANDARD EQUIPMENT - TRACTOR
Advanced cushion hitch
Accumulators (cushion hitch) with Canadian Registration Number (CRN)
Fast oil change
Fenders, non-metallic
Heater, engine coolant 120V
Rims (2)
Tow pin, front
Vandalism locks
Heater, engine coolant 120V
OTHER STANDARD EQUIPMENT - SCRAPER
Bowl: - 17.6 m3 (23 yd3), heaped - 13.5 m3 (17.6 yd3), struck
Vandalism locks
Elevator with 15 flights
Hydraulic position sensing cylinders (bowl lift and apron)
Optional Equipment
STEERING ARRANGEMENTS
Secondary Steering Arrangement
INTEGRATED TECHNOLOGIES
Sequence Assist Arrangement
Load Assist
Cat Grade Control with Load Assist
OTHER ATTACHMENTS
Camera arrangement - WAVS
Steering lock - external
Cab beacon
Air horn
Air horn and beacon
Fender, scraper
Wiring group
WORK LIGHT ATTACHMENTS
AMBIENT CAPABILITY ARRANGEMENTS
Cooling, high ambient HRC
Cooling, low ambient HRC
Cooling, high ambient LRC
Cooling, low ambient LRC
OTHER ATTACHMENTS
Year of manufacture plate
SERVICE INSTRUCTIONS
Film arrangement - U.S. (ANSI)
Film arrangement - International (ISO)
listofrelationships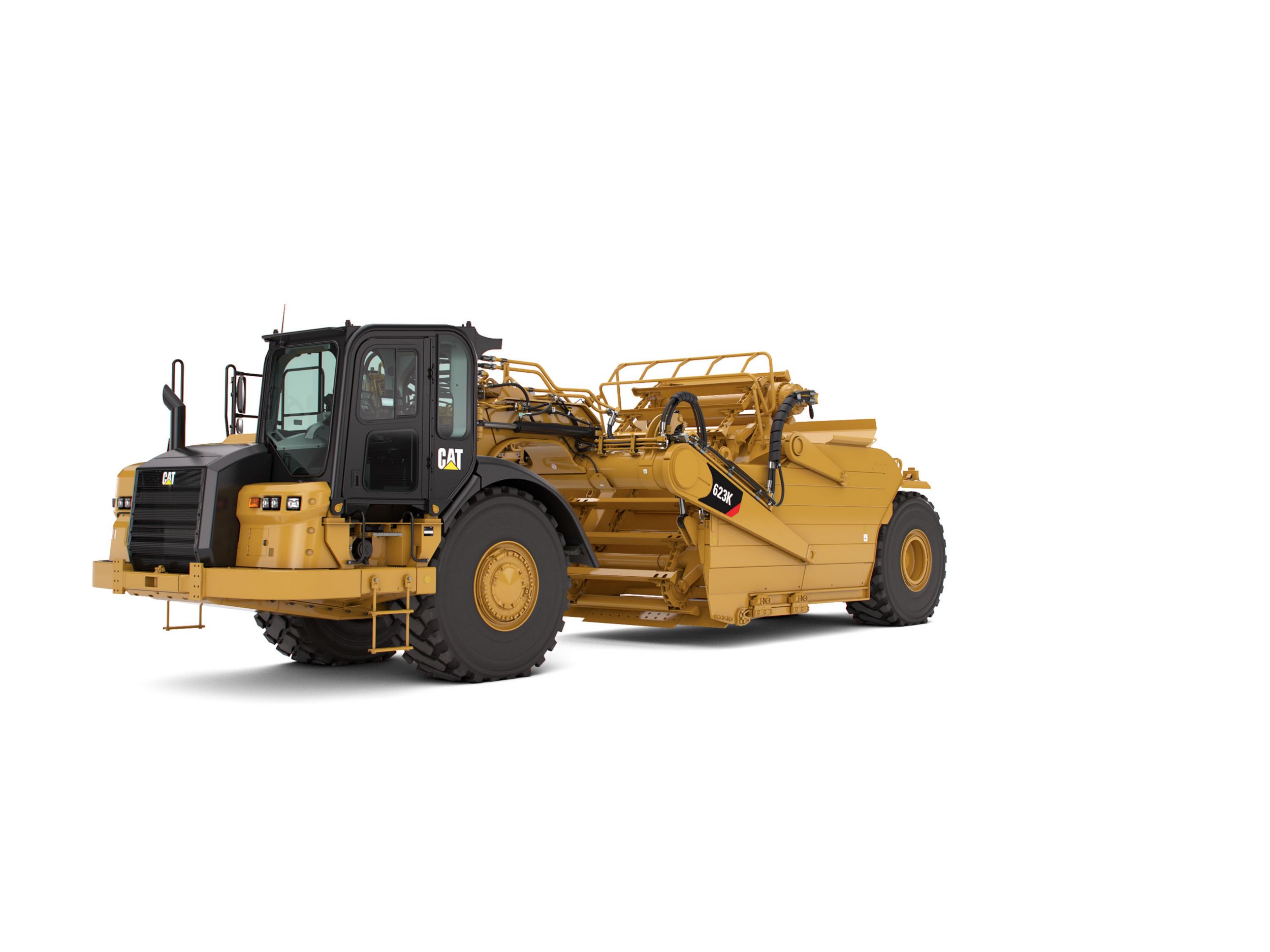 Select Product Category