New | C9 Generator Set Package
The Caterpillar C9 generator set joins our existing range of clean, quiet, compact, and smooth-running generator sets. This range of small gen sets provides customers with a more comprehensive power offering, enabling them to enjoy the benefit of dealing with one supplier for both propulsion and auxiliary power.
Generator Set Specifications
Minimum Rating
142R ekW (178 kVA)
Maximum Rating
250 ekW (313 kVA)
Frequency
50 hz or 60hz
Speed
1500 rpm (50hz) or 1800 rpm (60 hz)
Generator Set Configurations
Emissions/Fuel Strategy
IMO/EPA Tier 2 Compliant
Engine Specifications
Engine Model
C9, In-line 6, 4-Stroke-Cycle Diesel
Aspiration
Turbocharged-Aftercooled
Bore
4.41 in
Stroke
5.87 in
Displacement
538.0 in3
Governor Type
Electronic
Fuel System
HEUI™
Generator Specifications
Excitation
AREP
Pitch
2/3
Number of leads
12 lead, reconnectable
Insulation
Class H
IP Rating
IP23 Water protection
Overspeed capability
Overspeed shutoff - electronic
Voltage regulator
Solid state voltage regulator with integral voltage adjustment
Voltage Regulation
±0.5%
Generator Set Dimensions
Length
2106-2216 mm (82.9-87.2 in)
Width
39.2 in
Height
46.0 in
Weight
1753 kg (3865 lb) - 1903 kg (4195 lb)
500 Hour Oil & Filter Change Interval
Smokeless Engine Operation Meets 2004 Epa Tier Ii Emission Regulations
Leak Free Engine Operation
J1939 Data Link For Communication With Ship Monitoring, And Control Systems
Caterpillar Standard Warranty
Parts And Service Support From Worldwide Dealer Organization
One Source Of Supply For Propulsion And Gen Set Engines
Optional Duplex Fuel And Oil Filter Systems
Complete Electronic Control Of Fuel Injection And Engine Timing
Standard Equipment
AIR INLET SYSTEM
Aftercooler (heat exchanger and keel cooled engines only)
Turbocharger
CONTROL PANELS
Electronic governor
Hydraulic Electronic Unit Injection (HEUI) fuel system
Electronic Control Module (ECM)
Electronic diagnostics and fault logging
Engine mounted 40-pin dedicated customer connector
SAE J1939 data link
COOLING SYSTEM
Thermostat and housing
Jacket water pump, belt driven, centrifugal
Auxiliary sea water pump, gear driven (heat exchanger and keel cooled engines only)
Radiator, engine mounted (includes guard, blower fan, fan drive, fan guard)
Expansion tank (heat exchanger engines only)
Engine mounted heat exchanger, removable tube bundle (for sea water) (heat exchanger engines only)
Engine oil cooler
Auxiliary sea water lines
Keel cooling (includes pipe thread flange kit)
EXHAUST SYSTEM
Manifold & Turbocharger, watercooled
152 mm (6 in) round flanged outlet
Elbow, dry, 152 mm (6 in)
FLYWHEELS & FLYWHEEL HOUSINGS
Flywheel, SAE No. 1, 113 teeth
Flywheel housing, SAE No. 1
FUEL SYSTEM
Fuel filter, Front service
Fuel transfer pump
Fuel priming pump
GENERATORS
12 lead, reconnectable
3 phase Brushless
Separately excited from auxiliary winding to provide 300% short circuit current up to 10 seconds
2/3 Pitch
Broad voltage band
IP23 Water protection
Solid state voltage regulator with integral voltage adjustment
Class H insulation
Generator temperature rise exceeds marine society requirements for Class H insulation
105 C @ 50 C ambient - prime
85 C @ 50 C ambient - prime Connection poles
INSTRUMENTATION
Instrument panel
Electric service meter
Start/stop switch
Emergency stop button
Maintenance due light
Diagnostic light
Warning light
Maintenance clear switch
15A breaker
LUBE SYSTEM
Crankcase breather
Oil filter, spin-on, RH Service
Oil filler, in valve cover
Oil level gauge, LH service
Oil pan
Oil pan drain, LH service
Engine oil pump (gear driven)
MOUNTING SYSTEM
Skiddable base frame
Front support
Anti vibration isolators between base and engine-generator
PROTECTION SYSTEM
Overspeed shutoff - electronic
GENERAL
Torsional vibration damper and guard
Lifting eyes
Protective lifting covers
Literature
Battery disconnect switch
Engine Wiring
Plastic wrap packaging
NOTE: Engines for keel cooling do NOT include keel cooler.
Optional Equipment
AIR INLET SYSTEM
CONTROL SYSTEM
COOLING SYSTEM
Coolant recovery tank
Coolant level sensor
Coolant Flange Kit
EXHAUST SYSTEM
Elbows
Pipe
Flexible fittings
Flange
Rain caps
Mufflers
Shields
FUEL SYSTEM
Fuel cooler
Flexible fuel lines
Fuel temperature sensor
Fuel and oil shielding
GENERATORS AND GENERATOR ATTACHMENTS
Extension Terminal Box
Engine and Generator Certification:
INSTRUMENTATION
LUBE SYSTEM
Sump Pumps, Manual
Duplex Oil Filters
POWER TAKE-OFFS
STARTING SYSTEM
Air pressure regulator
Air silencer
listofrelationships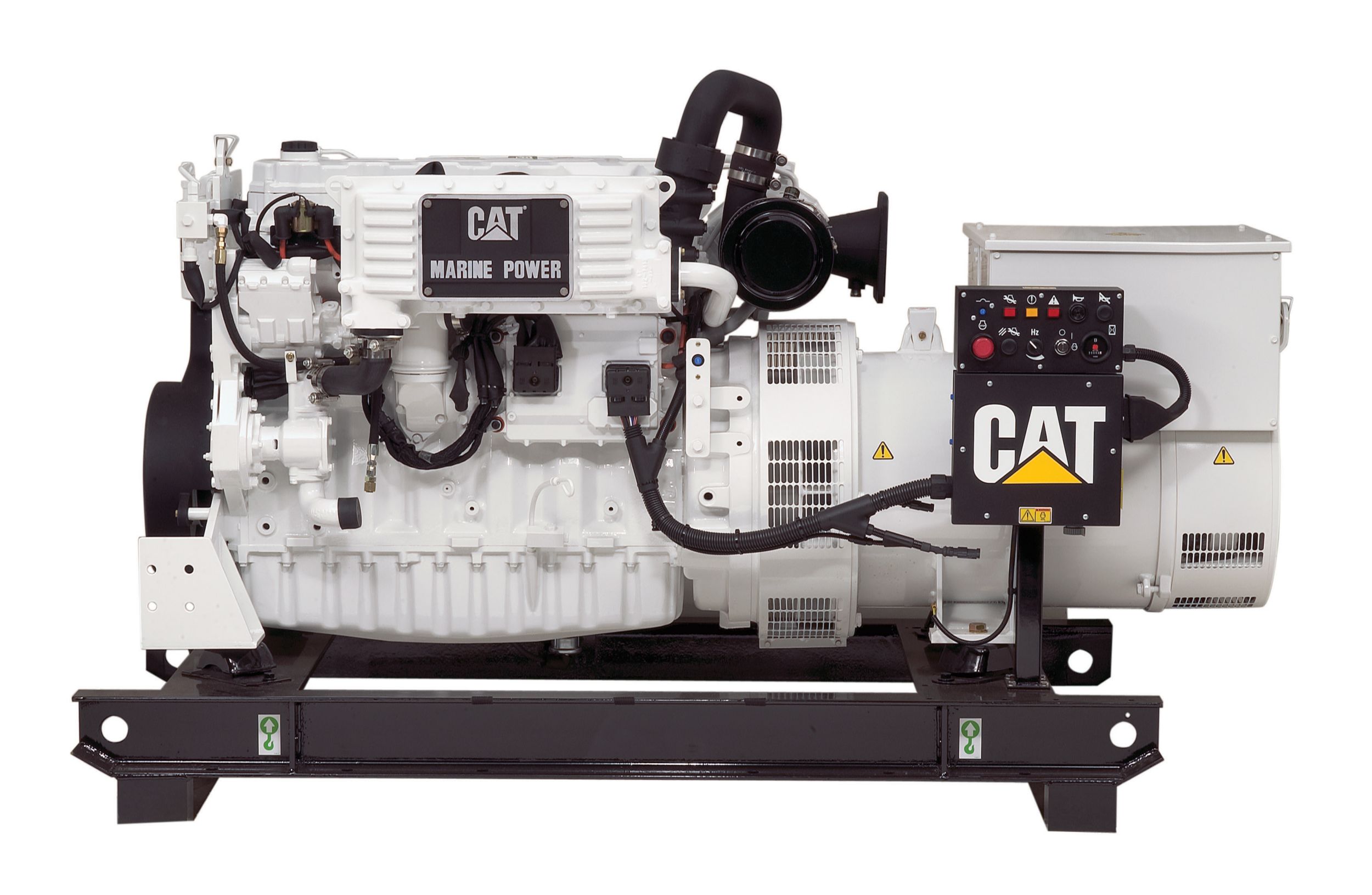 Other Models in this Category
Select Marine Power System Type