New | Cat 3516B Marine Propulsion Engine
The 3516B marine propulsion engine includes the Advanced Diesel Engine Management System II, Control Monitoring Protection System, Customer Communication Module, and Digital Voltage Regulator. Benefits include improved fuel economy, reduced visible and gaseous emissions, enhanced diagnostic and monitoring capabilities, and increased rated output with no reduction in reliability. High displacement (HD) ratings, high performance ratings, and wide operating speed range (WOSR) ratings are available within this power range.
Power Rating
Power Range
1650-3000 bhp (1230-2237 bkW)
Engine Specifications
Speed Range
1200-1800 rpm
Configuration
Vee 16, 4-Stroke-Cycle Diesel
Aspiration
TTA
Bore
6.7 in
Stroke
7.5 in
Displacement
4210.0 in3
Rotation (from flywheel end)
Counterclockwise or Clockwise
Emissions
IMO II
Dimensions & Weights
Minimum Length
131.9 in
Maximum Length
146.7 in
Minimum Width
67.0 in
Maximum Width
80.8 in
Minimum Height
69.0 in
Maximum Height
82.3 in
Minimum Dry Weight
17185.0 lb
Electronic Unit Injector Fuel System Featuring 10-20 Percent Higher Injection Pressure Than Other 3500 Family Engines
Caterpillar Adem Ii Electronic Engine Control/monitoring System That Provides Infinitely Variable Injection Timing And A State-of-the-art Monitoring And Protection System With Self-diagnosing Electronic Sensors
"deep Crater/low Crevice Volume" Twopiece Articulated Piston Design With Forged Steel Crown And Cast Aluminum Skirt That Enhance Combustion Efficiency To Provide Improved Fuel Efficiency And Lower Levels Of Gaseous And Visible Emissions
Larger Diameter (98 Mm Vs. 92 Mm Bore) Camshaft For Higher Injection Pressures, Shorter Injection Durations, And Less Gear Train Torsional Vibration
Strengthened Fuel Injection Actuation System And Rear Gear Train To Maintain Reliability And Durability While Providing Higher Injection Pressures
Center-mounted Low Inertia Turbochargers (four On 3512b And 3516b; Two On 3508b) On Epg Models
Dual Rear Mounted Turbochargers On All Marine Configurations
Separate Circuit Or Sea Water Aftercooling To Supply The Optimum Temperature Air To The Combustion Chamber To Reduce Emissions And Fuel Consumption And Maximize Power Output
Streamlined Intake And Exhaust Manifolds To Reduce Parasitic Pumping Losses And Increase Combustion Efficiency
Thermo-laminated Heat Shields On All Marine Configurations To Maintain Surface Temperatures Below Marine Classification Society Regulations And To Retain More Exhaust Gas Energy For Increased Turbocharger Performance
Redesigned Aftercooler-to-intake Manifold Joints That Use Formed Elastomeric Seals And Substantially Fewer Fasteners To Give Superior Sealing Characteristics And Easier Serviceability
Pin-type Connector For Easy Connection Of Caterpillar Engine Technician Electronic Service Tool Which Delivers Superior Diagnostic Capability To Determine Exact Causes Of Engine Faults
Formed Elastomeric Seals Replace Gaskets On Rocker Arm Bases Eliminating Gasket Relaxation To Maintain Consistent Dimensions For Valve Lash And Injection Settings And Nuisance-type Oil Leaks.
Standard Equipment
Air Inlet System
Sea Water Aftercooler core, copper-nickel tubes, copper fins, for sea water/air environment
Air cleaners, high performance
Turbocharger, watercooled bearing housings, 152 mm (6 in) OD straight connection
Control System
Dual Caterpillar A-III Electronic Engine Control, LH with Electronic Unit Injector Fuel System
Rigid Wiring Harness (10 amps DC power required to drive Electronic Engine Control Module)
Cooling System
Oil cooler
Air separator (deaerator), shipped loose
Thermostats and housing, Full open temperature 92 C (198 F) LH outlet
Jacket water pump, gear driven, centrifugal
Auxiliary sea water pump, Self-priming
Coolant shunt tank, not installed
Exhaust System
Dry gas tight manifold with Thermo-laminated heat shields
Dual Turbochargers with watercooled bearings and heat shields
Exhaust outlet, vertical, 356 mm (14 in) round flanged outlet
Flywheels & Flywheel Housings
Flywheel, SAE No. 00, 183 teeth
Flywheel housing, SAE No. 00
Fuel System
Fuel filters, Dual spin-on, with service indicators, Front Mounted
Fuel transfer pump
Electronically Controlled Unit Injectors
Instrumentation
Graphical Unit (Marine Power Display) for analog or digital display of: Engine Oil Pressure, Engine Water Temperature, Fuel Pressure, System DC Voltage, Air Inlet Restriction ,RH & LH Exhaust Temperature (prior to turbocharger), Fuel Filter Differential, Oil Filter Differential, Service meter, Engine Speed, Instantaneous Fuel Consumption, Total Fuel Consumed, Engine Control Switch (4 position), Alarm Horn, Alarms are prioritized, Backup ECM ready light, Backup ECM in control light, Overspeed shutdown notification light, Emergency stop notification light, Prelube override, Shutdown override
Lube System
Crankcase breather; Top mounted
Oil filter, Four spin-on, front mounted
Oil filler and dipstick, RH
Rear sump oil pan, aluminum
Oil pump, gear type, scavenge
Oil pump, gear type
Mounting System
Front trunnion
Rear pads on sides of flywheel housing
Power Take-offs
Accessory drive on standard rotation engines: lower RH, lower LH
Accessory drive on opposite rotation engines: upper and lower RH, lower LH
Front housing, Two-sided
Protection System
A-III Electronic Monitoring System provides customer programmable engine de-ration strategies to protect against adverse operatingons conditions
Emergency stop push button (located in Electronic Instrument Panel)
Safety shutoff protection: Oil pressure and water temperature (non-redundant, uses OP and WT sensors)
Overspeed (redundant and independent of engine governing system speed sensed by backup ECM which is MCS approved)
General
Vibration damper and guard
Caterpillar Yellow Paint
Lifting eyes, front and rear
NOTE: Engines for keel cooling do NOT include keel cooler. Engines for heat exchanger cooling do NOT include heat exchanger.
Optional Equipment
Air Inlet System
Air Cleaner Removal
Remote Air Inlet Adapters
Charging System
Battery Chargers
Charging Alternators
Control System
Throttle Synchronization
Throttle Position Sensor
Cooling System
Water Level Switch Gauge
Coolant Level Sensors
Connections
Keel Cooling Conversions
Heat Exchangers
Auxiliary Water Pumps
Sea Water Pump Removal
Coolant Shunt Tanks
Marine Gear Cooling
Air Separator
Exhaust System
Exhaust Outlet
Flexible Fittings
Elbows
Flanges
Flange and Exhaust Expanders
Mufflers
Fuel System
Fuel Cooler
Fuel Priming Pumps
Flexible Fuel Lines
Rigid Fuel Lines
Primary Fuel Filter
Fuel level switch
Instrumentation
PL1000T Communication Module
PL1000E Communication Module
Customer Interface
Thermocouples
Remote Panel Display
Remote Cylinder Temperature Display
Pilot House Instrument Panels
Marine Gear Sensors
Engine Vision Display System
Lube System
Sump Pumps
Prelubrication Options
Oil Pan Accessories
Oil Pan
Lubricating Oil
Mounting System
Engine Supports
Vibration Isolation Mountings
Power Take-Offs
Flexible Coupling and Guards
Front Housing Accessories
Front Housing Accessory Drives
Front Power Take Offs
Crankshaft Pulleys
Damper Guard Removals
Protection System
Air Inlet Shutoffs
Switches and Contactors
Explosion Relief Valve
Sensors
Spare Parts Kits
Special Appearance
Chrome Plated Relief Valves
Black Air Cleaners
Starting System
Air Starting Motors Options
Starting Aids
Battery Sets - 24 Volt - Dry
Battery Rack
General
Tool Set
Caterpillar Datalink Wire
Society Approvals
Marine Society Requirements
listofrelationships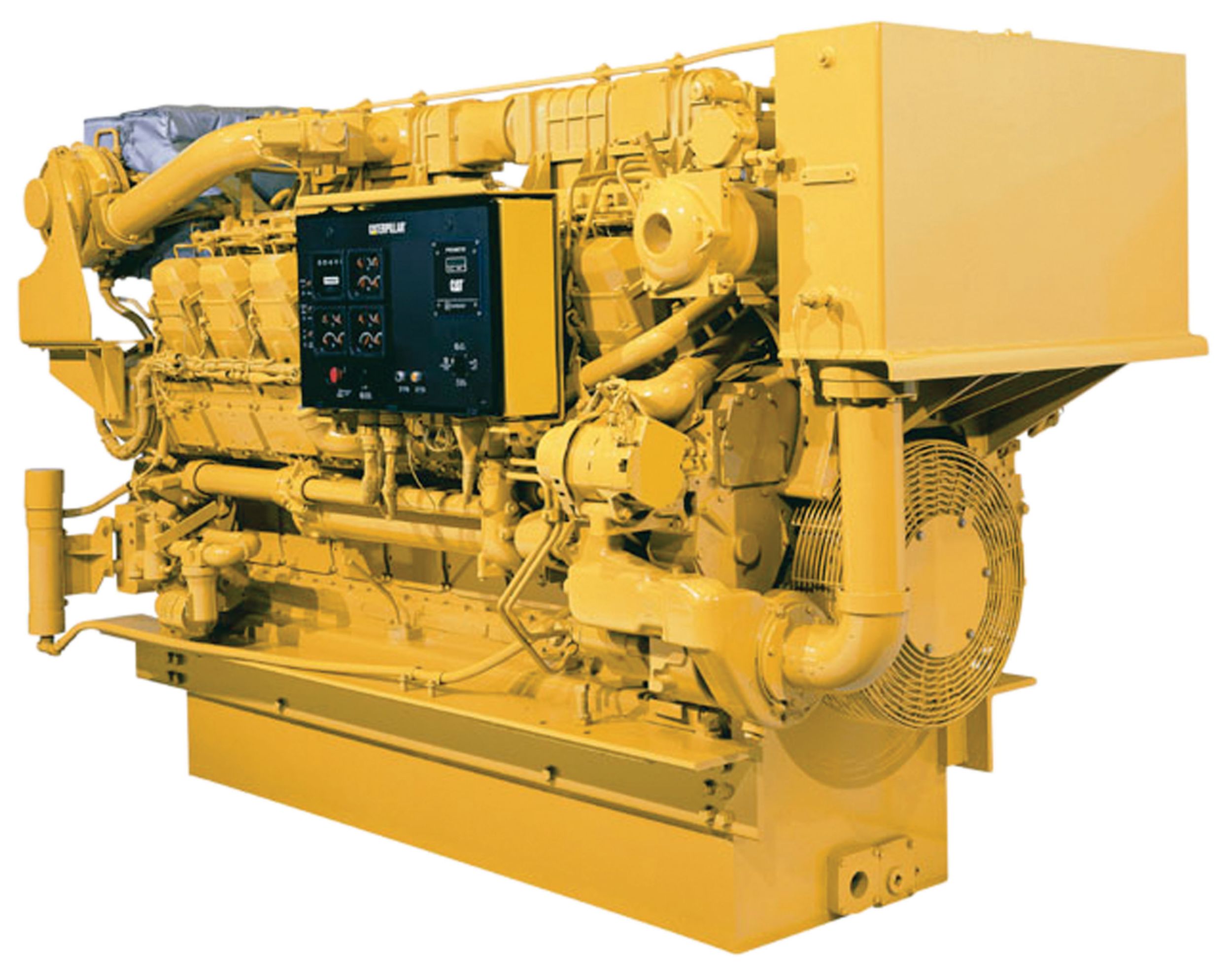 Other Models in this Category
Select Marine Power System Type