140 / 140 AWD
140/140 AWD Motor Grader
Cat® 140 (12M3) motor graders are designed for road grading, shaping shoulders, slopes, and ditches, or snow removal. Available in all wheel drive for extra traction.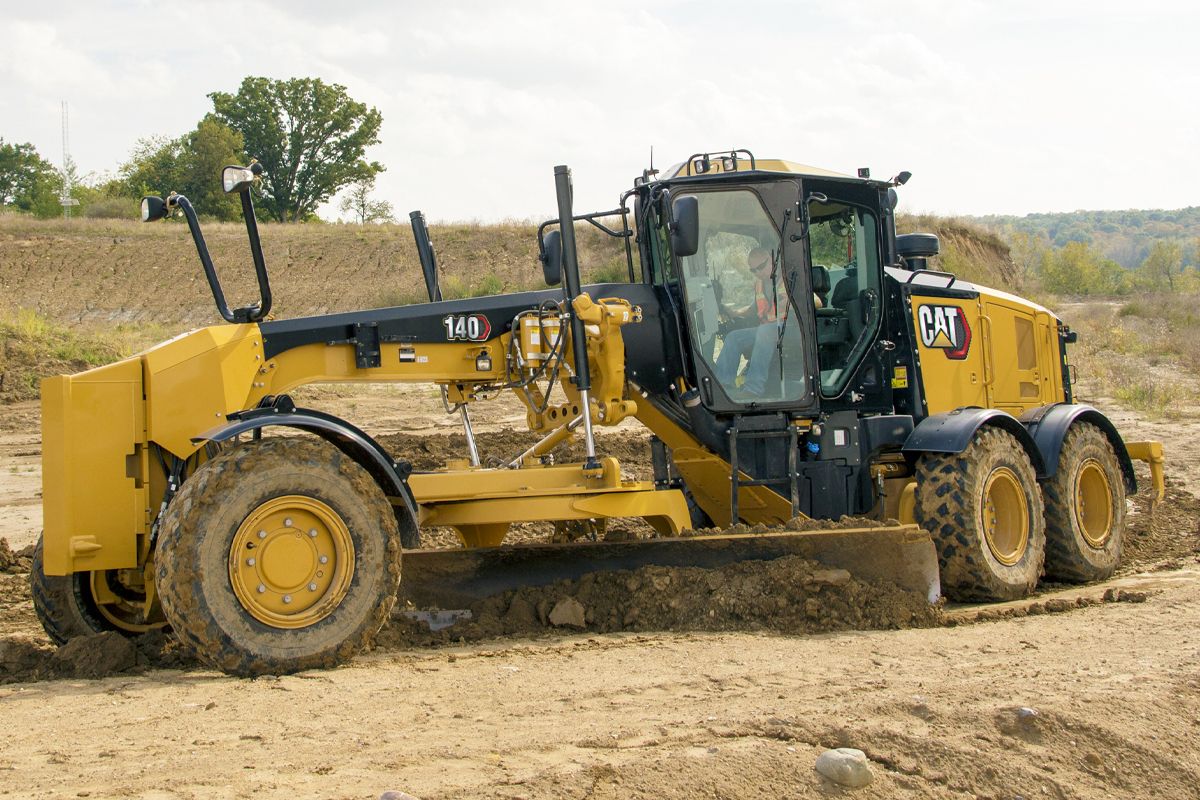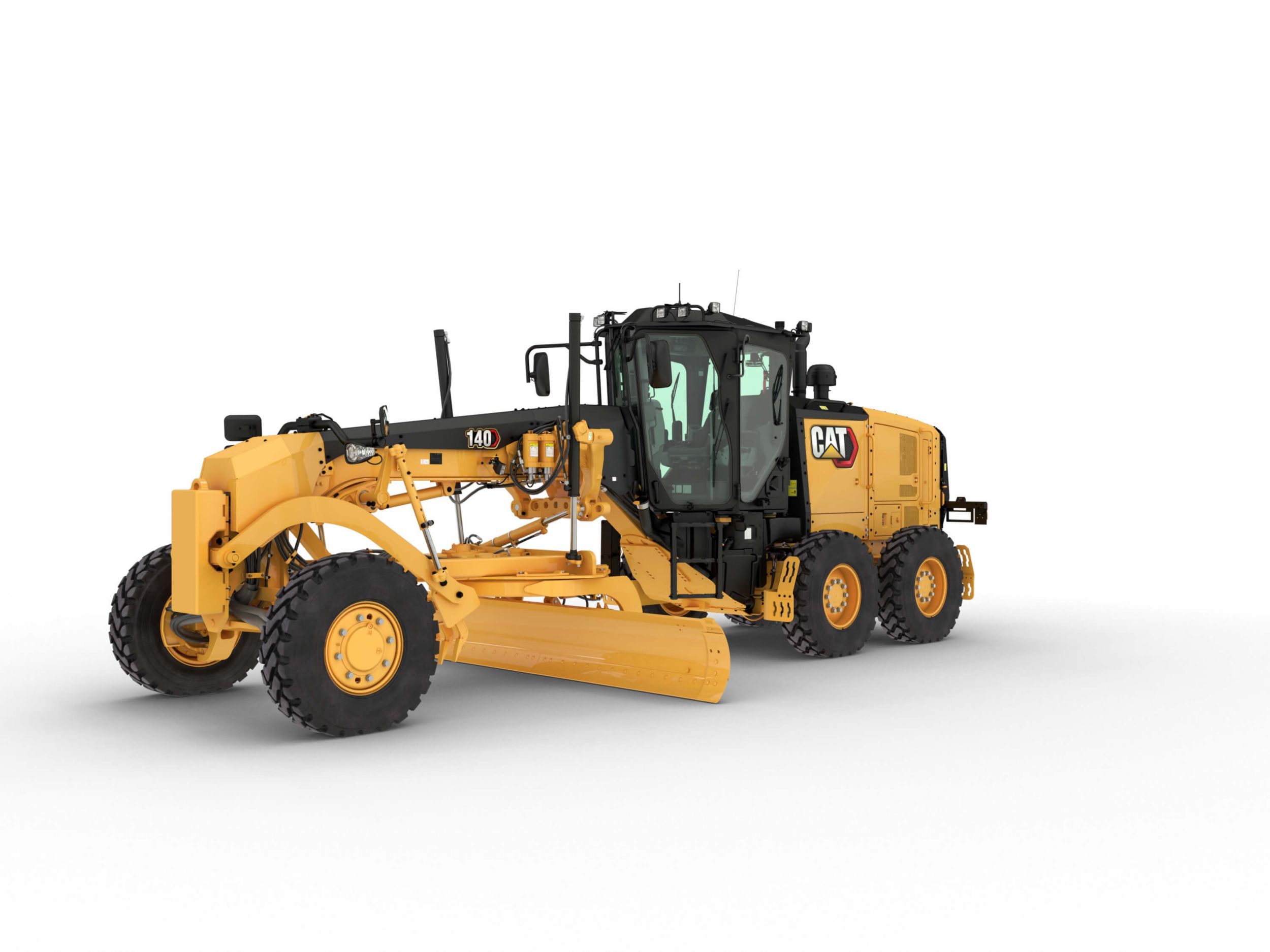 DESCRIPTION
Cat® 140 (12M3) AWD delivers best-in-class updates to optimize performance. It brings the latest emissions control technology, unparalleled visibility, engine and control technology and a pedigree that ensures peak grading performance and durability.Reduce your carbon footprint with the latest in emissions reduction technology with the durable 140 motor grader. The 140 motor grader unites comfortability and productivity to get optimal performance on the jobsite. Get the best visibility with angled cab doors, tapered engine enclosure, and sloped rear window.
Advanced Control Joysticks | Cat® Motor Graders
Cat® M Series Motor Graders | Integrated Technologies
BETTER COMFORT AND CONTROL
Visibility is key to your safety, efficiency and quality of work. The motor grader delivers with angled cab doors, tapered engine enclosure and a sloped rear window make it easy to see the moldboard and tires, as well as behind the machine. Optional rear camera further enhances lines of sight.
The most comfortable cab in the industry.
Joystick controls reduce hand and arm movement by 78%, which helps to lower operator fatigue.
Easy-reach rocker and control switches
Standard Cat Comfort Series suspension seat.
Control pods adjust electronically - easy to set ideal operating position.
Isolation mounts reduce sound and vibration for more relaxed environment.
High capacity Heating, Ventilation and Air Conditioning (HVAC) system dehumidifies and pressurizes the cab, circulates fresh air, seals out dust and keeps windows clear.
Optional deluxe radio with CD features MP3 and Bluetooth technology.
In-dash instrument cluster houses easily read, high-visibility gauges and warning lamps keep you aware of critical system information.
Two electro-hydraulic joysticks make operation easy and comfortable. Adjustable control pods ensure they are positioned for optimal comfort, visibility and operation.
Joystick Functions -
Left joystick controls steering, articulation, return-to-center, wheel lean, gear selection, left moldboard lift cylinder and float.
Right joystick controls drawbar, circle and moldboard functions as well as electronic throttle control and manual differential lock/unlock. Joystick lean angle mirrors the steer tires' turning angle.
Brake tensioning system holds the joystick in position until the operator moves it.
Steering control automatically reduces steering sensitivity at higher ground speeds for predictable control.
Infinitely variable roller switches control the rear ripper and/or front lift group (when equipped).
Proven load-sensing and advanced electro-hydraulics give you superior implement control and responsive hydraulic performance that makes operators' jobs easier.
Continuously matching hydraulic flow/pressure to power demands reduces heat and optimizes power.
Proportional Priority Pressure-Compensating (PPP-C) valves have different flow rates for the head and rod ends of the cylinder, so you can count on consistent, predictable implement response.
Hydraulic flow is proportioned to give you confidence that all implements operate simultaneously without slowing engine or implement speed.
Blade Float allows the blade to move freely under its own weight.
Float both cylinders, to allow blade can follow the contours of the ground.
Float one cylinder to permit the toe of the blade to follow a hard surface while the operator controls slope with the other cylinder.
Large, independent hydraulic oil supplies prevent cross-contamination and provide proper cooling, reducing heat build-up and extending component life.
Cat XT™ hose allows high pressures for maximum power and reduced downtime.
Articulation Return-to-Center automatically returns the machine to a straight frame position from any angle with the touch of a button.
Choose the blade lift modulation mode that best fits your application or operating style: fine, normal, or coarse.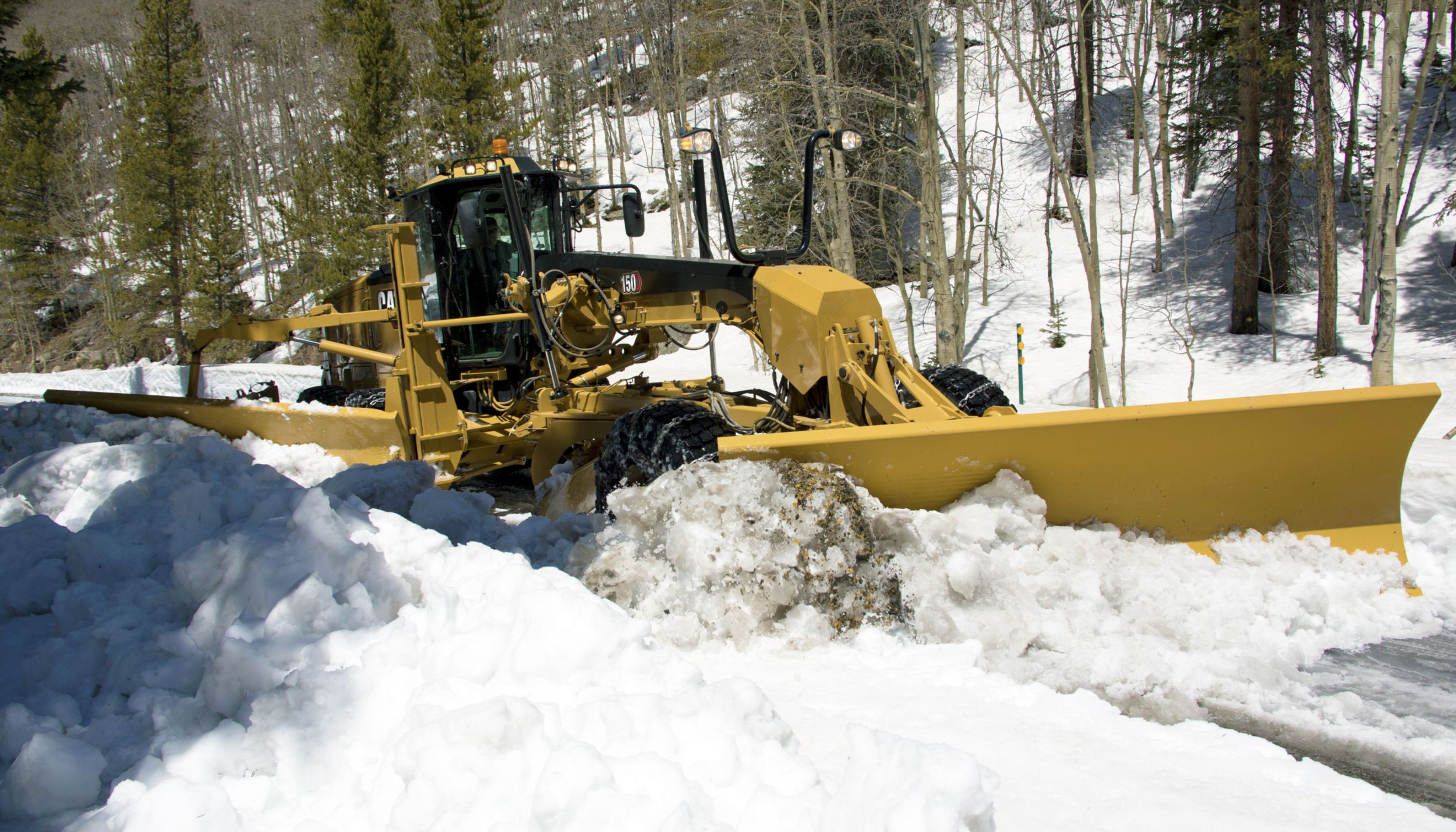 PERFORMANCE AND PRODUCTIVITY
Cat C9.3 engine delivers the performance you need to maintain consistent grading speeds for maximum productivity.
Engine technology reduces emissions, lowers combustion chamber temperatures and optimizes combustion to generate more work output from every unit of fuel.
Hydraulic demand fan automatically adjusts according to engine cooling requirements. When cooling demand is reduced, you benefit from more power to the ground and improved fuel efficiency.
Electronic Throttle Control improves productivity providing the best match of power and torque for the demands of each application.* Engine Idle Shutdown feature can be software-enabled by your Cat dealer to shut down the engine after a set period of time to save you fuel and help reduce emissions.
Optional Reversing Fan helps clear debris from cooling system without need to stop the machine from work.
Standard Automatic Differential Lock/Unlock unlocks the differential during a turn and re-locks when straight for easier operation and to help protect the power train.
Full Electronic Clutch Pressure Control system optimizes inching modulation for smooth shifts and directional changes, reducing stress on gears.
Programmable AutoShift option simplifies operation by allowing the operator to program the transmission to shift at optimal points to match each application.
New standard Eco Mode can saves fuel by reducing engine speed so the machine works in a more efficient range. Fuel savings is up to 10 percent, depending on the application.
Power Shift Countershaft Transmission is matched to the Cat engine to maximize power to the ground.
Engine Over-Speed Protection prevents downshifting until an acceptable safe travel speed has been established.
All Wheel Drive (AWD) transfers power to the ground as needed, allowing you to work more efficiently with mud, gravel, sand and snow. Increased traction reduces slippage across the cross slope.
Sealed spindle keeps front axle bearings lubricated and protected from contaminants. Cat "Live Spindle" design places the larger tapered roller bearing on the outside, where the load is greater, extending life.
Bolt-on modular rear axle improves serviceability and contamination control with easy access to differential components.
Oil-bath, multi-disc service brakes are hydraulically actuated for smooth, predictable braking and lower operating costs. Brakes are located at each tandem wheel and have a large total brake surface area to provide dependable stopping power and longer life.
HEAVY DUTY CONSTRUCTION
One-piece forged steel circle stands up to high stress loads, and a sacrificial wear system helps keep your service time and costs down.
Articulation hitch features a large tapered roller bearing to carry loads evenly. The bearing is sealed preventing contamination and a locking pin prevents articulation during service or transport.
Drawbar, circle and moldboard are designed to make it easy for you to keep the components tight.
Shims and patented top-adjust wear strips are easy to add or replace, dramatically reducing downtime.
Nylon composite wear inserts maximize circle torque and component life.
Sacrificial brass wear strips between the blade mounting group and moldboard can be easily adjusted and replaced.
Shim less Moldboard Retention System uses vertical and horizontal adjusting screws to keep moldboard wear strips aligned for reduced blade chatter and precise control.
With an aggressive blade angle, optimized moldboard curvature and large throat clearance, you work more efficiently by allowing material to roll more freely along the blade.
Heat-treated rails, hardened cutting edges and end bits, and heavy duty bolts provide greater moldboard reliability and long service life.
Link bar allows extreme moldboard positioning for easier bank sloping and ditch cutting/cleaning.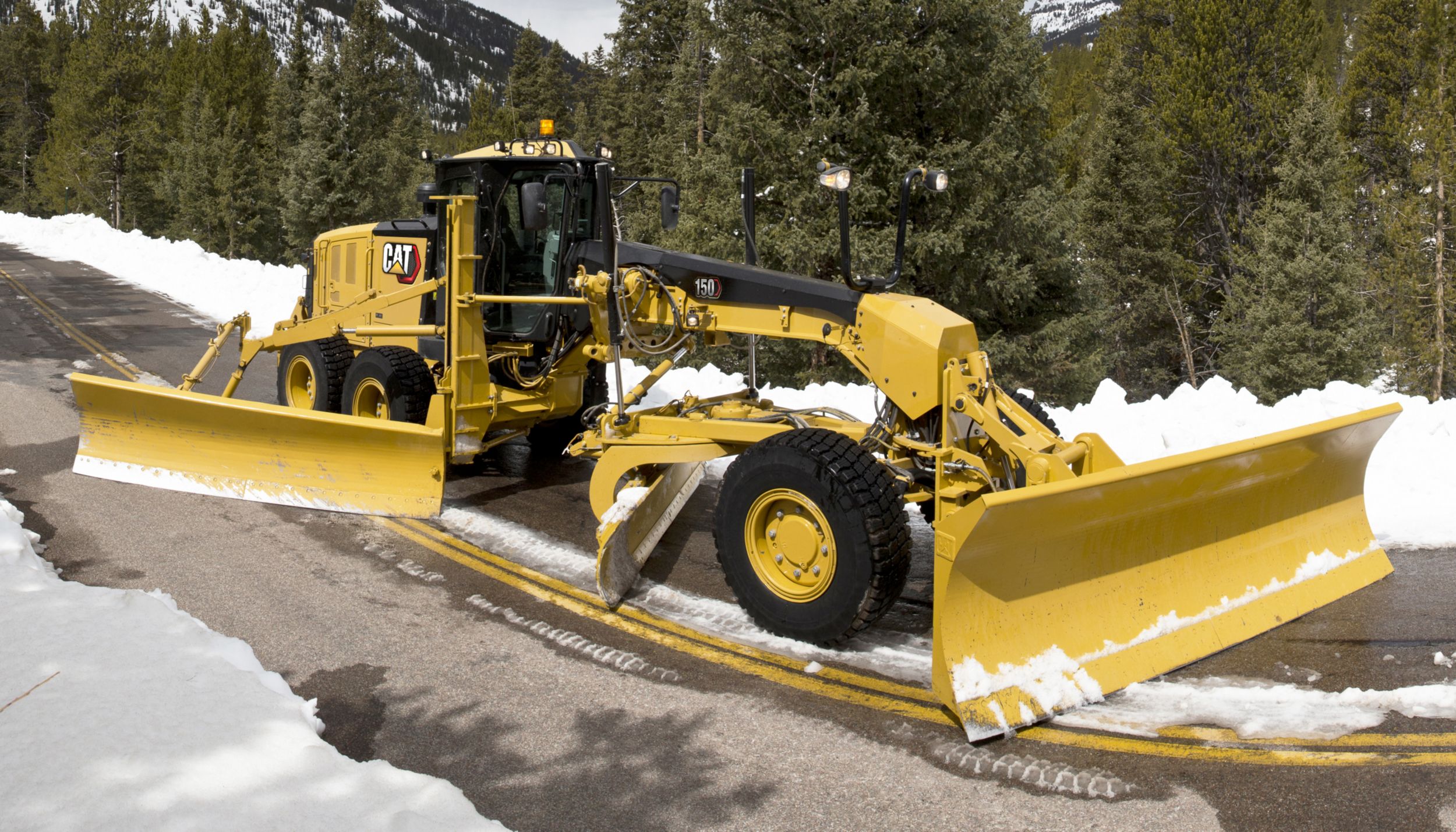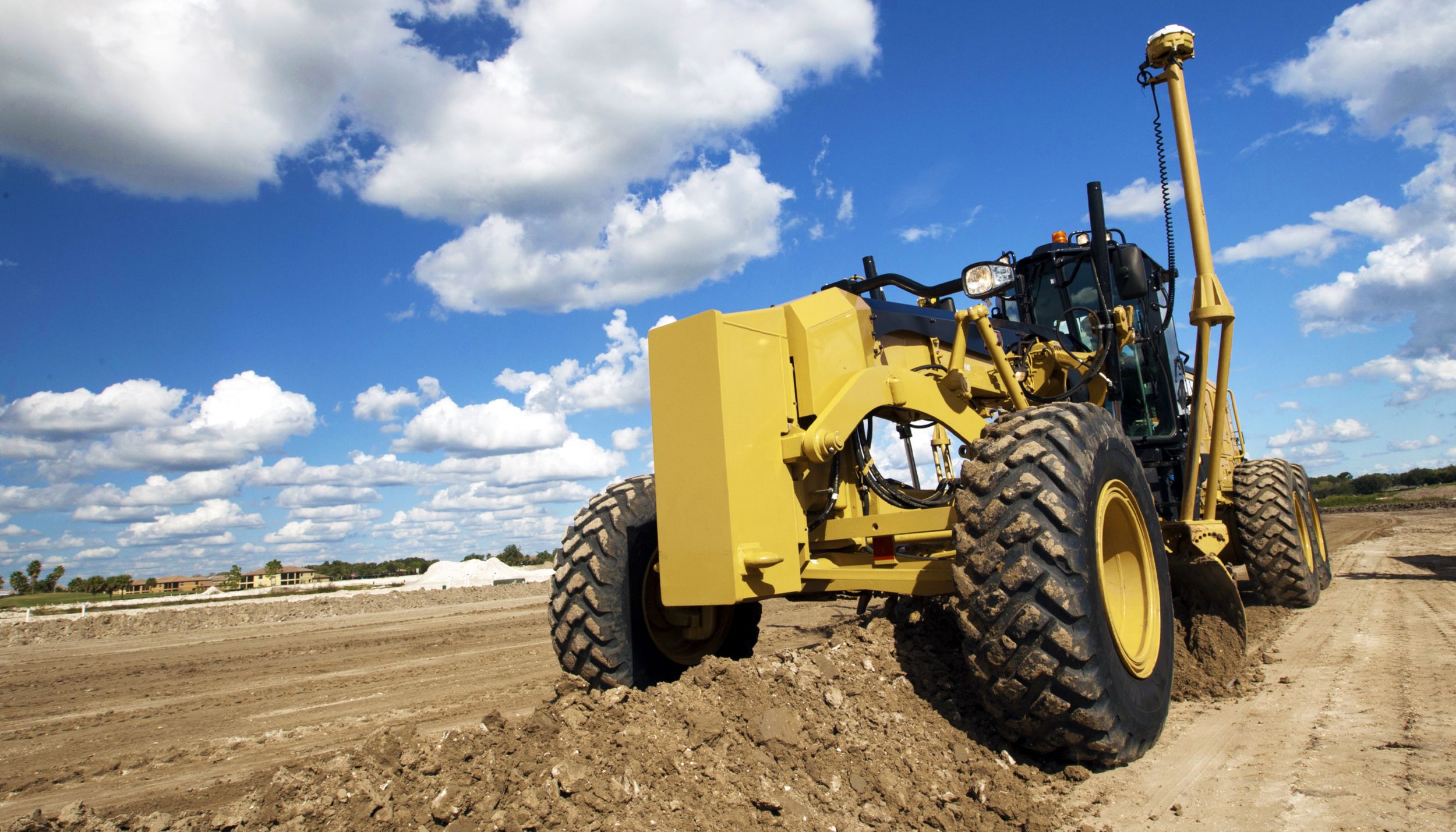 TECHNOLOGY THAT GETS WORK DONE
Grade technologies combine digital design data, in-cab guidance, and automatic blade controls to enhance grading accuracy, reduce rework, and lower costs related to production earthmoving and rough, fine and finish grade applications.
Cat Grade with Cross Slope is an optional, fully integrated, factory installed system that helps operators maintain desired cross slope by automatically controlling one side of the blade. System is job-ready from day one, and scalable for the future with upgrade kits that provide additional 2D and/or 3D control.
Attachment Ready Option can be ordered as a factory- or dealer-installed option. Includes built-in mounting points and internal wiring, to facilitate installation of grade control system.
Cat Grade uses positioning and guidance technologies, machine sensors, and automatic blade control to help operators get to grade faster, easier and more efficiently.
In-cab guidance gives operators detailed information to work confidently and achieve greater accuracy, in fewer passes, using less material.
Operators can stay on grade and improve productivity and accuracy by nearly 50 percent over conventional methods.
Grade stakes and checkers are minimized, helping to make the work site safer and more cost effective.
Grade technologies include Cross Slope, Sonic, Laser, GPS, and/or Universal Total Station (UTS).
Cat Product Link™ takes guesswork out of equipment management with remote monitoring capabilities for one machine or an entire fleet.
Manage your fleet of machines while reducing fuel burn with Cat Production Measurement System option. The Efficiency Coach and Application Segmentation work together to monitor operators and machines simultaneously. Measure your jobsite's efficiency and productivity from anywhere on the website.
Tracks asset location, hours, fuel usage, diagnostic codes, idle time and more through the secure VisionLink™ user interface.
Smart Machine Systems enhance productivity -
Cat Messenger, combined with full systems integration, enhances diagnostic capability for quick analysis of critical data.
Electronic Technician (Cat ET) lets service technicians access stored diagnostic data and configure machine parameters through the Cat Data Link.
Low Battery Elevated Idle raises idle speed when low system voltage is detected, ensuring adequate system voltage and improving battery reliability.
Automatic Engine Deration protects the engine by automatically lowering engine torque output and alerting the operator if critical conditions are detected.
BUILT-IN SAFETY FEATURES
Operator Presence Monitoring System keeps the parking brake engaged and hydraulic implements disabled until the operator is seated and the machine is ready for operation.
Speed Sensitive Steering makes steering less sensitive as ground speed increases for enhanced control.
Secondary electric hydraulic steering pump automatically engages in case of a drop in steering pressure allowing operator to steer the machine to a stop.
Hydraulic lockout disables all implement functions while still providing machine steering control. This is especially useful while roading.
Brakes are located at each tandem wheel to eliminate braking loads on the power train. Redundant brake systems utilize accumulators to enable stopping in case of machine failure.
Perforated steel tandem walkways and convenient grab rails provide a sturdy platform when moving on, off and around the machine.
Circle Drive Slip Clutch protects the drawbar, circle and moldboard from shock loads if the blade encounters an immovable object and reduces the possibility of abrupt directional changes in poor traction conditions.
Blade Lift Accumulators absorb impact loads by allowing vertical blade travel. This optional feature reduces wear and impact loading for enhanced operator safety.
Safety Features -
Optional rearview camera with in-cab monitor
Grouped, ground level service points
Laminated front window glass
Optional LED Lighting
Ground-level electrical disconnect switch
Ground-level engine shutoff switch
Anti-glare paint eases night operation
Front and rear fenders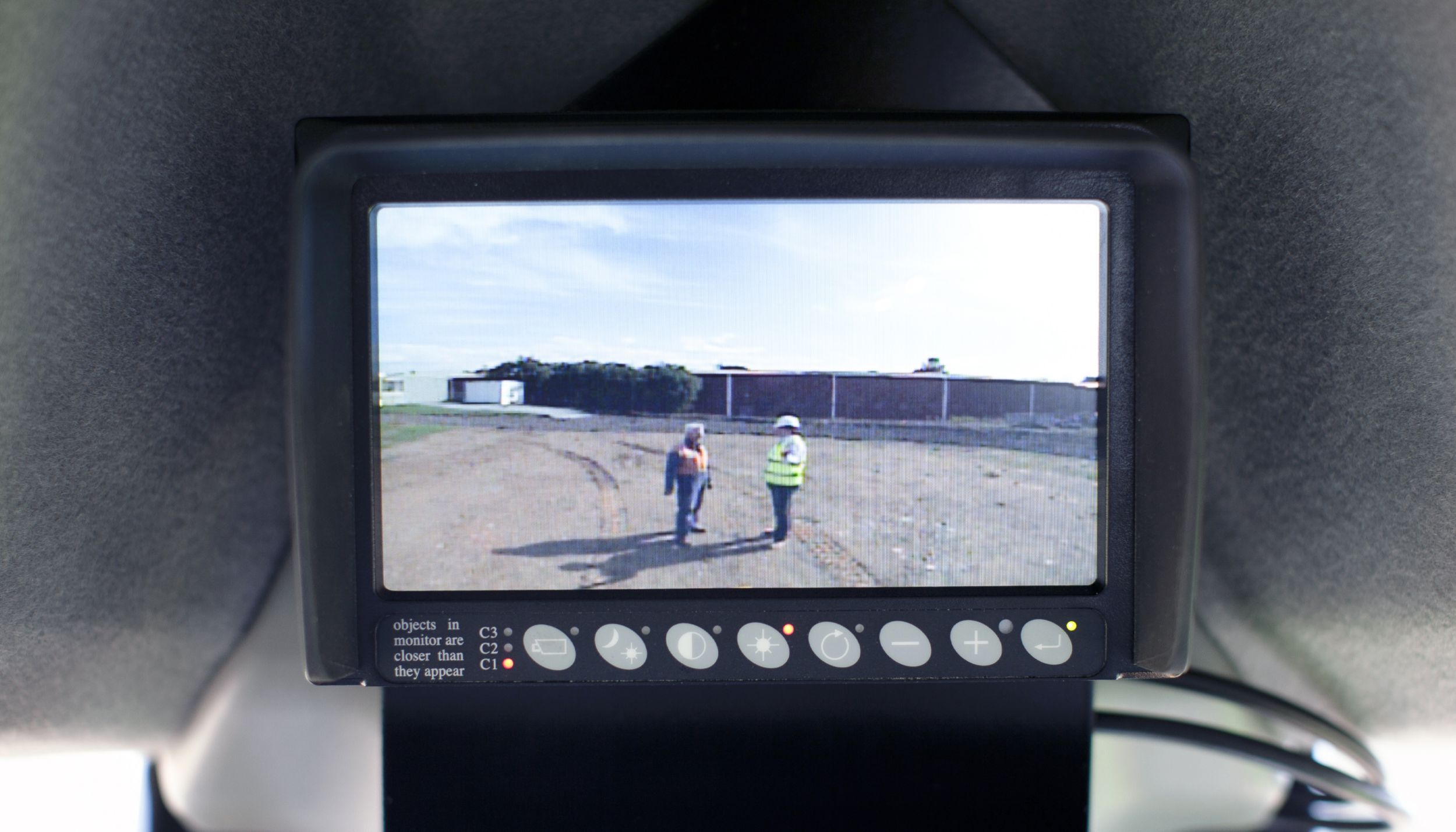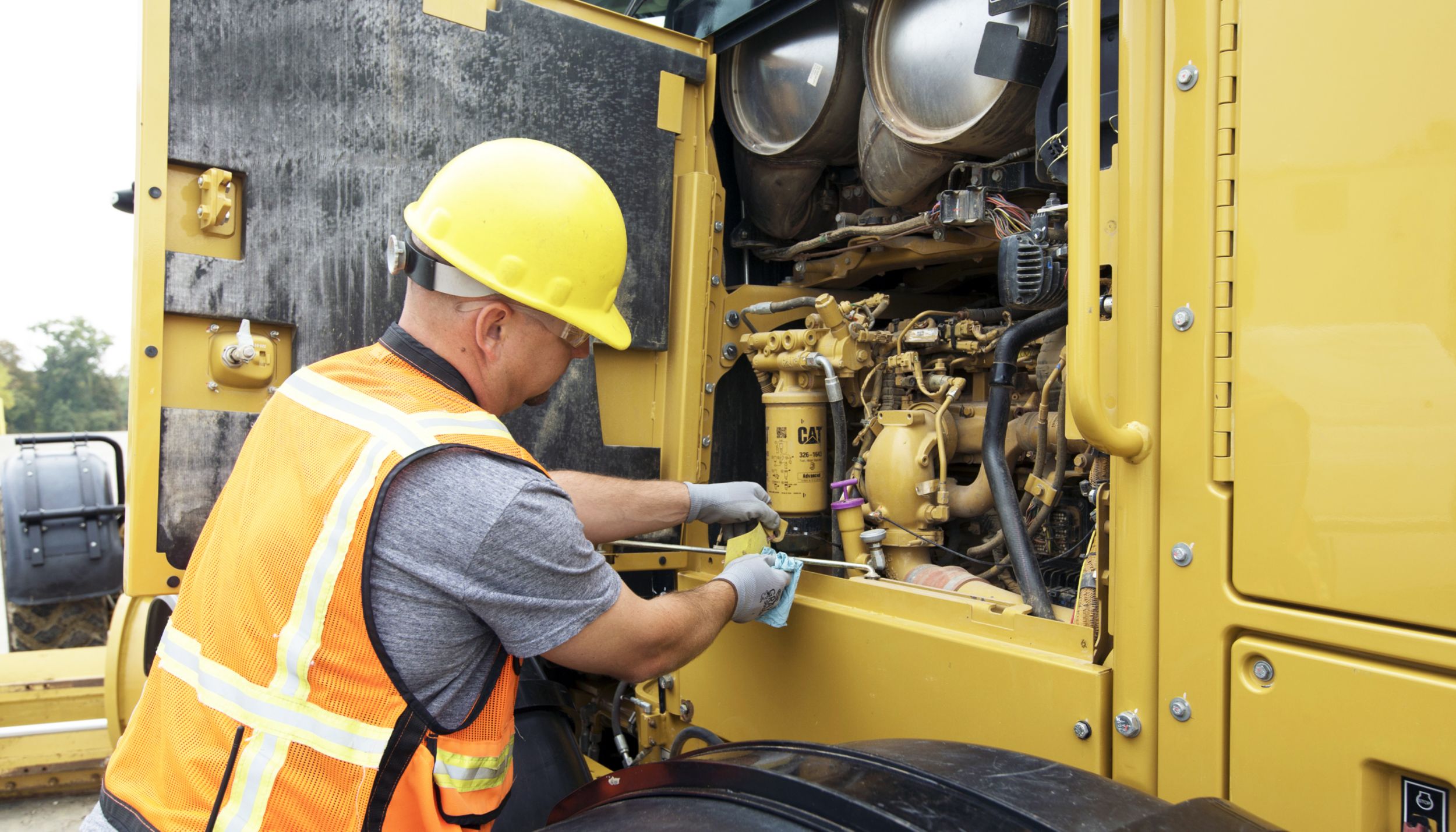 TOP-TIER SERVICE AND SUPPORT
Cat motor graders are designed to help you increase uptime and reduce costs:
Grouped service points and extended service intervals save maintenance time.
New optional LED lights in the left hand compartment facilitates machine servicing in low light.
Your Cat dealer provides support that is second to none. From machine selection and purchase to training, maintenance support and rebuilds, Cat dealers have the experience and capabilities to help keep you up and running.
SUSTAINABILITY
The Cat® C9.3 engine meets U.S. EPA Tier 4 Final and EU Stage V emission standards.
Cat diesel engines are required to use ULSD (ultra-low sulfur diesel fuel with 15 ppm of sulfur or less) or ULSD blended with the following lower-carbon intensity fuels up to: 20% biodiesel FAME (fatty acid methyl ester) * or 100% renewable diesel, HVO (hydrotreated vegetable oil) and GTL (gas-to-liquid) fuels. Refer to guidelines for successful application. Please consult your Cat dealer or "Caterpillar Machine Fluids Recommendations" (SEBU6250) for details.
Engine Idle Shutdown Timer reduces fuel burn, greenhouse gas emissions and unnecessary idle time by shutting down the machine after a pre-set idling period.
Cat® Grade helps reduce fuel burn and greenhouse gas emissions by enabling you to achieve grade faster and more accurately by automating blade actions.
Extended maintenance intervals not only reduce downtime but decrease the amount of fluid and filters that are replaced over the life of the machine.
VisionLink® displays the CO2 emissions for monitored assets, calculated by fuel type for the Runtime Fuel Burned each day in a selected date range.
Don't waste fuel idling. Cat VisionLink® online fleet monitoring helps you manage idle time and reduce fuel burn and greenhouse gas emissions.
Cat® Reman parts are a sustainable choice. New Cat parts are designed with the potential to have more than one life, so Cat Reman parts are truly remanufactured — not just repaired, rebuilt or reconditioned. Because the process ensures the latest design changes are incorporated into Cat Reman parts, you get like new quality and outstanding performance at lower cost.
*Engines with no aftertreatment devices can use higher blends, up to 100% biodiesel
(for use of blends higher than 20% biodiesel, consult your Cat dealer)
.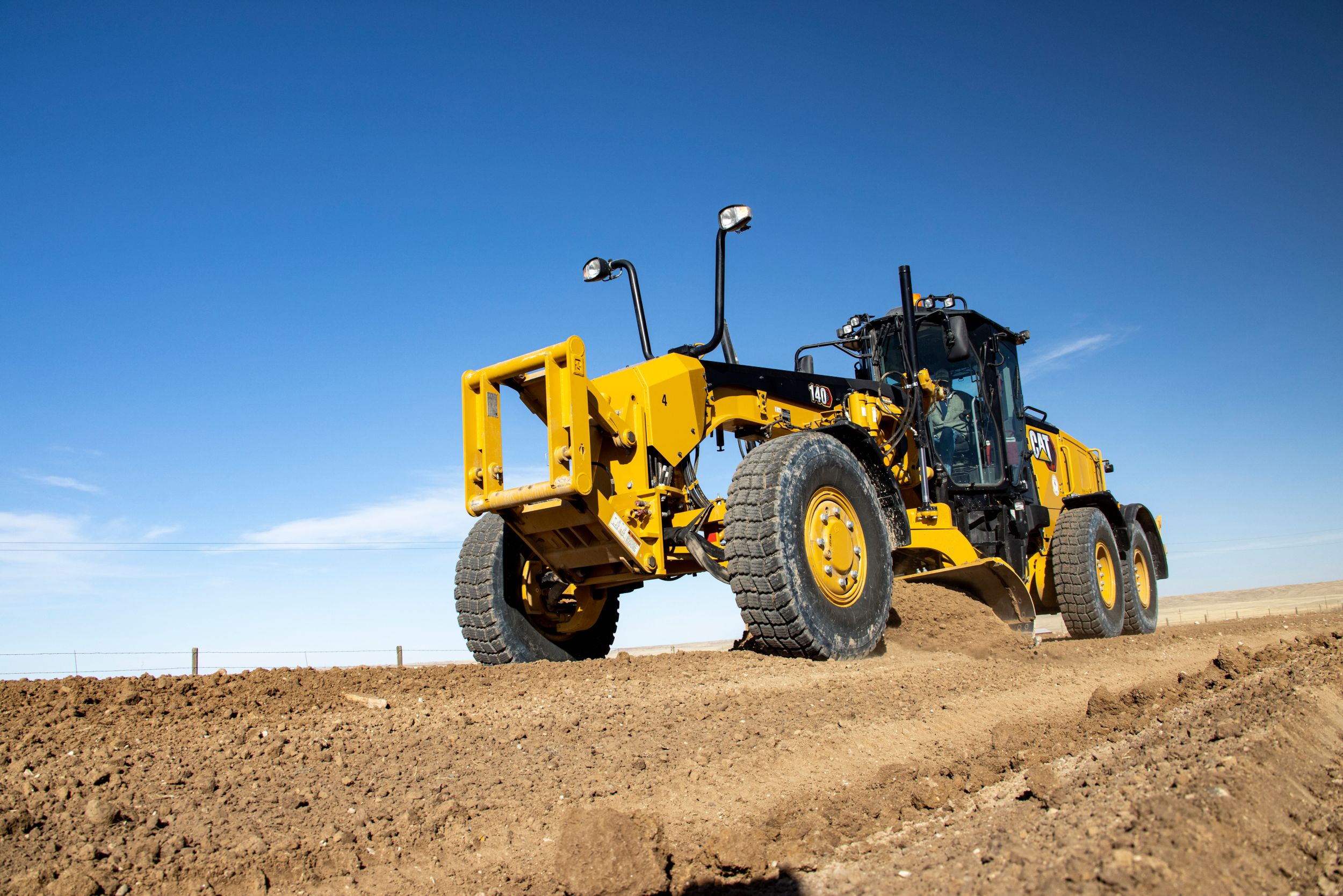 Standard Equipment
Optional Equipment
Specs
Docs
Specs
Long Name:
140/140 AWD Motor Grader
Net Power Range (Tier 4)
179 HP / 133 kW
Speed at Rated Power
2,000 rpm
Standard Capability
109 °F / 43 °C
Maximum Torque - VHP Plus
840 lb/ft / 1138 N·m
VHP Plus - Gear - Net Power - Reverse 3rd-6th
200 HP / 149 kW
VHP Plus - Gear - Net Power - Forward 2nd
189 HP / 141 kW
VHP Plus - Gear - Net Power - Forward 5th
215 HP / 160 kW
VHP Plus - Gear - Net Power - Forward 3rd
200 HP / 149 kW
VHP Plus - Gear - Net Power - Forward 8th
231 HP / 172 kW
VHP Plus - Gear - Net Power - Reverse 2nd
189 HP / 141 kW
VHP Plus - Gear - Net Power - Forward 1st
179 HP / 133 kW
VHP Plus - Gear - Net Power - Forward 6th
220 HP / 164 kW
VHP Plus - Gear - Net Power - Reverse 1st
179 HP / 133 kW
VHP Plus Range - Net
133-172 kW (179-231 hp)
Emissions
U.S. EPA Tier 4 Final/EU Stage V
VHP Plus - Gear - Net Power - Forward 7th
225 HP / 168 kW
VHP Plus Range - Net - Metric
133-172 kW (181-234 hp)
VHP Plus - Gear - Net Power - Forward 4th
210 HP / 156 kW
Base Power (1st Gear) - Net - Metric
181 HP / 133 kW
High Ambient - Fan Speed - Standard
1,400 rpm
Displacement
567.5 in³ / 9.3 l
Derating Altitude
10000 ft / 3050 m
High Ambient - Fan Speed - Maximum
1,550 rpm
High Ambient - Fan Speed - Minimum
500 rpm
High - Ambient Capability
122 °F / 50 °C
Forward/Reverse Gears
8 Forward/6 Reverse
Transmission
APECS, Direct Drive, Powershift
Brakes - Service
Multiple Oil Disc
Brakes - Service - Surface Area
3565 in² / 23000 cm²
Brakes - Parking
Multiple Oil Disc
Brakes - Secondary
Dual Circuit
Pump Type
Variable Piston
Pump Output
55.7 gal/min / 210 l/min
Maximum System Pressure
3500 psi / 24150 kPa
Reservoir Tank Capacity
16.9 gal (US) / 64 l
Standby Pressure
885 psi / 6100 kPa
Top Speed - Forward
29 mile/h / 46.6 km/h
Top Speed - Reverse
23 mile/h / 36.8 km/h
Turning Radius - Outside Front Tires
25.59 ft / 7.8 m
Steering Range - Left/Right
50°
Articulation Angle - Left/Right
20°
Forward - 1st
2.5 mile/h / 4.1 km/h
Forward - 2nd
3.4 mile/h / 5.5 km/h
Forward - 3rd
5 mile/h / 8 km/h
Forward - 4th
6.9 mile/h / 11 km/h
Forward - 5th
10.6 mile/h / 17.1 km/h
Forward - 6th
14.5 mile/h / 23.3 km/h
Forward - 7th
19.9 mile/h / 32 km/h
Forward - 8th
29 mile/h / 46.6 km/h
Reverse - 1st
2 mile/h / 3.2 km/h
Reverse - 2nd
3.7 mile/h / 6 km/h
Reverse - 3rd
5.4 mile/h / 8.7 km/h
Reverse - 4th
8.4 mile/h / 13.5 km/h
Reverse - 5th
15.7 mile/h / 25.3 km/h
Reverse - 6th
23 mile/h / 36.8 km/h
Fuel Capacity
104 gal (US) / 394 l
Cooling System
15 gal (US) / 57 l
Hydraulic System - Total
26.4 gal (US) / 100 l
Hydraulic System - Tank
16.9 gal (US) / 64 l
Diesel Exhaust Fluid
5.8 gal (US) / 22 l
Transmission - Differential - Final Drives
18.5 gal (US) / 70 l
Engine Oil
7.9 gal (US) / 30 l
Tandem Housing - Each
20 gal (US) / 76 l
Front Wheel Spindle Bearing Housing
0.13 gal (US) / 0.5 l
Circle Drive Housing
1.8 gal (US) / 7 l
Drawbar - Width
3 in / 76.2 mm
Circle - Diameter
60.2 in / 1530 mm
Circle - Blade Beam Thickness
1.6 in / 40 mm
Drawbar - Height
6 in / 152 mm
Front Frame Structure - Height
12.6 in / 321 mm
Circle - Height
5.4 in / 138 mm
Front Frame Structure - Width
12 in / 305 mm
Drawbar - Thickness
0.5 in / 12.7 mm
Front-Top/Bottom Plate - Width
12 in / 305 mm
Front-Top/Bottom Plate - Thickness
0.87 in / 22 mm
Front Axle - Height to Center
23.5 in / 596 mm
Front Axle - Wheel Lean - Left/Right
18°
Front Axle - Total Oscillation per Side
32°
Sidewall Thickness - Inner
0.63 in / 16 mm
Sidewall Thickness - Outer
0.71 in / 18 mm
Drive Chain Pitch
2 in / 50.8 mm
Wheel Axle Spacing
60 in / 1523 mm
Tandem Oscillation - Front Up
15°
Tandem Oscillation - Front Down
25°
Blade Width
12 ft / 3.7 m
Moldboard - Height
24 in / 610 mm
Moldboard - Thickness
0.87 in / 22 mm
Arc Radius
16.3 in / 413 mm
Throat Clearance
6.5 in / 166 mm
Cutting Edge Width
6 in / 152 mm
Cutting Edge Thickness
0.6 in / 16 mm
End Bit - Width
6 in / 152 mm
End Bit - Thickness
0.6 in / 16 mm
Blade Pull - Base GVW
25269 lb / 11462 kg
Blade Pull - Maximum GVW
34262 lb / 15541 kg
Blade Down Pressure - Base GVW
16038 lb / 7275 kg
Blade Down Pressure - Maximum GVW
29309 lb / 13294 kg
Moldboard - Blade Width
12 ft / 3.7 m
Circle Centershift - Right
28.7 in / 728 mm
Circle Centershift - Left
27.4 in / 695 mm
Moldboard Sideshift - Right
26 in / 660 mm
Moldboard Sideshift - Left
20.1 in / 510 mm
Maximum Blade Position Angle
90°
Blade Tip Range - Forward
40°
Blade Tip Range - Backward
5°
Maximum Shoulder Reach Outside of Tires - Right
77.9 in / 1978 mm
Maximum Shoulder Reach Outside of Tires - Left
70.5 in / 1790 mm
Maximum Lift Above Ground
18.9 in / 480 mm
Maximum Depth of Cut
28.1 in / 715 mm
Ripping Depth - Maximum
16.8 in / 426 mm
Ripper Shank Holder Spacing
21 in / 533 mm
Penetration Force
20812 lb / 9440 kg
Pry-Out Force
27794 lb / 12607 kg
Machine Length Increase, Beam Raised
40.6 in / 1031 mm
Front, V-Type, 5 or 11 Tooth - Scarifier Shank Holder Spacing
4.6 in / 116 mm
Front, V-Type, 5 or 11 Tooth - Scarifying Depth, Maximum
18.4 in / 467 mm
Mid, V-Type - Scarifier Shank Holders
11
Rear - Scarifying Depth, Maximum
16.8 in / 426 mm
Front, V-Type, 5 or 11 Tooth - Working Width
40.6 in / 1031 mm
Front, V-Type - Working Width
47.4 in / 1205 mm
Mid, V-Type - Working Width
46.6 in / 1184 mm
Mid, V-Type - Scarifying Depth, Maximum
11.5 in / 292 mm
Mid, V-Type - Scarifier Shank Holder Spacing
4.6 in / 116 mm
Front, V-Type, 5 or 11 Tooth - Scarifier Shank Holders
11-May
Rear - Working Width
84 in / 2133 mm
Rear - Scarifier Shank Holders
9
Rear - Scarifier Shank Holder Spacing
10.5 in / 267 mm
Operating Weight - Typically Equipped
42647 lb / 19344 kg
Gross Vehicle Weight - Maximum - Front Axle
17075 lb / 7745 kg
Gross Vehicle Weight - Maximum - Rear Axle
38069 lb / 17268 kg
Operating Weight - Typically Equipped - Front Axle
12055 lb / 5468 kg
Operating Weight - Typically Equipped - Rear Axle
30592 lb / 13876 kg
Gross Vehicle Weight - Base - Front Axle
9343 lb / 4238 kg
Gross Vehicle Weight - Base - Rear Axle
28077 lb / 12736 kg
Gross Vehicle Weight - Maximum - Total
55144 lb / 25013 kg
Gross Vehicle Weight - Base - Total
37420 lb / 16974 kg
Operating Weight - Typically Equipped - Total
42647 lb / 19344 kg
Height - Top of Cab
130 in / 3308 mm
Length - Counterweight to Ripper
399 in / 10136 mm
Width - Outside Front Tires
98.9 in / 2511 mm
Length - Front Axle to Mid Tandem
241 in / 6123 mm
Length - Front Tire to Rear of Machine
351 in / 8912 mm
Length - Front Axle to Moldboard
100 in / 2552 mm
Length - Between Tandem Axles
60 in / 1523 mm
Width - Outside Rear Tires
98.9 in / 2511 mm
Width - Tire Center Lines
84.3 in / 2140 mm
Height - Front Axle Center
23.5 in / 596 mm
Height - Exhaust Stack
128 in / 3256 mm
Height - Top of Cylinders
120 in / 3040 mm
Ground Clearance - Rear Axle
13.3 in / 339 mm
ROPS/FOPS
ISO 3471/ISO 3449