621K
621K Wheel Tractor-Scraper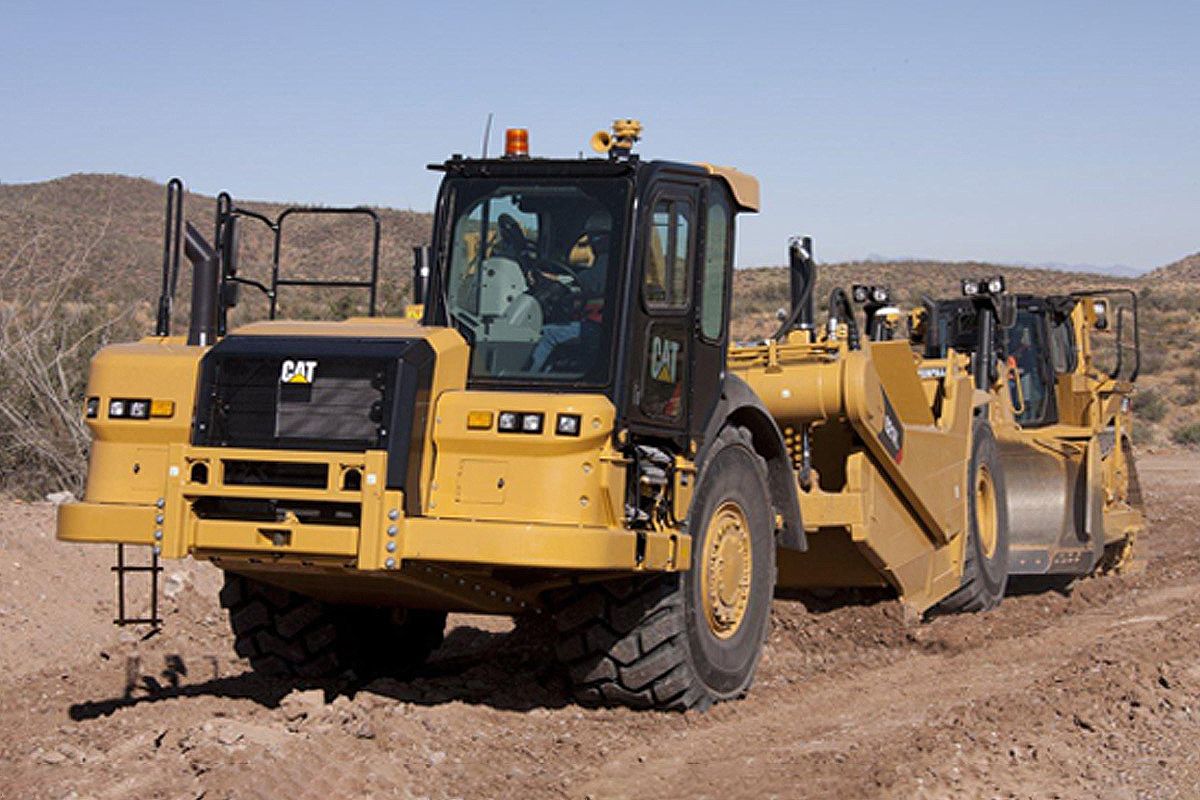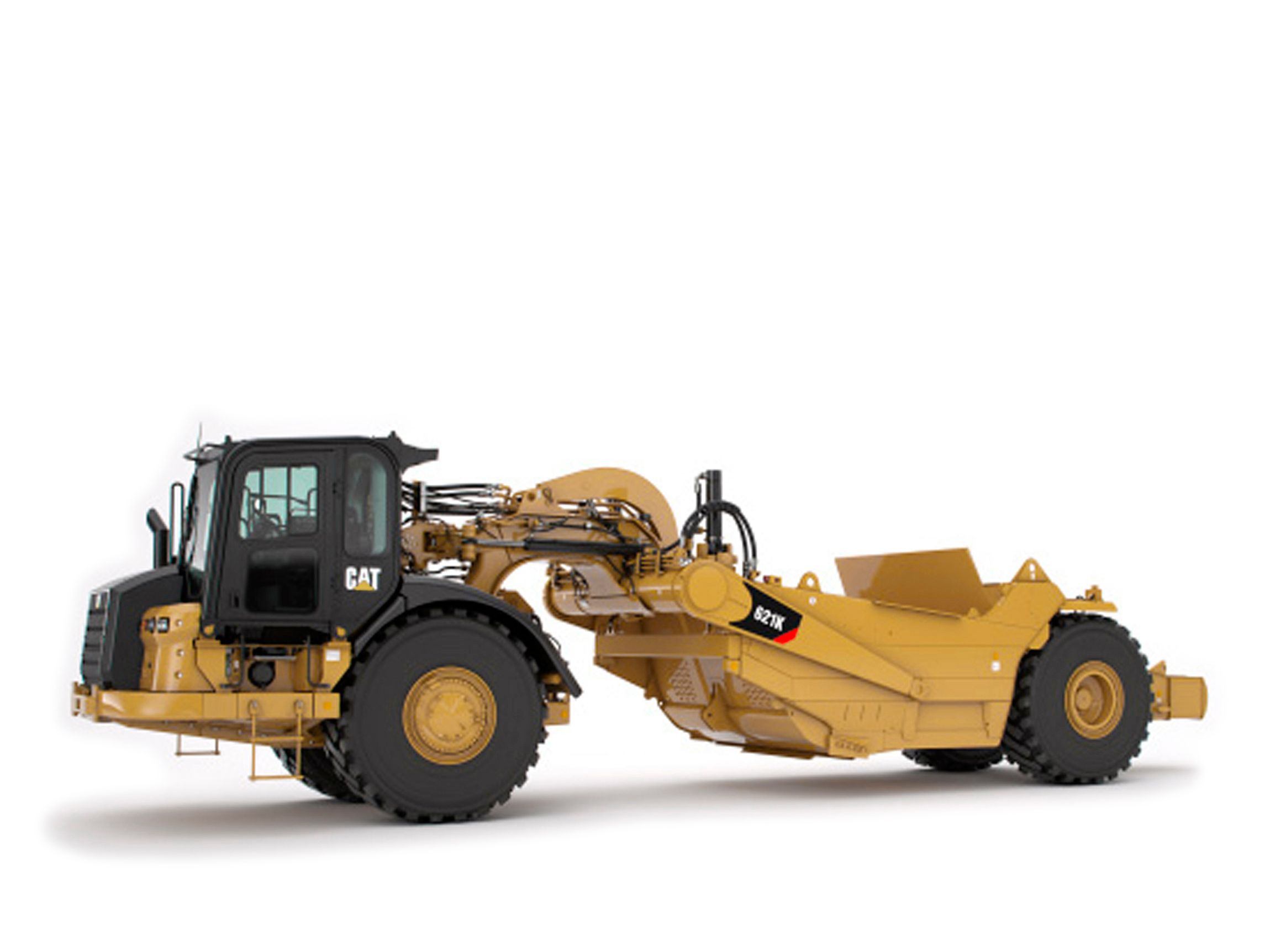 DESCRIPTION
Quick loading, high travel speeds and the ability to load and dump on the run yield fast cycle times, allowing Cat Wheel Tractor-Scrapers to consistently deliver high productivity at the lowest cost per ton.
Wheel Tractor-Scraper K-Series
Wheel Tractor-Scraper K-Series Operator Testimonial
PRODUCTIVITY
Up to 8% improvement in productivity.
Advanced Productivity Electronic Control System (APECS) allows
the engine and transmission to communicate on a high level. This communication allows the machine to better utilize the power
and torque the engine is producing. The net result is moving more
material.
Use Ground Speed Control to set the desired top speed and the
machine will find the gear that works best for the engine and the
transmission, providing a lower fuel burn.
The Machine Speed Limit feature replaces Top Gear Selection.
Auto-Stall assists in quickly bringing the transmission to an
operating temperature at start-up when the machine is working in a
cold climate region.
Boost productivity with the Payload Estimator feature (optional
attachment). Payload Estimator is an automatic feature when
ordered with Sequence Assist.
Cat®Payload Estimator for scrapers is an earthmoving solution for
optimal payload and jobsite efficiency. Payload Estimator achieves on-the-go weighing by using bowl lift cylinder pressure during the
loaded haul segment. Payload Estimator is optimized to be used
with Sequence Assist, which provides increased productivity with
less operator effort.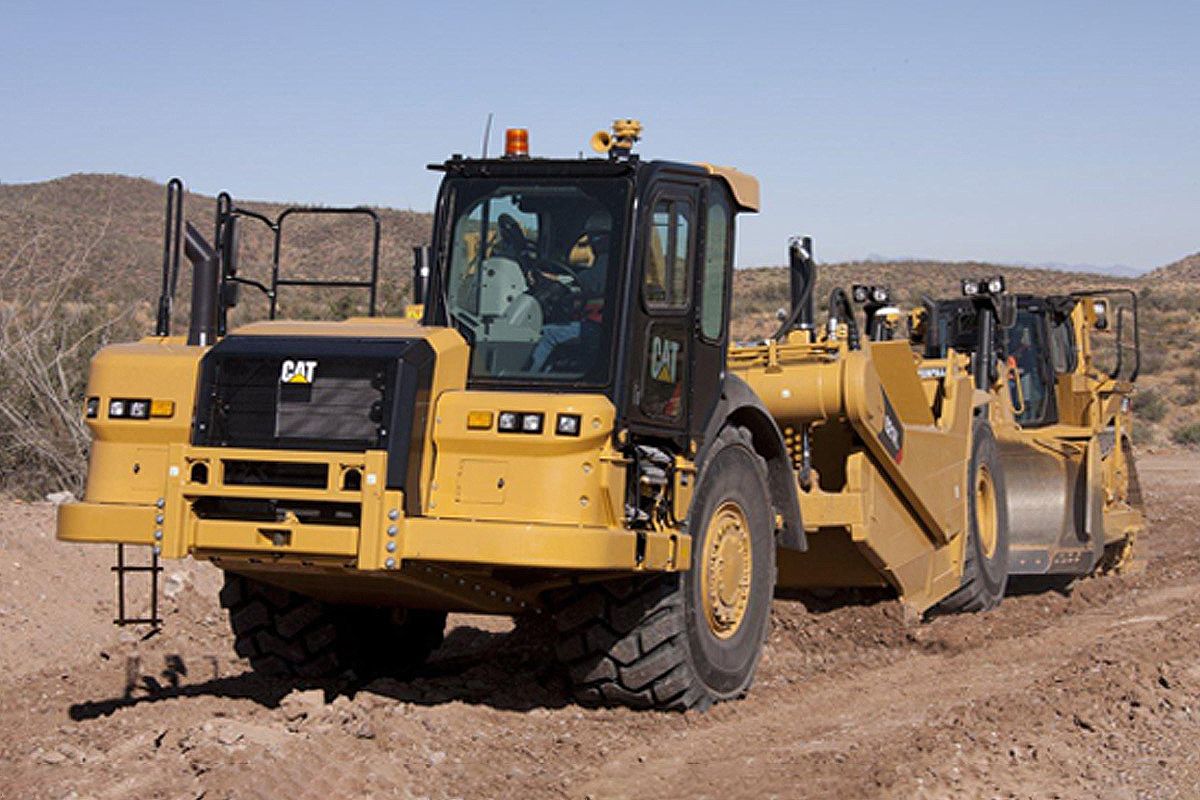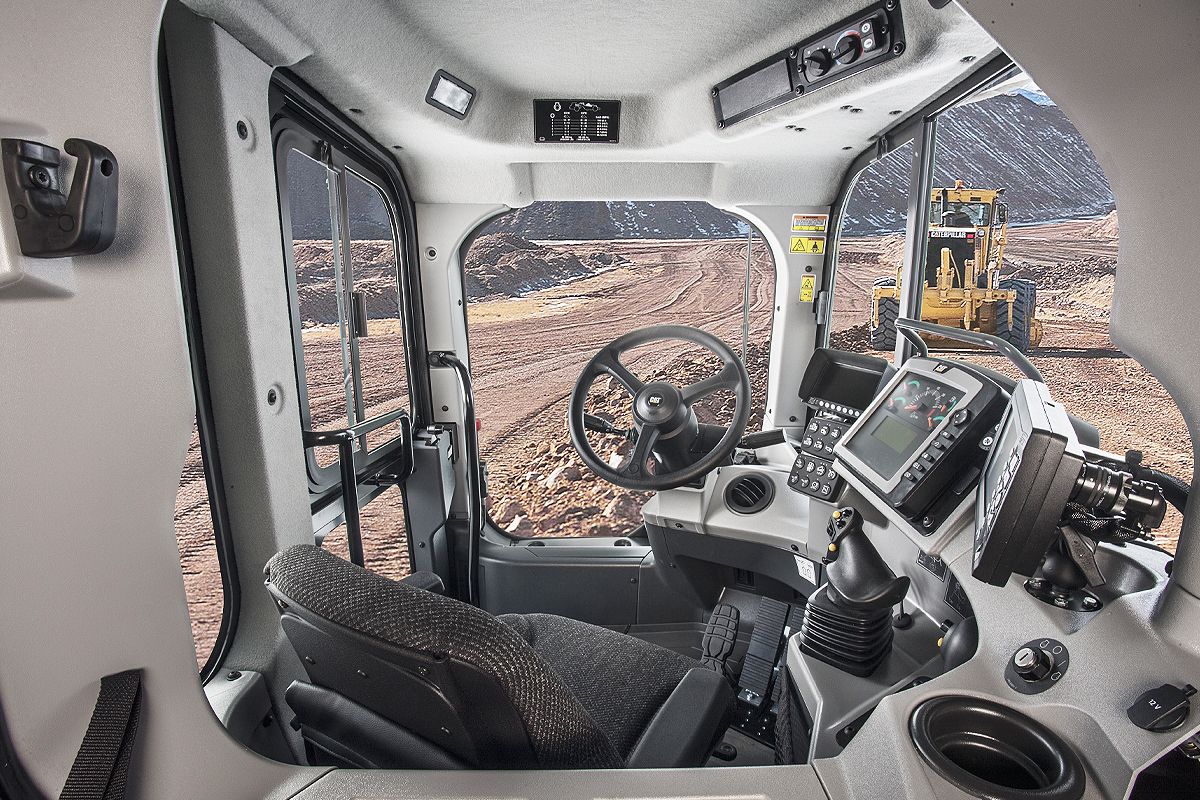 OPERATOR COMFORT AND CONTROL
Reduce up to 14 individual operator commands per cycle with
Sequence Assist (optional attachment).
Steer with less effort using the newly designed high-pressure
steering system.
Enjoy interior improvements and a more ergonomic work
environment with a 21% larger cab than the G Series cab.
Intuitive, ergonomic controls keep operators focused on their work.
Maintain desired cab temperature with automatic temperature
control.
BUILT-IN SAFETY
Get in and out of the cab easier with the new powered access
ladder system (optional attachment).
Enhance an operator's awareness of site surroundings with the
optional Work Area Vision System (WAVS).
Seat belt indicator provides visual and audible alerts when the seat
belt is not in use.
Advanced Cushion Hitch allows the cushion hitch to prevent end
stroke by having the ability to predict end stroke events and manage
the rate of dampening, resulting in reduced hitch maintenance and
improved operator ride in rough conditions.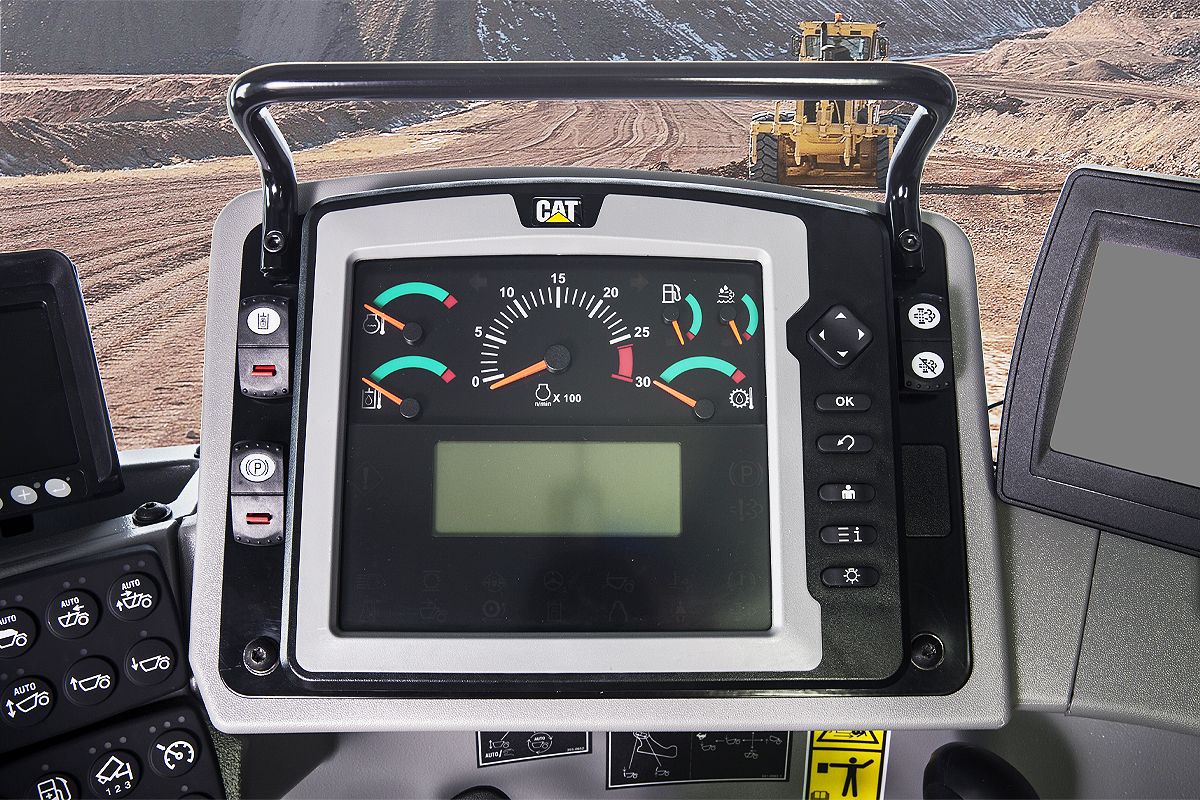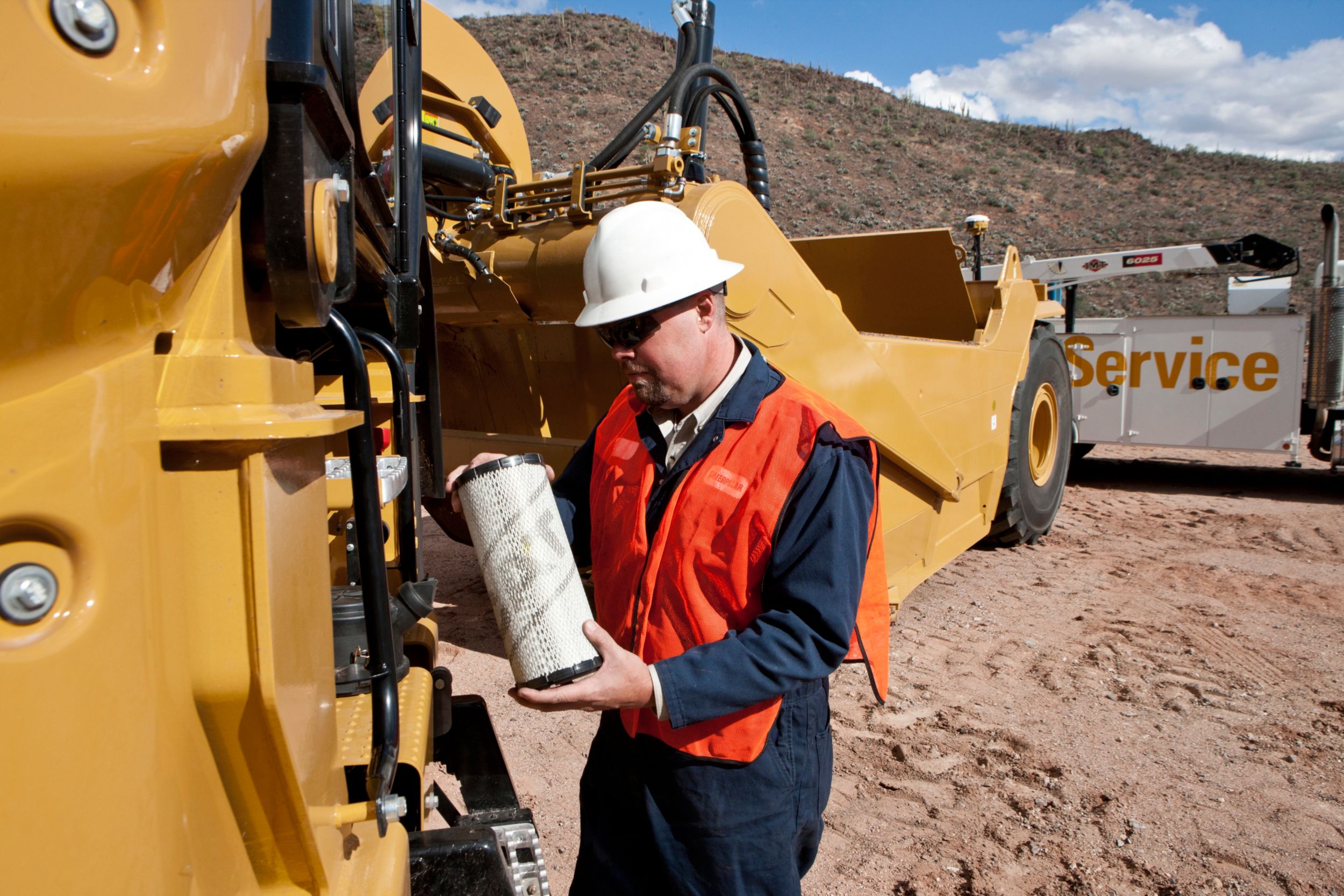 EASE OF OPERATIONS
The spacious cab features easy, intuitive controls and excellent
visibility. The cab provides a comfortable working environment for
all-day operation.
Cat Advanced Ride Management (ARM) seat suspension reduces
end stroke movement of the load cylinder for a smoother ride.
Engine overspeed protection will automatically engage with no
operator input when the machine is in eighth gear. The machine
will assist in slowing the machine speed by canceling the throttle
command and engaging the engine compression brake.
Features
CAT TECHNOLOGY

Monitor, manage, and enhance jobsite operations.
Hit target grade faster and more accurately with Cat GRADE technologies. Finish jobs in fewer passes and with less operator effort, saving you time and helping to increase profit.
Product Link™ collects machine data that can be viewed online through web and mobile applications (optional attachment).
Access information anytime, anywhere with Vision Link®– use it to make informed decisions that boost productivity, lower costs, simplify maintenance, and improve safety and security on your jobsite.
Shorten the learning curve for inexperienced operators with Load Assist (optional attachment).
EFFICIENCY

The new tractor hydraulic on-demand fan helps assist in lower fuel consumption.
The Cat C13 tractor engine meets U.S. EPA Tier 4 Final or EU Stage V emission standards, contributing to lower fuel consumption.
Using draft-arm overflow guards diverts material away from the bowl, preventing material from getting caught between the draft arms and the bowl sides.
Cat Grade Control (optional attachment) intelligently ensures the machine does not cut below grade in a cut area or overfill in the fill area.
Standard Equipment
Optional Equipment
Specs
Docs
Specs
Long Name:
621K Wheel Tractor-Scraper
Maximum Depth of Cut
12.4 in / 315 mm
Maximum Depth of Spread
21.3 in / 540 mm
180° Curb-to-Curb Turning Width
38.71 ft / 11.8 m
Scraper Capacity - Struck
17.1 yd³ / 13 m³
Tires - Scraper
33.25R29**E3
Overall Width
11.71 ft / 3.57 m
Overall Shipping Height
13.22 ft / 4.03 m
Width - Cut
10.3 ft / 3.14 m
Tires - Tractor Drive
33.25R29**E3
Top Speed - Loaded
33.5 mile/h / 53.9 km/h
Fuel Tank Refill Capacity - Scraper
201 gal (US) / 763 l
Scraper Capacity - Heaped
24 yd³ / 18.4 m³
Rated Load
26 127 kg (57,610 lb); 26.19 tonnes (28.81 tons)
Rated Engine RPM - Tractor
2000 r/min / 2000 r/min
Engine Model - Tractor
Cat C13
Flywheel Power - Tractor
407 HP / 304 kW
Note
Cat C13 engine meets U.S. Environmental Protection Agency (EPA) Tier 4 Final/EU Stage IV engine emission standards.
Flywheel Power - Tractor/Scraper
304 kW (407 hp)
Scraper Capacity - Heaped
24 yd³ / 18.4 m³
Top Speed - Loaded
33.5 mile/h / 53.9 km/h
Service Refill Capacities
Hydraulic System
21.926 gal (US) / 83 l
Cooling System
11.89 gal (US) / 45 l
Fuel Tank
216.09 gal (US) / 818 l
Crankcase
8.08 gal (US) / 30.58 l
Diesel Exhaust Fluid
8.057 gal (US) / 30.5 l
Transmission System
24.76 gal (US) / 93 l
Width - Overall Machine
141.1 in / 3585 mm
Width - Tractor
133.1 in / 3381 mm
Width - Inside of Bowl
120 in / 3048 mm
Width - Outside Rear Tires
128.9 in / 3275 mm
Height - Overall Shipping
158.6 in / 4029 mm
Height - Top of Cab
142.2 in / 3612 mm
Ground Clearance - Tractor
21.9 in / 557 mm
Front of Tractor to Front Axle
122.8 in / 3119 mm
Axle to Vertical Hitch Pin
21.3 in / 540 mm
Height - Scraper Blade Maximum
20.5 in / 520 mm
Wheel Base
314.9 in / 7998 mm
Rear Axle - Rear of Machine
114.1 in / 2898 mm
Length - Maximum (Push-Pull)
613.2 in / 15576 mm
Length - Overall Machine - Standard
551.8 in / 14015 mm
Width - Rear Tire Centers
90.2 in / 2290 mm
Width - Overall Machine - Ladder Down
149.2 in / 3790 mm
Overall Length
45.9 ft / 14.02 m
Operating Weight - Empty
79787 lb / 36185 kg
Operating Weight - Empty
80630 lb / 36567 kg
Overall Length - With Bail Down
51.1 ft / 15.58 m
ROPS/FOPS
Meets SAE and ISO standards
Exterior Sound Level
The exterior sound power level for the standard machine (ISO 6393) is 111.5 dB(A).
Safety Criteria Compliance Standards
Seat Belt
SAE J386:JUN1985
Steering System
ISO 5010:2007
Reverse Alarm
ISO 9533:2010
Rollover Protection Structure (ROPS)
ISO 3471:2008 for up to 17 084 kg (37,664 lb)
Falling Object Protective Structure (FOPS)
ISO 3449:2005 Level II
Transmission Gear - Sixth
18.4 mile/h / 29.6 km/h
Transmission Gear - Fifth
13.6 mile/h / 21.9 km/h
Transmission Gear - Reverse
5.7 mile/h / 9.2 km/h
Transmission Gear - Second
5.5 mile/h / 8.9 km/h
Transmission Gear - Third
7.5 mile/h / 12.1 km/h
Transmission Gear - First
3.1 mile/h / 5 km/h
Transmission Gear - Eighth
33.5 mile/h / 53.9 km/h
Transmission Gear - Fourth
10.1 mile/h / 16.3 km/h
Transmission Gear - Seventh
24.8 mile/h / 39.9 km/h
Apron Lower
3.8 s / 3.8 s
Apron Raise
2.95 s / 2.95 s
Ejector Extend
5.2 s / 5.2 s
Ejector Retract
6.7 s / 6.7 s