631K
631K Wheel Tractor-Scraper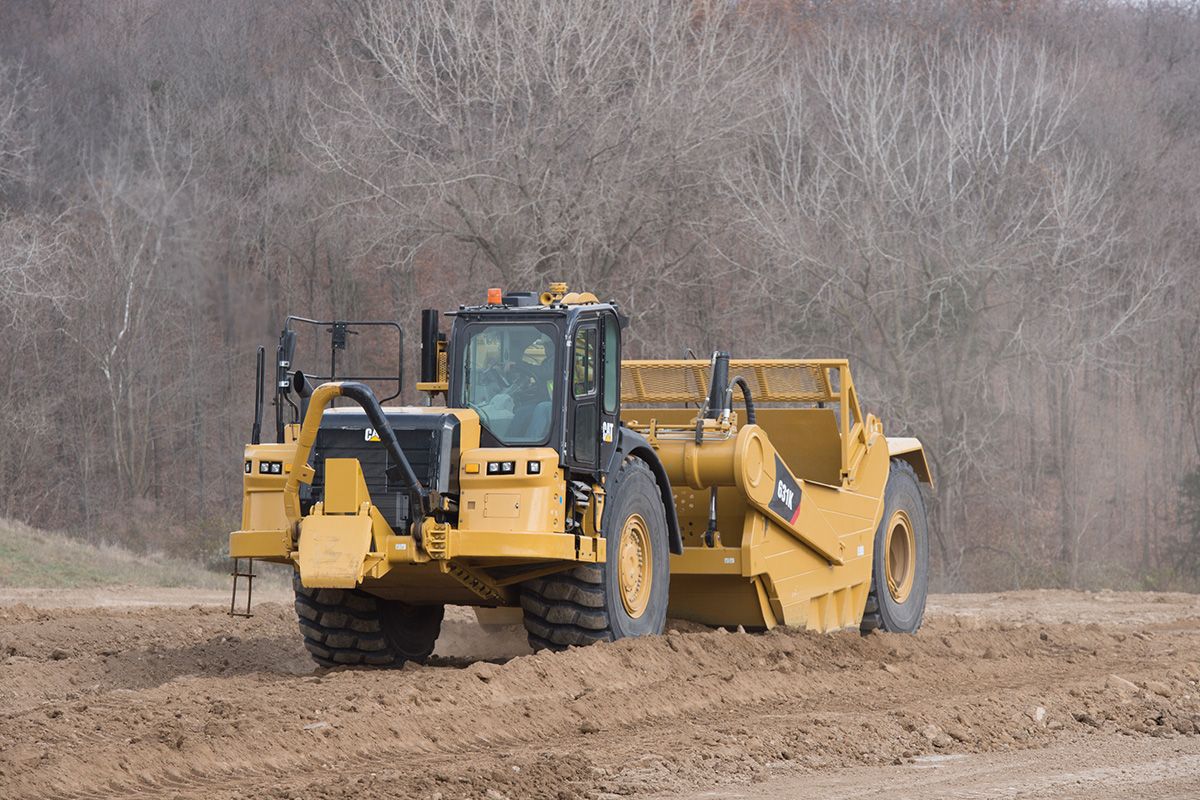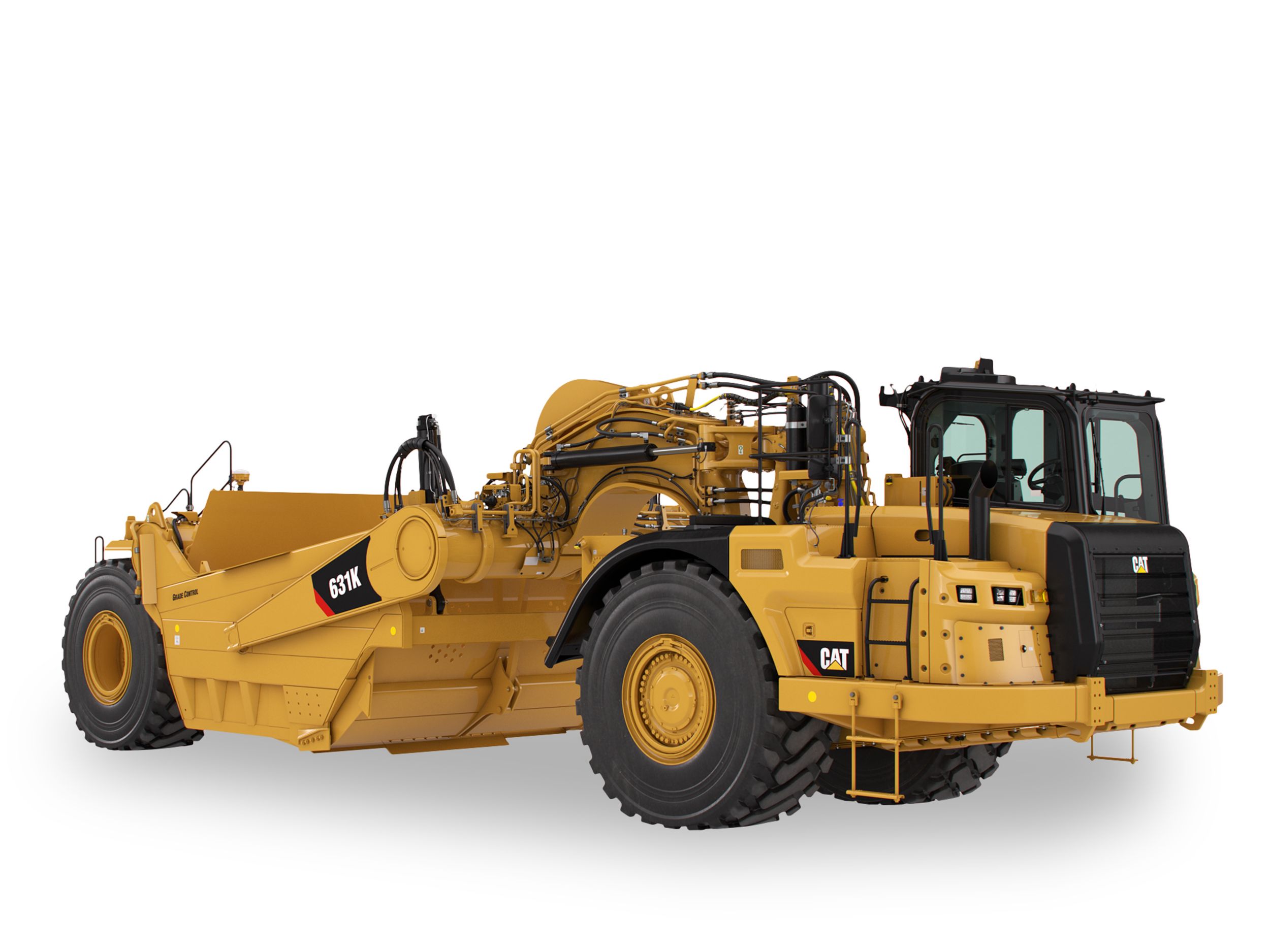 DESCRIPTION
Quick loading, high travel speeds and the ability to load and dump on the run yield fast cycle times, allowing Cat Wheel Tractor-Scrapers to consistently deliver high productivity at the lowest cost per ton.
631K Delivering more for Q.H. & M. Birt
Wheel Tractor-Scraper K Series
Wheel Tractor-Scraper K Series Operator Testimonial
Wheel Tractor Scraper CAT® 631K C202
EFFICIENCY THROUGH TECHNOLOGY
The Payload Estimator will calculate the payload of the machine in tonnes or tons by measuring the bowl lift cylinder pressures at the beginning of the loaded haul segment. This feature works best when using Sequence Assist. Using Payload Estimator during testing has achieved better than 95% accuracy when compared to actual scale weights. The Payload Estimator feature comes automatically when a machine is ordered with Sequence Assist.
Load Assist (Optional) is designed to help shorten the learning curve of inexperienced operators to ensure consistency and faster loading of material while reducing effort of the operator. Based on the speed of the machine, Load Assist automatically adjusts the cutting edge height to manage wheel slip and to ensure consistent and efficient loading in bulk earthmoving applications.
Machine Speed Limit is designed to take the place of top gear selection. If the machine top speed needs to be limited the operator can select the top speed through the display or the top speed can be set in ET. This will allow the machine to find the correct gear that works best for the engine and transmission. Allowing the engine and transmission to select the correct gear to pull the load in most cases resulting in a lower engine load factor and lower fuel burn verses using top gear selection that required the machine to run at engine speeds at or close to high idle.
Sequence Assist (Optional) uses cylinder position sensors to automate bowl, apron and further implement controls throughout the four core work cycles: Dig, Haul, Unload and Return. When utilized this can reduce up to 14 individual operator commands per cycle. Sequence Assist simplifies control over the implements, reduces joystick usage, automatically controls cushion hitch, transmission hold and ejector.
Ground Speed Control sets the desired top speed by the operator if job site conditions or segment speed limits require a speed less than full run out. Machine Speed Limit is intended for use when top speed needs to be limited for longer durations and Ground Speed Control is intended for use when the top speed needs to be reduced for shorter segments or intermediate periods of time. The operator can set the desired top speed and the machine will find the correct gear that works best for the engine and transmission.
Cat Grade Control (Optional) intelligently ensures the machine does not cut below grade in the cut area or over fill in the fill area – avoiding rework and moving unnecessary material.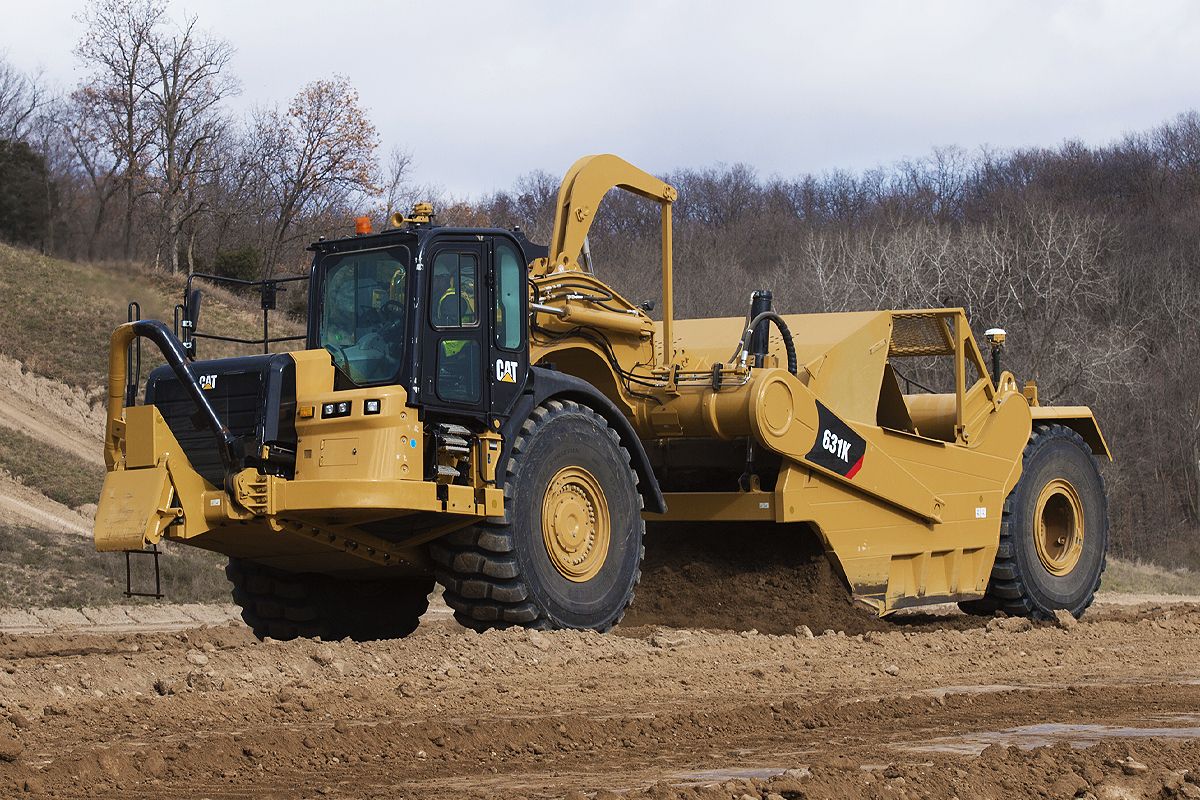 OPERATOR COMFORT AND CONTROL
K Series steering system design requires significantly less steering effort. The reduced steering effort will allow for decreased operator fatigue and a more efficient operator resulting in possible higher rates of production late in the work cycle.
Advanced Cushion Hitch allows the cushion hitch to prevent end stroke by having the ability to predict end stroke events and manage the rate of dampening. Resulting in reduced hitch maintenance and improved operator ride in rough conditions.
The K Series cab interior improves operator comfort and visibility. The overall interior is 21% larger than the G Series cab.
BUILT-IN SAFETY FEATURES
In the event of an engine over speed situation, the compression brake or brakes will automatically engage with no operator input. The machine determines the over speed condition based on rate of acceleration and applies compression brakes automatically.
Differential Lock Engagement Protection- This standard feature allows the machine to prevent the operator from engaging the differential lock when damage could occur.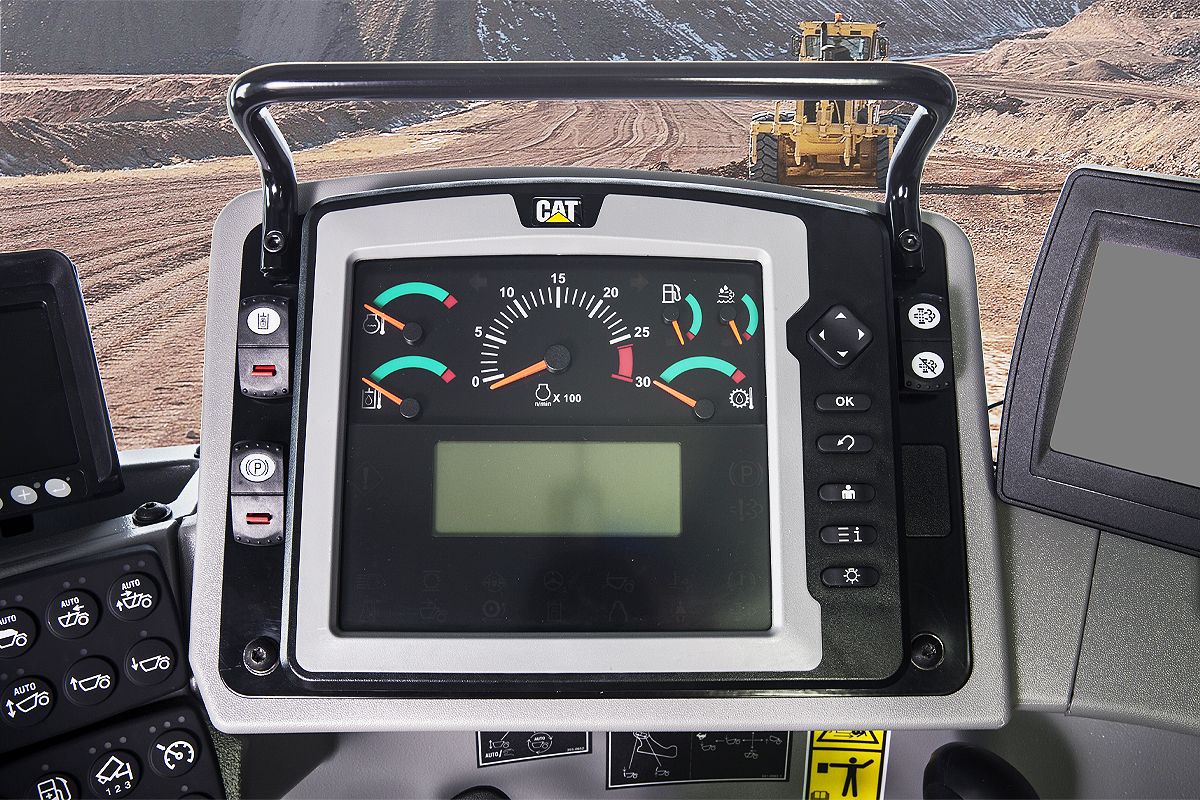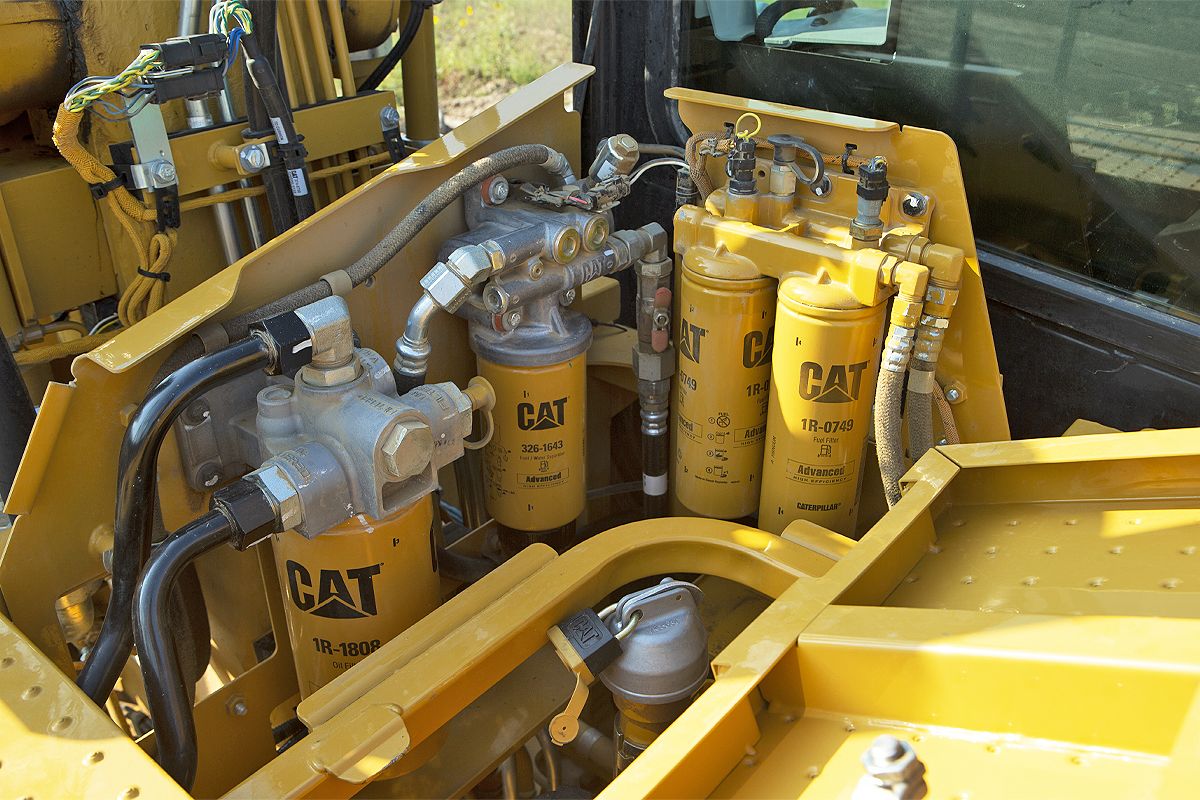 SAVE ON MAINTENANCE TIME
The fuel, water and engine oil are relocated at ground level on the right hand side of the machine for easy access.
Standard Equipment
Optional Equipment
Specs
Docs
Specs
Long Name:
631K Wheel Tractor-Scraper
Tires - Scraper
37.25R35**E3
Rated Load
37 200 kg (82,200 lb); 37.2 tonnes (41.1 tons)
Scraper Capacity - Struck
24 yd³ / 18.3 m³
Tires - Tractor
37.25R35**E3
Maximum Depth of Cut
17.7 in / 450 mm
Width - Cut
11.5 ft / 3.51 m
Scraper Capacity - Heaped
34 yd³ / 26 m³
Overall Width
12.93 ft / 3.94 m
Top Speed - Loaded
34.7 mile/h / 55.8 km/h
Fuel Tank Refill Capacity - Scraper
231 gal (US) / 874 l
Overall Shipping Height
12.75 ft / 3.89 m
180° Curb-to-Curb Turning Width
40.12 ft / 12.23 m
Maximum Depth of Spread
21.1 in / 535 mm
Flywheel Power - Tractor
570 HP / 425 kW
Rated Engine RPM - Tractor
1900 r/min / 1900 r/min
Engine Model - Tractor
Cat C18
Emissions
Cat C18 engine meets U.S. EPA Tier 4 Final/EU Stage IV emission standards.
Flywheel Power - Tractor/Scraper
570 HP / 425 kW
Scraper Capacity - Heaped
34 yd³ / 26 m³
Top Speed - Loaded
34.7 mile/h / 55.8 km/h
Service Refill Capacities
Fuel Tank
231 gal (US) / 874 l
Hydraulic System
37.5 gal (US) / 142 l
Diesel Exhaust Fluid (DEF)
8 gal (US) / 30.5 l
Cooling System
19.8 gal (US) / 75 l
Crankcase - Tractor
13.7 gal (US) / 52 l
Transmission System
29 gal (US) / 110 l
Front of Tractor to Front Axle
142.2 in / 3612 mm
Axle to Vertical Hitch Pin
20 in / 509 mm
Wheel Base
346.8 in / 8808 mm
Rear Axle - Rear of Machine
108 in / 2744 mm
Height - Scraper Blade Maximum
20 in / 510 mm
Ground Clearance - Tractor
26.1 in / 664 mm
Length - Overall Machine - Standard
597 in / 15164 mm
Length - Maximum (Push-Pull)
655.1 in / 16640 mm
Width - Tractor
137.8 in / 3499 mm
Height - Top of Cab
147 in / 3733 mm
Width - Rear Tire Centers
96.9 in / 2462 mm
Width - Overall Machine
155 in / 3937 mm
Width - Outside Rear Tires
143.2 in / 3636 mm
Width - Inside of Bowl
134 in / 3404 mm
Height - Overall Shipping
153.2 in / 3892 mm
Overall Length
49.34 ft / 15.04 m
Operating Weight - Empty
102750 lb / 46600 kg
Overall Length - With Bail Down
54.59 ft / 16.64 m
Operating Weight - Empty
106430 lb / 48275 kg
ROPS/FOPS
ROPS/FOPS meet "ISO Standards."
Exterior Sound Level
The exterior sound power level for the standard machine (ISO 6393) is 111.5 dB(A).
Safety Criteria Compliance Standards
Steering System
ISO 5010:2007
Reverse Alarm
ISO 9533:2010
Seat Belt
SAE J386:FEB2006
Falling Object Protective Structure (FOPS)
ISO 3449:2005 Level II
Rollover Protection Structure (ROPS)
ISO 3471:2008 for up to 21 282 kg (46,919 lb)
Transmission Gear - Sixth
19 mile/h / 30.6 km/h
Transmission Gear - Seventh
25.7 mile/h / 41.4 km/h
Transmission Gear - Reverse
6.2 mile/h / 9.9 km/h
Transmission Gear - Fourth
10.5 mile/h / 16.9 km/h
Transmission Gear - Eighth
34.7 mile/h / 55.8 km/h
Transmission Gear - First
3.4 mile/h / 5.5 km/h
Transmission Gear - Fifth
14.1 mile/h / 22.7 km/h
Transmission Gear - Third
7.7 mile/h / 12.4 km/h
Transmission Gear - Second
6.2 mile/h / 10 km/h
Ejector Retract
8.5 s / 8.5 s
Apron Lower
3.8 s / 3.8 s
Ejector Extend
8.5 s / 8.5 s