740 GC
740 GC Articulated Truck
Cat® 740 GC articulated trucks excel in hauling and dumping material such as rock and dirt over rough off road terrains.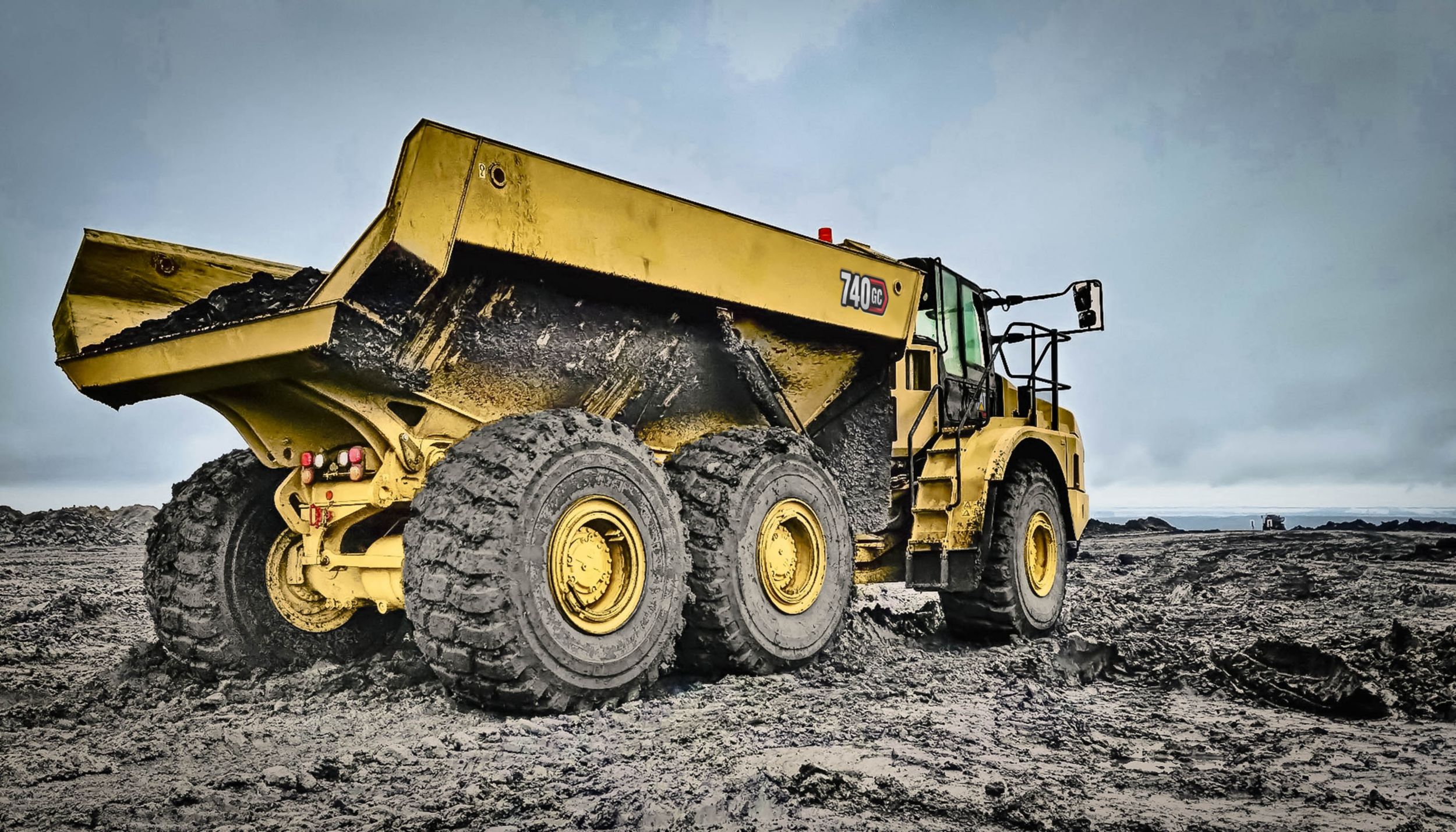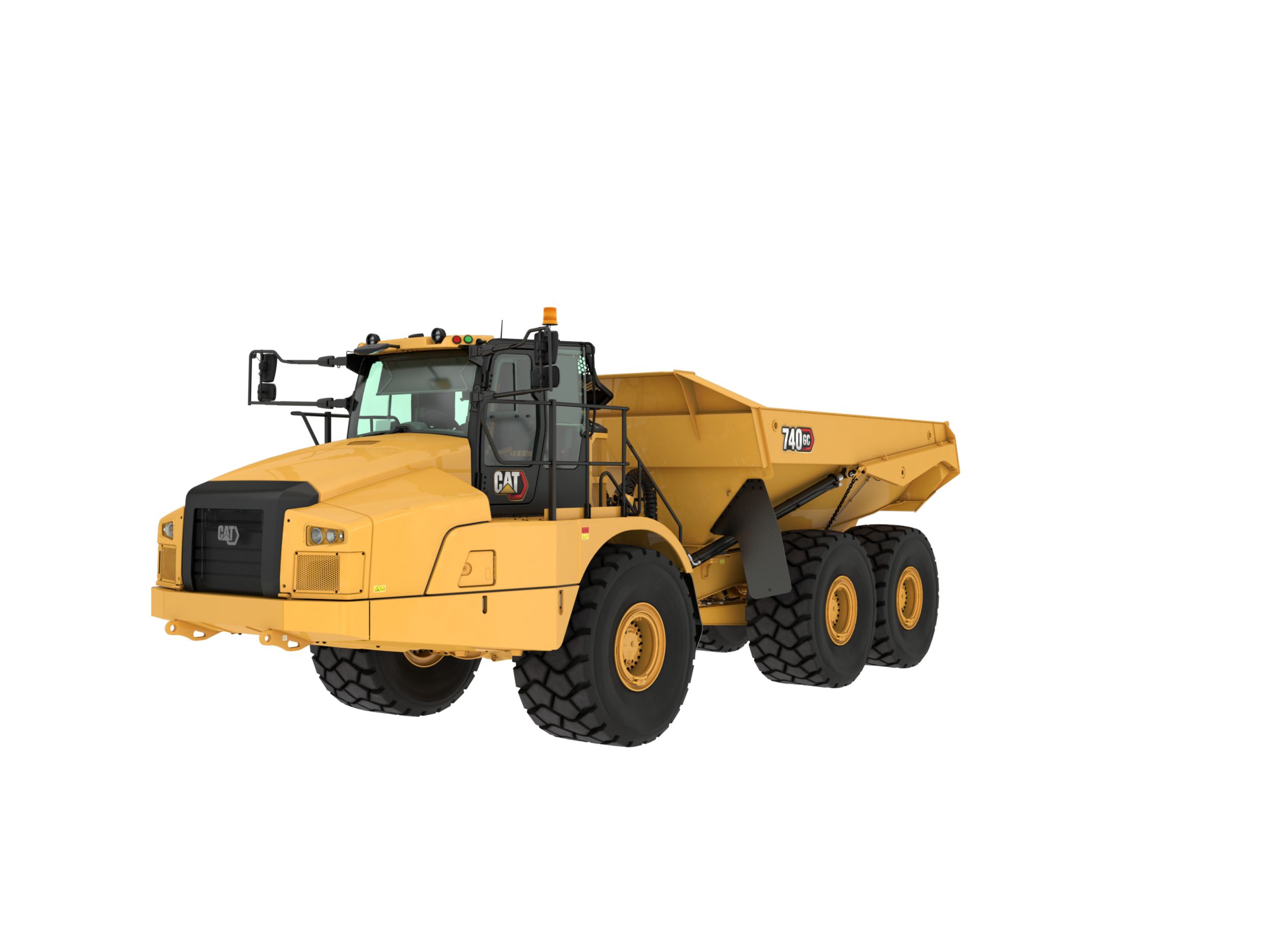 DESCRIPTION
The Cat® 740 GC features a world-class cab design, re-engineered using global operator feedback to advance comfort and ease of operation. Enhancements include new controls, transmission-protection features, hoist-assist system, advanced automatic traction control system, stability-assist machine rollover warning system, and a fuel saving ECO mode.The Cat 740 GC with a 22.7 m³ (29.7 yd³)/36.3 tonne (40 ton) capacity, offers reliability, durability and efficient performance, including the latest, world-class operator's station found on other Cat Articulated Trucks.<br>The 740 GC offers a highly efficient value proposition within the 40 ton AT size class. Automated, assisted and intuitive controls bring Safety and Ease of Operation to the forefront – helping reduce operator workload and training. Ideally matched to popular loading tools, the 740 GC is a productive machine in any fleet.
Every Tier 4 Final/Stage IV and EU Stage V Cat engine is equipped with a combination of proven electronic, fuel, air and aftertreatment components.
Maximized uptime and reduced cost with world-class support from the Cat dealer network.
Minimized impact of emission systems: designed to be transparent to the operator without requiring interaction.
Delivering better fuel economy with minimized maintenance costs while providing the same great power and response.
Advanced MEUI-C injector platforms deliver increased injection pressures and more precise fuel rates. These durable injectors enhance responsiveness while controlling soot.
All Cat engines feature innovative air-management systems that optimize airflow and enhance power, efficiency and reliability.
The Cat NOx Reduction System (NRS) captures and cools a small quantity of exhaust gas, then routes it back into the combustion chamber where it drives down combustion temperatures and reduces NOx emissions.
Cat engines equipped with a Selective Catalytic Reduction (SCR) system inject Diesel Exhaust Fluid (DEF) into the exhaust to reduce NOx emissions. DEF is a precisely mixed solution of 32.5 percent high purity chemical grade urea and 67.5 percent de-ionized water.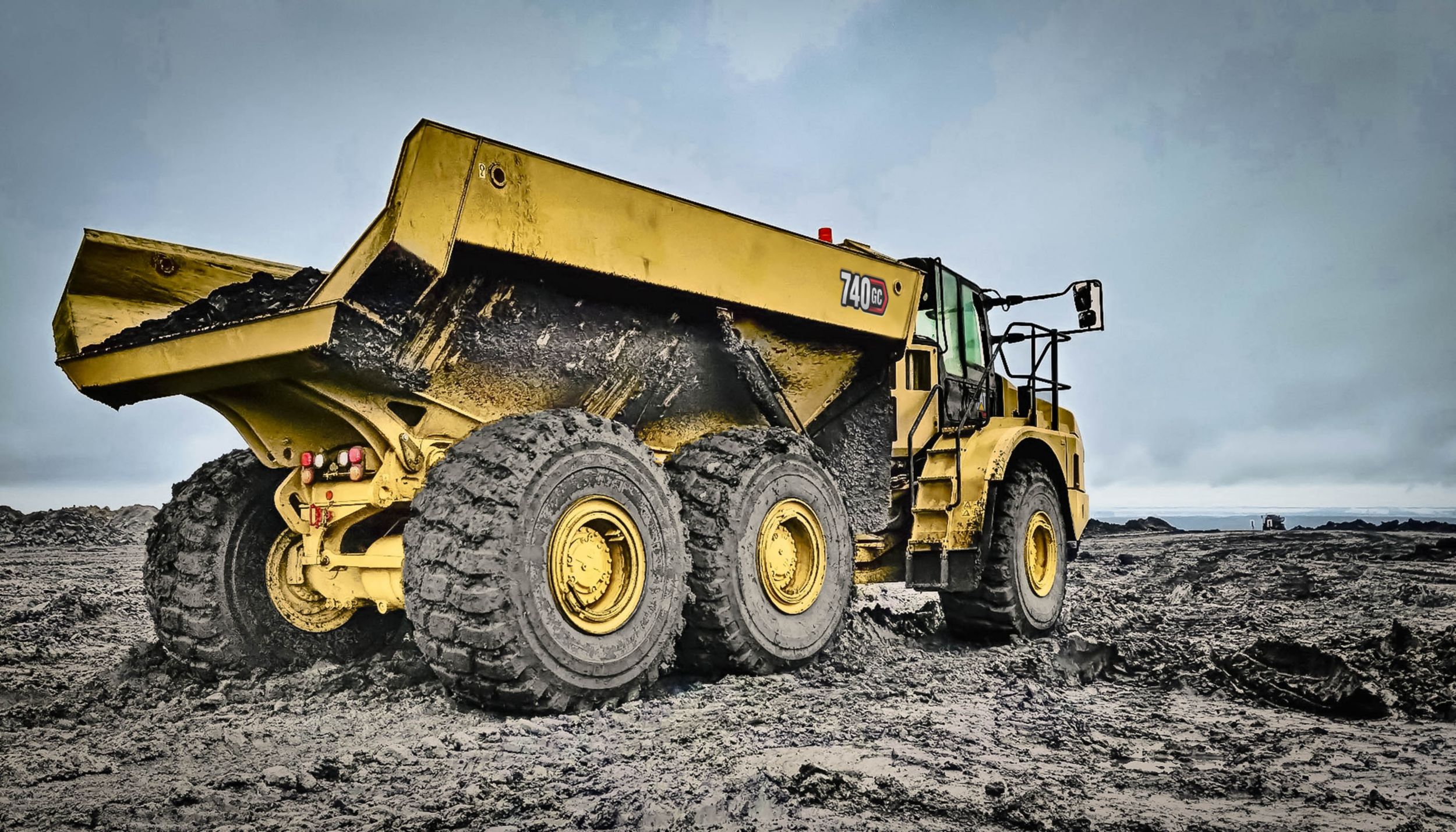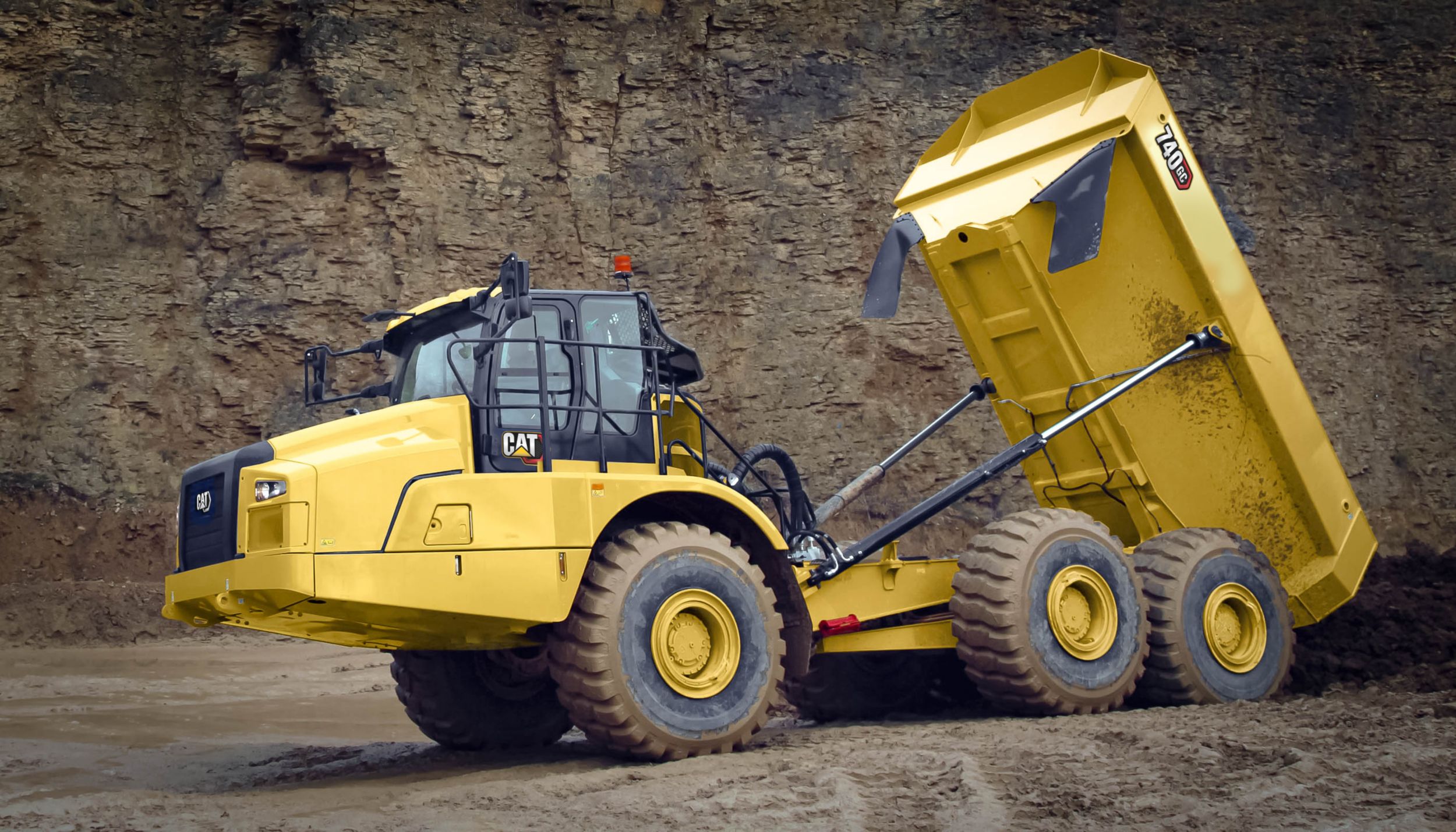 Advanced Automatic Traction Control (AATC) proactively applies inter- and cross-axle differential locks 'on-the-go.' Operators are freed from this function to concentrate on driving/loading/dumping. Sensors monitor the machine and wheel speeds, enabling instant response in high rolling resistance conditions. Operation is seamless and smooth, eliminating wheel slip for maximum traction and productivity.
Clutches are automatically disengaged when ground conditions allow, maximizing efficiency when steering or when on uneven ground.
AATC reduces tire and driveline abuse, eliminating lost machine efficiencies caused by improper manual operation of the differential clutches and reducing the tire wear.
Automatic Retarder Control (ARC) automates the retarder for the operator. Like AATC, a number of machine operating aspects are monitored. If required, the engine compression brake is engaged automatically to control machine speed when descending a grade. The system can help towards eliminating engine overspeed, improving safe machine operation and reducing cycle times, yet still having the flexibility of manual control if needed.
New Assisted Hoisting Control automates the dumping function. Flick the new body raise/lower switch and the machine will apply the service brakes, switch the transmission to neutral and raise the body at the required engine rpm. Lowering the dump body is done the same way, flick the switch and the machine will lower the body and place it in float.
Hill Assist reduces potential 'roll-back' on grades. If an operator stops the machine on a grade, when taking his foot off the service brake pedal, the machine will automatically hold the service brakes to prevent machine rolling backwards.
The Waiting brake applies the service brakes when neutral gear is selected, allowing quick and easy control of the machine at the load or dump area.
All three axles promote stability using oscillating a-frames with lateral tie rods. Operate at productive speeds with confidence while virtually eliminating impact loads on truck components.
The front suspension oscillates ±6° controlled by large-bore, low-pressure cylinders to assist in a smooth ride. An A-frame with lateral tie rod controls sideways movement and aids stability.
The rear suspension features a walking beam and long-life suspension mounts optimizing ride and load retention.
New fully enclosed wet disc brake systems inside of axles keeps contaminants out extending machine life and ensuring uptime.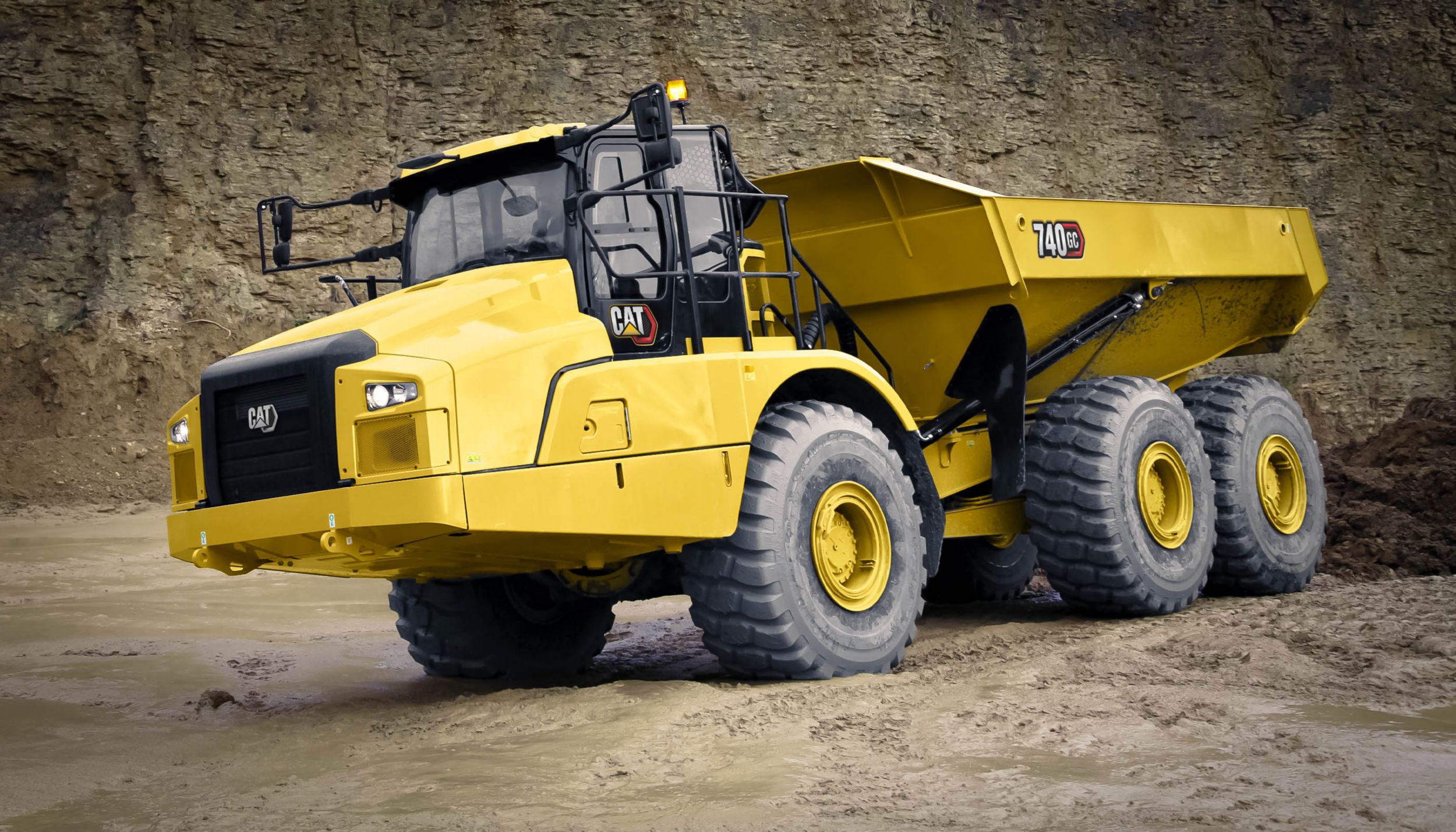 Spacious cab delivers comfort all shift long and is 7dB quieter than prior model.
Unique combination hoist/transmission lever is intuitive and enhances cycle times with fewer control movements.
Trainer/passenger seat is fully padded with wide, retractable seat belt for security and comfort.
New large side storage box is heated/cooled by the HVAC system.
Air-suspension seat offers greater comfort, with a greater range of adjustments. Fore/aft isolation dramatically reduces vibrations and jolts. Every operator will find a adjustments to ensure comfort and control all shift long.
Standard cooling/heating system ensures comfort in all conditions.
Optional four-point seat belt is available to help operator stay in position and comfortable in rugged terrain.
Integrated, wrap-around dash means all gauges and controls are easy to monitor and access. Automotive feel with Caterpillar's renowned industrial strength.
The updated touch screen dash mounted display allows the operator to monitor and adjust various levels of machine performance and condition, as well as machine warning categories. These include configuration settings, operator and machine totals, service information, various machine status parameters, machine payload information (when fitted), stability assist, and the video feed from the rearview camera.
Optional Bluetooth™ entertainment system allows operator to stay in hands-free phone contact.
Box section front frame absorb is stiff to handle torque loads. Frame design decreases stress at the hitch and optimizes suspension geometry.
Rear frame features twin-box construction minimizing stress points and enhancing service life.
The articulating hitch provides the truck with steering articulation, and the oscillation ensures all-wheel ground contact in rough terrain.
Field proven two-piece hitch construction features a durable cast steel head bolted to a hard wearing forged steel tube.
Dump body design provides a large target area for consistent high-load carrying capacity increasing productivity. Diverging flow when dumping aids material flow out of the body maximizing productivity and avoiding carry-back.
The output transfer gear distributes drive to the tractor and trailer and includes a wet clutch differential lock for optimum traction in poor underfoot conditions.
The full power hydraulic brake system actuates enclosed, oil-immersed, multi-disc, multi-plate brakes with independent front and rear circuits and accumulators. This dual-circuit, all wheel braking system provides the braking performance required to support maximum productivity.
The parking brake is located on the center axle in an elevated position, it is spring applied and hydraulically released.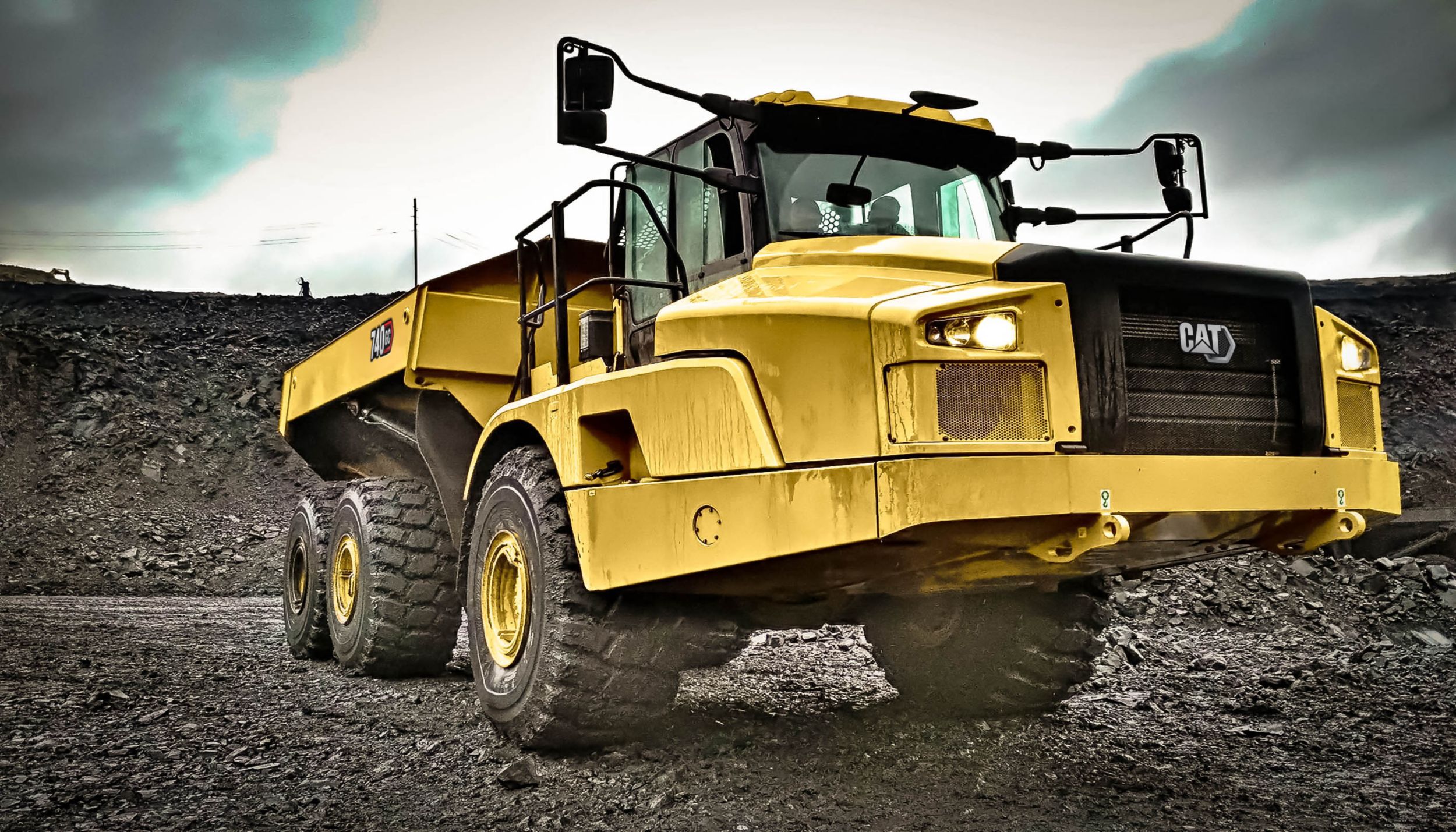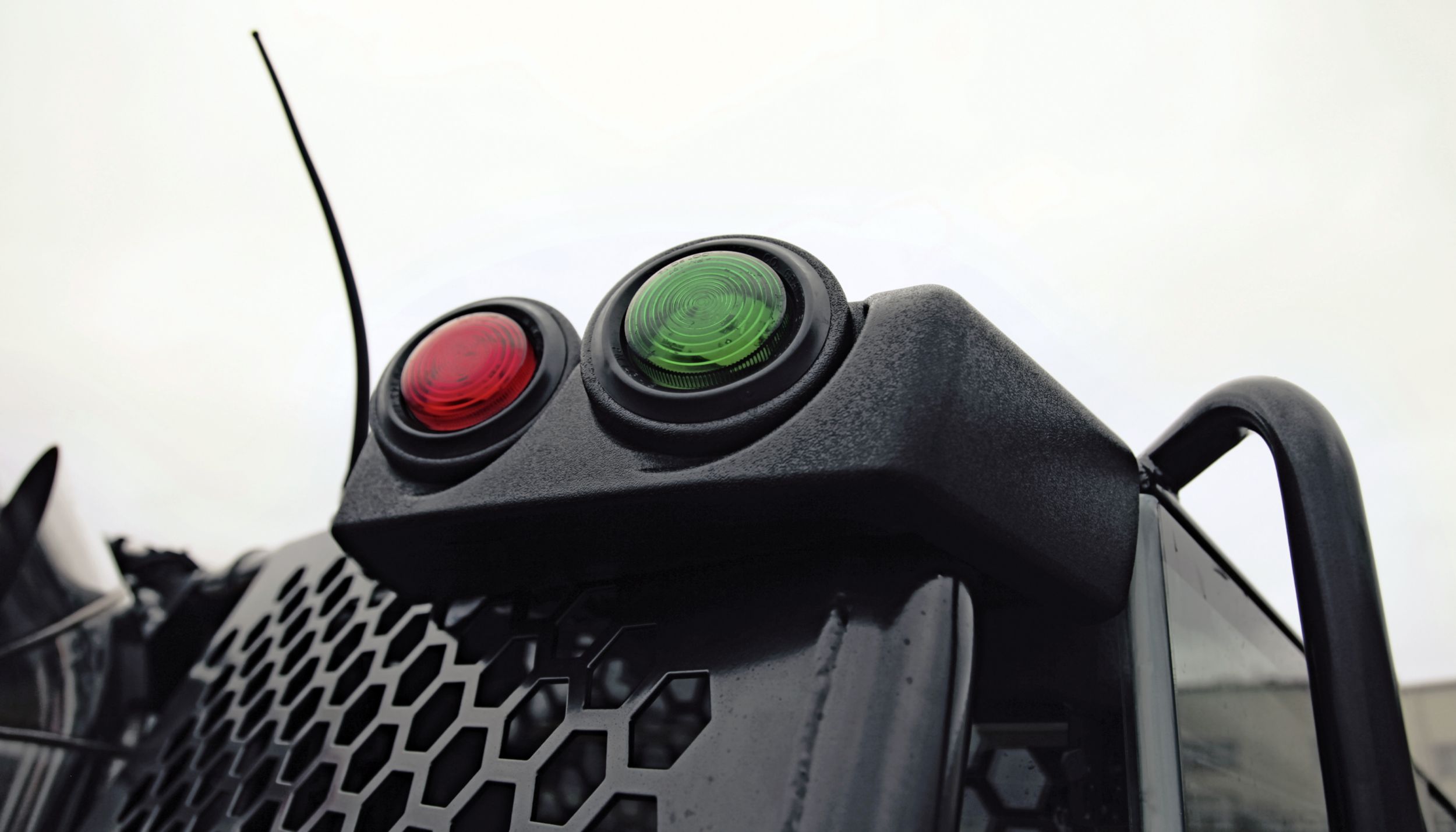 Cat Product Link wirelessly connect you to your equipment, giving you valuable insight into how your machine or fleet is performing. The system tracks location, hours, fuel usage, productivity, idle time, and diagnostic codes through the online VisionLink user interface so you can make timely, fact-based decisions to maximize efficiency, improve productivity, and lower costs.
Cat Production Measurement brings payload weighing to the cab to help optimize job site efficiency and productivity. Operators can view real-time load weights on the integrated display and know precisely when target is achieved, while cab-mounted external payload lights on all four corners signal the loader operator when to stop, reducing the risk of machine overloading. Operators can track daily productivity from the cab, with quick access to truck payload weights, loads and cycle counts, and daily totals; or remotely via LINK technologies.
Cat Detect with Stability Assist warns the operator if machine is approaching a pre-set angle during operation; when driving and tipping. If using the assisted hoist, the machine will stop hoisting the body and give an audible and visual warning. The system monitors angles of tractor, trailer and grade independently. This increases operator awareness of machine stability during operation. All tractor and/or trailer rollover events are logged and reported via VisionLink.
Caterpillar design, manufacturing and customer service help ensure peak performance and uptime.
Long service intervals keep your machine operating.
Lubrication points are grouped near the hitch for fast, easy routine maintenance.
Universal joints are sealed and lubed for long life.
Optional autolube system saves time and includes alerts via Product Link for low levels and fault codes.
Radiator package is located behind the cab for protection and uses extended-life coolant to stretch change intervals.
Electrical service center is located inside the cab and provides a power port, diagnostic connector and Cat Data Link connector for use with Electronic Technician (ET) software-equipped laptop computer.
Easy access to transmission, drive shafts, hydraulic pumps and electrical and hydraulic interfaces provided with tilt-to-side cab and access panel.
Service points are conveniently located on the left side of the engine, under the electrically raised hood.
Complete customer support is the goal of your Cat dealership. From counsel of product selection, operating costs, operation, maintenance all the way to help with decisions on when and whether to replace or rebuild, your dealer is with you all the way.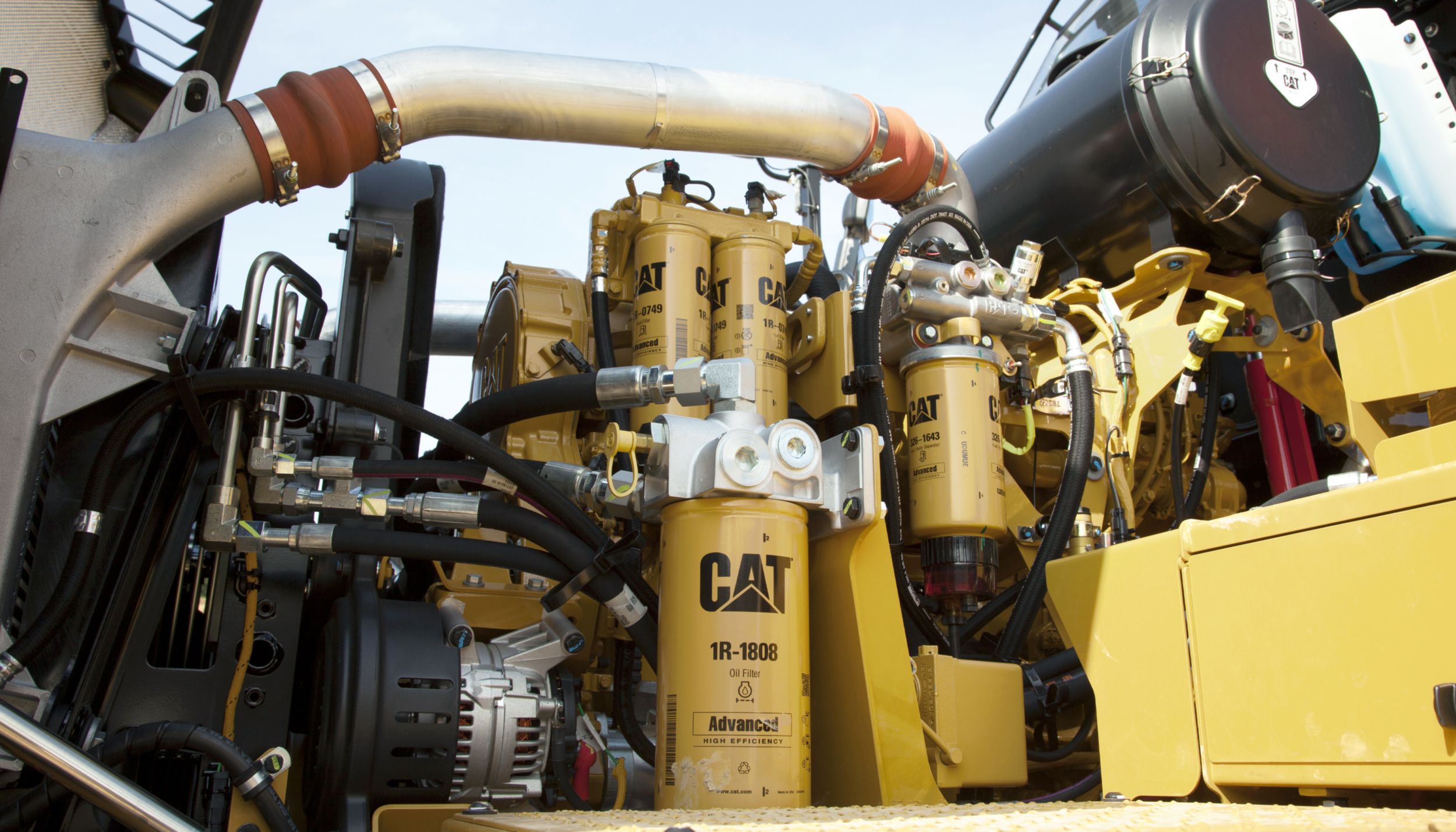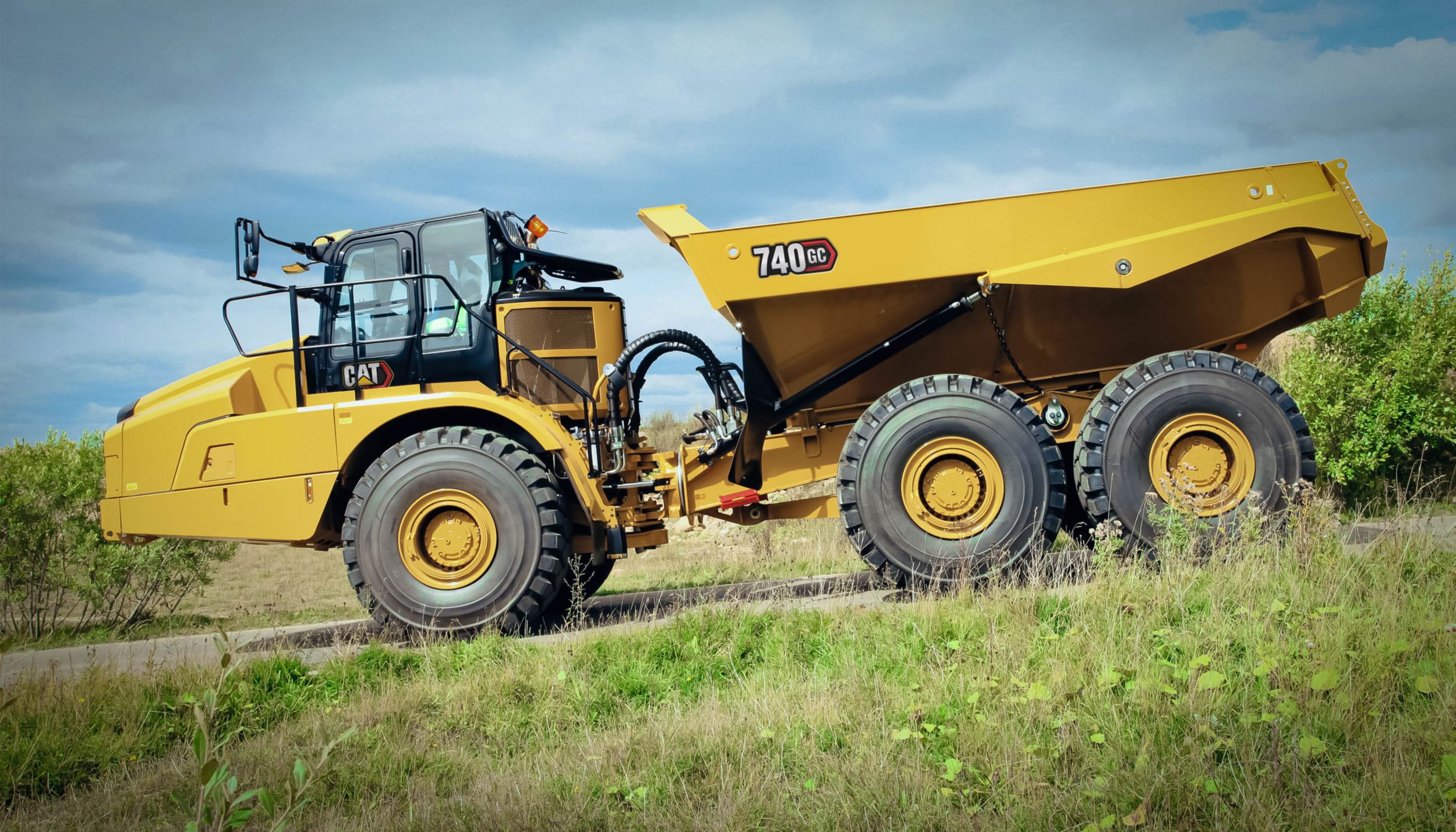 Caterpillar designs and functions with great concern for the environment.
Cat C18 engine incorporates the Cat Clean Emission Module (CEM) to meet Tier 4 Final/Stage IV emission standards. The system uses both Ultra-low-sulfur diesel (ULSD) fuel or up to B20 bio-diesel blended with ULSD.
All Cat C Series Articulated Trucks are designed for long lifecycles with machines using reman components and machine rebuilds to maximize use of every part, minimizing waste.
Volume of both hydraulic and engine oil systems has be reduced meaning less waste when oils are replaced.
Seat belt in use indicator (four-point seat belt available as an option)
Operator presence detection (prevents gear engagement when operator is not seated)
Additional mirror for front of machine visibility
Cab mounted, wide angled, folding mirrors
Heated mirrors (optional)
Body raised visual indicator
Cab integral Roll Over Protection System (ROPS) and Falling Object Protection System (FOPS)
Electro-hydraulic secondary steering system automatically activates in forward/reverse or when stationary if low pressure is sensed and can be manually selected for machine recovery purposes
Extensive handrails
External electrical system disconnect switch for easy access from outside of the machine
Fire extinguisher in-cab mounting point
Fully raised body locking pin
Ground level external engine fuel cut-off switch provides easy access outside of the machine
In-cab emergency brake switch (tertiary)
Internal and external grab handles
LED-flashing beacon (optional)
Maximum speed limiter
Multiple camera compatible
New access lights
Rearview camera system is fitted as standard
Reversing indicator
Slip resistant walkways – punched steel plate
The parking brake functions are spring applied and hydraulic released
Cat Detect with Stability Assist
Standard Equipment
Optional Equipment
Specs
Docs
Optional Equipment
NOTE

Standard and optional equipment may vary. Consult your Cat dealer for details.

OPTIONAL EQUIPMENT

Machine Security System (MSS)
Product Link Elite: PLE631E (satellite), PLE641E (cellular)
Ether start
Flashing LED beacon
Four-point seat belt
Cold weather start attachment
Body liners
Engine block heater
Window blinds
Cold weather coolant –51° C (–60° F)
Heated rearview motorized mirrors
Roof mounted High Intensity Discharge (HID) work lights
Scissor tailgate
Windshield wiper and washer, two speed (rear)
Bluetooth radio stereo system
Bare chassis (no body) standard wheel base
Wheel chocks
Heated/cooled seat
Fast fuel fill
Exhaust heated body
Sound suppression (only standard in Europe)
Infrared glass – high ambient cab
Fuel additive – anti-waxing
Bare chassis (no body) long wheel base
Auto lube installation for automatic greasing of bearings
Cat Production Measurement payload monitoring system
Specs
Long Name:
740 GC Articulated Truck
Stroke
6.75 in / 171.5 mm
Displacement
926 in³ / 15.2 l
No Engine De-rating Below
10000 ft / 3050 m
Peak Engine Torque Speed
1200 r/min / 1200 r/min
Peak Engine Torque Net (SAE J1349)
1670 ft·lbf / 2264 N·m
Net Power - SAE J1349
439 HP / 327 kW
Engine Model - U.S. EPA Tier 4 Final/EU Stage V
Cat C15
Gross Power - SAE J1995
452 HP / 337 kW
Net Power - ISO 14396
447 HP / 333 kW
Peak Engine Torque Gross (SAE J1995)
1711 ft·lbf / 2320 N·m
Emissions
The C15 engine meets Tier 4 Final and Stage V emission standards.
Rated Payload
40 ton (US) / 36.3 t
Heaped (SAE 2:1)
29.7 yd³ / 22.7 m³
Tailgate Heaped SAE 2:1
31.9 yd³ / 24.4 m³
Tailgate Struck
23.4 yd³ / 17.9 m³
Forward - 1
4 mile/h / 6.4 km/h
Forward - 2
5.3 mile/h / 8.5 km/h
Forward - 3
7.3 mile/h / 11.5 km/h
Forward - 4
9.2 mile/h / 14.8 km/h
Forward - 5
12.2 mile/h / 19.7 km/h
Forward - 6
14.9 mile/h / 24 km/h
Reverse - 1
4.2 mile/h / 6.8 km/h
Reverse - 2
9.8 mile/h / 15.7 km/h
Forward - 8
24.7 mile/h / 39.8 km/h
Forward - 7
20.6 mile/h / 33.1 km/h
Forward - 9
35.7 mile/h / 57.5 km/h
Interior Cab
72 dB(A) / 72 dB(A)
Center Axle - Empty
14636 lb / 6639 kg
Rear Axle - Empty
14145 lb / 6416 kg
Center Axle - Rated Load
37670 lb / 17087 kg
Front Axle - Empty
42596 lb / 19321 kg
Total - Empty
71377 lb / 32376 kg
Center Axle - Loaded
51088 lb / 23173 kg
Front Axle - Loaded
49723 lb / 22554 kg
Total - Rated Load
80027 lb / 36300 kg
Rear Axle - Rated Load
37670 lb / 17087 kg
Rear Axle - Loaded
50594 lb / 22949 kg
Front Axle - Rated Load
4687 lb / 2126 kg
Total - Loaded
151405 lb / 68676 kg
Service Refill Capacities
Fuel Tank
145.3 gal (US) / 550 l
Cooling System
23.7 gal (US) / 90 l
Engine Crankcase
13.7 gal (US) / 52 l
Axles - Each
15.8 gal (US) / 60 l
Brake Cooling Tank
17.7 gal (US) / 67 l
Transmission - OTG
19.8 gal (US) / 75 l
DEF Tank
6.5 gal (US) / 25 l
Steering/Hoist Hydraulic System
36.9 gal (US) / 140 l
Final Drive - Each
1.3 gal (US) / 5 l
Lock to Lock
4.75 seconds @ 60 rpm
Cab - FOPS
ISO 3449 Level II – 2005
Cab - ROPS
ISO 3471 – 2008
Type
High strength Brinell HB450 wear resistant steel
Turning Dimensions - SAE Turning Radius
303 in / 7698 mm
Turning Dimensions - Clearance Radius
330 in / 8395 mm
Turning Dimensions - Aisle Width
220 in / 5595 mm
Note
Dimensions are for machines equipped with 29.5 R25 tires.
Turning Dimensions - Steer Angle - Left/Right
45°
Turning Dimensions - Inside Radius
156 in / 3960 mm
Side Plates
0.43 in / 11 mm
Note (2)
Hearing protection may be needed when operating with an open operator station and cab (when not properly maintained or doors/windows open) for extended periods or in noisy environments.
Optimal Loader/Truck Pass Matching
Note
An optimum system match gives you a major productivity advantage. The 740 GC is an excellent match for the Cat 374F and 352F Hydraulic Excavators; and Cat 972M, 966M, and 962M Wheel Loaders. Having matched loading and hauling tools results in increased production and lower system costs per unit of volume moved.
Base Plate
0.51 in / 13 mm
Optimal Loader/Truck Pass Matching
Wheel Loader: 972M - Passes
3
Wheel Loader: 962M - Passes
5
Front Plate
0.28 in / 7 mm
Note (4)
Net power when the fan is at maximum speed is 327 kW (439 hp) per the SAE reference conditions.
Note (2)
The power ratings apply at rated speed of 1,700 rpm when tested under the conditions for the specified standard.
Note (3)
The net power advertised is the power available at the flywheel when the engine is equipped with alternator, air cleaner, muffler and fan at minimum speed.
Note (1)
The operator sound exposure Leq (equivalent sound pressure level) measured according to the work cycle procedures specified in ANSI/SAE J1166 OCT98 is 72 dB(A), for the cab offered by Caterpillar, when properly installed and maintained and tested with the doors and windows closed.
Optimal Loader/Truck Pass Matching
Wheel Loader: 966M - Passes
4–5
Hydraulic Excavator: 374F - Passes
3–4
Hydraulic Excavator: 352F - Passes
5–6
Note (1)
The references to Tier 4 Final/Stage V include U.S. EPA Tier 4 Final, EU Stage V, Japan 2014 (Tier 4 Final), as well as Korea Tier 4 Final emission standards.
Note (5)
DEF used in Cat SCR systems must meet the requirements outlined in the International Organization for Standardization (ISO) standard ISO 22241-1. Requirements are met by many brands of DEF, including those that carry the AdBlue or API certifications.