775G
775G Off-Highway Truck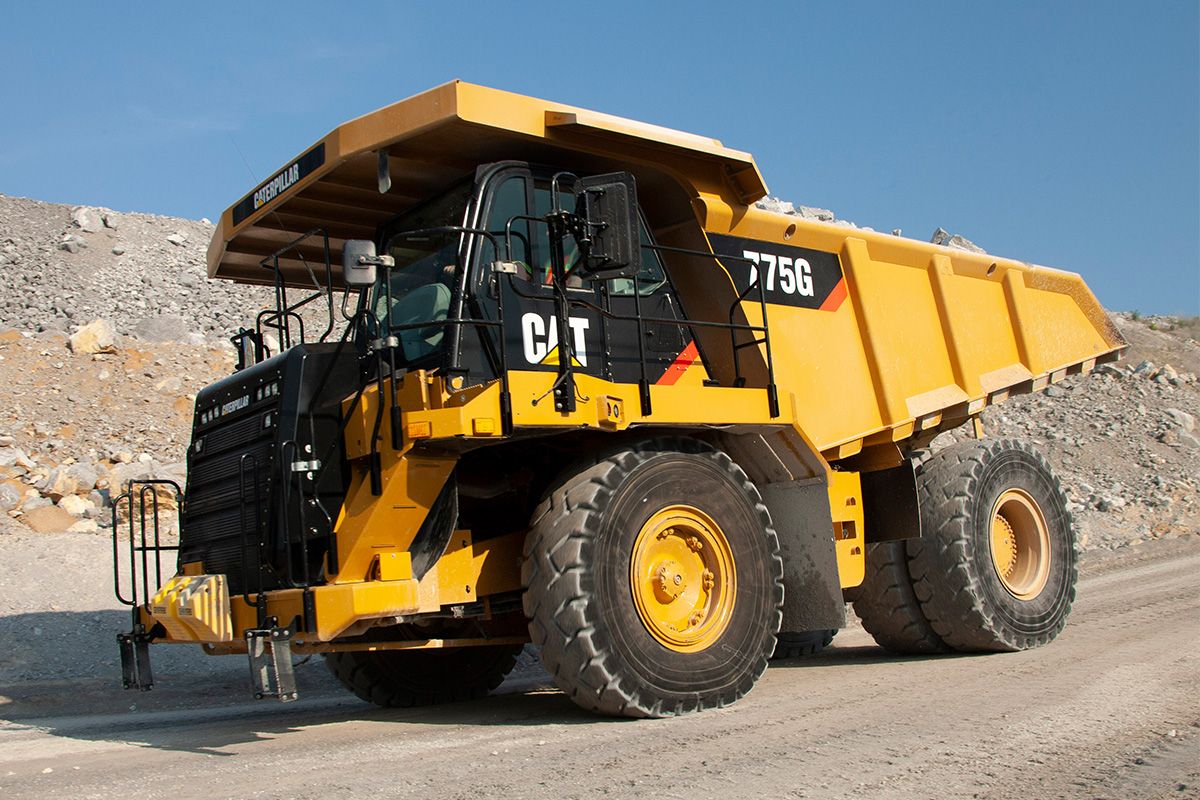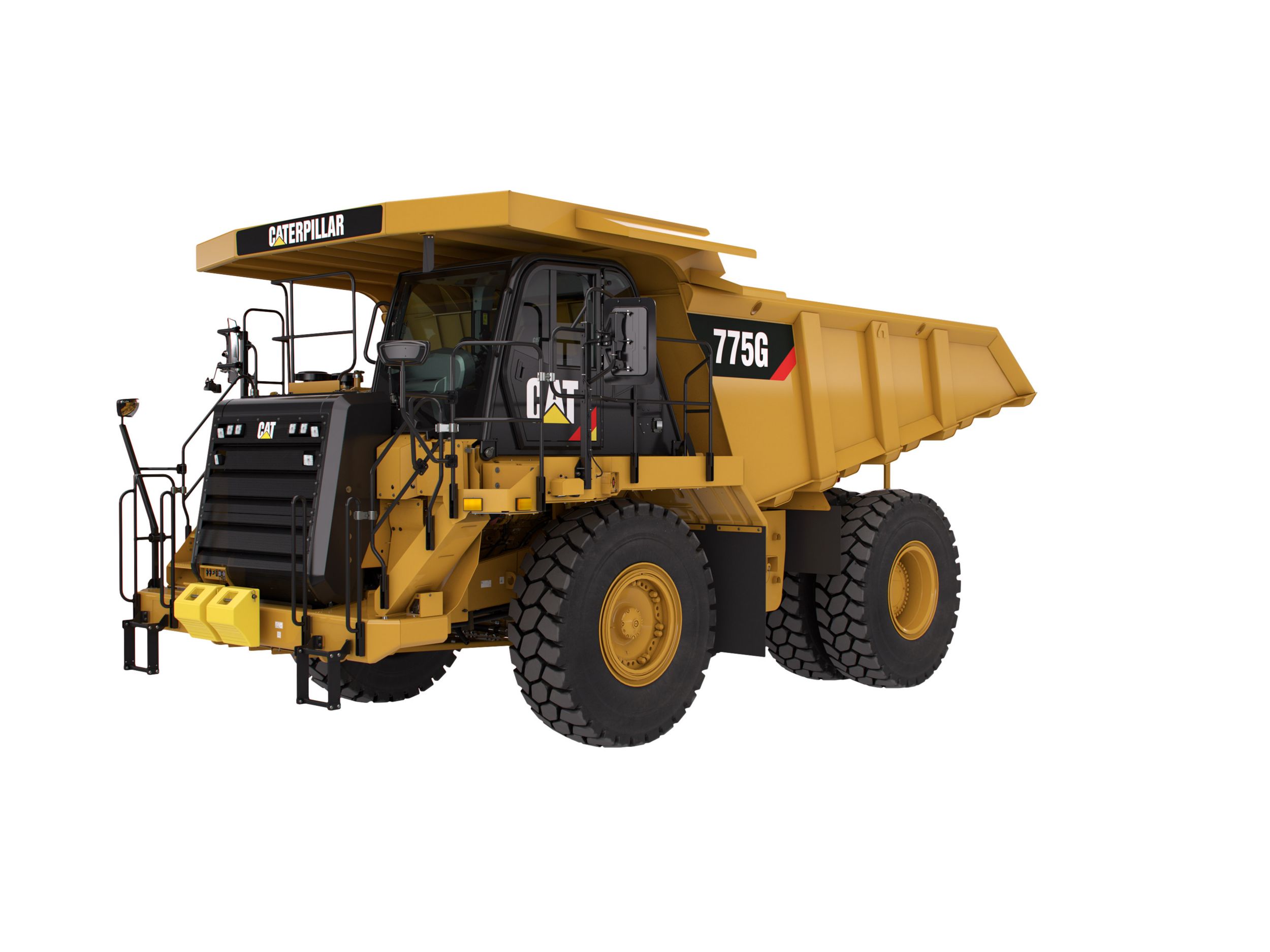 DESCRIPTION
Having a solid track record in the quarry and aggregates industry, Cat's 775G has been designed and manufactured using the latest quality control technologies—both virtually and hands on—to ensure your Off-Highway Truck is ready to do work. Built with a Cat C27 diesel engine, the 775G has improved fuel efficiency and delivers an additional 5% horsepower. Our 775G is a great pass match for the Cat 988K or 990K Wheel Loader, too. By having the Cat G Series trucks in your haul fleets, you can be more productive, spend less time on maintenance, and support the environment with new levels of eco performance. Which ultimately allows you to make a positive impact within your business and community every day.
ACHIEVE GREATER PRODUCTIVITY
Haul your materials faster with an accelerated travel speed.
Put more power to the ground with a 7% increase in torque.
Advanced Productivity Electronic Control Strategy (APECS)
Transmission controls carry more torque through the shifts, producing faster cycle times, most noticeably on grades.
Enjoy greater productivity while using a more responsive Traction Control System (TCS).
Reduce tire wear with maximum traction by engaging TCS early in the slip.
Strong, predictable performance helps operators achieve the lowest cost per ton.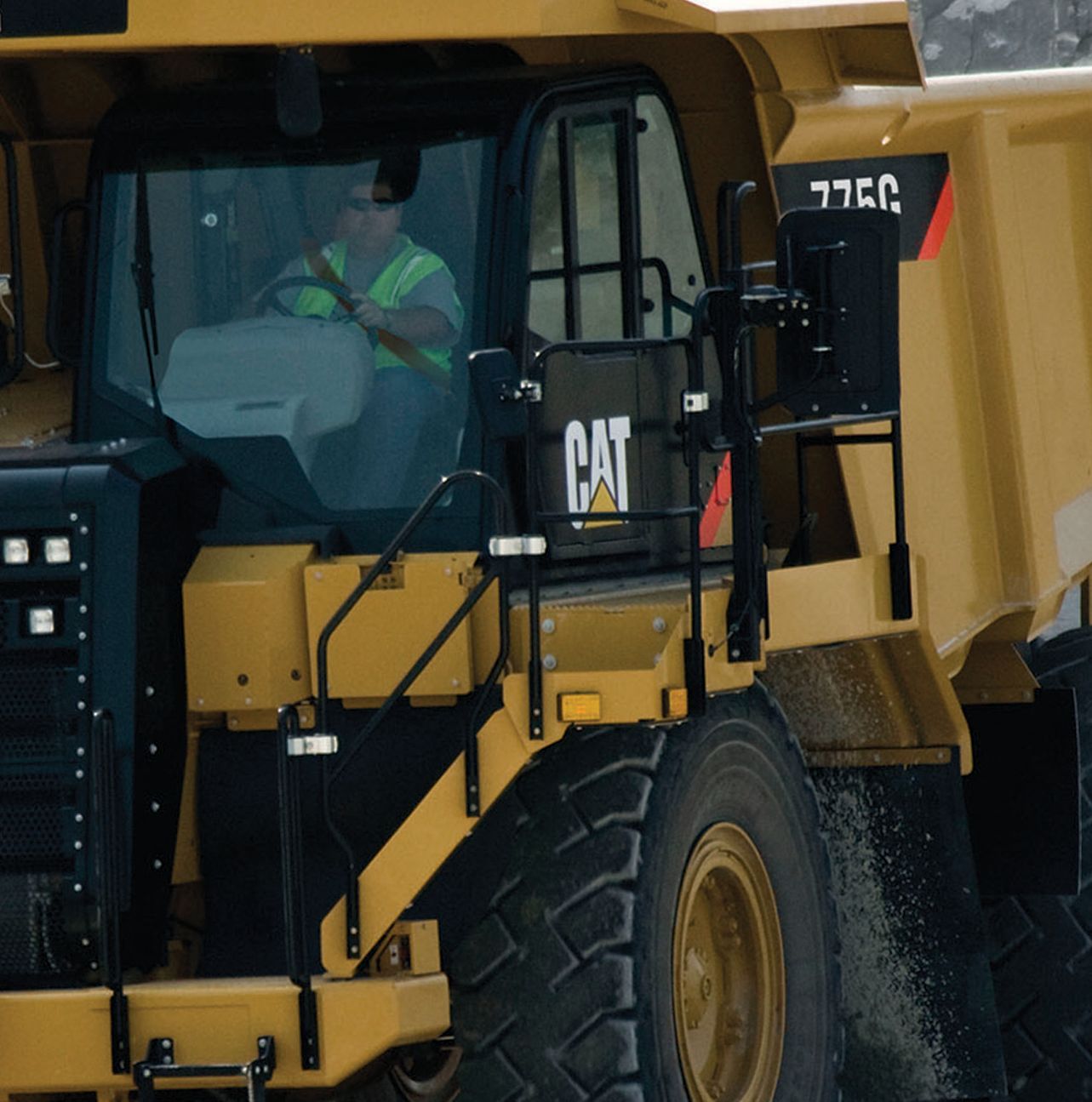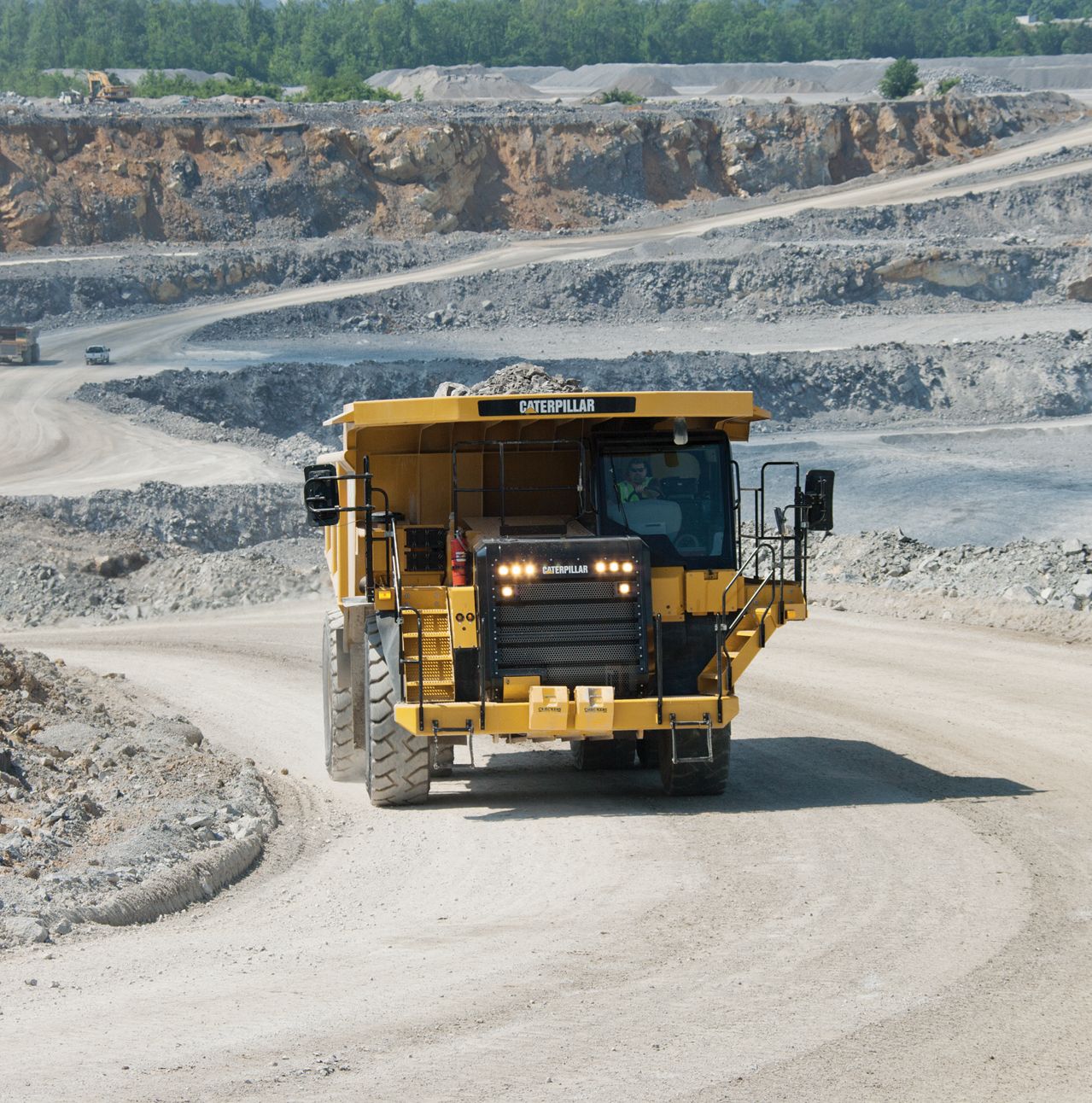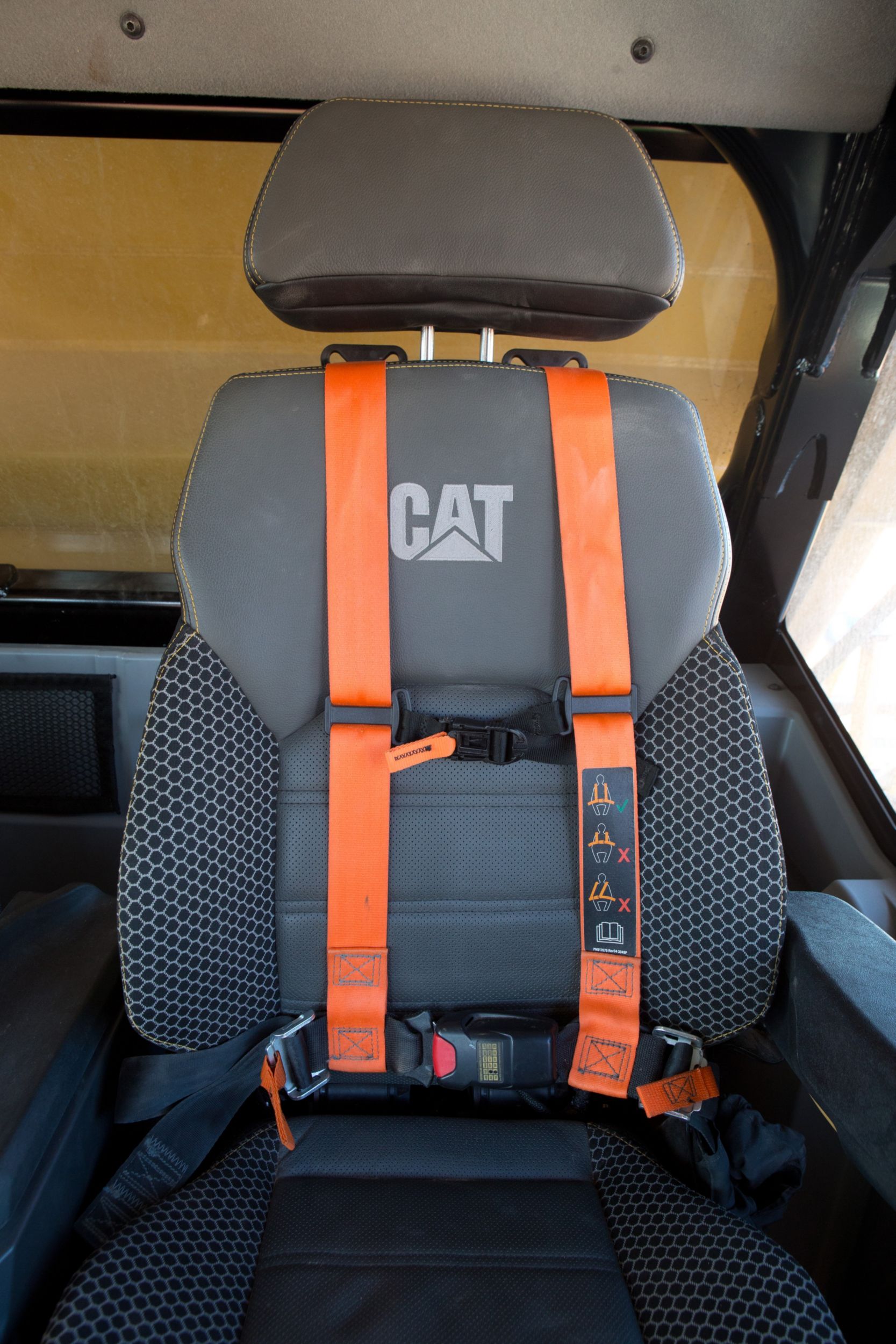 WORK IN COMFORT
Completely redesigned cab for a whole new standard in visibility, comfort, and productivity.
The new operator seat placement provides easier operation and comfort to the operator.
Improvements in visibility gain enlarged views of the work area and its surroundings.
Access connectivity and decrease clutter with more storage areas with the new designed cab.
Enjoy the easy automotive-quality shifting with the new integrated hoist and transmission controls.
Automatic cab temperature controls.
Simplified operator interface with touchscreen display.
Best-in-class lighting with new LED lighting package.
TECHNOLOGY THAT GETS WORK DONE
Integrated systems give you the ability to make timely, fact-based decisions to maximize efficiency, improve productivity, and lower costs.
Gain valuable insight into how your machine is performing by continuously monitoring and collecting vital machine data via the advisor display with the software Vital Information Management System (VIMS™).
Truck Production Management System (TPMS) provides accurate weighing of the materials, stores 2,400 payload cycles, and reports on weights, haul cycle times, and distances with date and time stamps.
External payload indicator lights alert the loader when to stop, reducing the risk of machine overloading.
Product Link™ system connects to each machine wirelessly, allowing you to monitor location, hours, fuel use, productivity, idle time, and diagnostic codes.
VisionLink® wirelessly connects you to your equipment, giving you access to essential information you need to know to run your business.
The Cat 775 is MineStar™ ready and includes Cat Product Link Elite and VIMS to help optimize equipment management, remote monitoring capabilities, machine availability, and component life while reducing both repair costs and the risk of catastrophic failure.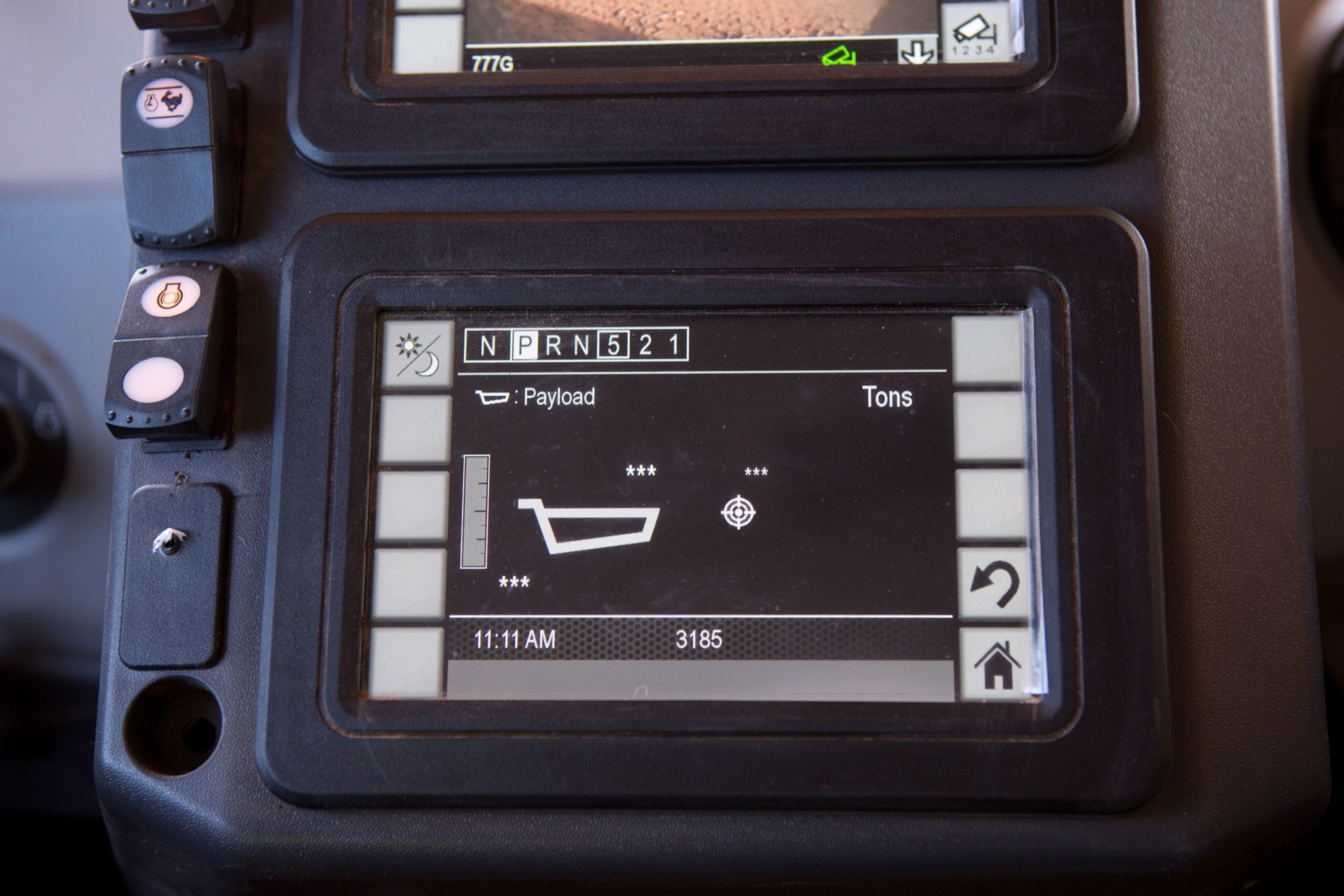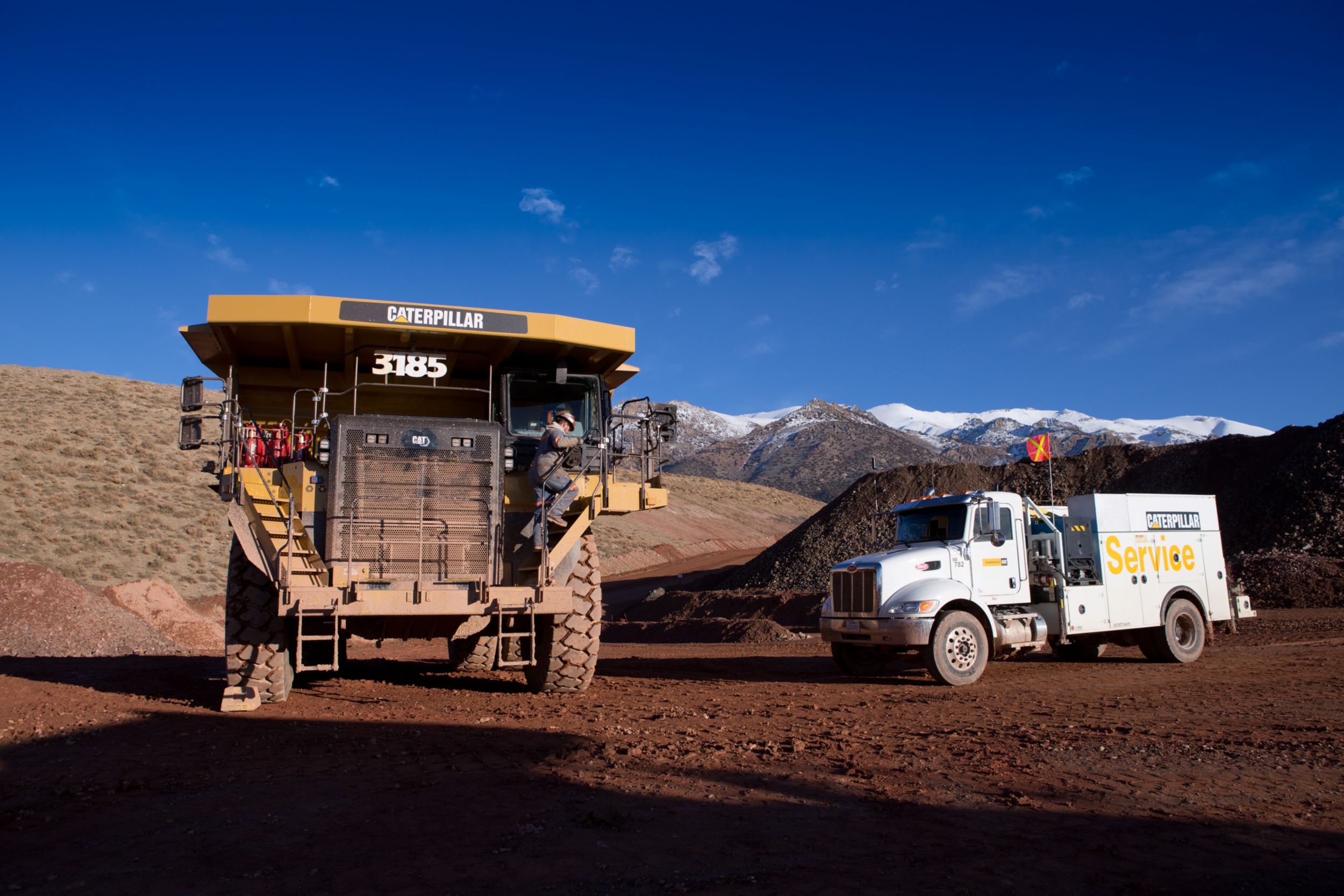 REDUCED MAINTENANCE COSTS AND OTHER COSTS
Grouped service points.
Control Particulate Matter (PM) with two engine-mounted diesel oxidation catalyst canisters. (Tier 4 only)
NRS technology replaces a portion of intake air with exhaust gas to control combustion temperatures and NOx production. (Tier 4 only)
Parts commonality with other Cat equipment.
Resolve problems before failure occurs with VIMS notifications.
Hydraulic oil filter life is extended to 1,000 hours under normal operating conditions.
Redesigned EGR coolers utilize flexible tubes to be more robust to cooling loss and more durable. (Tier 4 only)
APPLICATION VERSATILITY
A Coal body option of varying capacities is available for lightweight materials.
For haul profiles including steep slopes, an optional Dual Slope body is available—offering excellent material retention.
The X body's flat floor is perfect for metering material, especially when feeding the crusher.
Protect your truck's body life in high-impact, hard rock applications with the optional rubber liner—available for Dual Slope and X bodies.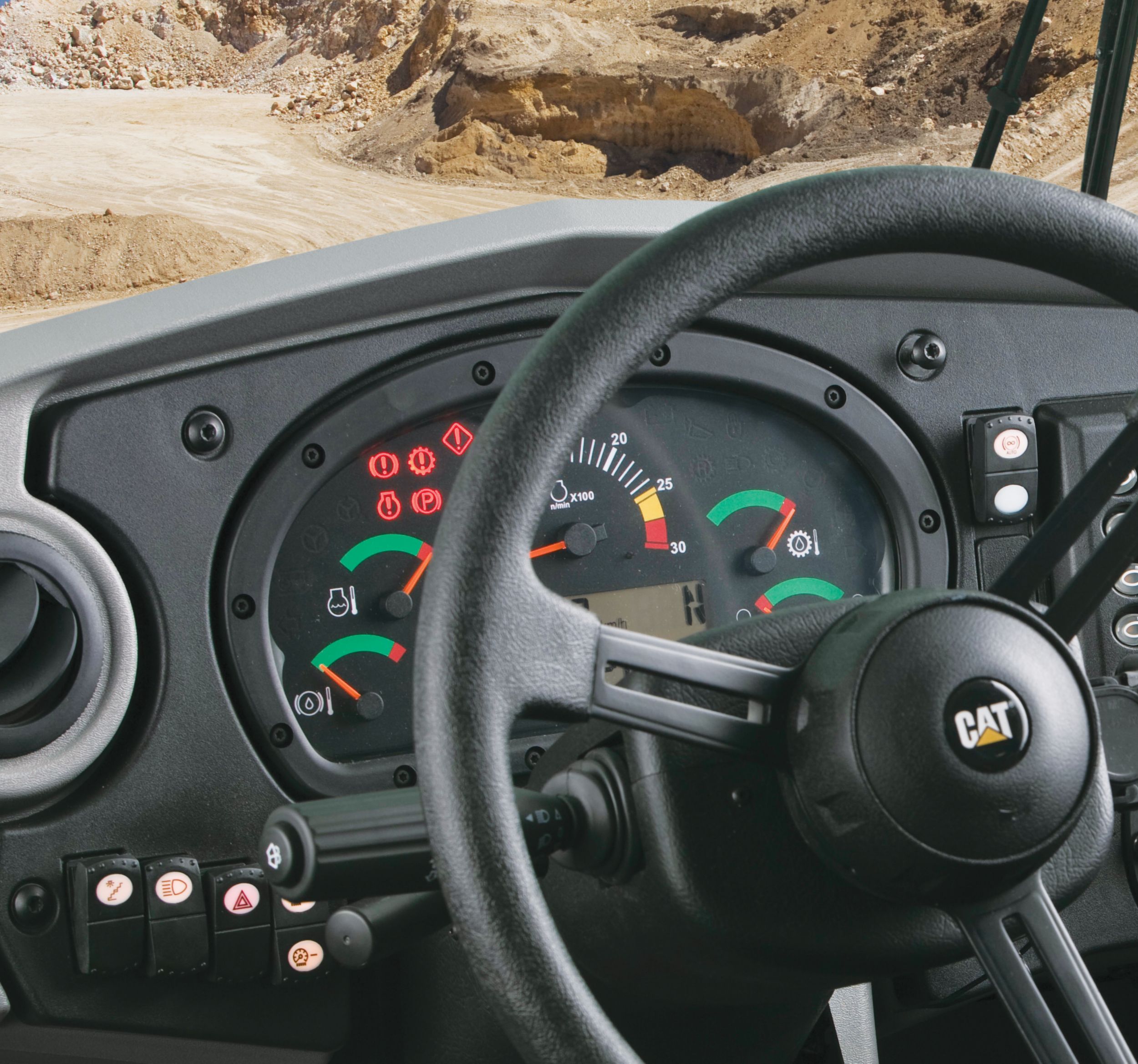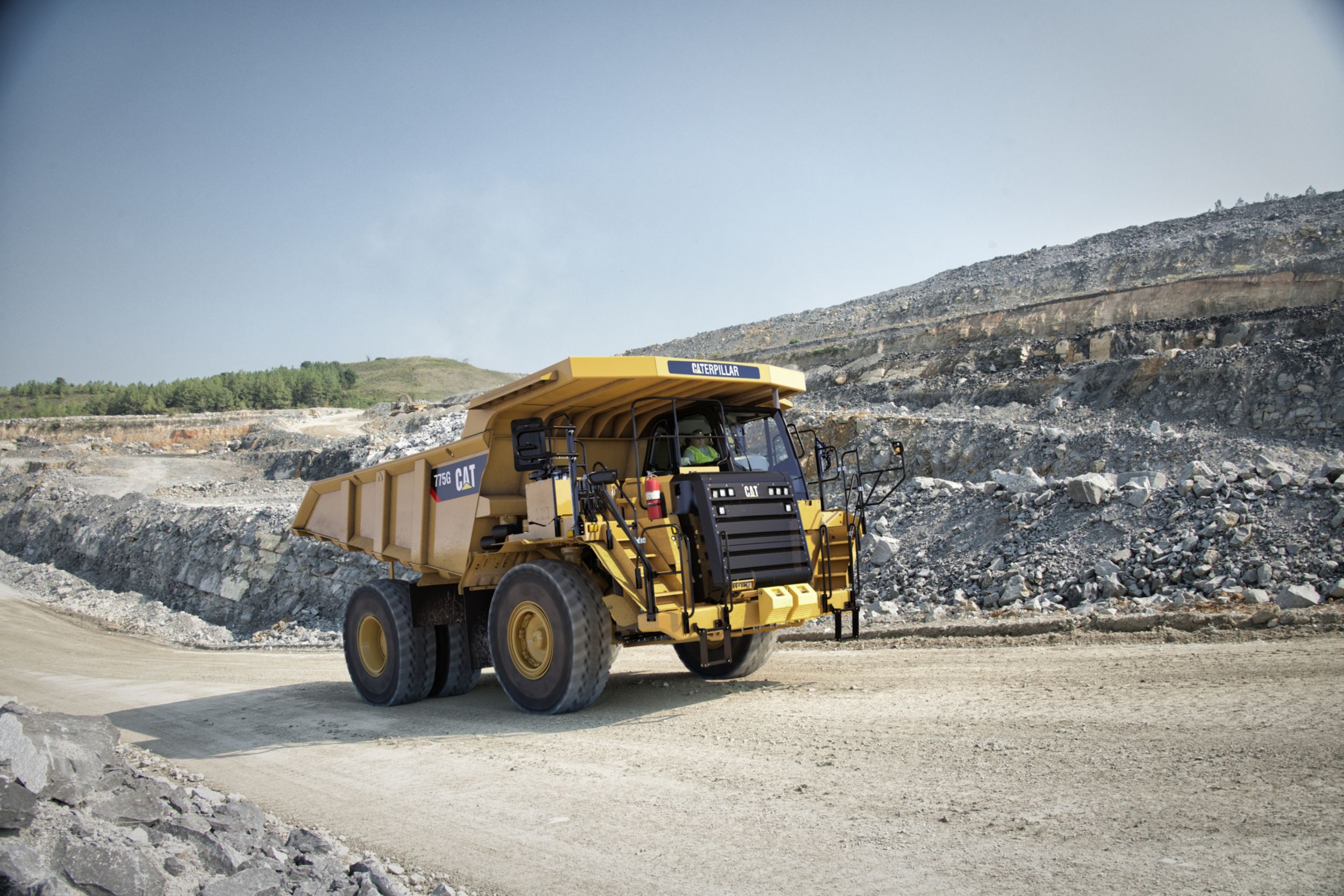 SUSTAINABILITY
The Cat® C27 engine meets U.S. EPA Tier 4 Final and EU Stage V emission standards.
The 775G emits up to 9% less CO2 than the previous 775F*.
Cat diesel engines are required to use ULSD (ultra-low sulfur diesel fuel with 15 ppm of sulfur or less) or ULSD blended with the following lower-carbon intensity fuels up to: 20% biodiesel FAME (fatty acid methyl ester) ** or 100% renewable diesel, HVO (hydrogenated vegetable oil) and GTL (gas-to-liquid) fuels. Refer to guidelines for successful application. Please consult your Cat dealer or "Caterpillar Machine Fluids Recommendations" (SEBU6250) for details.
Engine Idle Shutdown Timer reduces fuel burn, greenhouse gas emissions and unnecessary idle time by shutting down the machine after a pre-set idling period.
Extended maintenance intervals not only reduce downtime but decrease the amount of fluid and filters that are replaced over the life of the machine.
VisionLink® displays the CO2 emissions for monitored assets, calculated by fuel type for the Runtime Fuel Burned each day in a selected date range.
Don't waste fuel idling. Cat VisionLink® online fleet monitoring helps you manage idle time and reduce fuel burn and greenhouse gas emissions.
Take advantage of the Cat® Certified Rebuild program and return your end-of-life machines, systems and components to like-new condition. A Cat Certified Rebuild restores — and can even improve on — its original performance and productivity levels.
*All comparisons to 775F. Productivity, fuel and CO2 emissions vary by application. CO2 emissions calculations based on a reference work cycle using 2.2 U.S. gallons per hour of #2 U.S. diesel fuel based. Applies IPCC2006 methodology using U.S. EPA Emissions Hub emission factors. Includes DEF (diesel exhaust fluid) related CO2. Fuel measurements are at 15°C. Estimated average fuel consumption improvements are based on tests or Product Link® data where available. Productivity improvements are based on test data.
**Engines with no aftertreatment devices can use higher blends, up to 100% biodiesel.
Features
BOOST FUEL EFFICIENCY

Up to 13% less fuel consumption.
APECS transmission controls increase fuel efficiency by maintaining momentum and speed on grade.
Automatically optimize fuel consumption with the Adaptive Economy mode – reduces fuel use without affecting productivity and can be engaged with a single button.
Find improvements in fuel efficiency with auto neutral idle.
Haul your 775 truck at a more fuel-efficient engine speed and gear selection with speed limiting.
Conserve fuel with integrated Engine Idle Shutdown by the engine automatically initiating when the truck is in park and idle for a preset amount of time.
DESIGNED FOR SAFETY

Improvements in accessibility with safe ground-level access to fuel fill and daily maintenance points.
Ensure three points of contact when entering and exiting the machine with strategically placed walkways and grab rails.
Wet disc braking is standard on all four corners of the truck.
Ground-level refueling requires no climbing on the machine to fill the fuel tank.
The ground-level engine shutoff switch stops all fuel to the engine when activated and shuts down the machine safely.
Overload speed limiter works with truck payload system to reduce machine speed automatically when the truck is overloaded.
Four-point seat belt for operator and lap belt for trainer seat.
Four camera and radar system to identify potential hazards.
Standard Equipment
Optional Equipment
Specs
Docs
Optional Equipment
NOTE

Standard and optional equipment may vary. Consult your Cat dealer for details.

OPTIONAL EQUIPMENT

Body heat
Body liner
Body sideboards
Cab precleaner
Cat Engine Brake
Clustered grease fittings
Cold weather packages
Fluid fill service center
HID lights
Mirrors, convex
Mirrors, heated
Spare rim
Visibility package (meets ISO 5006 requirements)
Wheel chocks
Work Area Vision System (WAVS)
Specs
Long Name:
775G Off-Highway Truck
Rated Engine Speed
1800 r/min / 1800 r/min
Gross Power - SAE J1995
825 HP / 615 kW
Net Power - SAE J1349
768 HP / 572 kW
Net Power - 80/1269/EEC
775 HP / 578 kW
Net Power - ISO 9249
775 HP / 578 kW
Displacement
1648 in³ / 27 l
Engine Power - ISO 14396
812 HP / 605.2 kW
Net Torque
3148 ft-lb / 4269 N·m
Emissions
Meets EU Stage V emission standards.
Note (2)
Ratings based on SAE J1995 standard air conditions of 25° C (77° F) and 100 kPa (29.61 Hg) barometer. Power based on fuel having API gravity of 35 at 16° C (60° F) and an LHV of 42 780 kJ/kg (18,390 BTU/lb) when engine used at 30° C (86° F).
Peak Torque - Speed
1200 r/min / 1200 r/min
Note (3)
No engine derating required up to 3810 m (12,500 ft) for Tier 2 Equivalent.
Note (1)
Power rating applies at 2,000 rpm when tested under the specified condition for the specified standard.
Maximum Gross Vehicle Weight
246503 lb / 111812 kg
Nominal Payload Class (100%)
70.5 ton (US) / 64 t
Top Speed - Loaded
41.6 mile/h / 66.9 km/h
Note (1)
Capacity with Dual Slope body – no liner.
Maximum Allowable Payload (120%)*
84.6 ton (US) / 76.7 t
Body Capacity - SAE 2:1
55.23 yd³ / 42.23 m³
Maximum Working Payload (110%)
77.5 ton (US) / 70.3 t
Target Payload (100%)
70.5 ton (US) / 64 t
Note (2)
* Refer to the Caterpillar 10/10/20 Payload Policy for maximum gross machine weight limitations.
Forward - 1
6.6 mile/h / 10.6 km/h
Forward - 2
9.3 mile/h / 15 km/h
Forward - 3
12.6 mile/h / 20.3 km/h
Forward - 4
16.8 mile/h / 27 km/h
Forward - 5
22.8 mile/h / 36.7 km/h
Forward - 6
30.7 mile/h / 49.4 km/h
Forward - 7
41.6 mile/h / 66.9 km/h
Reverse
8.7 mile/h / 14 km/h
Note
Maximum travel speeds with standard 24.00R35 (E4) tires.
Differential Ratio
3.64:1
Total Reduction Ratio
17.49:1
Brake Surface - Front
257 in² / 655 cm²
Brake Surface - Rear
9497 in² / 61269 cm²
Brake Standards
ISO 3450:2011
Pump Flow - High Idle
118 gal/min / 448 l/min
Relief Valve Setting - Raise
2502 psi / 17250 kPa
Relief Valve Setting - Lower
500 psi / 3450 kPa
Body Raise Time - High Idle
10 s / 10 s
Body Lower Time - Float
14 s / 14 s
Body Power Down - High Idle
14 s / 14 s
Capacity - Dual Slope - 100% Fill Factor
Struck
42.7 yd³ / 32.6 m³
Note (1)
Contact your local Cat dealer for body recommendation.
Heaped (SAE 2:1)*
55.5 yd³ / 42.2 m³
Capacity - Flat Floor - 100% Fill Factor
Struck
42.2 yd³ / 32.3 m³
Note (1)
Contact your local Cat dealer for body recommendation.
Heaped (SAE 2:1)*
55.2 yd³ / 42.2 m³
Weight Distributions - Approximate
Front Axle - Empty
50 % / 50 %
Front Axle - Loaded
34 % / 34 %
Rear Axle - Empty
50 % / 50 %
Rear Axle - Loaded
66 % / 66 %
Empty Loaded Cylinder Stroke Rear
5.8 in / 149 mm
Empty Loaded Cylinder Stroke Front
9.2 in / 234 mm
Rear axle - Oscillation
8.1°
Service Refill Capacities
Fuel Tank
210 gal (US) / 795 l
Cooling System
45 gal (US) / 171 l
Differential - Final Drives
38 gal (US) / 145 l
Steering Tank
9.5 gal (US) / 36 l
Steering System - Including Tank
14 gal (US) / 54 l
Torque Converter - Transmission System - HRC
18 gal (US) / 70 l
Brake Hoist System
85 gal (US) / 322 l
Crankcase
24 gal (US) / 90 l
Torque Converter - Transmission System - LRC
16 gal (US) / 61 l
Brake/Hoist Hydraulic Tank
46.5 gal (US) / 176 l
Note (1)
Productive capabilities of the 775G truck are such that, under certain job conditions, TKPH (TMPH) capabilities of standard or optional tires could be exceeded and, therefore, limit production.
Note (2)
Caterpillar recommends the customer evaluate all job conditions and consult the tire manufacturer for proper tire selection.
Standard Tire
24.00R35 (E4)
ROPS Standards
Rollover Protective Structure (ROPS) for cab offered by Caterpillar meets ISO 3471:2008 ROPS criteria.
FOPS Standards
Falling Objects Protective Structure (FOPS) meets ISO 3449:2005 Level II FOPS criteria.
Sound Standards (2)
The exterior sound pressure level for the standard machine measured at a distance of 15 m (49 ft) according to the test procedures specified in SAE J88:2008, mid‑gear moving operation is 86 dB(A).
Sound Standards (1)
The operator Equivalent Sound Pressure Level (Leq) is 76 dB(A) when SAE J1166 FEB2008 is used to measure the value for an enclosed cab. This is a work cycle sound exposure level. The cab was properly installed and maintained. The test was conducted with the cab doors and the cab windows closed.
Sound Standards (3)
Hearing protection may be needed when operating with an open operator station and cab (when not properly maintained or doors/windows open) for extended periods or in a noisy environment.
Turning Diameter - Front
77.1 ft / 23.5 m
Steering Standards
ISO 5010:2007
Turning Circle - Clearance Diameter
85.6 ft / 26.1 m