988K Block Handler Arrangement
988K Block Handler Arrangement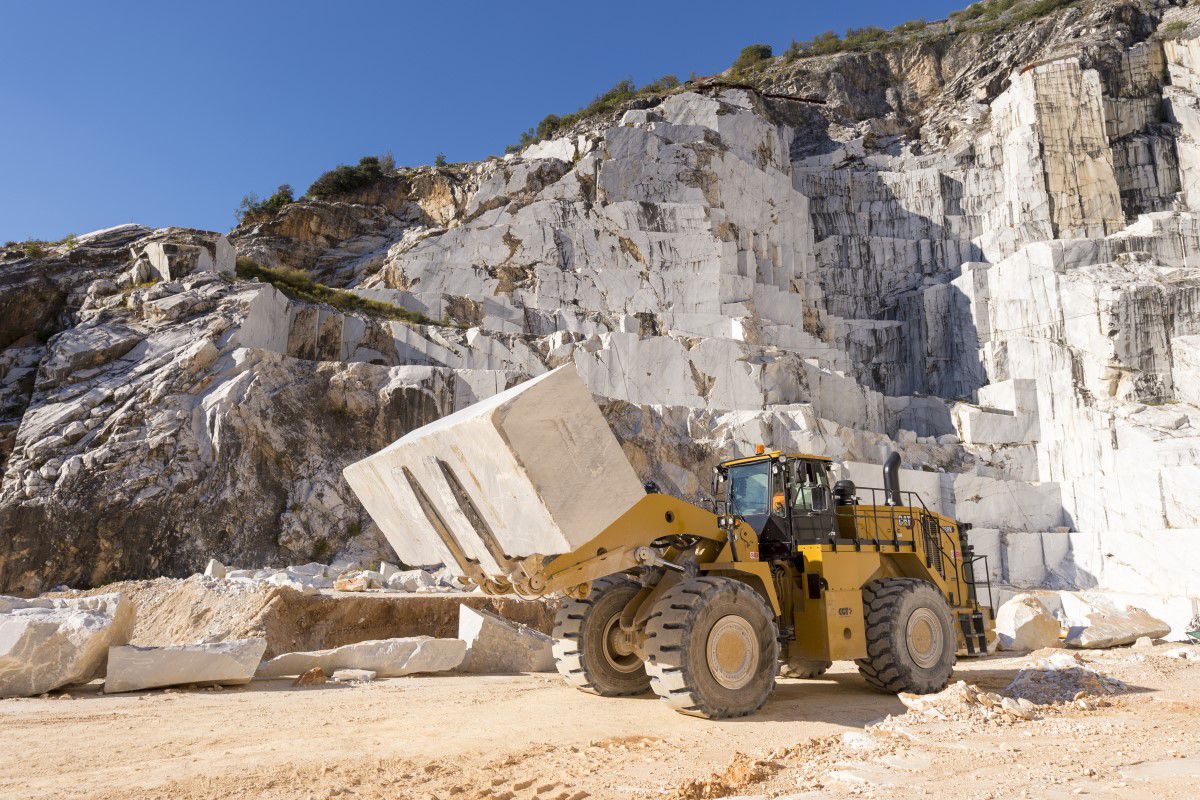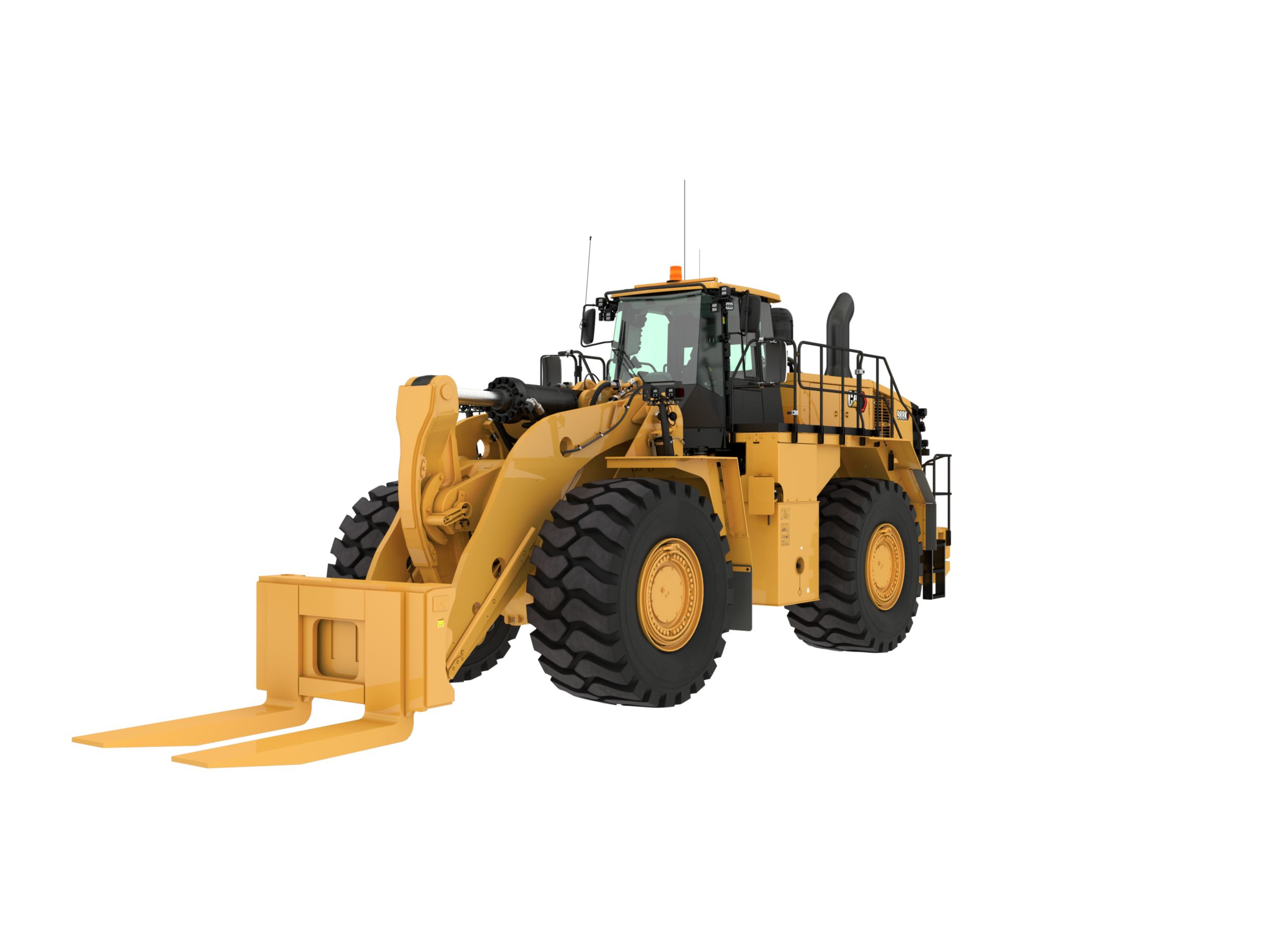 DESCRIPTION
Introduced in 1963, the 988 has been the industry leader for 50 years. Focused on helping our customers succeed, we have continued to build upon each new series. The 988K continues our legacy of reliability, performance, safety, operator comfort, serviceability, and efficiency. The Cat 988K Block Handler was designed to withstand the demanding and harsh environment of block handling applications. The features of the 988K Block Handler work together to provide a durable and reliable machine to meet your block handling needs.
Cat® K Series Large Wheel Loader Operator Training
Cat® 980M, 986K and 988K - The Block Handler Lineup
Cat® C18 Engine
The Cat C18 engine is built and tested to meet your most demanding applications while meeting U.S. EPA Tier 4 Final/EU Stage IV, Tier 2 Equivalent emission standards.
Fully integrated electronic engine controls works in concert with the entire machine to make your fuel go farther.
Use less fuel idling with Engine Idle Shutdown.
Maximized durability with Delayed Engine Shutdown.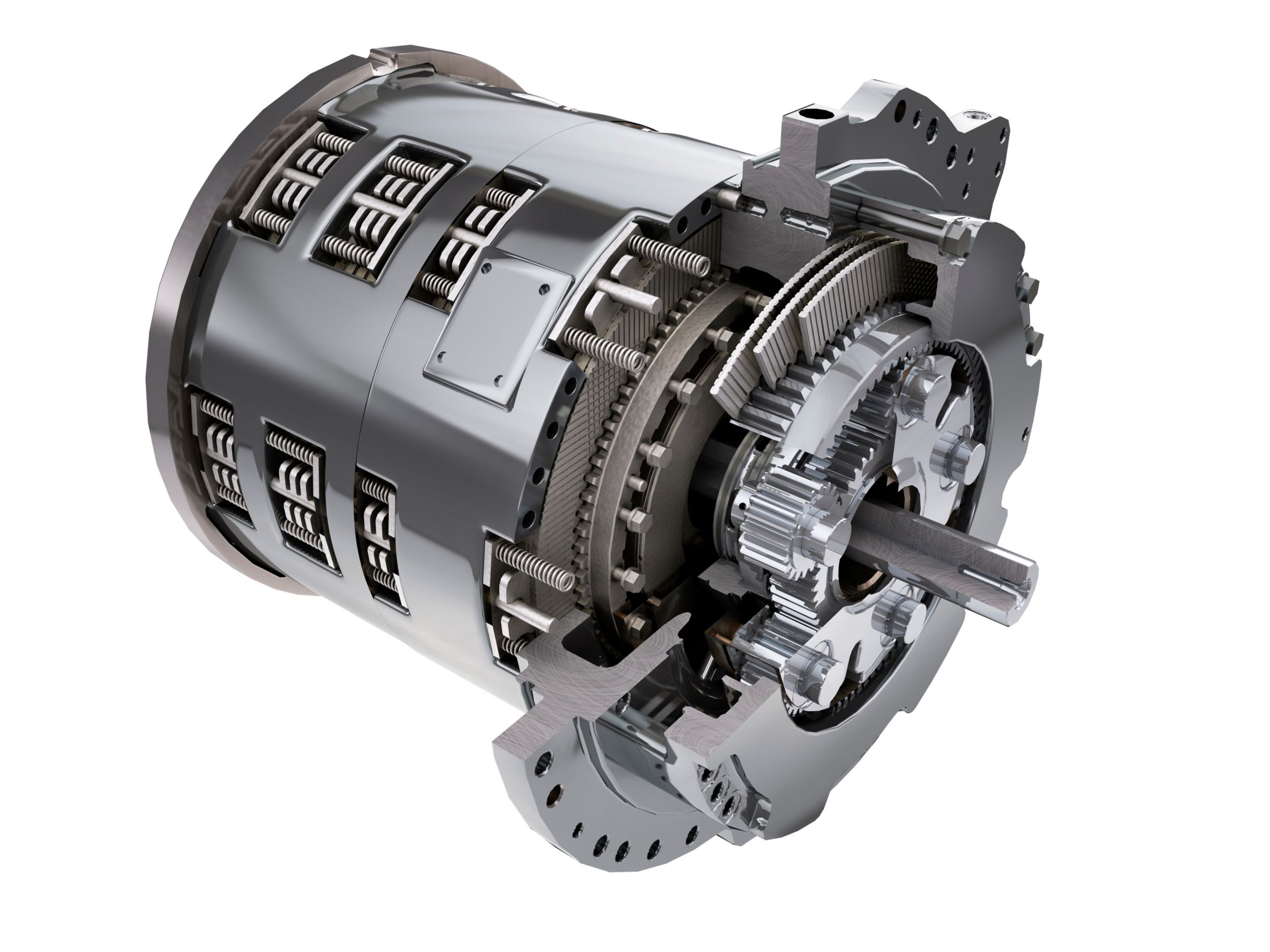 Cat Planetary Powershift Transmission
Featuring all new Advanced Productivity Electronic Control Shifting (APECS) transmission controls provides greater momentum on grades and fuel savings by carrying that momentum through the shift points.
Impeller Clutch Torque Converter (ICTC)
Enable your operators to maximize efficiency by varying machine rimpull while putting more horsepower to hydraulics.
Reduced tire wear
Enables full throttle shifts for faster cycle times
Provides smooth approach to the dump target for less spillage and faster cycle times.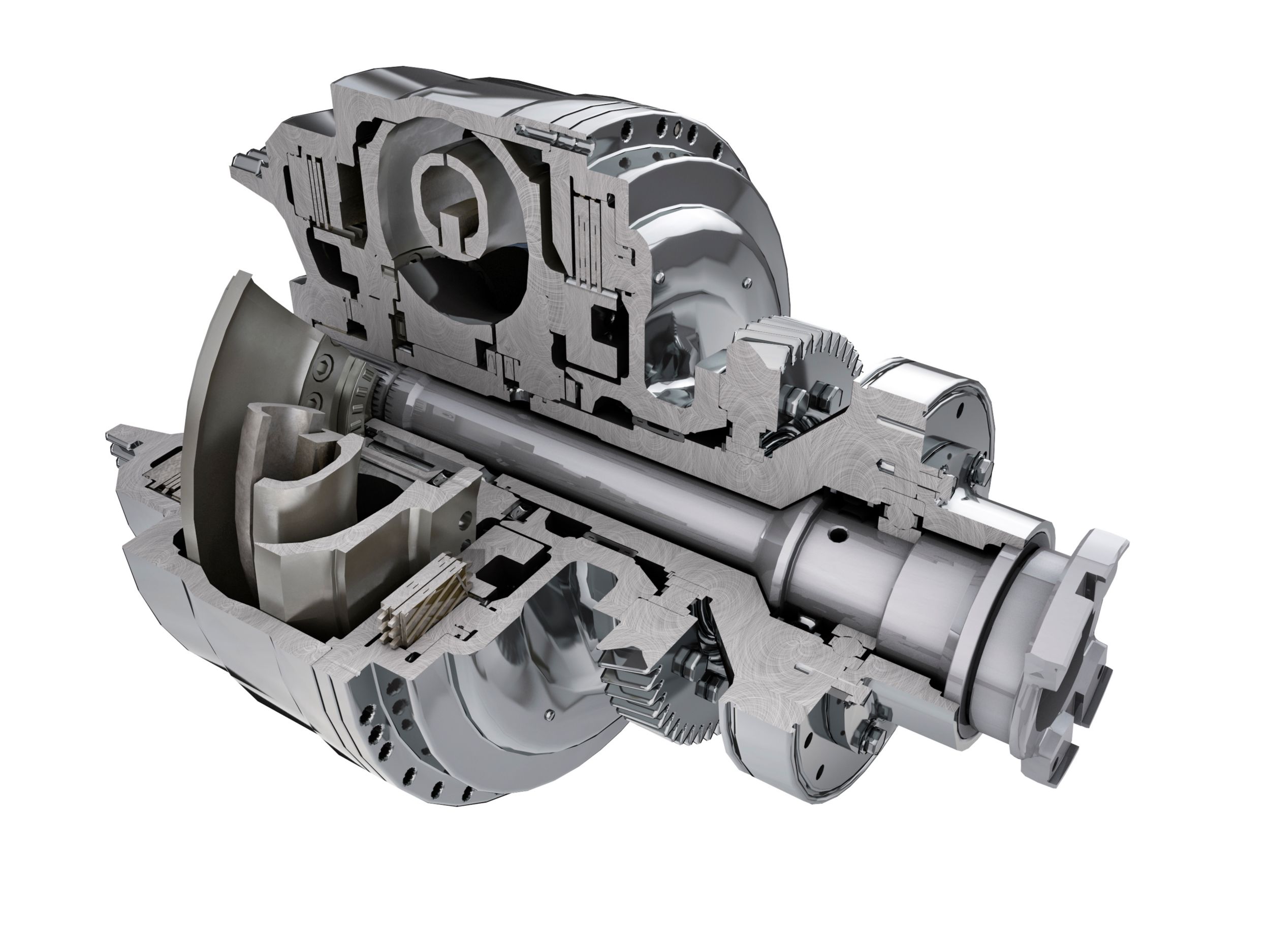 Cat Torque Converter with Lock-up Clutch
Eliminates TC losses while lowering system heat
Improves travel speeds
Reduces cycle times in load and carry operations
Economy Mode
Enabling maximum productivity and efficiency, all day every day. The 988K systems work hard to save you fuel through advanced technologies. Utilizing On Demand Throttle, operators maintain normal operation with the left pedal and implements while the 988K manages the engine speed.
Provides similar control and feel to our traditional throttle lock feature.
Efficiency of manual throttle and the ergonomics of throttle lock.
Reduced fuel consumption by up to 20% compared to the 988H.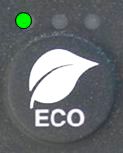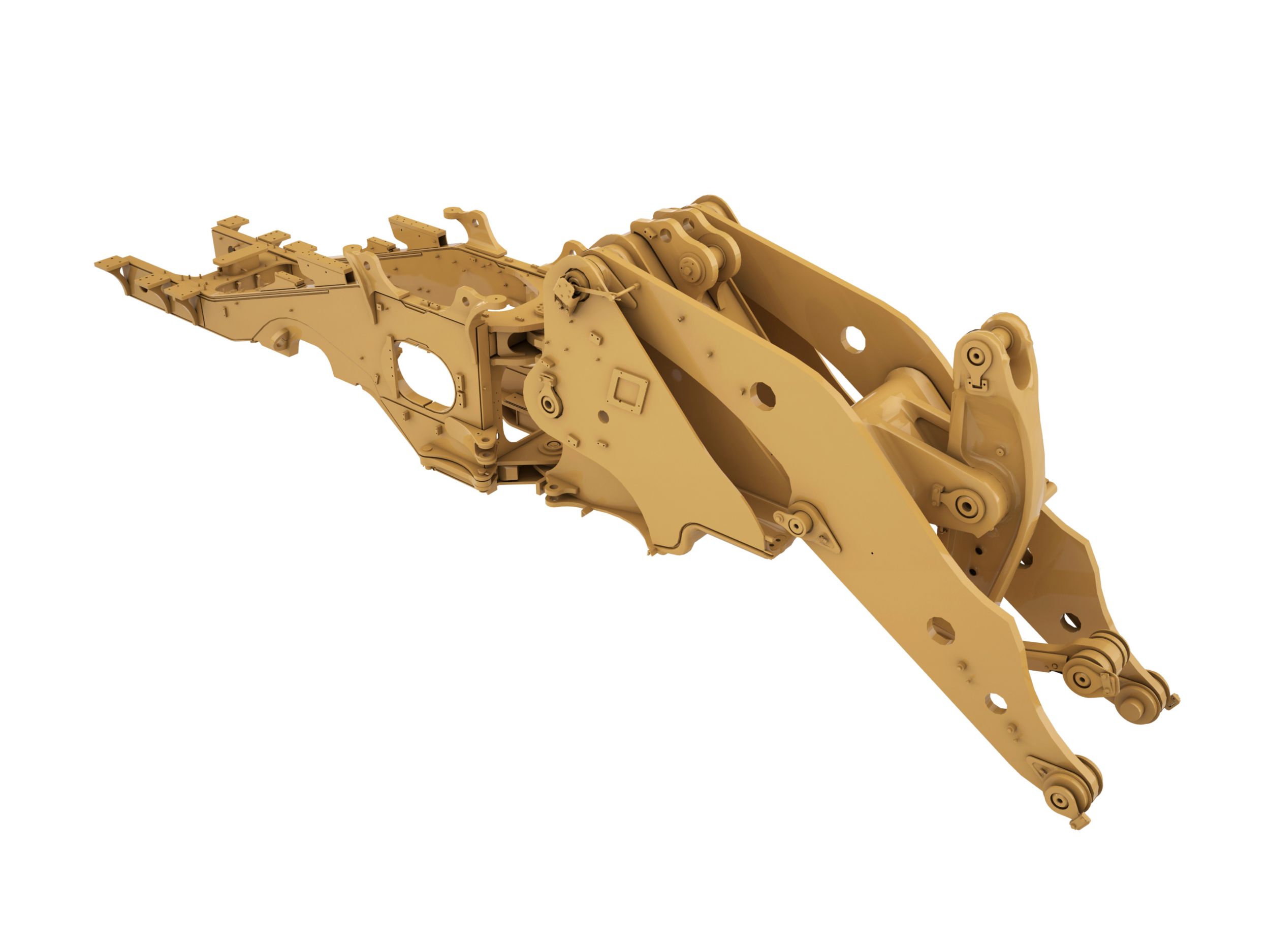 Larger Tilt and Lift Cylinders
The 988K Block Handler comes equipped with larger tilt and lift cylinders on the linkage that help improve load control and ensure safe and long lasting operation.
Optimized Z-bar Linkage
Linkage layout designed to maximize lift capability in block handling application.
High load stresses are absorbed by solid steel lift arms.
Enhanced strength in key pin areas through the use of one piece castings.
Stress released lift arms increase durability and lengthen time to repair.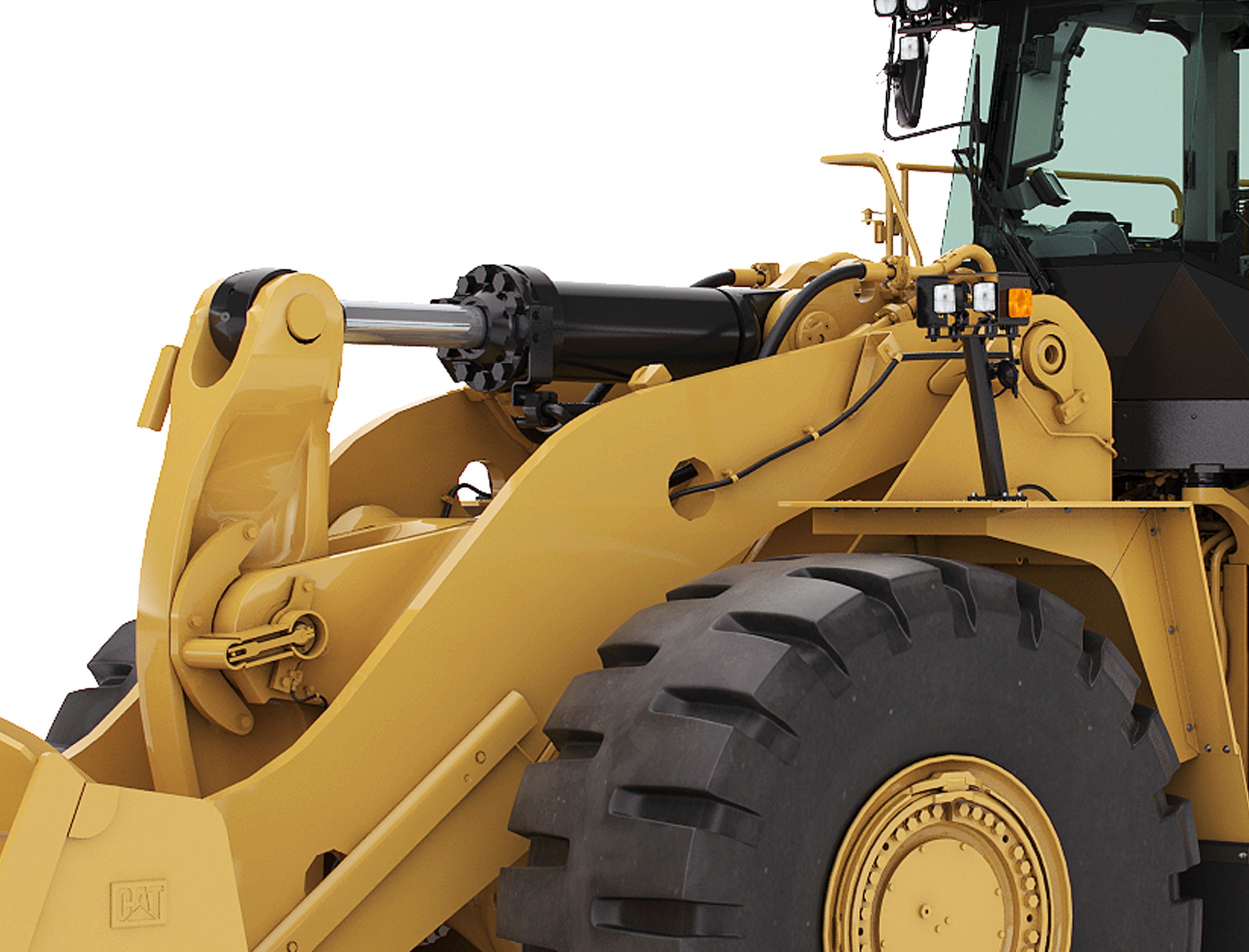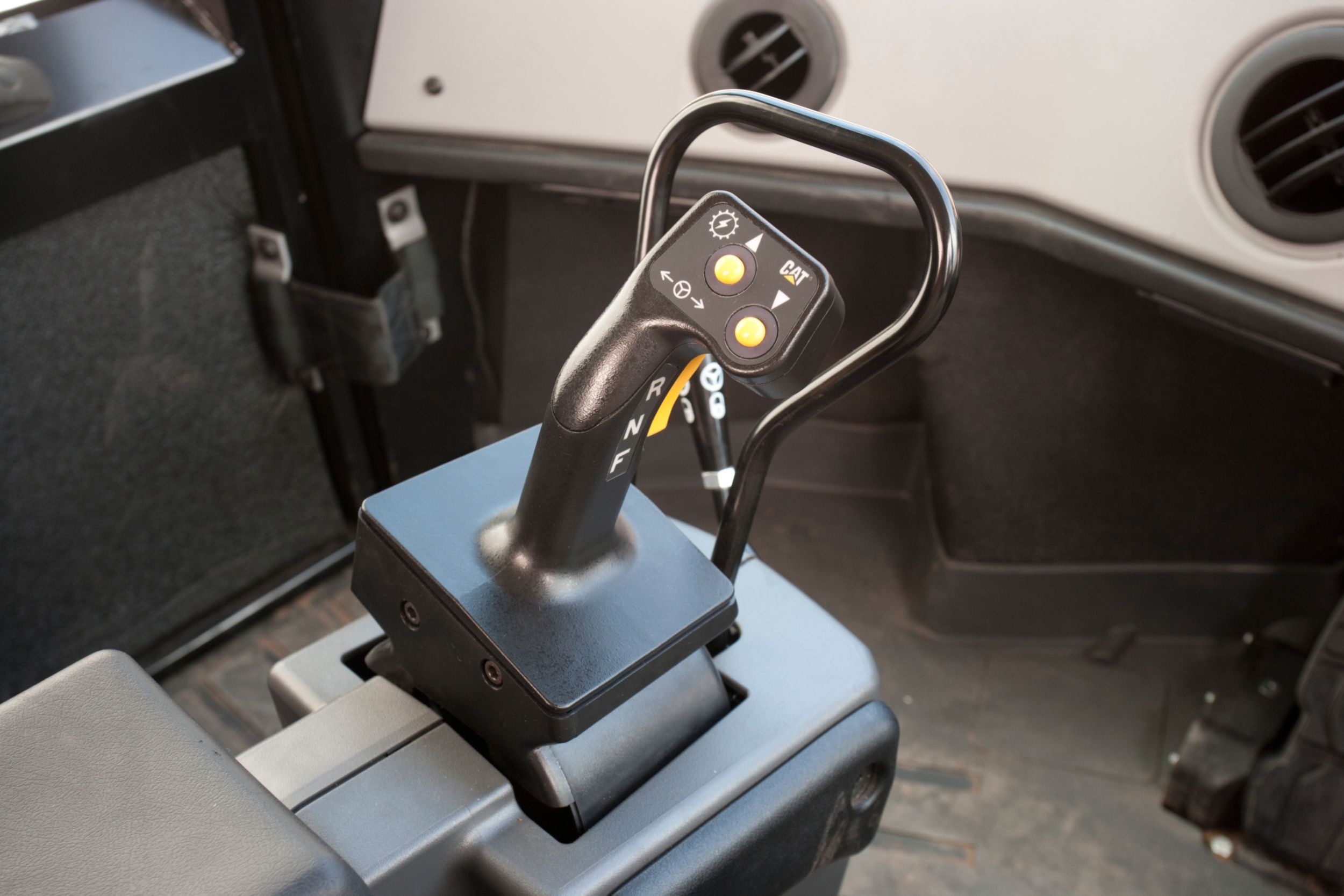 Steering and Transmission Integrated Control System (STIC™)
Experience maximum responsiveness and control with STIC that combines directional selection, gear selection and steering into a single lever.
Simple side-to-side motion turns machine right or left, minimizing operator movements.
Easy to operate finger controlled gear selection.
Smoother, faster cycles and less operator fatigue through the use of low effort integrated controls.
Cat Planetary Powershift Transmission
Building your success begins with a best-in-class transmission designed specifically for mining applications.
Consistent, smooth shifting and efficiency through integrated electronic controls that utilize Advanced Productivity Electronic Control Strategy (APECS).
Long life and reliability through heat treat gear and metallurgy.
Four forward and three reverse speeds to match your application.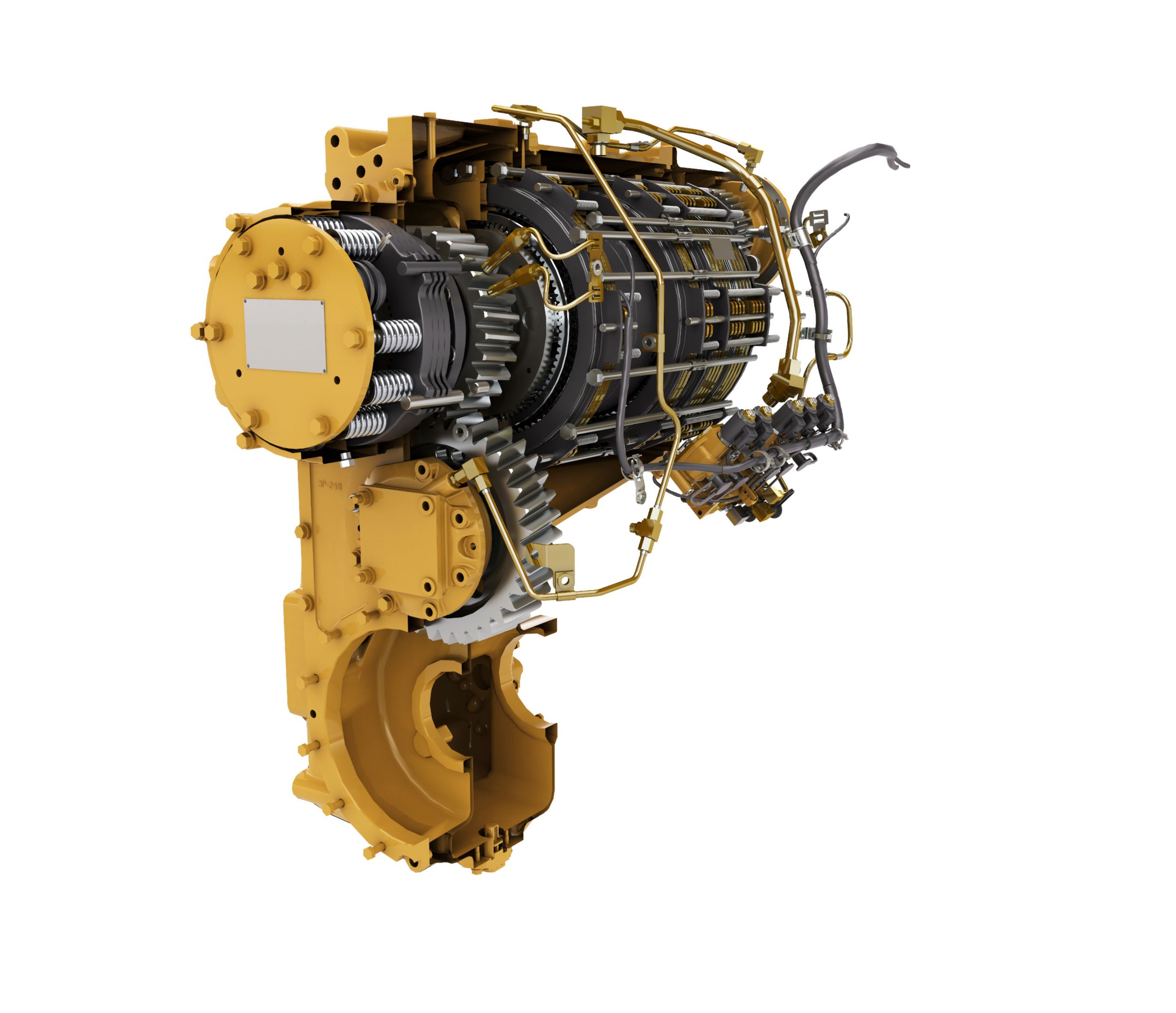 Cat C18 Engine
Durability and efficiency at the heart of your 988K comes from the Cat C18 Engine. Optimum performance is built in through the use of a 6 cylinder, four-stroke design.
Optimized performance and quick engine response with an electronic control module.
Reliable efficiency with complete control over injection timing, duration and pressure with Mechanically Actuated Electronic Unit Injection (MEUI™).
Extended engine life and improved fuel efficiency with reduced rated speed.
Designed to meet U.S. EPA Tier 4 Final/EU Stage IV, Tier 2 Equivalent emission standards.
Positive Flow Control Hydraulics
Increase efficiency through our Positive Flow Control (PFC) Hydraulic System. PFC has concurrent pump and valve control. By optimizing pump control, hydraulic oil flow is proportionate to implement lever movement.
Fast, productive cycles are enabled by the fully variable implement pump.
Increase bucket feel and control through increased hydraulic response.
Consistent performance and efficiency with lower system heat.
Full hydraulic flow down to 1,400 engine rpm enabled by flow sharing technology.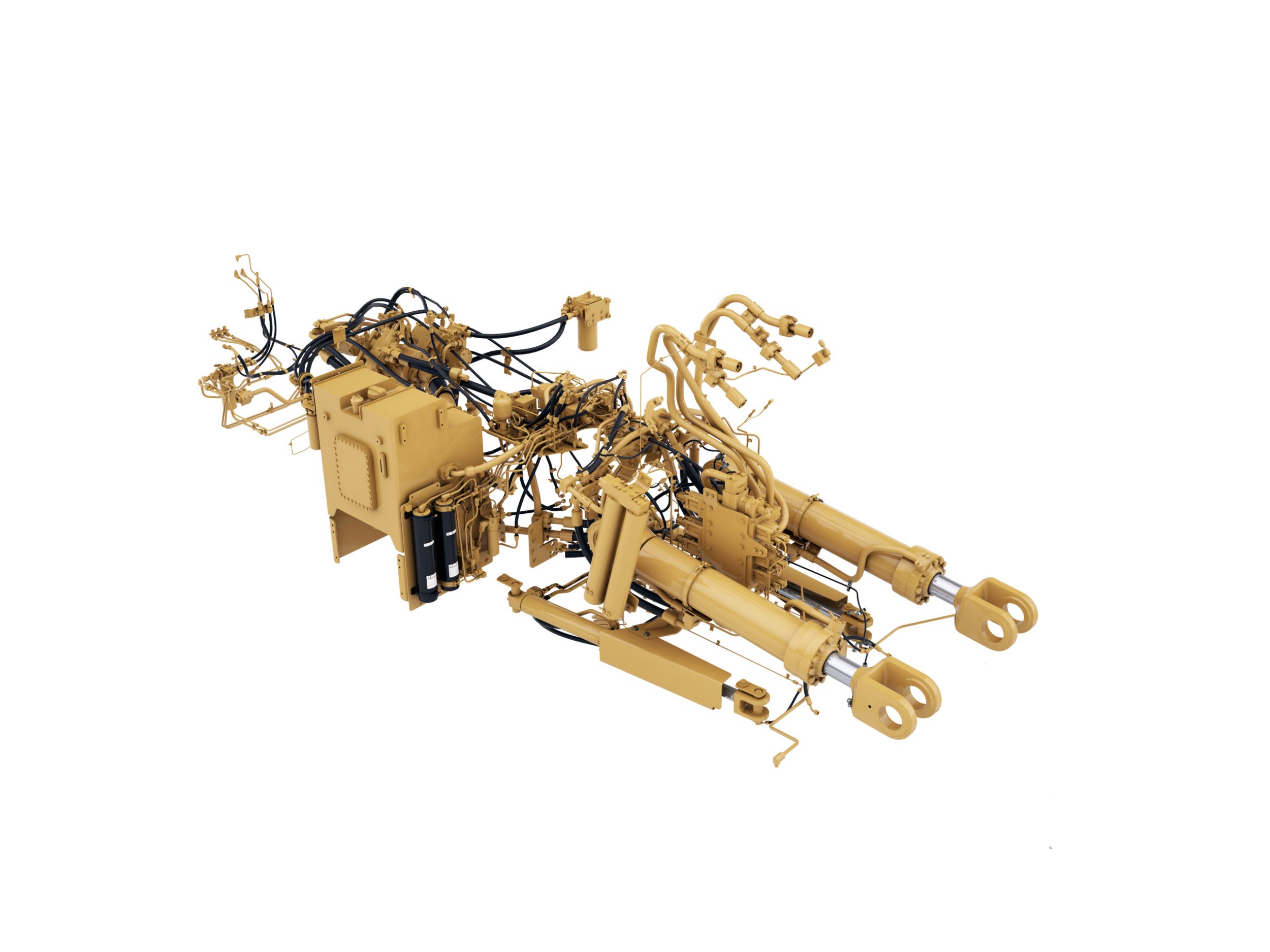 Electro Hydraulic Controls
Operators increase productivity with our responsive implements feature.
Operate comfortably through electronically controlled hydraulic cylinder stops.
Handle easy-to-use soft detent controls.
Conveniently set automatic implement kickouts from inside the cab.
Steering System
Confident loader operation starts with precise machine control enabled by the 988K's load sensing hydraulic steering system.
Increase efficiency with our variable displacement piston pumps.
Enhance operator comfort with integrated steering and transmission control functions.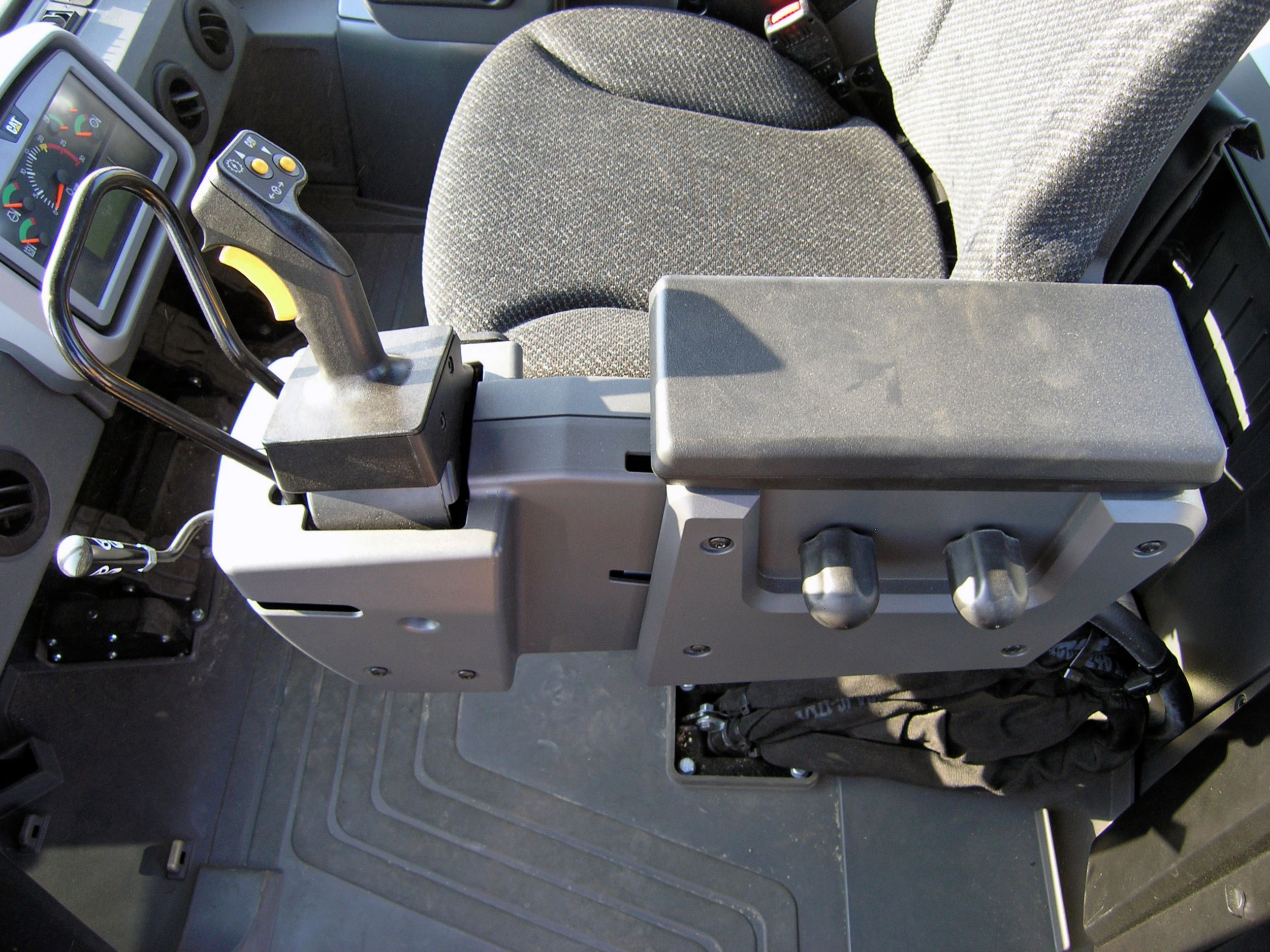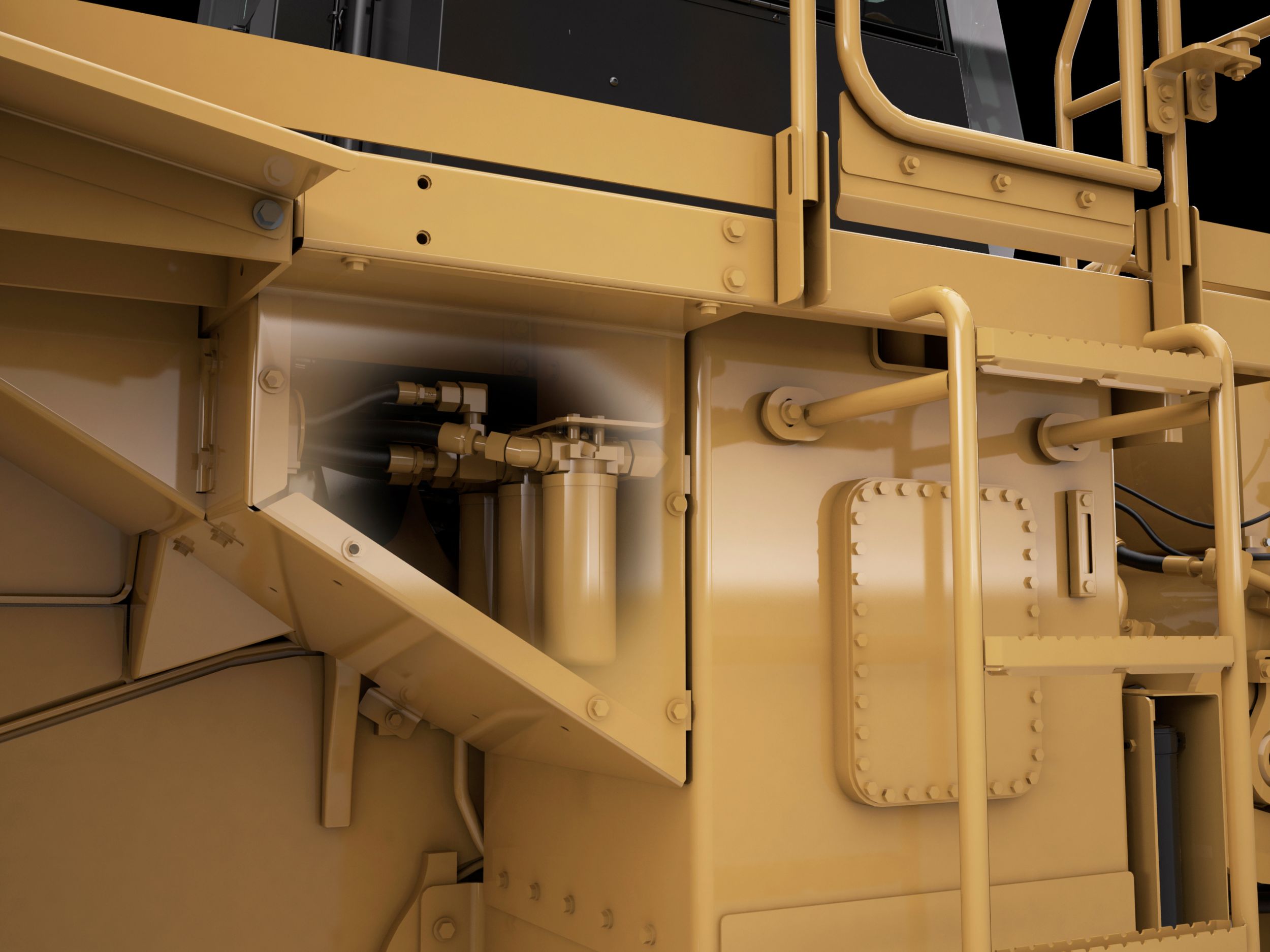 Filtration System
Benefit from extended performance and reliability of your hydraulic system with our advanced filtration system.
Case drain screens.
Hydraulic oil cooler return filter.
Pilot filter.
Return screens inside hydraulic tank.
Axle oil cooler screens if equipped.
Your operators can work more efficiently and stay comfortable with our customer-inspired cab features.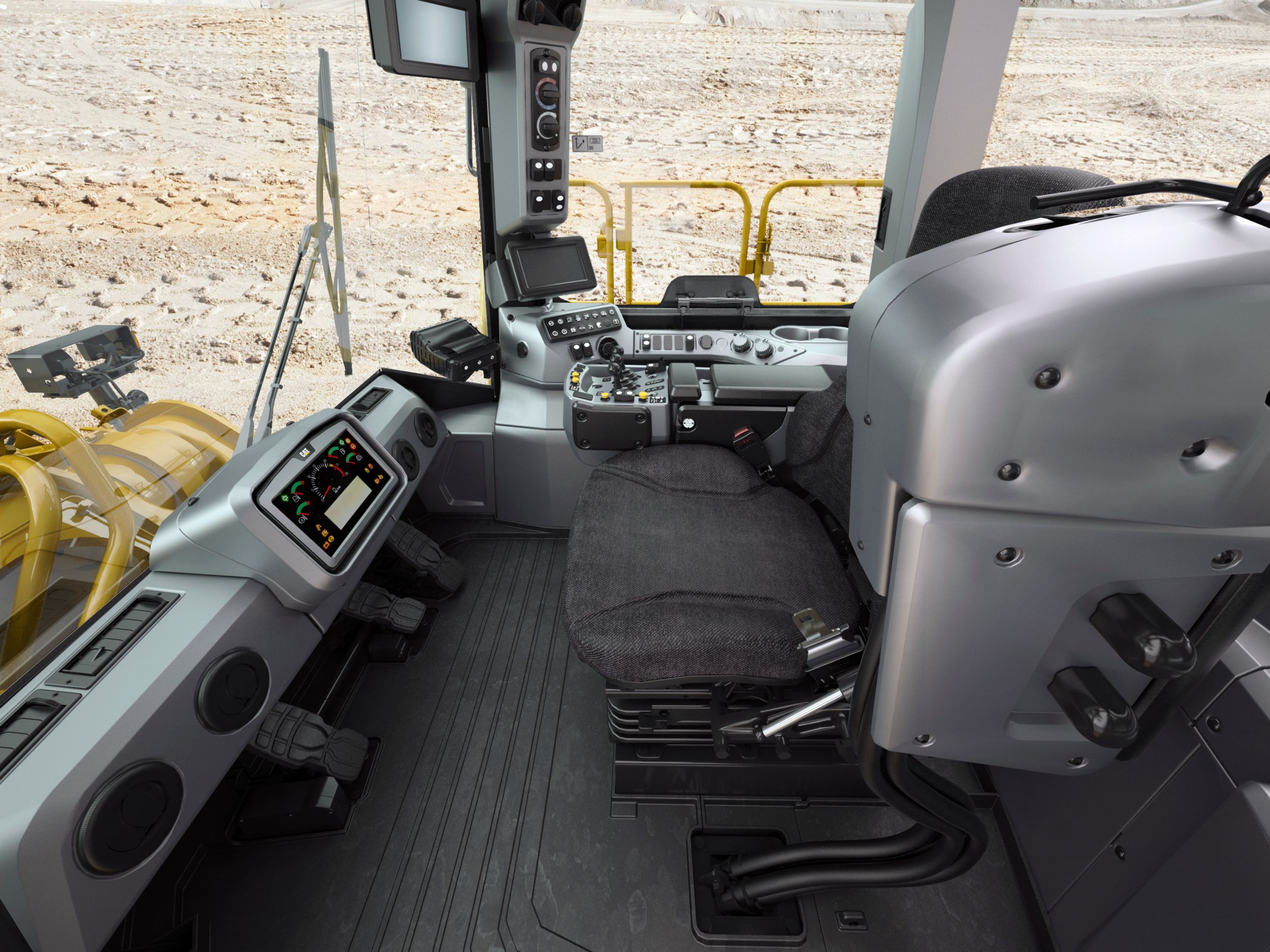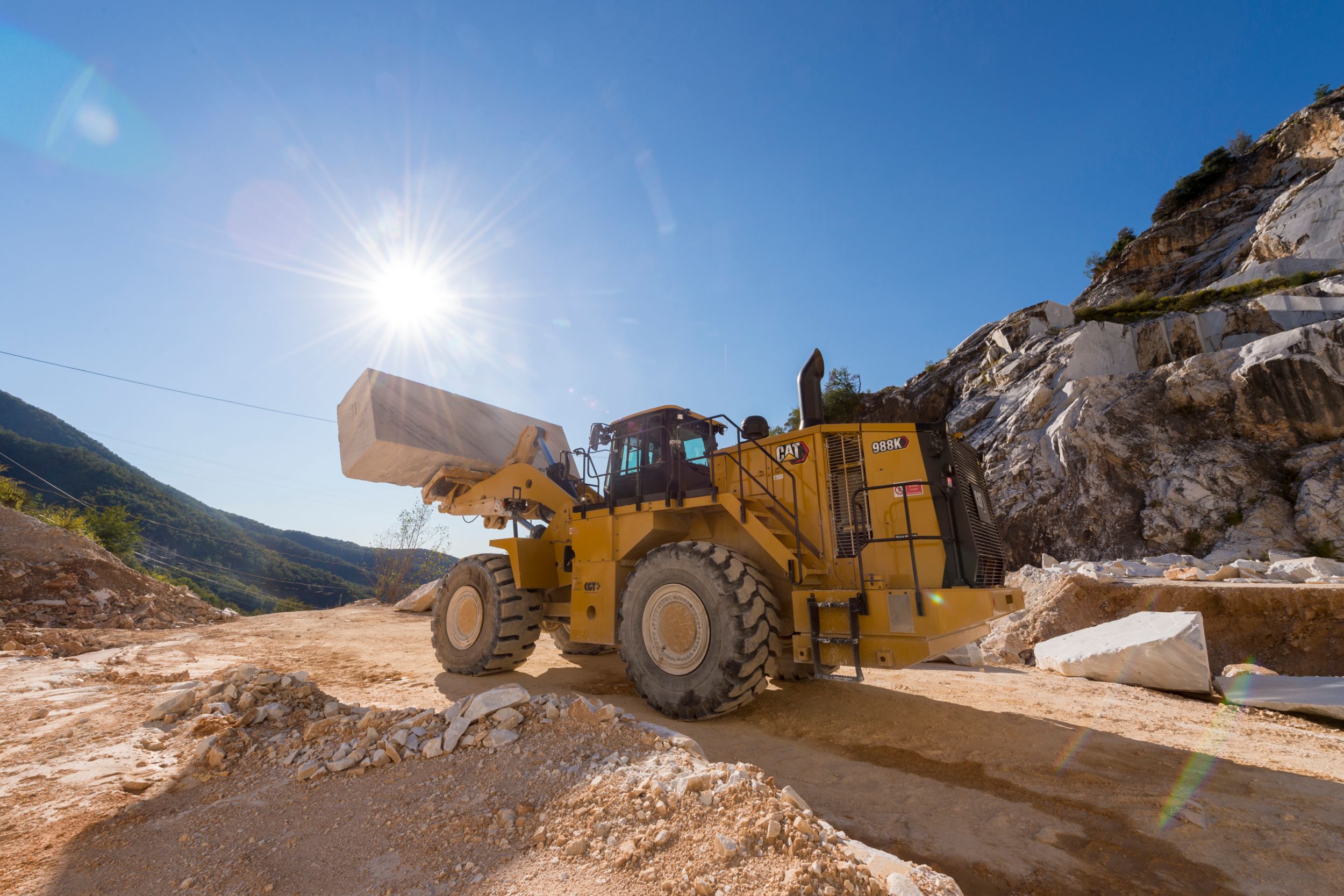 Entry and Exit
Enter and exit the cab easily and safely with these newly designed, ergonomic features.
Fold up STIC steer/armrest.
Reduced access stairway angles.
Standard stairway lighting.
Cat Comfort Series III Seat
Enhance comfort and reduce operator fatigue with Cat Comfort Series III seat.
Mid back design and extra thick, contoured cushions.
Air suspension system.
Easy-to-reach seat levers and controls for six way adjustments.
Seat-mounted implement pod and STIC steer that moves with the seat.
76 mm (3 in) wide retractable seat belt.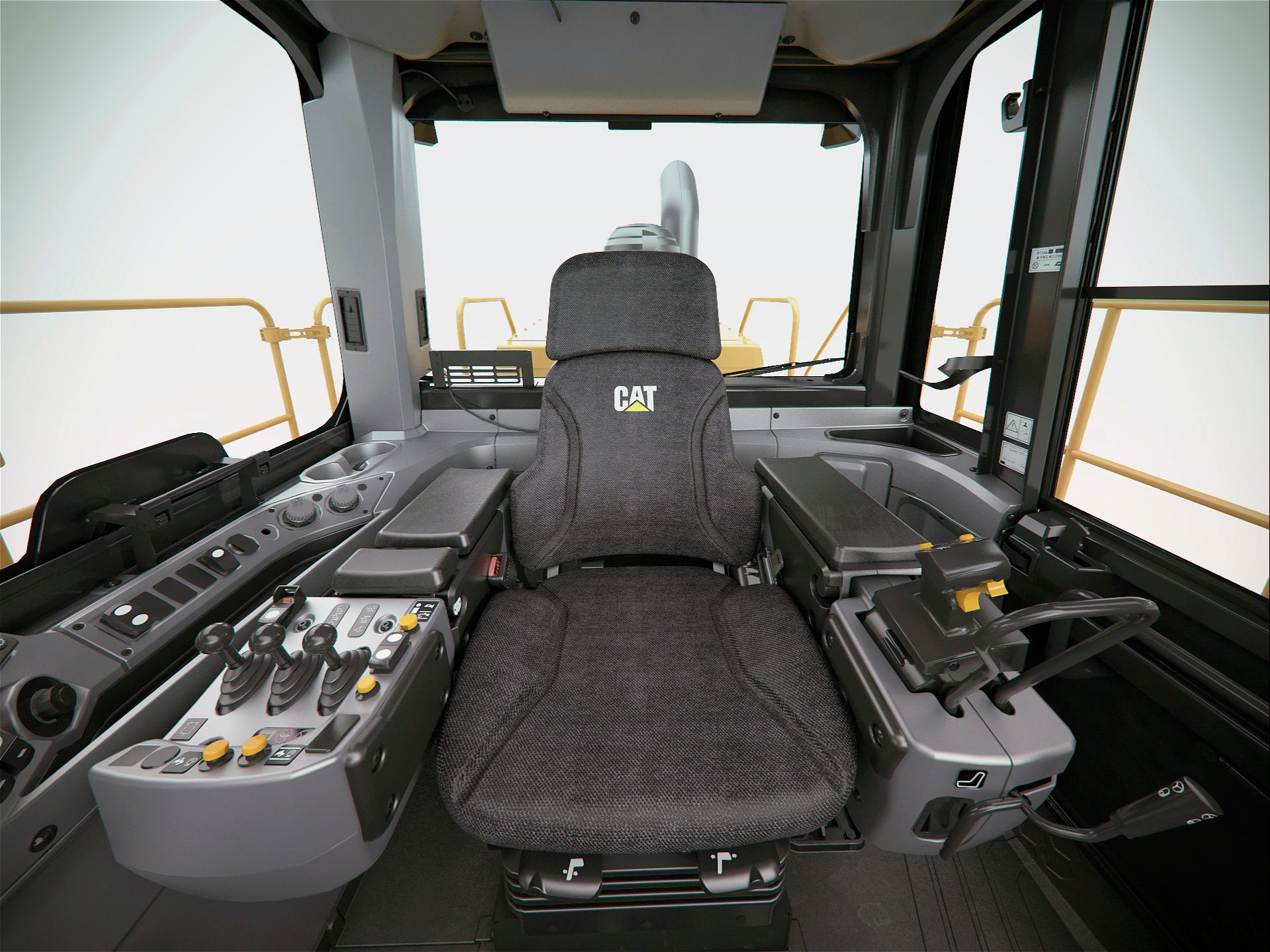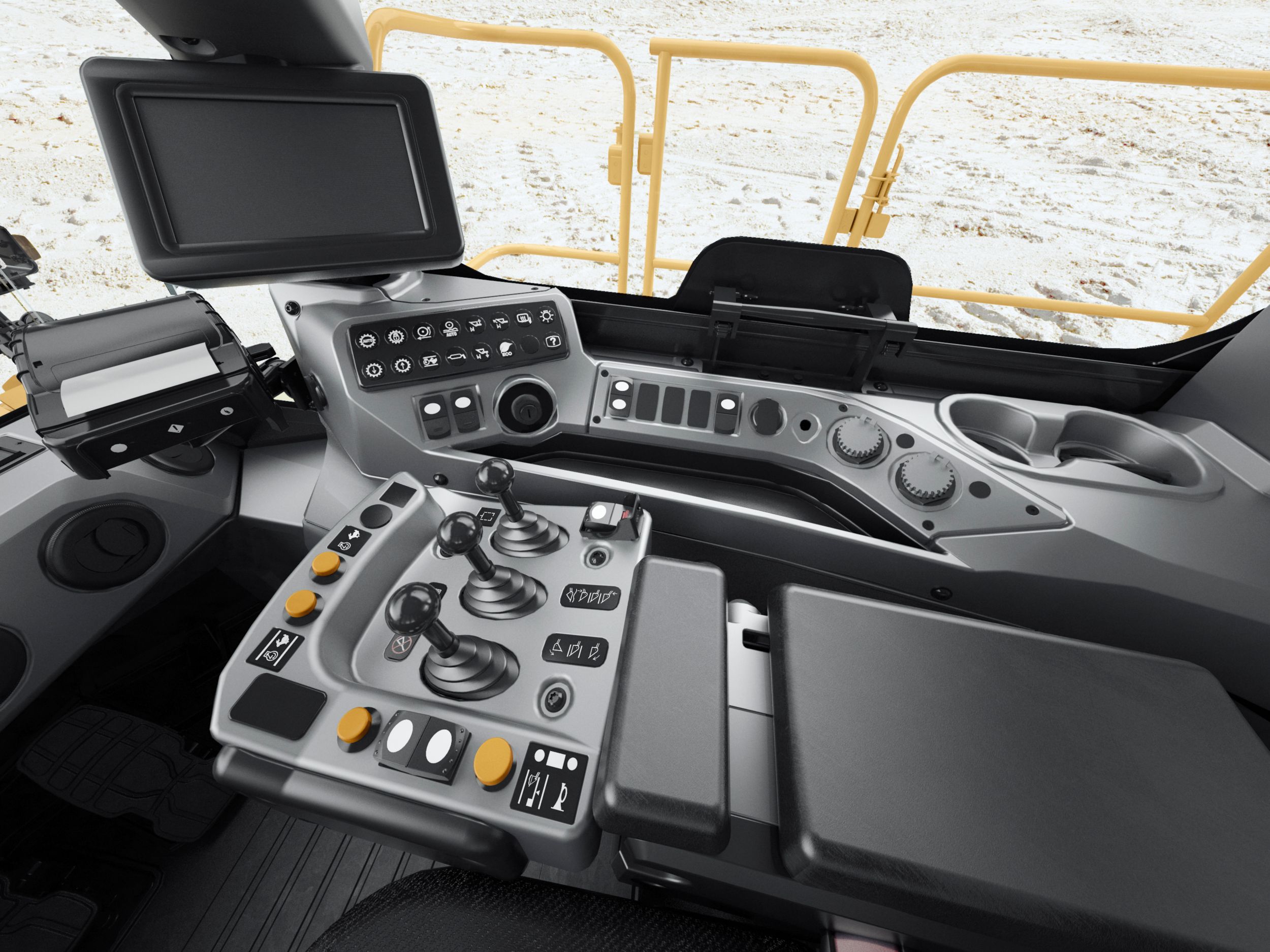 Control Panel
Ergonomic placement of switches and Information display keep your operators comfortable all day every day.
Large backlit membrane switches feature LED activation indicators.
Switches feature ISO symbols for quick function identification.
Two position rocker switch activates the electro hydraulic park brake.
Cat Product Link™
Cat Product link allows remote monitoring of equipment to improve overall fleet management effectiveness. Events and diagnostic codes, as well as hours, fuel, idle time and other information are transmitted to a secure web based application, VisionLink®. VisionLink includes powerful tools to convey information to users and dealers, including mapping, working and idle time, fuel level and more.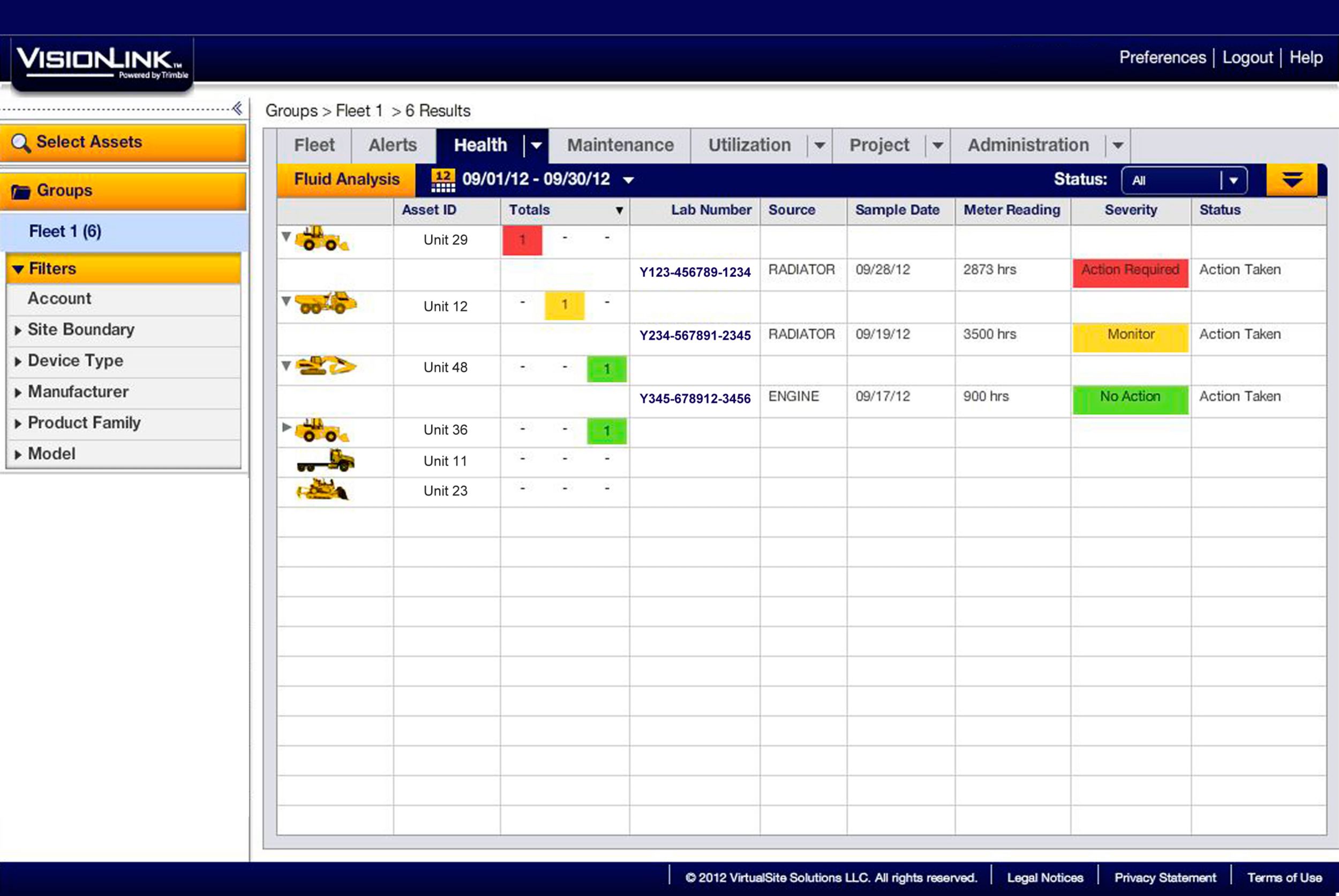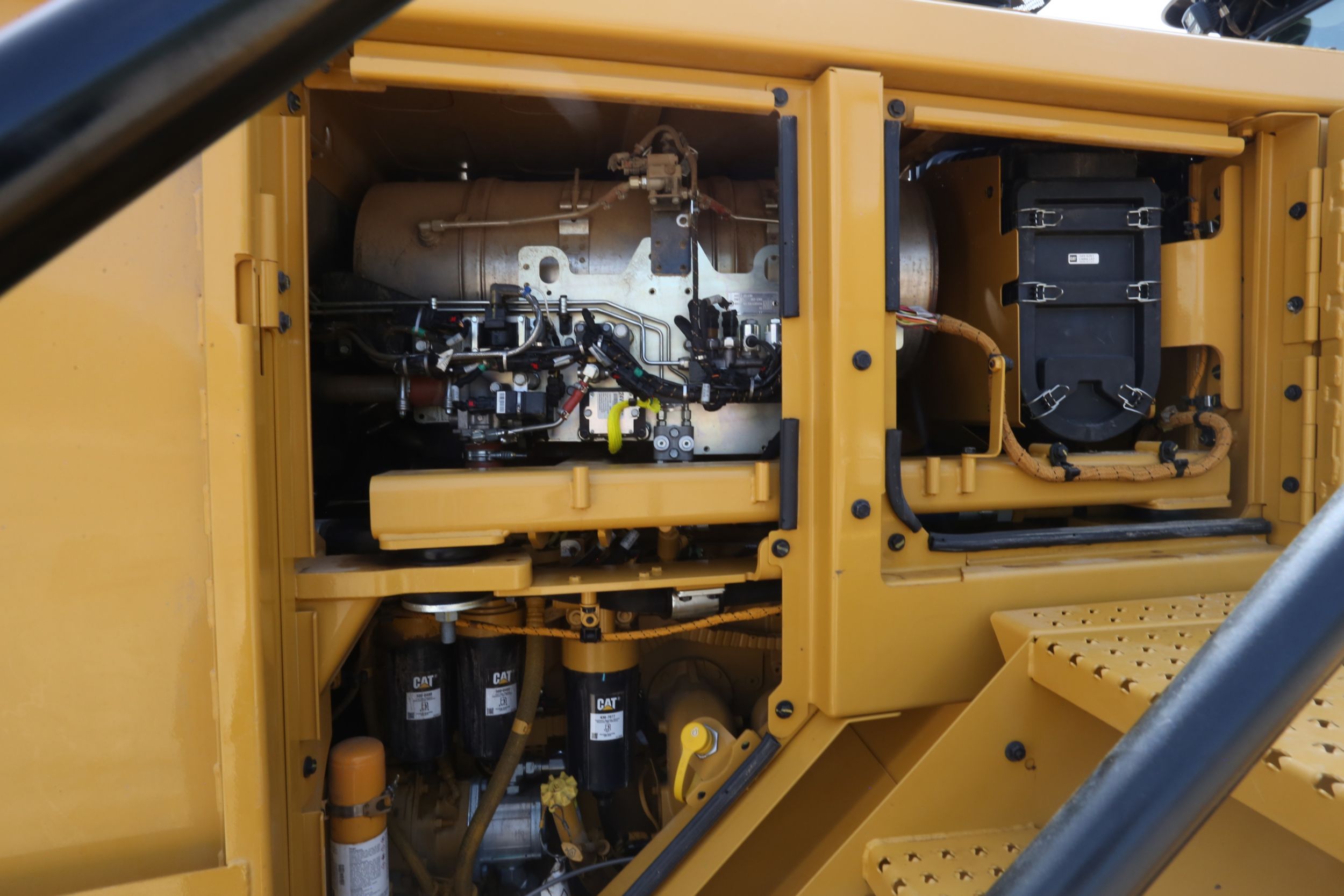 We can help you succeed by ensuring your 988K has design features to reduce your downtime.
Safe and convenient service with ground level or platform access and grouped service points.
Swing-out doors on both sides of the engine compartment provide easy access to important daily service checks.
Ecology drains for ease of service and prevention of spilling potential environmental contaminants.
Reduce downtime with VIMS system notifications so your operators and technicians can resolve any problems before failure.
Ground level access to transmission control valves.
Legendary Cat Dealer Support
A valued partner, your Cat dealer is available whenever you need them.
Preventive maintenance programs and guaranteed maintenance contracts.
Best-in-class parts availability.
Improve your efficiency with operator training.
Genuine Cat Remanufactured parts.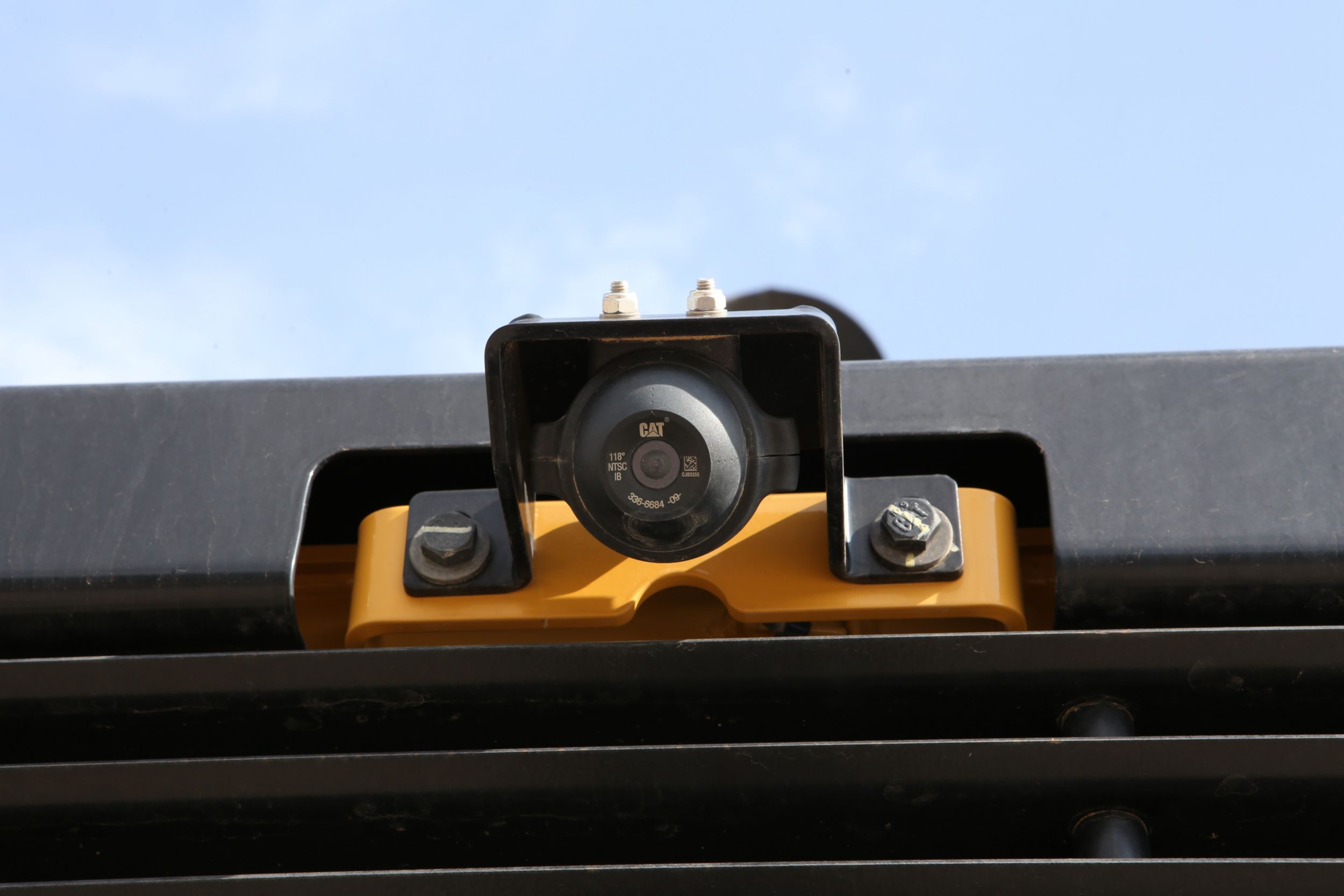 We are constantly improving our products in an effort to provide a safe work environment for the operator and those who work on your job site.
Machine Access
Left and right hand stairs with 45 degree angle enhance safety for operators getting on and off the 988K.
Continuous walkway with non-skid surfaces are designed into the service areas.
Maintain three points of contact at all times through ground level or platform accessible service areas.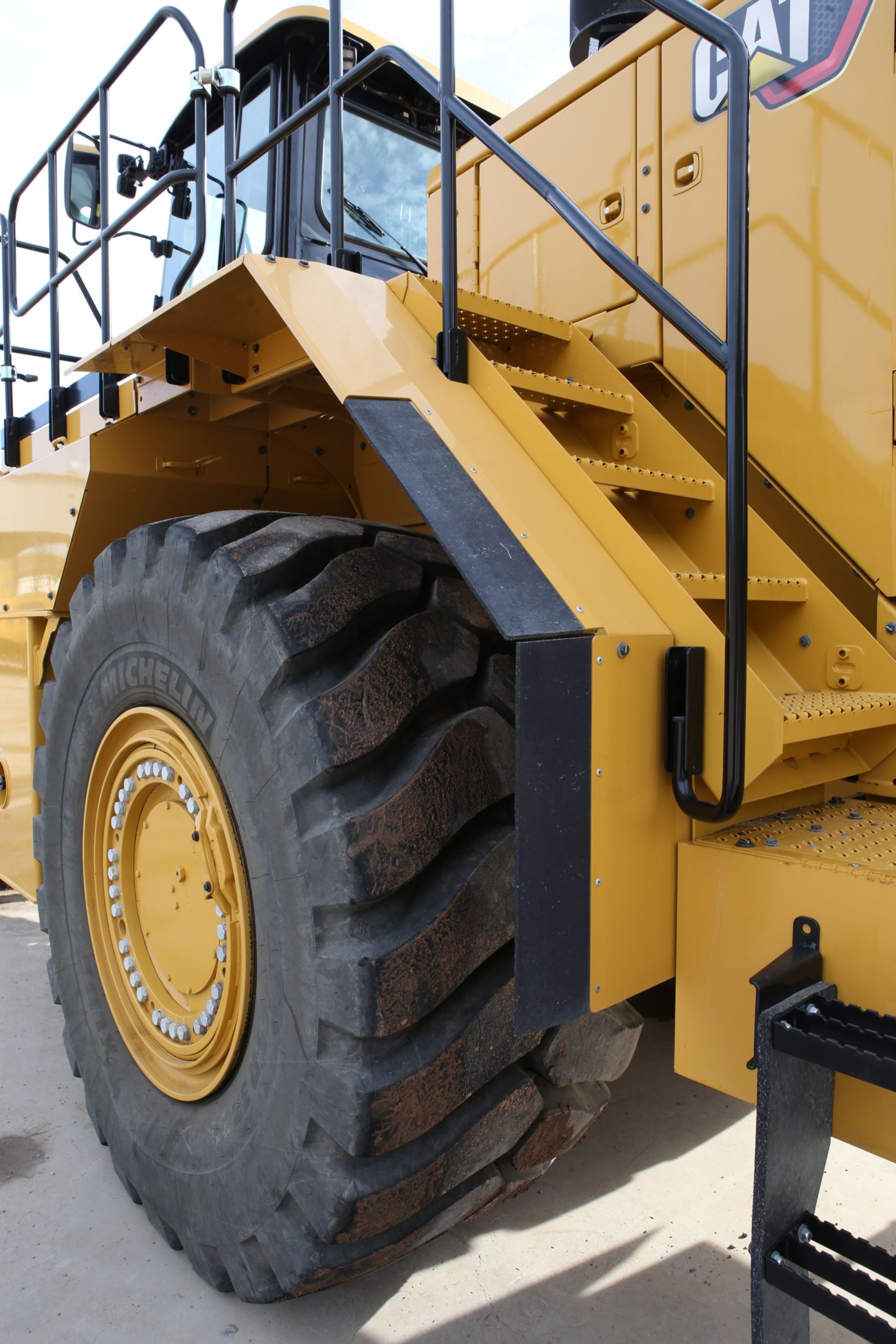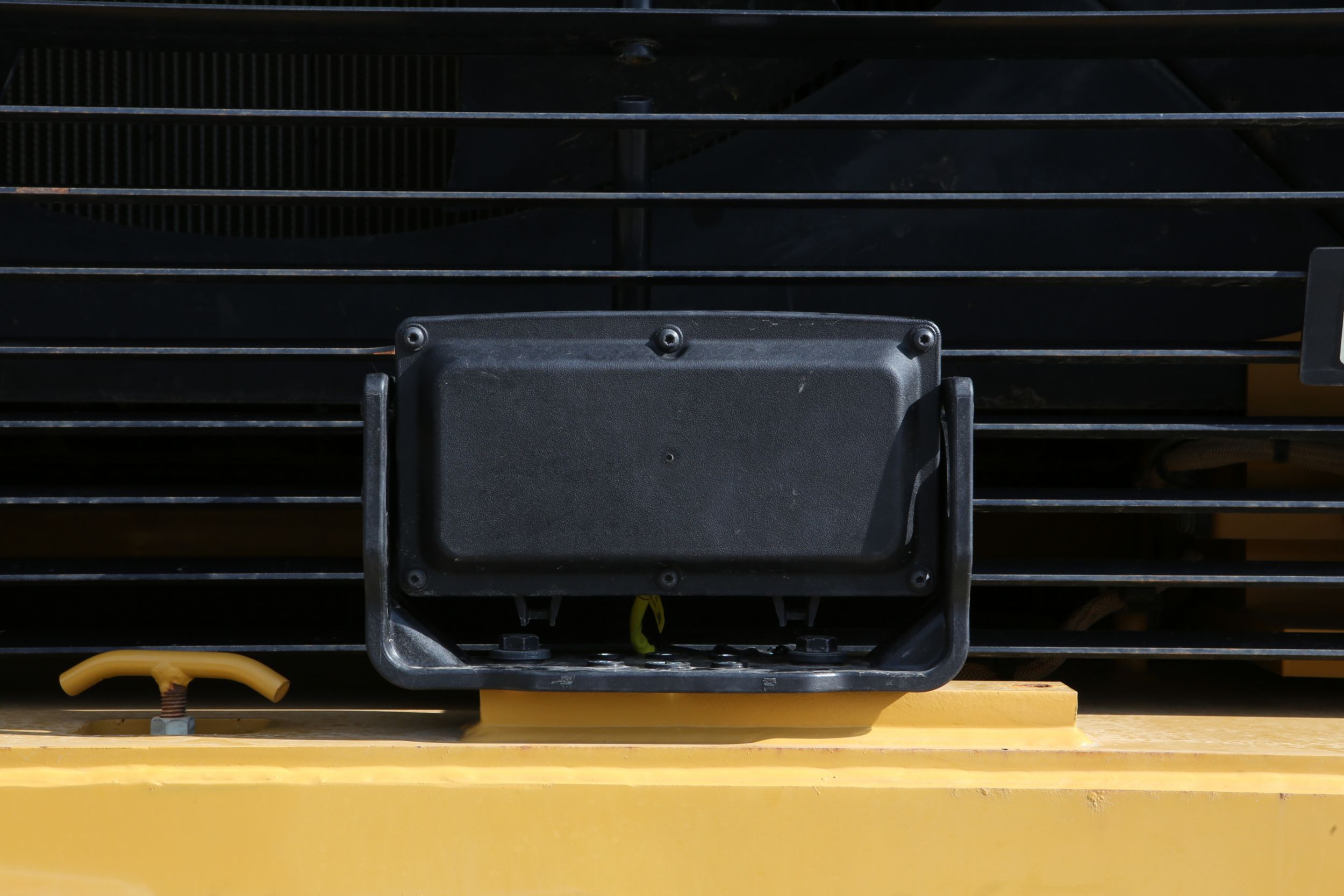 Operator Environment
Reduced vibrations to the operator with isolated cab mounts and seat mounted implement and steering controls.
Low interior sound levels.
Pressurized cab with filtered air.
Standard 76 mm (3 in) seat belts on the operator seat.
(1) Schnellwechsler
The quick coupler is designed for optimal utilization of lifting and break-out forces with Cat cylinder, safety valves, pressure and isolating valves, safety covers and lock indicators. It has enhanced visibility and has been optimized for handling large rocks and blocks.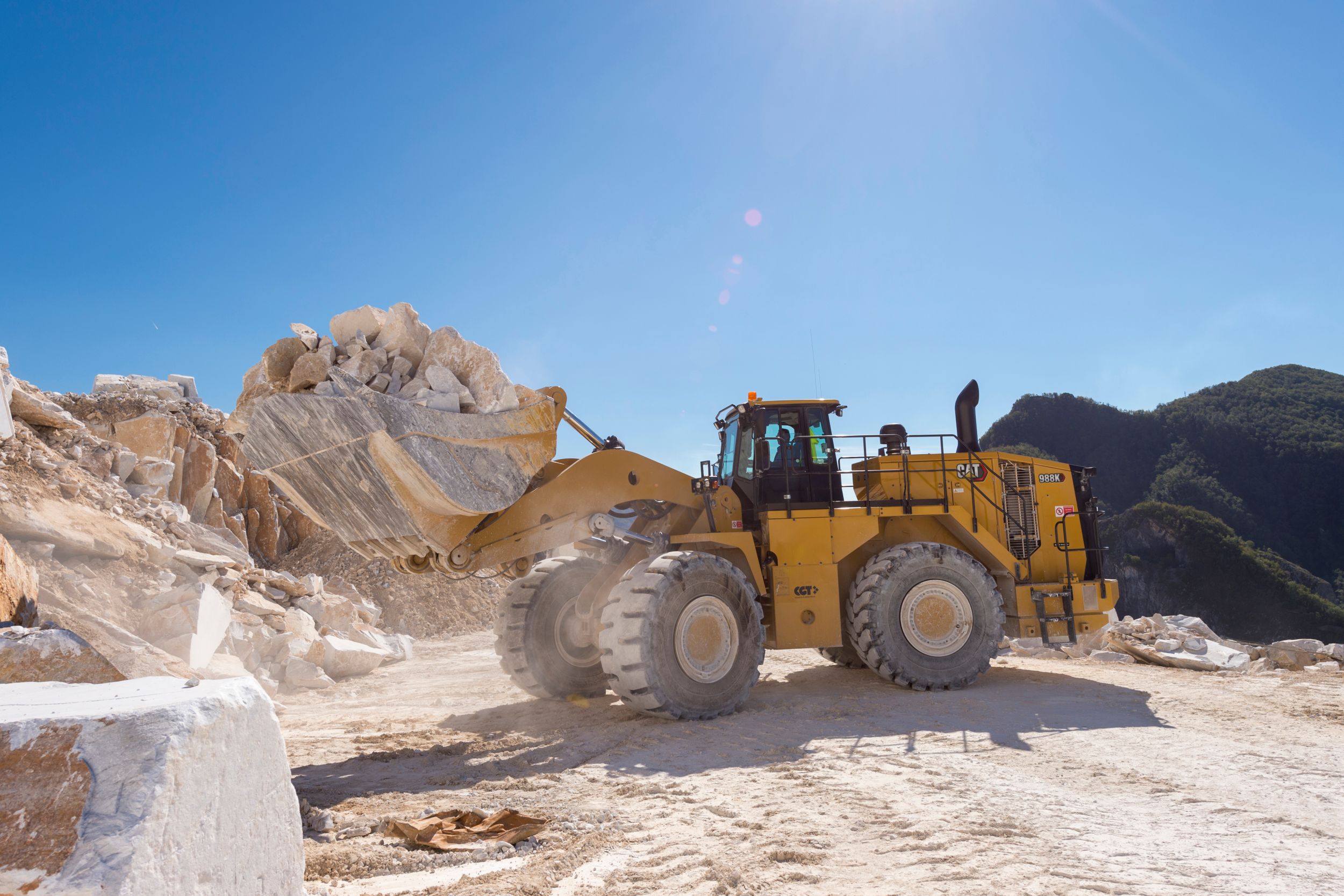 Features
Counterweight

The 988K Block Handler delivers stability and durability with an optimized counterweight for block handling applications.

High Rimpull Power Train

The 988K Block Handler is capable of moving the heaviest blocks out of your quarry pit. The high rimpull power train features a torque converter and transmission specially designed for this application to maximize rimpull.

Quick Coupler Activation

The Block Handler includes an additional hydraulic valve with the Quick Coupler, allowing the operator to switch work tools and immediately lock the work tool during load and carry applications.

Ride Control

Ride control works by using an accumulator to dampen the linkage motion, acting as a shock absorber. It provides the operator with a smoother ride over rough terrain, enabling a more comfortable ride at higher speeds.

Impeller Clutch Torque Converter (ICTC) and Rimpull Control System (RCS)

Lower your cost per ton utilizing advanced ICTC and RCS for modulated rimpull.

Reduce tire slippage and wear by modulating rimpull from 100 to 25 percent while depressing left pedal. After 25 percent rimpull is achieved the left pedal applies the brake.
Reduce the potential for wheel slippage without reducing hydraulic efficiency with RCS.
Improve fuel efficiency in certain applications with our lock-up clutch torque converter providing direct drive.

Environment

Your operator's productivity is enhanced with our clean, comfortable cab environment.

Experience reduced vibrations from isolation cab mounts and seat air suspension.
Maintain desired cab temperature with automatic temperature controls.
Pressurized cab with filtered air.
Sound level reduced to a quiet 71 dB(A).
Convenient floor storage tray/lunch box.

The 988K electronic systems have been completely integrated to function as one machine. This integration creates a smart machine and more informed operator, maximizing the productivity of both.

Third generation VIMS ™ system

We have worked hard to help our customers and operators perform at their best through our Vital Information Management System (VIMS 3G).

Easy-to-view graphical information display features a large touch screen interface.
Intuitive operation and easy navigation with our enhanced user interface.
Decrease service time by keeping operators informed about machine system malfunction or operation.
Visibility

Optional heated mirrors allow good visibility for safe operation in inclement weather.
Standard Cat Vision or optional Cat Detect with radar increase operator awareness around the machine.
Optional HID or LED lights provide excellent workspace visibility.
Optional cab mounted LED warning beacons.

(2) Breaker Tine

Center-mounted, heavy-duty single-piece forged fork tine is used for prying loose large stone blocks. It is built with an extra thick tine to handle a variety of materials in this demanding application.

(3) Forks

Heavy-duty pallet forks are engineered to handle weight and load stress when maneuvering and placing blocks in quarry operations. Dual tine forks are designed to allow blocks to be placed close to the machine for greater balance and safe handling.

(4) Clearing Rake

Used primarily for clearing and controlling loose objects at the quarry face and working levels, the block handling rake is designed with a curved boom for enhanced operator visibility and object placement.

(5) Rock Bucket

Heavy-duty bucket offers superior durability, protection and performance in rock and overburden operations in block quarries. It includes large size teeth and segments. Its HD400 (high wear resistant) metal shell and bottom offer maximum strength, durability and wear life.

(6) Marble Bucket

Special bucket construction including the HD400-metal shell and bottom help the bucket effectively load large blocks and boulders while maintaining durability. The corner teeth ease block tilting and handling. The heavy-duty V-edge is particularly suited for handling high-value breakable marbles before cutting operations.

(7) Block Bucket Heavy-Duty

Special bucket construction loads very large squared blocks and boulders. The deep carved sides and extra long heavy-duty bottom allow the special V-edge to penetrate under large blocks. The interior bucket profile allows blocks to further fit back in the bucket for increased load and lift capabilities and better balance and rack-back. Its HD400-metal shell and bottom offers maximum strength, durability and wear life.
Standard Equipment
Optional Equipment
Specs
Docs
Specs
Long Name:
988K Block Handler Arrangement
Name:
988K Block Handler Arrangement
Net Power
541 HP / 403 kW
Net Power - SAE J1349
541 HP / 403 kW
Displacement
1105 in³ / 18.1 l
Peak Power Speed - Gross - SAE J1995
588 HP / 439 kW
Peak Power Speed
1500 r/min / 1500 r/min
Peak Power Speed - Gross - ISO 14396
580 HP / 432 kW
Peak Torque - 1,200 rpm
2104 lb/ft / 2852 N·m
Peak Power Speed - Net Power - SAE J1349
541 HP / 403 kW
Rated Speed
1700 r/min / 1700 r/min
Gross - ISO 14396
580 HP / 432 kW
Emissions
Einhaltung von EPA Tier 4 Final (USA)/Stufe V (EU), Tier-2-konform
Operating Weight
135602 lb / 61508 kg
Transmission Type
Cat-Planetenlastschaltgetriebe
Forward - 1
3.6 mile/h / 5.8 km/h
Forward - 2
4.5 mile/h / 10.3 km/h
Forward - 3
11.4 mile/h / 18.3 km/h
Forward - 4
19 mile/h / 30.5 km/h
Reverse - 1
4.1 mile/h / 6.6 km/h
Reverse - 2
7.3 mile/h / 11.8 km/h
Reverse - 3
13 mile/h / 20.8 km/h
Direct Drive - Forward 4
21 mile/h / 34 km/h
Direct Drive - Reverse 2
7.7 mile/h / 12.4 km/h
Direct Drive - Reverse 1
4.3 mile/h / 6.9 km/h
Direct Drive - Forward 2
6.7 mile/h / 10.8 km/h
Direct Drive - Forward 3
11.9 mile/h / 19.2 km/h
Direct Drive - Forward 1
Lock-up disabled
Direct Drive - Reverse 3
13.7 mile/h / 22 km/h
Hydraulic System - Lift/Tilt
Maximum Flow at 1,400-1,860 rpm
153 gal/min / 580 l/min
Cylinders, Double Acting - Lift, Bore and Stroke
235 mm × 976 mm (9.3 in × 38.4 in)
Cylinders, Double Acting - Tilt, Bore and Stroke
291 mm × 671 mm (11.5 in × 26.4 in)
Relief Valve Setting - Main
551 psi / 3800 kPa
Maximum Flow at 1,700 rpm
13.7 gal/min / 52 l/min
Pilot System
Variable displacement piston
Relief Valve Setting - Lift/Tilt
4757 psi / 32800 kPa
Lift/Tilt System
Variable displacement piston
Lift/Tilt System - Circuit
Pilot operated - EH control, flow sharing
Lower Float Down
3.5 s / 3.5 s
Total Hydraulic Cycle Time - Empty Bucket
18.2 s / 18.2 s
Hydraulic System - Steering
Maximum Flow
74 gal/min / 280 l/min
Steering Cycle Times - High Idle
3.4 s / 3.4 s
Total Steering Angle
86 ° / 86 °
Steering System - Circuit
Pilot, load sensing
Steering Cycle Times - Low Idle
5.6 s / 5.6 s
Relief Valve Setting - Steering
4641 psi / 32000 kPa
Steering System - Pump
Piston, variable displacement
Service Refill Capacities
Cooling System
31.7 gal (US) / 120 l
Transmission
31.7 gal (US) / 120 l
Differential - Final Drives - Rear
49.1 gal (US) / 186 l
Fuel Tank
188.1 gal (US) / 712 l
Crankcase
15.9 gal (US) / 60 l
Diesel Exhaust Fluid Tank
8.7 gal (US) / 33 l
Differential - Final Drives - Front
49.1 gal (US) / 186 l
Hydraulic System Factory Fill
125.5 gal (US) / 475 l
Hydraulic System - Tank Only
63.4 gal (US) / 240 l
Oscillation Angle
13 ° / 13 °
Brakes
SAE J1473 OKT90, ISO 3450:1992
Sound Performance - Standard
Interior Sound Level
71 dB(A) / 71 dB(A)
Exterior Sound Level
111 dB(A) / 111 dB(A)
Sound Performance - Suppression
Interior Sound Level
70 dB(A) / 70 dB(A)
Exterior Sound Level
109 dB(A) / 109 dB(A)