C7.1 Tier 3 / IMO II
C7.1 Marine Propulsion Engine (U.S. EPA Tier 3 / IMO II)
For unique applications requiring a custom approach - Caterpillar marine propulsion engines provide the power you work with and live by. So everything about them is built to help you do your job, whether that means bringing in a catch or cargo, or simply providing a pleasurable day on the water.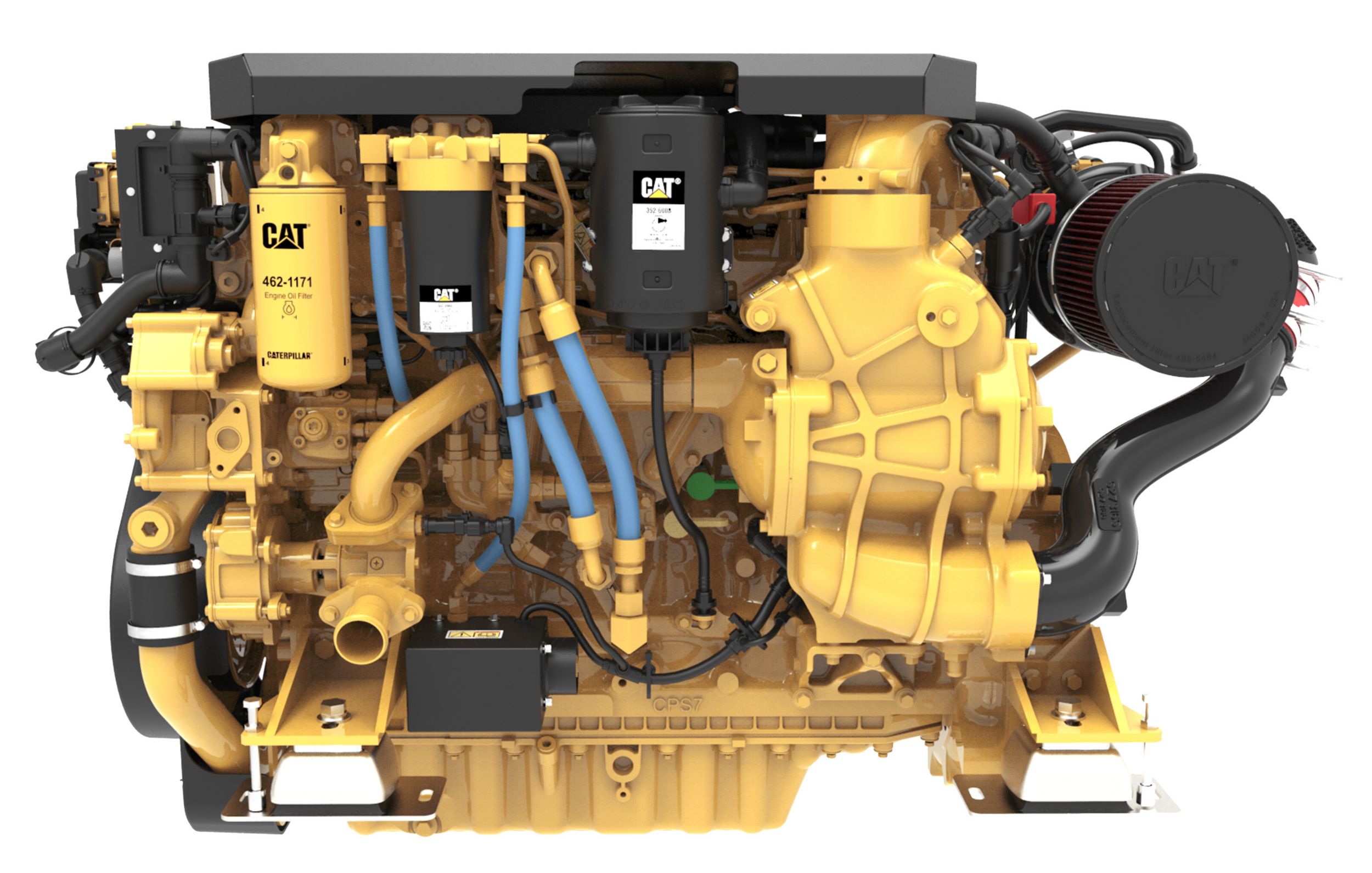 DESCRIPTION
C7.1 Marine Propulsion Engine (U.S. EPA Tier 3 / IMO II)
Meet the new C7.1 Commercial Propulsion Engine
C7.1 Marine Propulsion Engine Walkaround
Key Features & Benefits
Common rail fuel system enables optimum combustion and low emissions
Reduced combustion noise through advanced electronic control
12V or 24V electrical system
Compatible with Cat

®

displays and electronics
Closed crankcase ventilation system improves engine room cleanliness
Gear-driven jacket water pump and sea water pump for superior reliability
Maintenance free valve train with hydraulic valve lash adjusters
Self-priming fuel system ensures a smooth start every time
Standard Equipment
Optional Equipment
Specs
Docs
Standard Equipment
STANDARD EQUIPMENT

Water-cooled turbocharger and exhaust manifold
Common rail fuel system
Corrosion-resistant sea water aftercooler
Closed crankcase ventilation system
Starter motors - 12V or 24V
Fuel cooler
Integral engine oil cooler
Vibration damper and guard
Electric fuel priming pump
Self-tensioning multi-vee alternator drive belt
Gear-driven seawater pump (rubber impeller)
Fin and tube-type jacket water heat exchanger
Front and rear engine mounting brackets
Optional Equipment
OPTIONAL ATTACHMENTS

Marine Classification Society (MCS) Approval ABS, BV, CCS, CRS, *DNV-GL, IRS, LR, Class NK, PRS, RINA (*DNV-GL approval available for keel-cooled engines only)
SOLAS double wall high-pressure fuel lines
Engine mounted bilge pumps and auxiliary water pumps with electromagnetic clutch
Engine-mounted secondary alternator - 24V 55 amp or 12V 100 amp
Analogue gauge displays
Transmission gear oil cooler (engine mounted)
Glow plugs
Jacket water heater
Various 5" and 6" water cooled exhaust elbow configurations
Cabin heater (calorifier) connections
Right-hand and high-level left-hand oil dipsticks
Mechanical throttle converter for repower
Specs
Long Name:
C7.1 Marine Propulsion Engine (U.S. EPA Tier 3 / IMO II)
Name:
C7.1 Tier 3 / IMO II
Power Range
280 bhp - 425 bhp (209 bkW - 317 bkW)
Speed Range
2300 - 2700 rpm
Emissions
U.S. EPA Tier 3, IMO II, RCD II, China II
Configuration
In-line 6, 4-stroke-cycle diesel
Displacement
428 in³ / 7.01 l
Aspiration
Turbocharged-aftercooled
Governor
Electronic (A5E2 V2 ECM)
Flywheel Housing
SAE No. 03
Refill Capacity
20 L (5.3 gal)
Oil Change Interval
500 hrs
Rotation
Counterclockwise from the flywheel end
Cooling
Heat exchange or keel cooled
Dry Weight
1676 lb / 760 kg
SEE HOW C7.1 Tier 3 / IMO II COMPARES AGAINST FREQUENTLY COMPARED PRODUCTS.
Commercial Propulsion Engines
C7.1 Tier 3 / IMO II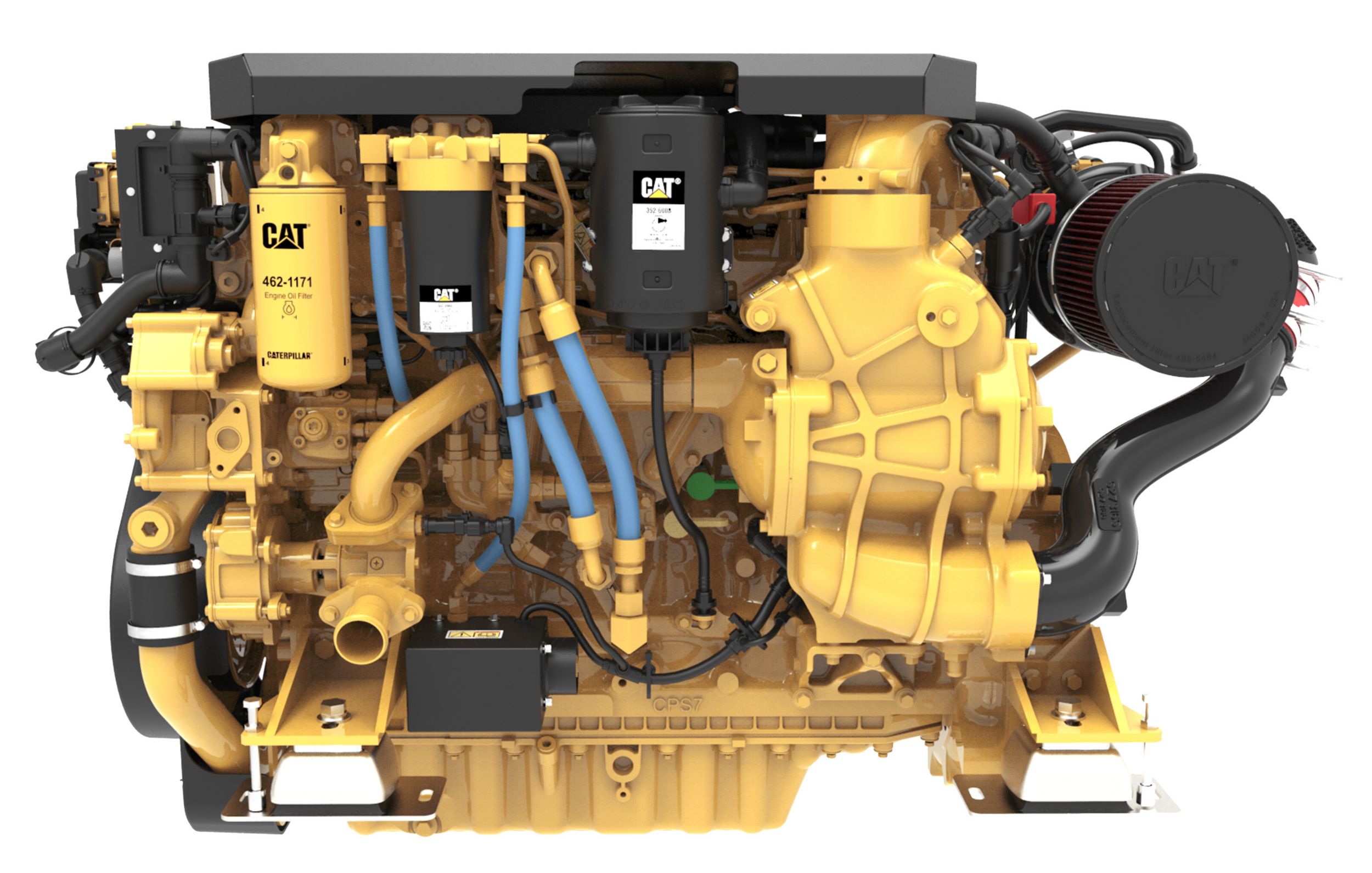 Brand

Caterpillar

Status

Current

Power Range

280 bhp - 425 bhp (209 bkW - 317 bkW)

Speed Range

2300 - 2700 rpm

Emissions

U.S. EPA Tier 3, IMO II, RCD II, China II

Configuration

In-line 6, 4-stroke-cycle diesel

Displacement

428 in³ / 7.01 l

Aspiration

Turbocharged-aftercooled

Governor

Electronic (A5E2 V2 ECM)

Flywheel Housing

SAE No. 03

Bore

4.13 in / 105 mm

Stroke

5.31 in / 135 mm

Refill Capacity

20 L (5.3 gal)

Oil Change Interval

500 hrs

Cooling

Heat exchange or keel cooled
Commercial Propulsion Engines
C32 Tier 4 / IMO III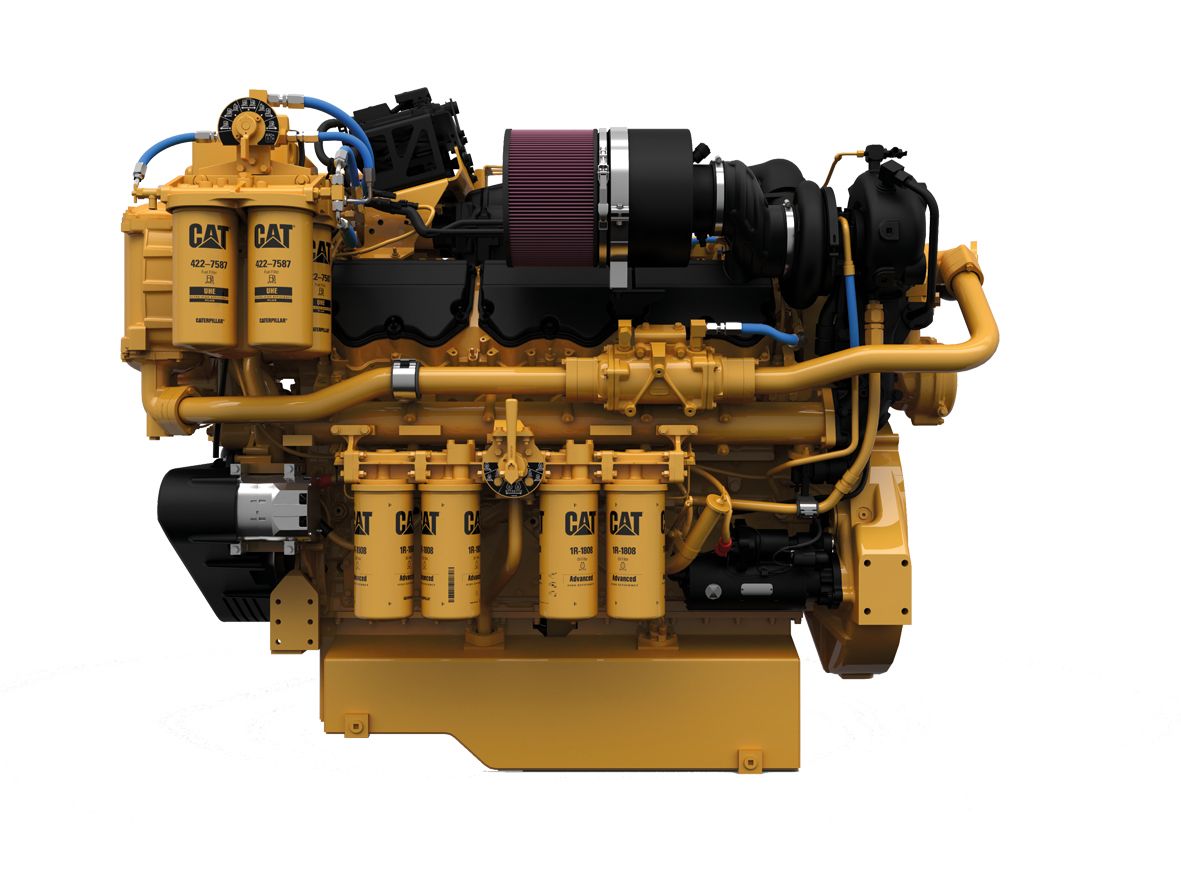 Brand

Caterpillar

Status

Current

Power Range

1000-1450 bhp (746-1081 bKW)

Speed Range

1600-2150 rpm

Emissions

U.S. EPA Tier 4 Final certified IMO III emissions certified (SCR required)

Configuration

Vee 12, 4-stroke-cycle diesel

Displacement

1959 in³ / 32.1 l

Aspiration

Turbocharged-aftercooled aspiration

Governor

Electronic (A5 ECM)

Flywheel Housing

SAE No. 0 with SAE No. 18 flywheel (136 teeth)

Bore

5.71 in / 145 mm

Stroke

6.38 in / 162 mm

Refill Capacity

Lube Oil System w/ oil filter change: 146 L (38.5 gal) - deep pan

Oil Change Interval

1000 hrs - deep pan

Cooling

Heat exchanger or keel cooled
Commercial Propulsion Engines
C9.3 ACERT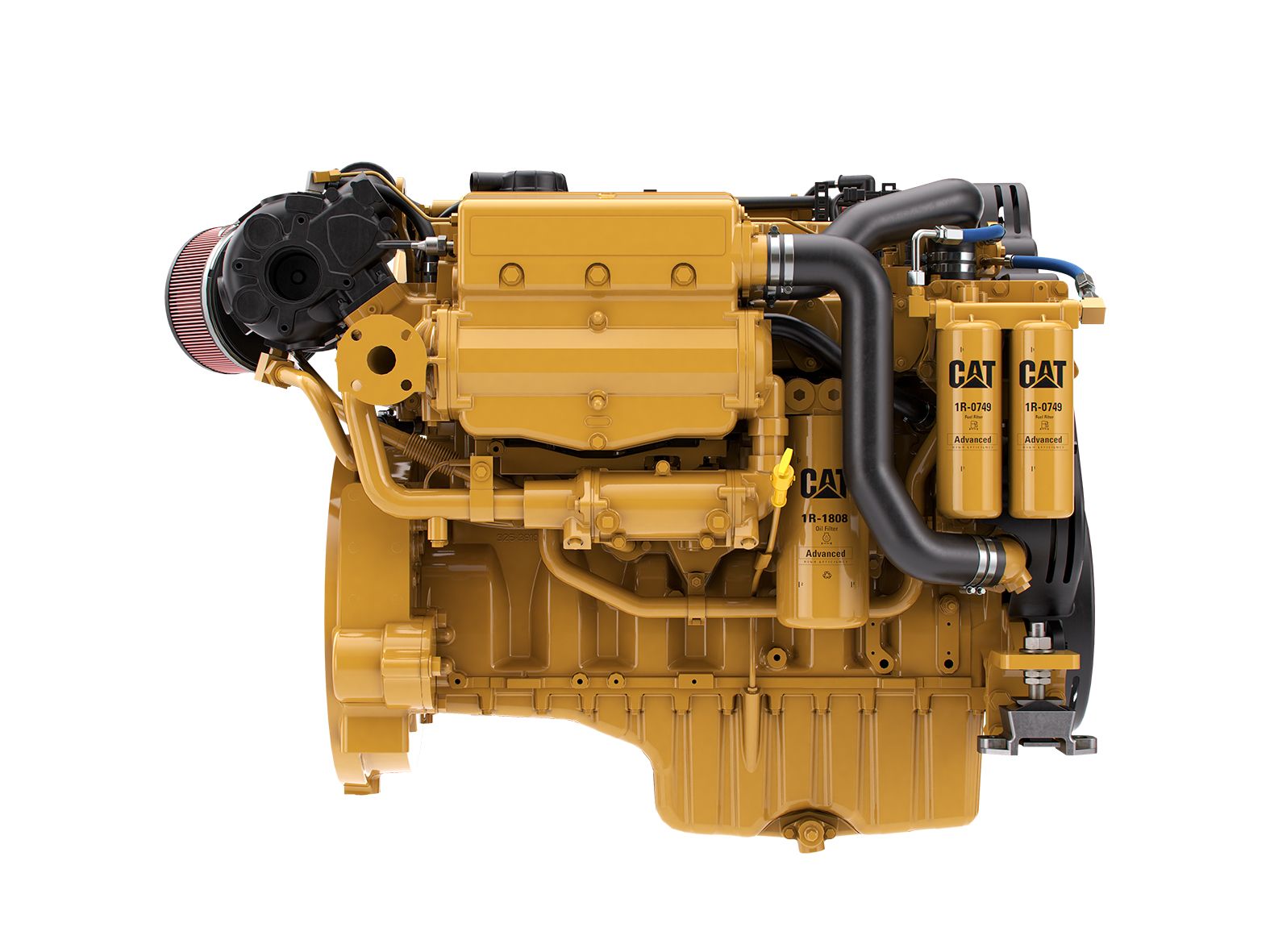 Brand

Caterpillar

Status

Current

Power Range

375-476 bhp (280-355 bkW)

Speed Range

1800, 2100, 2300 rpm

Emissions

IMO II, U.S. EPA Tier 3, China Stage II

Configuration

In-line 6, 4-Stroke-Cycle Diesel

Displacement

567.5 in³ / 9.3 l

Aspiration

Turbocharged-aftercooled

Governor

Electronic

Flywheel Housing

SAE No. 1 (113 teeth)

Bore

4.5 in / 115 mm

Stroke

5.8 in / 149 mm

Refill Capacity

Lube Oil System w/oil filter change: 24.5 L (6.5 gal)

Oil Change Interval

500 hrs

Cooling

Heat exchanger and separate or combined keel cooled options