C9.3 ACERT
C9.3 Commercial Propulsion Engine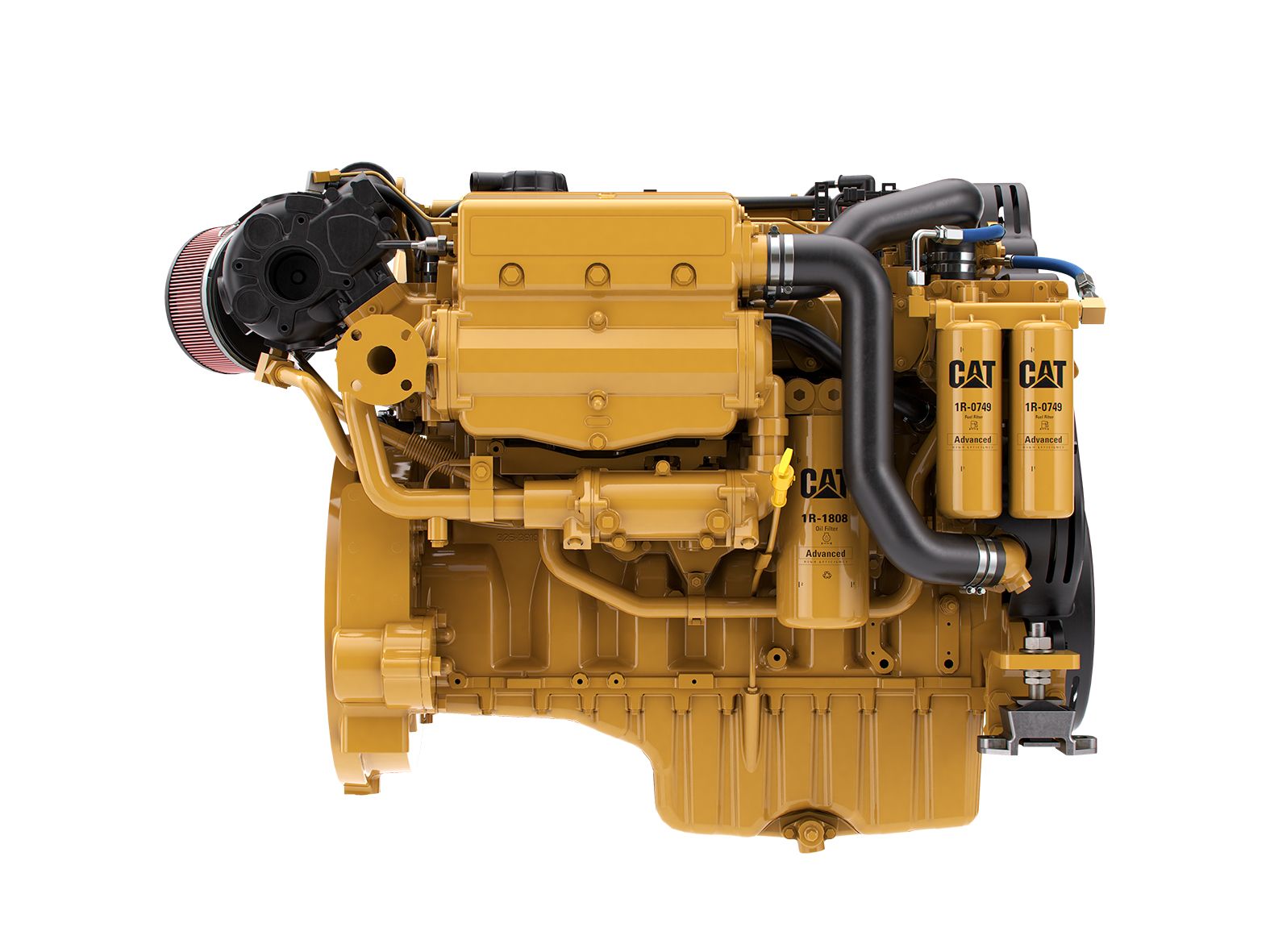 DESCRIPTION
The C9.3 ACERT propulsion engine has a B rating of 375 bhp (280 bkW) at 1800 rpm, a C rating of 416 bhp (310 bkW) at 2100 rpm, and a D rating of 476 bhp (355 bkW) at 2300 rpm. The C9.3 propulsion, auxiliary, and generator set engines have a common rail fuel system for optimal combustion and lower emissions. Cooling system options for the propulsion and auxiliary engines include heat exchanger with sea water aftercooling, and keel with combined circuit or separate circuit aftercooling. The genset packages are available with heat exchanger, keel, or radiator cooling. These products are EPA Tier 3 and IMO II certified. In addition the propulsionengine ratings are EU Stage IIIA certified and auxiliary and gen sets are also CCNR Stage II certified.
Key Features & Benefits
Electronic control system provides industry-leading torque and throttle response at low speeds, while maintaining fuel efficiency at high speeds
Common rail fuel system enables optimum combustion and low emissions
RH and LH locations service options for fuel and oil filters, as well as dipstick location for easily accessible service
Compatible with Cat® displays
Available remote-mounted display panel with start, stop, and engine diagnostics
12V or 24V electrical system
Certified by all marine classification societies
Standard Equipment
Optional Equipment
Specs
Docs
Standard Equipment
Standard Equipment

Water-cooled turbocharger and exhaust manifold
Electronic control system
Thermostats and housing
Gear-driven Sea water pump (self-priming)
Common rail fuel system
Shell and tube jacket water heat exchanger
Corrosion-resistant Sea water aftercooler
Engine oil cooler
Vibration damper and guard
Primary fuel filters
Optional Equipment
Optional Attachments

Alternators - 24V 70 or 105 amp, 12V 110 amp
Closed crankcase ventilation
Transmission gear oil cooler (engine mounted for HEX)
Additional engine and transmission sensor packages
Instrument panels
Electric starting motors - 12V or 24V
Air starting motor
Dual electric starting motors or combined electric/air
Electric fuel priming pump
Fuel cooler
PTO Drives - V-belt pulley stack, stub shaft
Duplex fuel and oil filters
Double wall fuel rail
Specs
Long Name:
C9.3 Commercial Propulsion Engine
Power Range
375-476 bhp (280-355 bkW)
Speed Range
1800, 2100, 2300 rpm
Emissions
IMO II, U.S. EPA Tier 3, China Stage II
Configuration
In-line 6, 4-Stroke-Cycle Diesel
Displacement
567.5 in³ / 9.3 l
Aspiration
Turbocharged-aftercooled
Rotation from Flywheel End
Counterclockwise
Engine Dry Weight - Approximate
945-1122 kg (2083-2474 lbs)
Width - Engine
38.5 in / 978 mm
Rated Engine Speed
1800, 2100, 2300 rpm
Refill Capacity
Lube Oil System w/oil filter change: 24.5 L (6.5 gal)
Oil Change Interval
500 hrs
Flywheel Housing
SAE No. 1 (113 teeth)
Cooling
Heat exchanger and separate or combined keel cooled options
Length - Engine
57.2 in / 1452 mm
SEE HOW C9.3 ACERT COMPARES AGAINST FREQUENTLY COMPARED PRODUCTS.
Commercial Propulsion Engines
C9.3 ACERT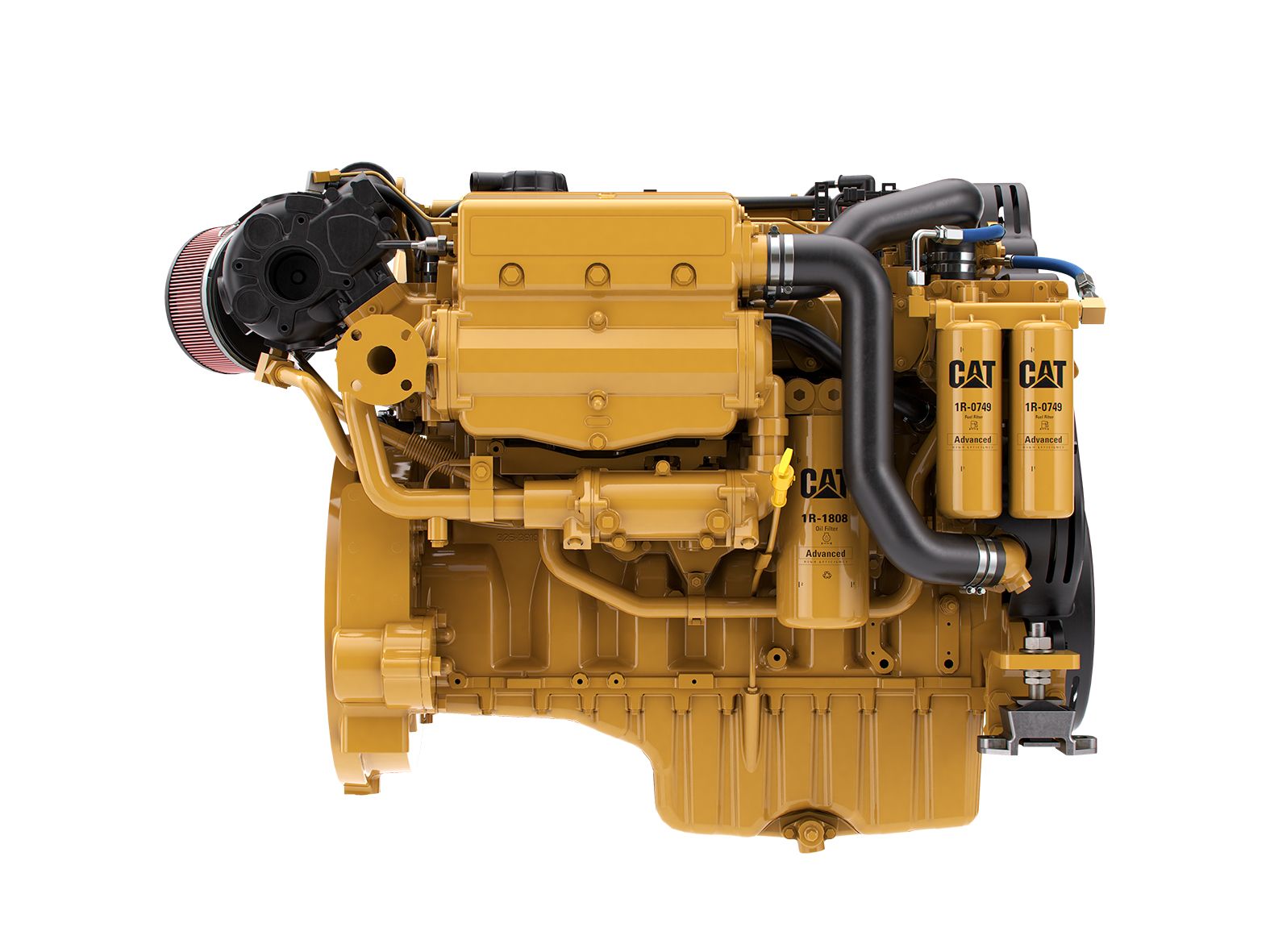 Brand

Caterpillar

Status

Current

Power Range

375-476 bhp (280-355 bkW)

Speed Range

1800, 2100, 2300 rpm

Emissions

IMO II, U.S. EPA Tier 3, China Stage II

Configuration

In-line 6, 4-Stroke-Cycle Diesel

Displacement

567.5 in³ / 9.3 l

Aspiration

Turbocharged-aftercooled

Bore

4.5 in / 115 mm

Stroke

5.8 in / 149 mm

Governor

Electronic

Refill Capacity

Lube Oil System w/oil filter change: 24.5 L (6.5 gal)

Oil Change Interval

500 hrs

Flywheel Housing

SAE No. 1 (113 teeth)

Cooling

Heat exchanger and separate or combined keel cooled options
Commercial Propulsion Engines
C7.1 Tier 3 / IMO II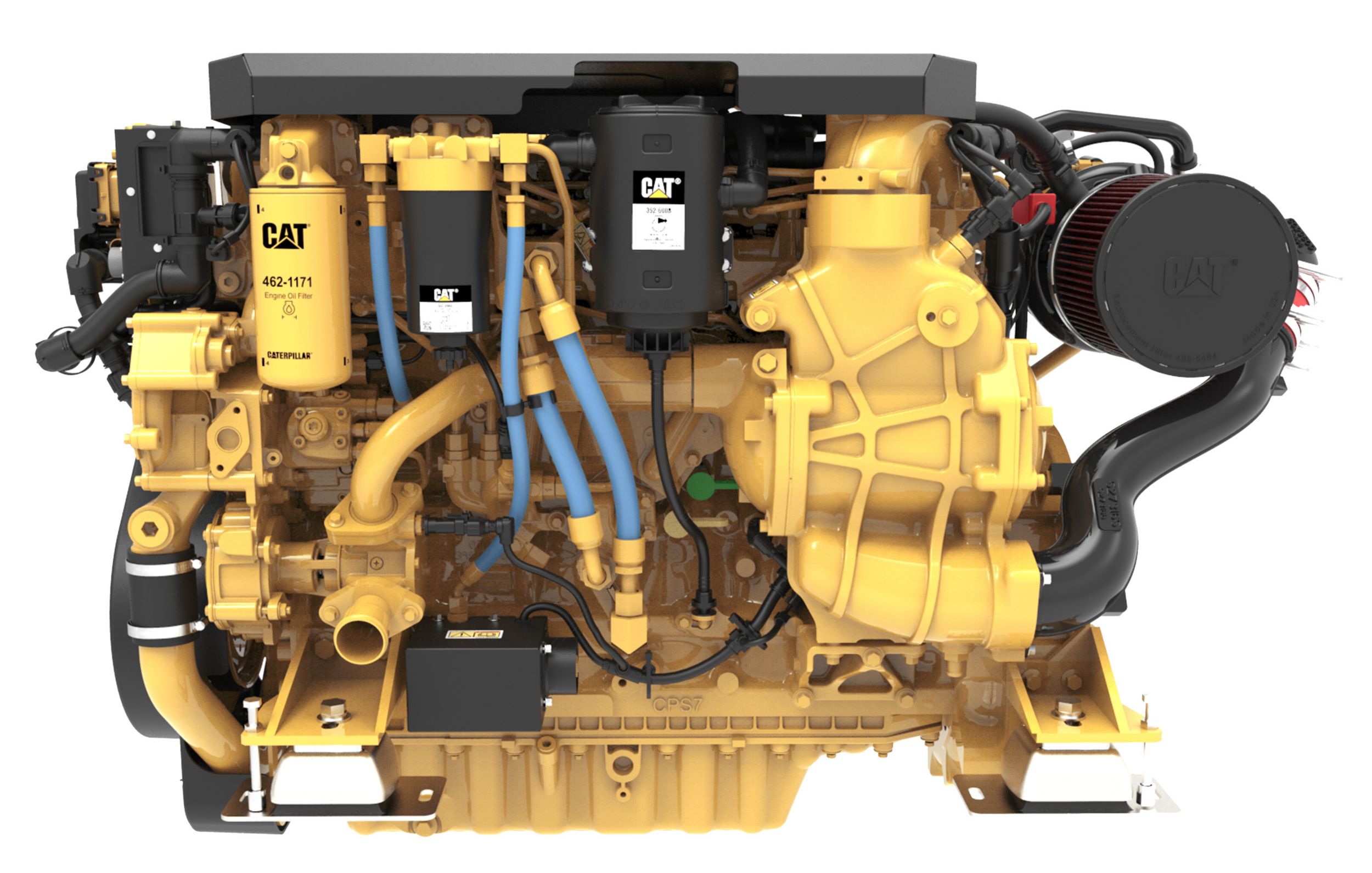 Brand

Caterpillar

Status

Current

Power Range

280 bhp - 425 bhp (209 bkW - 317 bkW)

Speed Range

2300 - 2700 rpm

Emissions

U.S. EPA Tier 3, IMO II, RCD II, China II

Configuration

In-line 6, 4-stroke-cycle diesel

Displacement

428 in³ / 7.01 l

Aspiration

Turbocharged-aftercooled

Bore

4.13 in / 105 mm

Stroke

5.31 in / 135 mm

Governor

Electronic (A5E2 V2 ECM)

Refill Capacity

20 L (5.3 gal)

Oil Change Interval

500 hrs

Flywheel Housing

SAE No. 03

Cooling

Heat exchange or keel cooled
Commercial Propulsion Engines
C32 Tier 4 / IMO III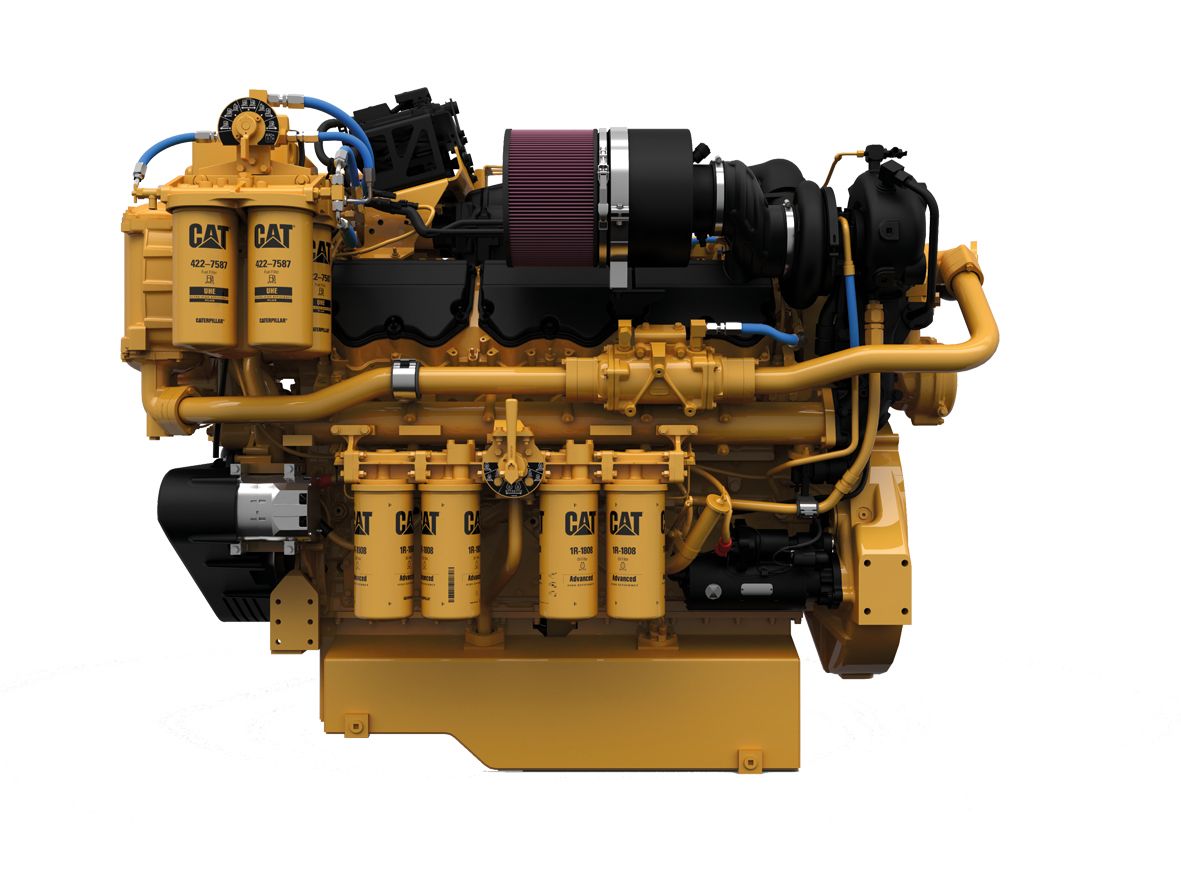 Brand

Caterpillar

Status

Current

Power Range

1000-1450 bhp (746-1081 bKW)

Speed Range

1600-2150 rpm

Emissions

U.S. EPA Tier 4 Final certified IMO III emissions certified (SCR required)

Configuration

Vee 12, 4-stroke-cycle diesel

Displacement

1959 in³ / 32.1 l

Aspiration

Turbocharged-aftercooled aspiration

Bore

5.71 in / 145 mm

Stroke

6.38 in / 162 mm

Governor

Electronic (A5 ECM)

Refill Capacity

Lube Oil System w/ oil filter change: 146 L (38.5 gal) - deep pan

Oil Change Interval

1000 hrs - deep pan

Flywheel Housing

SAE No. 0 with SAE No. 18 flywheel (136 teeth)

Cooling

Heat exchanger or keel cooled