CCS9 Combination Asphalt Compactor
CCS9 Smooth Drum Combination Vibratory Compactor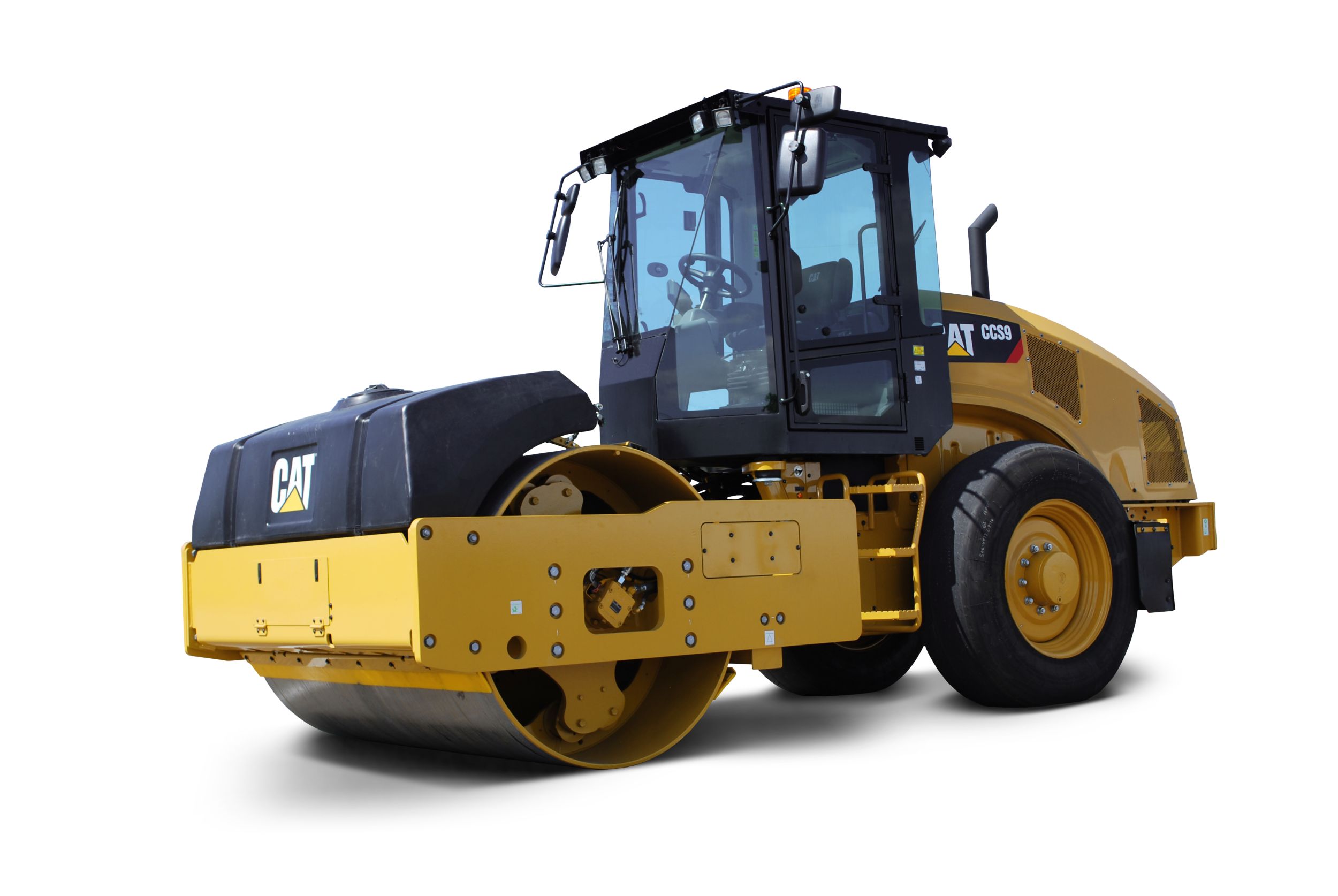 DESCRIPTION
The CCS9 is a 9 metric ton vibratory combination compactor that combines the smooth front drum of a soil compactor, with smooth rear tires similar to a pneumatic compactor. In addition, the water spray system utilized on Cat® Asphalt Compactors keeps the drum and tires wet for excellent performance on asphalt. It offers outstanding operator comfort while continuing the legacy of durability, reliability and ease-of-service that contractors worldwide have come to expect from Caterpillar machines.
Features
Finger Tip Control

Touch pad machine functions enable the operator to fine tune engine speed control, travel speed, and water spray intervals for efficient operation.

Intuitive LCD Display

Easily monitor machine operating conditions including; travel speed, vibrations per minute, fuel level, operating temperature, and machine diagnostics. The display is backlit for easy viewing in various lighting conditions.

Cat C4.4 Diesel Engine with ACERT™ Technology

The Cat C4.4 engine with ACERT™ technology offers enhanced efficiency, better serviceability, ample power, and less noise. It utilizes the building blocks of ACERT technology in order to meet emission standards. This innovative combination yields cleaner combustion and delivers steady power in all operating conditions with optimal fuel efficiency.

Eco-mode

Eco-mode helps to economize the use of fuel. When the machine idles for a predetermined amount of time, Eco-mode is engaged and the engine rpm is lowered. When the propel lever is engaged, higher engine speeds resume. For certain applications, Eco-mode can be engaged to operate the engine at lower rpm than normal. The lower engine speed results in less fuel burn. Eco-mode can also be programmed to shut down the engine after a user-defined amount of time.

Automatic Speed Control

Automatic Speed Control is a feature that allows the operator to select a maximum working speed. Once selected, the speed can consistently be reached by engaging the propel lever to the full stroke. Consistent speed contributes to compaction quality by making it easier to maintain compaction uniformity.

Simple Operation

The five amplitude, single frrequency vibratory system can be tailored to match a variety of lift thicknesses and mix types. Simple hand wheel adjustments make fine tuning the compaction process easy.

Optional Temperature Sensors

Optional Infra-red sensors enable operators to easily monitor surface temperatures to help determine when to begin and when to end the compaction process. The upper temperature limit for compaction is about 160 degrees C (320 degrees F), while the lower limit is about 90 degrees C (190 degrees F).
Automatic Vibratory Control

An auto-vibe function is tailored to activate or deactivate the vibratory system based on the propel lever position in order to prevent over compaction when making starts and stops.

Capacity and Convenience

The water tank capacity for the drum is 400 L (88 gal), while the wheel spray tank capacity is 18 L (4 gal). Dual pumps alternate with the direction of travel in order to optimize the service life of each pump. An optional freeze protection kit is avalailable for cold climates when the machine is not in use.

High Flow Design

Dual spray bars and evenly spaced nozzles help ensure that the drum stays wet, even in the harshest conditions.

Reliable Performance

Triple filtration with filters located in the tank fill port, before the water pump and in the spray nozzles help provide reliable performance.

Long Service Intervals

Long service intervals contribute to more productivity and lower owning and operating costs. The vibratory system scheduled oil change interval is 3 years/3,000 hours. The hydraulic oil service interval is 3,000 hours. Engine oil service is every 500 hours.

Tilting Cooling System

The cooling system tilts for easy cleaning. Normal cleaning ensures that the cooling systems protects the engine to full capacity.
Optional Equipment
Specs
Docs
Specs
Long Name:
CCS9 Smooth Drum Combination Vibratory Compactor
Name:
CCS9 Combination Asphalt Compactor
Operating Weight - With ROPS/FOPS
19842 lb / 9000 kg
Weight - Drum with Cab
11554 lb / 5241 kg
Weight - Drum with ROPS/FOPS
9325 lb / 4995 kg
Operating Weight - With Cab
20580 lb / 9335 kg
Standard Compaction Width
84 in / 2134 mm
Turning Radius - Inside Drum Edge
12.1 ft / 3.68 m
Ground Clearance
15 in / 392 mm
Travel Speed - Maximum
6 mile/h / 10 km/h
Static Linear Load - With Cab
138 lb/in / 24.6 kg/cm
Static Linear Load - With ROPS/FOPS
132 lb/in / 23.5 kg/cm
Gross Power
131 HP / 98 kW
Engine Model
Cat C4.4 with ACERT
Overall Length
18.7 ft / 5.71 m
Wheel Base
9.58 ft / 2.9 m
Overall Width
7.58 ft / 2.3 m
Drum Diameter
51 in / 1300 mm
Drum Width
84 in / 2134 mm
Height - With ROPS/FOPS or Cab
9.9 ft / 3.01 m
Nominal Amplitude - Low
0.014 in / 0.41 mm
Nominal Amplitude - High
0.04 in / 1.03 mm
Centrifugal Force - Minimum
12409 lb / 55.2 kN
Centrifugal Force - Maximum
31023 lb / 138 kN
Vibratory Frequency - Standard
2520 V/m / 42 Hz
Service Refill Capacities
Fuel Tank Capacity
40 gal (US) / 150 l
Wheel Spray Tank
4 gal (US) / 18 l
Water Spray Tank Capacity
132 gal (US) / 600 l
SEE HOW CCS9 Combination Asphalt Compactor COMPARES AGAINST FREQUENTLY COMPARED PRODUCTS.
Tandem Vibratory Rollers
CCS9 Combination Asphalt Compactor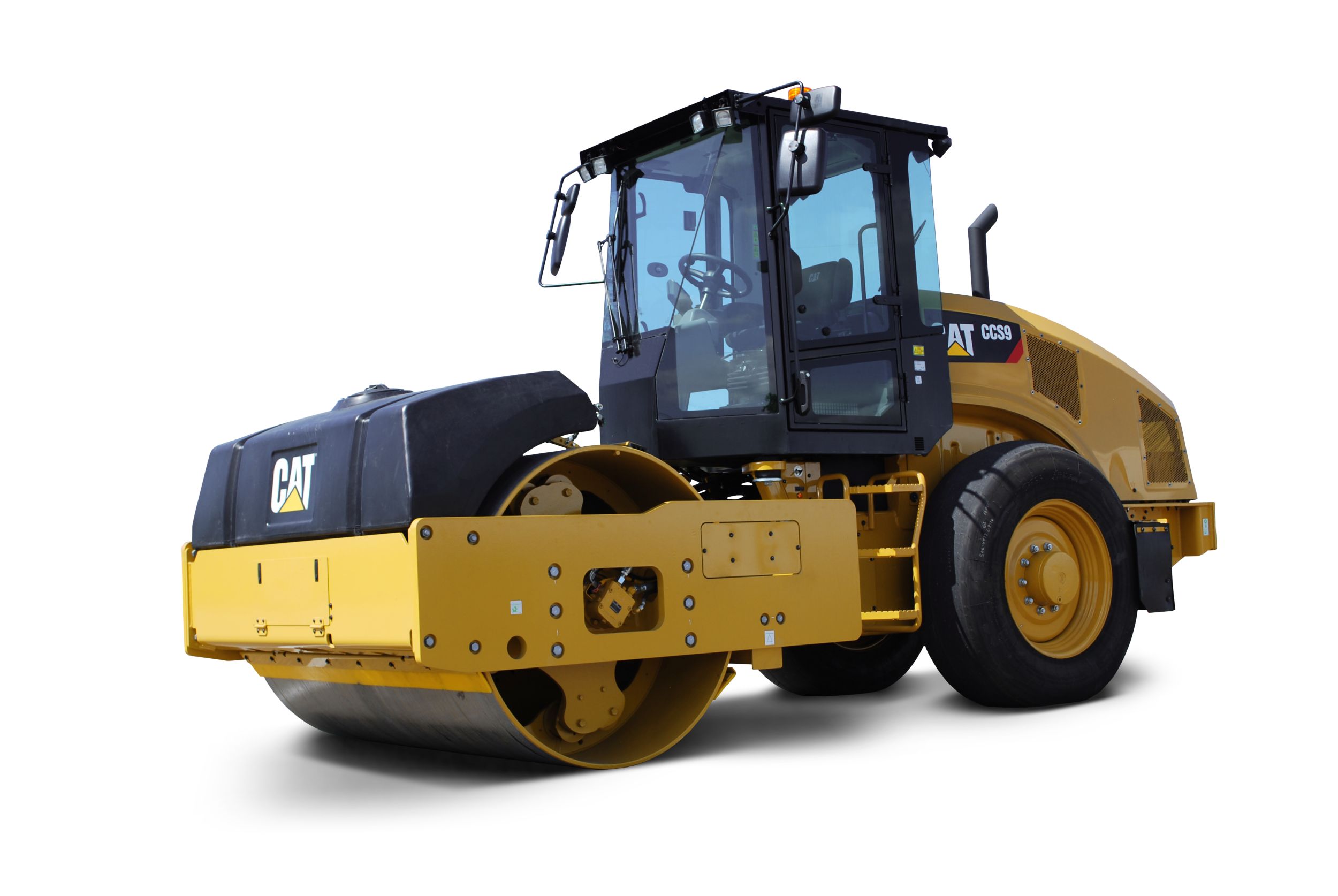 Brand

Cat

Status

Current

Turning Radius - Inside Drum Edge

12.1 ft / 3.68 m

Ground Clearance

15 in / 392 mm

Travel Speed - Maximum

6 mile/h / 10 km/h

Gross Power

131 HP / 98 kW

Engine Model

Cat C4.4 with ACERT

Overall Length

18.7 ft / 5.71 m

Wheel Base

9.58 ft / 2.9 m

Overall Width

7.58 ft / 2.3 m

Drum Diameter

51 in / 1300 mm

Drum Width

84 in / 2134 mm

Nominal Amplitude - High

0.04 in / 1.03 mm

Centrifugal Force - Maximum

31023 lb / 138 kN

Fuel Tank Capacity

40 gal (US) / 150 l

Water Spray Tank Capacity

132 gal (US) / 600 l
Tandem Vibratory Rollers
CC4.0
Brand

Cat

Status

Current

Turning Radius - Inside Drum Edge

115.2 in / 2926 mm

Ground Clearance

11.2 in / 284 mm

Travel Speed - Maximum

7.5 mile/h / 12 km/h

Gross Power

48.2 HP / 36 kW

Engine Model

C1.7T

Overall Length

112.3 kg/cm / 2853 mm

Wheel Base

80.7 in / 2050 mm

Overall Width

55.1 in / 1400 mm

Drum Diameter

31.5 in / 800 mm

Drum Width

51.2 in / 1300 mm

Nominal Amplitude - High

0.02 in / 0.5 mm

Centrifugal Force - Maximum

7524 lb/ft / 33.47 kN

Fuel Tank Capacity

21.43 gal (US) / 81 l

Water Spray Tank Capacity

61 gal (US) / 230 l
Tandem Vibratory Rollers
CC2.7 GC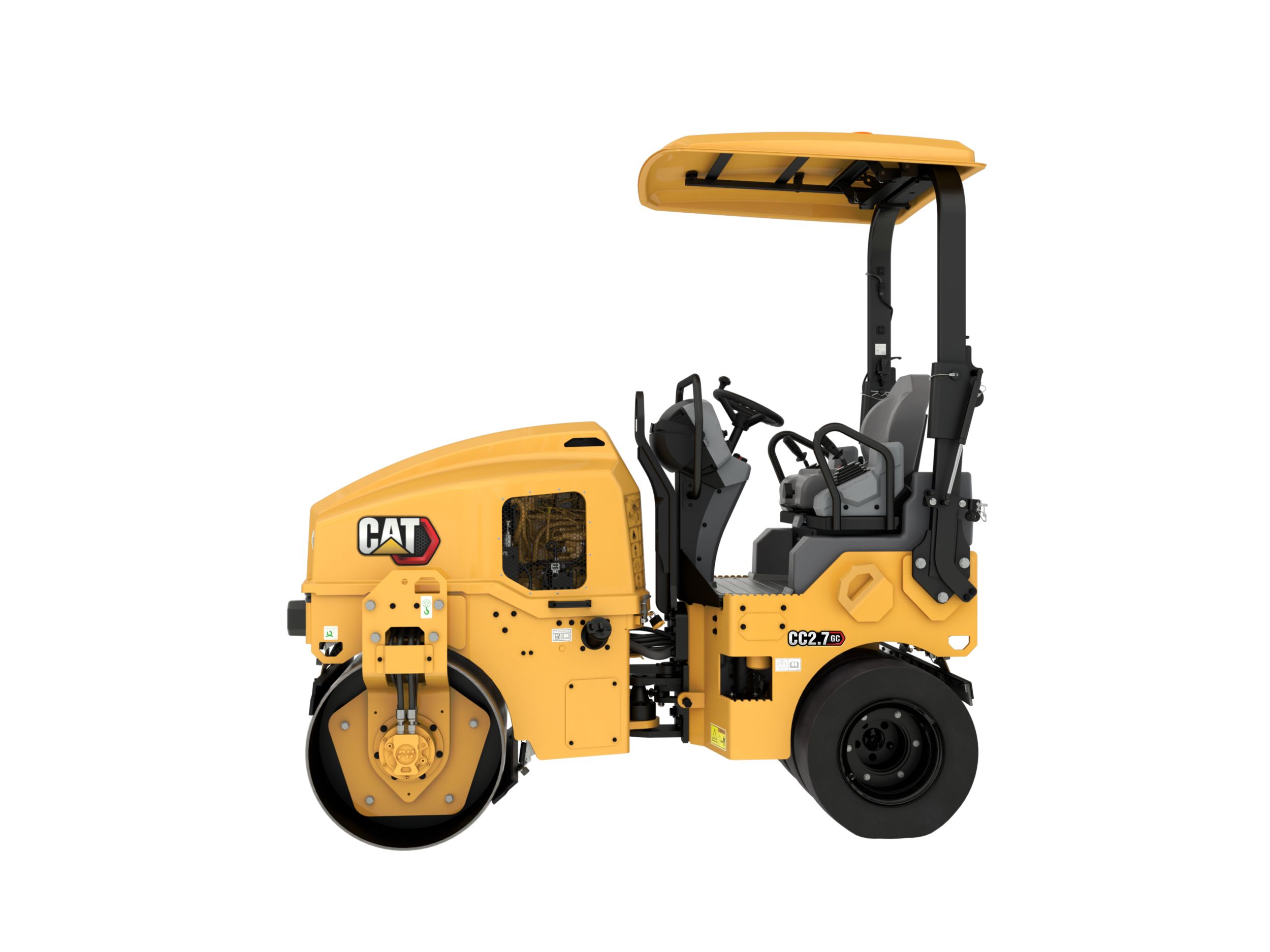 Brand

Cat

Status

Current

Turning Radius - Inside Drum Edge

100 in / 2540 mm

Ground Clearance

11.2 in / 285 mm

Travel Speed - Maximum

5.3 mile/h / 8.6 km/h

Gross Power

24.6 HP / 18.4 kW

Engine Model

C1.7T

Overall Length

100.2 in / 2596 mm

Wheel Base

70.9 in / 1800 mm

Overall Width

51.7 in / 1312 mm

Drum Diameter

28.3 in / 720 mm

Drum Width

47.2 in / 1200 mm

Nominal Amplitude - High

0.02 in / 0.52 mm

Centrifugal Force - Maximum

6968.8 lb / 31 kN

Fuel Tank Capacity

14.37 gal (US) / 55 l

Water Spray Tank Capacity

42.24 gal (US) / 160 l