CP12 GC
CP12 GC Vibratory Soil Compactor
GC Vibratory Soil Compactors deliver dependable, economical production with performance that exceeds expectations.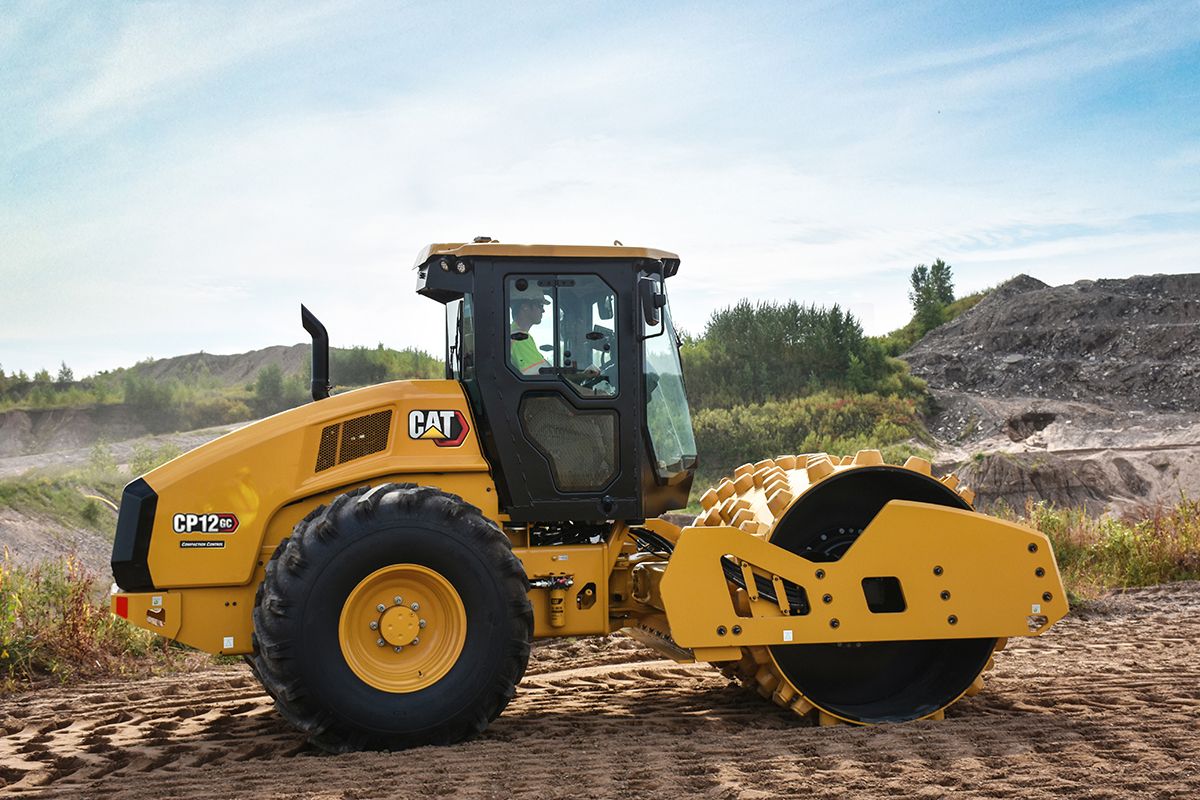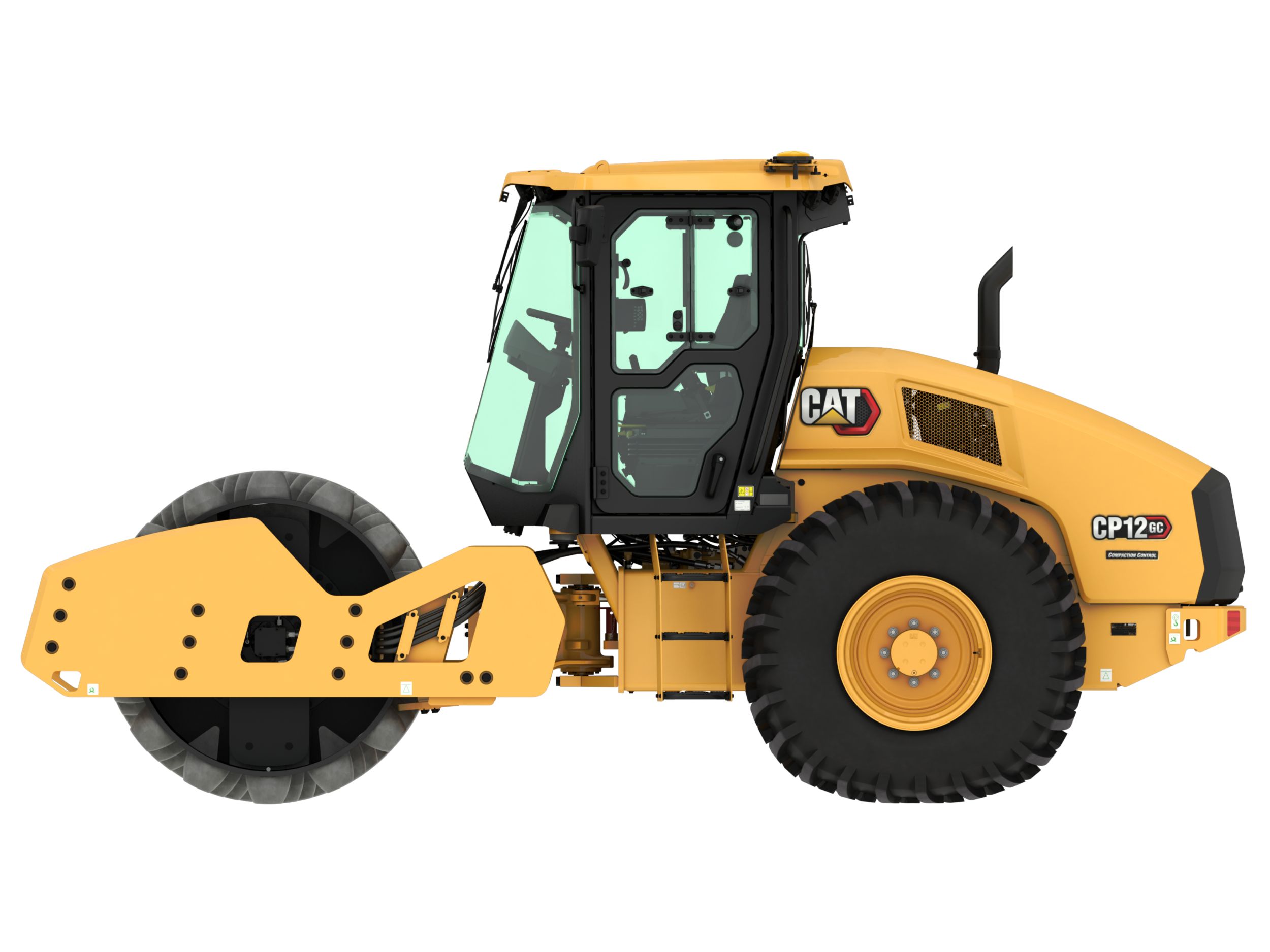 DESCRIPTION
GC Vibratory Soil Compactors deliver dependable, economical production with performance that exceeds expectations.
Comfortable and Ergonomic Operator Station
The steering console features an LCD display. The display provides diagnostics and additional data to the operator. Machines that are equipped with Cat Compaction Control output compaction measurements to the display as well.
A multi-position steering wheel adjusts for comfort. An adjustable vinyl seat with seat belt is comfortable and keeps controls and operating information within easy reach. The 12-volt adapter provides power for personal electronic devices. A floor mat reduces vibrations. Cup holders are provided on the steering column. Large mirrors provide excellent views to the rear of the machine.
The operator is provided with excellent visibility to the front, drum edges rear tire edges and rear of machine enhancing safety and production. Optional mirrors provide enhanced visibility to the rear.
Power Train
GC Vibratory Soil Compactors feature a Cat engine that offers enhanced efficiency, better serviceability, ample power, and less noise.
Technologies that Enhance Quality and Productivity
Cat Compaction Control can be augmented by adding an optional Global Navigation Satellite System (GNSS) mapping antenna and a dedicated display unit, which provides SBAS-level accuracy and allows the operator to visually monitor results, map them to locations and save the data for analysis or documentation purposes. An RTK GNSS mapping capability is also available that provides greater accuracy than SBAS.
Machine Drive Power (MDP) is an exclusive technology only available from Caterpillar. MDP indicates soil stiffness by measuring rolling resistance. It is effective on all soil types, and can function when the drum is static or vibrating. MDP measures closer to depth of the lifts of materials being compacted, around 30-60 cm (1-2 ft) deep. MDP is a flexible technology because it can be used on all soil types which allows results to be correlated with portable measuring equipment such as lightweight falling deflectometers and nuclear gauges. Because it does not require the drum to vibrate, there is less risk of de-compaction when used for proofrolling.
Easy to Service
Design provides ground level access to all service and maintenance points.
Long service intervals contribute to more productivity and lower owning and operating costs. The vibratory system scheduled oil change interval is 3 years/3,000 hours. The hydraulic oil service interval is 3,000 hours. Engine oil service is every 500 hours.
Reliable Vibratory System
GC vibratory soil compactors deliver excellent compaction performance due to high amplitude and static linear load.
GC machines utilizes the proven Cat pod-style vibratory system. The system design significantly reduces the risk of contamination common to conventional designs that employ metal weights. Providing unrivaled reliability and performance, the Cat pod-style vibratory system is virtually maintenance free, with the first scheduled maintenance period at 3 years or 3,000 hours.
An automatic vibration function provides consistency for more uniform compaction. When vibration is engaged, vibration will cease as the compactor slows beneath a predetermined speed. When propel resumes, vibration recommences at a predetermined speed. This feature contributes to uniform, high-quality work.
Smooth drums are ideal for compacting granular materials and can be equipped with an optional padfoot shell kit for compacting cohesive and semi-cohesive materials.
Standard Equipment
Optional Equipment
Specs
Docs
Specs
Long Name:
CP12 GC Vibratory Soil Compactor
Operating Weight - With ROPS/FOPS
27869 lb / 12641 kg
Operating Weight - With ROPS/FOPS Canopy
12487 lb / 27529 kg
Weight - Drum with ROPS/FOPS
14026 lb / 6365 kg
Weight - Drum with ROPS/FOPS Canopy
16971 lb / 7698 kg
Compaction Width
84 in / 2134 mm
Curb Clearance
19.4 in / 492 mm
Ground Clearance
20.4 in / 518 mm
Turning Radius - Inside Drum Edge
12.7 ft / 3.9 m
Travel Speed - Maximum
6.8 mile/h / 11 km/h
Gross Power
120.7 HP / 90 kW
Net Power - ISO 9249
112.2 HP / 83.7 kW
Net Power - SAE J1349
111.2 HP / 82.9 kW
Overall Length
18.7 ft / 5.7 m
Overall Width
7.5 ft / 2.3 m
Drum Width
84 in / 2134 mm
Height - With ROPS/FOPS or Cab
9.8 ft / 3 m
Drum Diameter
60.4 in / 1535 mm
Optional Blade Height
27.1 in / 688 mm
Nominal Amplitude - High
0.071 in / 1.8 mm
Nominal Amplitude - Low
0.035 in / 0.89 mm
Centrifugal Force - Maximum
55932 lb / 249 kN
Centrifugal Force - Minimum
33249 lb / 148 kN
Vibratory Frequency - Standard
30.5 Hz (1830 vpm)
Variable Frequency Option Range
23.3 - 30.5 Hz (1400-1830 vpm)
Service Refill Capacities
Fuel Tank Capacity
56.3 gal (US) / 213 l