CP34
CP34 Vibratory Soil Compactor
The CP34 vibratory soil compactor has a padfoot drum roller suited for cohesive and semi-cohesive soil compaction applications.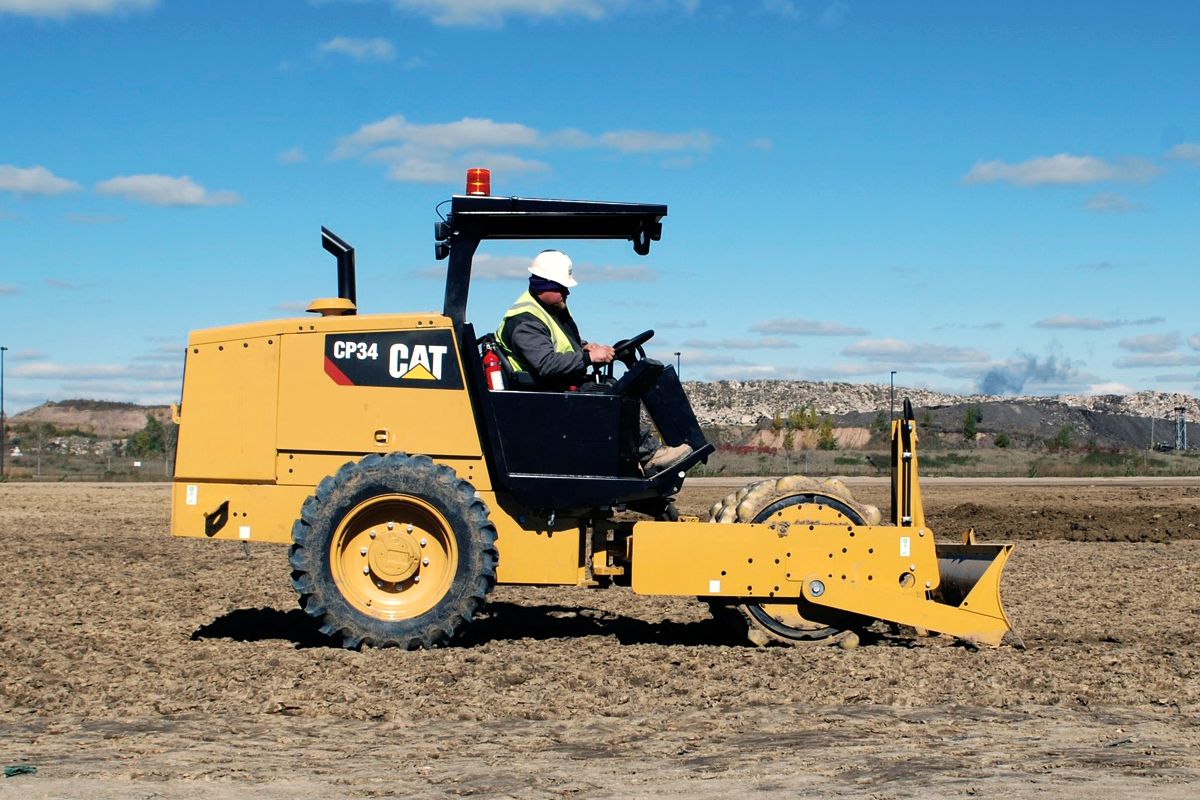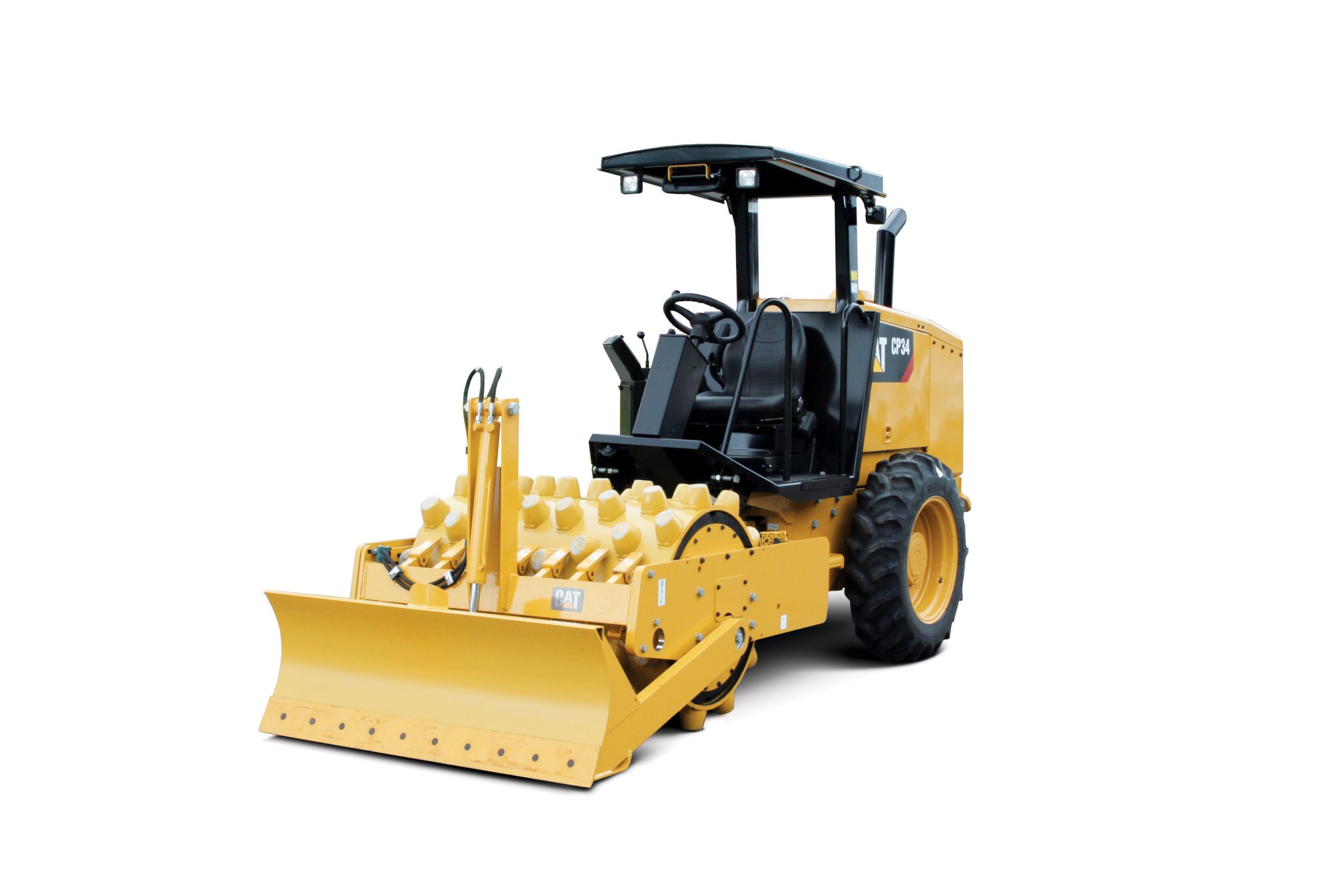 DESCRIPTION
The CP34 vibratory soil compactor has a padfoot drum roller suited for cohesive and semi-cohesive soil compaction applications.
Features
High Centrifugal Force and Amplitude

High centrifugal force and amplitude provides superior compactive effort and exceptional productivity.

Vibratory Frequency

A vibratory frequency of 35 Hz (2100 vpm) combined with optimal drum weight, enables the operator to achieve density in fewer passes.

Heavy-duty Bearings

The large heavy-duty bearings for the weight shaft are designed for high compactive forces.

Heavy-duty Isolation Mounts

Heavy-duty isolation mounts allow more force to be transmitted to the ground and less vibration to the drum yoke.

Dual Pump Propel System

The Cat dual pump propel system provides separate, balanced hydraulic flow to the rear wheel axle and the drum drive motors. It provides high gradeability and increases tractive effort in loose or poor underfoot conditions.

Limited Slip Differential

The limited slip differential provides balanced tractive effort and smooth torque transfer to both rear wheels.

Infinitely Variable Speed Range

The CP34 has infinitely variable speed range for maximum torque when using the leveling blade or grade climbing, plus the ability to move quickly over longer distances.

High Travel Speed

High travel speed up to 8.9 km/h (5.5 mph).

Single Lever Control

Single lever control for propel and vibratory On/Off provides simple and low effort operation.

Propel Lever

The easy to reach propel lever is located to the right of the Operator seat for convenient and accurate machine control.

LCD Screen

Operational gauges and basic diagnostics are displayed on an LCD screen integrated with the right side Operator console.

Visibility

Visibility is unrestricted to the drum and tire edge and to the side and rear of the machine.

Operator Seat

The operator seat is comfortable, durable and adjustable with flip-up arm rests and a 76 mm (3") wide retractable seat belt.

Isolated Operator Station

The operator station is isolated with heavy-duty rubber mounts to reduce machine vibration transmitted to the operator.

Narrow Machine Width

The narrow machine width of 1.39 m (4'6") is ideal for working in trench applications or job sites with limited space.
Machine Weight

The machine weight is good for light compaction of uniform layers over sewer and water pipes.

Propel System

The propel system allows the operator to stop, maintain machine position and change directions while on a grade.

Turning Radius

The CP34 has a short turning radius for good maneuverability in confined work areas.

Visual Indicators

Visual indicators allow easy check of radiator coolant, hydraulic oil tank level and air restriction indicator.

Operator Station and Platform Tilts

The operator station and platform tilts forward to allow convenient access to the hydraulic pumps.

Cooling System

A rear mounted cooling system provides easy access for cleaning.

Vibratory Bearing Lube Service

The 1000 hour vibratory bearing lube service interval reduces maintenance.

Quick-connect Hydraulic Test Ports

Quick-connect hydraulic test ports simplify system diagnostics.

Ecology Drains

Ecology drains provide an environmental method to drain fluids. They are included on the radiator, engine oil pan, hydraulic and fuel tank.

Scheduled Oil Sampling (SOS) Ports

Scheduled Oil Sampling (SOS) ports allow for simple fluid collection of engine oil, engine coolant and hydraulic oil.

Secure Hose Routing

Secure hose routing with polyethylene blocks reduce rubbing and increase service life.

Electrical System

Nylon braided wrap and all-weather connectors ensure electrical system integrity. Electrical wiring is color-coded, numbered and labeled with component identifiers to simplify troubleshooting.

Maintenance-free Cat Batteries

Maintenance-free Cat batteries are mounted in the rear of the machine are accessible through the swing out rear grill. Cat batteries are specifically designed for maximum cranking power and protection against vibration.

Product Link Wire-ready

Machine is Product Link wire-ready. The Cat Product Link System (CPLS) ensures maximum uptime and minimum repair costs by simplifying tracking of equipment fleets. provides automatic machine location and hour updates. can be obtained through your local Caterpillar dealer.
More Features
500 hour engine oil change interval
Specs
Long Name:
CP34 Vibratory Soil Compactor
Travel Speed - Maximum
5.5 mile/h / 8.9 km/h
Nominal Amplitude - High
0.05 in / 1.3 mm
Weight - Drum with ROPS/FOPS
5820 lb / 2640 kg
Wheel Base
7.33 ft / 2.24 m
Ground Clearance
13.6 in / 347 mm
Overall Width
4.5 ft / 1.39 m
Service Refill Capacities
Fuel Tank Capacity
30 gal (US) / 113 l
Gross Power
74 HP / 55 kW
Centrifugal Force - Maximum
15000 lb / 66.8 kN
Drum Diameter
40 in / 1016 mm
Height - With ROPS/FOPS
8.17 ft / 2.51 m
Turning Radius - Inside Drum Edge
12.75 ft / 2.62 m
Vibration Frequency
2100 V/m / 35 Hz
Overall Length
13.7 ft / 4.15 m
Drum Width
50 in / 1270 mm
Curb Clearance
13.2 in / 335 mm