D8T
D8T Dozer
Since the 1920's Cat® bulldozers have been on the job. Cat D8T track dozers heavy duty design and easy controls will save you time and money on today's jobsite.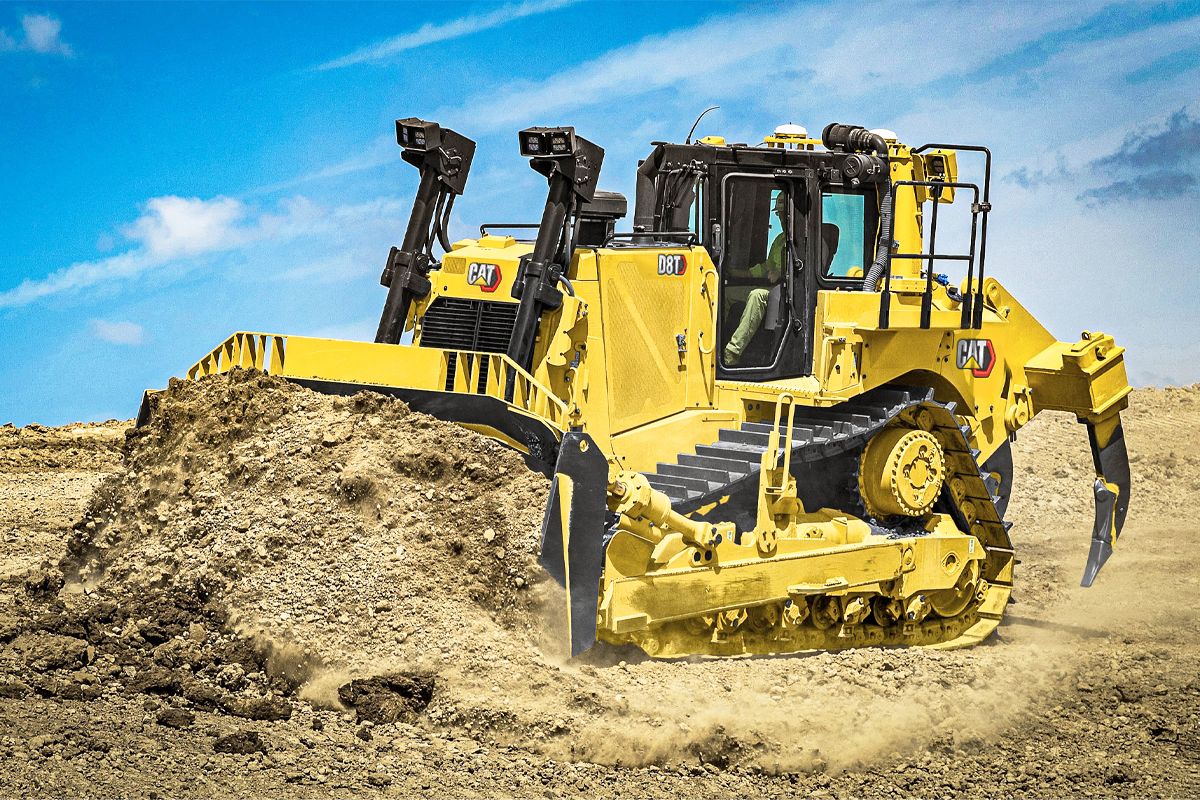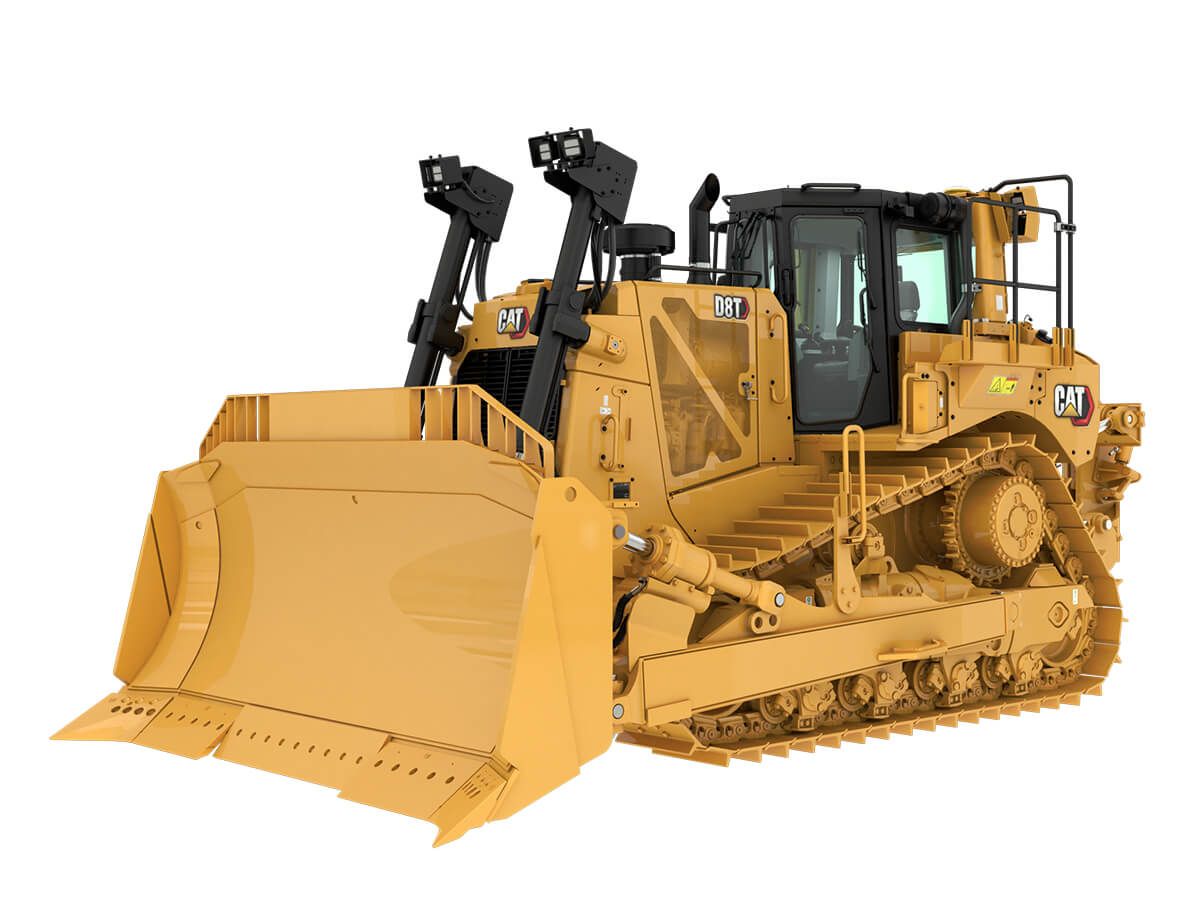 DESCRIPTION
The Cat® D8T dozer increases your productivity up to 18% without using more fuel. A fully automatic 4-speed transmission and a choice of factory integrated Grade technologies help make optimal productivity and efficiency easier for operators of all experience levels.The new Cat® D8T dozer increases your dozing productivity up to 18% without using more fuel. This means you can move more material in less time, at a lower cost per ton, so you get a faster payback on your equipment investment. The new bulldozer offers unprecedented ease of operation as well. A new Caterpillar designed, smooth shifting, fully automatic 4-speed transmission makes it easy for operators of all experience levels to achieve optimal productivity and efficiency without having to manage gear shifts. Factory integrated Grade technology options help you get quality work done even faster, from first pass to finish grade, while relying less on operator input.
D8T Dozer - A Whole New Level of Productivity
Cat D8T Bulldozer Powered Bottom Guard
Cat Command for Dozing: Preston Contractors
MOVE MORE WITH LESS FUEL
Move up to 18% more material per hour without burning more fuel in most applications.
Save up to 11% fuel in lighter applications.
Fully automatic 4-speed powershift transmission optimizes the dozer for maximum productivity and efficiency.
19% larger standard Semi-Universal (SU) blade moves more material per pass.
New transmission puts up to 13% more drawbar power to the ground.
10% increase in steering torque, fully automatic transmission and differential steering combine to provide best-in-class steering performance under load.
Optional Performance Cutting Edges increase blade payload by up to 35% compared to standard cutting edges.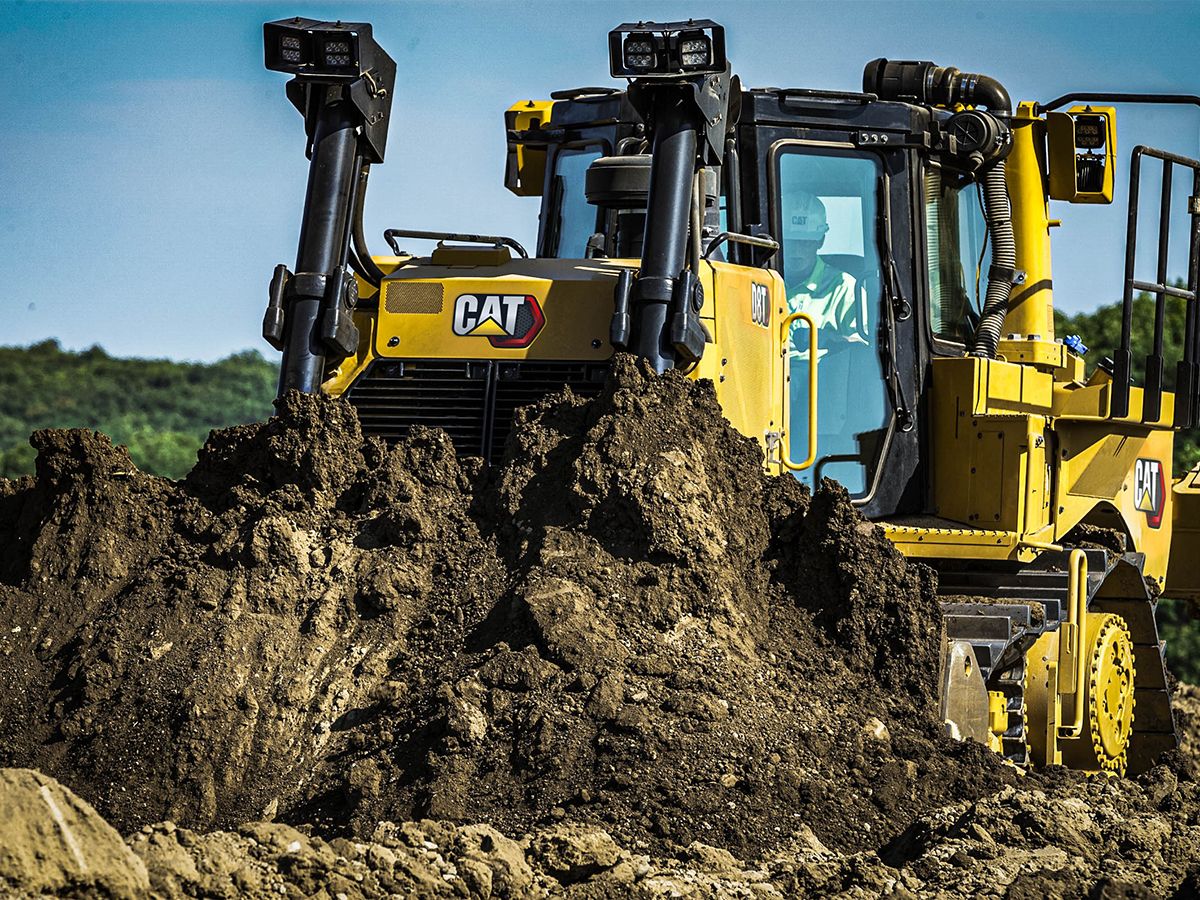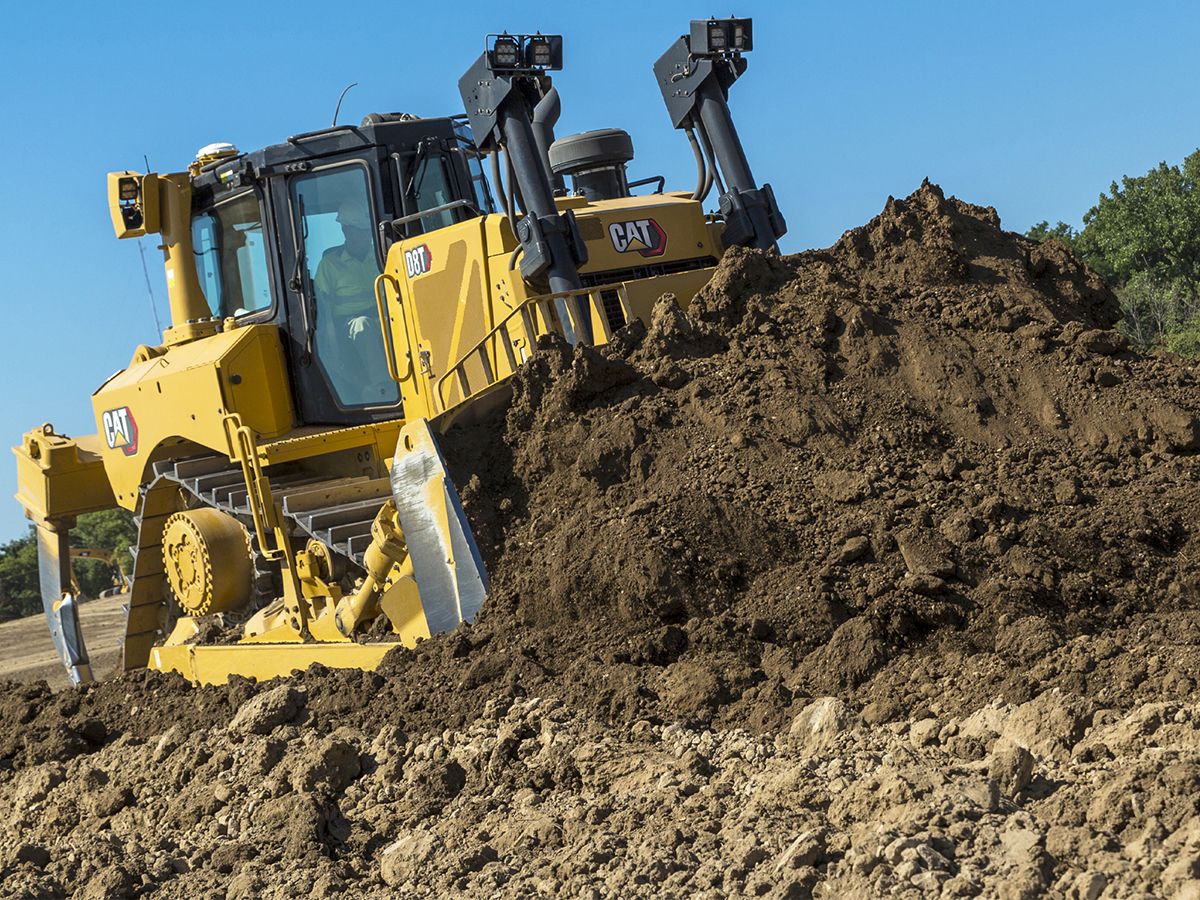 EASY TO OPERATE
Fully automatic 4-speed transmission - just select desired ground speed and the tractor will automatically manage settings for maximum efficiency and power based on load.
No need to upshift/downshift - saves effort for experienced operators and helps newer operators maximize productivity more quickly.
Added gear between first and second ensures seamless lock-up clutch engagement for exceptionally smooth shifting.
All speed and turning input is packaged in a single hand control for easy operation - thumb wheel puts easy on-the-fly ground speed changes at your fingertips.
Automatic Ripper Control and new rip-to-depth feature help reduce operator fatigue and machine wear and tear.
Engine Idle Shutdown Timer shuts the machine down after a pre-set idling period to save fuel and reduce unnecessary idling time.
Emissions reduction technology is designed to work automatically in the background while you work.
TECHNOLOGY THAT GETS WORK DONE
Hit target grade faster and more accurately with Cat Grade technologies. Finish jobs in fewer passes, and with less operator effort, saving you time and helping you increase profit.
Cat Grade with Slope Assist™ automatically maintains pre-established blade position without a GPS signal. (Single Tilt machines only).
Cat Grade with 3D option is factory-integrated grade control that helps you improve grading efficiency, accuracy and productivity. Automates blade movements in both fine grading and production dozing applications, reducing operator inputs by as much as 80%. Antennas on top of the cab eliminate blade masts and cables. Reduces need for grade checkers and staking, enhances safety and reduces labor costs.
Standard Slope Indicate displays machine cross-slope and fore/aft orientation right on the main display.
Gain even more productivity and reduce operator inputs with Auto Blade Assist, AutoCarry™ and Automatic Ripper Control.
Factory ARO Option provides optimal mounting locations, brackets, and hardware to simplify installation of an aftermarket grade control system.
All Cat Grade systems are compatible with radios and base stations from Trimble, Topcon, and Leica.
Already invested in a grade infrastructure? You can install grade systems from Trimble, Topcon, and Leica onto the machine.
Product Link™ collects machine data that can be viewed online through web and mobile applications.
Access information anytime, anywhere with VisionLink® – and use it to make informed decisions that boost productivity, lower costs, simplify maintenance, and improve safety and security on your job site.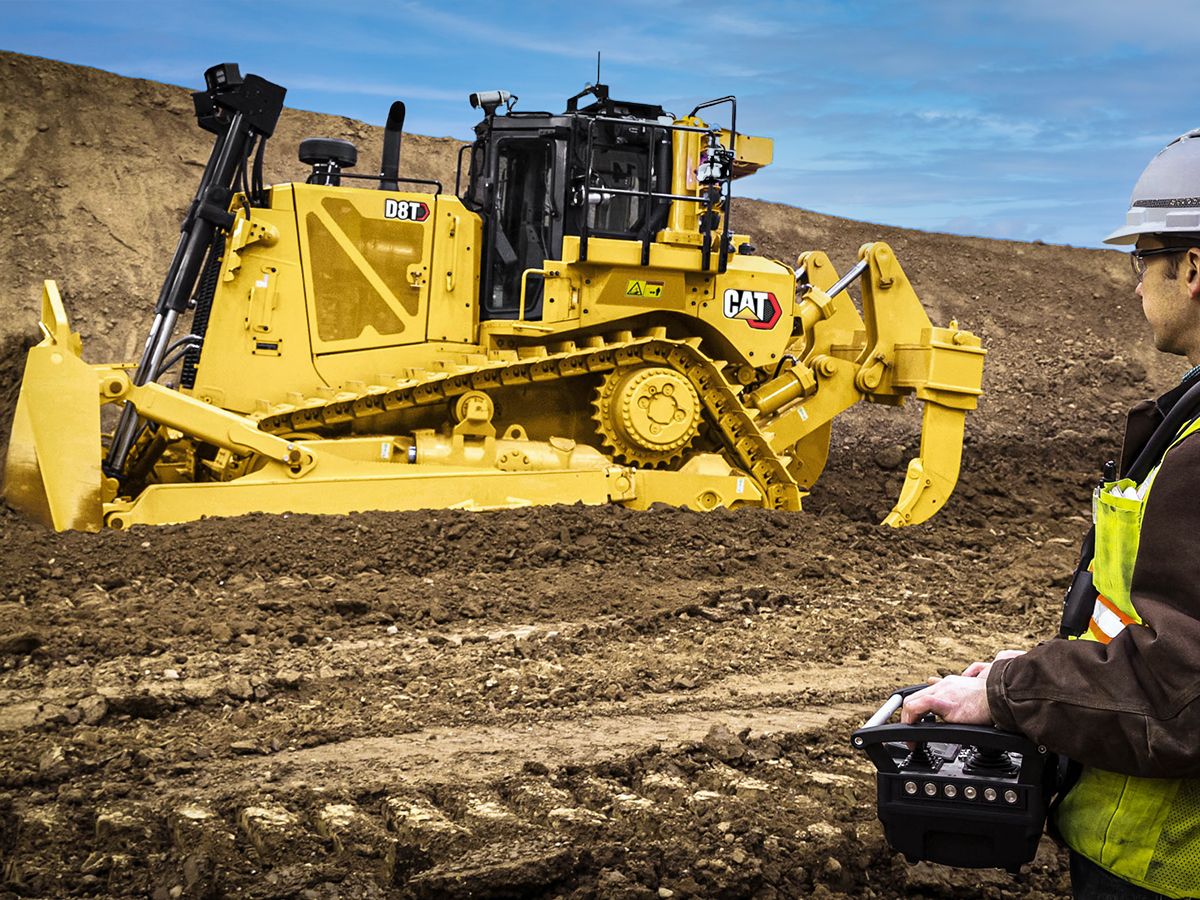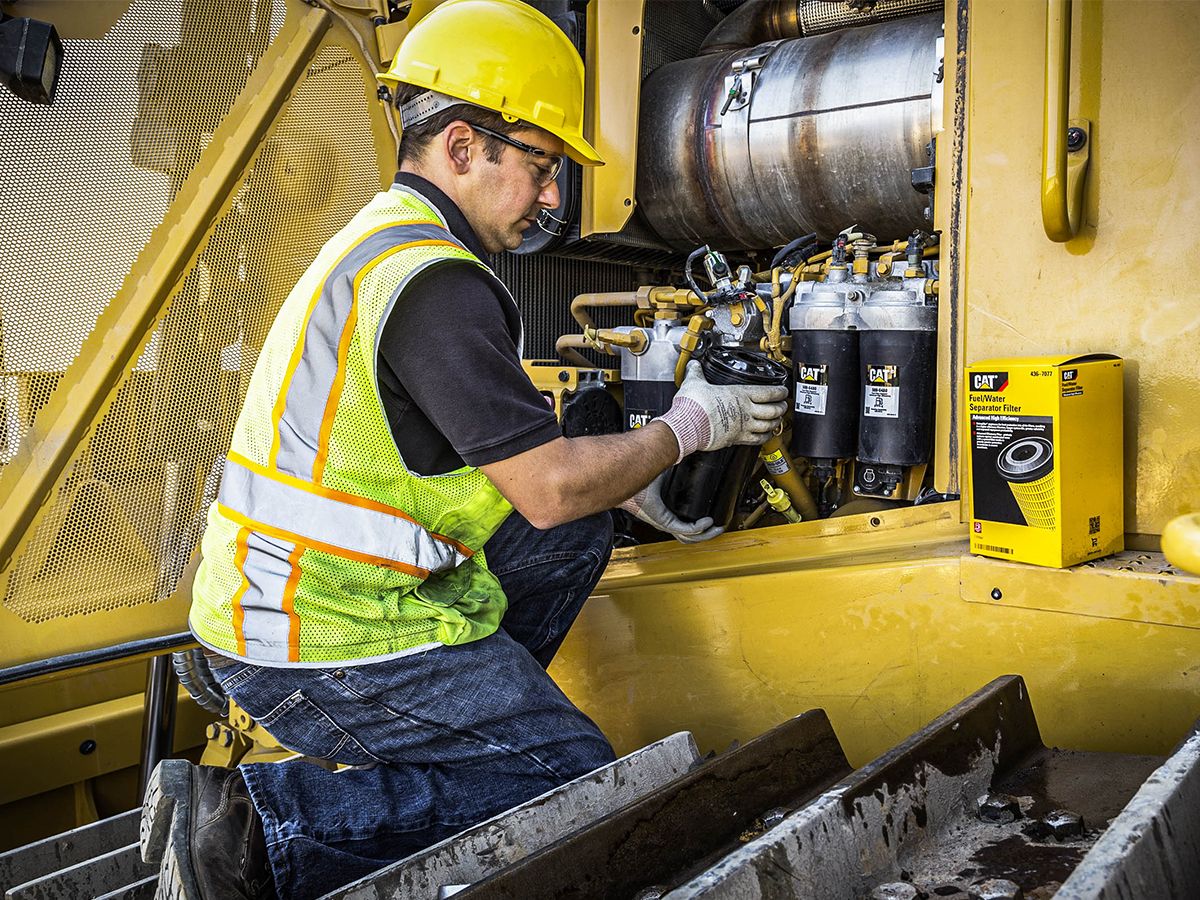 LOWER MAINTENANCE COSTS
High quality cartridge fuel filters are purpose-built to help keep your fuel system clean and extend injector life.
High debris engine filter (optional) has a pleated design for less plugging - especially ideal for waste, wood chip, other fine debris applications.
Reduce cost, add versatility with rear implement valves that accommodate either a ripper or hydraulic winch with no changes and no trade-off in performance.
Programmable, automatic reversing fan is now standard for greater machine value at no added cost.
Larger one-piece oil pan doubles engine oil service interval to 500 hours saving you time and parts cost.
Features like grouped service points, ground level service center and modular transmission help make your daily maintenance and service tasks more convenient.
Remote Flash allows for select software updates to be made remotely via Product Link on eligible machine models, saving you time and service call expense.
BUILT FOR LONG TERM PRODUCTION
More robust structures provide the added durability to handle the increased weight and productivity.
Caterpillar exclusive Elevated Sprocket undercarriage gives you an added edge in machine balance, component Long Term Value and Durability and ease of service.
Heavy Duty Extended Life undercarriage, HDXL with DuraLink™, is designed to help reduce your operating costs with heavier bushings for up to 25% more wear life, especially in high abrasion conditions.
Special machine arrangements are equipped from the factory for performance and longer life in harsh applications like landfill, transfer station and stock pile applications.
Major structures and components are built to be rebuilt, reducing waste, driving down lifetime operating cost, and extending the profitability cycle over more machine life.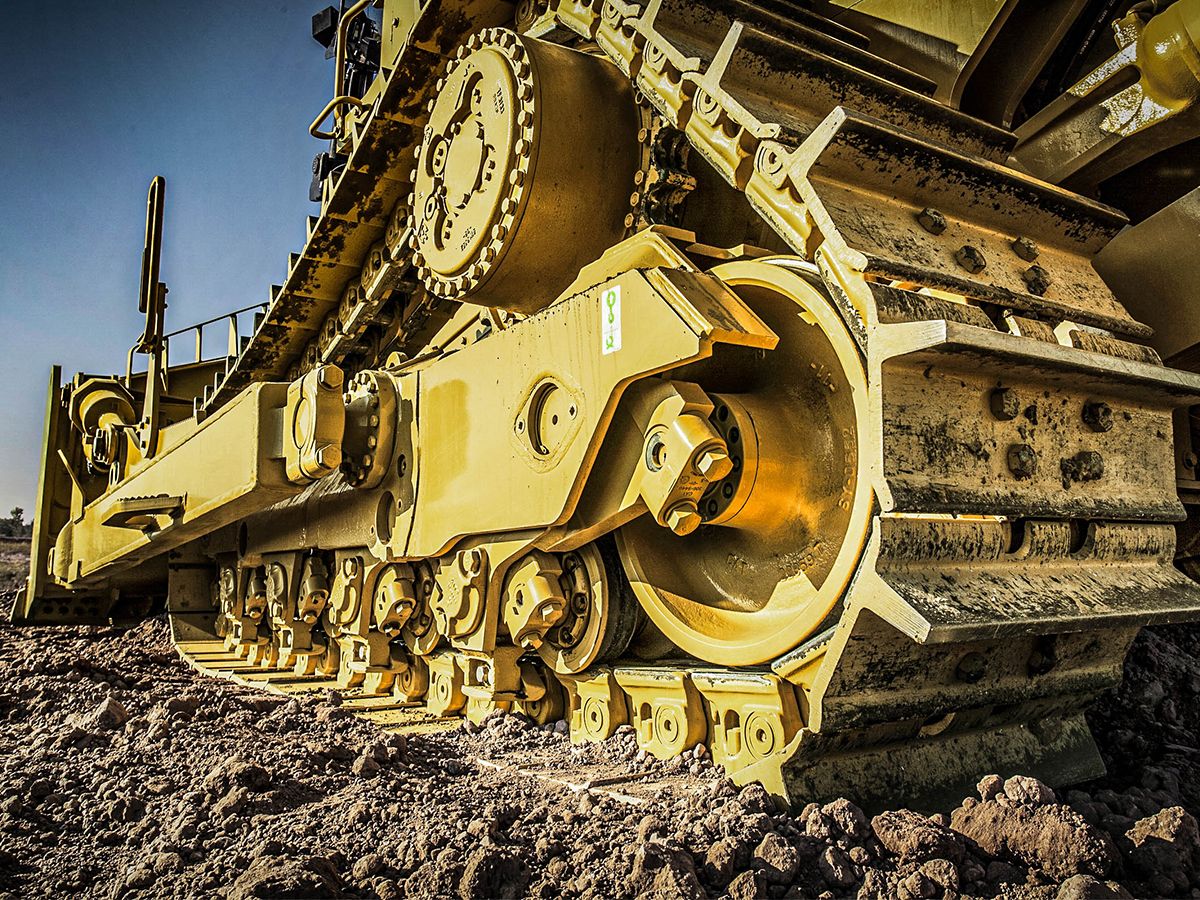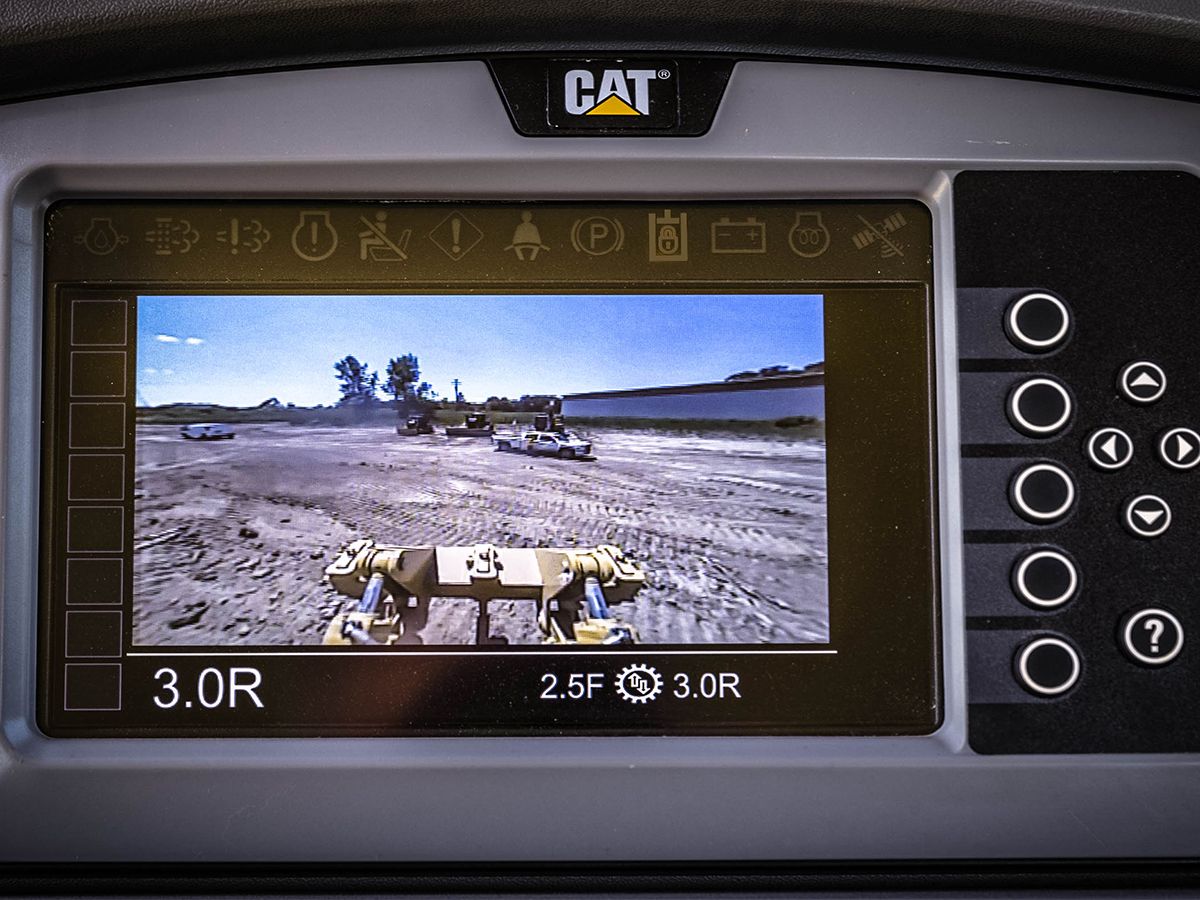 BUILT-IN SAFETY FEATURES
Rear vision camera and cylinder mounted mirrors are available to enhance visibility around the machine.
Powered Bottom Guard option enhances safety during clean-out.
Convenient steps, handles and guardrail help you get on and off the tractor with greater ease.
Ground level access to lighting switch.
Seat belt indicator enhances safety by reminding you to buckle up with a light/alarm.
Electronic fluid level verification at startup saves you time and reduces trips up and down from the cab inspect compartments.
Standard Operator Presence detection system allows the machine to idle when the operator is not seated, but locks out the power train and front implements to avoid unintentional movement.
WASTE HANDLING PERFORMANCE
Build or close cells, push trash or spread cover – Cat Waste Handlers are designed and built from the frame up to take on the challenges of landfill work.
Specialized guarding, striker bars and seals help protect against impact and airborne debris.
Bottom and Final Drive guarding helps prevent damage from wrapping debris.
Faster cleanout and enhanced safety with optional Powered Bottom Guards.
High debris cooling system with automatic reversing fan.
Insulated Clean Emissions Module and thermal shields provide the highest level of protection.
Specialized air handling features help deliver cleaner air to the machine and to the cab.
Landfill blades and center-hole track shoes help optimize your waste handler for the job.
Lights are mounted up and away from main debris area for protection, while still shining plenty of light on the work area.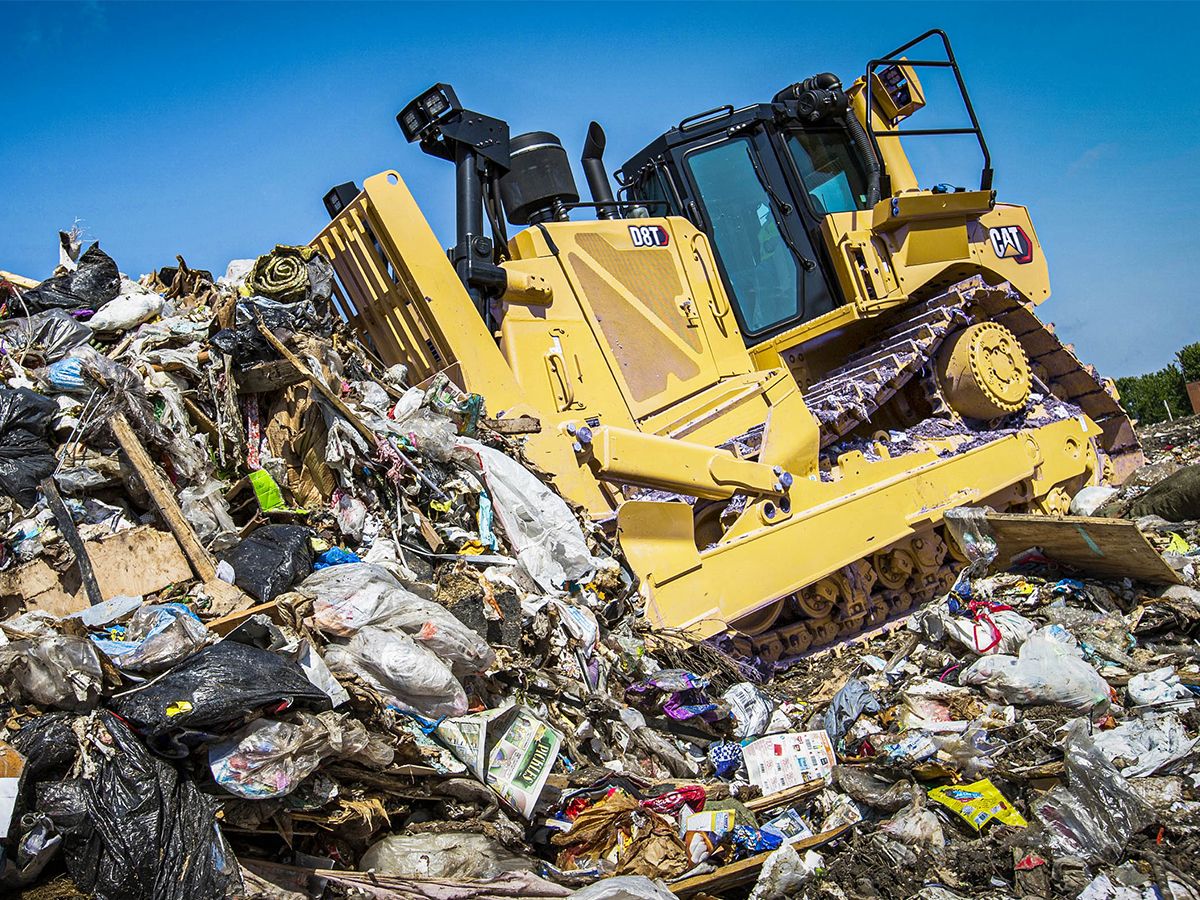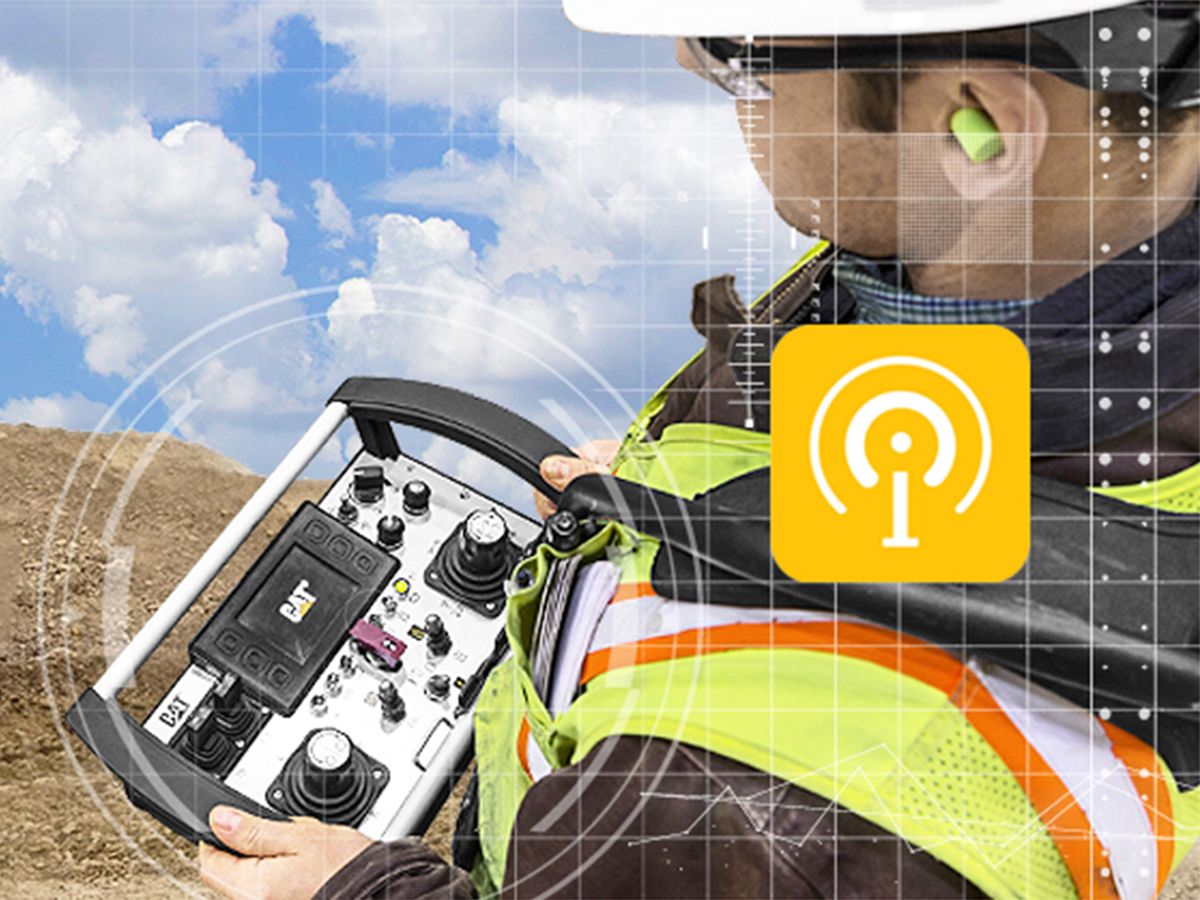 TAKE COMMAND
Cat Command for Dozing offers remote control operation for enhanced safety and greater productivity.
Command uses line-of-sight (LOS) control with an over-the-shoulder console, or a non-line-of-sight (NLOS) option using the Cat Command Station to run the machine remotely.
Standard Equipment
Optional Equipment
Specs
Docs
Specs
Power - Net
354 HP / 264 kW
Net Power - Rated - ISO 9249/SAE J1349
354 HP / 264 kW
Net Power - Rated - ISO 9249/SAE J1349 (DIN)
359 mhp / 359 mhp
Emissions
U.S. EPA Tier 4 Final/EU Stage V/Korea Tier 4 Final
Note (1)
Net power at 1,900 rpm. Net power advertised is the power available at the engine flywheel when the engine is equipped with a fan, air cleaner, clean emissions module and alternator. Advertised power is tested per the specified standard in effect at the time of manufacture.
Note (2)
All non-road Tier 4 Interim and Final, Stage IIIB, IV and V, Japan 2014 (Tier 4 Final) and Korea Tier 4 Final diesel engines are required to use only Ultra Low Sulfur Diesel (ULSD) fuels containing 15 ppm EPA/10 ppm EU (mg/kg) sulfur or less. Biodiesel blends up to B20 (20% blend by volume) are acceptable when blended with 15 ppm (mg/kg) sulfur or less ULSD. B20 should meet ASTM D7467 specification (biodiesel blend stock should meet Cat biodiesel spec, ASTM D6751 or EN 14214). Cat DEO-ULS or oils that meet the Cat ECF-3, API CJ4, API CK-4 and/or ACEA E9 specification are required. Consult your OMM for further machine specific fuel recommendations.
Note (3)
Diesel Exhaust Fluid (DEF) used in Cat Selective Catalytic Reduction (SCR) systems must meet the requirements outlined in the International Organization for Standardization (ISO) standard 22241.
Operating Weight
87600 lb / 39750 kg
Power Train
Fully Automatic 4-Speed Powershift
Service Refill Capacities
Fuel Tank
165 gal (US) / 627 l
DEF Tank
6 gal (US) / 24 l
Operating Weight
88698 lb / 40233 kg
Ground Pressure
13 psi / 91 kPa
Width of Standard Shoe
24 in / 610 mm
Blade
Semi-Universal (SU)
Blade Capacity
13 yd³ / 10 m³
Operating Weight
84906 lb / 38513 kg
Ground Pressure
8 psi / 55.3 kPa
Width of Standard Shoe
38 in / 965 mm
Blade
Semi-Universal (SU)
Blade Capacity
12.9 yd³ / 9.9 m³
Operating Weight
88206 lb / 40010 kg
Ground Pressure
13 psi / 91 kPa
Width of Standard Shoe
24 in / 610 mm
Blade
Semi-Universal (SU) Landfill
Blade Capacity
21 yd³ / 28 m³
Operating Weight
93672 lb / 42489 kg
Ground Pressure
8.8 psi / 61 kPa
Width of Standard Shoe
38 in / 965 mm
Blade
Semi-Universal (SU) Landfill
Blade Capacity
27.9 yd³ / 21.2 m³
Air Conditioning
The air conditioning system on this machine contains the fluorinated greenhouse gas refrigerant R134a (Global Warming Potential = 1430). The system contains 2.5 kg of refrigerant which has a CO2 equivalent of 3.575 metric tonnes.