GH800
GH800 - Plow System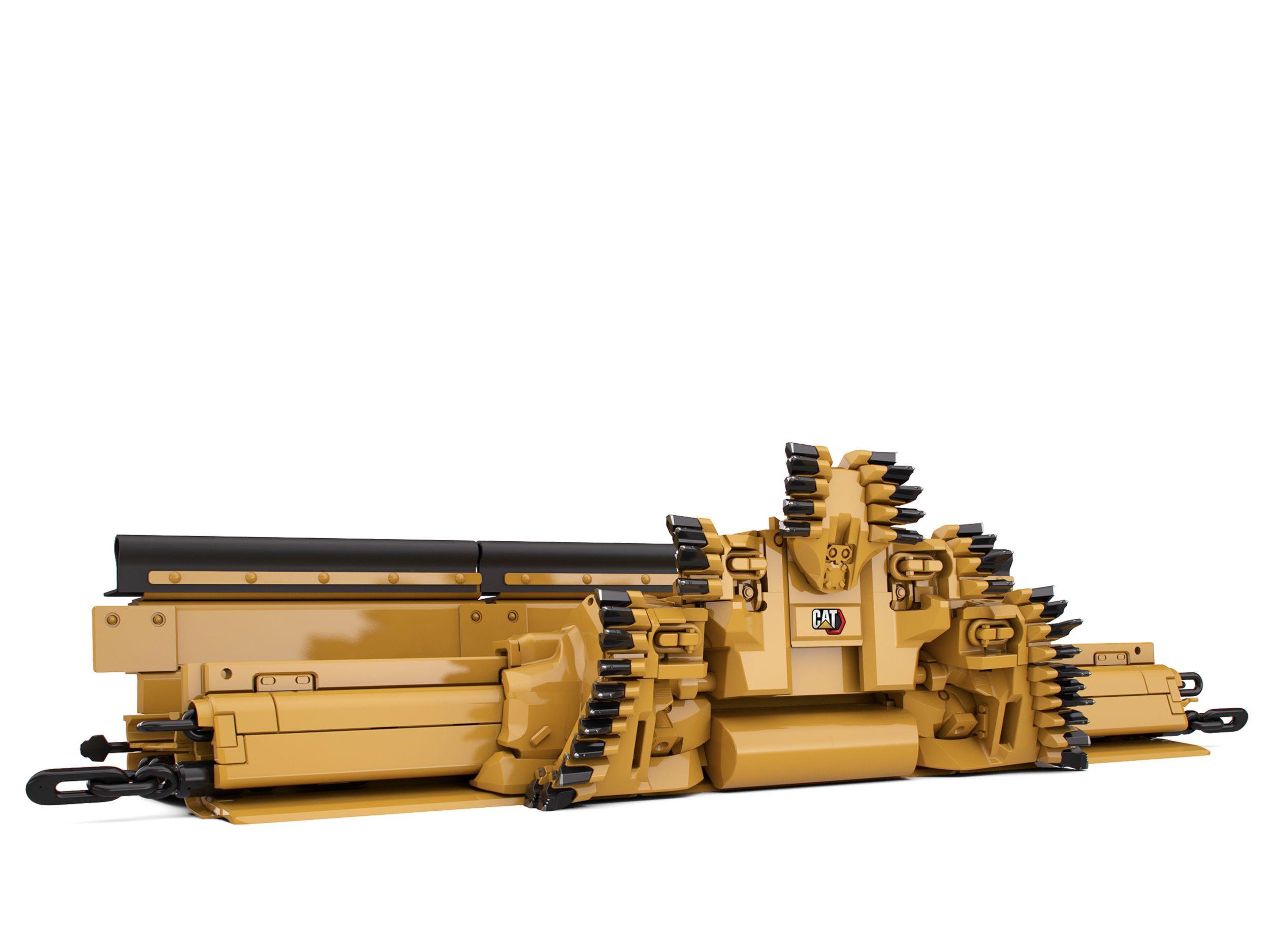 DESCRIPTION
Automation turns a simple, robust plow into a high-performance mining machine.Cat® Plows are the mining system of choice for low and medium seams - exceeding the performance of shearers and delivering rapid production.
Cat Plow Systems in Geological Faults
Cat Automated Plow Systems
Cat Longwall Mining Systems
Cat PF4 Wedge Pan Simplified Service and Maintenance (Digital Animation)
Complete Cat Longwall Systems
Cat Longwall Automation: Improving Safety, Productivity and Efficiency Underground
Features
Benefits

The plow is advanced in relatively small increments (cuts) compared to a shearer. This allows the horizon control system to vertically steer the plow, keeping it in the seam even when severe seam undulations are encountered. A shearer, due to its larger cutting depths and fixed position relative to the AFC, can only make gradual changes in vertical alignment. Therefore, in severely undulating conditions, the product mined with a shearer contains a higher amount of "out-of seam" dilution.
Easy height adjustment allows plows to work smoothly through faults or undulations, minimizing the cutting of adjacent, unwanted strata.
Coal production is maximized while preparation costs are minimized.

Benefits

Full utilization of available power
Prevention of motor overheating and resultant downtime
Reduced motor current with optimum torque during startup
Excellent power factor (~1)

Benefits

Eliminates shock loads from all drive components
Minimizes chain failures and maximizes component life
Allows for a quick system restart

Benefits

Reduces wear and tear on plow, drives and chain
Smooth plow operation extends overall service life

Benefits

Remote operation allows highest safety and maximum productivity in low coal.
The AFC/plow system and shield supports can be positioned exactly where they are needed (snakes, roof condition, faults etc.).
System is self-correcting for over- or underpush, thereby maintaining a straight face regardless of conditions.
Optimum use of installed power for maximum cutting depth for every area of the face.
Automated Cat plow systems allow access to extended reserves in low coal seams to achieve a higher percentage of reserve recovery.
Significantly more coal can be mined with more efficient layouts that reduce overall costs.

Plow chains up to 38 mm can be used, allowing installations up to 2 × 400 kW (2 × 540 hp). The plow guide has a maximum height to withstand the reactionary forces produced during the cutting process, yet it does not hinder coal flow during the loading process. The upper plow guide can be opened for quick and easy access to both the top and bottom chains for maintenance. Proven design and geometry, in conjunction with high-strength steel and optimized material properties, combine to ensure minimum wear for maximum life. Both gobside and face side pan connectors have a breaking strength of up to 3000 kN (330 tons), depending on the line pan being used. Maximum cutting depth at high plow speeds provides high productivity. Every point of contact between plow body and plow guide is designed as a wear part, again to facilitate maintenance.
The plow body can also be adapted to smaller variations in seam height by using a bit turret that is built into the plow body. The turret carries the top bits of the plow body and can be precisely raised or lowered up to 300 mm (12 in) by means of a worm gear that is accessible from the gobside. Typically, the single gliding plow body is used, which is attached to the bottom chain. For special applications, there is also the double-plow or triple-plow body, which separates loading and cutting coal streams for very soft coal in thin seams.

PF line pans form the powerful backbone of the entire conveyor system. The pioneering conveyor technology and extremely rugged pan design have been subjected to extensive testing.

Benefits

Substantially longer service life
Considerably lower overall pan wear

Benefits

Minimal friction
Low wear of flightbar shoulder in the bottom race
Minimized power losses
Longer service life of flightbars and profiles
Lower noise level during operation

Two configurations are possible: A control in each shield (typically used) or one control shared by three shields in cases where fewer shield functions are required. The VCU (Visualization & Control Unit) not only controls the entire longwall, but also visualizes face operations on a graphic display, including position, actual coal load on the AFC (through AFC power consumption), shield position, leg pressure, stroke and plow position. The VCU provides a face-wide network and allows remote maintenance of shield components as well as data recording and transfer of data to the surface.

When you invest in Cat equipment, you invest in productivity. Our global service and support packages include field service, repairs, overhauls and superior-quality OEM parts, ensuring the best long-term return on investment. Our goal is to constantly maximize customer productivity. We achieve this by remaining on the cutting edge of mining technology, providing customers with the best equipment with the lowest life-cycle costs. Cat Global Customer Service ensures that your mining equipment remains a highly productive asset.
Specs
Long Name:
GH800 - Plow System
Coal Hardness
Soft - hard coal
Maximum Installed Power
2 × 400 kW (2 × 540 hp)
Plow Body Height
0.9 m-2.0 m (35.5-79 in)
Maximum Seam Inclination
up to 60°
Maximum Cutting Depth
7 in / 180 mm
Typical Cutting Height
1.0 m-2.0 m (39-79 in)
Maximum Plow Speed
3.0 m/s (600 fpm)
Maximum Drive Power
2 × 400 kW (2 × 536 hp)
Cutting Depth
0.64 ft / 195 mm
Plow Heights - With Gobside Support - Height 2
1700-2000 mm (5.57-6.56 ft)
Bottom Bit Positions - Position 1
+12 mm (+0.04 ft)
Plow Heights - Height 1
800-1060 mm (2.62-3.47 ft)
Bottom Bit Positions - Position 4
-34 mm (-0.11 ft)
Plow Length - Single Plow
8.89 ft / 2712 mm
Plow Heights - With Gobside Support - Height 1
1570-1735 mm (5.15-5.69 ft)
Weight - Single Plow
4080-6630 kg (8,995-14,616 lb)
Plow Heights - Height 2
1020-1320 mm (3.34-4.33 ft)
Bottom Bit Positions - Position 2
-10 mm (-0.03 ft)
Plow Heights - Height 3
1285-1585 mm (4.21-5.20 ft)
Mechanical Height Adjustment
180-300 mm (0.59-0.98 ft)
Bottom Bit Positions - Position 3
-20 mm (-0.06 ft)