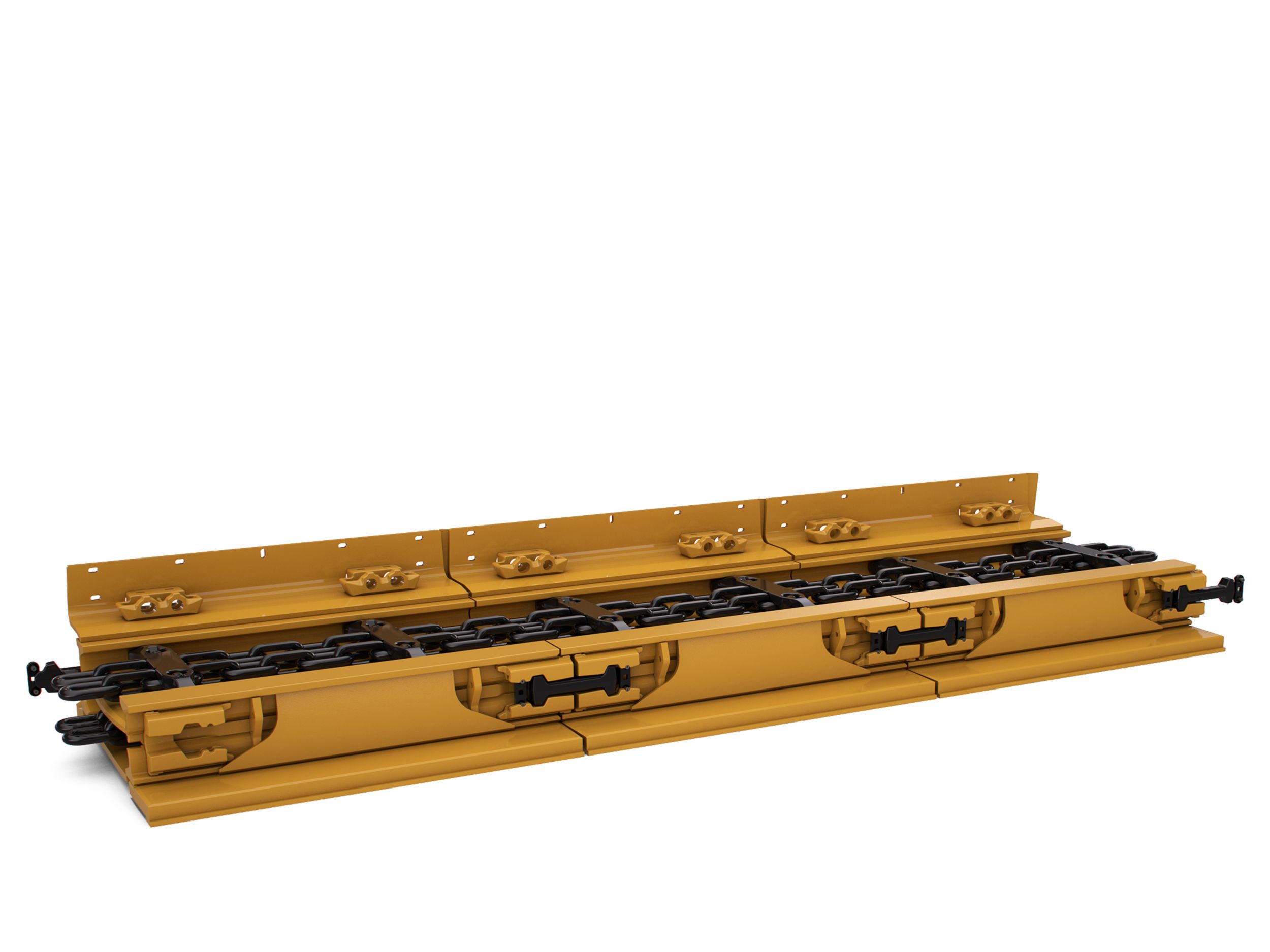 DESCRIPTION
Cat® Face Conveyors are one of the most powerful transport systems in underground mining.Moving Mountains - No matter how fast your shearer can cut, you can't keep cutting until you move the coal away from the face. Cat® Armored Face Conveyors (AFCs) are designed to keep things moving and to carry the maximum possible amount of coal smoothly away from the coalface. They are designed for high availability and economy in operation. They are easy to maintain and offer long service life and a great return on investment to mine operators.
Cat High-Performance Shearer Longwall Systems
Cat Longwall Mining Systems
Digital Animation - The Principle of Longwall Top Coal Caving (LTCC)
Complete CatLongwall Systems
Cat Longwall Automation: Improving Safety, Productivity and Efficiency Underground
Benefits
• Faster removal of mined coal by providing high-reliability, high-availability transportation with design features ensuring low wear and long service life, greater permissible elongation of chain compared to round link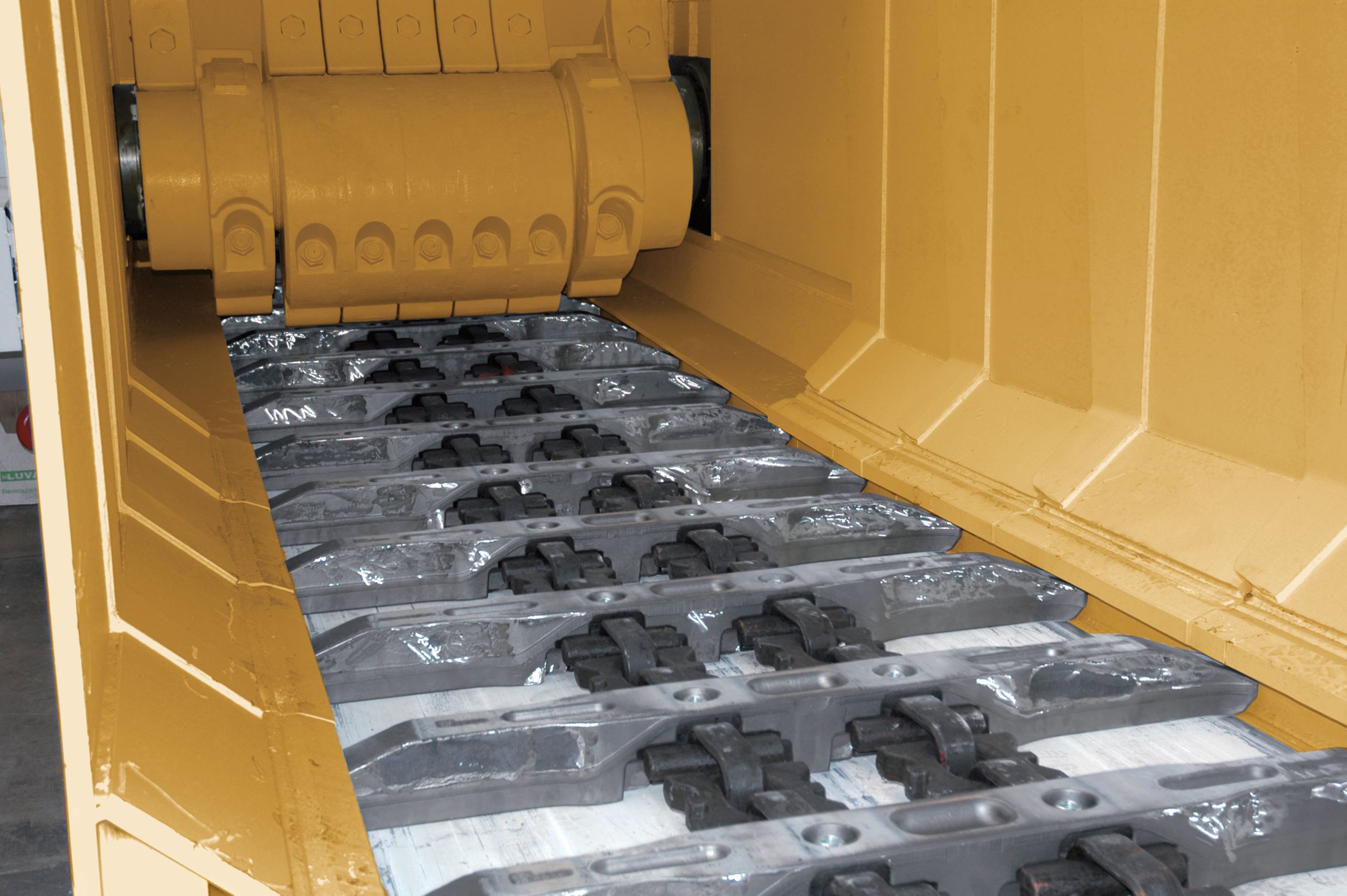 Benefits
• Stageloader and crusher completely matched to AFC, both with higher capacity to prevent bottlenecks; tailor-made belt tailpiece for required capacity and belt dimensions, allowing BTP to handle longitudinal and lateral entry gradients; automated chain tensioning system
Features
Cat AFC components achieve this. Each is designed for powerful, reliable and economical operation with low maintenance over a long service life, promoting high productivity and delivering a great return on investment.

As with all Cat products, these systems are the result of extensive R&D work and comprehensive laboratory and field testing. This ensures the optimum solution for haulage system and sprocket. This led to a unique design concept with optimized first/last tooth geometry rackbars available with pitches of 126 mm for medium-production and 146/151 mm for high-production shearers.

Benefits

• Head drive does not cause a production bottleneck, maximum stability at maximum power, high power drives can be installed, upgrade normally possible, high AFC performance and availability

Benefits

• Drive module can be replaced underground without disassembly of the gearboxes, drive units are available in different sizes and are independent of the gearbox used

Benefits

• More efficient power transmission with GR sprocket (97% vs. 93%), resulting in extended sprocket and chain life and less chain stretch

Benefits

• Maximum chain life and minimum conveyor downtime for double cut

The UEL gearbox - a planetary gearbox with an integrated clutch - is designed for higher-power requirements. This friction clutch is closed through face support hydraulic fluid. A hydraulic control system allows the clutch to be set to a certain torque.

Benefits

• Caterpillar has the right drive for your application ensuring smooth and safe operation of the conveyor with overload protection and a range of other safety features as required

The latest development is the Cat PowerChain. It is available in sizes 34, 42 and 52. Size 52 is designed to be used with up to 1200 kW (3 × 1,608 hp), with a chain suitable for up to 1800 kW (3 × 2,412 hp) under development.

That's why Caterpillar has focused on rolled steel designs for line pans. All aspects of the line pans have been engineered with reliability, productivity and serviceability in mind.
Benefits

• Minimizes friction, reduces power requirements for the face conveyor and results in longer service life of the flights and profiles

Benefits

• Lower friction and longer service life for wear parts. Up to 10 million tonnes (11 million tons) under normal conditions and up to 20 million tonnes (22 million tons) under favorable conditions.

Benefits

• Longer service life of dogbone pockets, no damage to conveyor or dogbone housing as the dogbone always breaks first

Our line pans are suitable for bi-directional operation.

Benefits

• High stability of the pan ensured by three welds even when the top plate is totally worn out

Benefits

• Long service life with matched profile type end

Benefits

• Increased flexibility, adaptation to undulating seams, short snake sections possible

Benefits

• High pan stability, even for high-reaction forces; safe operation; low noise; minimum maintenance; full reversibility

Benefits

• Easy access to bottom chain, minimum downtime during maintenance or repair
Specs
Long Name:
Face Conveyor - PF5
Typical Technical Data AFC Line Pan
Dogbone Breaking Force
1011640 lb / 4500 kN
Bottom Plate Thickness
1.18 in / 30 mm
Top Plate Thickness
50 mm (1.96 in)
Horizontal Articulation
0.8°-1.2°
Line Pan Width - PF5/1342
52.83 in / 1342 mm
Flightbar Width - PF5/1142
38.89 in / 988 mm
Flightbar Width - PF5/1342
46.77 in / 1188 mm
Conveying Capacity - PF5/1342
9.15 ft² / 0.85 m²
Deck Plate Thickness
1.96 in / 50 mm
Vertical Articulation
up to ±6°
Line Pan Width - PF5/1142
44.96 in / 1142 mm
Bottom Plate Thickness
1.18 in / 30 mm
Dogbone Housing FoS
1.5 times
Conveying Capacity - PF5/1142
6.24 ft² / 0.58 m²
Chain Strands
DKB 42×146; DKB 48×160/144
Dogbone Breaking Strength
4500 kN (505.82 tonf)
Shear Strength
> 6000 kN (> 674.42 tonf)
Profile Height
12.52 in / 318 mm