NEW | Excavators - 302.7D CR | Serial #: 0LJ701863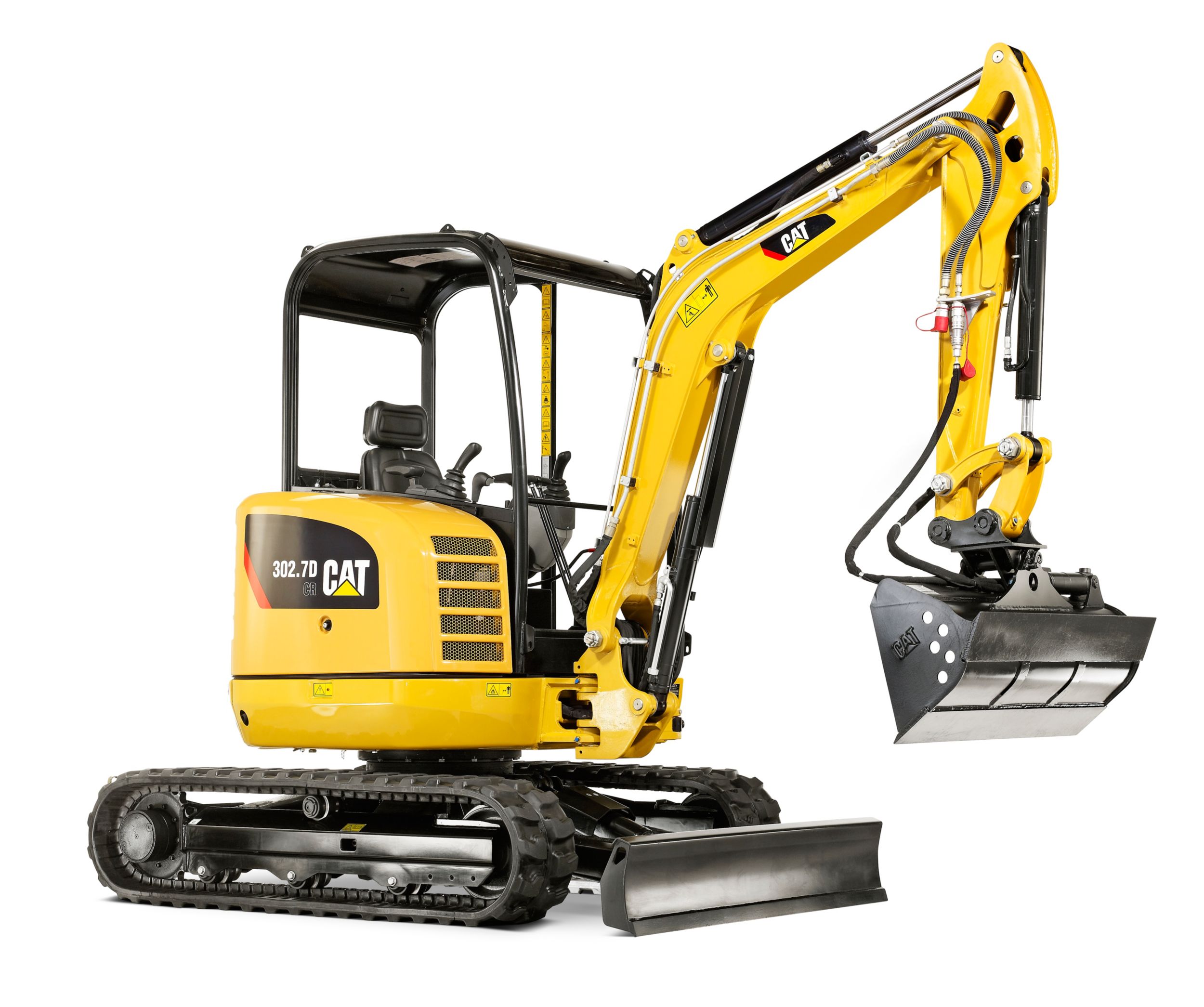 *The model image shown is for demonstration purposes only. Contact dealer for complete unit details.
Listing Details
Description
Model:
302.7D CR
Product Family:
Excavators
Manufacturer:
CAT
Year:
2019
Serial Number:
0LJ701863
Location:
SAN DIEGO, RANCHO BERNARDO
Unit Number:
035848
Machine Spec Detail
General Machine Specifications
302.7D CR Mini Hydraulic Excavator
Engine
Net Power
20.7 HP
Engine Model
Yanmar 3TNV76
Gross Power
24.3 HP
Rated Net Power - ISO 9249
20.7 HP
Displacement
68 in³
Note
Engine meets U.S. EPA Tier 4 Final/EU Stage V emission standards.
Weights
Operating Weight
6239 lb
Operating Weight - With Cab
6239 lb
Operating Weight - With Canopy
6034 lb
Dimensions
Maximum Dig Height
4170/4300 mm (13 ft 8 in/14 ft 1 in)
Maximum Digging Depth
2544/2744 mm (8 ft 4 in/9 ft 0 in)
Tail Swing Radius
30 in
Boom Swing Angle - Left
75 °
Height
7.9 ft
Transport Length - Arm Lowered
14 ft
Maximum Dozer Dig Depth
16 in
Length - Undercarriage
79 in
Track Width
30 in
Minimum Front Linkage Swing Radius
21 in
Width
5.15 ft
Maximum Dozer Lift Height
15 in
Maximum Reach - Ground Level
4481/4681 (14 ft 8 in/15 ft 5 in)
Boom Swing Angle - Right
50 °
Maximum Vertical Dig Depth
1962/2152 mm (6 ft 5 in/7 ft 1 in)
Maximum Reach
4613/4805 mm (15 ft 1 in/15 ft 10 in)
Maximum Dumping Height
2840/2970 mm (9 ft 4 in/9 ft 8 in)
Travel System
Gradeability
30°/58%
Travel Speed
2.1 km/h/3.8 km/h (1.30 mph/2.36 mph)
Hydraulic System
Operating Pressure - Equipment
3263 psi
Operating Pressure - Travel
3263 psi
Operating Pressure - Swing
2987 psi
Maximum Stick Force - Standard/Long
15.4 kN/13.6 kN (3,462 lbf/3,057 lbf)
Auxiliary Circuits - Secondary
30.8 L/min at 206 bar (8.1 gal/min at 2,988 psi)
Pump Flow at 2,500 rpm
23.6 gal/min
Maximum Bucket Force
5058 lb
Auxiliary Circuits - Primary
52.2 L/min at 225 bar (13.8 gal/min at 3,263 psi)
Blade
Width
61.9 in
Height
11.4 in
Dig Depth
16.5 in
Lift Height
15 in
Service Refill Capacities
Fuel Tank Capacity
9.3 gal (US)
Hydraulic Tank Capacity
7 gal (US)
Compact Radius
Configured without the additional counterweight the 302.7D CR is a true zero tail swing machine with the upper body staying within the width of the undercarriage during rotation. This enables the operator to work within confined areas and concentrate on the work being performed without having to worry about the back of the machine.
Transport Weight
The 302.7D CR is designed with a transport weight below 2.7 tonnes (6,000 lb) with cab fitted.
This allows lower trailer transportation costs using a standard passenger vehicle (subject to national restrictions).
Additional Counterweight
An optional additional weight increases the machines lifting capability with only a small addition to the overhang.
An optional additional counterweight increases the machines lifting capacity with only a small addition to the overhang.
(This counterweight is fitted as standard for North America and Australia)
Auxiliary Hydraulics as Standard Fit
Machine is 'ready to work.' Hammer and two way lines complete with quick disconnect fittings are standard. Connections are located close to the tool to reduce hose lengths and any potential damage.
Additional lines options are available to further increase machine versatility.
Stick and bucket cylinder hoses are protected by routing them through the boom.
100% Pilot Controls
Delivers excellent machine control and lifetime 'as new' performance eliminating the need for linkage and cable maintenance.
Automatic Swing Lock
Safe transportation of the machine is aided by the Cat automatic swing lock which locks the machines upper body in place when the control console is raised or the engine is stopped.
Thumb Ready Stick (North American Builds)
Machine is configured with brackets and relief valves for simple and cost effective mounting of a hydraulic thumb.
Dozer Float
Ground levelling and finishing applications are fast and easier with the dozer float function engaged making site clean-up much more efficient.
Cab Comfort
The Cat® 302.7D CR gives the operator a large comfortable space in which to work. The ergonomic control layout, travel pedals and adjustable wrist rests are engineered to minimize operator fatigue and increase productivity.
Simultaneous Operation
Both machine upper body swing and boom offset can be controlled simultaneously for faster machine positioning and object handling.
Adjustable Flow Control
Machines configured with proportional auxiliary hydraulics include adjustable hydraulic flow control for even greater tool control. Especially useful with tools such as angling buckets.
Split Front Window
The lower front window section slides into the upper section frame. Both sections are then raised and stored in the roof using a gas assisted mechanism.
This allows the operator to position the front window to suit their visibility and ventilation requirements with easy storage.
Pivot Bushing
Steel bushings are fitted on all front linkage pivot points including the swing casting, boom, stick and bucket. Designed for long life and easy replacement.
Maintenance Access
Removable covers in the cab and at the rear of the machine provide easy access to hydraulic system components.
Side Mounted Engine
All daily service points are easily accessed through the large side cover. The engine position also reduces heat and noise transfer into the operator station (cab).
Customer Support
Product supported through the Cat dealer and worldwide parts network aimed at minimizing downtime.
Finance options
Warranty options
Maintenance contracts
Help and advice in product and option selection to maximize efficiency and operating profitability
Work Tools
A range of tools is available to take advantage of the machines versatility. All tools are matched to the machine to optimize performance and deliver excellent value through high productivity and long life.
Standard Equipment
STANDARD EQUIPMENT
1-way and 2-way (combined function) auxiliary hydraulic lines
300 mm rubber track
Canopy with Tip Over Protection (TOPS) ISO 12117
Dozer blade with float function
Hydraulic oil cooler
Maintenance free battery
Retractable seat belt
Suspension seat, vinyl covered
Travel pedals
Working light mounted to boom
Optional Equipment
OPTIONAL EQUIPMENT
Additional hydraulic circuit diverted from bucket cylinder
Auto idle (Standard in North America)
Bio oil
Boom check valve
Cab, radio ready with FOPS ISO 10262 (Level 1), Tip Over Protection (TOPS) ISO 12117, heater/defroster, interior light and windscreen wiper
Custom color paint
Ecology drain for engine oil
Ecology drain for hydraulic tank
Front screen guard for cab and canopy
Joystick mounted proportional auxiliary control
Mechanical quick coupler
Mirror pack
Rotating beacon
Suspension seat, fabric covered
Thumb ready stick (Standard in North America)
listofrelationships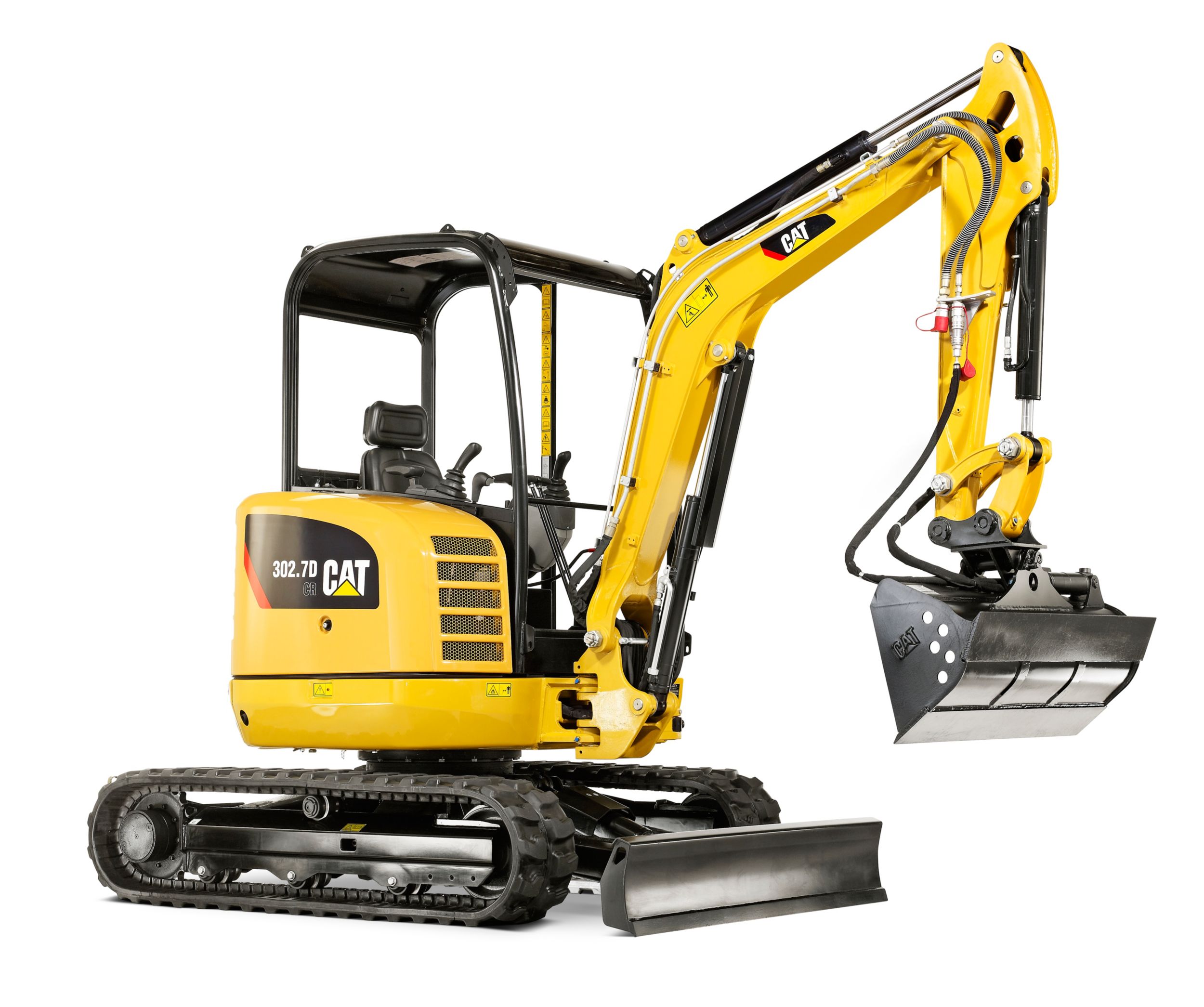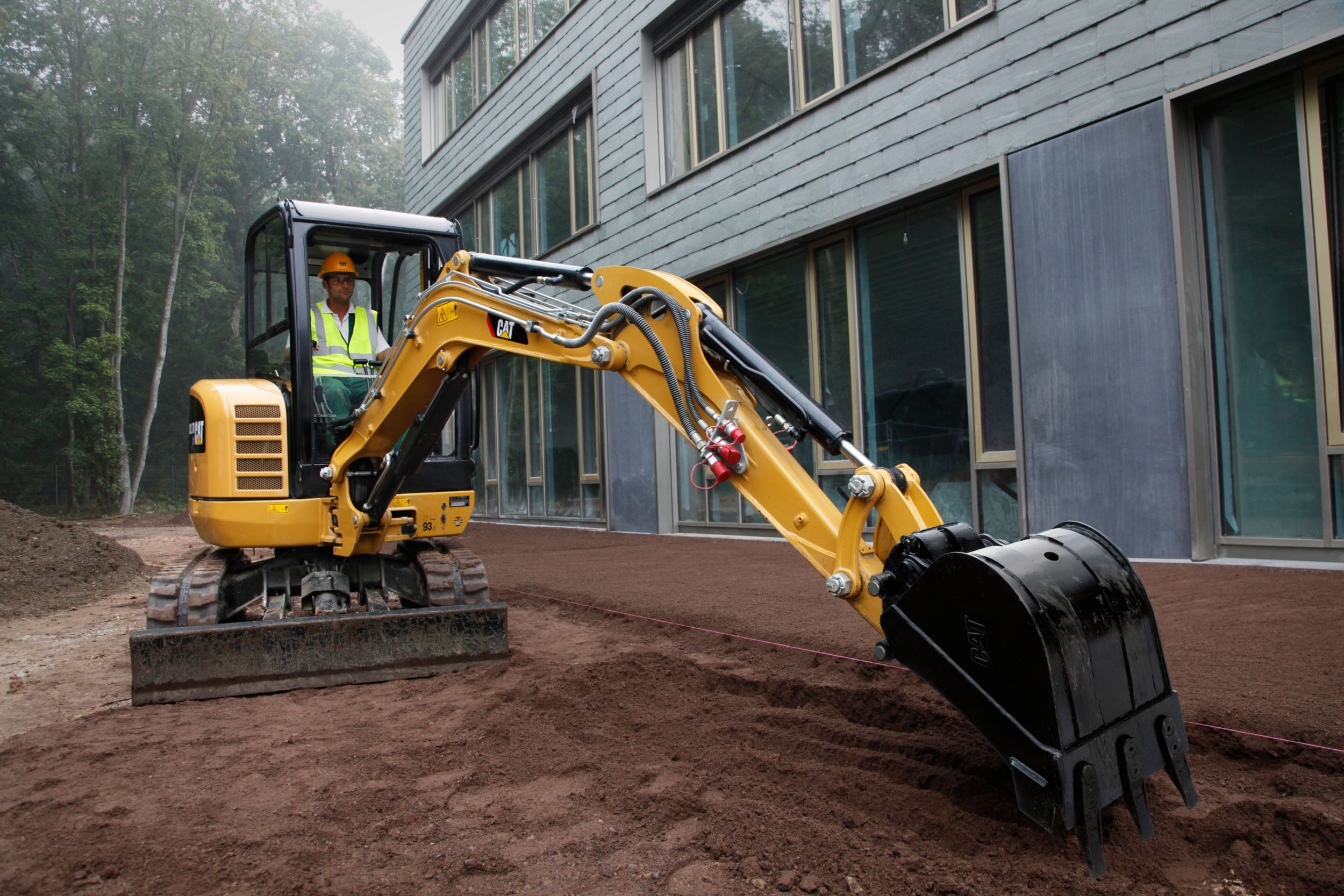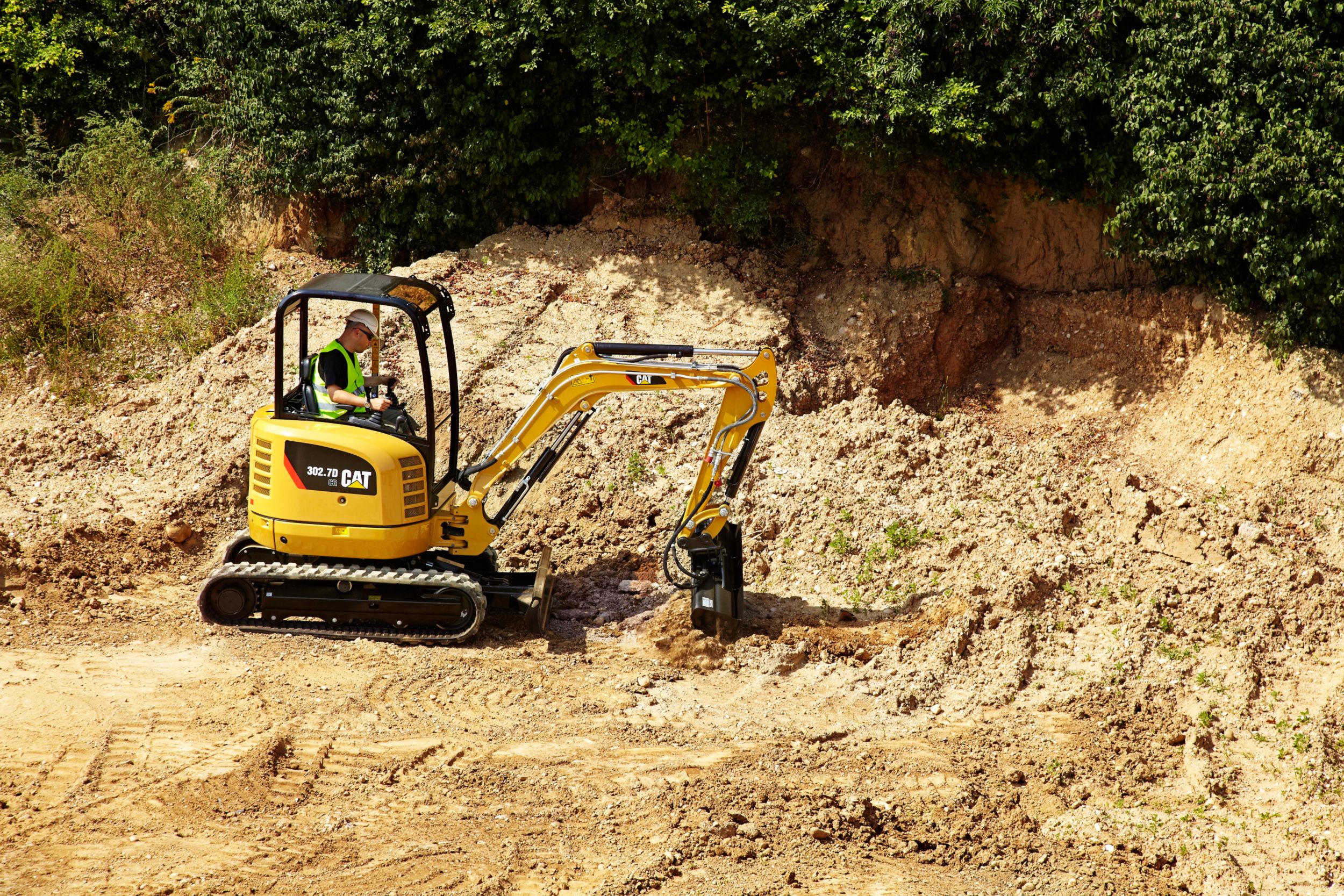 I am interested in this listing