The PM822 is a high-production, highly maneuverable half-lane milling machine that perform controlled full-depth removal of asphalt and concrete pavements in a single pass.
Cutting System
Milling Width
88 in
Maximum Milling Depth
13 in
Rotor Speeds
100 / 109 / 118 rpm
Number of Bits
193
Power Train
Rated Power
800.6 HP
Maximum Travel Speed
3.7 mile/h
Maximum Milling Speed
328 ft/min
Engine
Cat C18
Weights
Operating Weight
80887 lb
Transport Weight
72290 lb
Dimensions
Operating Width
9.27 ft
Maximum Truck Clearance
15.95 ft
Conveyor Swing
60 degrees from center
Height - Canopy
13.29 ft
Transport Height
9.84 ft
Operating Length - Conveyor Up
47.62 ft
Minimum Left Cutting Radius
6.56 ft
Transport Width
8.83 ft
Minimum Right Cutting Radius
5.91 ft
Transport Length
40.79 ft
Service Refill Capacities
Cooling System
27.5 gal (US)
Water Spray System Tank
898 gal (US)
Hydraulic Tank
29.4 gal (US)
Fuel Tank
288.1 gal (US)
Engine Oil
16.9 gal (US)
Information at your fingertips
The touchscreen display provides easy-to-read gauges, function indicators and warning indicators to keep the operator informed of machine operation and vital systems. It also displays video from the optional remote cameras if equipped. An optional second display can provide an additional monitor for machine functions.
Ergonomic Controls
The instrumentation layout has been designed for ergonomic comfort and ease of use. Keypad controls are positioned within easy reach for the operator and are backlit for comfortable low light operation.
Automated Functions
There are several automated functions to simplify operation. The operator's platform has a 'hold' button to stop the machine and pause various functions while making truck interchanges or job stops. It returns to previous working speed and functions when deactivated. There is a speed limit to allow the operating speed to set to ensure consistent operations. The machines are equipped with position sensing cylinders in the posts and hydraulic systems, providing basic machine function improvements such as service height indications and rear leg auto-stop. It also enables the optional Cat Grade Control system to include additional capabilities.
Cat Grade Control Option
The PM822 can be equipped with integrated Cat Grade Control. The 2D-capable/3D-ready grade and slope system automatically controls rotor depth and cross slope to a preset cutting depth, and can be enhanced for full 3D control with the addition of optional equipment. The base system is fully integrated with the machine, providing easier, more precise operation and better system protection. The system can be configured with contacting or non-contacting grade sensors including Cat sonic sensors and mounting hardware, the side plate position or optional inboard ski.
Ground Control Consoles
Ground control consoles are located at every corner of the machine to provide convenient control of select machine functions.
High Visibility
The operator's platform provides excellent visibility around the machine. The platform extends beyond the perimeter of the machine to optimize sight lines. Optional remote cameras can enhance the view to the front and rear of the machine, and optional magnetic mount cameras can be positioned to provide enhanced views to critical areas.
Dual Control Consoles
The operator's platform features dual control consoles to provide optimized, comfortable control from either side of the machine.
Power Sun Canopy Option
The power sun canopy can deploy and retract to a storage position without disrupting operation. When in storage position, it does not impede visibility or operation of the machine. The canopy can be equipped with optional front and rear windscreens that protect the entire width of the operator station.
Suspension Seats Option
Two (2) suspension seats reduce fatigue and allow seated operation. Seats can fold into a storage position that does not impede movement on the operator's platform.
Lockable Storage
A large cabinet provides lockable storage on the operator's platform.
Dust Abatement System Option
The system utilizes a vacuum that pulls dust from the collecting conveyor and the transitional zone between the collecting and loading conveyors. The dust is ejected through the loading conveyor along with the discharge material.
High Manueverability
Advanced steering with four steering modes provide exceptional manueverability for maximum production and precision even in tight spaces.
Grade Control Flexibility
The machine provides many mounting points for sensors, as well as optional Cat Grade Control that is integrated with the machine, providing the ultimate in precision and control.
Cat Diamond Bits Option
Cat Diamond Bits last up to 80 times longer than conventional carbide cutting bits to provide greater production, up to 15% decreased fuel consumption and less wear on the machine.
Dependable Powertrain
A powerful Cat C18 ACERT engine provides 563 kW (755 hp) to a robust propel system with a diagonal cross flow design that provides exceptional traction. The pumps drive opposing track motors, front to back and side to side, to ensure the machine has power across the center of gravity of the machine. In extreme conditions, automatic traction control minimizes slippage by providing more power to tracks that grip.
Automatic Load Control
Automatic Load Control enhances machine productivity while milling. An electronic control module (ECM) continually evaluates engine rpm and controls propel speed as required to maintain peak performance for maximum output.
Loading Conveyor
The loading conveyor provides 60 degrees of swing to the right or left of center to optimize and simplify truck loading. A "boost" feature can temporarily extend the throwing distance, ensuring balanced loading of the material in the truck.
Excellent Access
Large doors provide access to critical components and systems.
Visual Indicators
Visual indicators provide service status at a glance for simple daily maintenance.
Self-Monitoring Systems
Electronic Control Modules (ECMs) monitor machine functions, providing alerts and diagnosis to the operator via the LCD touchscreen displays.
Extended Hydraulic Oil Service Intervals
Extended service intervals increase uptime and production. Hydraulic oil service intervals are 3000 hours without oil sampling, 6000 hours if oil sampling is conducted.
Product Link
Product Link helps you maintain your machine and can provide other useful services such as machine location, hour updates, diagnostic codes and fuel consumption data.
Optional Equipment
Power Sun Canopy
Windscreens for Power Canopy
listofrelationships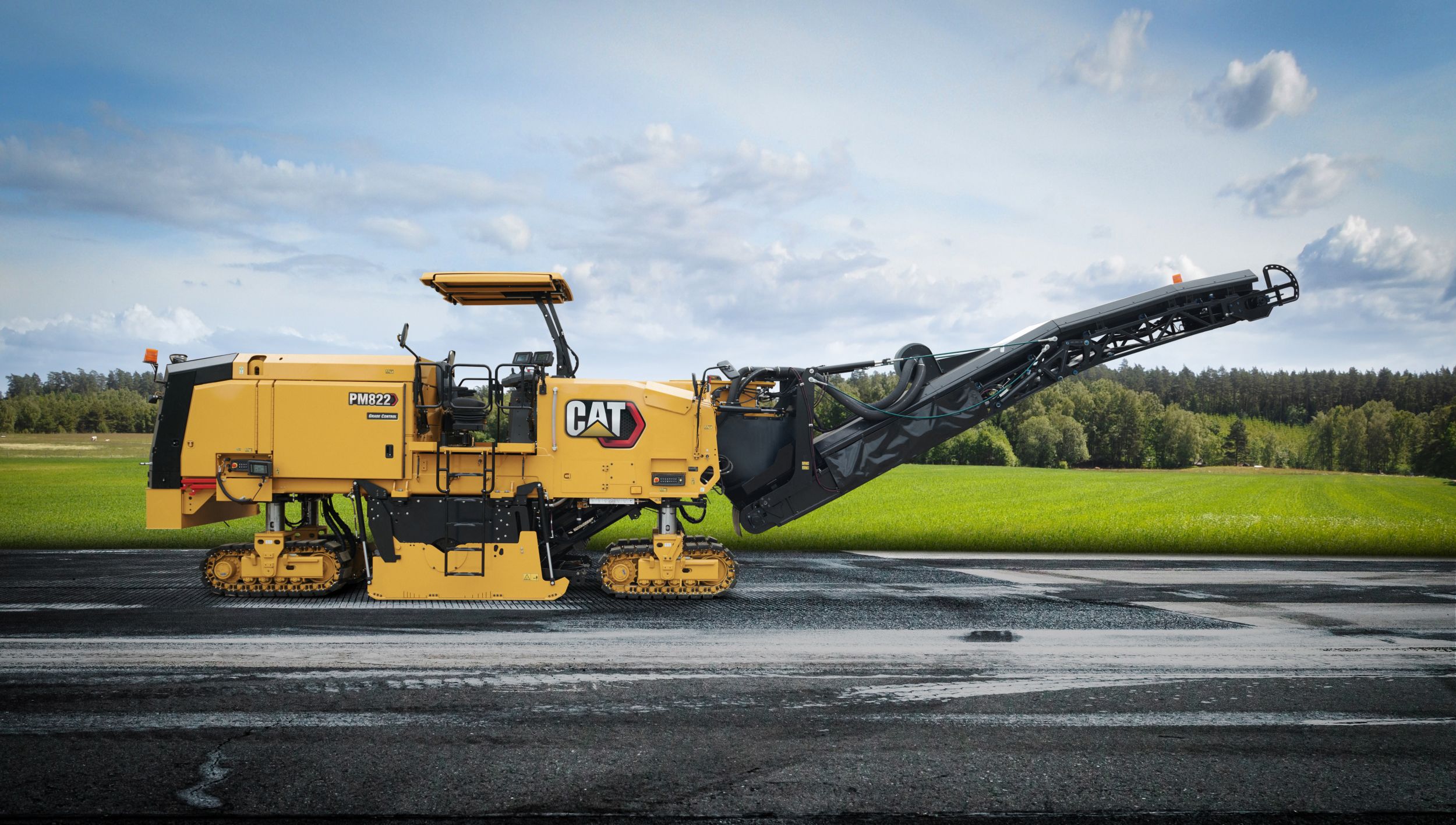 Other Models in this Category
Select Product Category