Cat Wheel Dozers are designed with durability built in, ensuring maximum availability through multiple life cycles. With optimized performance and simplified serviceability, our machines allow you to move more material efficiently and safely at a lower cost per ton. Engineered for your demanding work in large dozing applications, the 854K Wheel Dozer is the largest in the Cat Wheel Dozer line and is an ideal match for large mining operations, power generating utilities, the general contracting industry and wherever mobility, versatility and compaction is needed.
Engine
Engine Model
Cat® C32 ACERT™
Gross Power
907 HP
Emissions (U.S. EPA Tier 4 Final): Gross Power - SAE J1995
900 HP
Emissions (U.S. EPA Tier 4 Final): Net Power ISO - 9249
814 HP
Emissions (Tier 2 Equivalent): Gross Power - SAE J1995
907 HP
Emissions (Tier 2 Equivalent): Net Power ISO - 9249
814 HP
Rated Speed
1750 r/min
Bore
5.7 in
Stroke
6.4 in
Displacement
1958 in²
Peak Torque - 1,200 rpm
3139 lb/ft
Torque Rise
30 %
Note (1)
Net power advertised is the power available at the flywheel when the engine is equipped with fan, air cleaner, muffler and alternator.
Note (2)
Net torque rise meets SAE J139.
Note (3)
No engine derating required up to 3050 m (10,000 ft) altitude.
Weights
Operating Weight
224254 lb
Transmission
Transmission Type
Cat Planetary Power Shift
Converter Drive - Forward 1
4.4 mile/h
Converter Drive - Forward 2
7.7 mile/h
Converter Drive - Forward 3
13.2 mile/h
Converter Drive - Reverse 1
4.8 mile/h
Converter Drive - Reverse 2
8.4 mile/h
Converter Drive - Reverse 3
14.6 mile/h
Direct Drive - Forward 1
Lock-up disabled
Direct Drive - Forward 2
8.1 mile/h
Direct Drive - Forward 3
14.2 mile/h
Direct Drive - Reverse 1
5 mile/h
Direct Drive - Reverse 2
8.9 mile/h
Direct Drive - Reverse 3
15.6 mile/h
Note
Travel speeds based on 45/65-45 L-5 46 ply tires.
Hydraulic System - Lift/Tilt
Output at 1,850 rpm and 6900 kPa (1,000 psi)
161 gal/min
Cylinders, Double Acting - Lift, Bore and Stroke
177 mm × 1760 mm (0.58 ft × 5.8 ft)
Cylinder, Double Acting - Tilt and Tip, Bore and Stroke
267 mm × 286 mm (0.88 ft × 0.94 ft)
Relief Valve Setting - Lift (Large Pump)
3289 psi
Relief Valve Setting - Tilt (Small Pump)
3560 psi
Service Refill Capacities
Fuel Tank - Standard
413 gal (US)
Cooling System
53 gal (US)
Crankcase
32 gal (US)
Transmission
45 gal (US)
Differential - Final Drives - Front
98 gal (US)
Differential - Final Drives - Rear
90 gal (US)
Hydraulic System - Implement and Brakes - Tank Only
81 gal (US)
Hydraulic System - Steering and Engine Cooling Fan - Tank Only
77 gal (US)
Axles
Front
Fixed
Rear
Oscillating at ±10 degrees
Maximum Single-Wheel Rise and Fall
22.6 in
Brakes
Brakes
Meets ISO 3540:2011
Blades
Blade Capacities
25 to 45 m³ (33 to 58 yd³)
Cab
Air Conditioning
Standard air conditioning system contains environmentally friendly R134a refrigerant
Cab - ROPS/FOPS (1)
Cat cab with separate ROPS/FOPS is standard in North America, Europe and Japan.
Cab - ROPS/FOPS (2)
SAE J1040 MAY94, ISO 3471:2008, ISO 3471:2005
ROPS
ROPS meets SAE J1040 MAY94, ISO 3471:2008 and ISO 3471:1994 criteria.
FOPS
FOPS meets SAE J231 JAN81 and ISO 3449:1992 Level II criteria.
Sound Performance (1)
The dynamic operator sound pressure level is 71 dB(A) when ISO 6396:2008 is used to measure the value for an enclosed cab.
Sound Performance (2)
The exterior sound pressure level for the standard machine measured at a distance of 15 m (49.2 ft) is 87 dB(A).
Sound Performance (3)
Hearing protection may be needed when operating with open operator station & cab for extended periods or in noisy environment.
Sound Performance (4)
The operator sound exposure Leq measured according to work cycle procedures specified in ANSI/SAE J1166 FEB08 is 71 dB(A).
Steering
Minimum Turning Radius
31 ft
Total Steering Angle
86 °
Hydraulic Output at 1,850 rpm and 6900 kPa (1,000 psi)
124 gal/min
Relief Valve Setting
5004 psi
Model 854K (Tier 4)
Serial Number Prefix
KK6
Model 854K (Tier 2)
Serial Number Prefix
RM6
Dimensions (Approximate)
Height - Top of ROPS
18.25 ft
Height - Top of Exhaust Pipe
17.17 ft
Height - Top of Hood
13 ft
Ground Clearance
27 in
Centerline of Front Axle to Hitch
9.67 ft
Centerline of Rear Axle to Edge of Bumper
13.75 ft
Wheel Base
19.25 ft
Length - With Blade on Ground
44 ft
Standard Equipment
ELECTRICAL
Alarm, back-up
Alternator (150-amp)
Batteries, low maintenance
Deutsch & Amp Seal terminal connectors
ECM diagnostic connector
Ground level electrical disconnect
Ground level starting receptacle for emergency start
Lighting system, halogen (front and rear)
Lighting, access stairway
Starter, electric (heavy duty)
Starting and charging system (24-volt)
OPERATOR ENVIRONMENT
Advisor display
Air conditioner and heater with automatic temperature control
Cab, sound suppressed, pressurized, rollover protective structure (ROPS/FOPS) Radio ready for (entertainment) includes antenna, speakers, and 1 × 12V converters (24-volt, 10 amp) for use with laptop/cell phone
Cigar lighter and ashtray
Coat hook
Electro-hydraulic tilt and lift control system locks
Heater and defroster
Horn, electric
Implement and steering lockouts
VIMS 3G monitoring system:
– Action alert system, three category
– Instrumentation, gauges:
· Engine Coolant Temperature
· Fuel Level
· Hydraulic Oil Temperature
· Tachometer
· Transmission Gear Indicator
· Transmission Oil Temperature
Light, dome (cab)
Lunchbox and beverage holders
Mirrors, rearview (externally mounted)
Seat belt, retractable, 76 mm (3 in) wide operator and trainer seats
Seat, Cat Comfort (cloth) air suspension
STIC control system
Tinted glass
Wet-arm wipers/washer (front, rear, and corners), intermittent front wipers
POWER TRAIN
Air-to-Air After cooler (ATAAC)
Auto Idle Kickdown
Axle oil coolers (front and rear)
Brakes, fully hydraulic, enclosed, wet multiple disc service brakes and dry parking/secondary brake
Case drain filters
Delayed Engine Shutdown
Demand fan
Electric fuel priming pump
Engine, Cat C32 ACERT
Ground level engine shutdown
Ground level fast fill fuel
Ground level transmission lockout
Ground level starter lockout
Idle Engine Shutdown
Precleaner, engine air intake
Next Generation Modular Radiator (NGMR)
Starting aid (ether), automatic
Throttle lock
Transmission, 533 mm (21 in) planetary, powershift with 3F/3R, electronic control
Venturi Exhaust Stacks
OTHER STANDARD EQUIPMENT
Autolube
Automatic bucket lift/tilt kickouts, electronically adjustable from cab
Bumper service center
Couplings, Cat O-ring face seals
Doors, service access (locking)
Emergency platform egress
Fenders, steel (front and rear)
Grouped hydraulic pressure ports
Guards, power train and crankcase
Hitch, drawbar with pin
Hoses, Cat XT™ and XT-ES
Hydraulic oil cooler
Impeller clutch
Implement and steering ecology drains
Mufflers, under hood
Oil sampling valves
Piston pump case drain filters
Electro-hydraulic blade controls
Product Link™
Service center with ground level electrical and fluids service center
Sight gauges:
– Coolant level
– Implement oil level
– Steering oil level
– Transmission oil level
Starter lockout, bumper
Stairway, left and right rear access
Steering, load sensing
Toe kicks
Transmission lockout, bumper
Vandalism protection caplocks
Windshield cleaning platforms
Venturi Stack
TIRES, RIMS, AND WHEELS
A tire must be selected from the mandatory attachments section. Base machine price includes a tire allowance.
ANTIFREEZE
Premixed 50 percent concentration of extended life coolant with freeze protection to –34° C (–29° F)
Optional Equipment
BLADES
Semi-U – 25.4 m³ (33.1 yd³)
HD Semi-U – 25.4 m³ (33.1 yd³)
Coal – 44.7 m³ (58.2 yd³)
ELECTRICAL
10A converter
HID lights
Object Detection
Rear vision camera
LED strobe warning beacons
OPERATOR ENVIRONMENT
AM/FM/CD/MP3 radio
Cab precleaner
Sirius/USB/Bluetooth Radio
Sun Screen
STARTING AIDS
Engine coolant 120V heater
Engine coolant 240V heater
MACHINE CONTROL AND GUIDANCE
CAES attachment ready option
MISCELLANEOUS ATTACHMENTS
Arctic Antifreeze for protection to –50° C (–58° F)
Diagnostic lines
Roading fenders
listofrelationships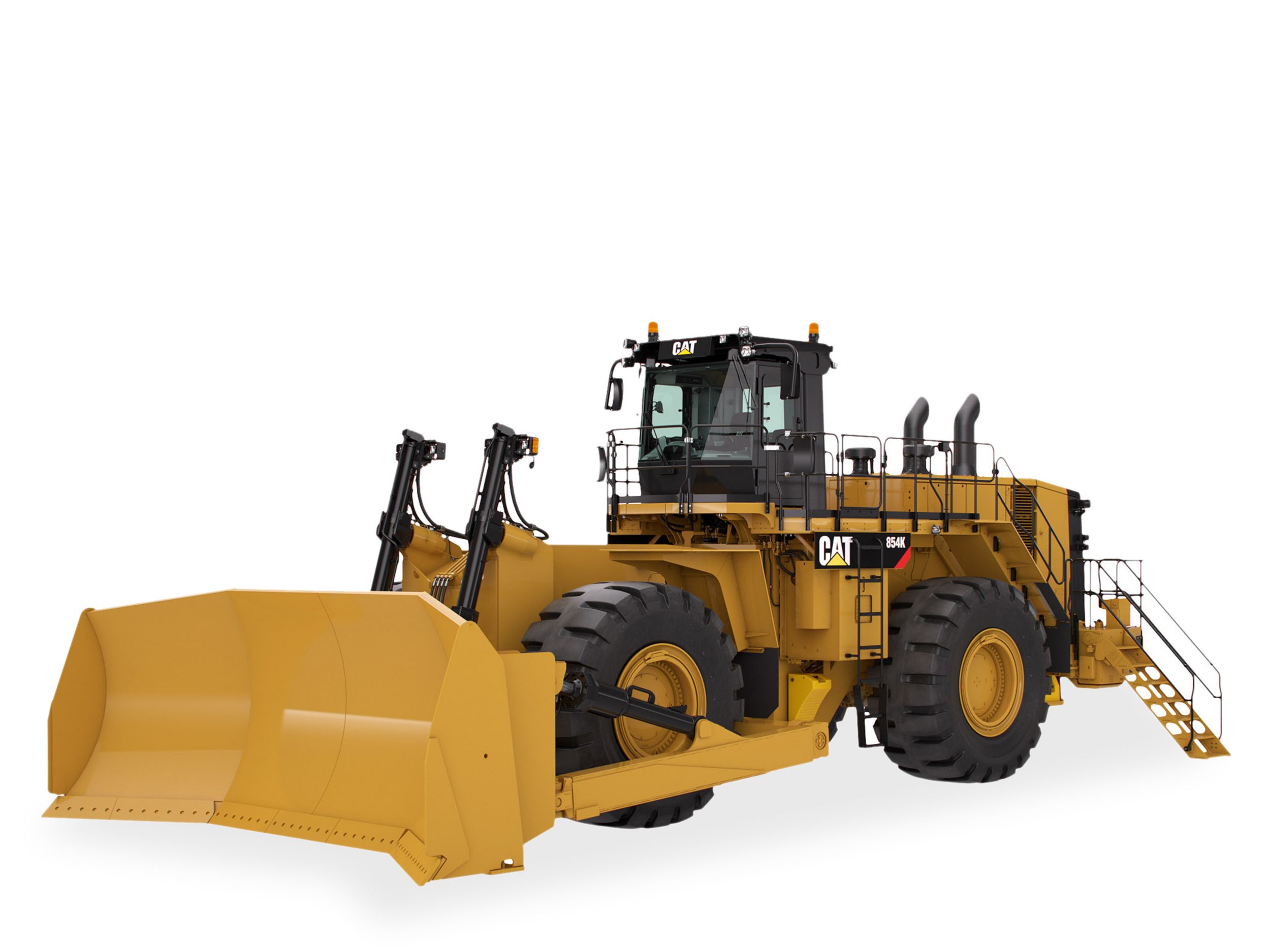 Other Models in this Category
Select Product Category