New | M 25 E Marine Propulsion Engine
The new M 25 E has been designed to completely meet the ultimate customer requirements, providing the lowest cost of operation while maintaining the highest uptime in the industry. Since one engine standard typically does not fit all applications, different M 25 E configurations will be available to support various application-specific requirements. Based on the proven M 25 C, all versions have been extensively optimized for best fuel consumption and load acceptance, leading reliability and durability, and efficient Selective Catalytic Reduction (SCR) operation. The service and maintenance-friendly design, remote condition monitoring and diagnostic capabilities, as well as our unmatched global product support, respond to the industry's desire to lower operational costs and down times beyond today's standards.
Power Rating
Power Range
2100-3150 kW
Engine Specifications
Speed Range
720-750 rpm
Emissions
IMO II / IMO III with SCR
Aspiration
Turbocharged
Bore
10 in
Stroke
15.78 in
Rotation from Flywheel End
Counterclockwise/Clockwise
Configuration
Inline 6,8,9 Cylinder
Swept Volume
1244.89 in³
Dimensions & Weights
Minimum Dry Weight
46738 lb
Minimum Length
190.6 in
Maximum Length
241.3 in
Minimum Height
133.3 in
Maximum Height
152 in
Minimum Width
81.9 in
Maximum Width
87.8 in
For Imo Iii Emissions The Mak M 25 E Is Delivered With A Scheme A Factory Certified Scr Solution And A Factory Eiapp Certificate, Simplifying Installation And Commissiong Work Significantly. Caterpillar's Scr Technology Minimizes Total Cost Of Ownership By Cutting The Diesel And Urea Expenses By Offering The Lowest Total Fluid Consumption At Optimized Engine And Scr Life Time.
5% More Power, Leading Load Response
A Typical Offshore Supply Vessel Operator Can Save Up To $ 250,000 Per Year In Fuel Cost.The Part Load Efficiency Of One M 25 E Can Save Up To 40 Tons Of Fuel Per Year In A Variable Speed Application (average 60% Load). Low Load Variable Speed Capability Can Save 50– 60 Tons Per Year Versus Constant Speed Applications (average 20–25% Load).
Unmatched Reliability Based On The Proven Mak M 25 C So You Always Get Home Safely, Even In The Worst Conditions.
Extended Times Between Overhauls To Reduce Lay-Days For Maintenance.
Combined With Propellers Designed And Optimized For Vessels' Normal Cruise Speed, The Part Load Optimized M 25 E Is Developed For Vessels Where Maximum Engine Power Or Propeller Thrust Is Only Required For A Fraction Of The Operation Time. Operational Cost Benefits Are Achieved By Operating Propellers And Engines At Best Points Of Efficiency.
The New Monitoring Alarm And Control System (macs) From Caterpillar Provides Additional Functionality Regarding Engine Control, Diagnostics, And Remote Monitoring, Including The Option To Extend The Features To Engine Related Systems Like Scr's (selective Catalytic Reduction) Where Customers Have Elected To Reduce Nox Related Taxes Or Harbor Fees.
Standard Equipment
Air Inlet System
Air intake silencer / filter
Control System
Load sharing unit (for multiple engine plant only)
Modular alarm control and protection system (MACS)
Serial link interface (MODbus / canbus)
Speed governor
Cooling System
Electrical cooling water preheater
HT cooling water pump (engine driven)
2-stage charge air cooler
Exhaust System
Exhaust gas expansion joint
Exhaust gas insulated manifolds
Turbocharger at flywheel end
Fuel System
Fuel circulating pump (attached / MGO/MDO only)
Fuel indicator filter
Fuel pressure valve (attached / MGO/MDO only)
Instrumentation
Local control panel
Pressure and temperature indicator
Lube System
Dry sump
Lube oil plate cooler (separate)
Lube oil pump (engine driven)
Lube oil self-cleaning filter
Pressure regulating valve
Mounting System
High flexible coupling
Rigid mounting
Starting System
Electrical barring device
Starting air valve
General
Lifting device (rental)
Torsional Vibration Calculation (TVC)
Optional Equipment
Air Inlet System
Air inlet shut-off valve
Air intake transition piece
Expansion joint
Silencer / filter
Control System
Air injection control (for better load acceptance)
Electronic speed governor
Engine alarm system
Remote control system
Remote indicators (start air pressure, engine speed, etc.)
Starter for electric driven pumps
24 DC UPS
Cooling System
FW/SW plate cooler
HT cooling water pump (electric driven)
LT cooling water pump (electric driven)
Sea water cooling pump (electric driven)
Steam / thermal oil cooling water preheater
Temperature control valve
Exhaust System
Silencer (with or without spark arrester)
Turbocharger at counter-flywheel side
Fuel System
Fuel oil cooler
HFO final preheater
HFO pressure regulating valve
HFO self-cleaning automatic filter
HFO supply and booster pumps (electrical driven)
HFO treatment and supply modules
HFO viscosity control device
Mixing tank
Lube System
Lube oil centrifuge
Lube oil pump (electrical driven)
Lube oil treatment and combined modules
Pre-lubricating oil pump (electrical driven)
Temperature control valve
Wet sump with dip stick
Mounting System
Flexible pipe connections
Resilient mounting
Starting System
Starting air compressor
Starting air receiver
General
Cat Propulsion Systems
Engine PTO coupling
Part load optimzation kit for constant speed engine (SFOC improvement, smoke reduction,...)
Part load optimization kit for variable speed engine (massive SFOC improvement,...)
PTO alternator
PTO shaft on counter-flywheel side
Reduction gear
Reduction gear PTO coupling
listofrelationships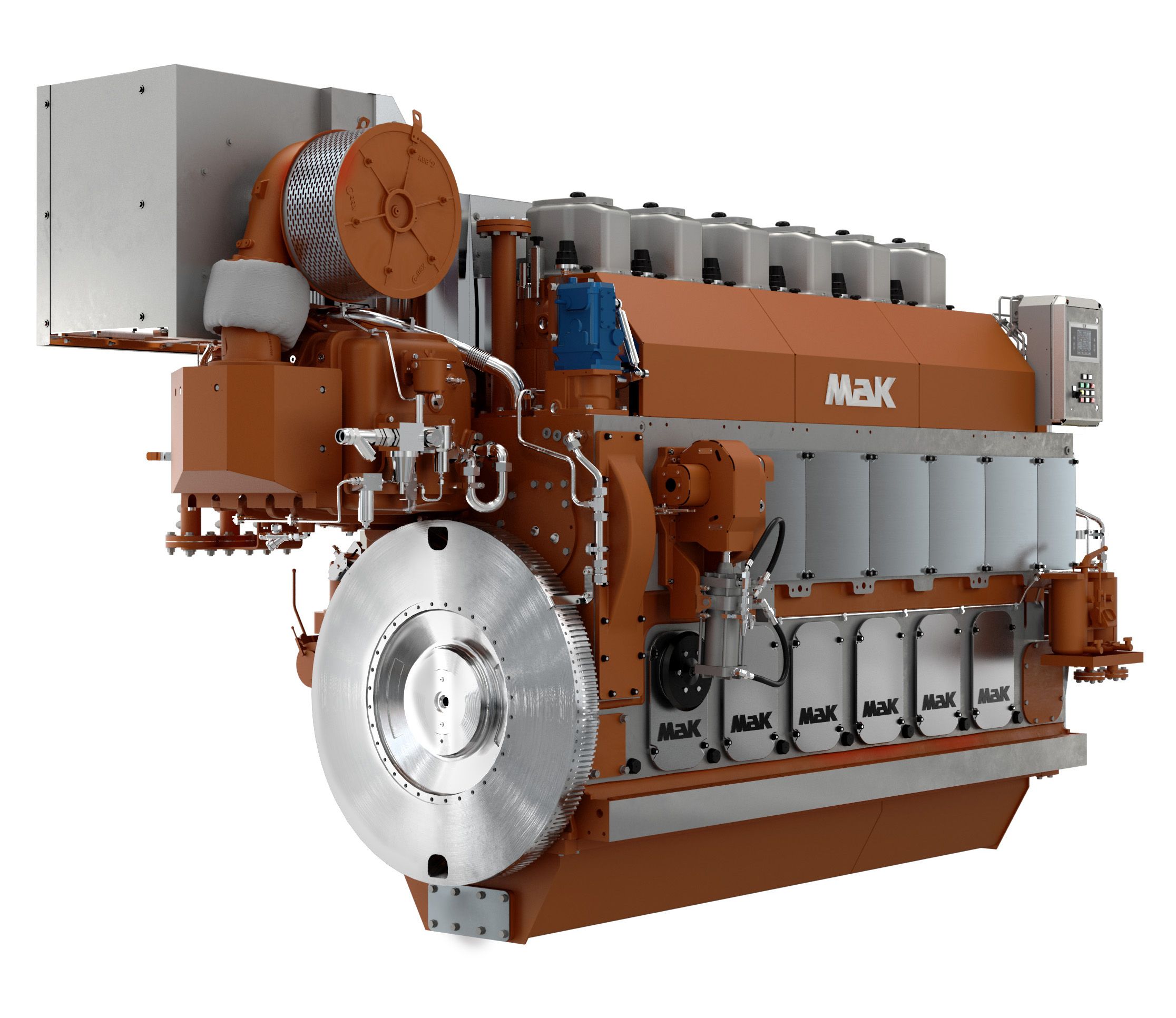 Other Models in this Category
Select Marine Power System Type