New | VM 32 E Marine Generator Set
The VM 32 E is available as a generator set with a new "flexibly-mounted engine on base frame" design and a wet oil sump solution with a resilient mounting for generator set applications without base frame. In this design, the engine is resiliently mounted on the base frame with conical mounts. The base frame itself is reduced in weight and height to make transport and handling during the installation phase easier. Last but not least, the ship's weight and design will benefit from the lower weight and the smaller dimensions for its entire lifetime, especially on smaller ship applications. The generator is mounted on non-resilient adjustable spacers, which is the most economical way to establish a perfect mounting plane and allows an easy realignment of the generator. As the wet oil sump, the reduced vibration levels will help the crew sleep well during their off shift while the engine is running.
Generator Set Specifications
Minimum Rating
6099 kWe (7632 kVA)
Maximum Rating
8593 kWe (10752 kVA)
Emissions/Fuel Strategy
IMO II
Engine Specifications
Configuration
12,16 Cylinder
Bore
10 in
Stroke
15.78 in
Swept Volume
1244.88 in³
Generator Set Dimensions and Weights - Dependent on Generator Type
Length
10703 mm - 12149 mm (421.4 in - 478.3 in)
Width
3526 mm (138.8 in)
Weight
120.0 t - 140.0 t (264554 lbs - 308647 lbs)
Height
4639 mm (182.6 in)
Ease of installation
Part load optimization kit (PLK) for constant speed available.
Flexible Camshaft Technology (FCT) allows lower SFOC at part load area.
Technically lower risk – application of existing technology
Standard Equipment
Air Inlet System
Air intake silencer / filter
Control System
Protection system (external cabinet)
Serial link interface (MODbus / canbus)
Speed governor
Cooling System
Electric cooling water preheater
HT cooling water pump (engine driven)
2-stage charge air cooler
Exhaust System
Exhaust gas expansion joint
Exhaust gas insulated manifolds
Turbocharger at counter-flywheel end
Fuel System
Fuel circulating pump (electric driven / for MDO/MGO only)
Fuel indicator filter
Fuel pressure valve (separate / for MDO/MGO only)
Instrumentation
Control push buttons and lamps
Emergency stop lever
Local control panel
Pressure and temperature indicator
Lube System
Engine with dry sump
Lube oil plate cooler (separate)
Lube oil pump (engine driven)
Lube oil safety filter
Lube oil self-cleaning filter (separate)
Oil sump in base frame
Pre-lubricating oil pump (electr. Driven/fitted on base frame)
Pressure regulating valve
Mounting System
Engine resiliently mounted on base frame, base frame mounted rigidly
Flexible pipe connections
High flexible coupling
Starting System
Electrical barring device
Starting air valve
General
Engine, flexible coupling and generator mounted on a common base frame
Flywheel cover
Lifting device (rental)
Torsional Vibration Calculation (TVC)
Optional Equipment
Air Inlet System
Air inlet shut-off valve
Air intake transition piece
Expansion joint
Silencer / filter
Control System
Electronic speed governor
Engine alarm system
Remote indicators (start air pressure, engine speed, etc.)
Starter for electric driven pumps
24 DC UPS
Cooling System
CW piping for generator cooling on base frame
CW piping for lubricating oil cooler on base frame
FW/SW plate cooler
HT cooling water pump (electric driven)
LT cooling water pump (electric driven)
Sea water cooling pump (electric driven)
Temperature control valve
Exhaust System
Silencer (with or without spark arrester)
Fuel System
Fuel oil cooler
HFO final preheater
HFO pressure regulating valve
HFO self-cleaning automatic filter
HFO supply and booster pumps (electrical driven)
HFO treatment and supply modules
HFO viscosity control device
Mixing tank
Lube System
Lube oil centrifuge
Lube oil pump (electrical driven)
Lube oil treatment and combined modules
Temperature control valve
Mounting System
Resilient mounting on base frame
Starting System
Starting air compressor
Starting air receiver
General
Generator customer supply
listofrelationships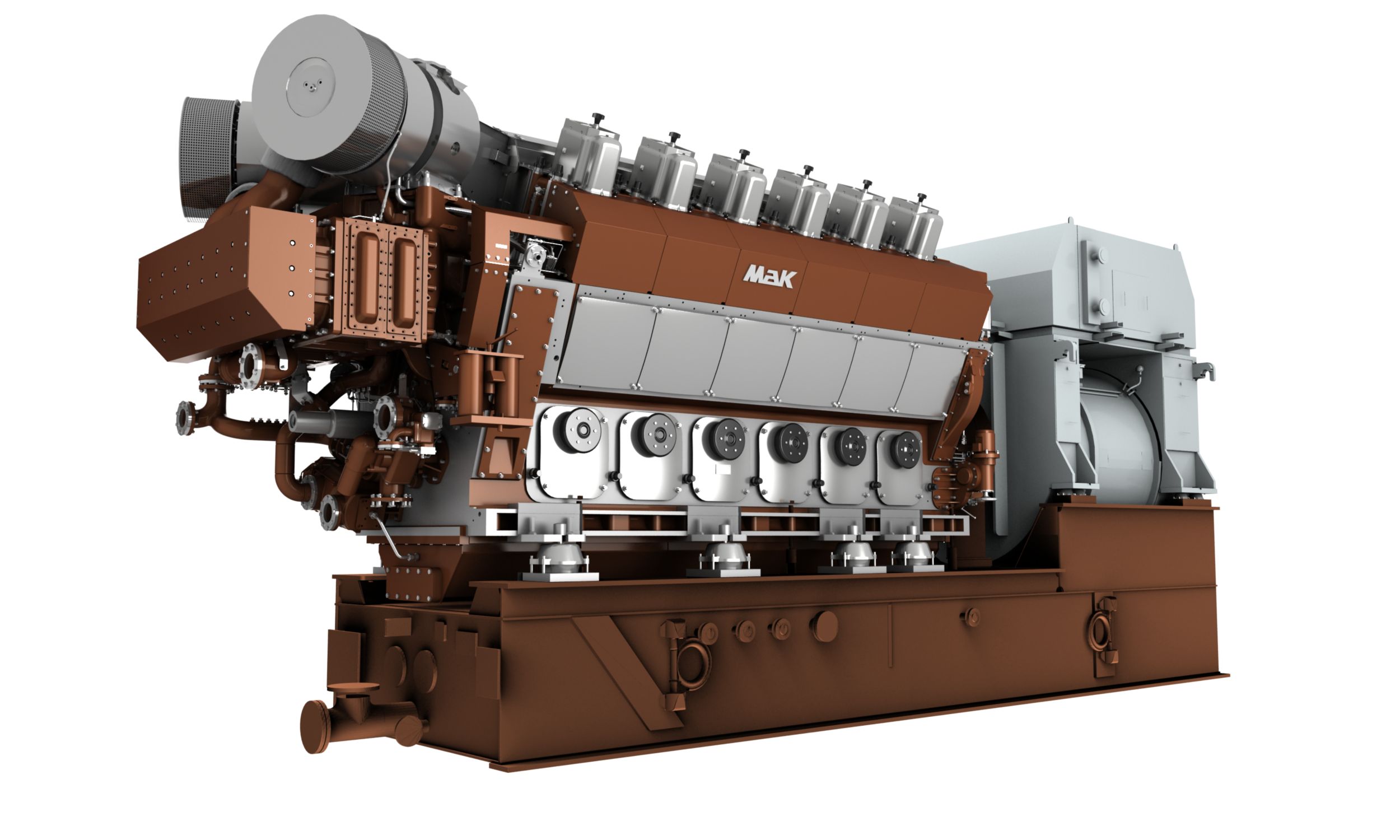 Other Models in this Category
Select Marine Power System Type