New | Cat® C4.4 Marine Generator Set
Cat® C4.4 Diesel Marine Generator Set has three phase ratings of 50 Hertz at 38.0, 51.5, and 69.0 ekW with heat exchanger cooling and at 36.0, 49.0, and 65.0 ekW with radiator cooling that meet EU CCNR2 emissions standards. The C4.4 also has three phase ratings of 60 Hertz at 44.0, 58.5, 76.0, and 99.0 ekW with heat exchanger cooling and of 42.0, 56.0, 72.0, and 95.0 ekW with radiator cooling. C4.4 gen set is available in 12 or 24 volt as an open gen set or as an enclosed package. Single-side servicing improves ease of maintenance and lowers overall owner operating costs. The compact package size is ideal for a wide range of commercial and pleasure craft applications. These ratings also have Marine Classification Society approved packages available.
Generator Set Specifications
Minimum Rating
36.0R ekW (45 kVA)
Maximum Rating
99.0 ekW (123 kVA)
Frequency
50 Hz or 60 Hz
Speed
1500 rpm or 1800 rpm
Emissions/Fuel Strategy
EPA Tier 2 (60 Hz), EU 97/68EC Stage II (50 Hz)
Engine Specifications
Engine Model
In-line 4, 4-Stroke-Cycle Diesel
Aspiration
NA, T, TA
Bore
4.13 in
Stroke
5 in
Displacement
269 in³
Governor Type
Electronic
Generator Set Dimensions
Length
68.9 in
Width
47.8 in
Height
39.4 in
Weight
805 kg (1775 lb) - 1015 kg (2338 lb)
Generator Specifications
Excitation
Separately excited from auxiliary winding to provide 300% short circuit current up to 10 seconds
Pitch
2/3
Number of Leads
12 lead reconnectable
Insulation
Class H
IP Rating
IP23 water protection (IP44 available for certain models, contact your dealer for information)
Voltage Regulator
Solid state voltage regulator with integral voltage adjustment potentiometer
Low Owning And Operating Costs With Competitive Pricing, Longlife Construction, And Extended Service Intervals
Plug And Play Remote Instrument Panels
Low Emission, Noise, And Vibration Levels; 60 Hz Meets Epa Tier 2, 50 Hz Meets Eu 97/68ec Stage Ii Regulations
Automatic Shutdowns For Overspeed, High Fresh Water Temperature, Low Engine Oil Pressure, And High Exhaust Temperature (when Fitted With A Wet Exhaust System).
Available As An Open Set Or With Sound Attenuated Enclosure, And With Radiator-, Heat Exchanger-, Or Keel-Cooled Options
Suitable For Sophisticated On-Board Equipment (computers, Etc.)
Reduced Service Costs And Port Time
Standard Equipment
Air Inlet System
Air cleaner, single element canister type w/ service indicator and rain cap
Dry insulated turbocharger (DIT and DITA models only)
Glowplug cold start system
Cooling System
Heat exchanger cooled packages w/ Cupro-nickel tube bundle (sized for 50 o C ambient air and 32 o C sea water) or Keel cooled packages (sized for 50 o C ambient air)
De-aeration expansion tank
Plate-type engine oil cooler
Gear driven centrifugal jacket water pump
Gear driven self priming sea water pump
Caterpillar Extended Life Coolant (heat exchanger cooled packages)
Exhaust System
Dry insulated turbocharger
Water-cooled exhaust manifolds
Fuel System
Primary fuel filter / water separator w/ NPT and BSP connectors (ship loose)
Secondary fuel filter (LH)
Fuel priming pump electric
Energize to run shutoff solenoid
Generator
12 lead reconnectable
3 phase all models
Brushless
Separately excited from auxiliary winding to provide 300% short circuit current up to 10 seconds
2/3 pitch
Broad voltage band
IP23 water protection
Solid state voltage regulator w/ integral voltage adjustment potentiometer
Class H insulation
Connection poles
Lube System
Lubricating oil
Oil filter (LH)
Dipstick (LH)
Fumes disposal (closed system)
Mounting System
Steel base frame with drip pan
Anti-vibration mounts
Starting/Charging System
Negative isolated ground electric system
General
Single side service (LH)
Keel cooled gensets do not include the keel cooler(s)
Optional Equipment
Space heater kit
listofrelationships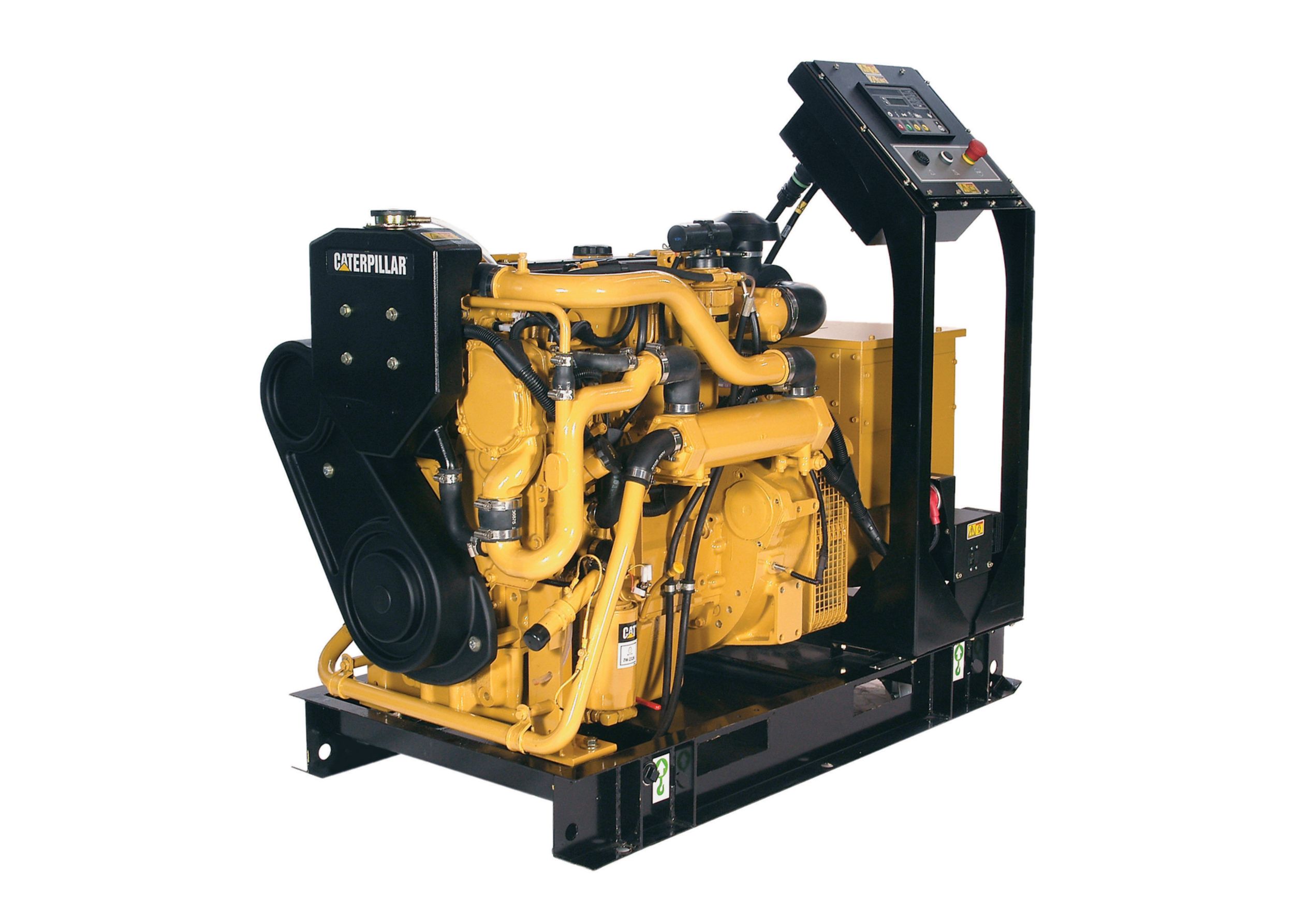 Other Models in this Category
Select Marine Power System Type