New | M 20 C Marine Propulsion Engine
Developed and designed in response to special requirements of marine applications, the M 20 C is characterized by high reliability and economy. These features help to explain the continued high market demand for the M 20 C. The long-stroke design principle is the backbone of an excellent combustion process with low fuel and lubricating oil consumption, as well as low NOx emission. The M 20 C engine is SOLAS compliant. Its intelligent simplicity means high functional integration of fewer components. Fewer components mean greater reliability and easier maintenance. Overall, this leads to outstandingly low operating costs and rapid returns on investment. Reliability and ease of maintenance are convincing arguments in favor of the engines of this series.
Power Rating
Power Range
1020-1800 kW
Engine Specifications
Speed Range
900-1000 rpm
Emissions
IMO II / IMO III with SCR
Aspiration
Turbocharged
Bore
7.87 in
Stroke
11.81 in
Rotation from Flywheel End
Counterclockwise/Clockwise
Configuration
Inline 6,8,9 Cylinder
Swept Volume
573.62 in³
Dimensions & Weights
Minimum Dry Weight
24030 lb
Minimum Length
159.4 in
Maximum Length
203.8 in
Minimum Height
92.3 in
Maximum Height
110.1 in
Minimum Width
62.6 in
Maximum Width
68 in
For Imo Iii Emissions The Mak M 20 C Is Delivered With A Scheme A Factory Certified Scr Solution And A Factory Eiapp Certificate, Simplifying Installation And Commissiong Work Significantly. Caterpillar's Scr Technology Minimizes Total Cost Of Ownership By Cutting The Diesel And Urea Expenses By Offering The Lowest Total Fluid Consumption At Optimized Engine And Scr Life Time.
The M 20 C Is An Engine With A High Safety Level. This Applies Not Only To Those Special Internal Design Features Which Guarantee Long Component Life And High Availability But Also To Safety In The Area Around The Engine. As A Result, Solas Regulations Are Strictly And Consistently Observed. Explosion Protection Cover For The Cylinder/Crankcase Housing And Cladding Of The Complete Fuel And Exhaust Gas System In Stainless Steel Are Part Of An Overall Solas Safety Concept.
Long Maintenance Intervals And The Life Of Components Are The Basis For Low Operating Costs.
The Engine Is Marketed With A Standardized Range Of Installed Pumps And Filters. Inter Faces For Fuel, Lubricating Oil And Cooling Water Systems Are Located At The Opposite End To The Crankshaft Coupling For Ease Of Connection.
The Complete Diesel Generating Set Is Notable For Its Ease Of Installation, Reliable Operation, Ease Of Maintenance And Good Component Accessibility. The Basis Is Formed By The Rigid Base Frame As Foundation Of The Engine And Alternator With Integrated Oil Sump, Large Oil Volume And Universal Equipment For Both Hfo And Mdo Operation.
System Responsibility And Supply From A Single Source, Accurately Matched Interfaces, Coordinated Delivery Data Control
Standard Equipment
Air Inlet System
Air intake silencer / filter
Control System
Load Sharing Unit (for multiple engine plant only)
Protection panel (emergency stop, override, reset push buttons)
Protection System
Serial Link Interface (MODbus RTU/canbus)
Speed governor
Start/Stop panel
Cooling System
Charge air cooler
Electronic cooling water preheater
HT cooling water pump (engine driven)
LT cooling water pump (engine driven)
Exhaust System
Exhaust gas expansion joint
Exhaust gas insulated manifolds
Turbocharger at flywheel side
Fuel System
Fuel circulating pump (attached / for MDO/MGO only)
Fuel indicator filter
Fuel pressure valve (separate / for MDO/MGO only)
Instrumentation
Control push buttons and lamps
Emergency stop lever
Local Control Panel
Pressure and temperature indicator
Lube System
Dry sump
Lube oil cooler
Lube oil pump (engine driven)
Lube oil self-cleaning filter
Pressure regulating valve
Mounting System
High flexible coupling
Rigid mounting
Starting System
Air starting motor
Manual barring device
General
Lifting device (rental)
Torsional Vibration Calculation (TVC)
Optional Equipment
Air Inlet System
Air inlet shut-off valve
Air intake transition piece
Expansion joint
Silencer / filter
Control System
Electronic speed governor
Engine alarm system
Remote control system
Remote indicators (start air pressure, engine speed, etc.)
Starter for electroc driven pumps
24 DC UPS
Cooling System
FW/SW plate cooler
HT cooling water pump (electric driven)
LT cooling water pump (electric driven)
Sea water cooling pump (electric driven)
Steam / thermal oil cooling water preheater
Temperature control valve
Exhaust System
Silencer (with or without spark arrester)
Turbocharger at counter-flywheel side
Fuel System
Fuel oil cooler
HFO treatment and supply modules
HFO supply and booster pumps (electrical driven)
HFO self-cleaning automatic filter
HFO pressure regulating valve
HFO final preheater
HFO viscosity control device
Mixing tank
Lube System
Lube oil centrifuge
Lube oil pump (electrical driven)
Lube oil treatment and combined modules
Pre-lubricating oil sump (electrical driven)
Wet sump
Mounting System
Flexible pipe connections
Resilient mounting
Starting System
Starting air receiver
Starting air compressor
General
Cat Propulsion Systems
Engine PTO coupling
PTO alternator
PTO shaft on counter-flywheel side
Reduction gear
Reduction gear PTO coupling
listofrelationships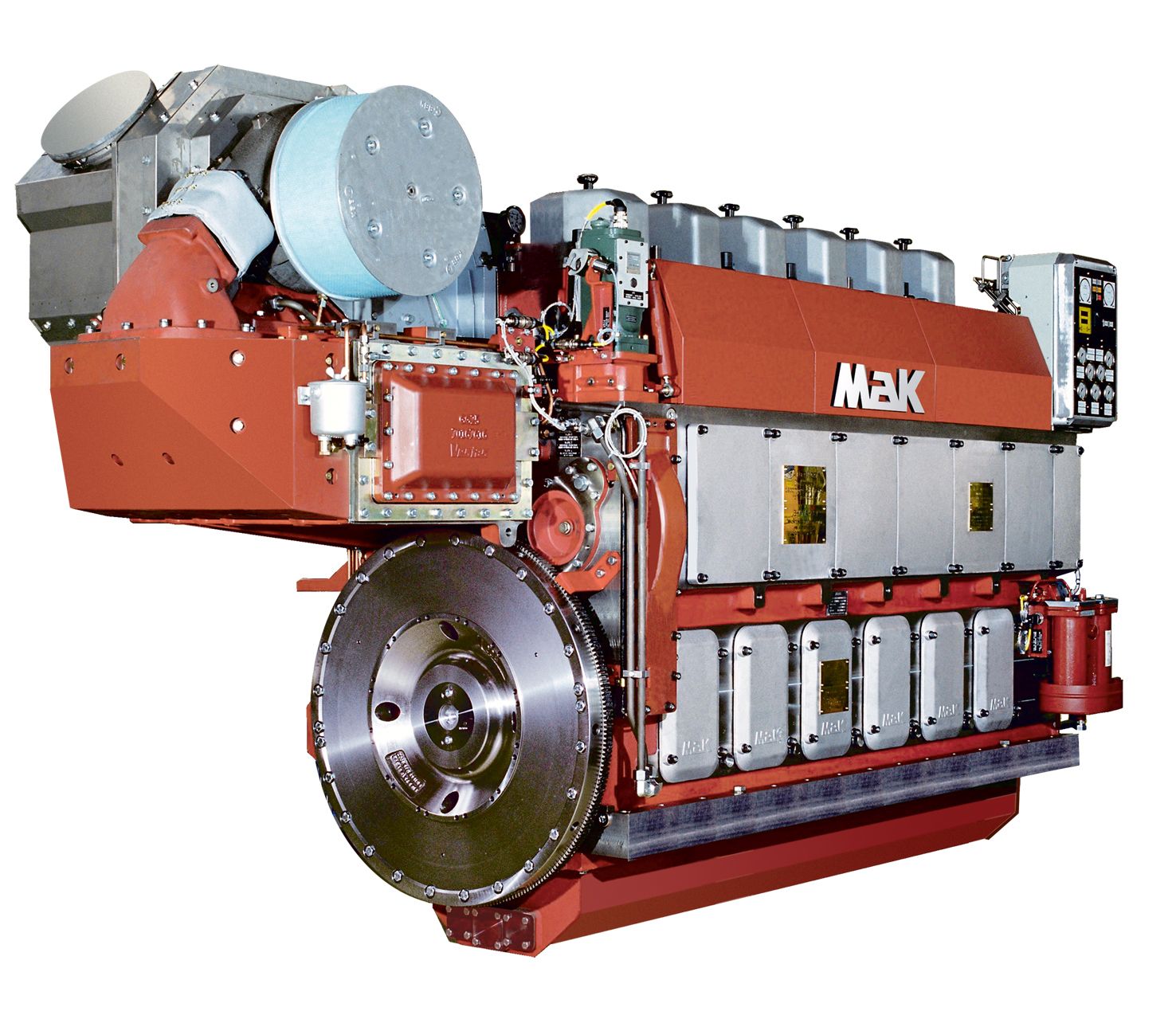 Other Models in this Category
Select Marine Power System Type