C4.4 (Electronic)
C4.4 (Electronic Control System)
For unique applications requiring a custom approach - Caterpillar marine Generator Set engines provide the power you work with and live by. So everything about them is built to help you do your job, whether that means bringing in a catch or cargo, or simply providing a pleasurable day on the water.
DESCRIPTION
C4.4 (Electronic Control System)
Easy to use
• Simplicity = Reliability
• Configure the engine how you want it
• Compact engine profile with high power density
• Ease of repower with multiple cooling system options: Single circuit keel cooling /Separate circuit keel cooling / Heat exchanger
• Clean, smooth, and quiet operations
• Advanced fuel system provides excellent fuel consumption and low smoke
• Proven core engine design with millions of operating hours
• Fewer maintenance touchpoints and longer service intervals
• Global dealer network for unparalleled support
Standard Equipment
Optional Equipment
Specs
Docs
Optional Equipment
GENERAL

MGGP 200 Gauge Panel and interface harness
Engine shutdown sensors and shutdown controller
Double wall high pressure fuel lines
EMCP engine control panel
MGCP II engine control panel
AC Voltage Monitoring
Glow plugs
Factory installed generator space heater kit
MCS Certifications
Specs
Long Name:
C4.4 (Electronic Control System)
Power Range
65/75/99/118 ekW @ 1800 rpm (60 Hz), 65/80/99 ekW @ 1500 rpm (50 Hz)
Emissions
U.S. EPA Tier 3 certified, EU Stage V certified
Configuration
In-line 4, 4-stroke-cycle diesel
Rated Engine Speed
1500/1800 rpm
Displacement
268 in³ / 4.4 l
Aspiration
Turbocharged-aftercooled and turbo only aspiration (Turbocharged aspiration only for 65ekW (71bkW))
Governor
Electronic (A5 ECM)
Refill Capacity
Lube Oil System w/Oil filter change: 11 L 2.8 gal)
Oil Change Interval
500 hrs
Cooling
Heat exchanger, combined circuit keel cooling, or separate circuit keel cooling
Flywheel Housing
SAE No. 03 with SAE 11.5 flywheel (126 teeth)
Maximum Length
80.2 in / 2037 mm
Maximum Height
78.7 in / 1999 mm
Maximum Width
38.3 in / 986 mm
Maximum Engine Dry Weight
3389 lb / 1537 kg
SEE HOW C4.4 (Electronic) COMPARES AGAINST FREQUENTLY COMPARED PRODUCTS.
Marine Generator Sets
C4.4 (Electronic)
Brand

Cat

Status

Current

Bore

4.13 in / 105 mm

Stroke

5 in / 127 mm

Displacement

268 in³ / 4.4 l

Aspiration

Turbocharged-aftercooled and turbo only aspiration (Turbocharged aspiration only for 65ekW (71bkW))
Marine Generator Sets
C4.4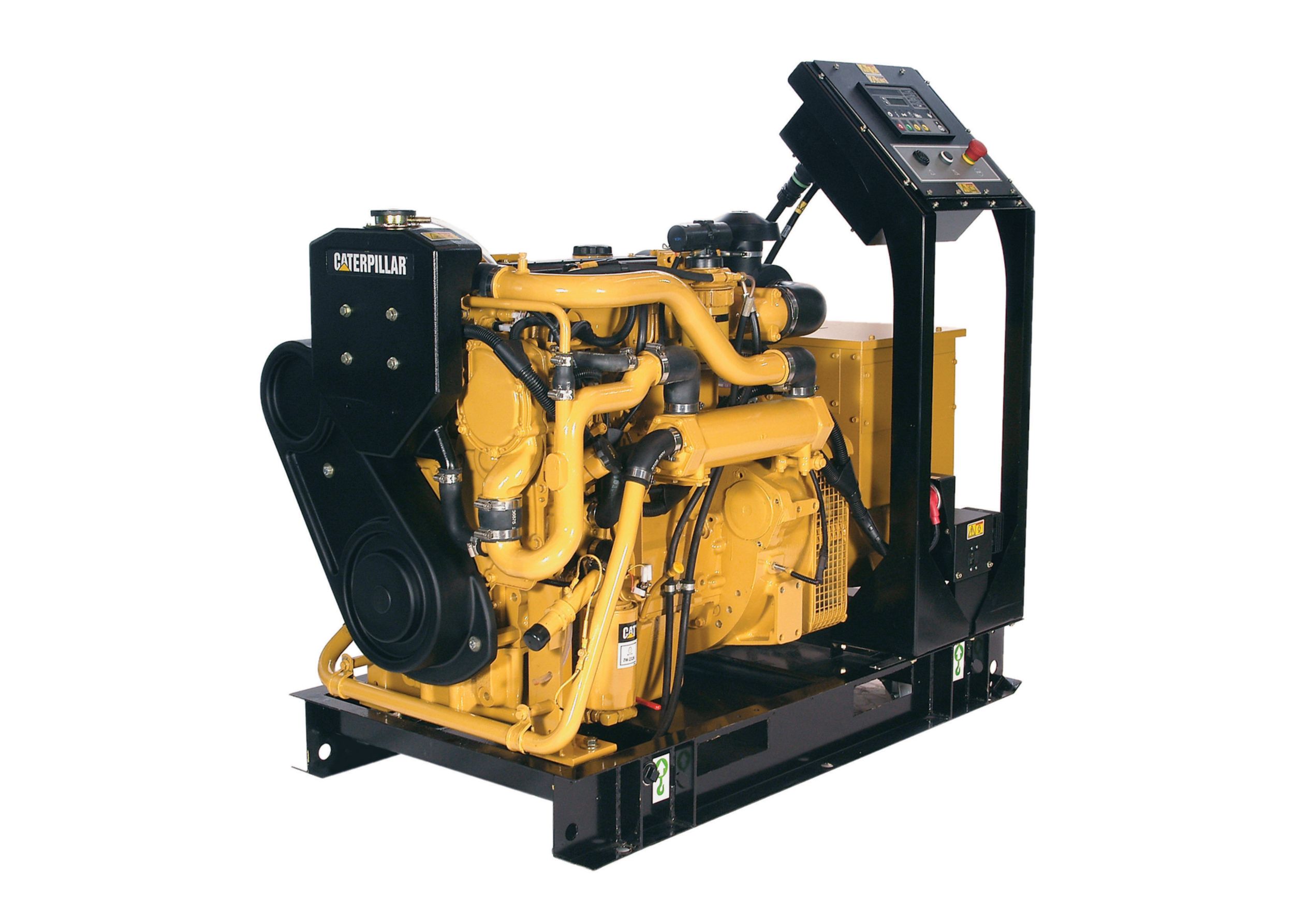 Brand

Caterpillar

Status

Current

Bore

4.13 in / 105 mm

Stroke

5 in / 127 mm

Displacement

269 in³ / 4.4 l

Aspiration

NA, T, TA
Marine Generator Sets
C7.1 (Electronic Control System)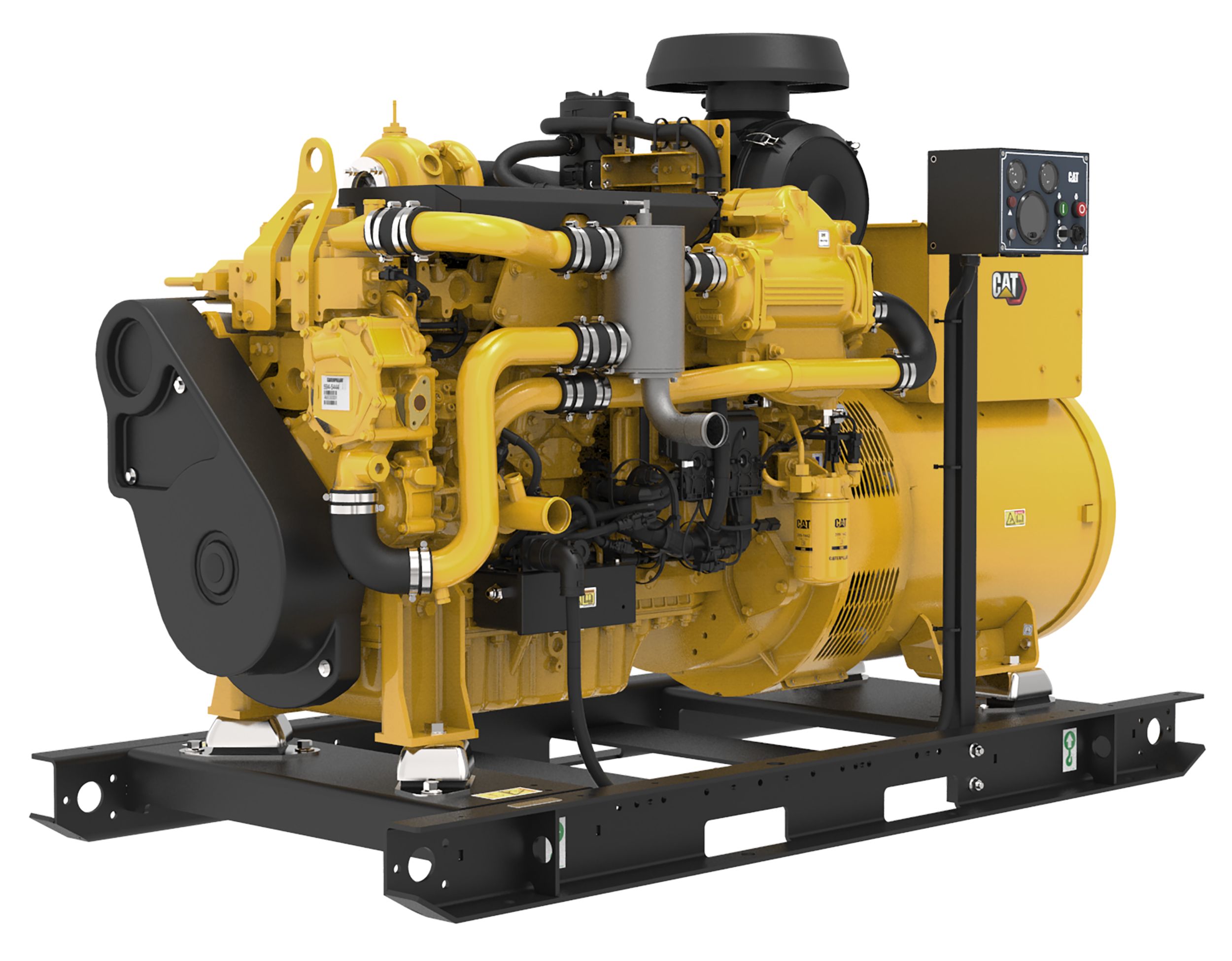 Brand

Caterpillar

Status

Current

Bore

4.13 in / 105 mm

Stroke

5.31 in / 135 mm

Displacement

428 in³ / 7.01 l

Aspiration

Turbocharged / Aftercooled