CS11 GC
CS11 GC Vibratory Soil Compactor
GC Vibratory Soil Compactors deliver dependable, economical production with performance that exceeds expectations.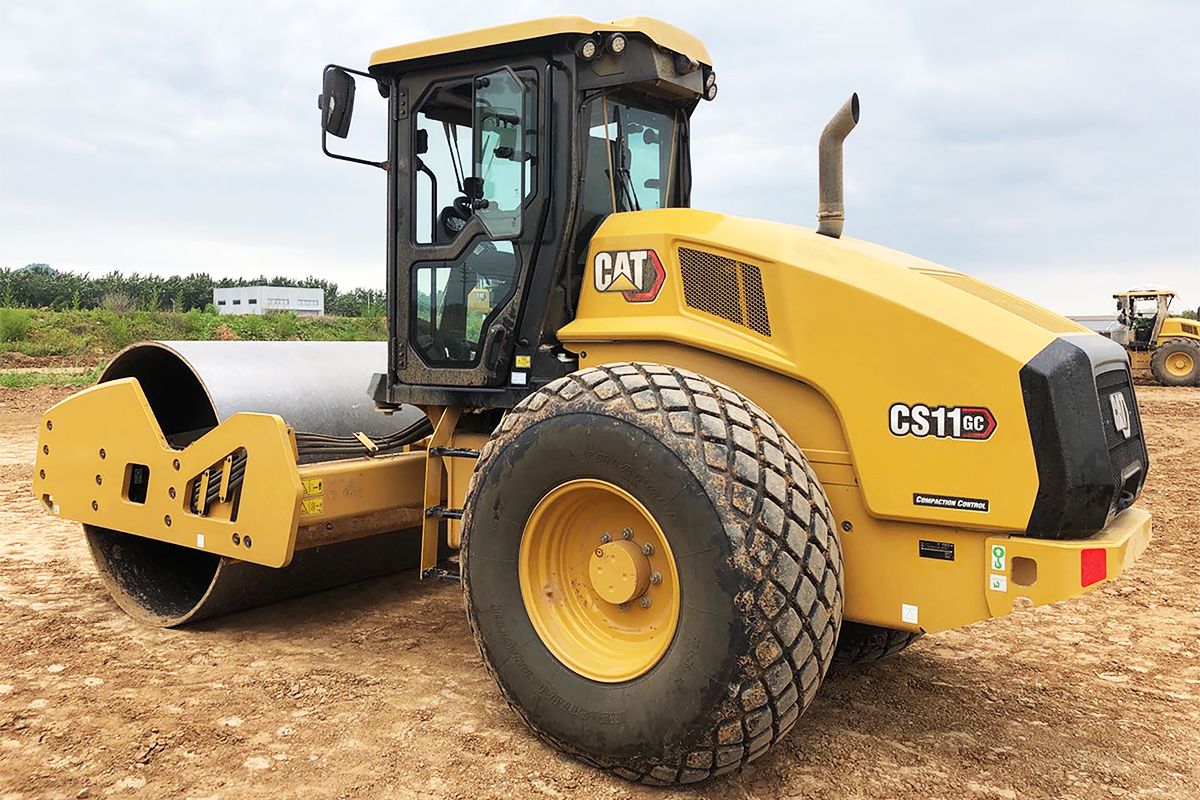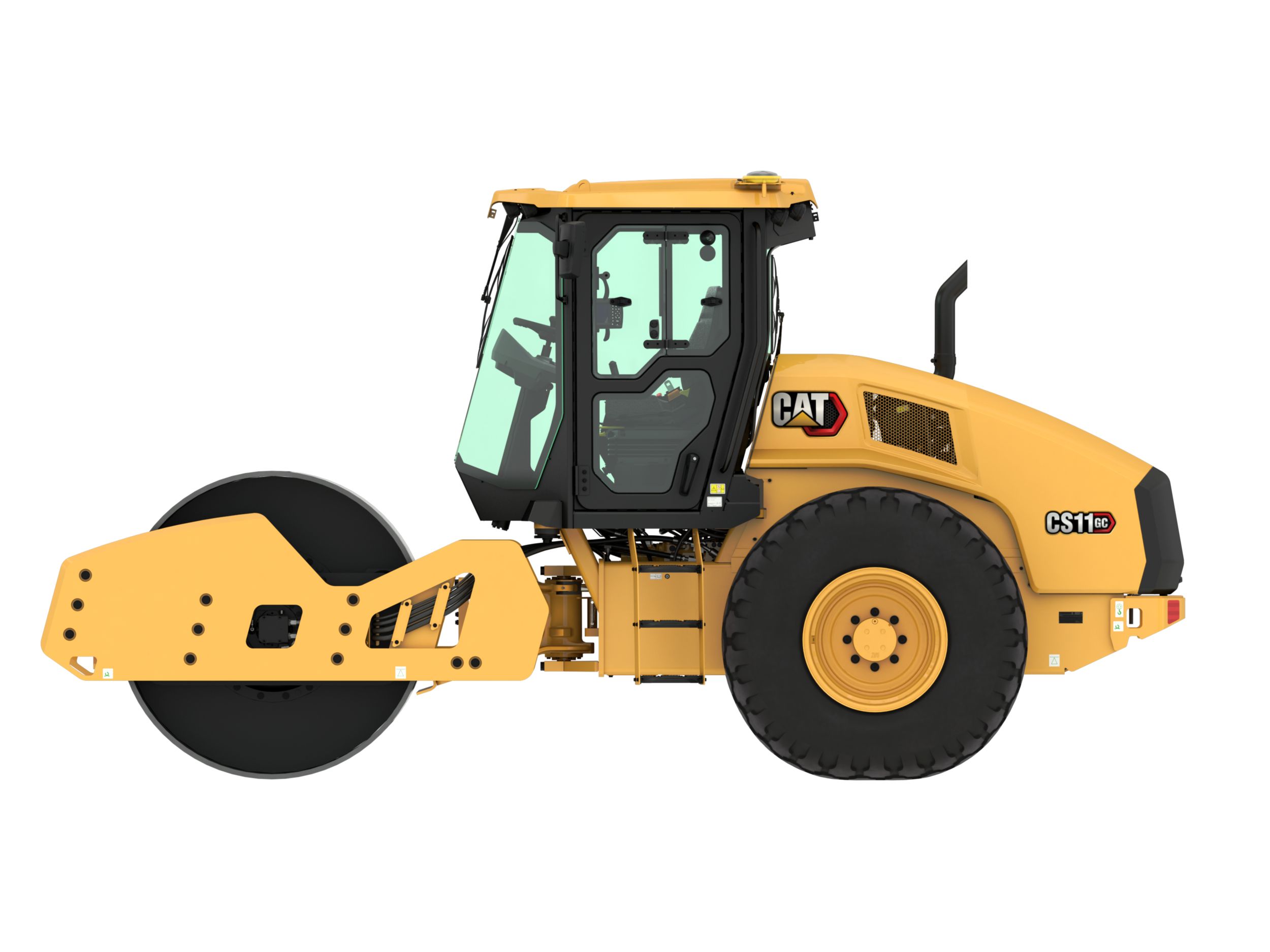 DESCRIPTION
GC Vibratory Soil Compactors deliver dependable, economical production with performance that exceeds expectations.
Comfortable and Ergonomic Operator Station
The steering console features an LCD display. The display provides diagnostics and additional data to the operator. Machines that are equipped with Cat Compaction Control output compaction measurements to the display as well.
A multi-position steering wheel adjusts for comfort. An adjustable vinyl seat with seat belt is comfortable and keeps controls and operating information within easy reach. The 12-volt adapter provides power for personal electronic devices. A floor mat reduces vibrations. Cup holders are provided on the steering column. Large mirrors provide excellent views to the rear of the machine.
The operator is provided with excellent visibility to the front, drum edges rear tire edges and rear of machine enhancing safety and production. Optional mirrors provide enhanced visibility to the rear.
Powertrain
GC Vibratory Soil Compactors feature a Cat engine that offers enhanced efficiency, better serviceability, ample power, and less noise.
Technologies that Enhance Quality and Productivity
Cat Compaction Control can be augmented by adding an optional Global Navigation Satellite System (GNSS) mapping antenna and a dedicated display unit, which provides SBAS-level accuracy and allows the operator to visually monitor results, map them to locations and save the data for analysis or documentation purposes. An RTK GNSS mapping capability is also available that provides greater accuracy than SBAS.
Two different compaction measurement technologies are available: Compaction Meter Value (CMV) or Machine Drive Power (MDP). Both technologies display real time measurements on the LCD display.
Compaction Meter Value (CMV) is an accelerometer-based measurement system for granular soils. It is for use with smooth drum configurations. Functioning while the drum vibrates, it measures deep into the ground, 1.0 to 1.2 m (3-4 ft), providing the operator with a picture of what is beneath the surface. CMV can reveal many things to a trained operator, such as the location of hidden anomalies (buried objects, rocks, clay balls, etc.) or areas of poor compaction. It can even indicate the need for more moisture to aid compaction.
Machine Drive Power (MDP) is an exclusive technology only available from Caterpillar. MDP indicates soil stiffness by measuring rolling resistance. It can be used by both smooth drums and smooth drum machines equipped with padfoot shell kits. It is effective on all soil types, and can function when the drum is static or vibrating. MDP measures closer to depth of the lifts of materials being compacted, around 30-60 cm (1-2 ft) deep. MDP is more flexible than CMV because it can be used on all soil types, and because it measures more shallow than CMV, which allows results to be correlated with portable measuring equipment such as lightweight falling deflectometers and nuclear gauges. Because it does not require the drum to vibrate, there is less risk of de-compaction when used for proofrolling.
Easy to Service
Design provides ground level access to all service and maintenance points.
Long service intervals contribute to more productivity and lower owning and operating costs. The vibratory system scheduled oil change interval is 3 years/3,000 hours. The hydraulic oil service interval is 3,000 hours. Engine oil service is every 500 hours.
Reliable Vibratory System
GC vibratory soil compactors deliver excellent compaction performance due to high amplitude and static linear load.
GC machines utilizes the proven Cat pod-style vibratory system. The system design significantly reduces the risk of contamination common to conventional designs that employ metal weights. Providing unrivaled reliability and performance, the Cat pod-style vibratory system is virtually maintenance free, with the first scheduled maintenance period at 3 years or 3,000 hours.
An automatic vibration function provides consistency for more uniform compaction. When vibration is engaged, vibration will cease as the compactor slows beneath a predetermined speed. When propel resumes, vibration recommences at a predetermined speed. This feature contributes to uniform, high-quality work.
Smooth drums are ideal for compacting granular materials and can be equipped with an optional padfoot shell kit for compacting cohesive and semi-cohesive materials.
Sustainability
The Cat® C3.6 engine meets U.S. EPA Tier 4 Final and EU Stage V emission standards.
Cat diesel engines are required to use ULSD (ultra-low sulfur diesel fuel with 15 ppm of sulfur or less) or ULSD blended with the following lower-carbon intensity fuels up to: 20% biodiesel FAME (fatty acid methyl ester)** or 100% renewable diesel, HVO (hydrogenated vegetable oil) and GTL (gas-to-liquid) fuels. Refer to guidelines for successful application. Please consult your Cat dealer or "Caterpillar Machine Fluids Recommendations" (SEBU6250) for details.
Auto engine idle shutdown helps reduce unnecessary fuel burn and greenhouse gas emissions by allowing the engine to automatically go into idle mode when the machine is not working.
A well-trained operator is worth the investment. Skilled operators benefit your bottom line by maximizing productivity, avoiding costly downtime, and maintaining jobsite safety – which can help to improve fuel efficiency and reduce greenhouse gas emissions.
Extended maintenance intervals not only reduce downtime but can decrease the amount of fluid and filters that are replaced over the life of the machine. The hydraulic oil can be replaced every 3000 hours, eccentric housing oil can be replaced every 3000 hours, and engine oil changes can be 500 hours.
Performance and safety can be augmented with standard and optional cameras that are viewed on in-cab displays.
Cat Compact technologies help you consistently meet compaction targets faster, more uniformly, and in fewer passes - saving on fuel and reducing rework and material costs.
Cat Scheduled Oil Sampling (S•O•S℠) Services helps reveal excessive wear, contaminated fluids or other "unseen" issues that can shorten component life. In many cases,
you can extend oil and coolant change intervals by using fluid monitoring. Consult your Cat dealer or the machine's operation and maintenance manual for more information.
Remote Flash for engines helps to minimize downtime and maintenance time while keeping your asset running with maximum efficiency. Alerts for machine updates are sent virtually from your Cat dealer and updates can be deployed without a dealer technician needing to be onsite.
**Engines with no aftertreatment devices can use higher blends, up to 100% biodiesel.
Standard Equipment
Optional Equipment
Specs
Docs
Specs
Long Name:
CS11 GC Vibratory Soil Compactor
Operating Weight - With Cab
24775 lb / 11238 kg
Operating Weight - With ROPS/FOPS Canopy
24435 lb / 11084 kg
Weight - Drum with ROPS/FOPS Canopy
13453 lb / 6102 kg
Weight - Drum with Cab
13549 lb / 6146 kg
Compaction Width
84 in / 2134 mm
Curb Clearance
19.4 in / 492 mm
Ground Clearance
20.4 in / 518 mm
Turning Radius - Inside Drum Edge
12.7 ft / 3.9 m
Travel Speed - Maximum
6.8 mile/h / 11 km/h
Static Linear Load - With ROPS/FOPS
161.3 lb/in / 28.8 kg/cm
Gross Power
120.7 HP / 90 kW
Net Power - ISO 9249
112.2 HP / 83.7 kW
Net Power - SAE J1349
111.2 HP / 82.9 kW
Overall Length
18.7 ft / 5.7 m
Overall Width
7.5 ft / 2.3 m
Drum Width
84 in / 2134 mm
Height - With ROPS/FOPS or Cab
9.8 ft / 3 m
Drum Diameter
60.4 in / 1535 mm
Optional Blade Height
27.1 in / 688 mm
Nominal Amplitude - High
0.079 in / 2 mm
Nominal Amplitude - Low
0.039 in / 1 mm
Centrifugal Force - Maximum
56202 lbf / 250 kN
Centrifugal Force - Minimum
33497 lbf / 149 kN
Vibratory Frequency - Ecomode
28.6-31.5 Hz
Vibratory Frequency - Ecomode
1716-1890 vpm
Vibratory Frequency - Standard
30-33 Hz
Vibratory Frequency - Standard
1800-1980 vpm
Service Refill Capacities
Fuel Tank Capacity
56.3 gal (US) / 213 l
Drum Width
84 in / 2134 mm
SEE HOW CS11 GC COMPARES AGAINST FREQUENTLY COMPARED PRODUCTS.
Vibratory Soil Compactors
CS11 GC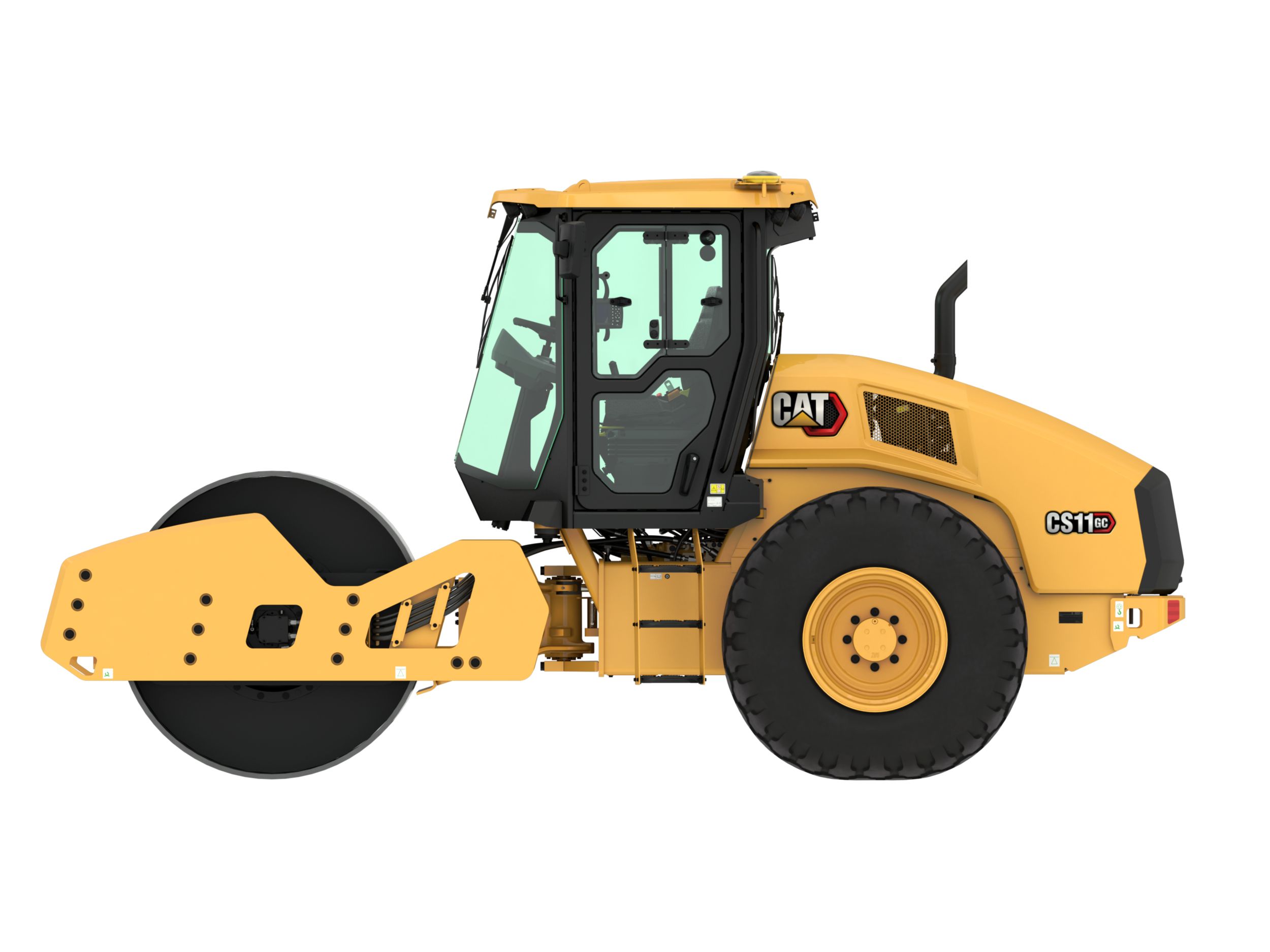 Brand

Cat

Status

Current

Operating Weight - With Cab

24775 lb / 11238 kg

Operating Weight - With ROPS/FOPS Canopy

24435 lb / 11084 kg

Weight - Drum with ROPS/FOPS Canopy

13453 lb / 6102 kg

Weight - Drum with Cab

13549 lb / 6146 kg

Compaction Width

84 in / 2134 mm

Curb Clearance

19.4 in / 492 mm

Ground Clearance

20.4 in / 518 mm

Turning Radius - Inside Drum Edge

12.7 ft / 3.9 m

Travel Speed - Maximum

6.8 mile/h / 11 km/h

Static Linear Load - With ROPS/FOPS

161.3 lb/in / 28.8 kg/cm

Gross Power

120.7 HP / 90 kW

Engine Model

Cat C3.6

Net Power - ISO 9249

112.2 HP / 83.7 kW

Net Power - SAE J1349

111.2 HP / 82.9 kW

Stroke

4.7 in / 120 mm

Bore

3.9 in / 98 mm

Overall Length

18.7 ft / 5.7 m

Overall Width

7.5 ft / 2.3 m

Drum Width

84 in / 2134 mm

Height - With ROPS/FOPS or Cab

9.8 ft / 3 m

Drum Diameter

60.4 in / 1535 mm

Optional Blade Height

27.1 in / 688 mm

Wheel Base

9.8 ft / 3 m

Nominal Amplitude - High

0.079 in / 2 mm

Nominal Amplitude - Low

0.039 in / 1 mm

Centrifugal Force - Maximum

56202 lbf / 250 kN

Centrifugal Force - Minimum

33497 lbf / 149 kN

Vibratory Frequency - Ecomode

1716-1890 vpm

Vibratory Frequency - Standard

1800-1980 vpm

Fuel Tank Capacity

56.3 gal (US) / 213 l

Tires

23.1 x 26
Vibratory Soil Compactors
CS10 GC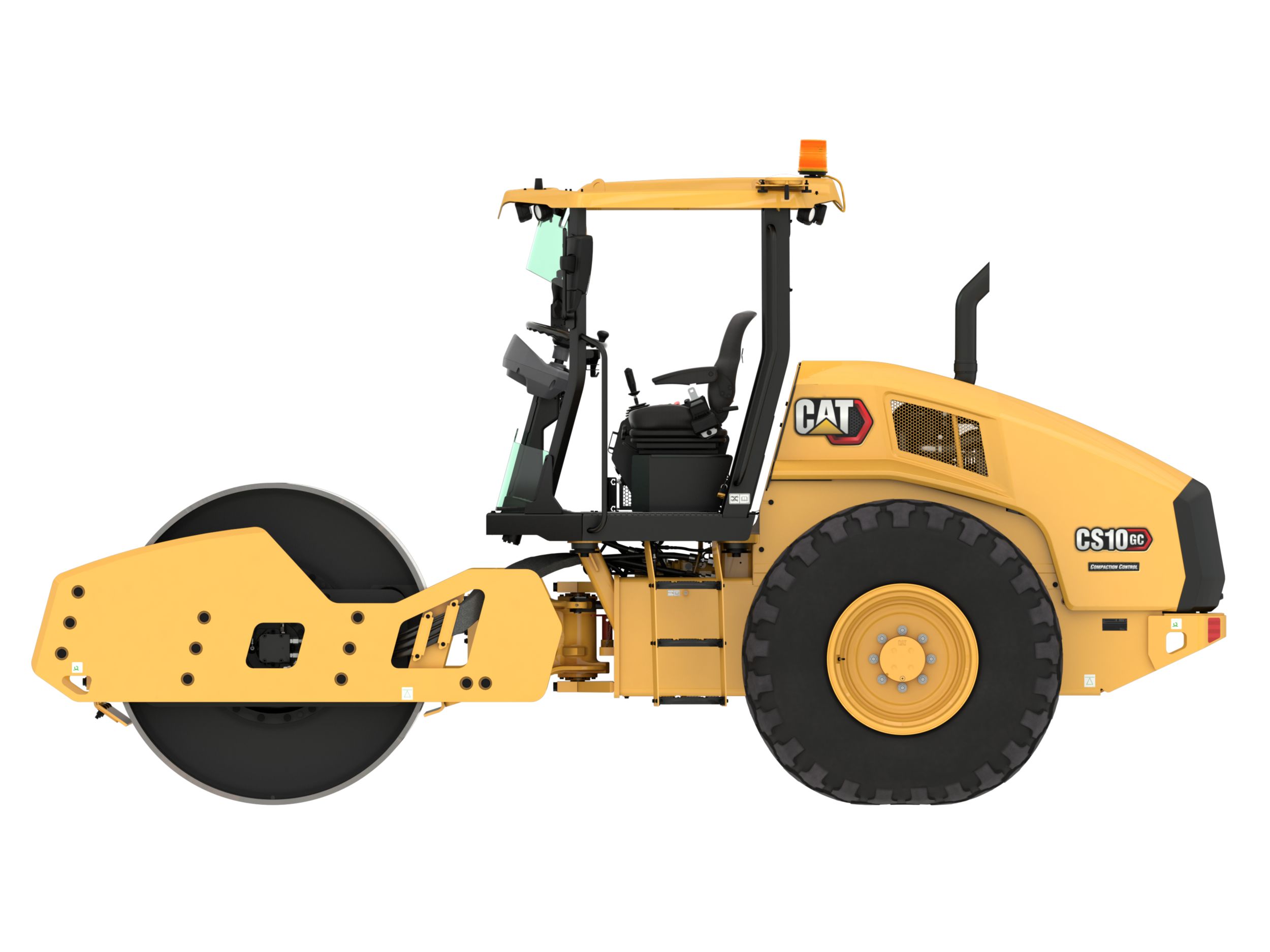 Brand

Cat

Status

Current

Operating Weight - With Cab

23136 lb / 10494 kg

Operating Weight - With ROPS/FOPS Canopy

22796 lb / 10340 kg

Weight - Drum with ROPS/FOPS Canopy

12853 lb / 5830 kg

Weight - Drum with Cab

12948 lb / 5873 kg

Compaction Width

84 in / 2134 mm

Curb Clearance

19.4 in / 492 mm

Ground Clearance

20.4 in / 518 mm

Turning Radius - Inside Drum Edge

12.7 ft / 3.9 m

Travel Speed - Maximum

6.8 mile/h / 11 km/h

Static Linear Load - With ROPS/FOPS

154.1 lb/in / 27.5 kg/cm

Gross Power

120.7 HP / 90 kW

Engine Model

Cat C3.6

Net Power - ISO 9249

112.2 HP / 83.7 kW

Net Power - SAE J1349

111.2 HP / 82.9 kW

Stroke

4.7 in / 120 mm

Bore

3.9 in / 98 mm

Overall Length

18.7 ft / 5.7 m

Overall Width

7.5 ft / 2.3 m

Drum Width

84 in / 2134 mm

Height - With ROPS/FOPS or Cab

9.8 ft / 3 m

Drum Diameter

60.4 in / 1535 mm

Optional Blade Height

688 mm / 27.1 in

Wheel Base

9.8 ft / 3 m

Nominal Amplitude - High

0.079 in / 2 mm

Nominal Amplitude - Low

0.039 in / 1 mm

Centrifugal Force - Maximum

56202 lbf / 250 kN

Centrifugal Force - Minimum

33497 lbf / 149 kN

Vibratory Frequency - Ecomode

1716-1890 vpm

Vibratory Frequency - Standard

30-33 Hz

Fuel Tank Capacity

56.3 lb / 213 l

Tires

23.1 x 26
Vibratory Soil Compactors
CS12 GC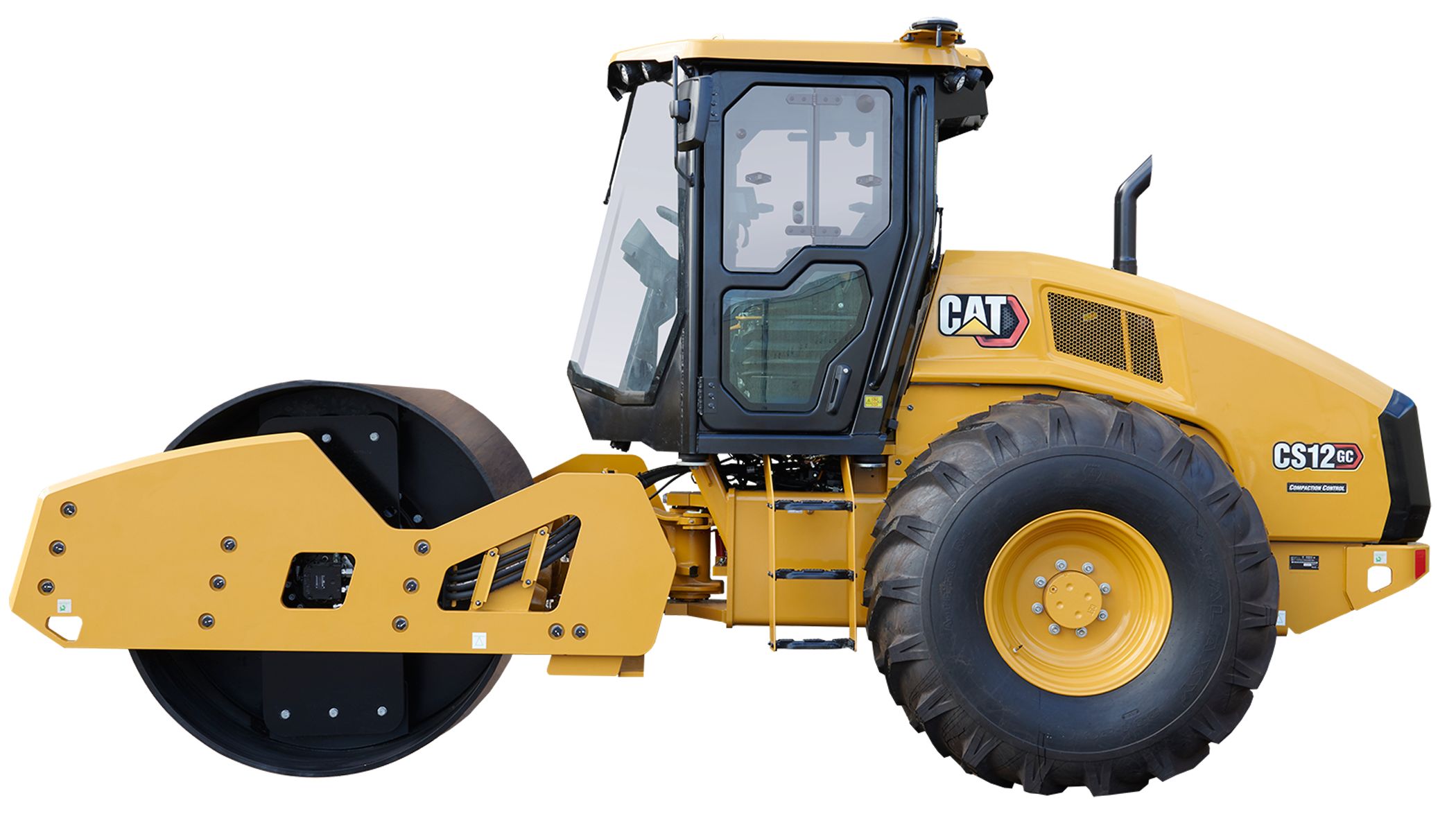 Brand

Cat

Status

Current

Operating Weight - With Cab

27900 lb / 12655 kg

Operating Weight - With ROPS/FOPS Canopy

27560 lb / 12501 kg

Weight - Drum with ROPS/FOPS Canopy

16955 lb / 7691 kg

Weight - Drum with Cab

17051 lb / 7734 kg

Compaction Width

84 in / 2134 mm

Curb Clearance

19.4 in / 492 mm

Ground Clearance

20.4 in / 518 mm

Turning Radius - Inside Drum Edge

12.7 ft / 3.9 m

Travel Speed - Maximum

6.8 mile/h / 11 km/h

Static Linear Load - With ROPS/FOPS

202.9 lb/in / 36.2 kg/cm

Gross Power

120.7 HP / 90 kW

Engine Model

Cat C3.6

Net Power - ISO 9249

112.2 HP / 83.7 kW

Net Power - SAE J1349

111.2 HP / 82.9 kW

Stroke

4.7 in / 120 mm

Bore

3.9 in / 98 mm

Overall Length

18.7 ft / 5.7 m

Overall Width

7.5 ft / 2.3 m

Drum Width

84 in / 2134 mm

Height - With ROPS/FOPS or Cab

9.8 ft / 3 m

Drum Diameter

60.4 in / 1535 mm

Optional Blade Height

27.1 in / 688 mm

Wheel Base

9.8 ft / 3 m

Nominal Amplitude - High

0.079 in / 2 mm

Nominal Amplitude - Low

0.039 in / 1 mm

Centrifugal Force - Maximum

56202 lbf / 250 kN

Centrifugal Force - Minimum

33497 lbf / 149 kN

Vibratory Frequency - Ecomode

1716-1890 vpm

Vibratory Frequency - Standard

1800-1980 vpm

Fuel Tank Capacity

56.3 gal (US) / 213 l

Tires

23.1 x 26