D7
D7 Dozer
Since the 1920's Cat® bulldozers have been on the job. Cat D7 track dozers heavy duty design and easy controls and technology will save you time and money on today's jobsite.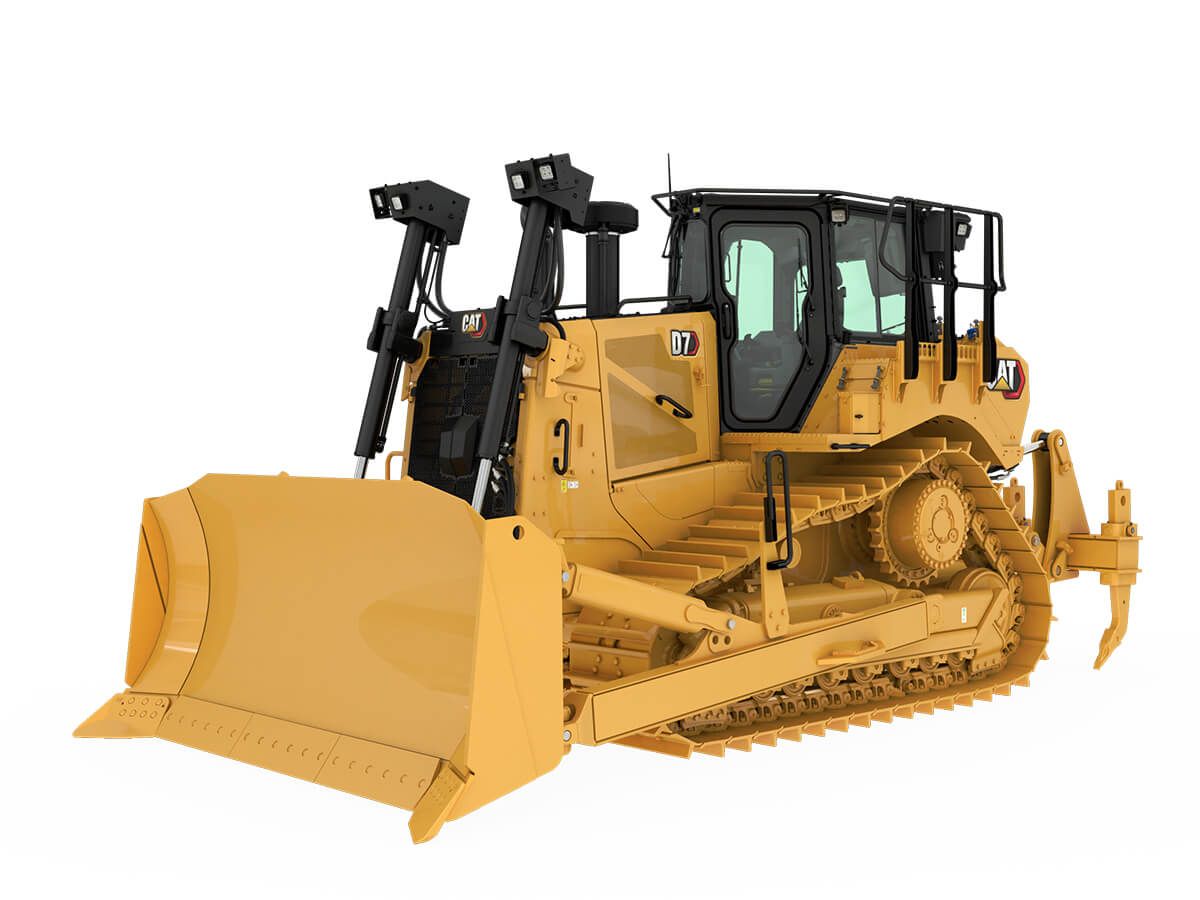 DESCRIPTION

The new Cat® D7 dozer delivers more productivity and high drive undercarriage value. Fully automatic 4-speed transmission makes efficient operation easy. The broadest range of technology features in the industry help you make the most of your equipment investment.The new Cat® D7 dozer delivers more productivity and high drive undercarriage value. Fully automatic 4-speed transmission makes efficient operation easy. The broadest range of technology features in the industry help you make the most of your equipment investment.
Elevate Your Productivity with the Cat D7 Dozer
Pushing Power: Cat D7 Takes on the Cat D7R
Discover the Cat D7 Dozer
Cat D7 Dozer Takes on the Trash
Cat D7 Dozer Takes on Some Big Rocks
Cat D7 Dozer Pushing Power
Cat D7 Dozer Ripping in a Quarry
In the Operator's Boots: Cat D7 Dozer
Cat D7 Dozer Using Grade Technology
NEXT GENERATION PERFORMANCE
Harness 6% more weight and 12% more horsepower than D7E to take on a wide range of dozing and grading tasks.
Move up to 8% more material per hour.
Like D6 and D8, fully automatic 4-speed powershift transmission continuously adjusts for maximum efficiency and power to the ground without added operator input.
SU and S blades are 10% larger to help you get jobs done in fewer passes.
Optional Performance Cutting Edges increase blade payload by up to 35% compared to standard cutting edges.
Elevated sprocket gives you better ride and balance, plus more penetration force.
Outfit your dozer from the factory to take on the challenges of waste handling, land clearing, stockpile work, dredging and more.
All comparisons to D7E.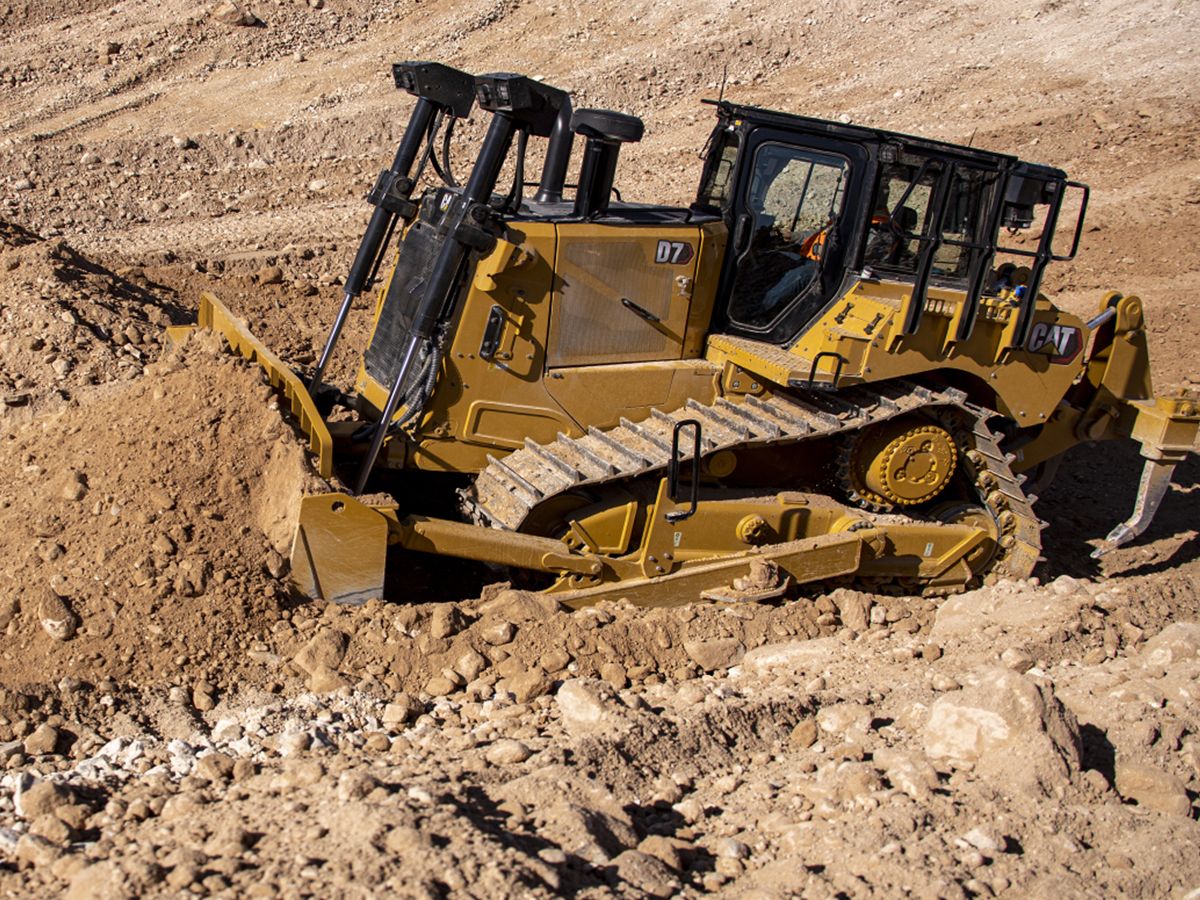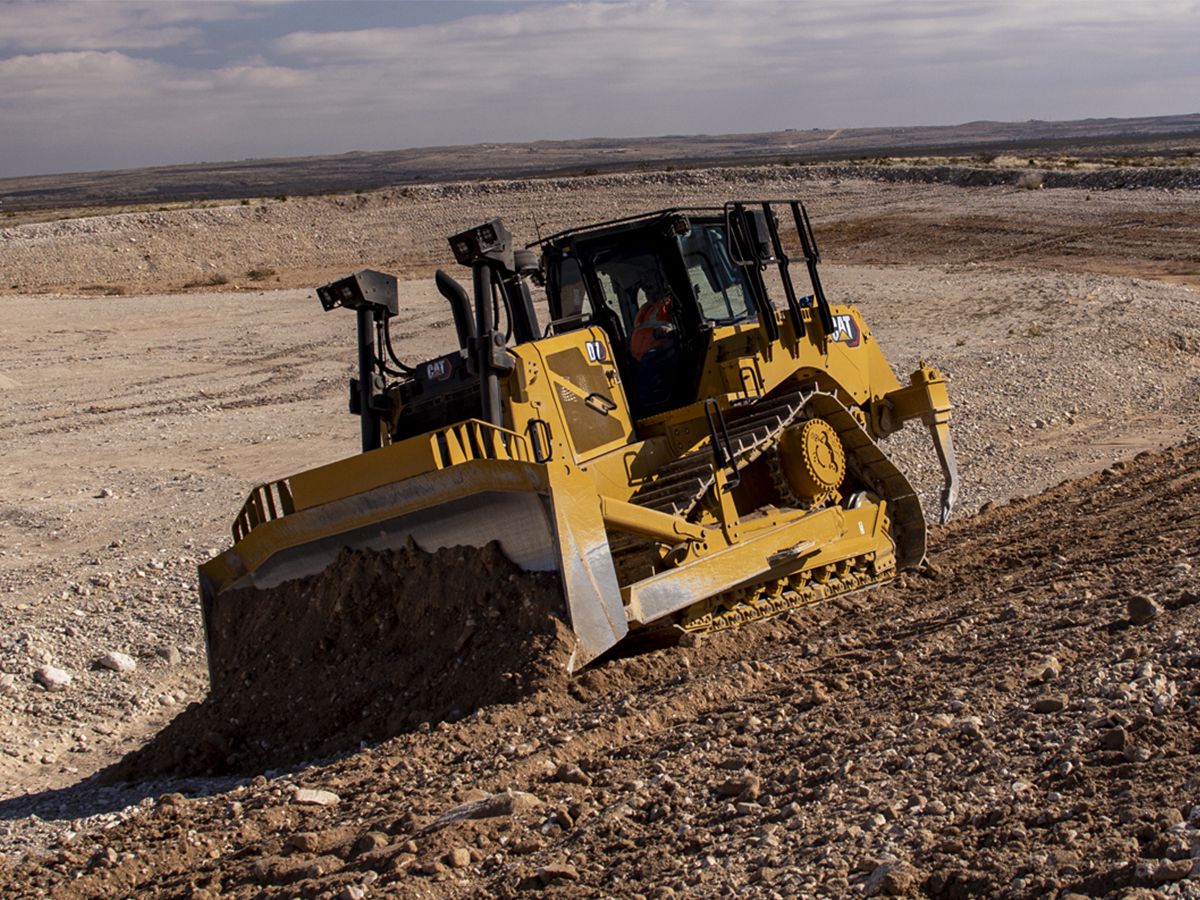 TOP TECHNOLOGY CHOICES
Cat Grade with Slope Assist™ automatically maintains pre-established blade position without a GPS signal – no additional hardware or software needed.
Factory integrated Cat Grade with 3D uses GPS to control the blade so you can get to design plan faster.
Cat Grade with 3D has no masts - small antennas are integrated into the cab roof and GPS receivers are mounted inside the cab for better protection.
Grade operator interface is intuitive and easier to use: 10-inch (254 mm) touchscreen, Android OS platform, operates like a smart phone.
Slope Indicate shows machine cross-slope and fore/aft orientation right on the main display to help operators with slope work.
Attachment Ready Option (ARO) comes from the factory with key sensors and wiring installed so you can easily upgrade to fully integrated grade control or blade mounted system.
All Cat Grade systems are compatible with radios and base stations from Trimble, Topcon, and Leica.
Already invested in a grade infrastructure? You can install grade systems from Trimble, Topcon, and Leica onto the machine.
BOOST OPERATOR EFFICIENCY
New assist features just work together behind the scenes to help make machine operation easier.
Make the most of every pass with Blade Load Monitor to help you optimize blade capacity.*
Stable Blade works seamlessly with operator inputs to help produce a smoother surface.
Traction Control automatically reduces track slip to save you time, fuel and track wear.*
AutoCarry automates blade lift to help you maintain consistent blade load and help reduce track slip.*
*F

eature not operational indoors or in areas where a GPS signal is not available.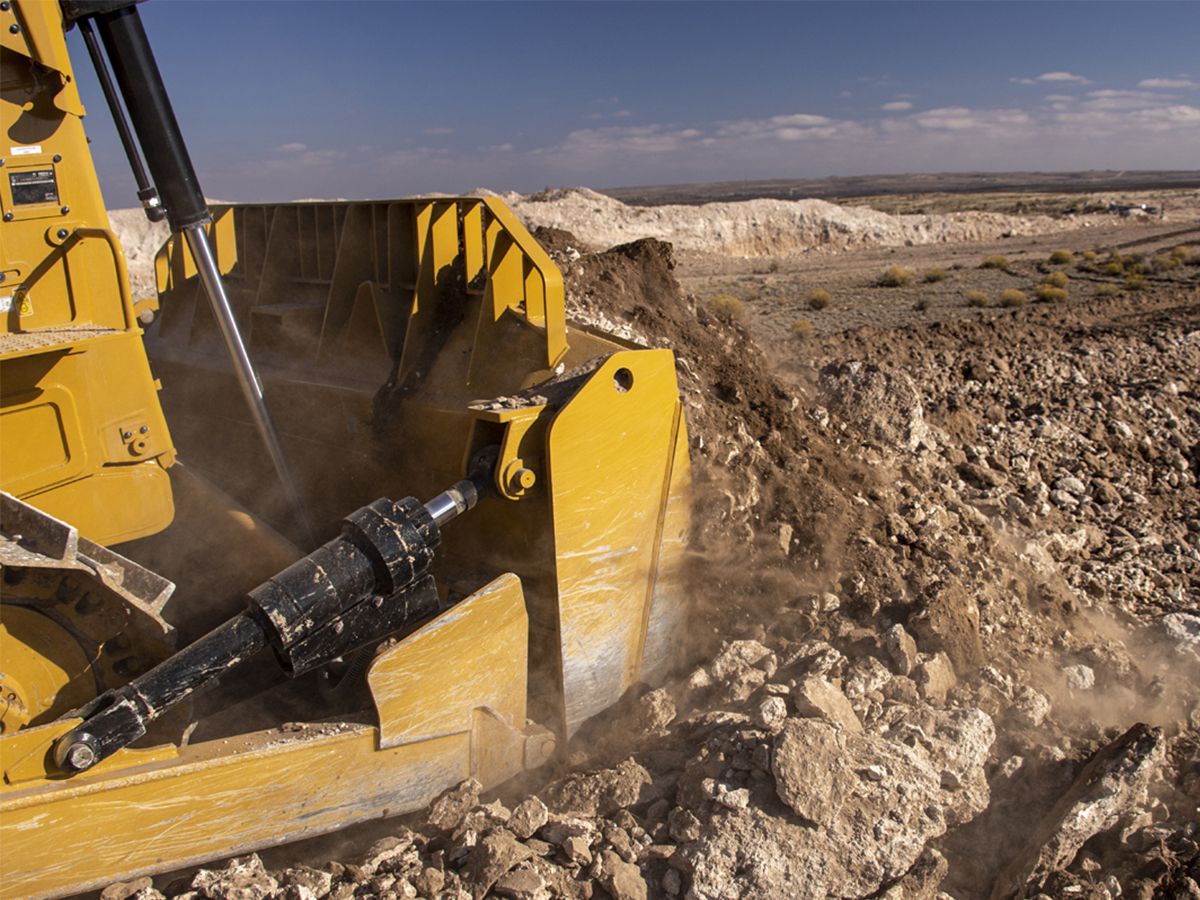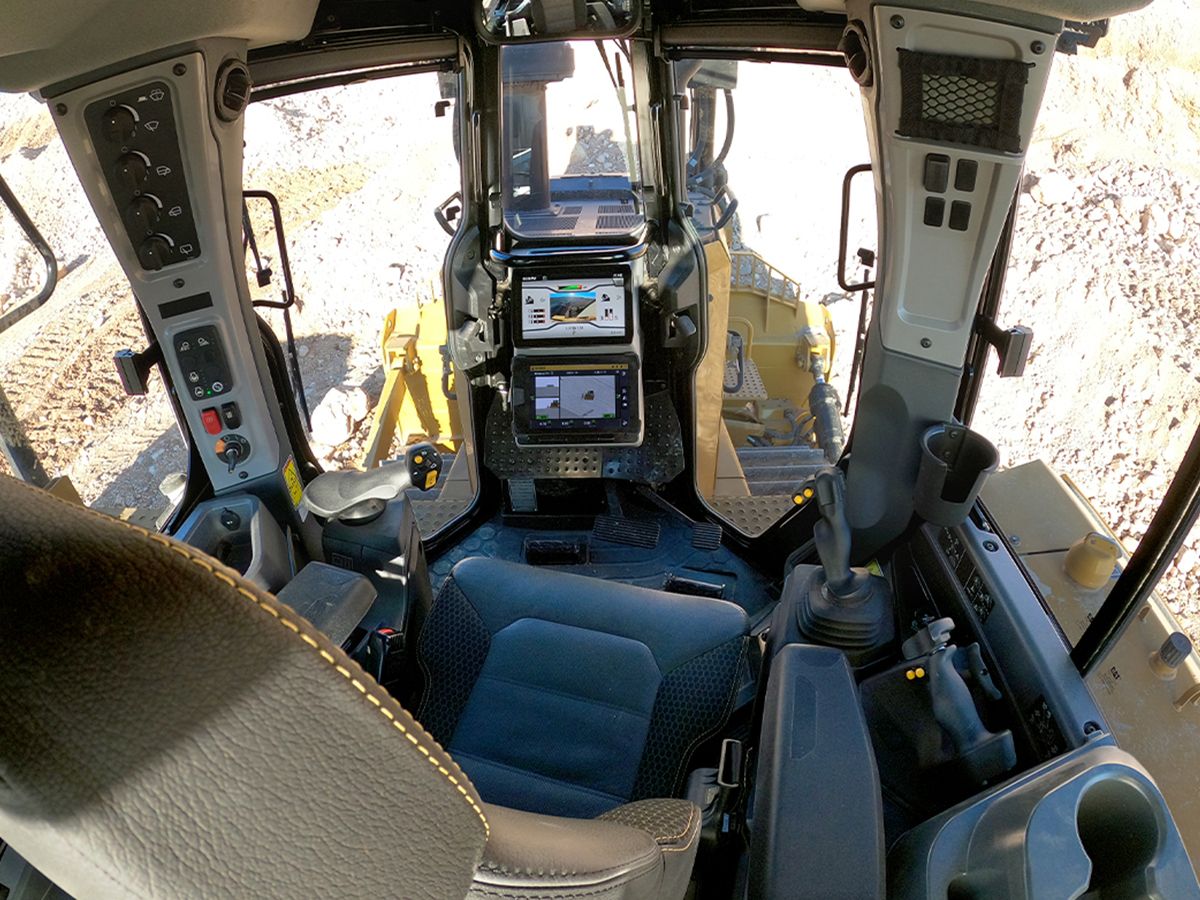 COMFORT AND VISIBILITY
Common cab with D5 and D6, for a whole new standard in comfort and productivity.
Easy-to-use 10-inch (254 mm) touchscreen main display.
Standard High Definition rearview camera shows prominently in the main display.
Key Features Help, built into the display, gives you an overview of machine and technology features and helpful operating tips.
Wide air suspension seat has multiple adjustments for personalized comfort.
Ample storage spaces throughout the cab.
BUILT-IN DURABILITY
Elevated sprocket protects major components from shock loads.
Heavier frame and structures for added durability.
Cat C9.3B engine eliminates Exhaust Gas Recirculation (EGR) system for greater reliability; Simplified with a single engine Electronic Control Module (ECM).
Redesigned fuel system provides greater reliability and more accurate fuel delivery.
New Heavy Duty Extended Life undercarriage – HDXL with DuraLink™ – provides up to 20 percent more seal life in high impact conditions.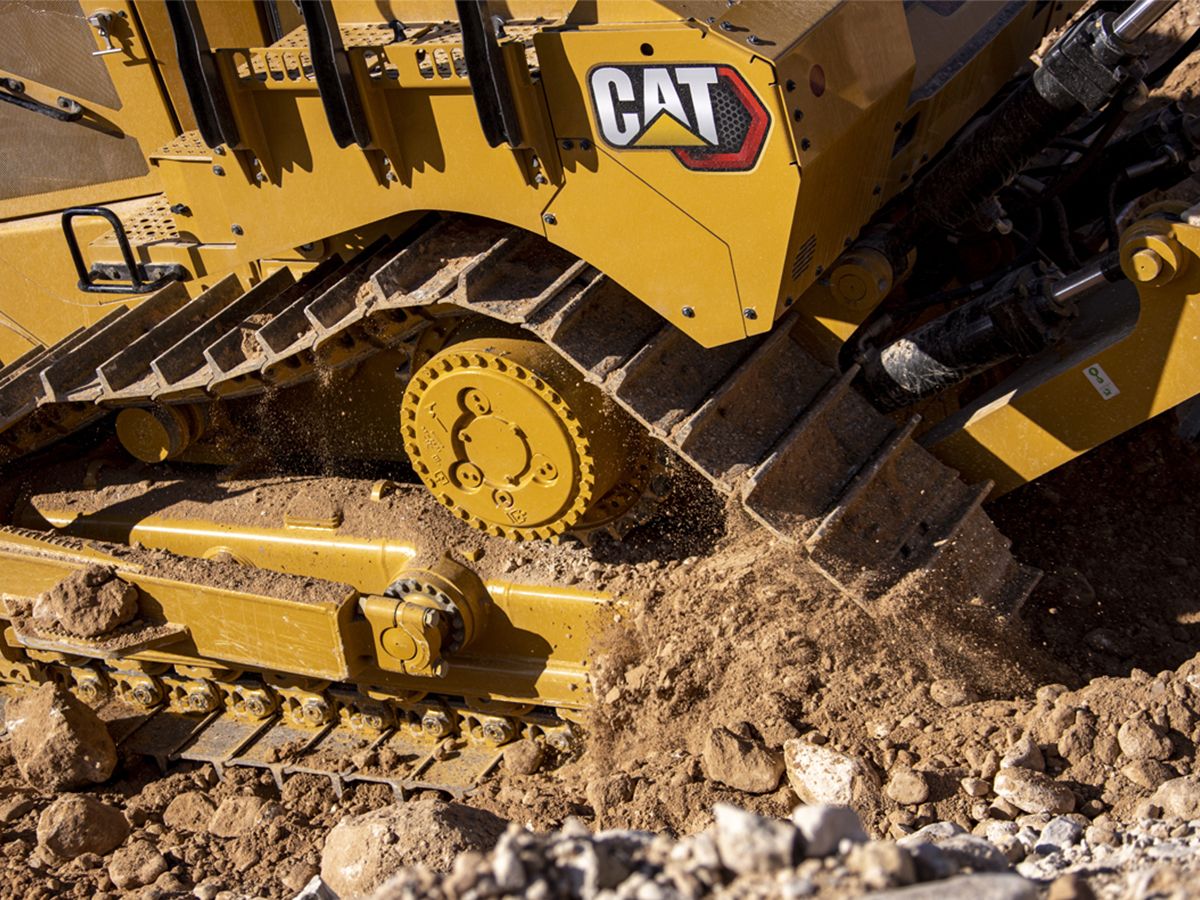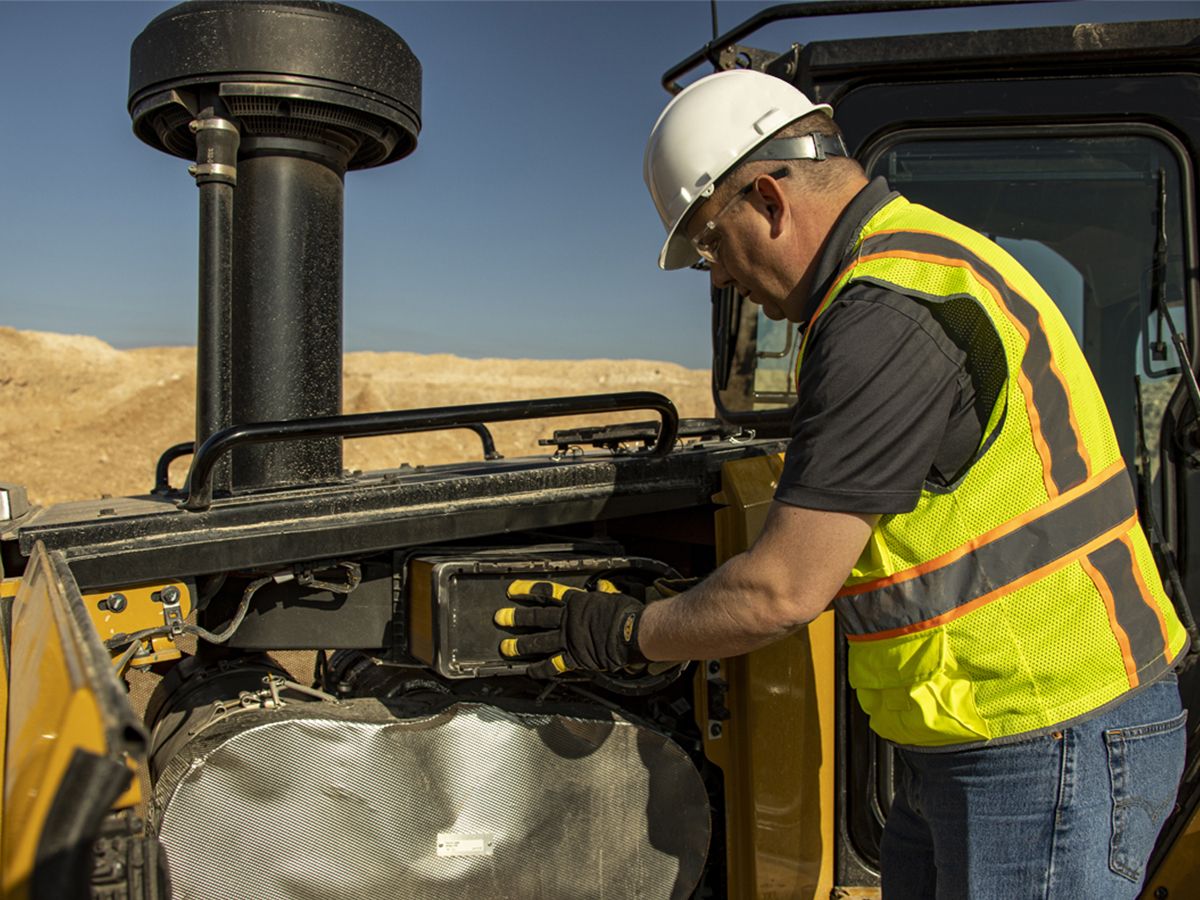 BECAUSE UPTIME COUNTS
Elevated sprocket makes cleanout easier and provides convenient, modular service.
Standard dozer offers 12-foot (3.7 m) shipping width for easier transport with blade installed.
Reversible hydraulic demand fan helps remove debris while you work, saving cleanout and maintenance time.
Easy access under the cab floor if needed. Cab can be removed in about 30 minutes.
Platform with guard rail makes refueling and DEF fill convenient.
WASTE HANDLING PERFORMANCE
Cat Waste Handlers are designed and built from the frame up to take on the challenges of landfill work.
Specialized guarding, striker bars and seals help protect machine and undercarriage from impact, wrapping and airborne debris.
Waste cab has impact-resistant polycarbonate doors, eliminating the need for door screens.
High-debris cooling system with automatic reversing fan and swing-out cleanout access.
Lights mounted up and away from main debris area for protection, while still giving you plenty of light on the work area.
Waste undercarriage, center-hole track shoes and landfill blades help optimize performance.
Laminated thermal shields and insulated Clean Emissions Module.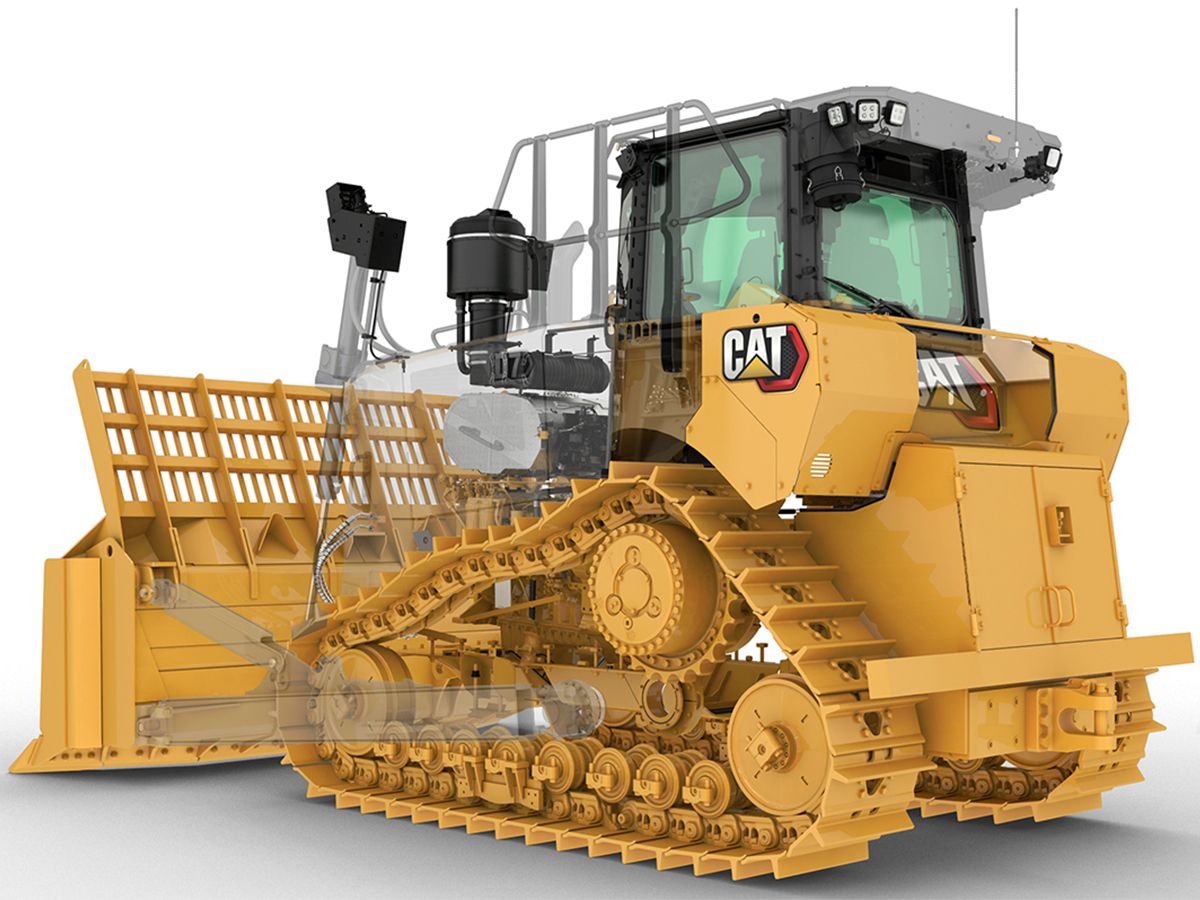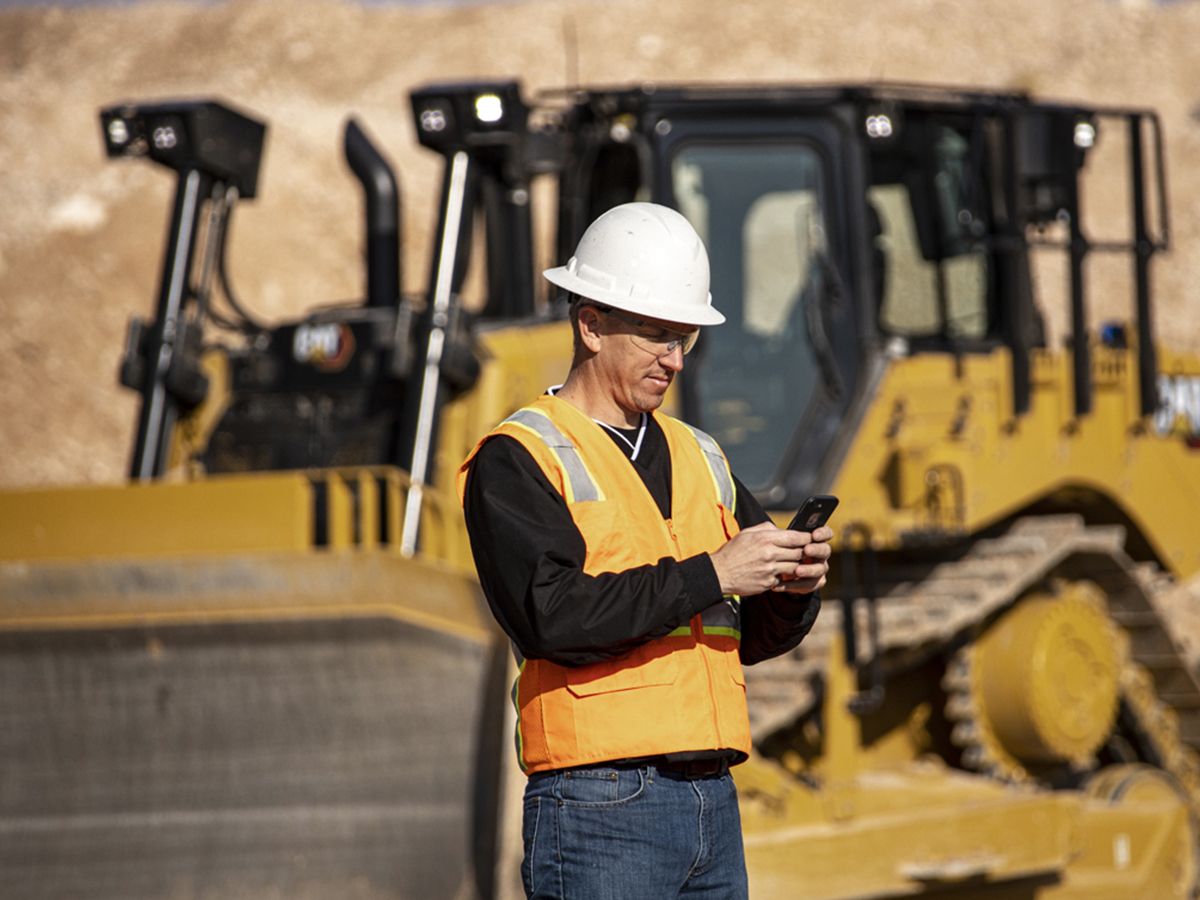 CONNECT TO GREATER EFFICIENCY
Product Link™ collects machine data that can be viewed online through web and mobile applications.
Access information anytime, anywhere with VisionLink® – and use it to make informed decisions that boost productivity, lower costs, simplify maintenance, and improve safety and security on your job site.
The Cat App helps you manage your assets – at any time – right from your smartphone. See fleet location and hours, get critical required maintenance alerts, and even request service from your local Cat dealer.
Remote Troubleshoot saves time and money by allowing your Cat dealer to perform diagnostic testing remotely.
Remote Flash updates on-board software without a technician being present, at a time that is convenient for you, potentially reducing update time by as much as 50%.
REMOTE CONTROL READY
Cab is Remote Control Ready from the factory with external connector for dealer installation of a plug-and-play roof-mounted remote control unit.
Cat Command for Dozing offers remote control operation for enhanced safety and greater productivity.
Command uses line-of-sight (LOS) control with an over-the-shoulder console, or a non-line-of-sight (NLOS) option using the Cat Command Station to run the machine remotely.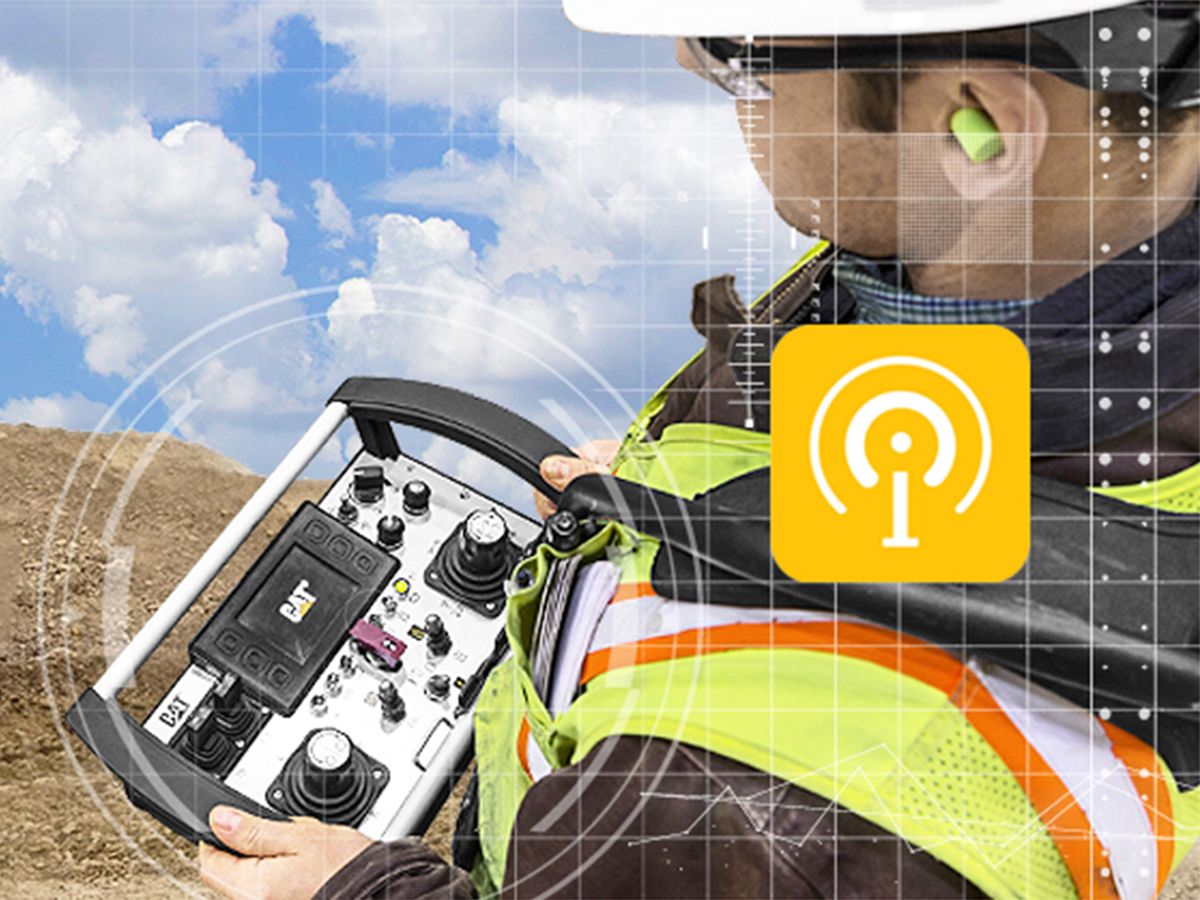 Standard Equipment
Optional Equipment
Specs
Docs
Specs
Power - Net
265 HP / 197 kW
Net Power - Rated - ISO 9249/SAE J1349
265 HP / 197 kW
Net Power - Rated - ISO 9249/SAE J1349 (DIN)
268 HP / 268 HP
Emissions
U.S. EPA Tier 4 Final/EU Stage V/Japan 2014/Korea Tier 4 Final
Note (1)
Net power at 2,200 rpm. Net power advertised is the power available at the engine flywheel when the engine is equipped with a fan, air cleaner, clean emissions module and alternator. Advertised power is tested per the specified standard in effect at the time of manufacture.
Note (2)
All non-road Tier 4 Interim and Final, Stage IIIB, IV and V, Japan 2014 (Tier 4 Final) and Korea Tier 4 Final diesel engines are required to use only Ultra Low Sulfur Diesel (ULSD) fuels containing 15 ppm EPA/10 ppm EU (mg/kg) sulfur or less. Biodiesel blends up to B20 (20% blend by volume) are acceptable when blended with 15 ppm (mg/kg) sulfur or less ULSD. B20 should meet ASTM D7467 specification (biodiesel blend stock should meet Cat biodiesel spec, ASTM D6751 or EN 14214). Cat DEO-ULS™ or oils that meet the Cat ECF-3, API CJ-4, and ACEA E9 specification are required. Consult your OMM for further machine specific fuel recommendations.
Note (3)
Diesel Exhaust Fluid (DEF) used in Cat Selective Catalytic Reduction (SCR) systems must meet the requirements outlined in the International Organization for Standardization (ISO) standard 22241.
Note (4)
Basic machine specs provided below. For complete specifications and dimensions by configuration, blade and track shoe offerings and more, please visit the product download section to view the full Technical Specifications document.
Operating Weight
65644 lb / 29776 kg
Power Train
Fully Automatic 4-Speed
Service Refill Capacities
Fuel Tank
123 gal (US) / 465 l
DEF Tank
12 gal (US) / 44 l
Operating Weight
65644 lb / 29776 kg
Ground Pressure
10 psi / 72 kPa
Width of Standard Shoe
24 in / 610 mm
Blade
Semi-Universal (SU)
Blade Capacity
10 yd³ / 7 m³
Operating Weight
63220 lb / 28677 kg
Ground Pressure
6 psi / 43 kPa
Width of Standard Shoe
36 in / 915 mm
Blade Capacity
8 yd³ / 6 m³
Operating Weight
62035 lb / 28140 kg
Ground Pressure
10 psi / 68 kPa
Width of Standard Shoe
24 in / 610 mm
Blade
Universal Landfill (U)
Blade Capacity
22 yd³ / 17 m³
Air Conditioning
The air conditioning system on this machine contains the fluorinated greenhouse gas refrigerant R134a (Global Warming Potential = 1430). The system contains 1.36 kg of refrigerant which has a CO2 equivalent of 1.946 metric tonnes.
Note (1)
Standard SU operating weight includes ripper with three shanks adding approximately 2993 kg/6596 lbs. LGP S operating weight with drawbar.
Note (2)
Configurations and features may vary by region. Please consult your Cat dealer for availability in your area.