MH3024
MH3024 Wheel Material Handler
Cat® MH3024 wheel material handlers are designed for waste handling, scrap metal recycling, timber mill yards, and other industrial applications.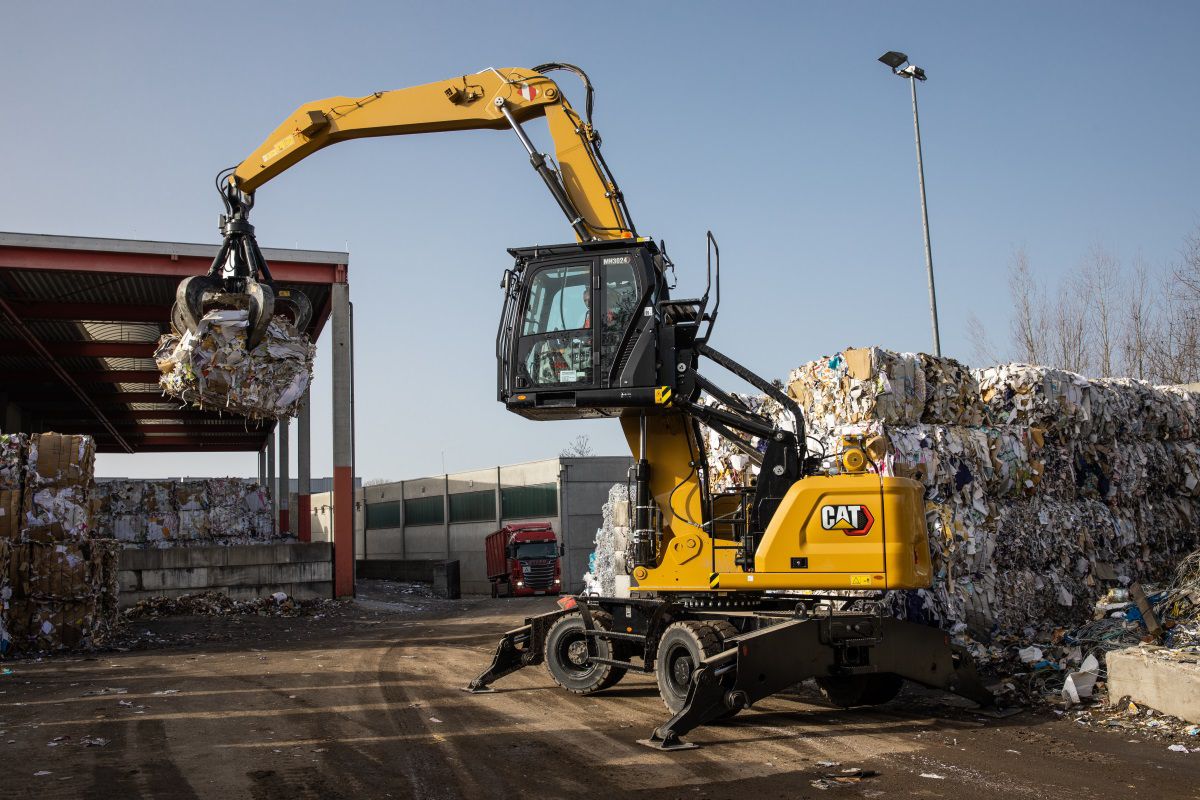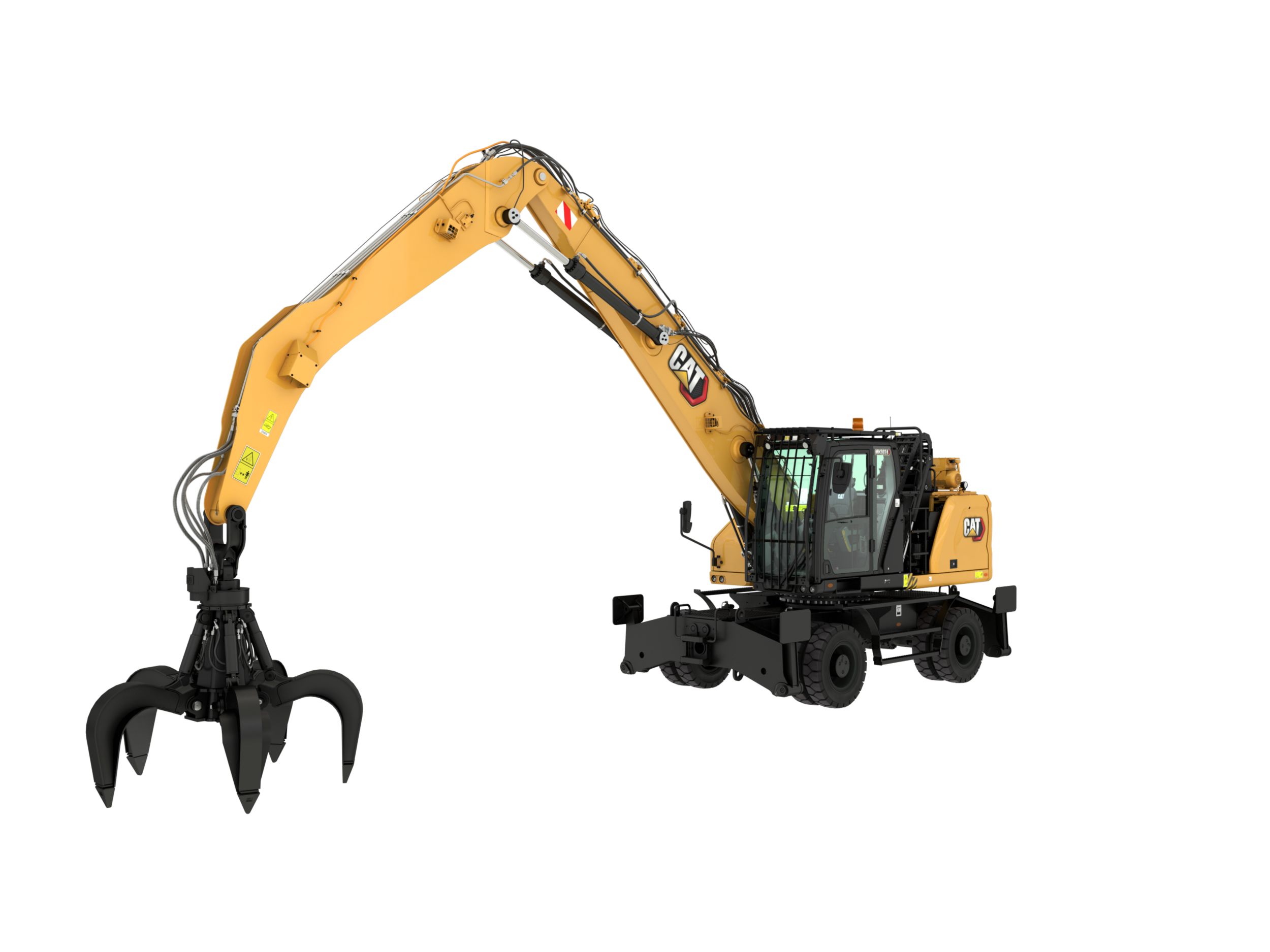 DESCRIPTION
We know that when it comes to material handling equipment, your success depends on productivity and low operating costs. The Cat MH3024 is a purpose-built material handler that will provide you with the superior performance you need for your toughest waste and scrapyard applications. The MH3024 features simple-to-use technologies, a redesigned cab for enhanced comfort, and more boom options to match your work. Combine these features with up to 10% lower operating costs and 7% greater swing torque, and you have a safe, quality and reliable product to take on the wide variety of challenges you face each day.
Cat® Material Handlers 3000 Series Features and Benefits
Cat® MH3024 in the Waste Industry Customer Testimonial
Cat® MH3024 Material Handler Pre-shift Walkaround
LATEST FEATURES
Cat Payload helps you achieve precise load targets to improve your operating efficiency. Pick up a load of material--with a bucket and thumb combination or grapple and clamshell attachments--and get a real-time weight estimate without swinging.
New optional auxiliary relay powers on and turns off CB radios, beacon lights, and other attachments without you taking your hands off the joysticks.
Not all features are available in all regions. Please check with your local Cat dealer for specific offering availability in your area. Build Number: 07C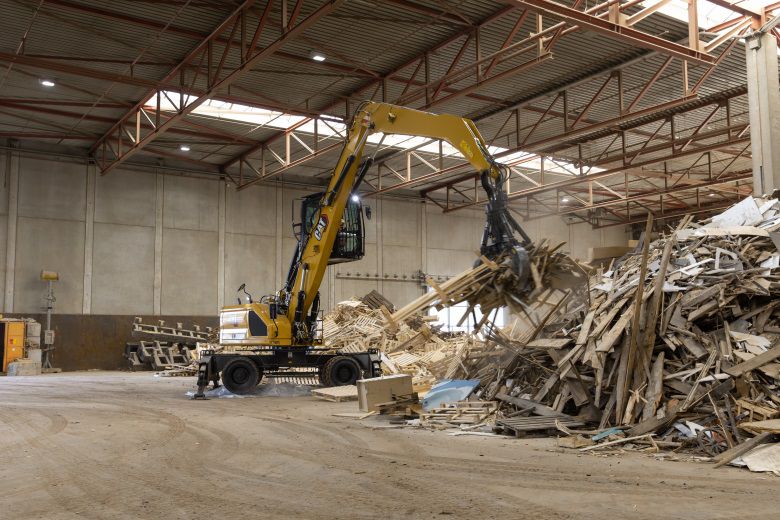 HIGHER PERFORMANCE WITH LOWER FUEL CONSUMPTION
Use up to 10% less fuel versus the previous model, with no impact on your productivity.
Get the job done faster with 7% greater swing torque
The C4.4 engine can run on biodiesel up to B20 and meets US EPA Tier 4 Final and EU Stage V Final emissions standards with an aftertreatment system that requires no maintenance or downtime.
The advanced electro-hydraulic system provides the optimum balance of power and efficiency while giving you the control you need.
Valve priority puts hydraulic pressure and flow where you need it.
Boost lifting capabilities and improve the controllability of heavy loads with heavy lift mode.
Program and store your preferred power mode and joystick settings using your operator ID. The machine will automatically remember your selections, reducing operator stress and fuel consumption.
SmartBoom™ lets the boom freely travel up and down without using any pump flow so operators can focus on stick and bucket work.
The Cat App helps you manage fleet location, hours, and maintenance schedules; it also alerts you for required maintenance and even allows you to request service from your local Cat dealer.
Product Link comes standard so you can remotely monitor machine health, location, hours, and fuel consumption on demand.
VERSATILITY KEEPS YOU PRODUCTIVE AND PROFITABLE
Match your machine to your application. Multiple configurations allow you to customize your machine to your needs.
Equip your MH3024 with an optional 15kW generator for magnet operation. Generator controls are fully integrated into the cab monitor.
Expand your work capabilities with attachments for a variety of applications.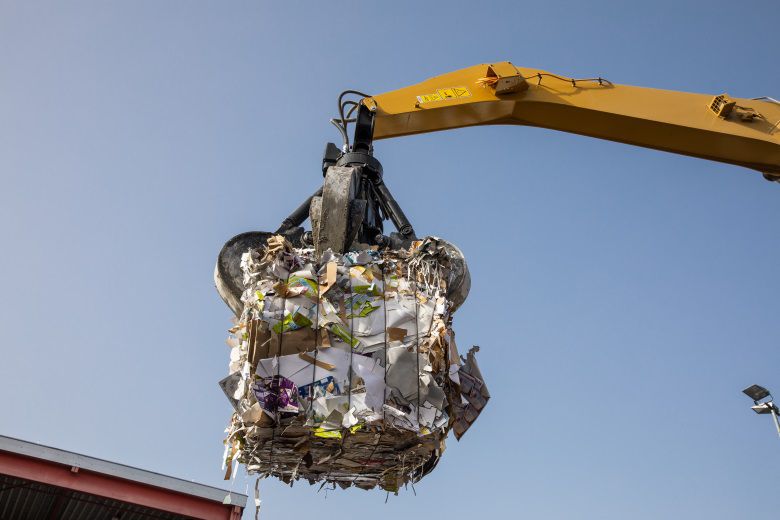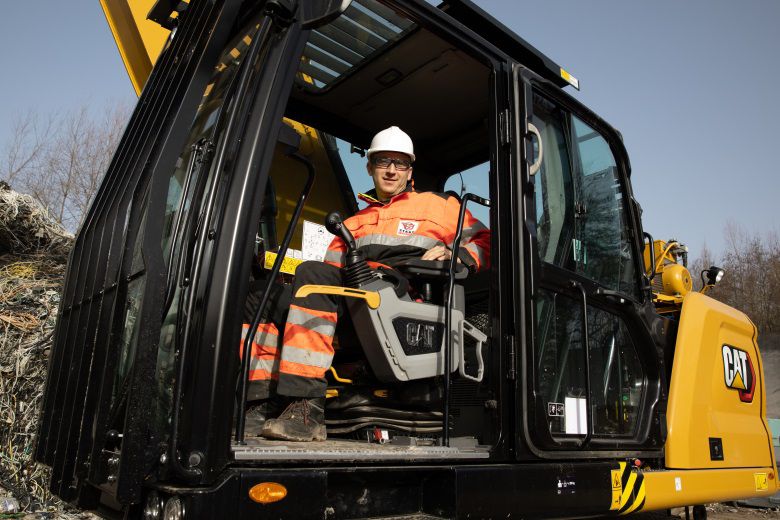 WORK IN COMFORT IN THE ALL-NEW CAB
Choose between Deluxe and Premium cab options.
The Deluxe seat is heated and air adjustable, while the Premium seat is heated and ventilated and adjusts automatically.
The cab has a wide seat that adjusts for operators of all sizes.
Control the machine comfortably with easy-to-reach controls.
Standard automatic climate control keeps you at the right temperature all shift long.
Stow your gear with plenty of in-cab storage beneath and behind the seat, overhead, and in the consoles. A cup holder, document holder, bottle holder, and coat hook are also provided.
Use the standard radio's USB ports and BluetoothTM technology to connect to personal devices.
RELIABILITY AND DURABILITY YOU CAN COUNT ON
Count on your machine to withstand wear throughout the years. Boom, sticks, and other high-stress areas are reinforced with thick multi-plate fabrications, castings, and forgings to ensure quality and reliability.
Work up to 3000 m (9,840 ft) above sea level without derating.
Don't let the temperature stop you from working. The material handler has a standard high-ambient temperature capability of 52° C (125° F) and cold start capability of -18° C (-0°F).
Auto warm up speeds up hydraulic oil warming in cold temperatures and helps prolong the life of components.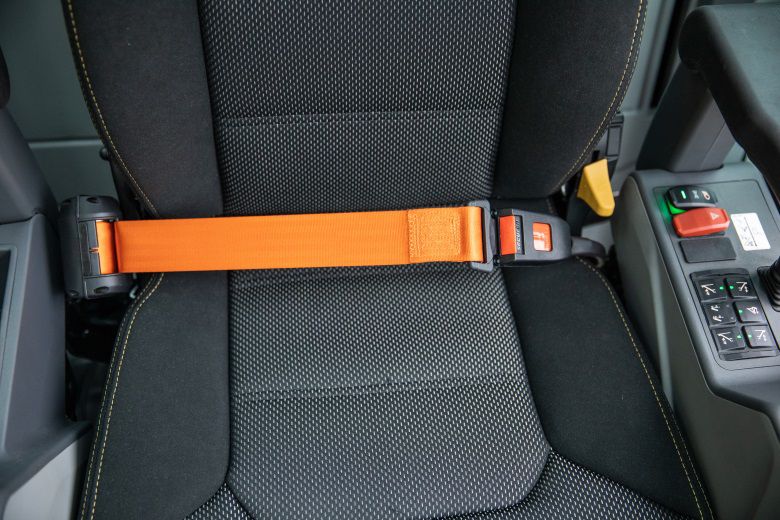 SAFETY
Cab Avoidance helps you avoid contact between your attachment and the cab.
Standard E-Fence prevents your machine from moving outside operator-defined parameters.
Keep your machine secure with Operator ID. Use your PIN code on the monitor to enable the push button starting feature.
Access all daily maintenance points from ground level -no need for you to climb on top of the machine.
Enjoy great all-around visibility with the help of smaller cab pillars, larger windows, and a flat engine hood design. Rearview and sideview cameras are standard along with optional 360-degree visibility system.
Thicker high impact and impact resistant windshields fulfil the EN356 P8B and P5A standards respectively.
Cab air pre-filtration reduces dust entry and air contamination. Upgrade to the optional Advanced Cabin Filtration System for additional protection against harmful particles.
Joystick steering eliminates steering column, improving front visibility and increasing cab entrance width. There is an option for a steering wheel for operators who prefer it.
New service platform design provides easy, safe, and quick access to the upper service platform.The service platform steps use anti-skid punch plate to prevent slipping.
The standard hydraulic lockout lever isolates all hydraulic and travel functions in the lowered position.
Optional Falling Object Guard System (FOGS) provides protection from falling and flying debris.
Ground-level shutoff switch stops all fuel to the engine when activated and shuts down the machine.
Boom and stick lowering check valves prevent reverse flow, keeping your front linkage securely in place should the hydraulic system unexpectedly lose power.
SUPERIOR SERVICEABILITY
Track your machine's filter life and maintenance intervals via the in-cab monitor.
Change all fuel filters at a synchronized 1,000 hours.
Expect the new air intake filter with cyclone precleaner to last up to 1,000 hours.
The new hydraulic oil filter provides improved filtration performance, anti-drain valves to keep oil clean when the filter is replaced, and longer life with a 3,000-hour replacement interval - 50 percent longer than previous filter designs.
High-efficiency, electrically driven cooling fans run only when needed; you can program intervals, so they automatically reverse to keep cores clean without interrupting your work.
S·O·SSM ports simplify maintenance and allowing for quick, easy extraction of fluid samples for analysis.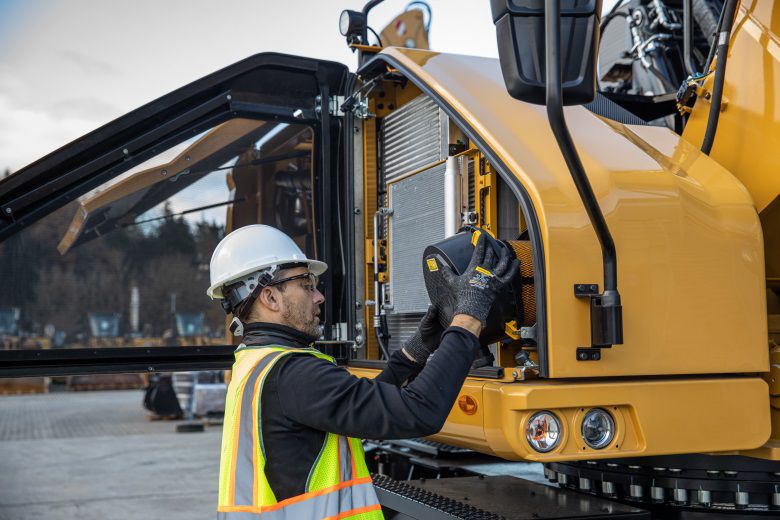 SUSTAINABILITY
The Cat C4.4 engine meets U.S. EPA Tier 4 Final and EU Stage V emission standards.
The MH3024 emits up to 17% less CO2 than the previous MH3024-06*.
Cat diesel engines are required to use ULSD (ultra-low sulfur diesel fuel with 15 ppm of sulfur or less) or ULSD blended with the following lower-carbon intensity fuels up to: 20% biodiesel FAME (fatty acid methyl ester) ** or 100% renewable diesel, HVO (hydrogenated vegetable oil) and GTL (gas-to-liquid) fuels. Refer to guidelines for successful application. Please consult your Cat dealer or "Caterpillar Machine Fluids Recommendations" (SEBU6250) for details.
Auto Engine Speed Control helps reduce unnecessary fuel burn and greenhouse gas emissions by allowing the engine to automatically go into idle mode when the machine is not working.
When engaged, one-touch idle helps operators conserve fuel and reduce greenhouse gas emissions by lowering engine speed when the machine is under no load and return to normal operating speed when desired.
Cat Scheduled Oil Sampling (S-O-S) Services helps reveal excessive wear, contaminated fluids or other "unseen" issues that can shorten component life. In many cases, you can extend oil and coolant change intervals by using fluid monitoring. Consult your Cat dealer or the machine's operation and maintenance manual for more information.
Extended maintenance intervals not only reduce downtime but decrease the amount of fluid and filters that are replaced over the life of the machine.
VisionLink® displays the CO2 emissions for monitored assets, calculated by fuel type for the Runtime Fuel Burned each day in a selected date range.
Remote Flash minimizes downtime and maintenance time while keeping your asset running with maximum efficiency. Alerts for machine updates are sent virtually from your Cat dealer and updates can be deployed without a dealer technician needing to be onsite.
Remote Troubleshoot decreases maintenance time and keeps your machine running with maximum efficiency by allowing your Cat dealer to virtually test the machine while working. Once a problem is identified, a technician can fix it the first time, saving time and money.
*All comparisons to MH3024-06. Productivity, fuel and CO2 emissions vary by application. CO2 emissions calculations based on a reference work cycle using 2.2 U.S. gallons per hour of #2 U.S. diesel fuel based. Applies IPCC2006 methodology using U.S. EPA Emissions Hub emission factors. Includes DEF (diesel exhaust fluid) related CO2. Fuel measurements are at 15C. Estimated average fuel consumption improvements are based on tests or Product Link data where available. Productivity improvements are based on test data.
**Engines with no aftertreatment devices can use higher blends, up to 100% biodiesel.
Standard Equipment
Optional Equipment
Specs
Docs
Specs
Long Name:
MH3024 Wheel Material Handler
Engine Power - Maximum - ISO 14396
174 HP / 129 kW
Net Power - ISO 9249
171 HP / 128 kW
Displacement
269 in³ / 4.4 l
Maximum Travel Speed (with steering wheel)
12.4 mile/h / 20 km/h
Maximum Travel Speed (with joysticks)
9.3 mile/h / 15 km/h
Drawbar Pull
28550 lb/ft / 127 kN
Maximum Gradeability (23 500 kg/51,810 lb)
65
Maximum Pressure - Implements
5366 psi / 37000 kPa
Maximum Pressure - Travel
5075 psi / 35000 kPa
Maximum Pressure - Swing
5656 psi / 39000 kPa
Maximum Operating Weight
59100 lb / 26800 kg
Minimum Operating Weight
50050 lb / 22700 kg
Service Refill Capacities
Fuel Tank Capacity
92.5 gal (US) / 350 l
Service Refill Capabilities
Diesel Exhaust Fluid Tank
7.9 gal (US) / 30 l
Cooling System
9.5 gal (US) / 36 l
Service Refill Capacities
Engine Oil
3.4 gal (US) / 13 l
Hydraulic Tank
40.9 gal (US) / 155 l
Hydraulic System - Including Tank
91.1 gal (US) / 345 l
Rear Axle - Housing (Differential)
3.7 gal (US) / 14 l
Front Steering Axle - Differential
2.8 gal (US) / 10.5 l
Service Refill Capabilities
Final Drive - Each
0.7 gal (US) / 2.5 l
Service Refill Capacities
Powershift Transmission
0.7 gal (US) / 2.5 l
Maximum Swing Torque
42631 ft·lbf / 58 kN·m
Boom
MH Boom 7.45 m (24'5")
Stick
Drop Nose 5.0 m (16'5")
Undercarriage Width
9.8 ft / 3000 mm
Shipping Height (with FOGS)
11 ft / 3350 mm
Shipping Length
35 ft / 10670 mm
Shipping Length (with push blade)
36.5 ft / 11130 mm
Machine Length
17.3 ft / 5290 mm
Machine Length (with push blade)
18.8 ft / 5740 mm
Tail Swing Radius
8.5 ft / 2600 mm
Counterweight Clearance
4.3 ft / 1300 mm
Cab Height- Lowered
11 ft / 3350 mm
Cab Height- Lowered with FOGS
11 ft / 3350 mm
Cab Height-Raised
18.4 ft / 5750 mm
Cab Height- Raised with FOGS
18.4 ft / 5750 mm
Wheel Base
9 ft / 2750 mm
Shipping Width
9.8 ft / 2990 mm
Ground Clearance
1.1 ft / 320 mm
Undercarriage Length
17.4 ft / 5300 mm
Undercarriage Length (with push blade)
18.8 ft / 5740 mm
Upper Frame Width (including handrails)
8.3 ft / 2540 mm
Maximum Reach
39.4 ft / 12010 mm
Boom
MH Boom 7.45 m (24'5")
Stick
Drop Nose 5.0 m (16'5")
Maximum Height
42.8 ft / 13030 mm
Minimum Dump Height
14.8 ft / 4520 mm
Maximum Reach at Ground Line
38.9 ft / 11870 mm
Maximum Depth
9.9 ft / 3010 mm
Boom Pin Height
30.4 ft / 9260 mm
With MH Boom (6400 mm/20'1") - MH Undercarriage and Straight Stick
50552 lb / 22930 kg
With MH Boom (6400 mm/20'1") - MH Undercarriage and 4900 mm/16'1" Drop Nose Stick
49714 lb / 22550 kg
Maximum Gross - ISO 14396
129.4 kW (174 hp [176 hp/PS*])
Swing Speed
8.2 r/min / 8.2 r/min
Oscillation Axle Angle
�5 degrees
Cab Height - Raised to Top of FOGS Guard
18.83 ft / 5750 mm
With Short MH Boom (5350 mm/17'6") - MH Undercarriage and Straight Stick
49979 lb / 22670 kg
Service Refill Capabilities
Hydraulic Tank Capacity
40.4 gal (US) / 153 l
Fuel Tank
87 gal (US) / 330 l
Axle Clearance - MH 2.55 m/8'4" Undercarriage
12.8 in / 325 mm
Service Refill Capabilities
Hydraulic System Capacity
66.8 gal (US) / 253 l
Maximum Travel Speed (with joysticks)
9.3 mile/h / 15 km/h
Maximum Travel Speed (with steering wheel)
12.4 mile/h / 20 km/h