RP6500 E CARB
RP6500 E Portable Generator
The Cat® RP6500 E 6500 Watt Generator is your solution for light commercial use and residential needs.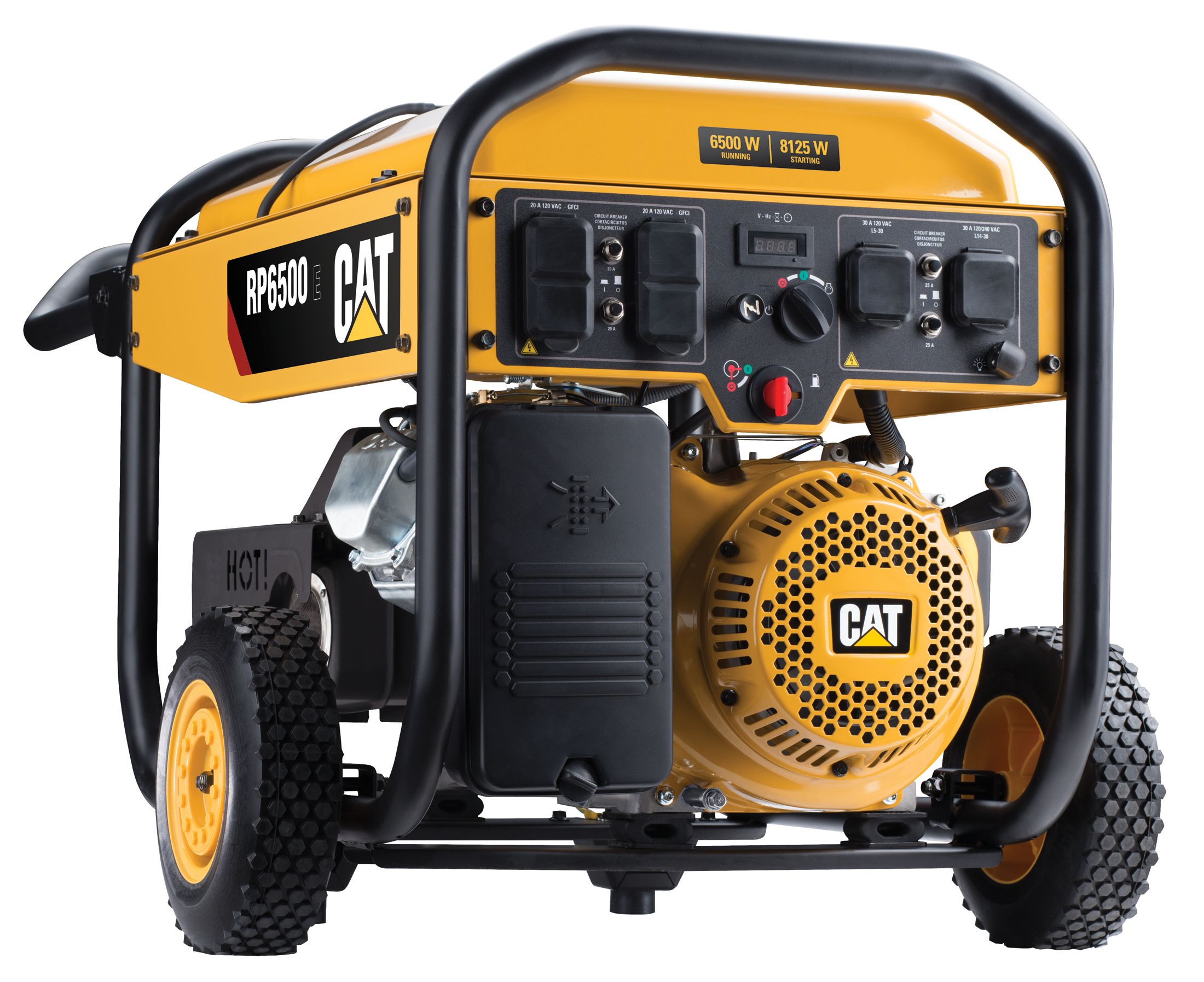 DESCRIPTION
The Cat® RP6500 E is your solution for light commercial use and residential needs.
A powerful performer
A great solution for light commercial or residential needs
This electric start generator, is a good option for keeping your business or home up and running:
TVs
Computers
Table Saws
Hammer Drills
Air Compressors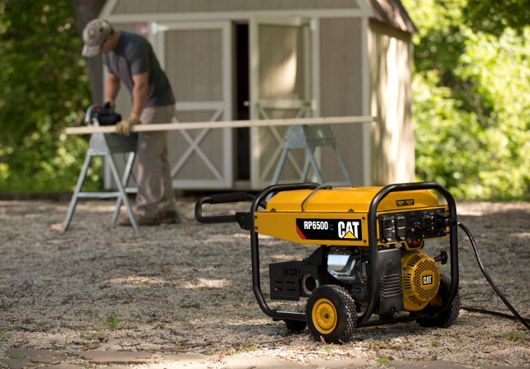 Lithium Ion batteries
Cat portable generators are equipped with electric starters and lithium ion batteries that automatically recharge whenever the generator is running. Our power will be ready when you are.
Single side controls
A single-side, LED illuminated panel contains all of the power outlets and controls in one intuitively-designed location, including the start/stop switch, choke, and fuel shutoff switch.
Specs
Long Name:
RP6500 E Portable Generator
Running Power
6500 W / 6500 W
Starting Power
8125 W / 8125 W
AC Output
120V / 240V @ 60Hz
Total Harmonic Distortion (THD)
—
Receptacles
2x 5-20R GFCI Duplex, 1x L5-30R (Twist Lock), 1x L14-30R (Twist Lock)
Run Time at 50%
12 h / 12 h
Starting Method
Electric or Pull
Fuel Tank Nominal Capacity
7.9 gal (US) / 30 l
Fuel Type
Unleaded Gasoline > 87 octane
Engine Displacement
420 cm³ / 420 cm³
Lubrication Method
Splash
Recommended Oil
SAE 30 or 10W-30
Oil Capacity
1.1 qt (US) / 1.1 l
Region Certifications
CARB
Shutdown Method
Automatic Low Oil Level
Illuminated Control Panel
Yes
Handle Style
Padded, Double Hinged
Warranty
Standard 2-year limited, extended to 3-year limited when registered within 30 days
Extended Length
45.2 in / 1148 mm
Unit Weight
188.5 lb / 86 kg
Carton Height
23.2 in / 590 mm
Carton Width
22.6 in / 575 mm
Carton Length
34.4 in / 875 mm
Shipping Weight
214 lb / 97 kg
SEE HOW RP6500 E CARB COMPARES AGAINST FREQUENTLY COMPARED PRODUCTS.
RP Series
RP6500 E CARB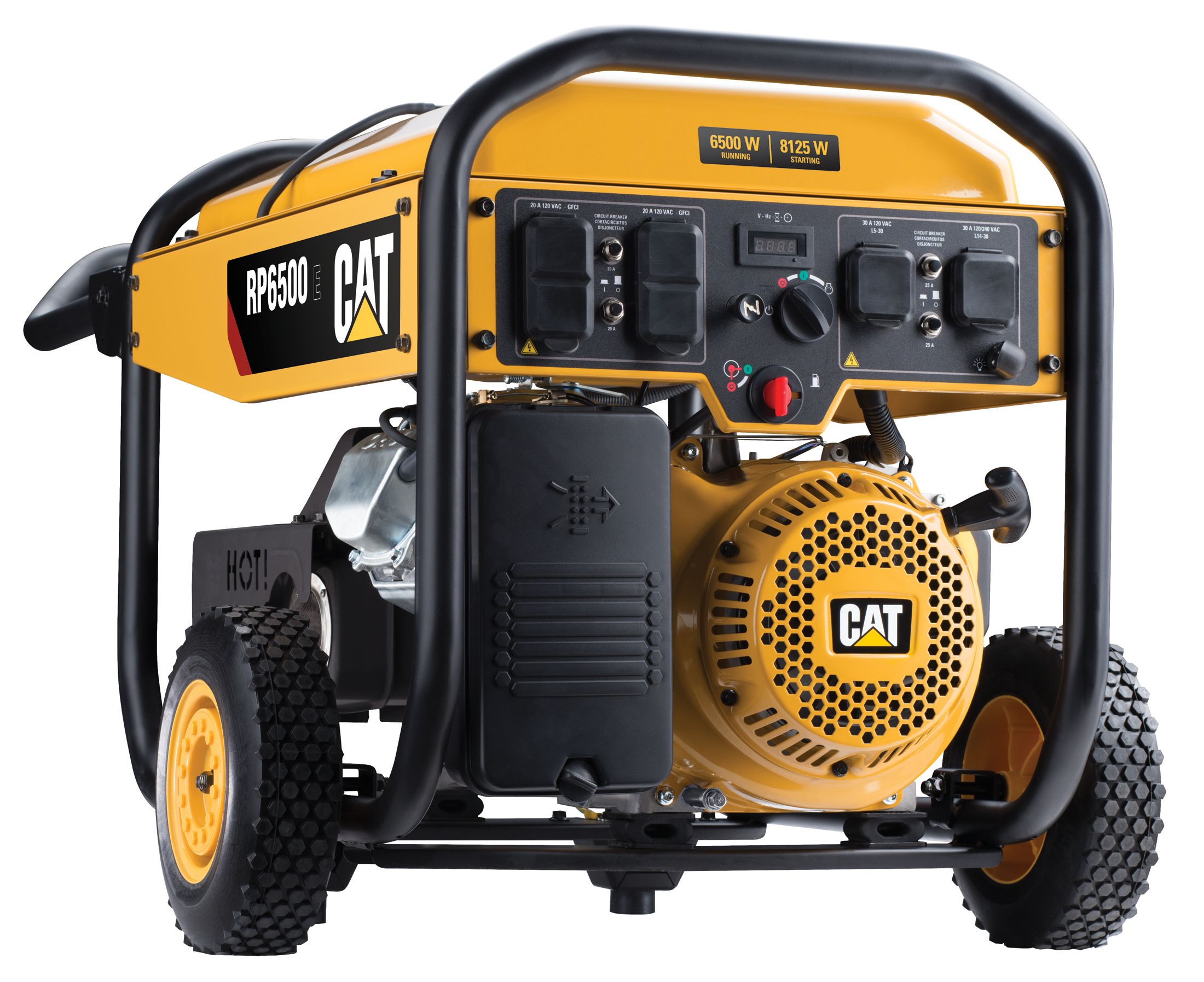 Brand

Cat

Status

Current

Running Power

6500 W / 6500 W

Starting Power

8125 W / 8125 W

AC Output

120V / 240V @ 60Hz

DC Output

—

Total Harmonic Distortion (THD)

—

Receptacles

2x 5-20R GFCI Duplex, 1x L5-30R (Twist Lock), 1x L14-30R (Twist Lock)

Voltage Regulation

AVR

Battery Type

Lithium Ion

Run Time at 50%

12 h / 12 h

Starting Method

Electric or Pull

Idle Control

—

Fuel Tank Nominal Capacity

7.9 gal (US) / 30 l

Fuel Tank Material

Metal

Fuel Type

Unleaded Gasoline > 87 octane

Fuel Gauge

Dial Gauge

Engine Displacement

420 cm³ / 420 cm³

Engine Type

OHV

Engine Speed

3600 RPM

Lubrication Method

Splash

Recommended Oil

SAE 30 or 10W-30

Oil Capacity

1.1 qt (US) / 1.1 l

Region Certifications

CARB

Shutdown Method

Automatic Low Oil Level

Illuminated Control Panel

Yes

Handle Style

Padded, Double Hinged

Wheel Type

Never-Flat

Indicator Lights

—

USB

—

Warranty

Standard 2-year limited, extended to 3-year limited when registered within 30 days

Height

24.7 in / 628 mm

Width

27.4 in / 696 mm

Length

32.9 in / 835 mm

Extended Length

45.2 in / 1148 mm

Unit Weight

188.5 lb / 86 kg

Carton Height

23.2 in / 590 mm

Carton Width

22.6 in / 575 mm

Carton Length

34.4 in / 875 mm

Shipping Weight

214 lb / 97 kg

UPC

815683020067
RP Series
RP6500 E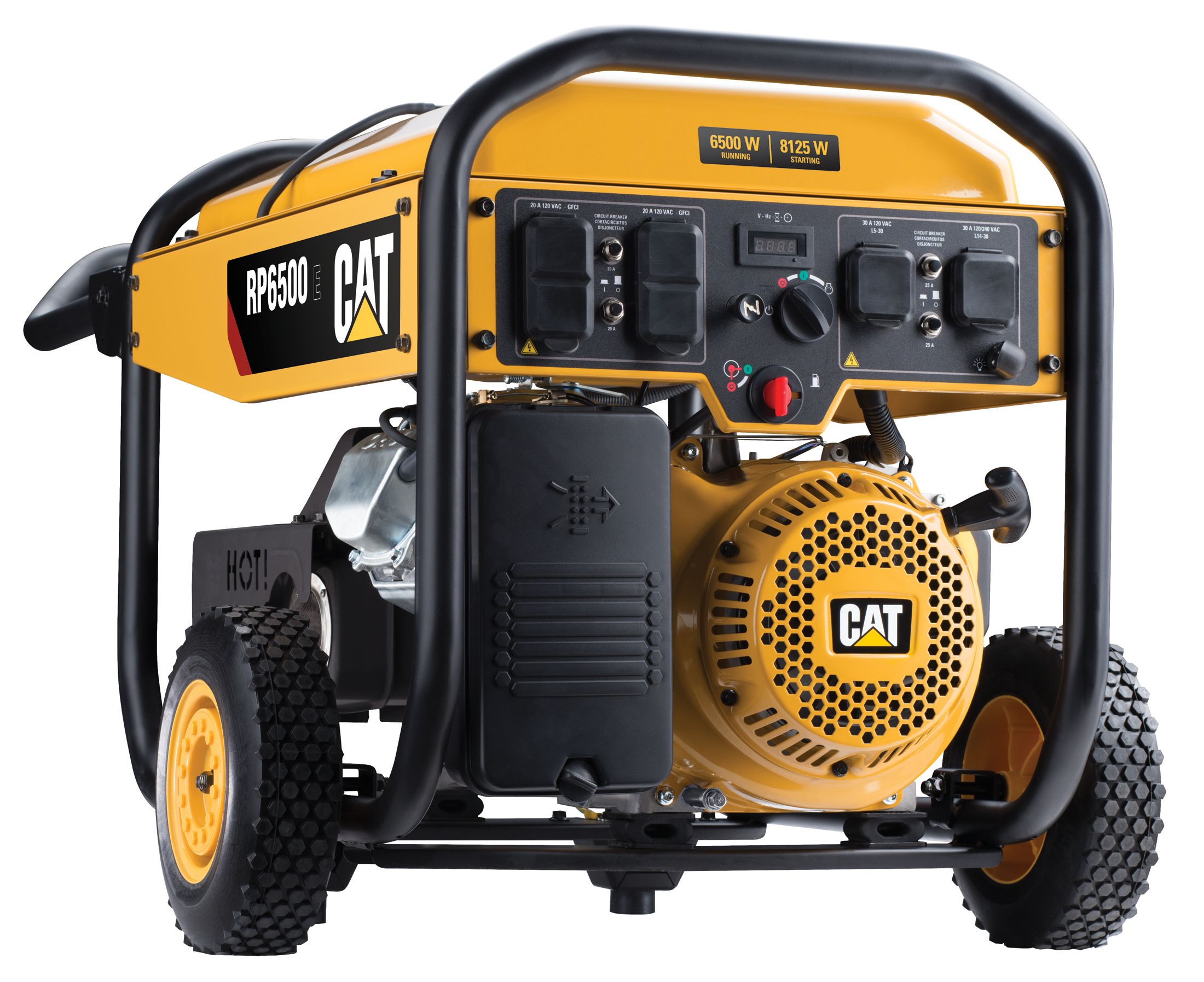 Brand

Cat

Status

Current

Running Power

6500 W / 6500 W

Starting Power

8125 W / 8125 W

AC Output

120V / 240V @ 60Hz

DC Output

—

Total Harmonic Distortion (THD)

—

Receptacles

2x 5-20R GFCI Duplex, 1x L5-30R (Twist Lock), 1x L14-30R (Twist Lock)

Voltage Regulation

AVR

Battery Type

Lithium Ion

Run Time at 50%

12 h / 12 h

Starting Method

Electric or Pull

Idle Control

—

Fuel Tank Nominal Capacity

7.9 gal (US) / 30 l

Fuel Tank Material

Metal

Fuel Type

Unleaded Gasoline > 87 octane

Fuel Gauge

Dial Gauge

Engine Displacement

420 cm³ / 420 cm³

Engine Type

OHV

Engine Speed

3600 RPM

Lubrication Method

Splash

Recommended Oil

SAE 30 or 10W-30

Oil Capacity

1.1 qt (US) / 1.1 l

Region Certifications

CSA

Shutdown Method

Automatic Low Oil Level

Illuminated Control Panel

Yes

Handle Style

Padded, Double Hinged

Wheel Type

Never-Flat

Indicator Lights

—

USB

—

Warranty

Standard 2-year limited, extended to 3-year limited when registered within 30 days

Height

24.7 in / 628 mm

Width

27.4 in / 696 mm

Length

32.9 in / 835 mm

Extended Length

45.2 in / 1148 mm

Unit Weight

187 lb / 85 kg

Carton Height

23.2 in / 590 mm

Carton Width

22.6 in / 575 mm

Carton Length

34.4 in / 875 mm

Shipping Weight

213 lb / 96 kg

UPC

815683020074
RP Series
RP6500 with Cat® CO DEFENSE™ and Power Cord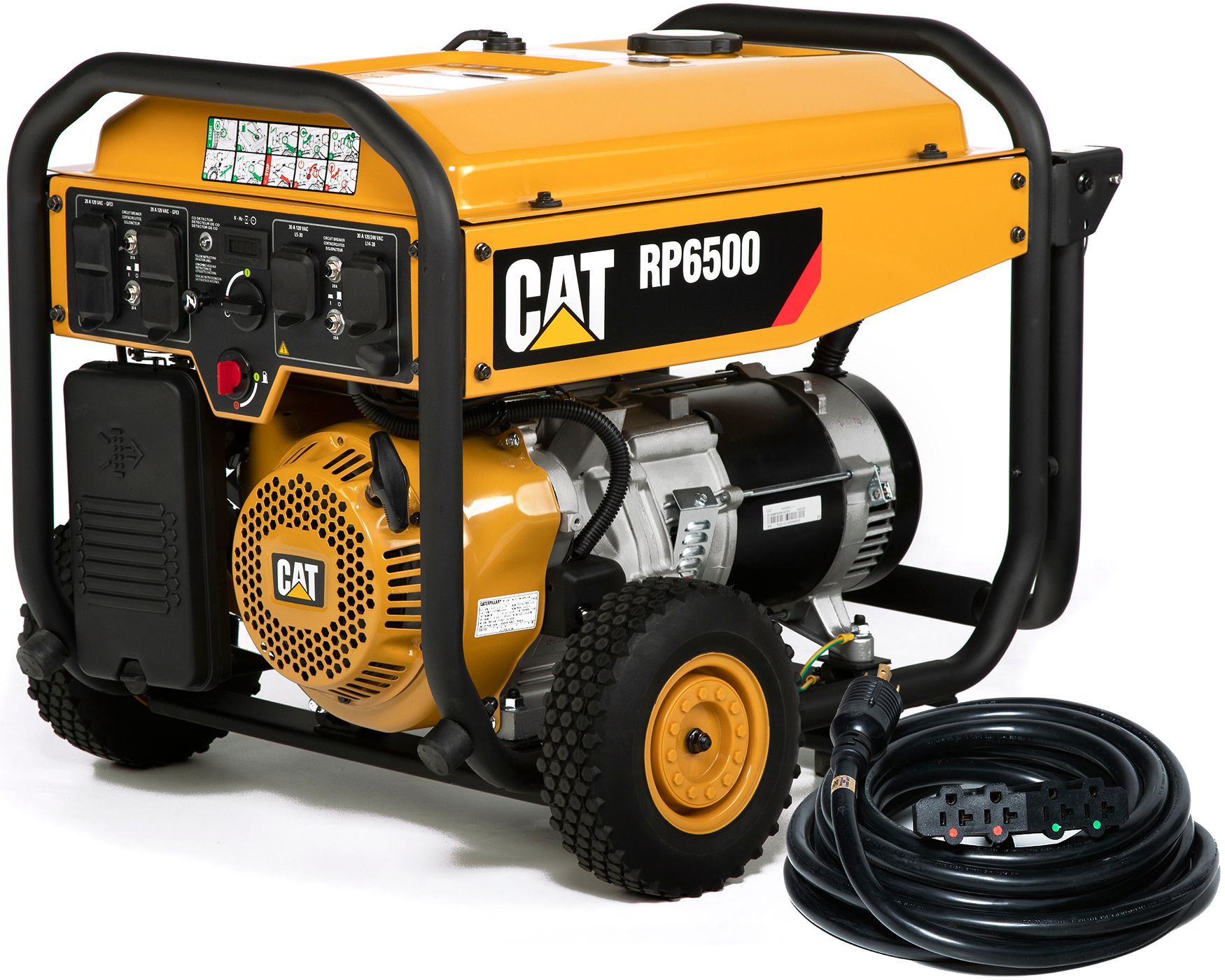 Brand

Cat

Status

Current

Running Power

6500 W / 6500 W

Starting Power

8125 W / 8125 W

AC Output

120V / 240V @ 60Hz

DC Output

—

Total Harmonic Distortion (THD)

—

Receptacles

2x 5-20R GFCI Duplex, 1x L5-30R (Twist Lock), 1x L14-30R (Twist Lock)

Voltage Regulation

AVR

Battery Type

—

Run Time at 50%

12 h / 12 h

Starting Method

Pull

Idle Control

—

Fuel Tank Nominal Capacity

7.9 gal (US) / 30 l

Fuel Tank Material

Metal

Fuel Type

Unleaded Gasoline > 87 octane

Fuel Gauge

Dial Gauge

Engine Displacement

420 cm³ / 420 cm³

Engine Type

OHV

Engine Speed

3600 RPM

Lubrication Method

Splash

Recommended Oil

SAE 30 or 10W-30

Oil Capacity

1.1 qt (US) / 1.1 l

Region Certifications

EPA

Shutdown Method

Automatic Low Oil Level

Illuminated Control Panel

Yes

Handle Style

Padded, Double Hinged

Wheel Type

Never-Flat

Indicator Lights

—

USB

—

Warranty

Standard 2-year limited, extended to 3-year limited when registered within 30 days

Height

24.7 in / 628 mm

Width

27.4 in / 696 mm

Length

32.9 in / 835 mm

Extended Length

45.2 in / 1148 mm

Unit Weight

187 lb / 85 kg

Carton Height

23.2 in / 590 mm

Carton Width

22.6 in / 575 mm

Carton Length

34.4 in / 875 mm

Shipping Weight

213 lb / 96 kg

UPC

815683020081