New | 416F Backhoe Loader
Experience the difference of a Cat® Backhoe Loader. Spacious operator station features ergonomic controls, ample legroom and an air suspension seat to keep you comfortable all day long. Built for greater reach, dump height, breakout force and pushing power, the Cat 416F helps you get more done to improve your bottom line.
Engine
Net Power - SAE J1349
87.0 hp
Engine Model (Standard)
Cat® C4.4 ACERT™ DIT
Gross Power - SAE J1995
97.0 hp
Net Power - ISO 9249
88.0 hp
Gross Power - ISO 14396
94.0 hp
Net Power - EEC 80/1269
88.0 hp
Bore
4.13 in
Stroke
5.0 in
Displacement
268.0 in3
Net Peak Power @ 1,800 rpm - EEC 80/1269
91.0 hp
Net Peak Power @ 1,800 rpm - ISO 9249
91.0 hp
Net Peak Power @ 1,800 rpm - SAE J1349
90.0 hp
Net Torque Rise @ 1400 rpm - Standard
37.0 %
Net Peak Torque @ 1400 rpm - Standard - SAE J1349
299.0 lb ft
Backhoe
Dig Depth - Standard
14.3 ft
Dig Depth - E-Stick Retracted
14.42 ft
Dig Depth - E-Stick Extended
17.9 ft
Reach from Swing Pivot - Standard
18.42 ft
Reach from Swing Pivot - E-Stick Retracted
18.58 ft
Reach from Swing Pivot - E-Stick Extended
21.83 ft
Bucket Rotation
205.0 Degrees
Bucket Dig Force - Standard
12973.0 lb
Bucket Dig Force - E-Stick Retracted
12791.0 lb
Bucket Dig Force - E-Stick Extended
12791.0 lb
Stick Dig Force - Standard
7279.0 lb
Stick Dig Force - E-Stick Retracted
7289.0 lb
Stick Dig Force - E-Stick Extended
5350.0 lb
Loading Height - Standard
11.9 ft
Loading Height - E-Stick Retracted
11.74 ft
Loading Height - E-Stick Extended
13.6 ft
Loading Reach - Standard
6.0 ft
Loading Reach - E-Stick Retracted
6.3 ft
Loading Reach - E-Stick Extended
9.3 ft
Weights
Operating Weight - Maximum
24251.0 lb
Operating Weight - Nominal
14881.0 lb
Cab, ROPS/FOPS
573.0 lb
Four Wheel Drive
342.0 lb
Extendible Stick (no weights)
659.0 lb
Air Conditioning
86.0 lb
Counterweights (Option 1)
255.0 lb
Counterweights (Option 2)
530.0 lb
Counterweights (Option 3)
1015.0 lb
Loader
Bucket Capacity - General Purpose
1.0 yd3
Bucket Width - General Purpose
7.42 ft
Dump Height @ Max Angle - Single Tilt
9.25 ft
Dump Reach @ Max Angle - Single Tilt
2.42 ft
Dig Depth - Single Tilt
3.0 in
Lift Capacity @ Full Height - Single Tilt
6751.0 lb
Bucket Breakout Force - Single Tilt
10772.0 lb
Hydraulic System
Circuit Type
Closed center, load sensing
Pump Capacity (@ 2200 rpm)
34.8 gal/min
System Pressure - Backhoe
3300.0 psi
System Pressure - Loader
3300.0 psi
Pump Type
Variable-flow, axial piston
Steering Type
Front wheel
Power Steering
Hydrostatic, HMU
2WD Cylinder - Bore
2.6 in
2WD Cylinder - Stroke
4.7 in
2WD Cylinder - Rod Diameter
1.4 in
4WD Cylinder - Bore
2.6 in
4WD Cylinder - Stroke
4.7 in
4WD Cylinder - Rod Diameter
1.4 in
Brake System
Inboard, oil-immersed, multiple disc
Power Train
Power-Shuttle, Forward 1st
3.7 mph
Power-Shuttle, Forward 2nd
5.9 mph
Power-Shuttle, Forward 3rd
12.0 mph
Power-Shuttle, Forward 4th
25.0 mph
Power-Shuttle, Reverse 1st
3.7 mph
Power-Shuttle, Reverse 2nd
5.9 mph
Power-Shuttle, Reverse 3rd
12.0 mph
Power-Shuttle, Reverse 4th
25.0 mph
Operating Specifications - Backhoe
Turning Circle: outside, front wheels
26.8 ft
Turning Circle: outside, widest loading bucket
36.0 ft
Axle Ratings
Front Axle, 2WD, Static
50582.0 lb
Front Axle, 2WD, Dynamic
20233.0 lb
Front Axle, 4WD, Static
50582.0 lb
Front Axle, 4WD, Dynamic
20233.0 lb
Rear Axle, Static
50582.0 lb
Rear Axle, Dynamic
20233.0 lb
Service Refills
Cooling System
5.8 gal
Fuel Tank
45.0 gal
Engine Oil w/Filter
2.0 gal
Transmission-Torque Converter, 2WD, Power Shuttle
4.9 gal
Transmission-Torque Converter, 4WD, Power Shuttle
4.9 gal
Rear Axle
4.4 gal
Rear Axle, Planetaries
0.4 gal
Front Axle, 4WD
2.9 gal
Front Axle, Planetaries
0.2 gal
Hydraulic System
23.8 gal
Hydraulic Tank
11.1 gal
Standards
Brakes
SAE J/ISO 3450, ISO 3450 1996
Cab - ROPS
SAE J1040 May 1994/ISO 3741 1994
Cab - FOPS
SAE J/ISO 3449 APR98 LEVEL II and ISO 3449: 1992 LEVEL II
Cab - Sound
ANSI/SAE J1166 Oct 98 is 80 dB (A)
Exterior Sound
SAE J88 JUN86 is 76 dB (A)
Spacious working environment for all day comfort.
Superior Comfort
The ergonomic, automotive style operator station helps you work comfortably and productively all day long. Select the configuration that meets your needs - Canopy, Cab or Cab with air conditioning. Features include:
Adjustable air suspension seat (standard)
Excellent visibility over the hood
Easy-to-read gauge cluster
Ample legroom
Storage compartments for tools and belongings
Ride Control
The optional Ride Control System smoothes the ride in all conditions, including load and carry, highway roading or simply moving around the job site. The result is increased operator comfort, reduced operator fatigue and improved material retention.
Premium Gauge Cluster
The new gauge cluster provides a digital display of system information such as fluid temperatures, hour meter and operator settings.
Backhoe Controls
Two mechanical control patterns are available; two lever excavator and two lever backhoe. Ergonomic, permanently attached foot pedals control auxiliary functions.
Built for performance, power and fuel efficiency.
Cat Engine
The Cat C4.4 ACERT™ engine provides cleaner, quieter operation while delivering superior performance and durability. The engine meets U.S. EPA Tier 4 Interim and EU Stage IIIB emission requirements. The engine also features:
Passive regeneration system requiring no operator interaction
Long life diesel particulate filter
Improved fuel efficiency
Transmission
The standard power shuttle transmission provides four speeds forward and reverse. Hydraulically shifted clutches allow on-the-go direction and travel speed shifts.
Hydraulic proportional control valves deliver smooth speed and directional shifts.
Four Wheel Drive option improves mobility and loader performance in poor underfoot conditions and can be activated on-the-go.
Maximum roading speed of 40 km/h (25 mph) improves travel time between job sites.
Brake Mode Selector
Optional brake mode selector switch has three positions: two wheel drive, two wheel drive with all wheel braking and four wheel drive. Two wheel drive with all wheel braking provides better tire life while roading and engages the front axle when brakes are applied for improved braking performance.
Load-sensing system matches power to demand.
Powerful Hydraulic System
The load-sensing, closed center hydraulic system matches pressure and flow to the job demands. Whether you're in full trenching mode or digging around delicate services, you are in control. In applications such as production trenching where speed is important, the system will provide the flow needed to get the job done quickly and efficiently. New electronic pump torque limiter delivers improved power management and hydraulic performance. The load-sensing hydraulic system also delivers:
Better fuel efficiency
Quieter operation
Reduced wear on components
Cooler hydraulic temperatures
Full dig and lift forces at any engine speed
Superior digging forces.
Boom
The excavator-style boom is built for optimum performance and durability. The curved design provides added clearance when digging over obstacles or loading trucks. The narrow boom enhances the viewing area to the bucket and the trench throughout the operating range. More robust swing casting and double clevis design improves durability and reliability.
Stick
Serrated edges on the stick provide improved material clamping for clearing and demolition applications. The optional extendible stick (E-stick) increases reach and dig depth by approximately 1.1 m (3.5 ft).
Thumbs
Thumb mounting provisions are standard on every Cat Backhoe Loader for added machine versatility. Cat hydraulic thumbs are available for increased versatility. Mechanical thumbs are also available through your Cat dealer.
Strong lift and breakout.
New Loader Arms
New front loader arms deliver more reach, dump height and breakout.
Single Tilt
The standard single tilt loader linkage features strong lift and breakout forces for solid performance in backfilling and truck loading applications with pin-on buckets. The 416F is equipped with either a general purpose or multi-purpose pin-on bucket to meet your specific needs.
Return-to-Dig
The return-to-dig system reduces loading cycle times by bringing the loader bucket back to the dig position with an easy pull of the lever. By the time the loader bucket is at ground level, the bucket is angled correctly for the next load or cut.
Do more jobs with one machine.
Backhoe Work Tools
Increase the versatility of your machine with the large selection of backhoe attachments:
Buckets - Standard Duty, Heavy Duty, Heavy Duty Rock, Soil Excavation, Coral and Ditch Cleaning
Cold Planers
Hammers
Augers
Rippers
Thumbs (mechanical and hydraulic)
Vibratory Plate Compactors
Quick Couplers
Loader Work Tools
A wide range of loader attachments is available including:
General Purpose Bucket
Multi Purpose Bucket
Side Dump Bucket
Light Material Bucket
Forks
Diagonal Retention System
Heavy duty bucket teeth are attached with diagonal pins rather than horizontal pins for easy exchange without the use of special tools.
Easy maintenance helps keep your machine working.
Minimize Your Downtime
Convenient service features makes maintenance easy, reducing your downtime:
Hinged cooling pack provides easy access
Tilt up hood provides easy, convenient access to all engine check points
Engine side panels remove easily without the use of tools
Cat Product Link system (optional) provides remote reporting of machine location and operating system parameters
Unmatched support makes the difference.
Renowned Dealer Support
From helping you choose the right machine to knowledgeable ongoing support, Cat dealers provide the best in sales and service.
Preventive maintenance programs and guaranteed maintenance contracts
Best-in-class parts availability
Operator training to help boost your profits
Genuine Cat Remanufactured parts
Standard Equipment
Air cleaner
Alarm, back-up
Audible system fault alarm
Battery, maintenance-free, 880 CCA
Battery disconnect switch
Battery remote jumpstart
Boom transport lock
Brace, lift cylinder
Brake, secondary parking
Brakes, hydraulically boosted, oil disc, dual pedals, interlocking
Bucket level indicator
Canopy, ROPS/FOPS
Coat hook
Coolant/Antifreeze, extended life
Counterweight, bumper
Diesel particulate filter, long life
Dome light (cab only)
Diagnostic port for engine
Differential lock
Engine, Cat® C4.4 ACERT™ DIT (Direct Injection Turbocharged)
Engine enclosure
Face seals, O-ring
Fan, suction and guard
Fast reversing shuttle, all gears
Fenders, rear
Filters, spin-on: fuel, engine oil, transmission oil, water separator
Filters, bowl and cartridge: hydraulic fluid
Flashing hazard/signal lights
Floor mat
Flow-sharing hydraulic valves
Fully hinged front grill for cooling package cleaning access
Premium Gauge Cluster:
Gauges: coolant temperature, fuel level, tachometer
LCD screen: hour meter, torque converter, oil temperature, operator settings, service mode diagnostics
Ground level fuel fill
Guard, fuel tank bottom
Hazard flashers/turn signals
High ambient cooling package
Hood lock
Hydraulic hose, XT™
Hydraulic oil cooler
Hydraulic oil level sight gauge
Hydraulic valve, hydrostatic steering
Hydraulic valves, loader 2 function
Hydraulic valves, backhoe 4 function
Hydraulics, load sensing with variable displacement piston pump
Indicators: air cleaner service, water separator service, engine coolant, oil pressure
Instrument panel lights
Joystick controls: pilot operated, excavator-style with pattern changer
Key start/stop system
Lights, working (4 front, 4 rear)
Load sensing, variable flow system
Loader, self-leveling, return-to-dig and transmission disconnect switch
Loader, single tilt
Lunch box and drink holder
Mirror, rear view
One-touch low idle
Open circuit breather
O-ring face seal hydraulic fittings
Power receptacle, 12V, 2 internal, 1 external
Power steering, hydrostatic
Seat belt, retractable (51 mm/2 in)
Stabilizer shoes, street
Seat, air suspension, fabric or vinyl cover, with armrest
Starting system, glow plugs
Steering knob
Storage compartment, internal
Stop and tail lights
Swing transport lock
Tires
Toolbox, external, lockable
Torque converter
Throttles, hand and foot, electronic
Transmission, four speed, syncromesh
Transmission neutralizer switch
Transport tie-downs
Two Wheel Drive
Vandalism locks
Warning horn, electric
Optional Equipment
Battery, additional, 880 CCA
Cab, standard
Cab, standard with air conditioning
Cold weather fuel (-30° C (-22° F)
Cold weather package, including additional battery, engine block heater, radiator antifreeze, cold weather fuel (-30° C (-22° F) and mounting for ether bottle
Counterweights, 115 kg (255 lb), 240 kg (530 lb) or 460 kg (1,015 lb)
Fenders, front with integral steps
Fenders, rear extensions
Four Wheel Drive/Brake Mode Selector
Guard, boom protection plate
Guard, stabilizer, rock
Guard, fuel tank front and rear
Hydraulic valves, loader (3rd valve for GP, MP or Quick Coupler)
Hydraulic valves, backhoe (5th and 6th function)
Hydraulic lines, combined function auxiliary
Machine Security System
Product Link
Quick Coupler, manual, dual lock
Quick Coupler, pin lock
Radio ready cab
Ride Control
Rotating beacon, magnetic mount
Seat belt, 75 mm (3 in)
Stabilizer pads, grouser type
Stabilizer pads, reversible
Stick, extendible
Storage box
Vandalism protection, gauge cover
Work Tool Attachments such as buckets, forks, material handling arms, augers, hammers, brooms, cold planers and vibratory plate compactors.
listofrelationships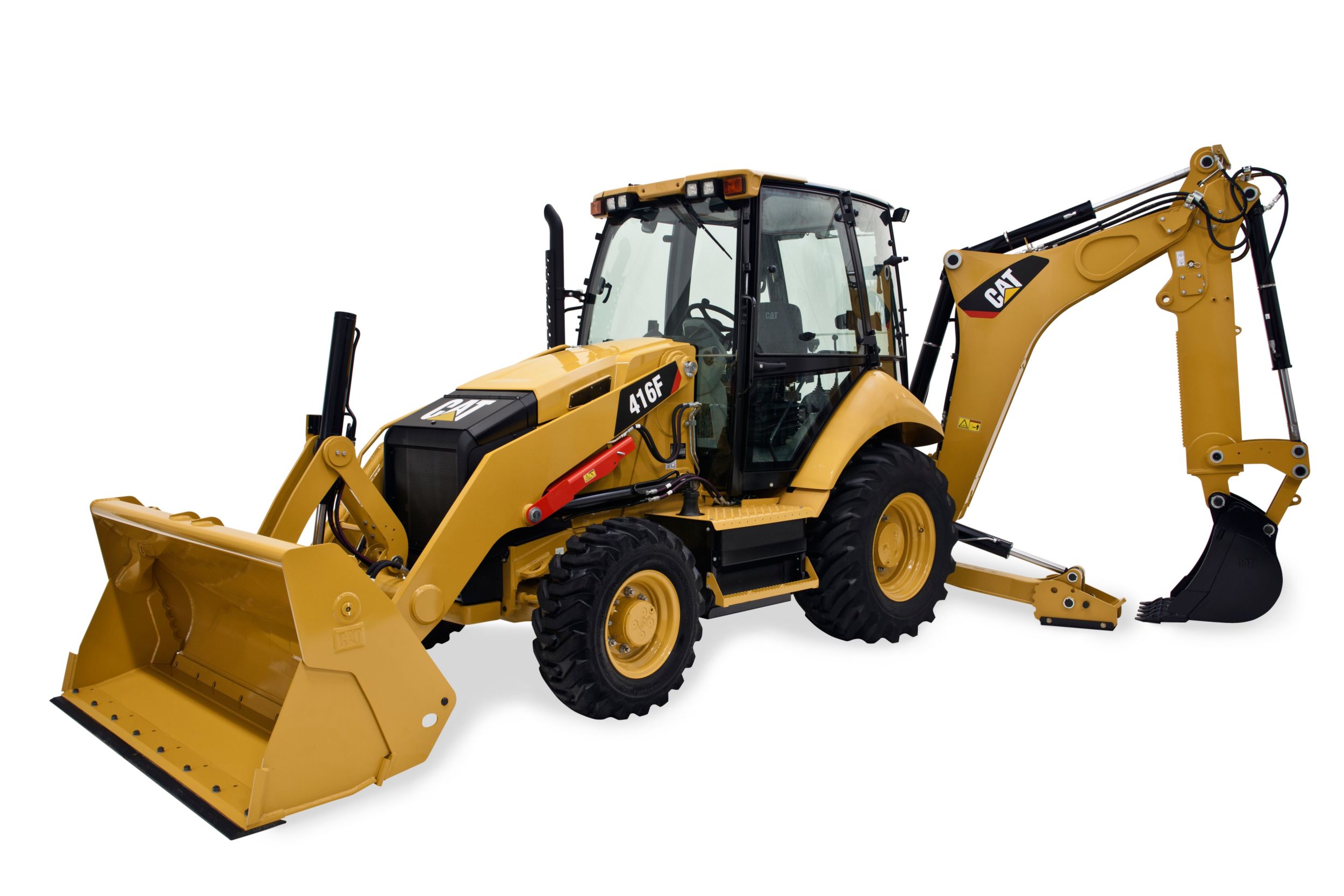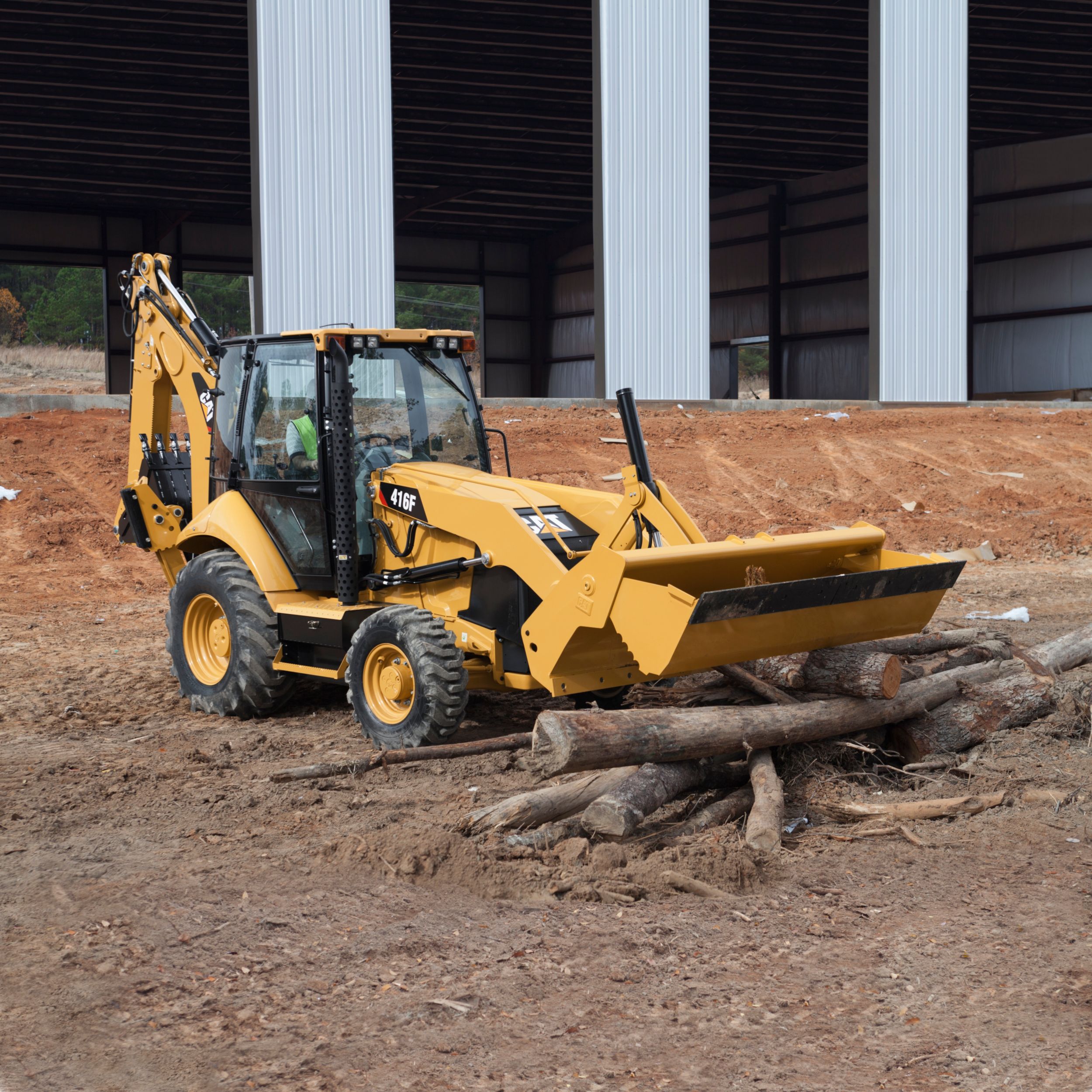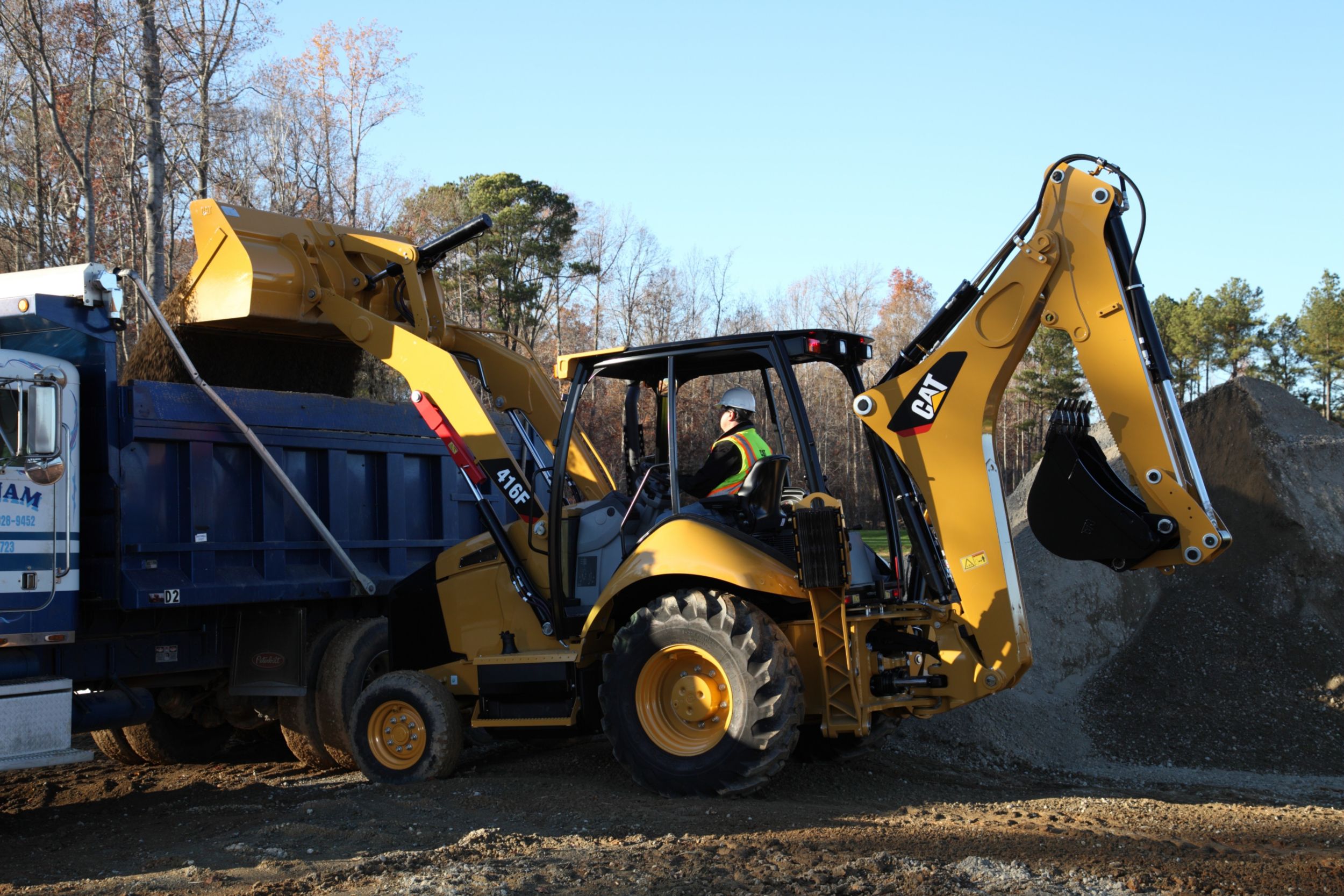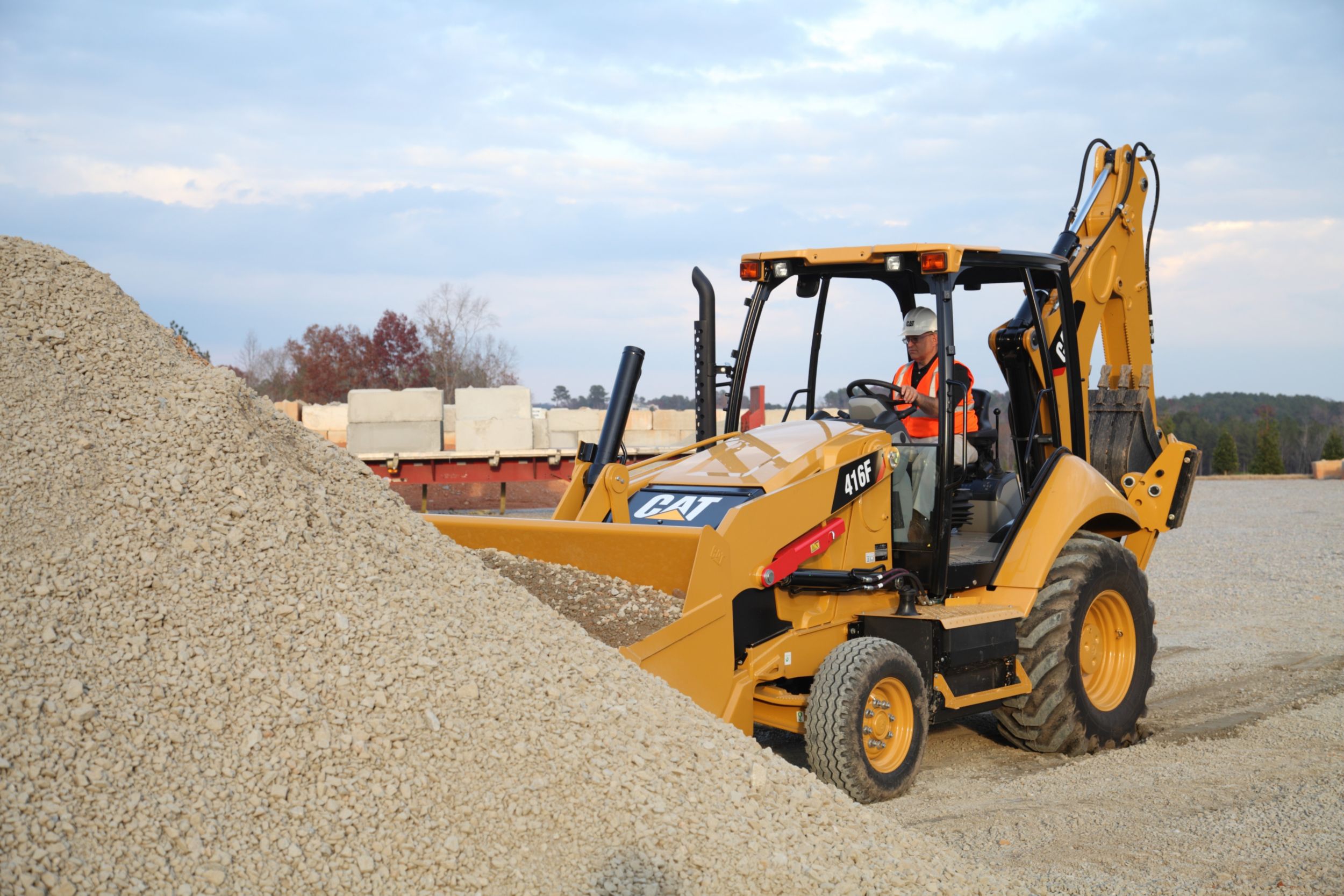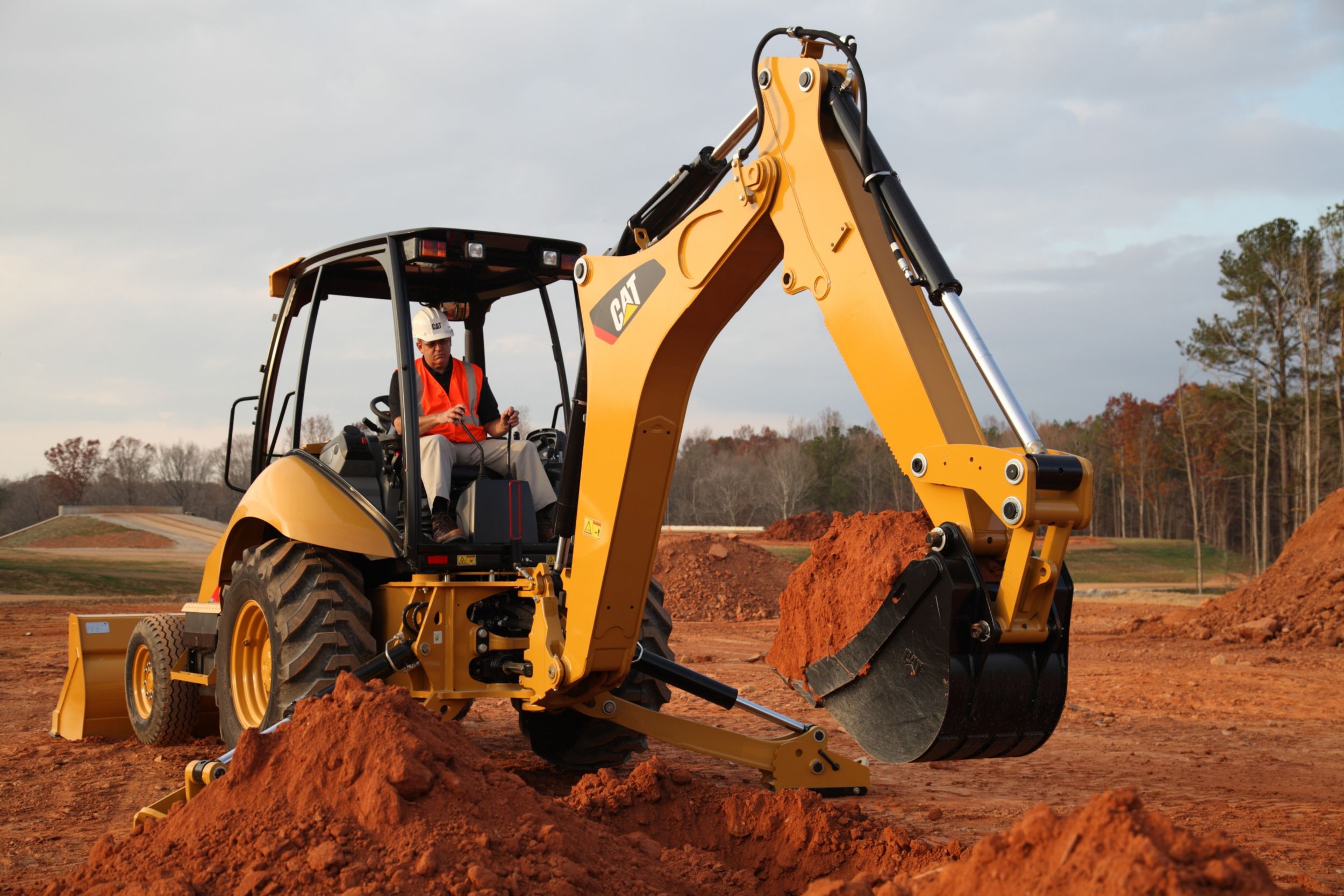 Machine Comparison
Other Models in this Category
Select Product Category