3508C
3508C Propulsion Engine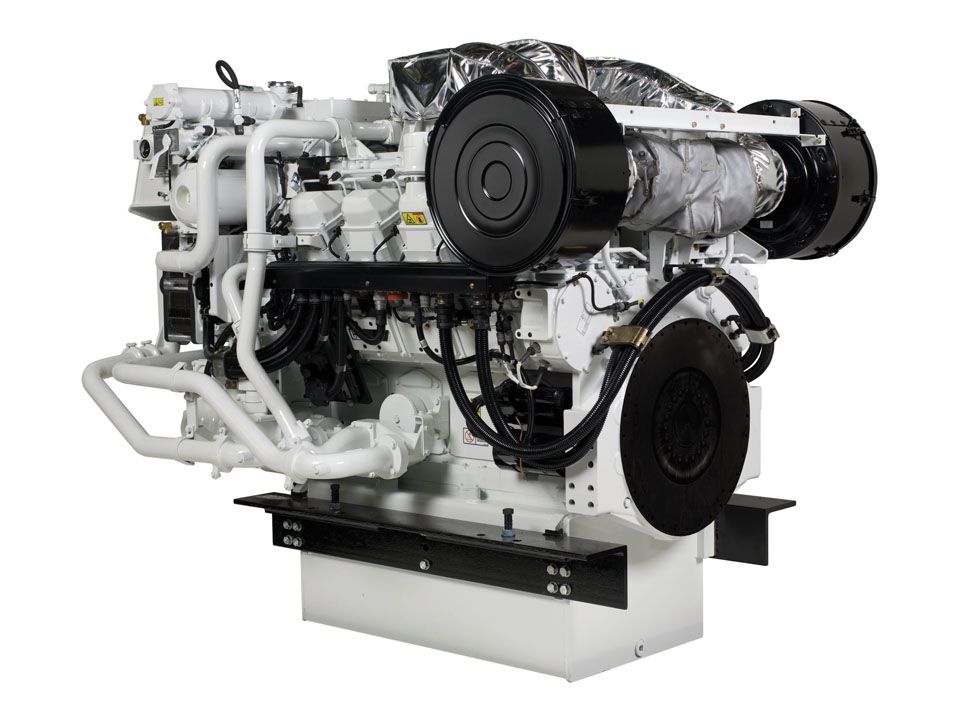 DESCRIPTION
The 3508C marine propulsion engine meets IMO II emissions regulation and delivers more power with lower emissions for your marine propulsion needs. Additionally, the 3508C provides outstanding fuel efficiency and lube oil consumption. Standard or reverse rotation options are available as well as worldwide parts and service. The 3500 engine platform is a streamlined and proven design that provides industry-leading reliability & durability.
A3 Electronic Control Unit (ECU)
• One of the most advanced electronic control systems available for Cat marine engines. • Faster with more memory capability than ADEM 2 • Compatible with several optional display systems • Does not require fuel cooling • Enhanced input/output capacity • Rugged marine design and IP66 connectors • Award-winning circuitry design
Engine-Mounted Instrument Panel
• Integrated MPD display for quick response and effective local control • Optional local speed control • Optional individual cylinder exhaust temperature scanner with data link for remote mounting • Local E-stop, warning indicators, horn • Plug & Run connections allow mounting on port or starboard side of engine
Marine Power Display (MPD)
• Graphic display of engine operating parameters in analog, digital, or bar-chart format • Rugged weatherproof construction • Fully user-configured display screens • Marine classification society-type approved • Diagnostic messages and alarms • Three-tier prioritization of events and diagnostics • Multilingual capability • Night-mode LCD display • ISO symbols for parameter identification
High Capacity High Efficiency Turbos
• Standard marine twin turbocharger configuration. • More reserved power for superior part load performance at continuous ratings • Turbos tuned for high power and excellent fuel consumption
Engine-Mounted Cat® Plate-Type Heat Exchanger
• Separate Circuit Aftercooled (SCAC) • Single heat exchanger for both jacket water and aftercooler systems • Single inlet and outlet connections for sea water • Lightweight and compact • Factory-installed piping and connections
Rigid Wiring Harness
• Highly durable: long service life • Flexibility for custom wire additions • Lined with fire retardant foam • Cost efficient replacement for premium wiring • Marine classification society approved
Power Distribution Box
• Isolates "control power" from alternator/starter/jacket water heater power • Mountable off engine • Allows end user to choose up to three independent power sources • Has built-in circuit breakers and switches for easy troubleshooting
Marine Classification Society Approvals
• ABS/DNV/LR/GL/CCS/BV/RINA
Electronic Features
• 3D histogram data of engine operation (load, speed, time) • Load feedback signal for CPP operation • Electronic torque limit for re-power and torque limited application equipment • Programmable droop • Adjustable governor gains • Condition-based maintenance • Monitoring features • Serial data bus communications • Primary and secondary A3 controllers on all propulsion engines
Cat Pilot House Panels
• Cat pilot house panels with or without Marine Power Display (MPD) • Easily connected to the engine customer connector • Ability to have full function helm panels and reduced function wing panels
Unit Injectors
• Caterpillar designed and built system • "Drop-in" installation • No threaded fuel connections • High pressure only inside injector does not require double wall lines or leak collection devices
Power Take-off
• Power take-off adapters available • Auxiliary drives for power take-offs for hydraulic pumps and compressors
Engine-Mounted Gear-Driven Pumps
• Standard engine-mounted aftercooler pump • Standard engine-mounted jacket water pump • Optional engine-mounted, gear-driven, high capacity sea water pump
Engine Mounting System
• Rigid mounting points • Optional resilient mounting
In-Hull Overhaul
• Easily removable side covers • Accessible bearing caps
Standard Equipment
Optional Equipment
Specs
Docs
Specs
Long Name:
3508C Propulsion Engine
Power Range
775-1100 bhp (578-820 bkW)
Speed Range
1200-1600 rpm
Displacement
2107 in³ / 34.5 l
Rotation from Flywheel End
Counterclockwise or Clockwise
Configuration
Vee 8, 4-Stroke-Cycle Diesel
Minimum Dry Weight
10935 lb / 4960 kg
SEE HOW 3508C COMPARES AGAINST FREQUENTLY COMPARED PRODUCTS.
Commercial Propulsion Engines
3508C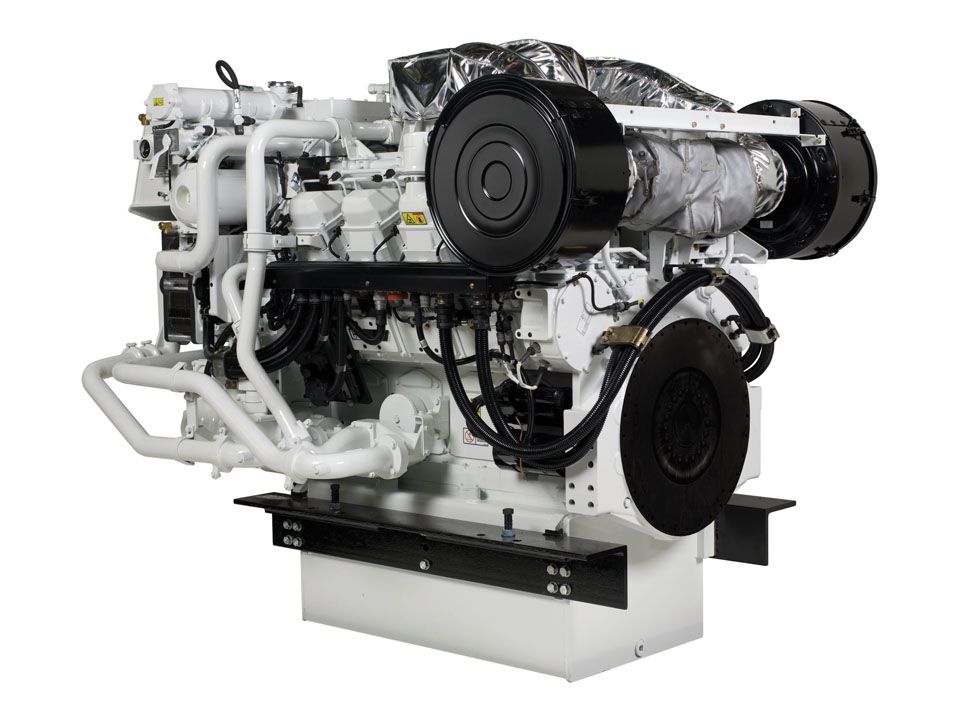 Brand

Caterpillar

Status

Current

Power Range

775-1100 bhp (578-820 bkW)

Speed Range

1200-1600 rpm

Emissions

IMO II, EU IW

Aspiration

TTA

Bore

6.7 in / 170 mm

Stroke

7.5 in / 190 mm

Displacement

2107 in³ / 34.5 l

Rotation from Flywheel End

Counterclockwise or Clockwise

Configuration

Vee 8, 4-Stroke-Cycle Diesel

Minimum Dry Weight

10935 lb / 4960 kg
Commercial Propulsion Engines
3512C Tier 3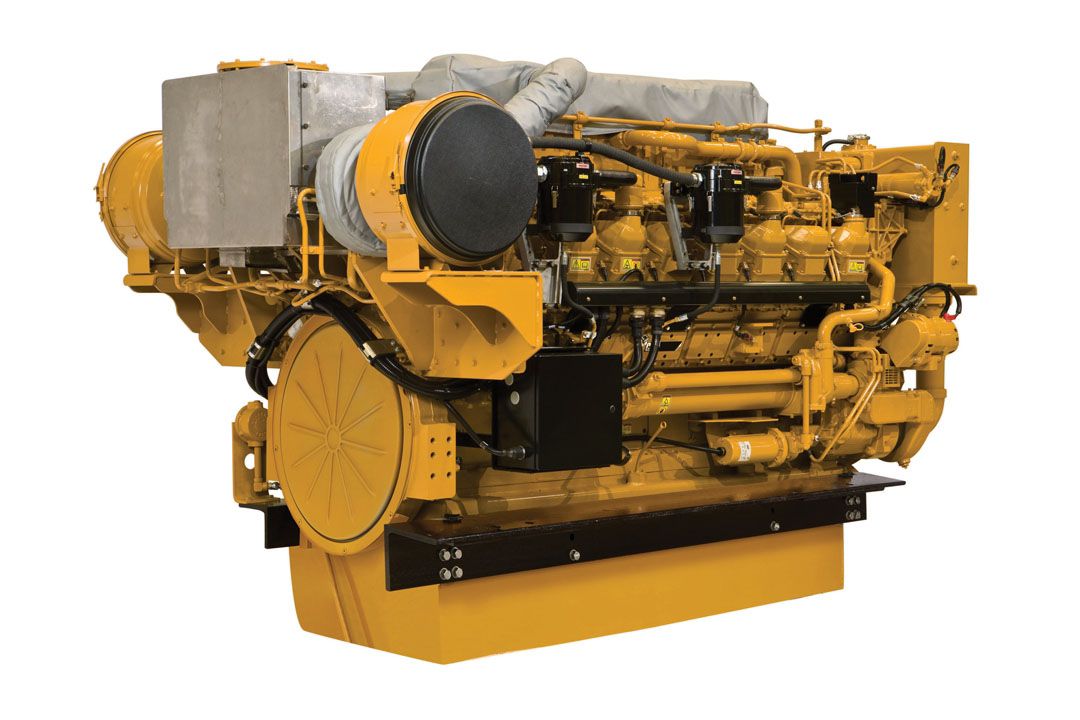 Brand

Caterpillar

Status

Current

Power Range

1340-2366 bhp (1000-1765 bkW)

Speed Range

1600-1800 rpm

Emissions

EPA Tier 3, IMO II

Aspiration

TTA

Bore

6.69 in / 170 mm

Stroke

8.46 in / 215 mm

Displacement

3574 in³ / 58.6 l

Rotation from Flywheel End

Counterclockwise or Clockwise

Configuration

Vee 12, 4-Stroke-Cycle Diesel

Minimum Dry Weight

16508 lb / 7488 kg
Commercial Propulsion Engines
3512C IMO II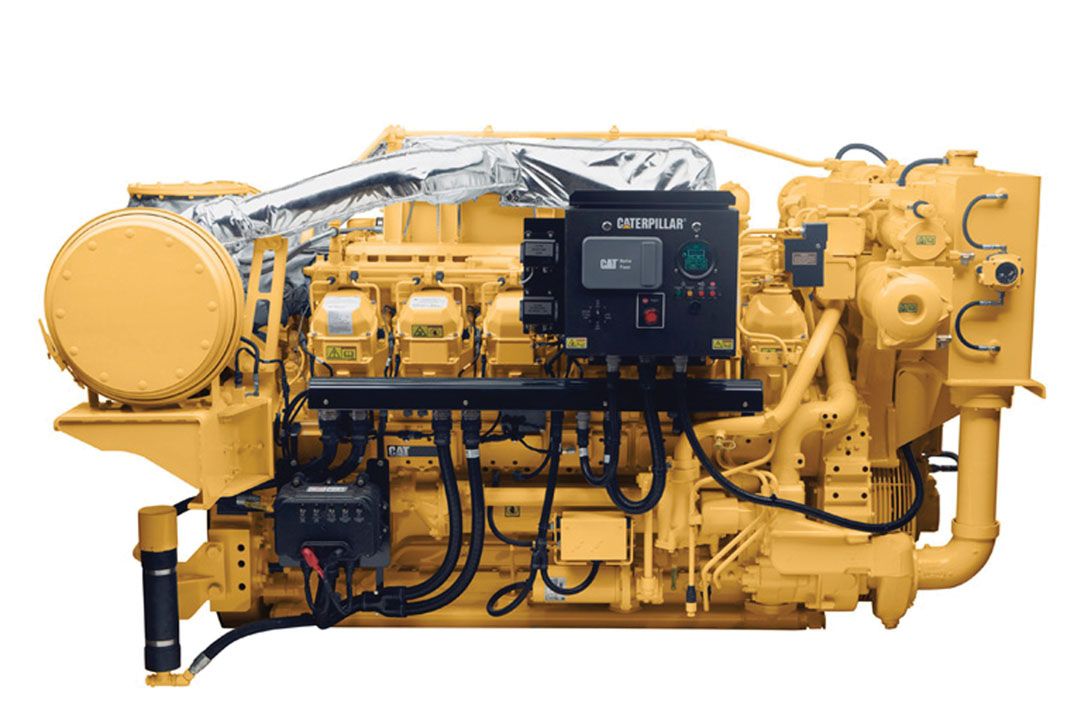 Brand

Caterpillar

Status

Current

Power Range

1280-2551 bhp (955-1902 bkW)

Speed Range

1200 rpm, 1600 rpm, 1800 rpm

Emissions

IMO II, EU IW

Aspiration

TTA

Bore

6.69 in / 170 mm

Stroke

7.48 in / 190 mm

Displacement

3161 in³ / 51.8 l

Rotation from Flywheel End

Counterclockwise or Clockwise

Configuration

Vee 12, 4-Stroke-Cycle Diesel

Minimum Dry Weight

14400 lb / 6532 kg