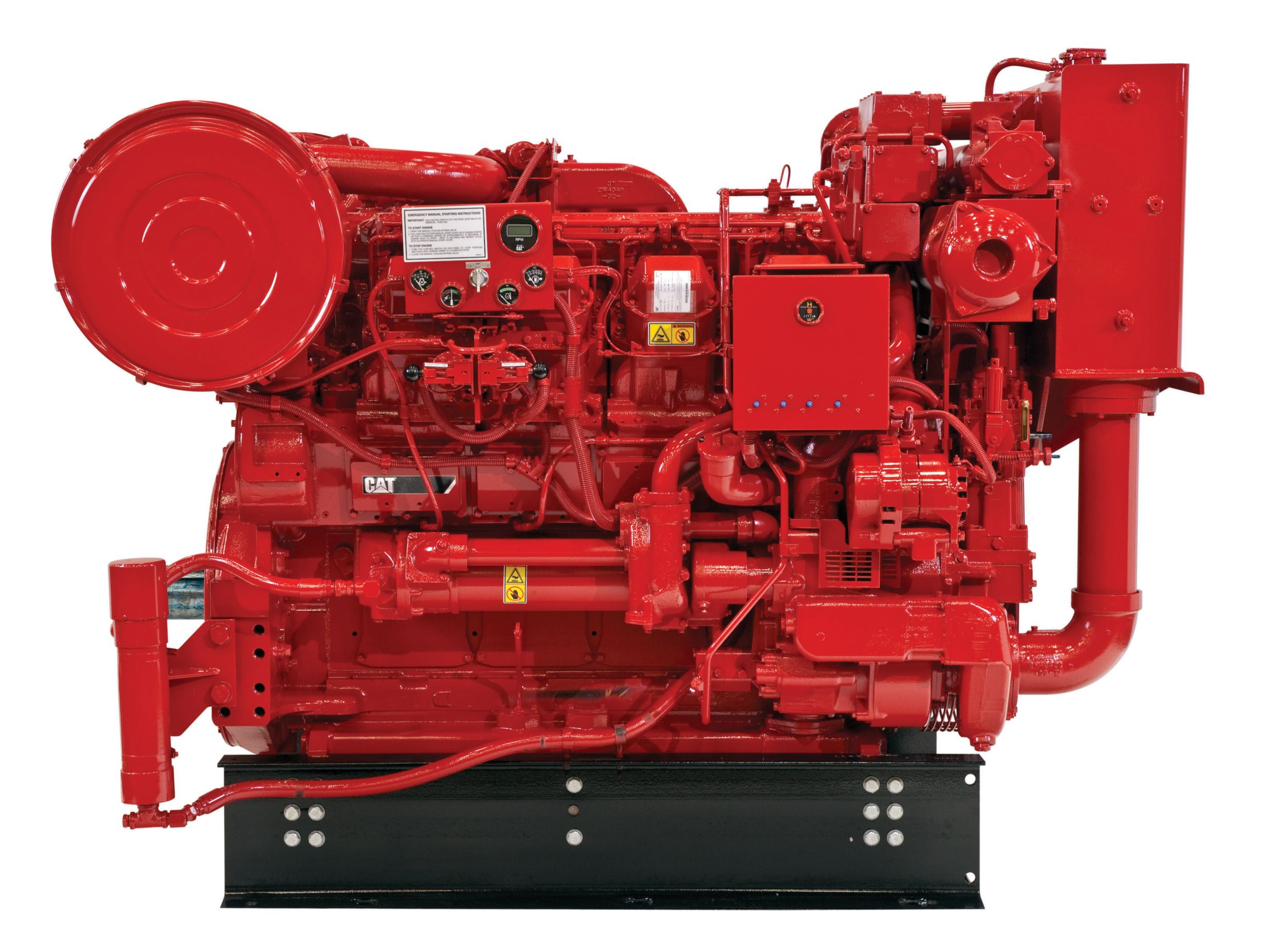 DESCRIPTION
The Cat® 3516 Industrial Diesel Fire Pump Engine is offered in ratings ranging from 1417-1480 kW (1900-1985 hp) @ 1460-1750 rpm. These ratings are non-certified, not FM Approved and not UL Listed. They are available for global non-regulated areas. Starting on demand is a must for a fire pump engine - always. Cat® fire pump engines have a reputation for reliable starts and long efficient service.Cat® 3516 Industrial Diesel Fire Pump Engines, with ratings: 1417-1480 kW (1900-1985 hp) @ 1460-1750 rpm, are non-certified, not FM Approved and not UL Listed. They are available for global non-regulated areas. Starting on demand is a must for a fire pump engine - always. Cat® fire pump engines have a reputation for reliable starts and long efficient service. The Cat line of fire engine pumps covers a wide range of installations.Industrial Power
Reliable, Quiet and Durable Power
World-class manufacturing capability and processes coupled with proven core engine designs assure reliability, quiet operation, and many hours of productive life.
World-class Product Support Offered Through Global Cat Dealer Network
Scheduled maintenance, including SOSSM sample
Customer Support Agreements (CSA)
Caterpillar Extended Service Coverage (ESC)
Superior dealer service network
Extended dealer service network through the Cat Industrial Service Distributor (ISD) program
Specs
Long Name:
Cat® 3516 Fire Pump
Maximum Power
1985 HP / 1480 kW
Rated Speed
1460-1750 rpm
Minimum Power
1900 HP / 1417 kW
Emissions
Non-Certified. Available for global non-regulated areas. Not FM Approved. Not UL Listed
Engine Configuration
V-16, 4-Stroke-Cycle Diesel
Displacement
4210 in³ / 69 l
Aspiration
Turbocharged Aftercooled (TA)
Rotation from Flywheel End
Counterclockwise
Engine Dimensions - Approximate
Length
146.9 in / 3730 mm
Weight - Net Dry - Basic Operating Engine Without Optional Attachments
17800 lb / 8074 kg
SEE HOW 3516 COMPARES AGAINST FREQUENTLY COMPARED PRODUCTS.
Diesel Fire Pumps
3516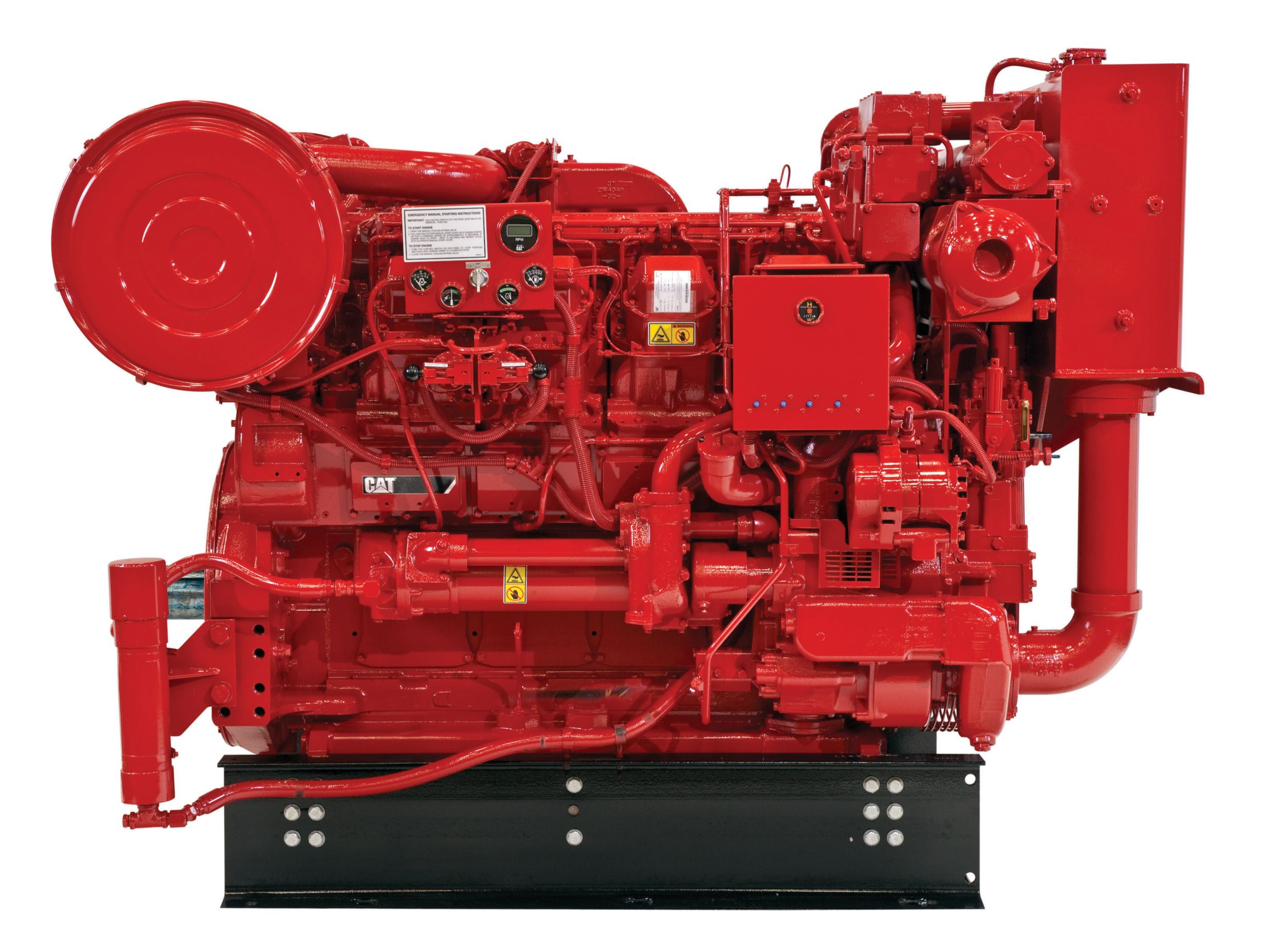 Brand

Caterpillar

Status

Current

Maximum Power

1985 HP / 1480 kW

Rated Speed

1460-1750 rpm

Minimum Power

1900 HP / 1417 kW

Emissions

Non-Certified. Available for global non-regulated areas. Not FM Approved. Not UL Listed

Engine Configuration

V-16, 4-Stroke-Cycle Diesel

Bore

6.7 in / 170 mm

Stroke

7.5 in / 190 mm

Displacement

4210 in³ / 69 l

Compression Ratio

13.0:1

Aspiration

Turbocharged Aftercooled (TA)

Rotation from Flywheel End

Counterclockwise

Aftertreatment

-

Length

146.9 in / 3730 mm

Height

74.9 in / 1902 mm

Weight - Net Dry - Basic Operating Engine Without Optional Attachments

17800 lb / 8074 kg
Diesel Fire Pumps
3512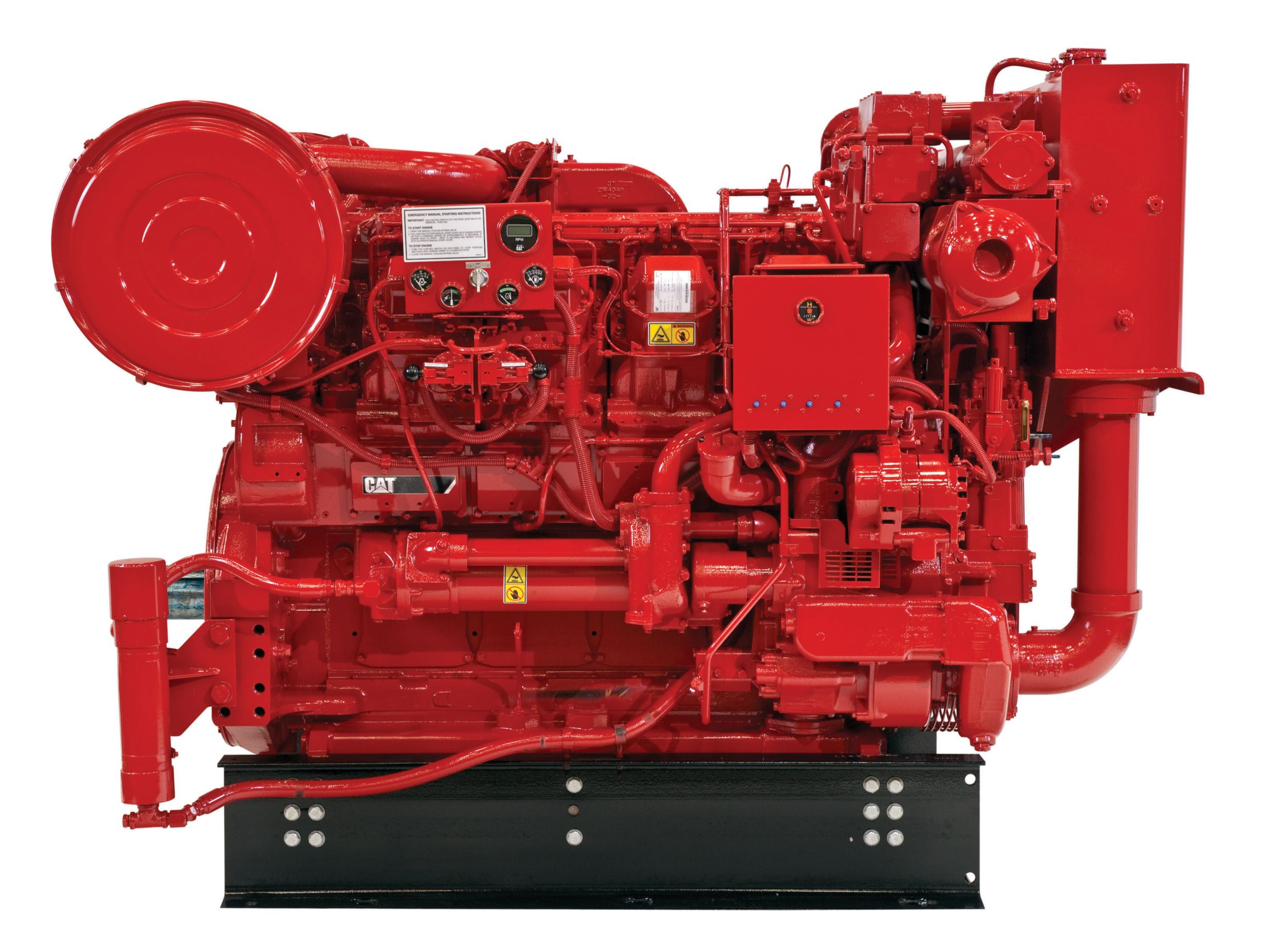 Brand

Caterpillar

Status

Current

Maximum Power

1600 HP / 1193 kW

Rated Speed

1460-1750 rpm

Minimum Power

1430 HP / 1066 kW

Emissions

Non-Certified. Available for global non-regulated areas. Not FM Approved. Not UL Listed

Engine Configuration

V-12, 4-Stroke-Cycle Diesel

Bore

6.7 in / 170 mm

Stroke

7.5 in / 190 mm

Displacement

2105 in³ / 34.5 l

Compression Ratio

13.0:1

Aspiration

Turbocharged Aftercooled (TA)

Rotation from Flywheel End

Counterclockwise

Aftertreatment

-

Length

113.8 in / 2890 mm

Height

68.6 in / 1743 mm

Weight - Net Dry - Basic Operating Engine Without Optional Attachments

13999 lb / 6350 kg
Diesel Fire Pumps
C18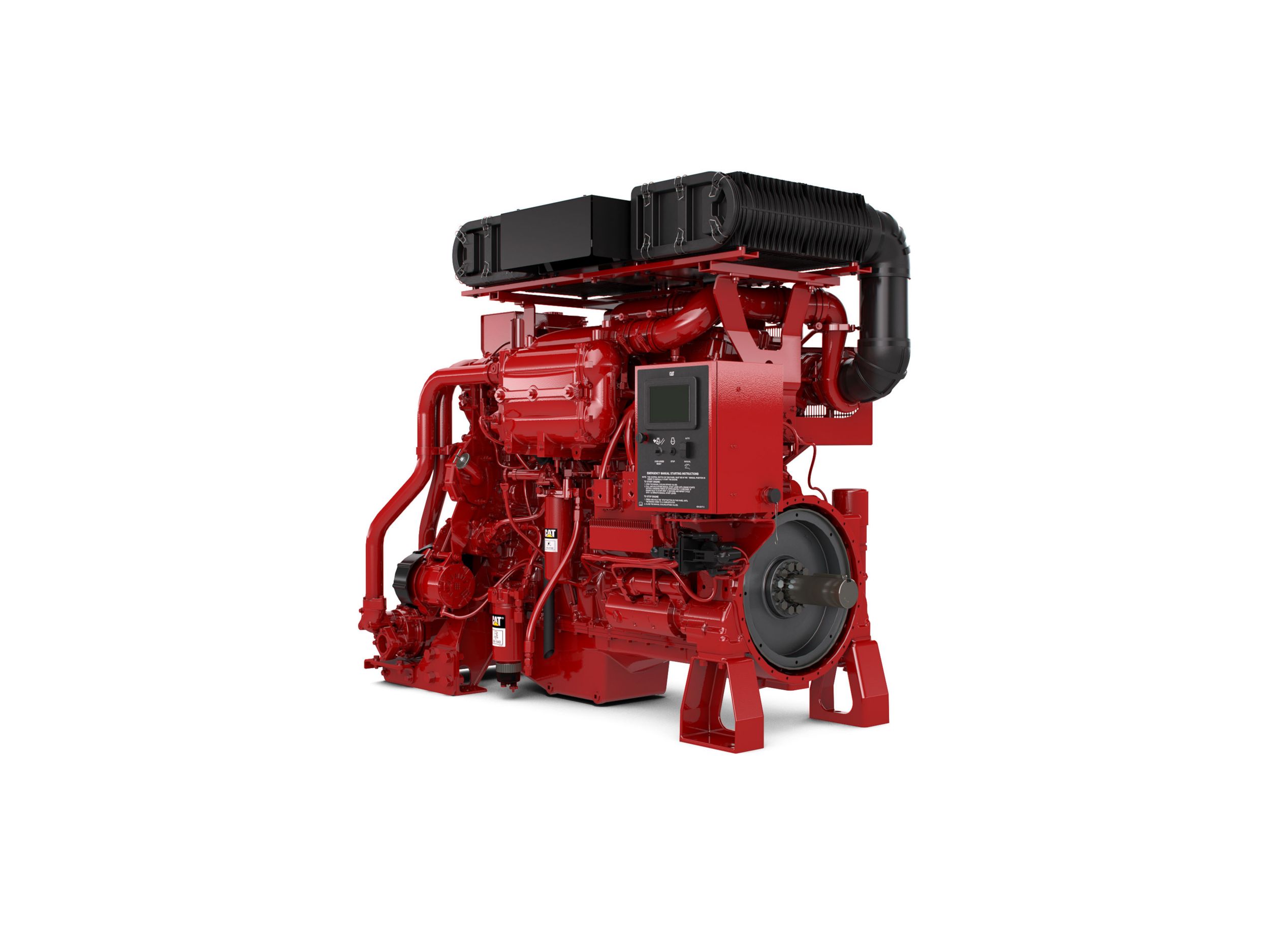 Brand

Caterpillar

Status

Current

Maximum Power

800 HP / 597 kW

Rated Speed

1500-2100 rpm

Minimum Power

600 HP / 447 kW

Emissions

U.S. EPA Tier 3, Tier 2 or Non-certified emission standards for stationary emergency fire pump engines. FM Approved, UL Listed

Engine Configuration

Inline 6, 4-Stroke-Cycle Diesel

Bore

5.7 in / 145 mm

Stroke

7.2 in / 183 mm

Displacement

1104.5 in³ / 18.1 l

Compression Ratio

16.3:1

Aspiration

Turbocharged Aftercooled (TA)

Rotation from Flywheel End

Counterclockwise

Aftertreatment

-

Length

74.7 in / 1889 mm

Height

54.3 in / 1380 mm

Weight - Net Dry - Basic Operating Engine Without Optional Attachments

4306 lb / 1953 kg