631 Partial Scraper
631 Partial Wheel Tractor-Scraper
Caterpillar offers partial wheel tractor-scraper power units designed for specialty machines that complement the traditional Cat® product line. These tractor-only configurations are available for purchase directly from Caterpillar OEM Solutions. They can be leveraged for a variety of final machines, including water pulls, elevating scrapers, lowboy trailer power units, and more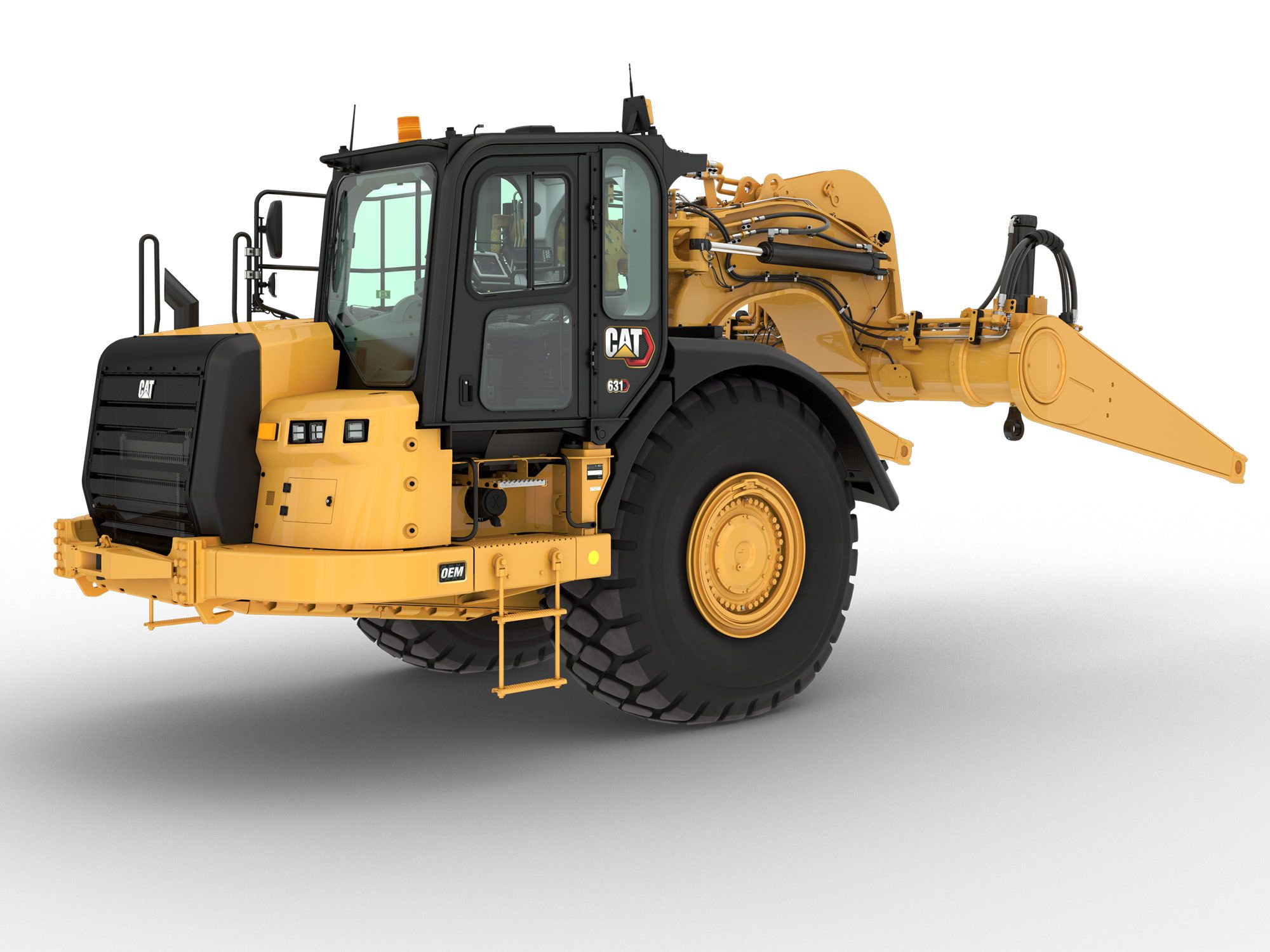 DESCRIPTION
Caterpillar offers partial wheel tractor-scraper power units designed for specialty machines that complement the traditional Cat® product line. These tractor-only configurations are available for purchase directly from Caterpillar OEM Solutions. They can be leveraged for a variety of final machines, including water pulls, elevating scrapers, lowboy trailer power units, and more. With improvements in productivity combined with enhancements in operator comfort and new safety features – Powered Access System and effective wet disc brakes – this machine offers high returns on time and investment.
Features
WORK IN COMFORT

Steer with less effort with the newly designed high-pressure steering system.
Enjoy interior improvements and a more ergonomic work environment.
Intuitive, ergonomic controls with multifunction display keep operators focused on their work.
Maintain desired cab temperature with automatic temperature control.

EASY TO OPERATE

Cat Advanced Ride Management (ARM) seat suspension reduces end stroke movement of the load cylinder for a smoother ride.
Engine overspeed protection will automatically engage with no operator input when the machine is in eighth gear. The machine will assist in slowing the machine speed by canceling the throttle command and engaging the engine compression brake.

BE MORE PRODUCTIVE

The Advanced Productivity Electronic Control System (APECS) allows the machine to better utilize engine power and torque.
Set the desired top speed with Ground Speed Control, and the machine will find the gear that works best for the engine and the transmission, providing a lower fuel burn in speed reduced areas.
The Machine Speed Limit feature replaces Top Gear Selection.
Auto-Stall assists in quickly bringing the transmission to an operating temperature at start-up when working in colder climates.
DESIGNED FOR SAFETY

Get in and out of the cab easier with the new powered access ladder system.
Enhance the operator's awareness of site surroundings with the optional Work Area Vision System (WAVS).
Ground-level access to fuel fill and several maintenance points for easier and safer service.
Seat belt indicator provides visual and audible alerts when the seat belt is not in use.
Wide brake shoes and brake drums improve brake performance and reduce brake and drum wear.
Secondary brakes engage automatically if service pressure drops
Parking Brake features a spring-applied, hydraulic pressure released mechanism that operates the service brakes.

SUPPORTED BY THE CAT DEALER NETWORK

Full support of Cat dealer and parts network.
Eligible for Equipment Protection Plans (EPP) & Customer Value Agreements (CVAs).
Standard Equipment
Optional Equipment
Specs
Docs
Optional Equipment
OTHER ATTACHMENTS

Camera arrangement: Work Area Vision System (WAVS)
Cab beacon
Air horn
Air horn and beacon
Kingbolt housing
Rear wheel arrangement (set of 2)
Scraper draft arm package
Steering cylinder group (set of 2)
Specs
Long Name:
631 Partial Wheel Tractor-Scraper
Name:
631 Partial Scraper
Flywheel Power - Tractor
570 HP / 425 kW
Note
Meets U.S. EPA Tier 4 Final or EU Stage V emission standards, or equivalent to U.S. EPA Tier 2, or equivalent to U.S. EPA Tier 3 and EU Stage IIIA.
Top Speed - Loaded
34.7 mile/h / 55.8 km/h
1 Forward
3.4 mile/h / 5.5 km/h
2 Forward
6.2 mile/h / 10 km/h
3 Forward
7.7 mile/h / 12.4 km/h
4 Forward
10.5 mile/h / 16.9 km/h
5 Forward
14.1 mile/h / 22.7 km/h
6 Forward
19 mile/h / 30.6 km/h
7 Forward
25.7 mile/h / 41.4 km/h
8 Forward
34.7 mile/h / 55.8 km/h
Reverse
6.2 mile/h / 9.9 km/h
Width - 180° Turn
40.2 ft / 12.23 m
ROPS/FOPS
ROPS: ISO 3471:2008. FOPS:ISO 3449:2005 Level II.
Cab
Seat Belt: SAE J386:FEB2006
Service Refill Capacities - Tractor
Fuel Tank
231 gal (US) / 874 l
Crankcase
13.7 gal (US) / 52 l
Transmission
29 gal (US) / 110 l
Differential
41.7 gal (US) / 158 l
Final Drive - Each
5 gal (US) / 19 l
Cooling System
19.8 gal (US) / 142 l
Hydraulic Reservoir
37.5 gal (US) / 83 l
Windshield Washer
1.3 gal (US) / 5 l
SEE HOW 631 Partial Scraper COMPARES AGAINST FREQUENTLY COMPARED PRODUCTS.
Partial Scrapers
631 Partial Scraper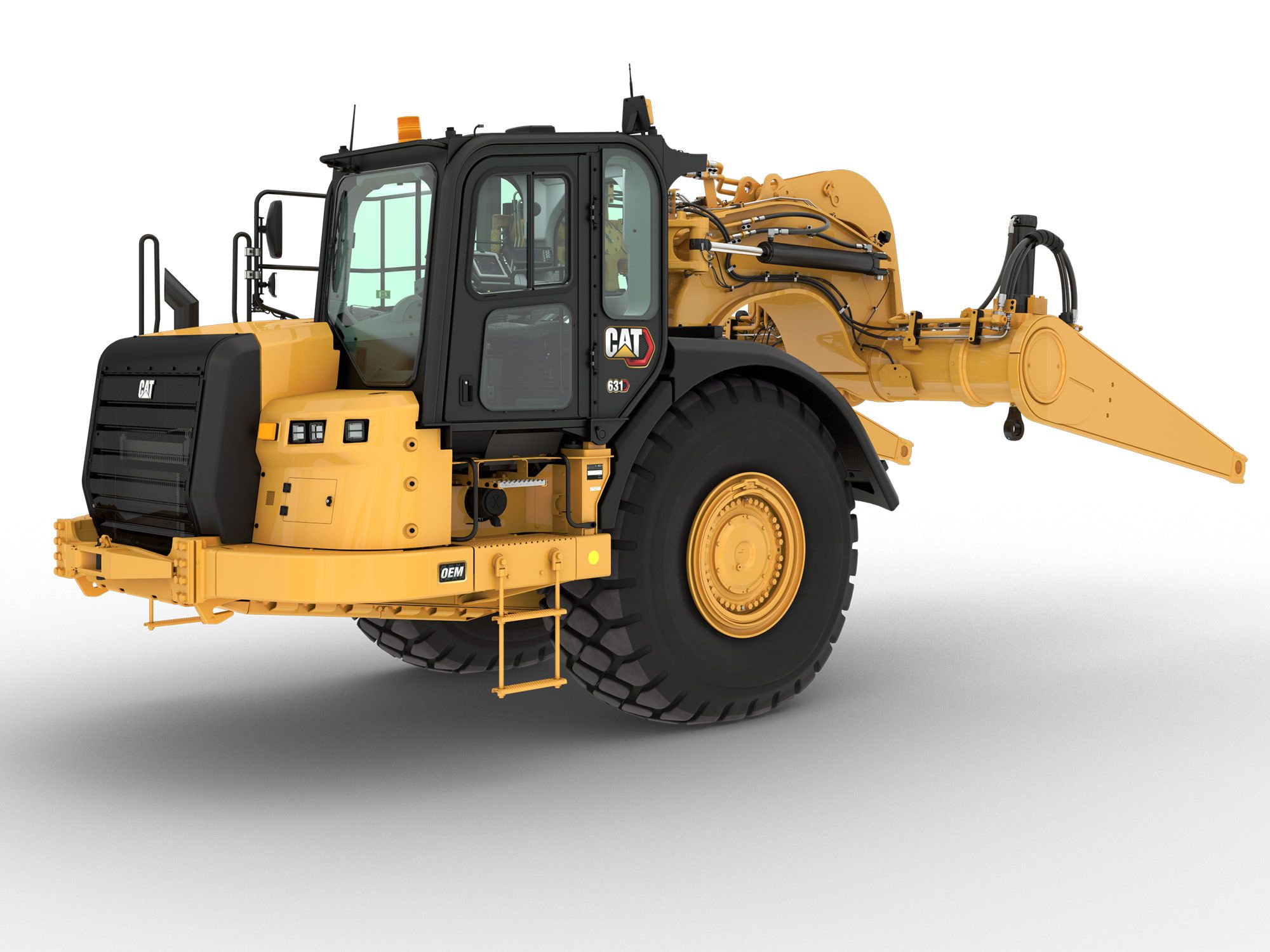 Brand

Cat

Status

Current

Tractor Engine

Cat® C18

Note

Meets U.S. EPA Tier 4 Final or EU Stage V emission standards, or equivalent to U.S. EPA Tier 2, or equivalent to U.S. EPA Tier 3 and EU Stage IIIA.

Top Speed - Loaded

34.7 mile/h / 55.8 km/h

1 Forward

3.4 mile/h / 5.5 km/h

2 Forward

6.2 mile/h / 10 km/h

3 Forward

7.7 mile/h / 12.4 km/h

4 Forward

10.5 mile/h / 16.9 km/h

5 Forward

14.1 mile/h / 22.7 km/h

6 Forward

19 mile/h / 30.6 km/h

7 Forward

25.7 mile/h / 41.4 km/h

8 Forward

34.7 mile/h / 55.8 km/h

Reverse

6.2 mile/h / 9.9 km/h

Brakes

ISO 3450:2011

ROPS/FOPS

ROPS: ISO 3471:2008. FOPS:ISO 3449:2005 Level II.

Cab

Seat Belt: SAE J386:FEB2006

Fuel Tank

231 gal (US) / 874 l

Crankcase

13.7 gal (US) / 52 l

Transmission

29 gal (US) / 110 l

Differential

41.7 gal (US) / 158 l

Final Drive - Each

5 gal (US) / 19 l

Cooling System

19.8 gal (US) / 142 l

Hydraulic Reservoir

37.5 gal (US) / 83 l

Windshield Washer

1.3 gal (US) / 5 l
Partial Scrapers
621 Partial Scraper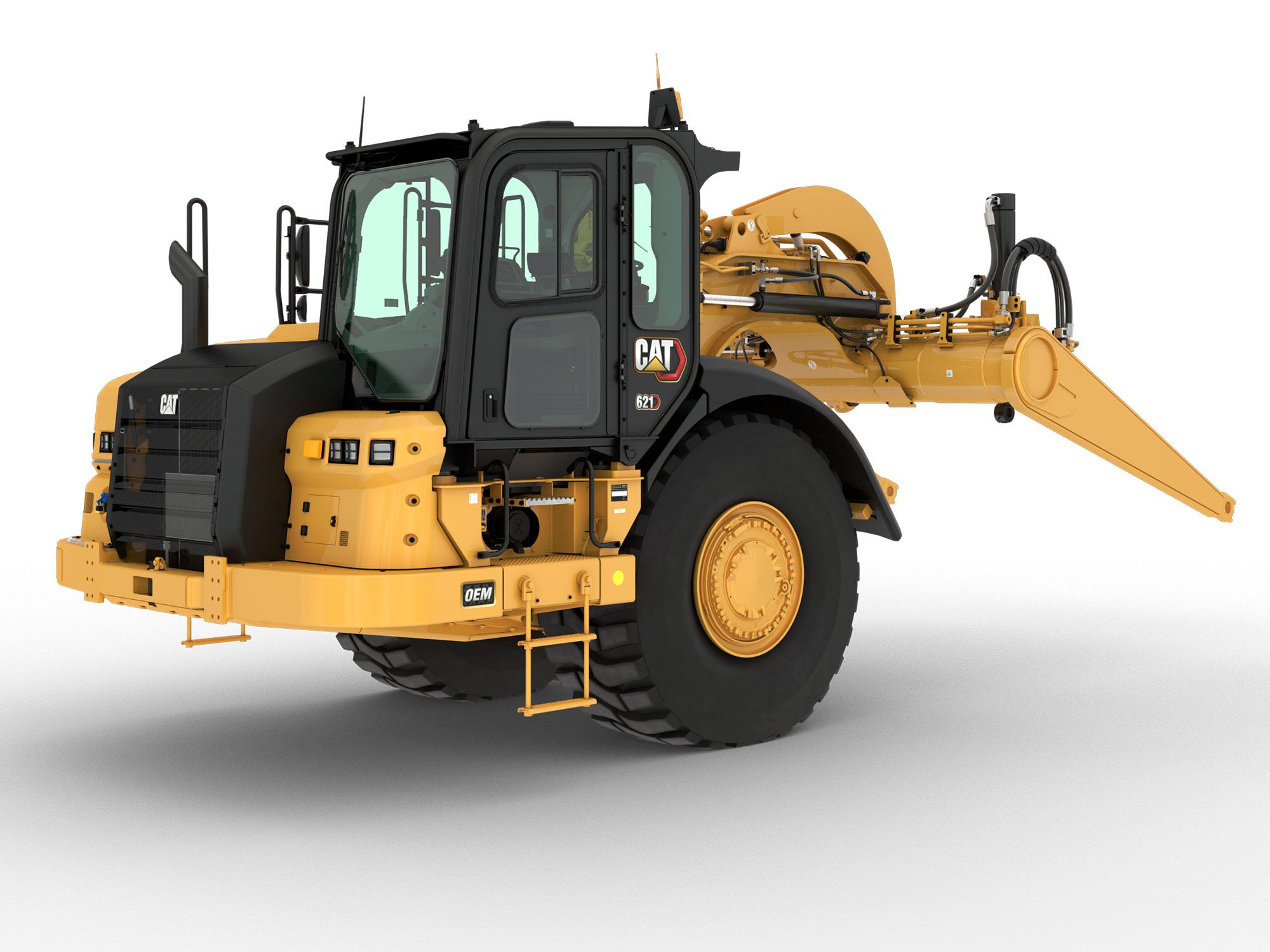 Brand

Cat

Status

Current

Tractor Engine

Cat® C13

Note

Meets U.S. EPA Tier 4 Final or EU Stage V emission standards, or equivalent to U.S. EPA Tier 2, or equivalent to U.S. EPA Tier 3 and EU Stage IIIA.

Top Speed - Loaded

33.5 mile/h / 53.9 km/h

1 Forward

3.1 mile/h / 5 km/h

2 Forward

5.5 mile/h / 8.9 km/h

3 Forward

7.5 mile/h / 12.1 km/h

4 Forward

10.1 mile/h / 16.3 km/h

5 Forward

13.6 mile/h / 21.9 km/h

6 Forward

18.4 mile/h / 29.6 km/h

7 Forward

24.8 mile/h / 39.9 km/h

8 Forward

33.5 mile/h / 53.9 km/h

Reverse

5.7 mile/h / 9.2 km/h

Brakes

ISO 3450:2011

ROPS/FOPS

ROPS: ISO 3471:2008 for up to 17 084 kg (37,664 lb). FOPS: ISO 3449:2005 Level II.

Cab

Seat Belt: SAE J386:JUN1985

Fuel Tank

216.1 gal (US) / 818 l

Crankcase

9.7 gal (US) / 37 l

Transmission

25.5 gal (US) / 97 l

Differential

41.7 gal (US) / 158 l

Final Drive - Each

5 gal (US) / 19 l

Cooling System

11 gal (US) / 42 l

Hydraulic Reservoir

21.9 gal (US) / 83 l

Windshield Washer

1.3 gal (US) / 5 l
Partial Scrapers
651 Partial Scraper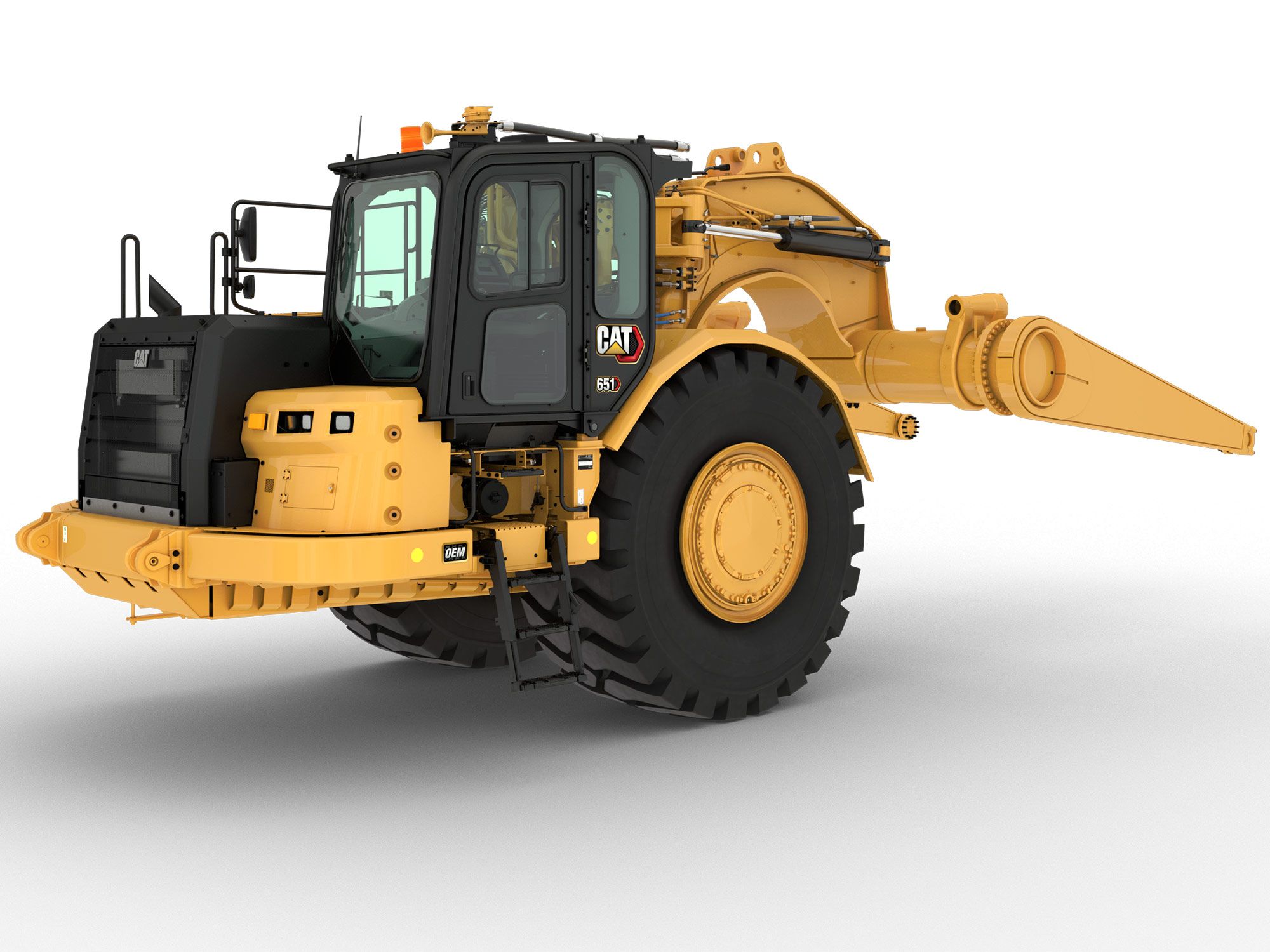 Brand

Cat

Status

Current

Tractor Engine

Cat® C18

Note

Meets U.S. EPA Tier 4 Final or EU Stage V emission standards, or equivalent to U.S. EPA Tier 2, or equivalent to U.S. EPA Tier 3 and EU Stage IIIA.

Top Speed - Loaded

34.9 mile/h / 56.1 km/h

1 Forward

3.5 mile/h / 5.7 km/h

2 Forward

6.5 mile/h / 10.5 km/h

3 Forward

7.8 mile/h / 12.5 km/h

4 Forward

10.6 mile/h / 17 km/h

5 Forward

14.2 mile/h / 22.8 km/h

6 Forward

19.2 mile/h / 30.9 km/h

7 Forward

25.7 mile/h / 41.4 km/h

8 Forward

34.9 mile/h / 56.1 km/h

Reverse

6.7 mile/h / 10.8 km/h

Brakes

ISO 3450:2011

ROPS/FOPS

ROPS: ISO 3471:2008 for up to 26 600 kg (58,643 lb). FOPS: ISO 3449:2005 Level II

Cab

Seat Belt: SAE J386:AUG2012

Fuel Tank

430.1 gal (US) / 1628 l

Crankcase

10 gal (US) / 38 l

Transmission

35.9 gal (US) / 136 l

Differential

36 gal (US) / 136 l

Final Drive - Each

6 gal (US) / 29.5 l

Cooling System

23.4 gal (US) / 88.6 l

Hydraulic Reservoir

39.6 gal (US) / 150 l

Windshield Washer

0.5 gal (US) / 5 l