7495 HF with Rope Crowd
7495 HF Electric Rope Shovel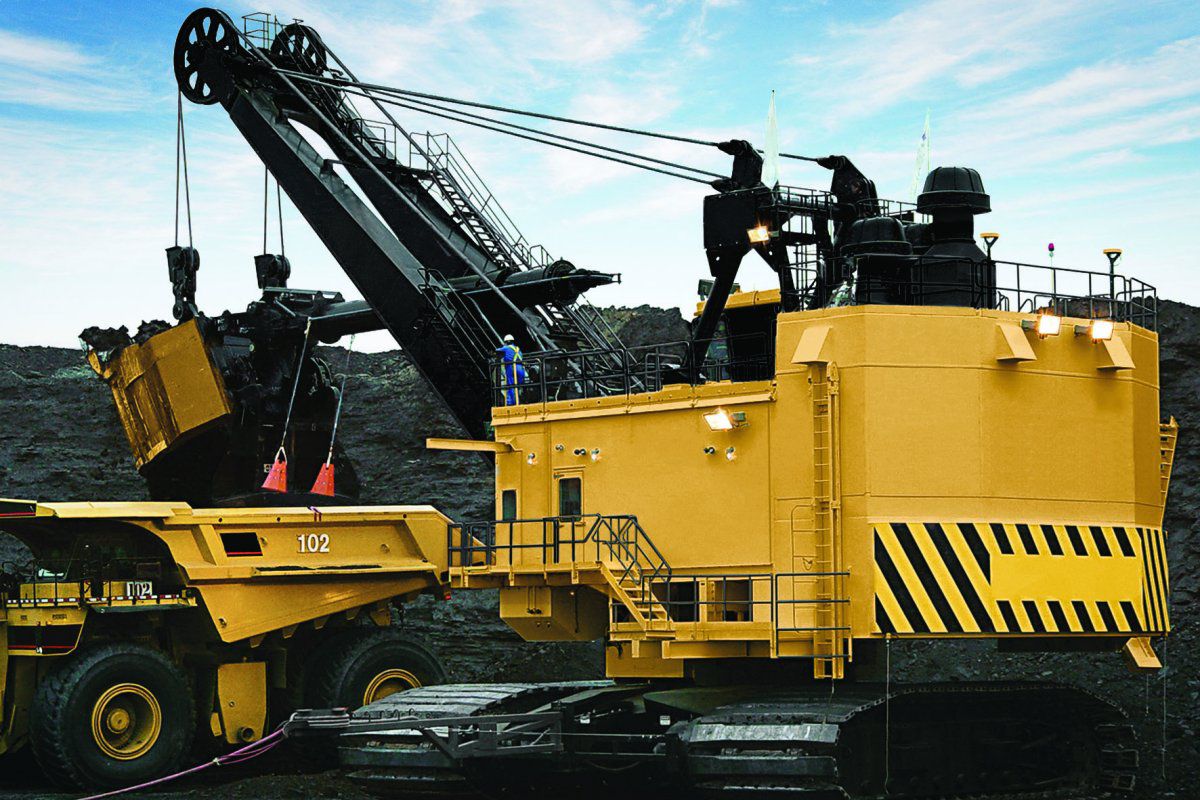 DESCRIPTION
Cat® Electric Rope Shovels combine immense payload capability with low maintenance requirements and high reliability to deliver the lowest cost-per-ton loading solution for long-life mines. The Cat 7495 HF with Rope Crowd features AC IGBT electrics for greater uptime, lower operating costs and faster cycle times. Its high-flotation undercarriage designed for the oil sands ensures low ground-pressure for improved digging and loading in poor underfoot conditions. The state-of-the-art operator's cab is the most comfortable and productivity-enhancing in the industry. The 7495 HF with Rope Crowd is available with a number of new technologies that provide operator assist and machine self-protection, enable proactive maintenance, and deliver real-time information on productivity and performance. An entirely electric machine, the 7495 is cleaner and more efficient than diesel-powered machines, plus its regenerative braking technology feeds electrical energy back to the grid.
Features
Safety

Enhanced access and egress with 45-degree rear-facing boarding stair; non-slip stairs, platforms and walkways; no-step floor for reduced trip hazards; and dual-door design that facilitates cab entry and exit and enables a quick escape.
Large windshield, side windows and floor window that provide superior far-side and vertical line of sight, delivering a panoramic view from the operator's seat that is the best in the industry; cameras that feed five in-cab, overhead monitors to augment line of sight and elevate situational awareness; and high-efficiency, adjustable LED lights.
Operator training seat that facilitates safe operator training, with additional emergency stop within reach.
Safer maintenance with deck-mounted crowd machinery that allows the majority of crowd maintenance to be completed with protection from machinery house deck; stored energy locations that are clearly marked; and lock-out/tag-out points.
Safety-enhanced electrical system, with high voltage DC bus located in the back of the drive cabinet; centralized control rack that keeps personnel away from high voltage components when troubleshooting; and shielding blocks induced currents that eliminate the need for high frequency bonding.

Operator Cab

Reduced fatigue-causing vibration resulting from bolstered support and stability of extended machinery house underneath isolator mounted cab.
Effortless operation and improved control response resulting from new joysticks with custom-designed ergonomic handles and "finger touch control" spring tension.
Climate control system that automatically maintains a preset temperature.
State-of-the-art, ergonomic operator seat, plus seat, armrest and footrest that adjust to perfectly fit wide range of body sizes.
Intuitive and visually aesthetic display screens that adjust for brightness and contrast to meet operator preference.

Operator Productivity

Enhanced in-cab training environment, with first-in-industry three-seat cab design; adjacently positioned trainer seat that provides optimal view of working face, facilitates communication during training, and provides ready access to the trainer emergency stop button.
Optional Payload technology, which calculates material moved, monitors overloading of trucks, and empowers operators to study their loading efficiency and shift performance.
Optional Operator Assist–Enhanced Motion Control, which enables operators to efficiently load materials and avoid poor digging practices, creates consistent machine performance across operators, and provides equal or better cycle times.

Reliability & Durability

IGBT electric drive system with robust welded drive cabinet designed to withstand severe and consistent vibration; isolated, positive-pressure room that protects drive/controller cabinet from dust and debris; and mine-grade components that ensure performance and long, trouble-free life.
Robust front-end design with highly crack-resistant one-piece, forged dipper handle; rotating handle design that transmits torsional stress into the hoist ropes, extending boom and dipper handle life; and crowd and retract ropes or hydraulic fluid to absorb kickback force and reduce wear and cracking at the boom/dipper handle junction.
Traditional Rope Crowd system for outstanding performance and high reliability proven in operations around the world, with tubular handle design to reduce rack and pinion misalignment challenges; reduced front-end cracking thanks to retract ropes that absorb shock; and elimination of torsional stress thanks to rotating dipper handle, reducing cracking and extending component life.
Reliable dippers that reduce downtime: LatchFree Dipper that eliminates maintenance on the latch assembly, and FastFil™ Dipper that is manufactured from cold-weather, impact-resistant, high-strength steel.
Crawler frames that resist cracking, lower roller design that withstands periodic single-point ground reaction caused by uneven pit floors, crawler-mounted propel motors that facilitate maintenance and reduce misalignment, upward slanted propel motor shelves to protect components from rocks and water, elevated drive tumbler that isolates planetary drive from ground impact shock loads. sprocket-style drive tumbler lugs that provide a large area of contact against the crawler links for extended tumbler and link life, and straddle-mounted rollers to improve component wear and extend life.

Efficiency & Productivity

Faster swing times resulting from reduced swing inertia of lighter front-end plus improved left-hand line-of-sight with deck-mounted crowd machinery that reduces components on the boom that would impede visibility.
Wide-set boom point sheaves for more productive and efficient digging. with twin hoist ropes that balance dipper pull in the bank and automatically distribute digging force where it is needed most.
LatchFree Dipper design, which increases efficiency by reducing lost loads.
Improved fill factors with FastFil Dipper, thanks to trapezoidal shape that accommodates the natural configuration of the load.
More responsive integral fast propel transfer switch, which improves mode transfer and reduces dig and propel mode transition – from 2.7 seconds to 700 milliseconds.
Third rail swing system for designed to keep the rope shovel swinging longer and filling trucks faster, delivering optimum speed and cycle time.
Ground Engaging Tools & Wire Rope

X-4 System hammerless G.E.T., featuring Whisler style adapter matched with CapSure retention — making installation and removal faster, safer, easier and less complicated than hammered alternatives.
Lip systems delivered ready to work, with fully machined lip surfaces that ensure a perfect fit, reducing wear and extending lip lifecycle.
Adapter that is secured to the lip with either hammerless or traditional C-clamp and wedge retention, plus hammerless wedge retention assembly that is often reusable, helping to lower your operating costs.
Five tip profiles designed for a broad range of applications; superior penetration and lip protection with hammerless shroud system.
Quality Cat wire rope options for hoist, retract and crowd and well as dipper trip ropes and suspension strands; manufactured using thermal injection process that provides complete penetration of plastic into the rope to resist the unwanted effects of abrasion and impact damage by encapsulating the strands to reduce steel-to-steel contact and seal in lubricants that prolong wire life.

Technology

Integrated Technology Package, which provides the platform to support technology expansion and features six standard technologies that enable proactive maintenance, provide data, and deliver real-time information on productivity and performance: Machine Health, Vibration Monitoring, Cat Electronics, Payload Management, Cycle Segmentation and Bearing Temperature Monitor.
Operator Assist Technology Package, with enhancements that provide operator assist and machine self-protection without sacrificing productivity: Enhanced Motion Control, which protects the machine from operational practices that causes damage by intelligently controlling how motions are allowed to operate under certain conditions; and Machine Self Protection, a control system that detects and avoids machine self-collisions and, if a collision is imminent, arrests the machine motion to prevent or mitigate the collision.
Integrated Technology Package provides a gateway for seamless integration of Cat MineStar™ Solutions, including Fleet, which provides real-time machine tracking, assignment and productivity management; Terrain for loading, which enables high-precision management of loading operations through the use of guidance technology; and Health, which delivers critical event-based machine condition and operating data for the entire fleet.

Serviceability

Automated maintenance procedures, including an automatic lubrication system that covers all regular lube points.
Extended maintenance intervals and elimination of the daily hassle of maintaining a latch bar thanks to LatchFree dipper.
Easier maintenance activities thanks to walkways and platforms, factory-installed ladders inside boom, easy-to-remove roof hatches, an electro-hydraulic crowd rope take-up system that simplifies crowd rope tightening, an onboard accessible diagnostic system, and a third-rail swing system that offers access to center rollers without jacking up the shovel's upper works.
Streamlined AC system design with a single, centralized control rack that reduces parts requirements, and simplifies maintenance; single, compact drive cabinet that houses the controller and drives to simplify assembly, troubleshooting and maintenance; and elimination of fuses, circuit breakers and line filters.
Third Rail Swing System, with an easy-to-replace third rail, rather than roller flanges or swing rack, which serves as the primary wearing part in the system; system provides roller access without jacking up the upper half of the machine.

Sustainability

Entirely electric machines, which are more efficient than diesel powered machines, resulting in less heat loss and lower operating costs.
Regenerative braking technology, which converts kinetic energy from shovel motions into electrical energy when braking, feeding that electrical energy back to the grid.
Less waste thanks to change-out intervals that are generally longer than those for similar-sized hydraulic machines — leading to fewer component change-outs.
Motors and gearcases that can be rebuilt, preserving raw materials, conserving energy and reducing the emissions generated when manufacturing new.
Cat Reman and Cat Rebuild programs, which return end-of-life components to like-new condition.
Specs
Long Name:
7495 HF Electric Rope Shovel
Name:
7495 HF with Rope Crowd
Dipper Payload
120 t / 109 t
Dipper Capacity
30.6-62.7 m3 (40-82 yd3)
Dipper Payload (Available Dipper Payloads Up To 109 Tonnes [120 tons] When Specified)
120 t / 109 t
Note
Dependent on application and material density
Working Weight - With Dipper and Standard Links
3155000 lb / 1431064 kg
Ballast - Furnished By Customer
667150 lb / 302614 kg
Note (1)
These weights will vary slightly depending upon dipper and optional equipment selection
Note (2)
All specifications are based on a 45 m3 (59 yd3) dipper and standard 317.5 cm (125 in) crawlers.
Planetary Propel
Dual-motor independent drive
Ground Bearing Pressure - Total Effective Bearing Area (317.5 cm/125 in) Treads
57 m2 (247 kPa); 614 ft2 (36 psi)
Hoist
A planetary gearbox with dual-output pinions provides the hoist torque transfer from the electric motor to the hoist drum gear.
Crawler Dimensions - Overall Width 317.5 cm (125 in) Treads
41.67 in / 12.7 cm
Ground Bearing Pressure - Note
Ground bearing pressure is dependent upon many factors
Upper Works Overall Width - Including Standard Walkways
41.99 in / 12.8 cm
Swing
Two planetary gearboxes, each driven by a vertically mounted motor, are located on either side of the revolving frame. Dual-output pinion shafts from each gearbox engage the swing rack.
Type
Automatic, single-line system for open gear lubricant and grease
Components (1)
Six pumps (four for open gear lubricant and two for grease) located in an insulated, heated, double-walled lube room
Power Requirements - Average Power Demand
934-1308 kW
Power Requirements - 50 Hz
6,000V, 6,600V, 7,200V, 11,000V
Power Requirements - Voltage
3 phase, 50/60 Hz, 7,200V
Drive
IGBT Acutrol drive system
Power Requirements - 60 Hz
7,200V, 13,800V
System Voltage - Nominal
50/60 Hz, 7,200V
Power Requirements - Peak power
3737 kW
Note
Other voltage options available to suit customer requirements
Rope Data - Dipper Trip - Diameter
0.75 in / 19 mm
Rope Data - Retract - Diameter
2.5 in / 64 mm
Components
One piece, forged, seamless tubular dipper handle and wide-spread boom point sheaves equipped with hoist ropes and dipper padlocks to stabilize dipper handle.
Rope Data - Retract - No.
1
Rope Data - Boom Suspension - No.
4
Rope Data - Crowd - Diameter
2.5 in / 64 mm
Rope Data - Note
High impact ropes available as an option
Rope Data - Boom Suspension - Diameter
3.25 in / 83 mm
Rope Data - Hoist - Diameter
2.75 in / 70 mm
Rope Data - Crowd - No.
1
Rope Data - Hoist - No.
2
Rope Data - Dipper Trip - No.
1
Crowd (1)
Rope Crowd with crowd machinery located at the front center of the revolving frame, consisting of motor, brake, drum and gearing. Plastic-impregnated crowd and retract ropes are used to move the dipper handle fore and aft.
Crowd (2)
(Optional) HydraCrowd, hydraulic power skid, located at the front center of the revolving frame deck, powers a large hydraulic cylinder to move the dipper handle fore and aft.
Dimensions - Working Ranges
Maximum Dumping Height
29.53 ft / 9 m
Dipper Capacities
30.6-62.7 m3 (40-82 yd3)
Dipper Payload
120 ton (US) / 109 t
Operating Weight
3155000 lb / 1431064 kg
Dimensions (Approximate) - Optimal Working Ranges*
Cutting Height - Maximum
55 ft / 16.8 m
Cutting Radius - Maximum
79.72 ft / 24.3 m
Radius of Level Floor
55.77 ft / 17 m
Dumping Height - With Clearance to Open Dipper Door
29.53 ft / 9 m
Revolving Frame Tail Swing Radius
30.51 ft / 9.3 m
Note (1)
Optimal working ranges based on loading a Cat 797F truck.
Note (2)
*All specifications are based on a 45 m3 (59 yd3) dipper and standard 317.5 cm (125 in) crawlers.
Components (2)
External fast fill from lower level
SEE HOW 7495 HF with Rope Crowd COMPARES AGAINST FREQUENTLY COMPARED PRODUCTS.
Electric Rope Shovels
7495 HF with Rope Crowd
Brand

Caterpillar

Status

Current

Dipper Payload

120 ton (US) / 109 t

Dipper Capacity

30.6-62.7 m3 (40-82 yd3)

Dipper Payload (Available Dipper Payloads Up To 109 Tonnes [120 tons] When Specified)

120 t / 109 t

Note

Other voltage options available to suit customer requirements

Working Weight - With Dipper and Standard Links

3155000 lb / 1431064 kg

Ballast - Furnished By Customer

667150 lb / 302614 kg

Note (1)

Optimal working ranges based on loading a Cat 797F truck.

Note (2)

*All specifications are based on a 45 m3 (59 yd3) dipper and standard 317.5 cm (125 in) crawlers.

Planetary Propel

Dual-motor independent drive

Hoist

A planetary gearbox with dual-output pinions provides the hoist torque transfer from the electric motor to the hoist drum gear.

Ground Bearing Pressure - Note

Ground bearing pressure is dependent upon many factors

Upper Works Overall Width - Including Standard Walkways

41.99 in / 12.8 cm

Swing

Two planetary gearboxes, each driven by a vertically mounted motor, are located on either side of the revolving frame. Dual-output pinion shafts from each gearbox engage the swing rack.

Type

Automatic, single-line system for open gear lubricant and grease

Components (1)

Six pumps (four for open gear lubricant and two for grease) located in an insulated, heated, double-walled lube room

Power Requirements - Average Power Demand

934-1308 kW

Power Requirements - 50 Hz

6,000V, 6,600V, 7,200V, 11,000V

Power Requirements - Voltage

3 phase, 50/60 Hz, 7,200V

Drive

IGBT Acutrol drive system

Power Requirements - 60 Hz

7,200V, 13,800V

System Voltage - Nominal

50/60 Hz, 7,200V

Power Requirements - Peak power

3737 kW

Rope Data - Dipper Trip - Diameter

0.75 in / 19 mm

Rope Data - Boom Suspension - No.

4

Rope Data - Note

High impact ropes available as an option

Rope Data - Boom Suspension - Diameter

3.25 in / 83 mm

Rope Data - Hoist - Diameter

2.75 in / 70 mm

Rope Data - Hoist - No.

2

Rope Data - Dipper Trip - No.

1

Crowd (1)

Rope Crowd with crowd machinery located at the front center of the revolving frame, consisting of motor, brake, drum and gearing. Plastic-impregnated crowd and retract ropes are used to move the dipper handle fore and aft.

Crowd (2)

(Optional) HydraCrowd, hydraulic power skid, located at the front center of the revolving frame deck, powers a large hydraulic cylinder to move the dipper handle fore and aft.

Maximum Dumping Height

29.53 ft / 9 m

Dipper Capacities

30.6-62.7 m3 (40-82 yd3)

Operating Weight

3155000 lb / 1431064 kg

Cutting Height - Maximum

55 ft / 16.8 m

Cutting Radius - Maximum

79.72 ft / 24.3 m

Radius of Level Floor

55.77 ft / 17 m

Dumping Height - With Clearance to Open Dipper Door

29.53 ft / 9 m

Revolving Frame Tail Swing Radius

30.51 ft / 9.3 m

Components (2)

External fast fill from lower level
Electric Rope Shovels
7495 HF with HydraCrowd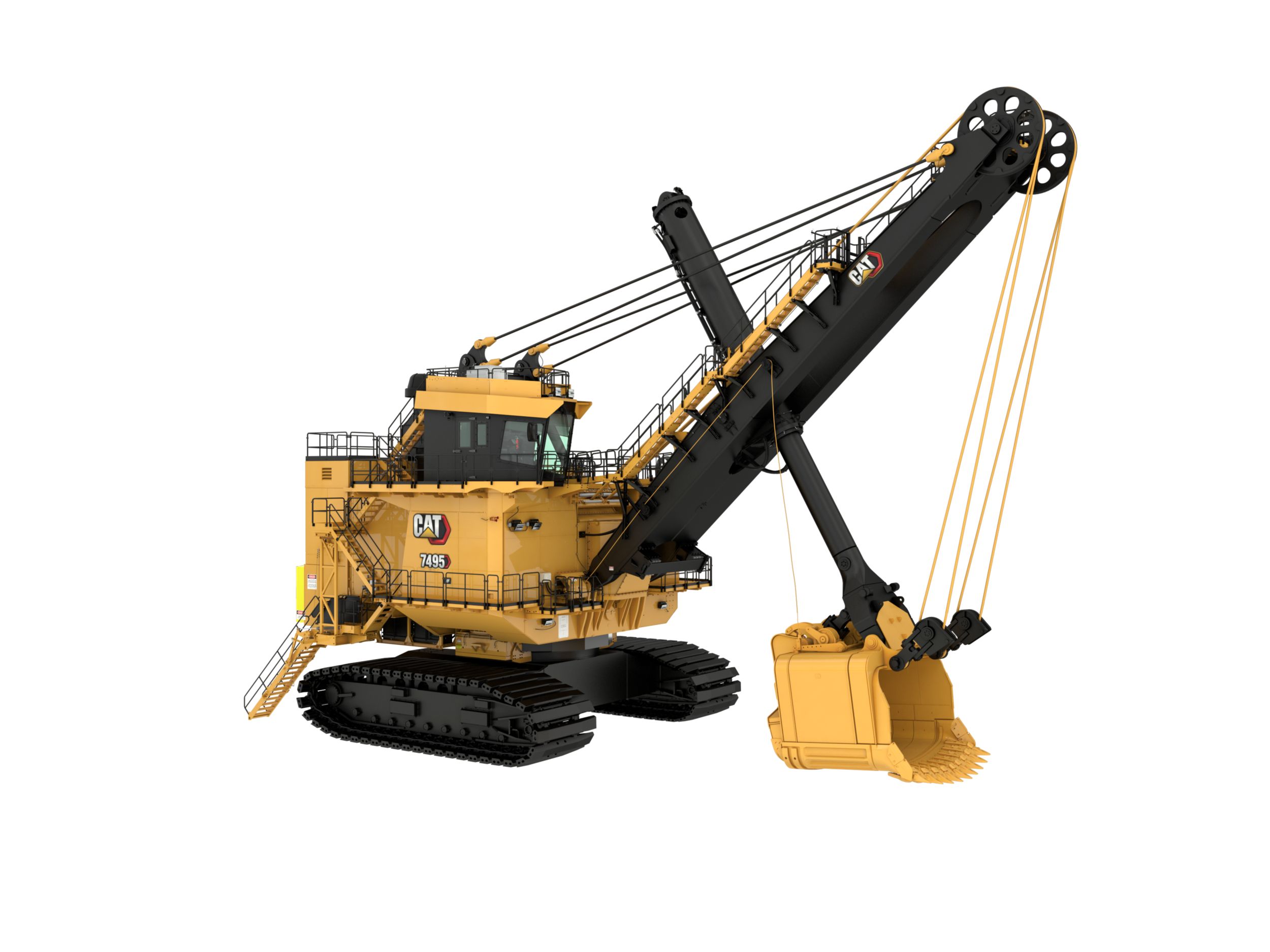 Brand

Caterpillar

Status

Current

Dipper Payload

120 ton (US) / 109 t

Dipper Capacity

30.6-62.7 m3 (40-82 yd3)

Dipper Payload (Available Dipper Payloads Up To 109 Tonnes [120 tons] When Specified)

120 t / 109 t

Note

Other voltage options available to suit customer requirements

Working Weight - With Dipper and Standard Links

3164000 lb / 1435156 kg

Ballast - Furnished By Customer

667150 lb / 302614 kg

Note (1)

Optimal working ranges based on loading a Cat 797F truck.

Note (2)

*All specifications are based on a 45 m3 (59 yd3) dipper and standard 317.5 cm (125 in) crawlers.

Planetary Propel

Dual-motor independent drive

Hoist

A planetary gearbox with dual-output pinions provides the hoist torque transfer from the electric motor to the hoist drum gear.

Ground Bearing Pressure - Note

Ground bearing pressure is dependent upon many factors

Upper Works Overall Width - Including Standard Walkways

41.99 in / 12.8 cm

Swing

Two planetary gearboxes, each driven by a vertically mounted motor, are located on either side of the revolving frame. Dual-output pinion shafts from each gearbox engage the swing rack.

Type

Automatic, single-line system for open gear lubricant and grease

Components (1)

Six pumps (four for open gear lubricant and two for grease) located in an insulated, heated, double-walled lube room

Power Requirements - Average Power Demand

945-1322 kW

Power Requirements - 50 Hz

6,000V, 6,600V, 7,200V, 11,000V

Power Requirements - Voltage

3 phase, 50/60 Hz, 7,200V

Drive

IGBT Acutrol drive system

Power Requirements - 60 Hz

7,200V, 13,800V

System Voltage - Nominal

50/60 Hz, 7,200V

Power Requirements - Peak power

3778 kW

Rope Data - Dipper Trip - Diameter

0.75 in / 19 mm

Rope Data - Boom Suspension - No.

4

Rope Data - Note

High impact ropes available as an option

Rope Data - Boom Suspension - Diameter

3.25 in / 83 mm

Rope Data - Hoist - Diameter

2.75 in / 70 mm

Rope Data - Hoist - No.

2

Rope Data - Dipper Trip - No.

1

Crowd (1)

HydraCrowd, hydraulic power skid, located at the front center of the revolving frame deck, powers a large hydraulic cylinder to move the dipper handle fore and aft.

Crowd (2)

(Optional) Rope Crowd, the crowd machinery is located at the front center of the revolving frame, consisting of motor, brake, drum and gearing. Plastic-impregnated crowd and retract ropes are used to move the dipper handle fore and aft.

Maximum Dumping Height

29.53 ft / 9 m

Dipper Capacities

30.6-62.7 m3 (40-82 yd3)

Operating Weight

3164000 lb / 1435156 kg

Cutting Height - Maximum

55 ft / 16.8 m

Cutting Radius - Maximum

79.72 ft / 24.3 m

Radius of Level Floor

55.77 ft / 17 m

Dumping Height - With Clearance to Open Dipper Door

29.53 ft / 9 m

Revolving Frame Tail Swing Radius

30.51 ft / 9.3 m

Components (2)

External fast fill from lower level
Electric Rope Shovels
7495 with HydraCrowd
Brand

Caterpillar

Status

Current

Dipper Payload

120 ton (US) / 109 t

Dipper Capacity

30.6-62.7 m3 (40-82 yd3)

Dipper Payload (Available Dipper Payloads Up To 109 Tonnes [120 tons] When Specified)

120 t / 109 t

Note

Dependent on application and material density

Working Weight - With Dipper and Standard Links

3066000 lb / 1390714 kg

Ballast - Furnished By Customer

667150 lb / 302614 kg

Note (1)

Optimal working ranges based on loading a Cat 795F AC truck.

Note (2)

*All specifications are based on a 56 m3 (73 yd3) dipper and standard 200.7 cm (79 in) crawlers.

Planetary Propel

Dual-motor independent drive

Hoist

A planetary gearbox with dual-output pinions provides the hoist torque transfer from the electric motor to the hoist drum gear.

Ground Bearing Pressure - Note

Ground bearing pressure is dependent upon many factors

Upper Works Overall Width - Including Standard Walkways

41.9 ft / 12.8 m

Swing

Two planetary gearboxes, each driven by a vertically mounted motor, are located on either side of the revolving frame. Dual-output pinion shafts from each gearbox engage the swing rack.

Type

One piece, forged, seamless tubular dipper handle and wide-spread boom point sheaves equipped with hoist ropes and dipper padlocks to stabilize dipper handle.

Components (1)

Six pumps (four for open gear lubricant and two for grease) located in an insulated, heated, double-walled lube room

Power Requirements - Average Power Demand

945-1322 kW

Power Requirements - 50 Hz

6,000V, 6,600V, 7,200V, 11,000V

Power Requirements - Voltage

3 phase, 50/60 Hz, 7,200V

Drive

IGBT Acutrol drive system

Power Requirements - 60 Hz

7,200V, 13,800V

System Voltage - Nominal

50/60 Hz, 7,200V

Power Requirements - Peak power

3778 kW

Rope Data - Dipper Trip - Diameter

0.75 in / 19 mm

Rope Data - Boom Suspension - No.

4

Rope Data - Note

High impact ropes available as an option

Rope Data - Boom Suspension - Diameter

3.25 in / 83 mm

Rope Data - Hoist - Diameter

2.75 in / 70 mm

Rope Data - Hoist - No.

2

Rope Data - Dipper Trip - No.

1

Crowd (1)

HydraCrowd, hydraulic power skid, located at the front center of the revolving frame deck, powers a large hydraulic cylinder to move the dipper handle fore and aft.

Crowd (2)

(Optional) Rope Crowd, the crowd machinery is located at the front center of the revolving frame, consisting of motor, brake, drum and gearing. Plastic-impregnated crowd and retract ropes are used to move the dipper handle fore and aft.

Maximum Dumping Height

28.9 ft / 8.8 m

Dipper Capacities

30.6-62.7 m3 (40-82 yd3)

Operating Weight

3066000 lb / 1390714 kg

Cutting Height - Maximum

53.5 ft / 16.3 m

Cutting Radius - Maximum

80 ft / 24.4 m

Radius of Level Floor

56.1 ft / 17.1 m

Dumping Height - With Clearance to Open Dipper Door

28.9 ft / 8.8 m

Revolving Frame Tail Swing Radius

30.5 ft / 9.3 m

Components (2)

External FastFil from lower level