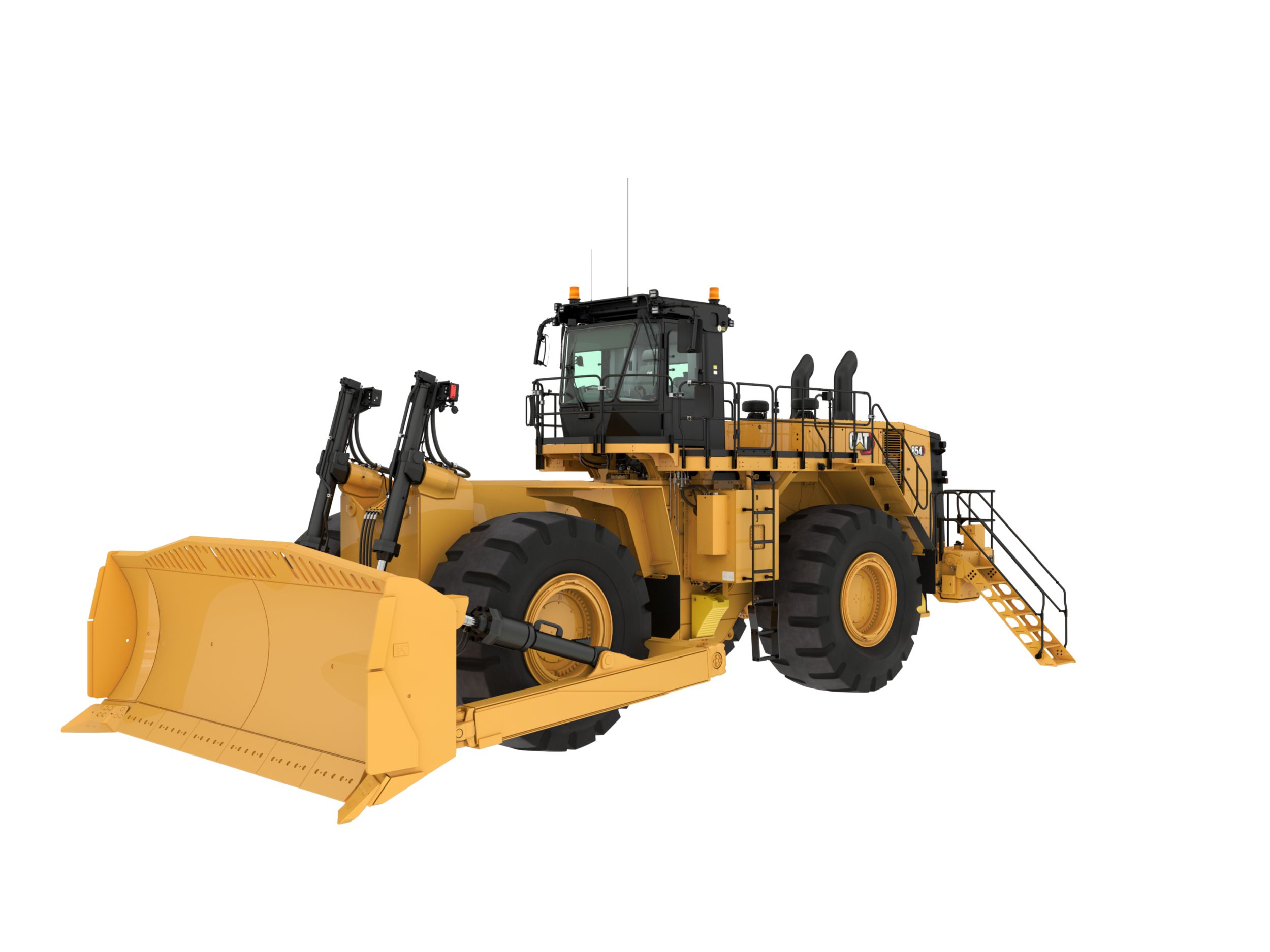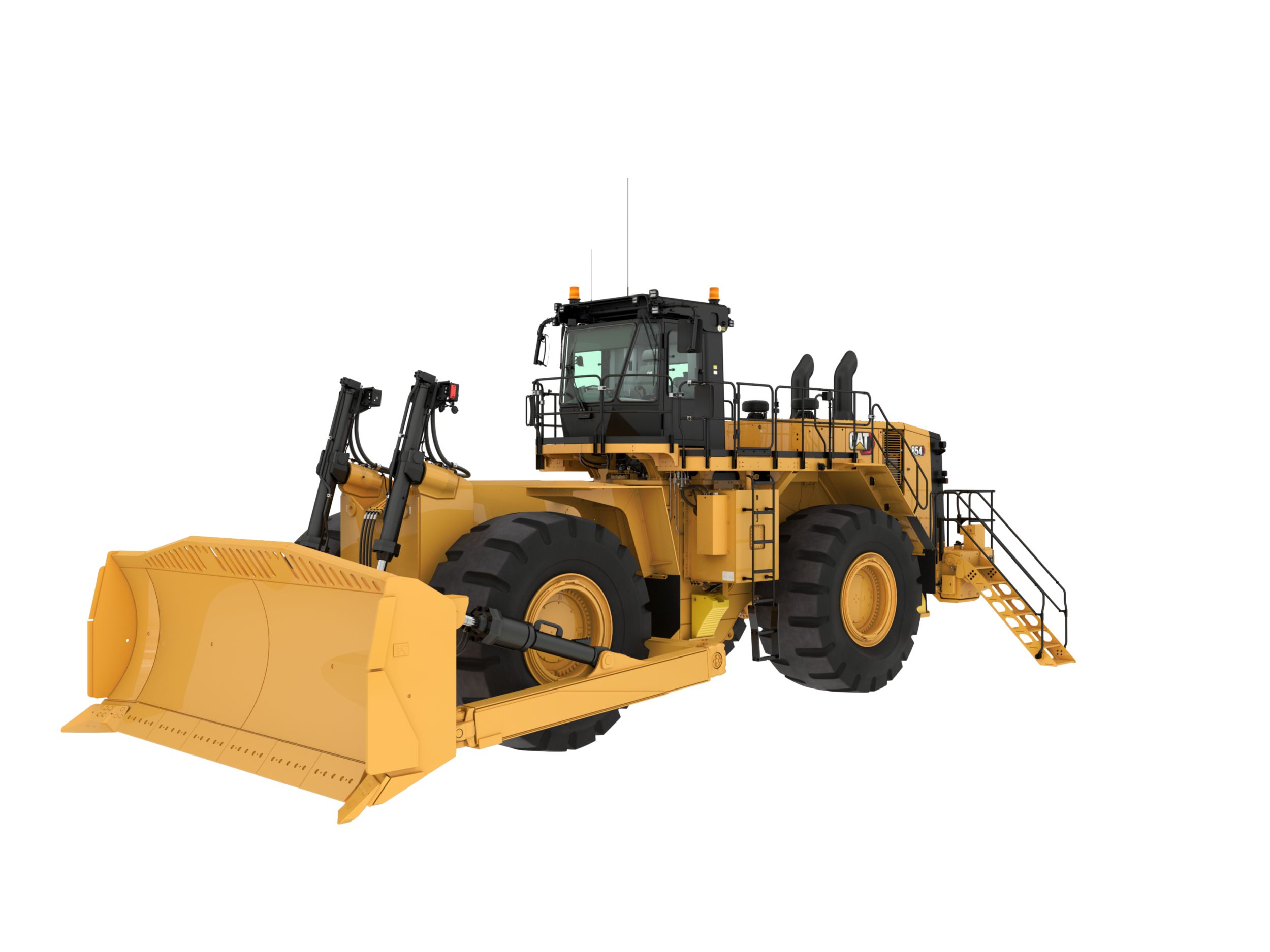 DESCRIPTION
Engineered for demanding work in large dozing applications, the Cat® 854 Wheel Dozer is the largest in the Cat lineup and is an ideal match for large mining operations, power-generating utilities, the general contracting industry and wherever mobility, versatility and compaction are needed. Like all Cat Wheel Dozers, the 854 is designed with durability built in, ensuring maximum availability through multiple lifecycles. With optimized performance and simplified serviceability, the 854 will allow you to move more material efficiently and safely at a lower cost per ton.
Features
Safety

Improved visibility, with pull-down window shade, optional heated mirrors, standard HID lights, and cab-mounted LED warning beacons.
Optional Detect with Object Detection System (rear-view camera and radar) or Vision (rear-view camera) for enhanced visibility.
Improved access and egress, with wide stairs and reduced angles; windshield cleaning platforms; emergency egress; plus the safe, ergonomic Cat powered access system, which can be raised and lowered from the cab level or the ground.
Wide walkways with non-skid surfaces, integrated lockout/tagout points, and ground-level or platform-accessible service areas.

Operator Comfort

Soft detent Electro-Hydraulic Controls, which are easy to use, and electronically controlled hydraulic cylinder stops that boost comfort.
Pressurized cab with filtered air, automatic temperature controls, viscous cab mounts and seat air suspension for reduced vibration and reduced sound levels.
Cat Comfort Seat, with high back design, extra thick contoured cushions, air suspension system, easy-to-reach seat levers and controls for six-way adjustments, and seat-mounted implement pod and STIC steer that moves with the seat.
Standard fold-down trainer seat with drink tray, storage, and wide, retractable seat belt.
Personalized machine feature settings, including ability to instantly recall up to 10 profiles stored in Advisor Display.

Productivity

Load-sensing hydraulic steering system, which helps operators achieve precise positioning for easy loading in tight areas with 43 degrees of steering articulation.
Impeller Clutch Torque Converter (ICTC) and Rimpull Control System (RCS), which improve rimpull and reduce tire slippage and wear and improve fuel efficiency in certain applications.
Cat Planetary Powershift Transmission for consistent, smooth shifting and efficiency through integrated electronic controls, with three forward and three reverse speeds
Steering and Transmission Integrated Control System (STIC™), which combines directional selection, gear selection and steering into a single lever — for maximum responsiveness and control.
Cat C32B engine that delivers on-demand performance through the use of turbochargers and aftercoolers, with a 33% torque rise that ensures high lugging forces during digging and acceleration in high rimpull conditions.

Serviceability

Reduced time spent on regular maintenance procedures thanks to features such as ground-level or platform access to filters, grouped service points and swing-out doors on both sides of the engine compartment.
Standard VIMS™ 3G monitoring system with easy-to-view display that delivers critical health and payload information, keeping performance at optimum levels and allowing advanced troubleshooting and planning to lower maintenance costs.
Extended performance and reliability thanks to advanced filtration system.
Durability

Full box-section frames that absorb torsional forces during dozing, maintaining alignment for hitch pins and drive line.
Spread hitch design featuring double tapered roller bearings and hardened pins that resist both horizontal and vertical loads.
Enhanced strength in key pin areas through the use of one-piece castings, and solid one-piece push beams that are through-width, not merely attached to the side of the frame.
90 percent of the machine structure is robotically welded to provide highly consistent welds and increased strength.
Frame, powertrain, engine and components that all built to be rebuilt — using new, remanufactured or rebuilt parts and components — to deliver multiple lives of like-new performance at a fraction-of-new price.

Technology

Cat MineStar™ Terrain for loading, which provides real-time feedback on payloads and design plan progress to increases productivity and accuracy, reduce rework, enhance ore control and improve shift-to-shift operator performance.
MineStar Detect, with offers a range of capabilities designed to assist the operator with areas of limited visibility around fixed and mobile equipment.
MineStar Health, which delivers critical event-based machine condition and operating data and includes comprehensive equipment health and asset monitoring capabilities, with a wide range of diagnostic, analytic and reporting tools.
Upgraded touchscreen information display that provides intuitive operation and easy navigation and keeps operators informed about machine systems to decrease service time.

Sustainability

Designed to be more efficient and use less fuel, which reduces engine emissions and carbon footprint; Tier 4 Final engine reduces NOx and particulate matter.
Engine Idle Shutdown, which saves fuel by making it possible to avoid unnecessary idling.
Reduced waste with maintenance-free or extended-maintenance batteries, and better control of fluids through use of ecology drains.
Retrofits and upgrades for older machines — to incorporate efficiency improvements and emission reductions, and to keep them in production longer to conserve energy and minimize the need for raw materials
Cat Rebuild and Cat Reman programs, which preserve raw materials, conserve energy and reduce emissions.
Standard Equipment
Optional Equipment
Specs
Docs
Specs
Long Name:
854 Wheel Dozer
Operating Weight
224647 lb / 101898 kg
Emissions (U.S. EPA Tier 4 Final): Gross Power - SAE J1995
900 HP / 671 kW
Emissions (U.S. EPA Tier 4 Final): Net Power ISO - 9249
814 HP / 607 kW
Emissions (Tier 2 Equivalent): Gross Power - SAE J1995
907 HP / 676 kW
Emissions (Tier 2 Equivalent): Net Power ISO - 9249
823 HP / 614 kW
Rated Speed
1750 r/min / 1750 r/min
Displacement
1958 in³ / 32.1 l
Peak Torque - 1,200 rpm
3139 lb/ft / 4242 N·m
Note (1)
Net power advertised is the power available at the flywheel when the engine is equipped with fan, air cleaner, muffler and alternator.
Note (2)
Net torque rise meets SAE J139.
Note (3)
No engine derating required up to 3050 m (10,000 ft) altitude.
Transmission Type
Cat Planetary Power Shift
Converter Drive - Forward 1
4.4 mile/h / 7.1 km/h
Converter Drive - Forward 2
7.7 mile/h / 12.4 km/h
Converter Drive - Forward 3
13.2 mile/h / 21.2 km/h
Converter Drive - Reverse 1
4.8 mile/h / 7.7 km/h
Converter Drive - Reverse 2
8.4 mile/h / 13.5 km/h
Converter Drive - Reverse 3
14.6 mile/h / 23.5 km/h
Direct Drive - Forward 1
Lock-up disabled
Direct Drive - Forward 2
8.1 mile/h / 13 km/h
Direct Drive - Forward 3
14.2 mile/h / 22.8 km/h
Direct Drive - Reverse 1
5 mile/h / 8 km/h
Direct Drive - Reverse 2
8.9 mile/h / 14.3 km/h
Direct Drive - Reverse 3
15.6 mile/h / 25.1 km/h
Note
Travel speeds based on 45/65-45 L-5 46 ply tires.
Hydraulic System - Lift/Tilt
Output at 1,850 rpm and 6900 kPa (1,000 psi)
161 gal/min / 610 l/min
Cylinders, Double Acting - Lift, Bore and Stroke
177 mm × 1760 mm (0.58 ft × 5.8 ft)
Cylinder, Double Acting - Tilt and Tip, Bore and Stroke
267 mm × 286 mm (0.88 ft × 0.94 ft)
Service Refill Capacities
Fuel Tank - Standard
413 gal (US) / 1562 l
Cooling System
53 gal (US) / 200 l
Crankcase
32 gal (US) / 120 l
Transmission
45 gal (US) / 169 l
Differential - Final Drives - Front
98 gal (US) / 369 l
Differential - Final Drives - Rear
90 gal (US) / 342 l
Hydraulic System - Steering and Engine Cooling Fan - Tank Only
77 gal (US) / 290 l
Brakes
Meets ISO 3540:2011
Blade Capacities
30.5 to 44.8 m3 (40 to 58.6 yd3)
Height - Top of ROPS
18.25 ft / 5590 mm
Height - Top of Exhaust Pipe
17.17 ft / 5234 mm
Height - Top of Hood
13 ft / 3984 mm
Ground Clearance
27 in / 691 mm
Centerline of Front Axle to Hitch
9.67 ft / 2945 mm
Centerline of Rear Axle to Edge of Bumper
13.75 ft / 4195 mm
Wheel Base
19.25 ft / 5890 mm
Length - With Blade on Ground
44 ft / 13405 mm
Hydraulic System - Steering
Steering System - Pump
Piston, variable displacement
Operating Weight
224647 lb / 101898 kg
Hydraulic System - Steering
Minimum Turning Radius - Over Blade
31 ft / 9550 mm
Steering System - Circuit
Pilot, load sensing
Total Steering Angle
86 degrees
Sound Performance
• The machine sound power level was measured according to ISO 6395:2008. The measurement was conducted at 70 percent of the maximum engine cooling fan speed. • The operator sound pressure level was measured according to ISO 6396:2008. The measurement was conducted at 70 percent of the maximum engine cooling fan speed. • Hearing protection may be needed when the machine is operated with a cab that is not properly maintained or when the doors or windows are open for extended periods or in a noisy environment.
Air Conditioning
The air conditioning system on this machine contains the fluorinated greenhouse gas refrigerant R134a (Global Warming Potential = 1430). The system contains 1.8 kg of refrigerant which has a CO2 equivalent of 2.574 metric tonnes.
ROPS/FOPS
ISO 3471:2008 and ISO 3449:2005 Level II Standards
Service Refill Capacities
Note (1)
- All nonroad U.S. EPA Tier 4, European Union (EU) Stage IIIB and V, and Japan (MLIT) Step 4 diesel engines are required to use only Ultra Low Sulfer Diesel (ULSD) fuels containing 15 ppm (mg/kg) sulfer or less. Biodiesel blends up to B20 (20% blend by volume) are acceptable when blended with 15 ppm (mg/kg) sulfer or less ULSD. B20 should meet ASTM D7467 specification (biodiesel blend stock should meet Cat biodiesel spec, ASTM D6751 or EN 14214. Cat DEO-ULS or oils that meet the Cat ECF-3, API CJ-4, and ACEA E9 specification are required. For further fluid specifications and guidelines, visit: http://parts.cat.com/cda/files/3244668/7/SEBU6250-19.pdf
Hydraulic System - Steering
Relief Valve Setting
5004 psi / 34500 kPa
SEE HOW 854 COMPARES AGAINST FREQUENTLY COMPARED PRODUCTS.
Wheel Dozers
854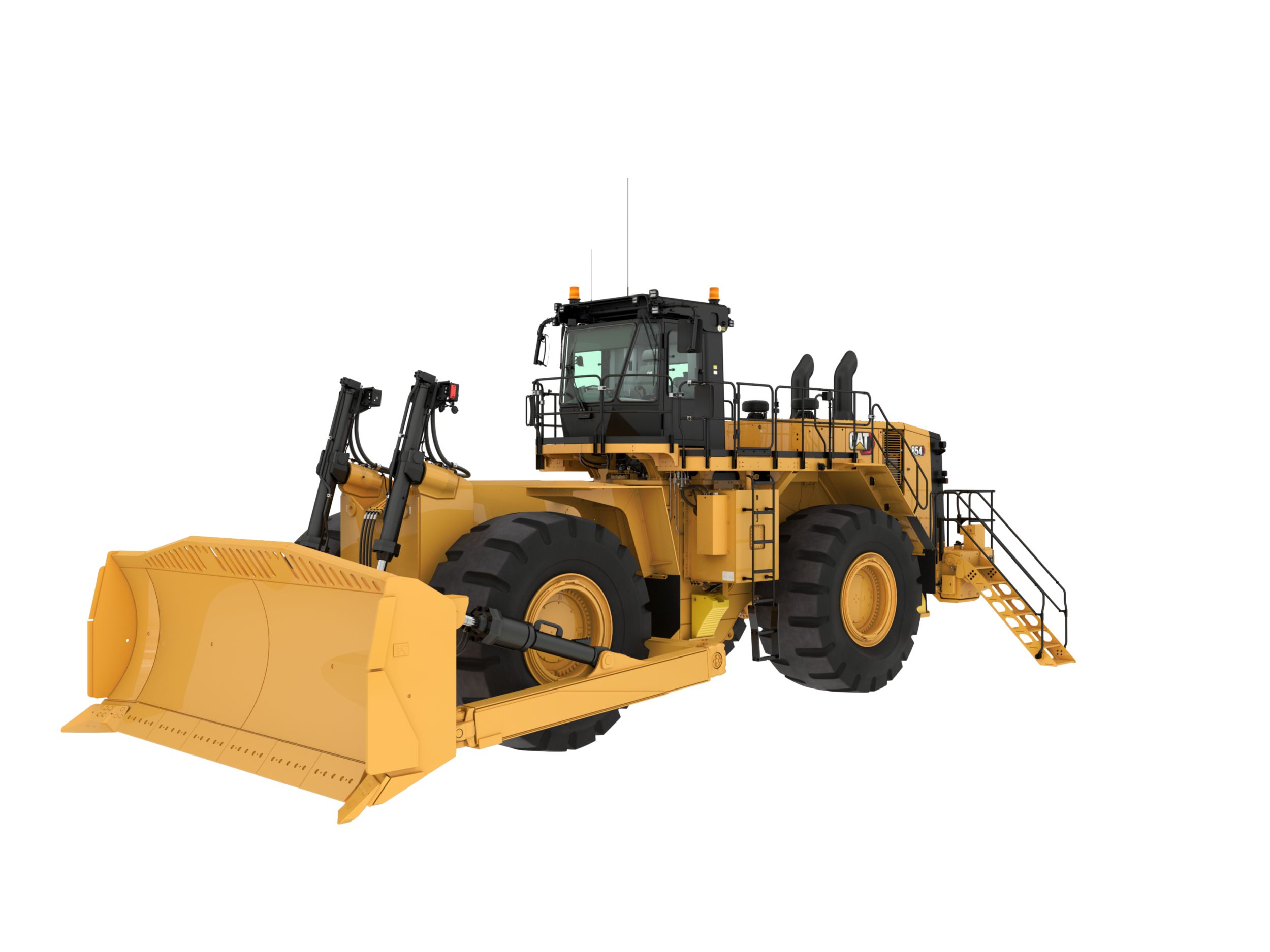 Brand

Caterpillar

Status

Current

Engine Model

Cat C32B

Operating Weight

224647 lb / 101898 kg

Rated Speed

1750 r/min / 1750 r/min

Bore

5.7 in / 145 mm

Stroke

6.4 in / 162 mm

Displacement

1958 in³ / 32.1 l

Torque Rise

30 % / 30 %

Transmission Type

Cat Planetary Power Shift

Converter Drive - Forward 1

4.4 mile/h / 7.1 km/h

Converter Drive - Forward 2

7.7 mile/h / 12.4 km/h

Converter Drive - Forward 3

13.2 mile/h / 21.2 km/h

Converter Drive - Reverse 1

4.8 mile/h / 7.7 km/h

Converter Drive - Reverse 2

8.4 mile/h / 13.5 km/h

Converter Drive - Reverse 3

14.6 mile/h / 23.5 km/h

Direct Drive - Forward 1

Lock-up disabled

Direct Drive - Forward 2

8.1 mile/h / 13 km/h

Direct Drive - Forward 3

14.2 mile/h / 22.8 km/h

Direct Drive - Reverse 1

5 mile/h / 8 km/h

Direct Drive - Reverse 2

8.9 mile/h / 14.3 km/h

Direct Drive - Reverse 3

15.6 mile/h / 25.1 km/h

Cylinders, Double Acting - Lift, Bore and Stroke

177 mm × 1760 mm (0.58 ft × 5.8 ft)

Cylinder, Double Acting - Tilt and Tip, Bore and Stroke

267 mm × 286 mm (0.88 ft × 0.94 ft)

Fuel Tank - Standard

413 gal (US) / 1562 l

Cooling System

53 gal (US) / 200 l

Crankcase

32 gal (US) / 120 l

Transmission

45 gal (US) / 169 l

Differential - Final Drives - Front

98 gal (US) / 369 l

Differential - Final Drives - Rear

90 gal (US) / 342 l

Front

Fixed

Brakes

Meets ISO 3540:2011

Height - Top of ROPS

18.25 ft / 5590 mm

Height - Top of Exhaust Pipe

17.17 ft / 5234 mm

Height - Top of Hood

13 ft / 3984 mm

Ground Clearance

27 in / 691 mm

Centerline of Front Axle to Hitch

9.67 ft / 2945 mm

Centerline of Rear Axle to Edge of Bumper

13.75 ft / 4195 mm

Wheel Base

19.25 ft / 5890 mm

Length - With Blade on Ground

44 ft / 13405 mm

Steering System - Pump

Piston, variable displacement

Minimum Turning Radius - Over Blade

31 ft / 9550 mm

Steering System - Circuit

Pilot, load sensing

Total Steering Angle

86 degrees

Rear

Trunnion

Air Conditioning

The air conditioning system on this machine contains the fluorinated greenhouse gas refrigerant R134a (Global Warming Potential = 1430). The system contains 1.8 kg of refrigerant which has a CO2 equivalent of 2.574 metric tonnes.

Relief Valve Setting

5004 psi / 34500 kPa
Wheel Dozers
844K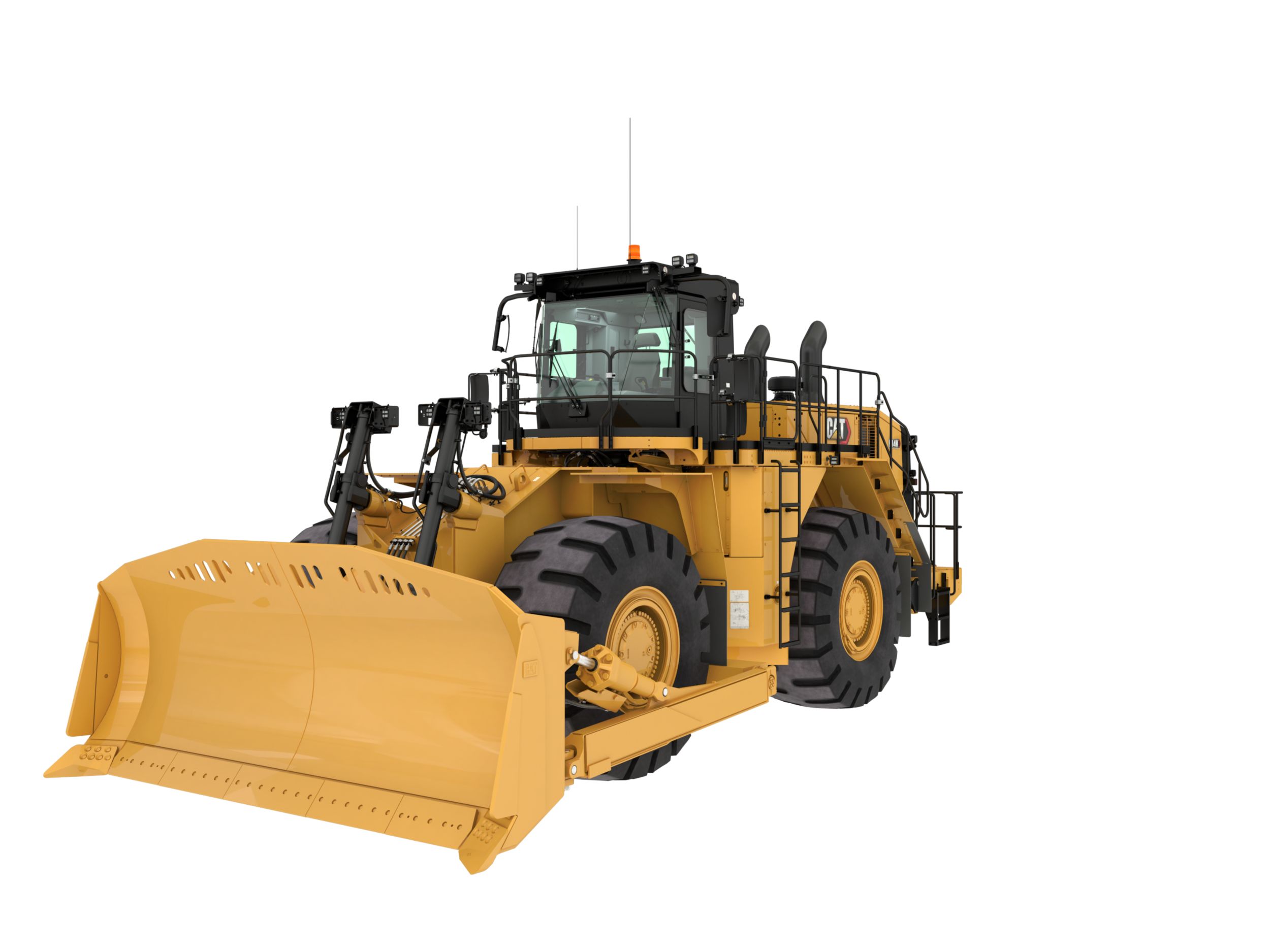 Brand

Caterpillar

Status

Current

Engine Model

C27 Cat®

Operating Weight

165089 lb / 74883 kg

Rated Speed

1800 r/min / 1800 r/min

Bore

5.4 in / 137.2 mm

Stroke

6 in / 152.4 mm

Displacement

1649.5 in³ / 27.03 l

Torque Rise

18 % / 18 %

Transmission Type

Cat Planetary Power Shift

Converter Drive - Forward 1

4.5 mile/h / 7.3 km/h

Converter Drive - Forward 2

8.3 mile/h / 13.3 km/h

Converter Drive - Forward 3

14.2 mile/h / 22.9 km/h

Converter Drive - Reverse 1

4.9 mile/h / 7.9 km/h

Converter Drive - Reverse 2

9.1 mile/h / 14.7 km/h

Converter Drive - Reverse 3

15.5 mile/h / 24.9 km/h

Direct Drive - Forward 1

Lock-up disabled

Direct Drive - Forward 2

8.5 mile/h / 13.7 km/h

Direct Drive - Forward 3

15.2 mile/h / 24.5 km/h

Direct Drive - Reverse 1

5.4 mile/h / 8.7 km/h

Direct Drive - Reverse 2

9.6 mile/h / 15.4 km/h

Direct Drive - Reverse 3

16.4 mile/h / 26.4 km/h

Cylinders, Double Acting - Lift, Bore and Stroke

133 mm × 1535 mm (5.25 in × 60.4 in)

Cylinder, Double Acting - Tilt and Tip, Bore and Stroke

210 mm × 188 mm (8.25 in × 7.4 in)

Fuel Tank - Standard

286.6 gal (US) / 1085 l

Cooling System

54.9 gal (US) / 208 l

Crankcase

20 gal (US) / 76 l

Transmission

29.1 gal (US) / 110 l

Differential - Final Drives - Front

71.6 gal (US) / 271 l

Differential - Final Drives - Rear

68.9 gal (US) / 261 l

Front

Fixed

Brakes

Meets ISO 3540:2011

Height - Top of ROPS

17.2 ft / 5240 mm

Height - Top of Exhaust Pipe

16.6 ft / 5049 mm

Height - Top of Hood

12.7 ft / 3862 mm

Ground Clearance

2 ft / 596 mm

Centerline of Front Axle to Hitch

7.5 ft / 2300 mm

Centerline of Rear Axle to Edge of Bumper

12.5 ft / 3795 mm

Wheel Base

15.1 ft / 4600 mm

Length - With Blade on Ground

36.5 ft / 11120 mm

Steering System - Pump

Piston, variable displacement

Minimum Turning Radius - Over Blade

34 ft / 10369 mm

Steering System - Circuit

Pilot, load sensing

Total Steering Angle

35 ° / 35 °

Rear

Trunnion

Air Conditioning

Standard air conditioning system contains environmentally friendly R134a refrigerant

Relief Valve Setting

4500 psi / 31000 kPa
Wheel Dozers
844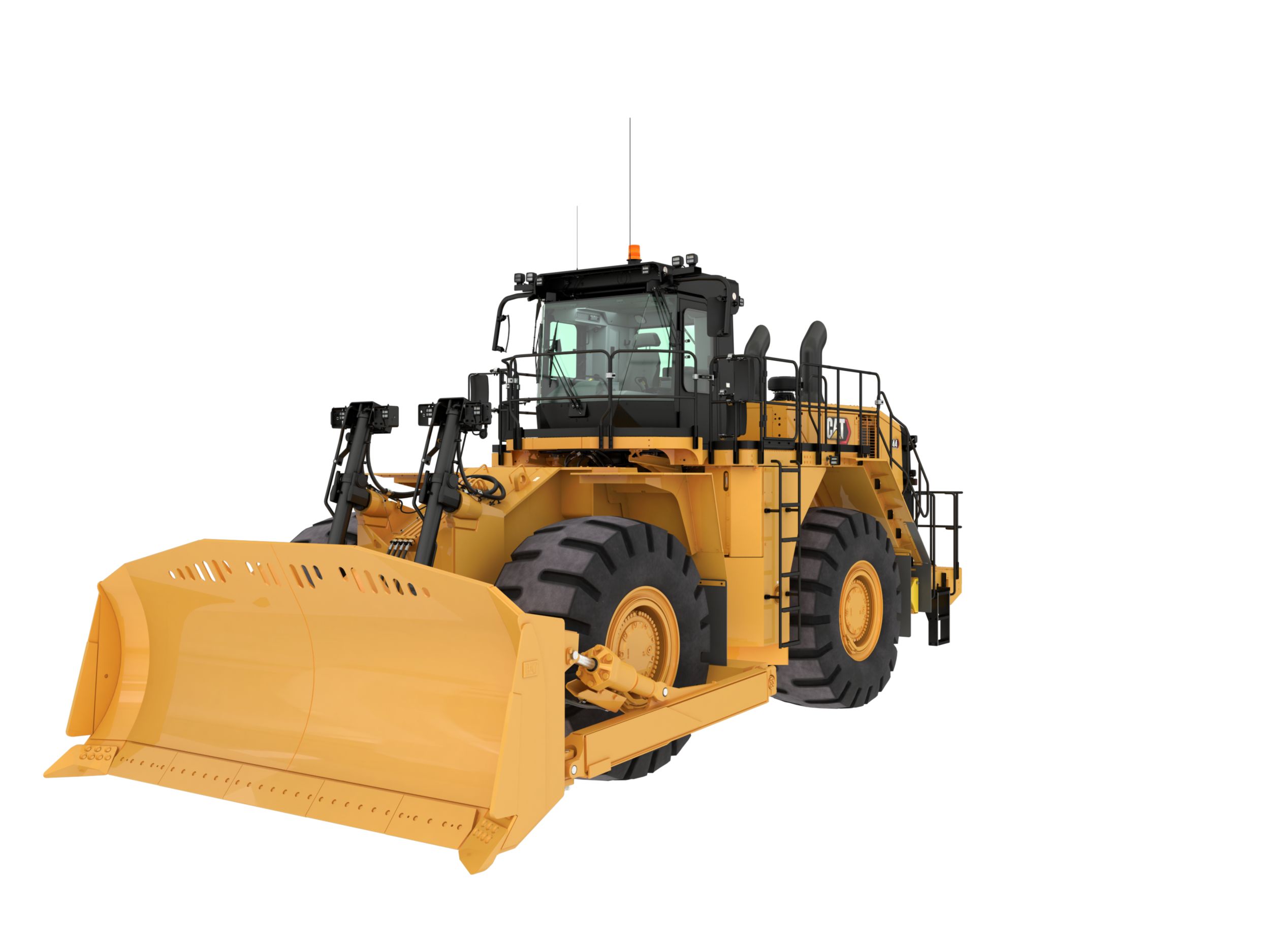 Brand

Caterpillar

Status

Current

Engine Model

C27 Cat®

Operating Weight

165089 lb / 74883 kg

Rated Speed

1800 r/min / 1800 r/min

Bore

5.4 in / 137.2 mm

Stroke

6 in / 152.4 mm

Displacement

1649.5 in³ / 27.03 l

Torque Rise

18 % / 18 %

Transmission Type

Cat Planetary Power Shift

Converter Drive - Forward 1

4.5 mile/h / 7.3 km/h

Converter Drive - Forward 2

8.3 mile/h / 13.3 km/h

Converter Drive - Forward 3

14.2 mile/h / 22.9 km/h

Converter Drive - Reverse 1

4.9 mile/h / 7.9 km/h

Converter Drive - Reverse 2

9.1 mile/h / 14.7 km/h

Converter Drive - Reverse 3

15.5 mile/h / 24.9 km/h

Direct Drive - Forward 1

Lock-up disabled

Direct Drive - Forward 2

8.5 mile/h / 13.7 km/h

Direct Drive - Forward 3

15.2 mile/h / 24.5 km/h

Direct Drive - Reverse 1

5.4 mile/h / 8.7 km/h

Direct Drive - Reverse 2

9.6 mile/h / 15.4 km/h

Direct Drive - Reverse 3

16.4 mile/h / 26.4 km/h

Cylinders, Double Acting - Lift, Bore and Stroke

133 mm × 1535 mm (5.25 in × 60.4 in)

Cylinder, Double Acting - Tilt and Tip, Bore and Stroke

210 mm × 188 mm (8.25 in × 7.4 in)

Fuel Tank - Standard

286.6 gal (US) / 1085 l

Cooling System

54.9 gal (US) / 208 l

Crankcase

20 gal (US) / 76 l

Transmission

29.1 gal (US) / 110 l

Differential - Final Drives - Front

71.6 gal (US) / 271 l

Differential - Final Drives - Rear

68.9 gal (US) / 261 l

Front

Fixed

Brakes

Meets ISO 3540:2011

Height - Top of ROPS

17.2 ft / 5240 mm

Height - Top of Exhaust Pipe

16.6 ft / 5049 mm

Height - Top of Hood

12.7 ft / 3862 mm

Ground Clearance

2 ft / 596 mm

Centerline of Front Axle to Hitch

7.5 ft / 2300 mm

Centerline of Rear Axle to Edge of Bumper

12.5 ft / 3795 mm

Wheel Base

15.1 ft / 4600 mm

Length - With Blade on Ground

36.5 ft / 11120 mm

Steering System - Pump

Piston, variable displacement

Minimum Turning Radius - Over Blade

34 ft / 10369 mm

Steering System - Circuit

Pilot, load sensing

Total Steering Angle

35 ° / 35 °

Rear

Trunnion

Air Conditioning

The air conditioning system on this machine contains the fluorinated greenhouse gas refrigerant R134a (Global Warming Potential = 1430). The system contains 1.8 kg of refrigerant which has a CO2 equivalent of 2.574 metric tonnes.

Relief Valve Setting

4500 psi / 31000 kPa