992
992 Wheel Loader
The Cat 992 Large Wheel Loader has set the standard in its size class for more than 50 years, delivering industry-leading productivity, unparalleled reliability and long life.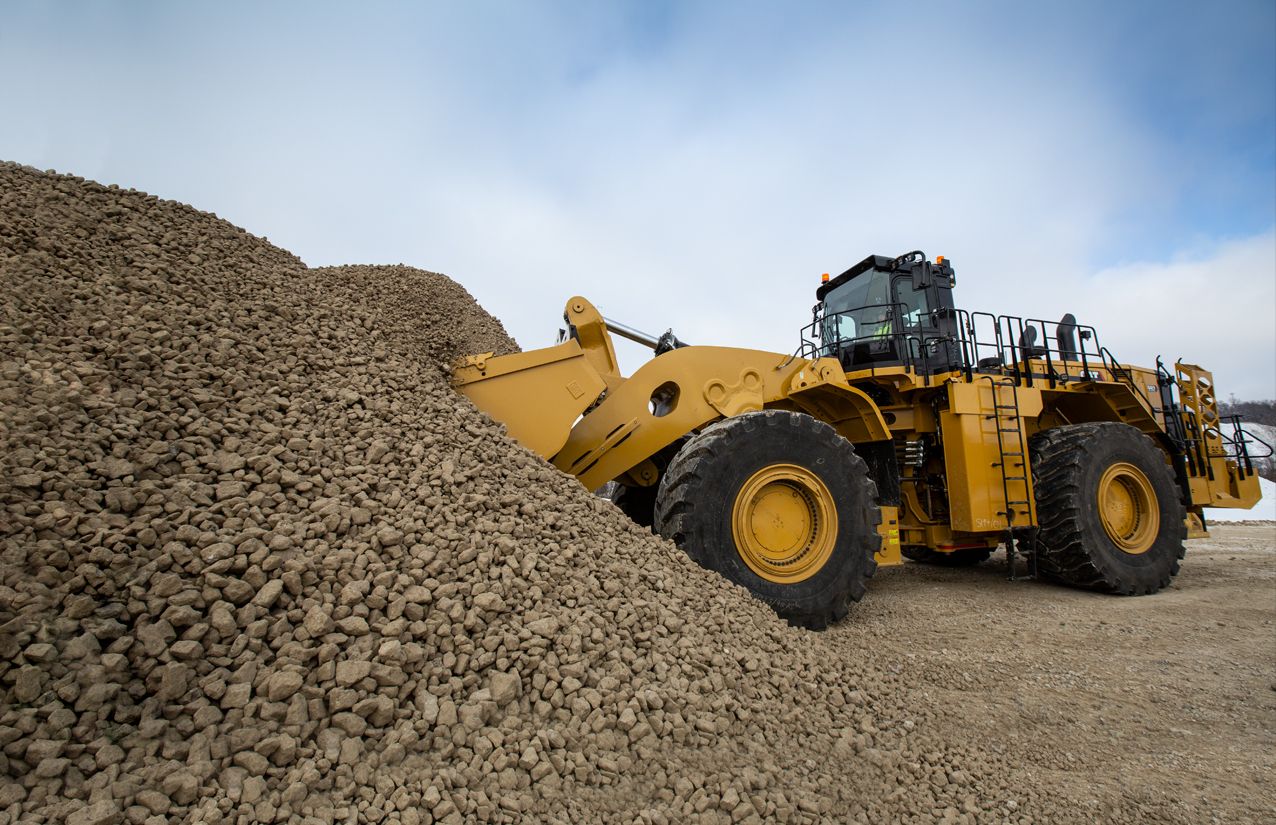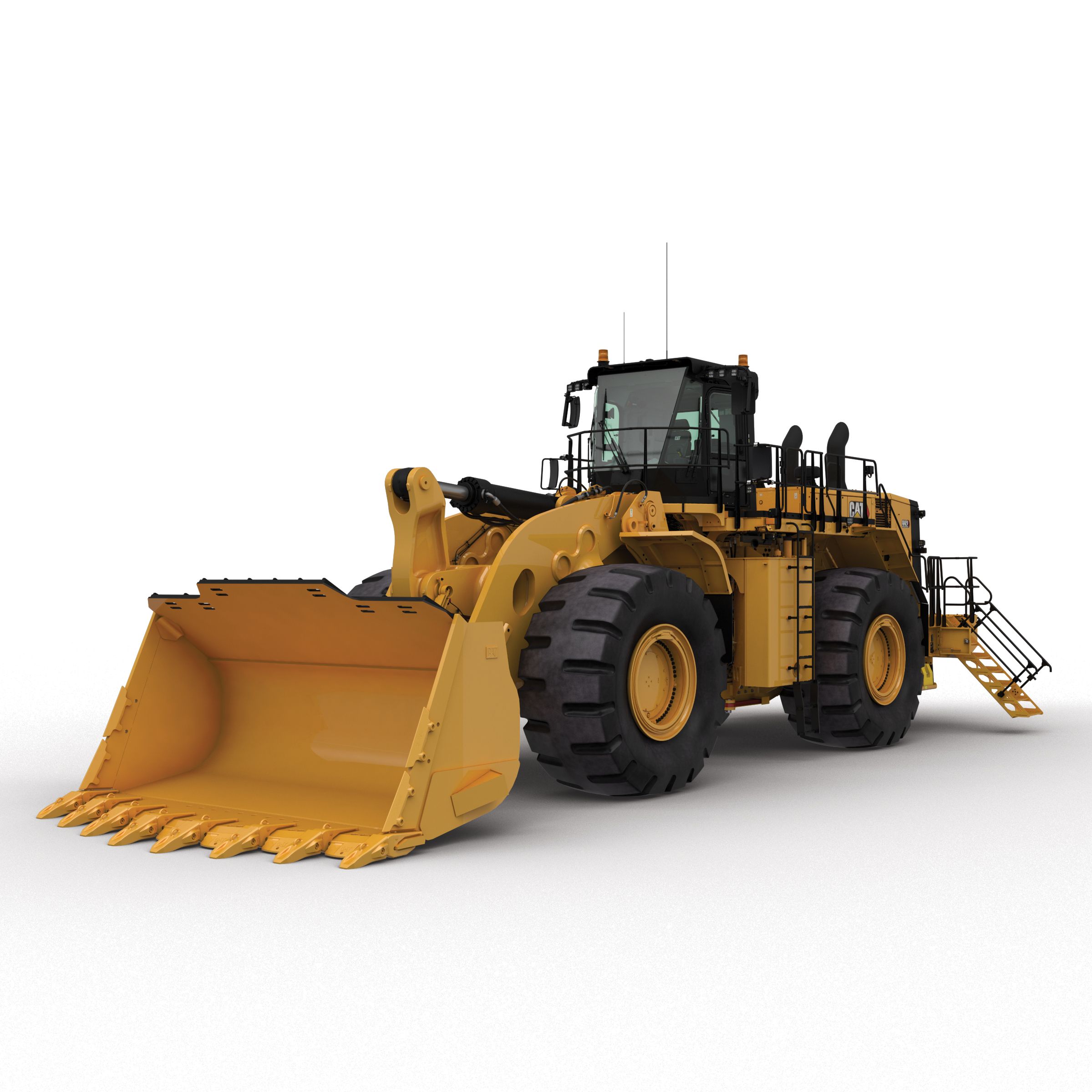 DESCRIPTION
The Cat® 992 Large Wheel Loader has set the standard in its size class for more than 50 years, delivering industry-leading productivity, unparalleled reliability and long life. Today's 992 raises the bar. Compared to the 992K, the new 992 is up to 48% more efficient and 32% more productive, thanks to higher payload for improved pass match, increases in rimpull and breakout force, and an optimized linkage design. Extended component replacement intervals plus increased filter and turbo life help reduce maintenance costs. These improvements — and many more — combine to provide significant savings over the life of the machine for the lowest owning and operating costs in the industry. With both standard and high-lift configurations, the 992 offers the ideal pass match for fleets of Cat 775, 777 and 785 trucks.
Meet the Cat® 992 Large Wheel Loader
The Cat® 992 — Product Walkaround
SAFETY
Designed for visibility, with a taller windshield that provides a 25% increase in glass surface area for a better view to the bucket, standard rear-view camera, optional Detect 270-degree cameras, standard LED lighting and mining mirrors.
Improved access and egress, with integrated powered access system, adjustable hanging steps, 45-degree-angle wide stairs, emergency egress ladder, and full handrails on each side.
Wide walkways with non-skid surfaces and integrated lockout/tagout points designed into the service areas.
Speed limiter, which sets the maximum speeds in both forward and reverse.
OPERATOR COMFORT
50% increase in leg room and increased width by the operator's knees compared to previous model.
Reduced vibration, low sound levels and automatic temperature controls.
Electro-hydraulic speed-sensing steering with force feedback for shift-long comfort.
Pressurized cab featuring Next Gen Seat with 9-inch travel, active cooling and heating, adjustable lumbar support, seat cushion tilt adjustment, and air-adjustable bolsters on the seat and backrest.
CONFIDENT & EMPOWERED OPERATORS
Low-effort integrated controls that make cycles smoother and faster while reducing fatigue.
Large, easy-to-read, color LED displays that provide access to the Electronic Operation & Maintenance Manual.
Operator coaching, which helps empower operators to exceed targets by measuring and providing feedback to reinforce proper operating techniques.
New Autodig Components that boost efficiency and reduce tire wear by automating critical parts of the digging cycle.
Payload Overload Prevention, which inhibits severe payloads from being raised to full truck height.
PRODUCTIVITY
Increased rated payload, which allows for a a 4-pass match to a 90.7-tonne (100-ton) truck in all applications.
Better digging thanks to 20% more breakout force compared to previous models, with no increase in cycle time; 9.5% boost in rimpull; and increased traction.
Superior loading with Cat Performance Series Buckets, which deliver easier, faster loading; increased fill factors and material retention; larger bucket volume; and better bucket and machine stability due to the payload being lower and closer to the machine.
Greater stability, thanks to an increase in static tipping load and greater tipping-to-weight ratio, which helps operators be more confident and productive.
EFFICIENCY-BOOSTING FEATURES
Tire Slip Prevention, which reduces rimpull when there is less downforce on the tire and increases rimpull when there is more downforce on the tire — providing maximum rimpull when you can use it.
Tire Set, which automatically applies a lift command at the optimal time to increase traction on the tire, allowing for an increase in usable rimpull.
Lift Stall Prevention, which automatically applies the impeller clutch when necessary to prevent hydraulic stall when lifting up through the face — keeping the lift motion continuous, without excessive use of the impeller clutch.
Positive Flow Control Hydraulic System, which boosts efficiency with concurrent pump and valve control and increases bucket feel and control to deliver consistent performance.
On-demand throttle feature that allows operators to maintain normal operation with the left pedal and implements while the 992 manages the engine speed.
SERVICEABILITY
Reduced time spent on regular maintenance procedures thanks to features such as ground-level or platform access to filters; grouped service points; swing-out doors on both sides of the engine compartment; improved access for engine and pump drive service as well as to cooling package; and automatic lubrication system that greases the linkage, hitch, steering and axle trunnion bearings.
Relocated service station that provides easy access to functions such as coolant and oil as well as level indicators; Cat battery charging connector; and indicator lights for full fuel tanks.
Standard VIMS™ monitoring system that delivers critical health and payload information, keeping performance at optimum levels and allowing advanced troubleshooting and planning to lower maintenance costs.
Improved hydraulic system filtration as well as prognostics for the implement pump and remaining useful life of the engine air filter.
Remote Flash capabilities that reduce downtime by providing immediate access to the latest software updates.
VERSATILITY
Ideal for all temperatures, with high ambient package for operation in temperatures as high as 55 degrees C / 131 degrees F; and cold-weather features such as cooling fan bypass; 120V or 240V coolant heating elements and fuel heater; 240V engine oil; and heated mirrors.
Approved for higher payloads in low to moderate digging resistance applications; increased payload intended for rehandled material in the ROM pad area or stockpile material, such as coal.
Variety of bucket options, including limestone bucket; granite buckets for use in high-abrasion production applications; heavy-duty rock buckets for applications like face loading tightly compacted pit materials or handling materials of moderate abrasion and high impact; coal buckets for light density non-abrasive materials; and iron ore buckets for extremely aggressive applications.
New Performance Series Buckets that feature extended floor, dual radius and angled side bars for fast loading; larger bottom box section for increased strength, high fill factors and good material retention; and taller side plate with a level top surface improves operator visibility to the bucket from the cab.
Cat Ground Engaging Tools (GET) that feature CapSure™ Retention Technology, which simplifies component replacement with hammerless retention for fast, easy and safe installation.
DURABILITY
New C32B engine improved for increased durability.
Use of structural castings at the high-stress locations where the lift arm and front axle mount; and improvements to the axle cutout, upper hitch design and rear trunnion mounting.
Loads efficiently transmitted by the field-proven solid steel lift arms and reinforced pin joint bores.
Powertrain improvements including 20% increase in Planned Component Replacement interval of drivetrain components; increase in axle housing size, which enabled the elimination of the brake anchor and integration of brakes into the housing; 23% increase in oscillation joint diameter, which greatly increases surface area and reduces bearing wear; and increased hardness on Output Transfer Gears (OTG).
Frame, powertrain, engine and components that all built to be rebuilt — using new, remanufactured or rebuilt parts and components — to deliver multiple lives of like-new performance at a fraction-of-new price.
TECHNOLOGY
Cat MineStar™ Terrain for loading, which provides real-time feedback on payloads and design plan progress to increases productivity and accuracy, reduce rework, enhance ore control and improve shift-to-shift operator performance.
MineStar Object Detection, which combines radar and camera systems to warn operators about light vehicles or stationary hazards within the immediate vicinity of their machines.
MineStar Health, which delivers critical event-based machine condition and operating data and includes comprehensive equipment health and asset monitoring capabilities, with a wide range of diagnostic, analytic and reporting tools.
Upgraded touchscreen information display that provides intuitive operation and easy navigation and keeps operators informed about machine systems to decrease service time.
Cat ProductLink™, which provides remote access to information on machine systems and diagnostic codes; allows you to track utilization, fuel usage and payload summaries; and gives access to machine location, service meter hours and reporting status.
SUSTAINABILITY
Designed to be more efficient and use less fuel, which reduces engine emissions and carbon footprint; Tier 4 Final engine reduces NOx and particulate matter.
Engine Idle Shutdown, which saves fuel by making it possible to avoid unnecessary idling.
Better control of fluids through use of Cat anti-drain filter housings and component ecology drains.
Retrofits and upgrades for older machines — to incorporate efficiency improvements and emission reductions, and to keep them in production longer to conserve energy and minimize the need for raw materials
Cat Rebuild and Cat Reman programs, which preserve raw materials, conserve energy and reduce emissions.
Standard Equipment
Optional Equipment
Specs
Docs
Specs
Long Name:
992 Wheel Loader
Net Power
814 HP / 607 kW
Emissions
U.S. EPA Tier 4 Final, U.S. EPA Tier 2 Equivalent
Gross Power - SAE J1995 at 1,750 rpm - Tier 4/HRC (Highly Regulated Country) - Standard
900 HP / 671 kW
Gross Power - SAE J1995 at 1,750 rpm - Tier 4/HRC - High Ambient
937 HP / 699 kW
Gross Power - SAE J1995 at 1,750 rpm - Tier 2/LRC (Less Regulated Country) - Standard
907 HP / 676 kW
Gross Power - SAE J1995 at 1,750 rpm - Tier 2/LRC - High Ambient
944 HP / 704 kW
Gross Power - ISO 14396 at 1,750 rpm - Tier 4/HRC - Standard
884 HP / 659 kW
Gross Power - ISO 14396 at 1,750 rpm - Tier 4/HRC - High Ambient
921 HP / 687 kW
Gross Power - ISO 14396 at 1,750 rpm - Tier 2/LRC - Standard
893 HP / 666 kW
Gross Power - ISO 14396 at 1,750 rpm - Tier 2/LRC - High Ambient
931 HP / 694 kW
Net Power - SAE J1349 at 1,750 rpm - Tier 4/HRC - Standard
814 HP / 607 kW
Net Power - SAE J1349 at 1,750 rpm - Tier 4/HRC - High Ambient
814 HP / 607 kW
Net Power - SAE J1349 at 1,750 rpm - Tier 2/LRC - Standard
823 HP / 614 kW
Net Power - SAE J1349 at 1,750 rpm - Tier 2/LRC - High Ambient
823 HP / 614 kW
Displacement
1963.5 in³ / 32.1 l
Peak Torque - SAE J1995 - Tier 4/HRC - Standard @ 1,200 rpm
3514 ft·lbf / 4765 N·m
Peak Torque - SAE J1995 - Tier 4/HRC - High Ambient @ 1,300 rpm
3555 ft·lbf / 4820 N·m
Peak Torque - SAE J1995 - Tier 2/LRC - Standard @ 1,200 rpm
3537 ft·lbf / 4796 N·m
Peak Torque - SAE J1995 - Tier 2/LRC - High Ambient @ 1,350 rpm
3570 ft·lbf / 4841 N·m
Operating Weight
233430 lb / 105882 kg
Rated Payload - Standard
25.5 ton (US) / 23.1 t
Rated Payload - Standard (Material Handler)
30 ton (US) / 27.2 t
Rated Payload - High Lift
22.5 ton (US) / 20.4 t
Rated Payload - High Lift (Material Handler)
27 ton (US) / 24.5 t
Bucket Capacity Range
11.5-24.5 m³ (15-32 yd³)
Cat Truck Match - Standard
775/777
Cat Truck Match - High Lift
785
Bucket Capacities
11.5-24.5 m³ (15-32 yd³)
Transmission Type
Cat Planetary Powershift
Forward - 1
4.3 mile/h / 7 km/h
Forward - 2
7.4 mile/h / 11.9 km/h
Forward - 3
12.7 mile/h / 20.5 km/h
Direct Drive - Forward 1
Disabled
Direct Drive - Forward 2
8 mile/h / 12.9 km/h
Direct Drive - Forward 3
14 mile/h / 22.6 km/h
Reverse - 1
4.7 mile/h / 7.5 km/h
Reverse - 2
8.1 mile/h / 13 km/h
Reverse - 3
13.9 mile/h / 22.4 km/h
Direct Drive - Reverse 1
5 mile/h / 8 km/h
Direct Drive - Reverse 2
8.8 mile/h / 14.2 km/h
Direct Drive - Reverse 3
15.3 mile/h / 24.7 km/h
Hydraulic System - Lift/Tilt
Lift/Tilt System - Circuit
Positive Flow Control
Lift/Tilt System - Pump
Variable Displacement Piston
Maximum Flow at 2,165 rpm
250 gal/min / 950 l/min
Relief Valve Setting - Lift/Tilt
5000 psi / 34500 kPa
Lift Cylinder - Bore
9.3 in / 235 mm
Lift Cylinder - Stroke
63.5 in / 1613 mm
Tilt Cylinder - Bore
11.5 in / 292 mm
Tilt Cylinder - Stroke
41.5 in / 1055 mm
Rack Back - High Lift
2.3 s / 2.3 s
Raise - High Lift
9 s / 9 s
Dump - High Lift
2.6 s / 2.6 s
Float Down - High Lift
3.2 s / 3.2 s
Total Hydraulic Cycle Time
17.1 s / 17.1 s
Service Refill Capacities
Fuel Tank
385.7 gal (US) / 1460 l
Cooling Systems
59.4 gal (US) / 225 l
Crankcase
31.7 gal (US) / 120 l
Transmission
51.5 gal (US) / 195 l
Differential - Final Drives - Front
96.4 gal (US) / 365 l
Differential - Final Drives - Rear
96.4 gal (US) / 365 l
Hydraulic System Factory Fill (Implement)
104.1 gal (US) / 394 l
Hydraulic Tank - Implement
60.2 gal (US) / 228 l
Hydraulic Factory Fill (Steering)
32.5 gal (US) / 123 l
Hydraulic Tank (Steering Tank Only)
26.3 gal (US) / 99.5 l
Hydraulic System - Steering
Steering System - Circuit
Pilot, Load Sensing
Steering System - Pump
Piston, Variable Displacement
Maximum Flow at 1,400-1,850 rpm
70 gal/min / 265 l/min
Steering Cut Off Pressure
4500 psi / 31000 kPa
Steering Cycle Times - Low Idle
4.9 s / 4.9 s
Steering Cycle Times - High Idle
3.1 s / 3.1 s
Ambient Capability Hydraulically Driven Demand Fan - Standard
109.4 °F / 43 °C
Ambient Capability, Hydraulically Driven Demand Fan - High
131 °F / 55 °C
Sound Performance - Standard
Note
Machine Sound Level (ISO 6396:2008) - 116 dB(A)
Sound Performance - Suppression
Note
Machine Sound Level (ISO 6396:2008) - 113 dB(A)
Dimensions - Standard Lift - Approximate
Ground to Top of Exhaust Stacks
17 ft / 5169 mm
Ground to Top of ROPS
18.3 ft / 5571 mm
Ground to Top of Hood
13.1 ft / 3983 mm
Ground to Center of Front Axle
4.3 ft / 1308 mm
Ground to Bumper Clearance
3.8 ft / 1145 mm
Ground to Lower Hitch Clearance
2.2 ft / 666 mm
Reach - Maximum Lift
8.2 ft / 2503 mm
Clearance at Maximum Lift
15.2 ft / 4630 mm
B-Pin Height - Maximum Lift
22.8 ft / 6948 mm
Maximum Overall Height - Bucket Raised
30.8 ft / 9390 mm
Rear Axle - Centerline to Bumper
13.5 ft / 4119 mm
Wheel Base
19.3 ft / 5890 mm
Maximum Overall Length
50.8 ft / 15489 mm
Front Axle Centerline to Bucket Tip
18 ft / 5480 mm
Dimensions - High Lift - Approximate
Ground to Top of Exhaust Stacks
17 ft / 5169 mm
Ground to Top of ROPS
18.3 ft / 5571 mm
Ground to Top of Hood
13.1 ft / 3983 mm
Ground to Center of Front Axle
4.3 ft / 1308 mm
Ground to Bumper Clearance
3.8 ft / 1145 mm
Ground to Lower Hitch Clearance
2.2 ft / 666 mm
Reach - Maximum Lift
7.6 ft / 2319 mm
Clearance at Maximum Lift
17.2 ft / 5256 mm
B-Pin Height - Maximum Lift
24.5 ft / 7465 mm
Maximum Overall Height - Bucket Raised
32 ft / 9759 mm
Rear Axle - Centerline to Bumper
13.5 ft / 4119 mm
Wheel Base
19.3 ft / 5890 mm
Maximum Overall Length
51.6 ft / 15733 mm
Front Axle Centerline to Bucket Tip
18.8 ft / 5724 mm