AD63
AD63 Underground Articulated Truck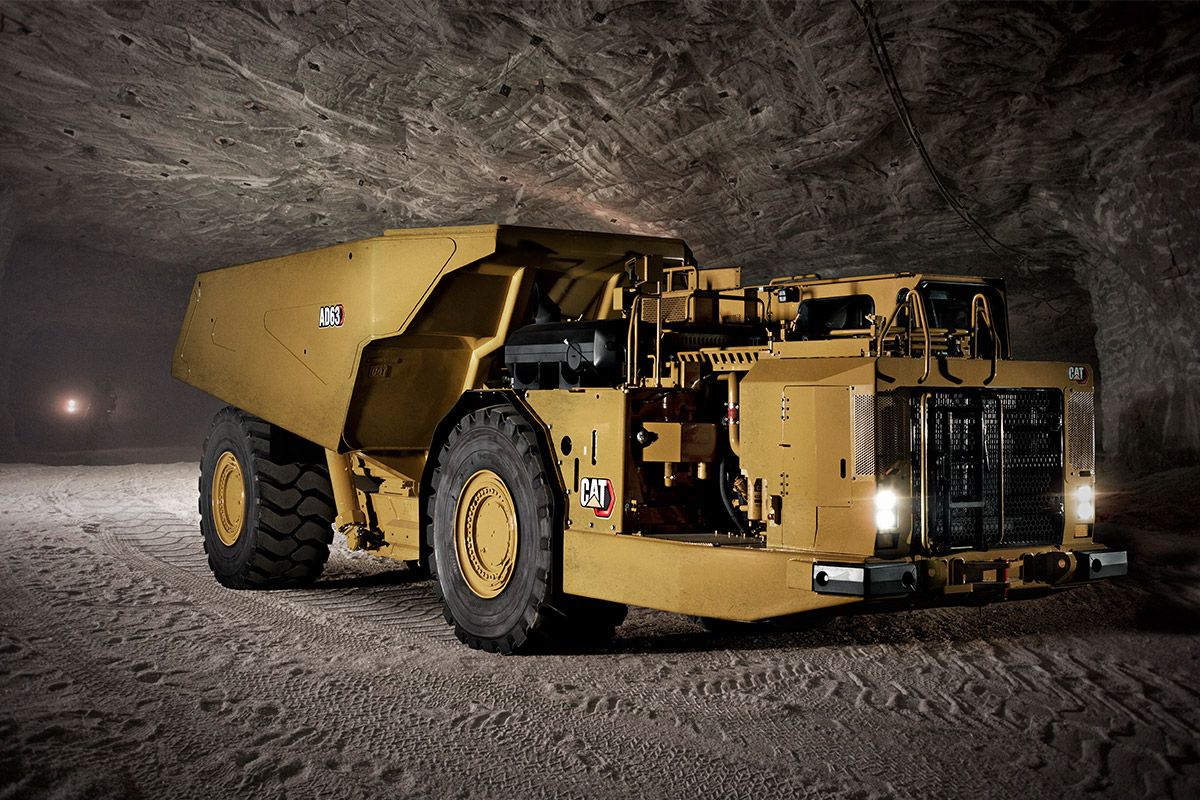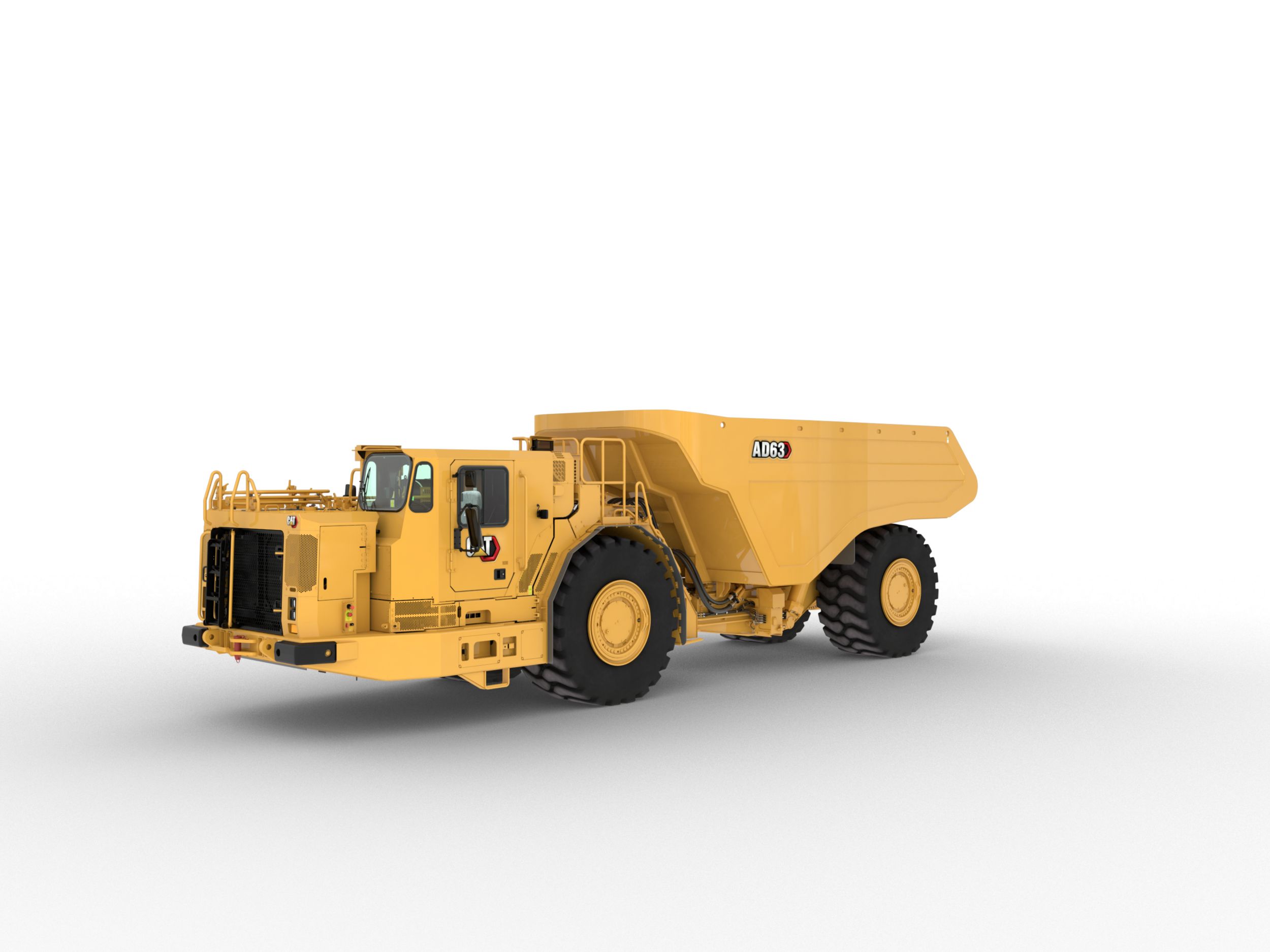 DESCRIPTION
The Cat® AD63 Underground Truck is designed for high production, lower costs and increased efficiency. It's built tough to stand up to the harsh conditions of your site, and features a number of improvements over its predecessor, including a 5% greater payload and more torque. The world-class cab keeps operators safe and comfortable all shift long, and new enhancements help ensure the safety of everyone working in, on or around the machine. It's powered by a Cat C27 engine that meets EU Stage V Emissions Standards for cleaner performance, as well as reduced ventilation costs. And its rugged construction and simplified maintenance make for longer life and lower operating costs, so you can get the most out of your investment.
SAFETY
Standard Operator Present System, which protects the machine and operator from uncontrolled machine movements, with hydraulic system neutralization and door sensor.
Safer access and egress with anti-skid upper deck surfaces, new and improved upper deck handrails, 3-point cabin and machine access, additional access via the front grill and alternate exit via windows.
Integrated Cat braking system that delivers reliable performance and control, plus service brake system actuated by hydraulic pressure and parking brake function that is spring applied and hydraulic released to ensure braking in the event of loss of hydraulic pressure.
Safer service with steering frame lock, body retaining pins, exhaust heat shielding and firewall fitted, plus hitch hydraulic hoses fitted with burst protection sleeves.
OPERATOR COMFORT & CONTROL
Controls, levers, switches and gauges positioned to maximize productivity and minimize fatigue.
Standard sound-suppressed enclosed ROPS cab for a quiet, secure and comfortable air-conditioned working environment with fresh, pressurized, temperature-controlled air circulation.
Ergonomic, fully adjustable suspension seat with thick cushions that reduce pressure on lower back and thighs and wide, retractable seat belts that provide a secure, comfortable restraint.
Comfort wheel with tilt steering that provides a comfortable driving position, secure grip and greater control.
Rollover Protective Structure (ROPS) and Falling Objects Protective Structure (FOPS) resiliently mounted to the mainframe to isolate the operator from vibration for a more comfortable ride.
PRODUCTIVITY & PERFORMANCE
63-tonne (69-ton) payload that is 5% larger than its predecessor, the AD60 for more material carried every cycle for maximum production.
Mechanical powertrain and power shift transmission that offer unmatched operating efficiency and control on steep grades and in poor underfoot conditions.
Automatic Retarder Control (ARC), which electronically controls retarding on grade, allowing the operator to maintain optimum engine speeds for faster downhill hauls and greater productivity.
Single-stage hoist cylinders that provide fast dump cycle times of 13 seconds for raise and 24 seconds for lower.
POWER & EFFICIENCY
Powered by a Cat C27 engine with an EU Stage V emission rating to comply with emissions regulations while providing unmatched power.
Increase of engine torque rise from 18% to 28%, coupled with a powertrain ratio update to spread the torque rise, for superior grade holding capability.
Cat Data Link, which decreases fuel consumption, regulates engine speed and prevents shifting above a pre-programmed gear while the body isn't fully lowered.
Torque converter lock-up clutch that combines the high rimpull and smooth shifting of a torque converter drive with the efficiency and performance of direct drive.
Modular HVAC system with dual power options —operates when engine is running to provide maximum efficiency in hot applications and is powered by the electric system when the engine is turned off, for less engine idling and lower operating costs.
TRUCK BODIES
Cat truck bodies designed for optimal strength, capacity and durability.
Designed and matched with the integrated chassis system for optimum structural reliability, durability and long life.
Five body size options, including new lightweight dump body, for the most efficient hauling solution at the lowest cost per ton.
RELIABILITY & DURABILITY
Box-section frame design with stiff frame beams to resist twisting forces; weld joint and materials matched to optimize structural life.
Two independent variable rebound suspension cylinders that dissipate haul road forces for longer frame life and a comfortable ride.
Articulating / oscillating hitch that provides steering and oscillation and enables the truck to maintain all-wheel ground contact in rough terrain.
Frame, powertrain, engine and components that are built to be rebuilt, delivering second and third lives.
SERVICEABILITY
Ability to tilt the cab for improved access to the cab side of the engine, improved access to brake accumulator and engine mounting hardware, plus access to alternator and starter motor without removing belly plates.
Ground-level access to all tanks, filters, lubrication points and compartment drains; remote mounted fuel filters for easier serviceability; and fluid-level sight gauges.
Radial seal air filters that are easy to change, reducing time required for air filter maintenance; plus upsized radiator surround has to improve access to pre-cleaner and filters.
Electrical connectors that are sealed to lock out dust and moisture, harnesses that are covered for protection, and wires that are color- and number-coded for easy diagnosis and repair.
TECHNOLOGY
Product Link™ Elite (PLE) network management module, which stores and transfers data and serves as a connectivity enabler for dealer-provided condition monitoring services and integrates with Cat MineStar Fleet and Health for diagnostic and equipment management.
Optional MineStar Fleet for underground, which provides real-time visibility to cycle time, payload, machine position and other key operational parameters; and MineStar Detect, which uses a proximity detection system coupled with a revolutionary communications and tracking network to prevent incidents and track people and machines in real time.
Truck Payload Measurement System, which automatically records load cycle information when the load is dumped, giving operators real-time loading data and sorting it for download.
Cat Electronic Technician (ET), which enables quick electronic diagnosis of machine performance and key diagnostic data for effective maintenance and repairs.
Cat Electronic Monitoring System (EMS), which provides continuous access to critical machine data to keep the machine performing at a high level.
SUSTAINABILITY
Cat C27 EU Stage V engine that meets the strictest emission standards and is approved by CANMET; does not require Diesel Exhaust Fluid (DEF) to meet standards.
Optional Cat Diesel Particulate Filters, which further reducing particulate matter in the exhaust.
Ongoing research and development into engine compatibility with diesel fuel blended with lower-carbon intensity fuels such as biofuels and renewable fuels, plus power options like electrification.
Cat Rebuild and Cat Reman programs, which preserve raw materials, conserve energy and reduce emissions, plus retrofits and upgrades for older machines to incorporate efficiency improvements and emission reductions.
Standard Equipment
Optional Equipment
Specs
Docs
Optional Equipment
OPTIONAL EQUIPMENT

Battery Shutdown
– Ground Level Isolation, In Cab Isolation Switch
– Ground Level Isolation, Engine Shutdown Switch
– Ground Level Isolation, In Cab Isolation, Engine Shutdown Switch
Body Dump
– Body, (32.6 m³/42.6 yd³)
– Body, (33.8 m³/44.2 yd³)
– Body, (36.6 m³/47.9 yd³)
– Body, (38.3 m³/50.1 yd³)
Body Liners, Impact and/or Wear
– 10 mm, Body, Dump (26.9 m³/35.2 yd³)
– 10 mm, Body, Dump (32.6 m³/42.6 yd³)
– 10 mm, Body, Dump (33.8 m³/44.2 yd³)
– 10 mm, Body, Dump (36.6 m³/47.9 yd³)
– 10 mm, Body, Dump (38.3 m³/50.1 yd³)
Body Wear Plate, External
– 8 mm, Body, Dump (26.9 m³/35.2 yd³)
– 8 mm, Body, Dump (32.6 m³/42.6 yd³)
– 8 mm, Body, Dump (33.8 m³/44.2 yd³)
– 8 mm, Body, Dump (36.6 m³/47.9 yd³)
Body Wear Protection Option: wear strip to cover edge of the pusher plate or full length of the ejector body tub side walls must be selected if the ejector body was chosen
Brake Pressure Gauges
Camera, Color Rear Facing
Cover, Anti Vandalism for Shipping
Aftertreatment Options
– DPF (Flow Through)
– DPF (Wall Flow)
Fast Fill System
– Coolant
– Engine Oil
– Fuel (Dual Tanks)
– Hydraulic Oil
– Transmission Oil
Ansul Fire Suppression, Wet 76L (AS5062)
Fluids
– Arctic Fuel
– Arctic Coolant
Lighting
– Headlights with Dimmer Switch, LED
– Rear Work Light (Cab Mounted), LED
– Reversing Lights, LED
Lubrication System
– Automatic, Dump
Operator Station
– Sun Visor
Park Brake Switch Engagement
– Push to Apply
– Pull to Apply
Payload
– Truck Payload Measurement System (TPMS), Dump Body Only
Reflective Tape
Rims
– Rim Identification Numbering
– Spare, Tubeless
Seat Cover
– Cat Comfort TLV2
– Seat Cover, Companion
Service Tools
– Body Pin Removal Tool
– Collet Jacking Bolts, Dump or Ejector
– Hoist Cylinder Supports (for Body Removal)
Window Dual Panel
NOTE: Not all features are available in all regions.
See your Cat dealer for more information
Specs
Long Name:
AD63 Underground Articulated Truck
Displacement
1650 in² / 27 l
Note (1)
Meets EU Stage V emission standards and U.S. EPA Tier 4 Final.
Note (2)
Power ratings apply at a rated speed of 1,800 rpm when tested under the reference conditions for the specified standard.
Engine Power - EU Stage V Engine - ISO 14396:2002
795 HP / 593 kW
Gross Machine Operating Mass
262218 lb / 118940 kg
Body Capacities
26.9-38.3 m³ (35.2-50.1 yd³)
Nominal Payload Capacity
138891 lb / 63000 kg
Empty
115577 lb / 52425 kg
Empty - Front Axle
81716 lb / 37066 kg
Empty - Rear Axle
33861 lb / 15359 kg
Loaded
254468 lb / 115425 kg
Loaded - Front Axle
126669 lb / 57456 kg
Loaded - Rear Axle
127800 lb / 57969 kg
Loaded - Front Axle
49.8%
Forward - 1
4.1 mile/h / 6.5 km/h
Forward - 2
5.7 mile/h / 9.2 km/h
Forward - 3
7.7 mile/h / 12.4 km/h
Forward - 4
10.3 mile/h / 16.6 km/h
Forward - 5
14 mile/h / 22.5 km/h
Forward - 6
18.9 mile/h / 30.3 km/h
Forward - 7
25.5 mile/h / 41 km/h
Reverse - 1
5.3 mile/h / 8.6 km/h
Note
Maximum travel speeds with standard 35 × 65 R33 tires.
Differential Ratio
3.46:1
Total Reduction Ratio
19.04:1
Total Cycle Time
37 s / 37 s
Dump Body - 1 - Standard
35.2 yd³ / 26.9 m³
Dump Body - 2
42.6 yd³ / 32.6 m³
Dump Body - 3
44.2 yd³ / 33.8 m³
Dump Body - 4
47.9 yd³ / 36.6 m³
Dump Body - 5 (Light Material)
50.1 yd³ / 38.3 m³
Outside Clearance Radius
393.9 in / 10005 mm
Inside Turn Radius
218.1 in / 5540 mm
Articulation Angle
42.5 ° / 42.5 °
Service Refill Capacities
Engine Crankcase - With Filter
25 gal (US) / 95 l
Transmission
14 gal (US) / 53 l
Hydraulic Tank
100.6 gal (US) / 381 l
Cooling System
39.6 gal (US) / 150 l
Front Differential and Final Drives
36.5 gal (US) / 138 l
Rear Differential and Final Drives
36.5 gal (US) / 138 l
Fuel Tank
237.7 gal (US) / 900 l
Standards
ROPS/FOPS Certified Cab
Note (3)
All rating conditions are based on ISO/TR14396, inlet air standard conditions with a total barometric pressure of 100 kPa (29.5 in Hg), with a vapor pressure of 1 kPa (0.295 in Hg), and 25° C (77° F). Performance measured using fuel to EPA specifications in 40 CFR Part 1065 and EU specifications in Directive 97/68/EC with a density of 0.845-0.850 kg/L @ 15° C (59° F) and fuel inlet temperature 40° C (104° F).