AP1055
AP1055 Mobil-Trac Paver
The AP1055 asphalt paver is a rubber track paver that delivers a high-return on investment with its extremely versatile Mobil-trac™ undercarriage that delivers speed, traction, and flotation. This high-production paver offers a fast-heating screed system, durable components, and easy to use technology.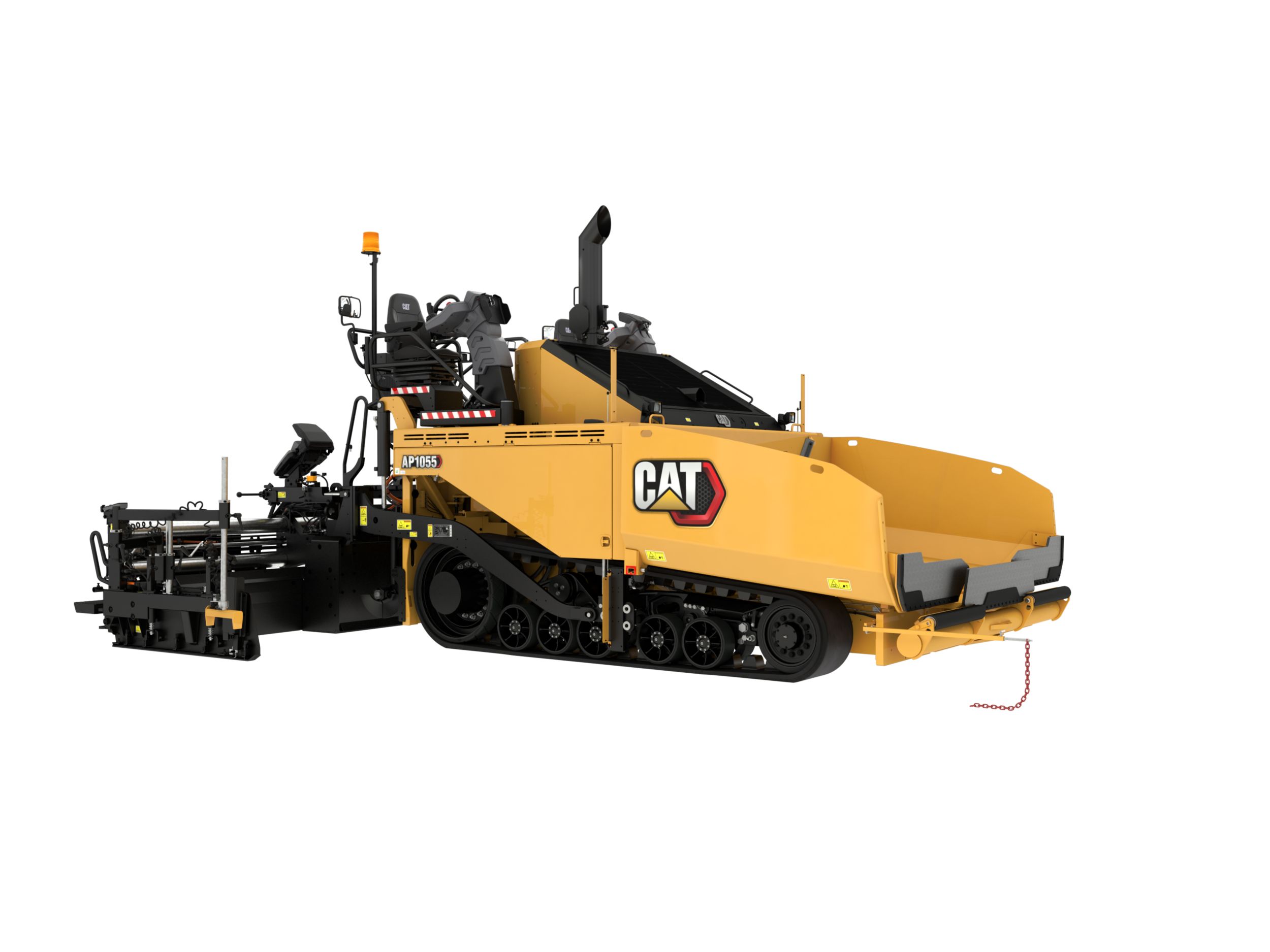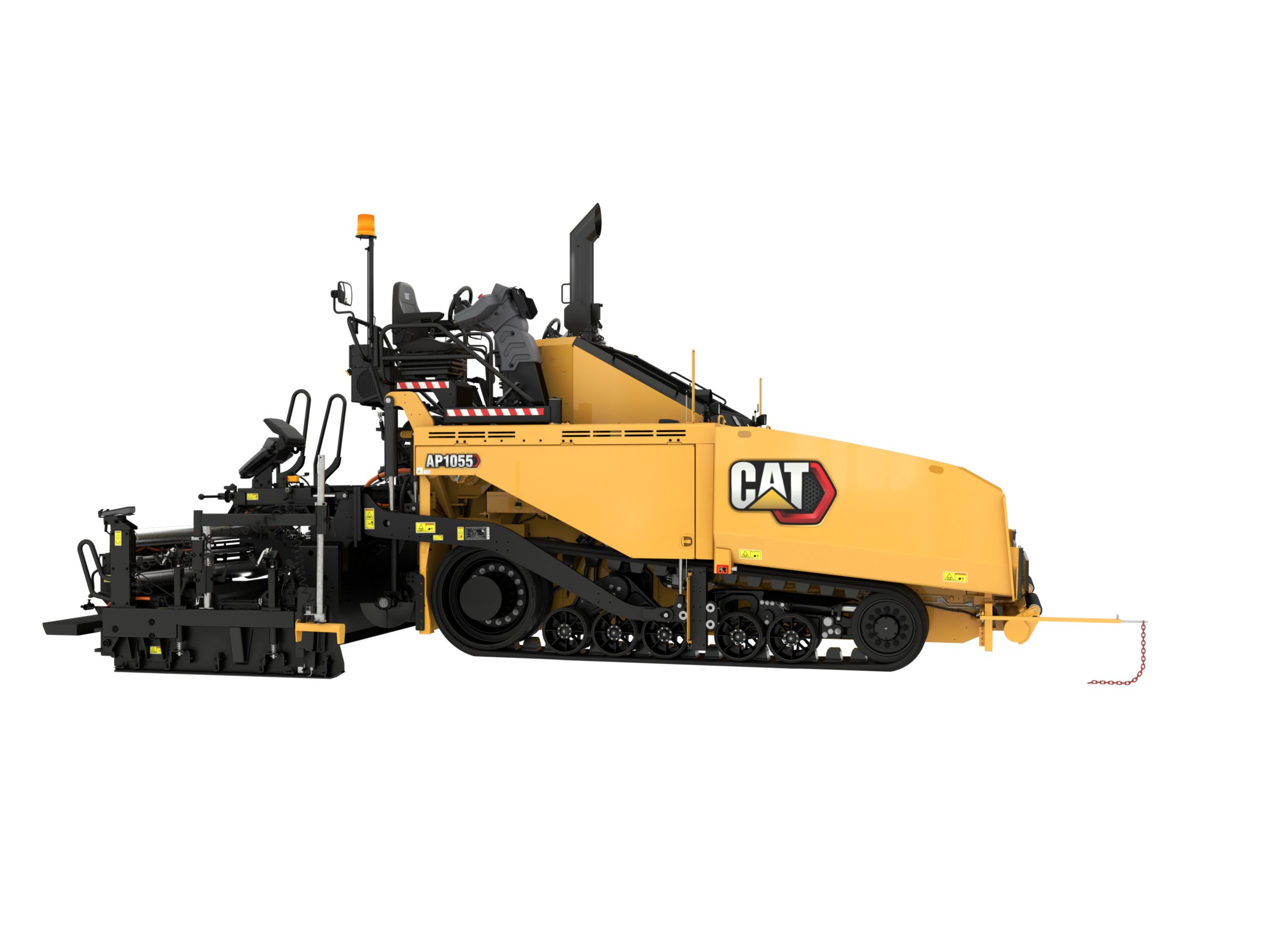 DESCRIPTION
The AP1055 is a high-production, rubber track paver that excels on airports runways, interstates, highways, and other large jobsites. Its high travel speed, flotation, and traction deliver superb mobility.The AP1055 is a high-production rubber track paver that excels on airports runways, interstates, highways, and other large jobsites. Its high travel speed, flotation, and traction deliver superb mobility.
Consistency Drives Smoothness
High Return on Investment
Exclusive 70 kW integrated generator delivers fast, reliable screed heating and is designed for long life by the same team that developed the D7E electric drive dozer
Fast heating screed leads to more daily production, heating time in as little as 15 minutes
Mobil-trac™ undercarriage design delivers excellent traction, good flotation, and fast travel that helps lead to increased production
Exclusive air flow design improves operating conditions for the crew and keeps components cooler for lasting durability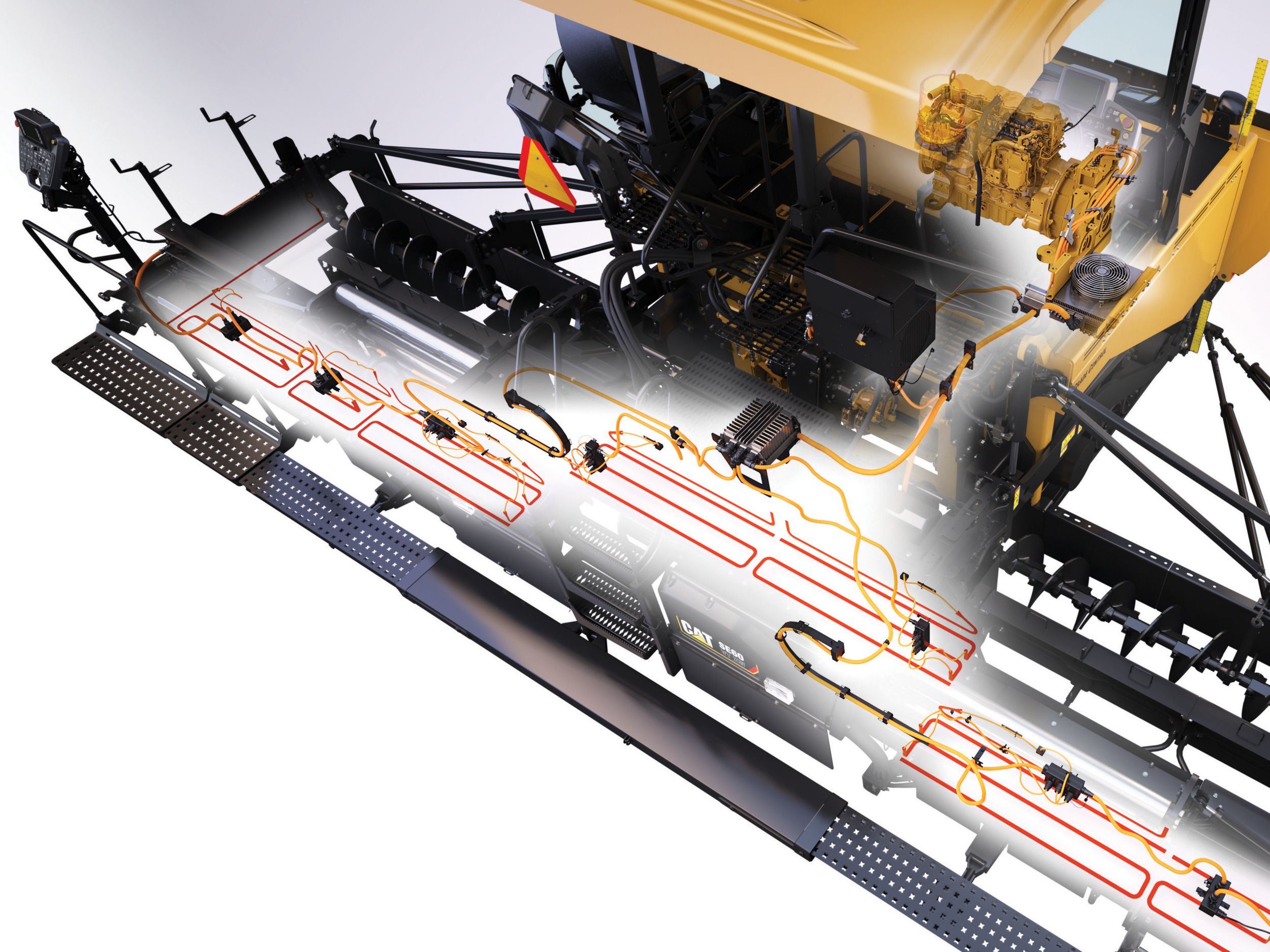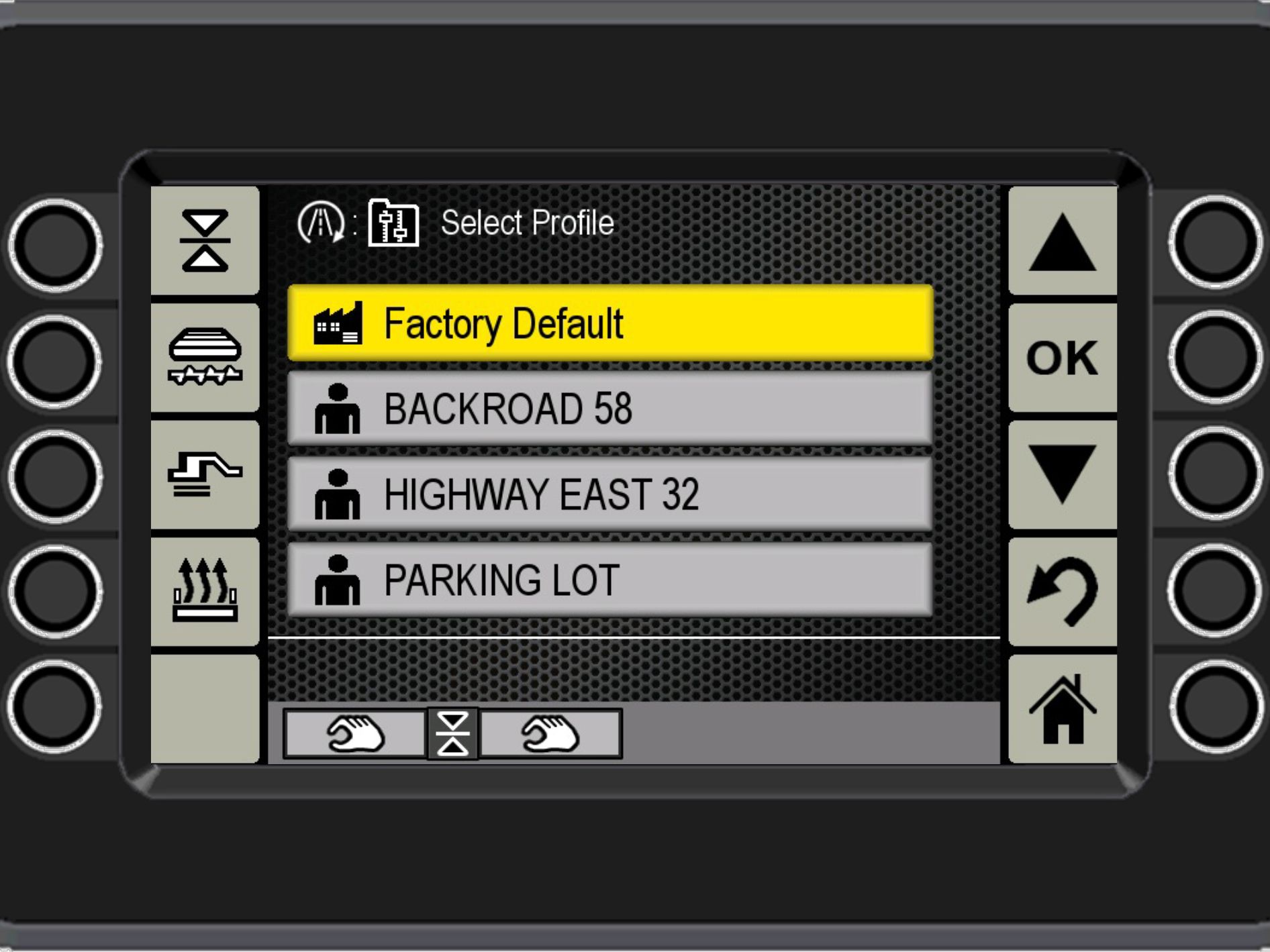 Technology That Works For You
Pave Start Assistant saves set-up profiles for repeatable use on future job sites including: tow-point height, screed heat temperature, paving speed, paving width, paving depth, crown, extender slope and height, screed assist, and screed locking features
A hopper level sensor (option) with temperature indication keeps the operator informed of material height and delivery temperatures, indicators are located in each tractor display
Exclusive screed heating system monitors elements for failure conditions and helps eliminate unnecessary replacement
Cat  Grade Control option is integrated into the tractor and screed displays for optimized operator efficiency
Thermal mapping option utilizes an infra-red camera mounted on a fixed-position mast that captures the entire width of the asphalt surface behind the screed. An LCD display mounted near the screed console provides real-time visibility to the surface being paved
Quality Results, Higher Earnings
Versatile screed designs deliver excellent ride, density, and mat texture while providing superior adjustment; available with front-mount extenders, rear-mount extenders, or tamper-bar systems
Tow-point design utilizes exclusive linkage for optimal screed flotation
Exclusive 2-speed proportional control on the screed extenders
Cat Grade Control is a factory-integrated guidance system that helps remove irregularities from the surface and control mat thickness for increased production, lower operating costs, and higher profitability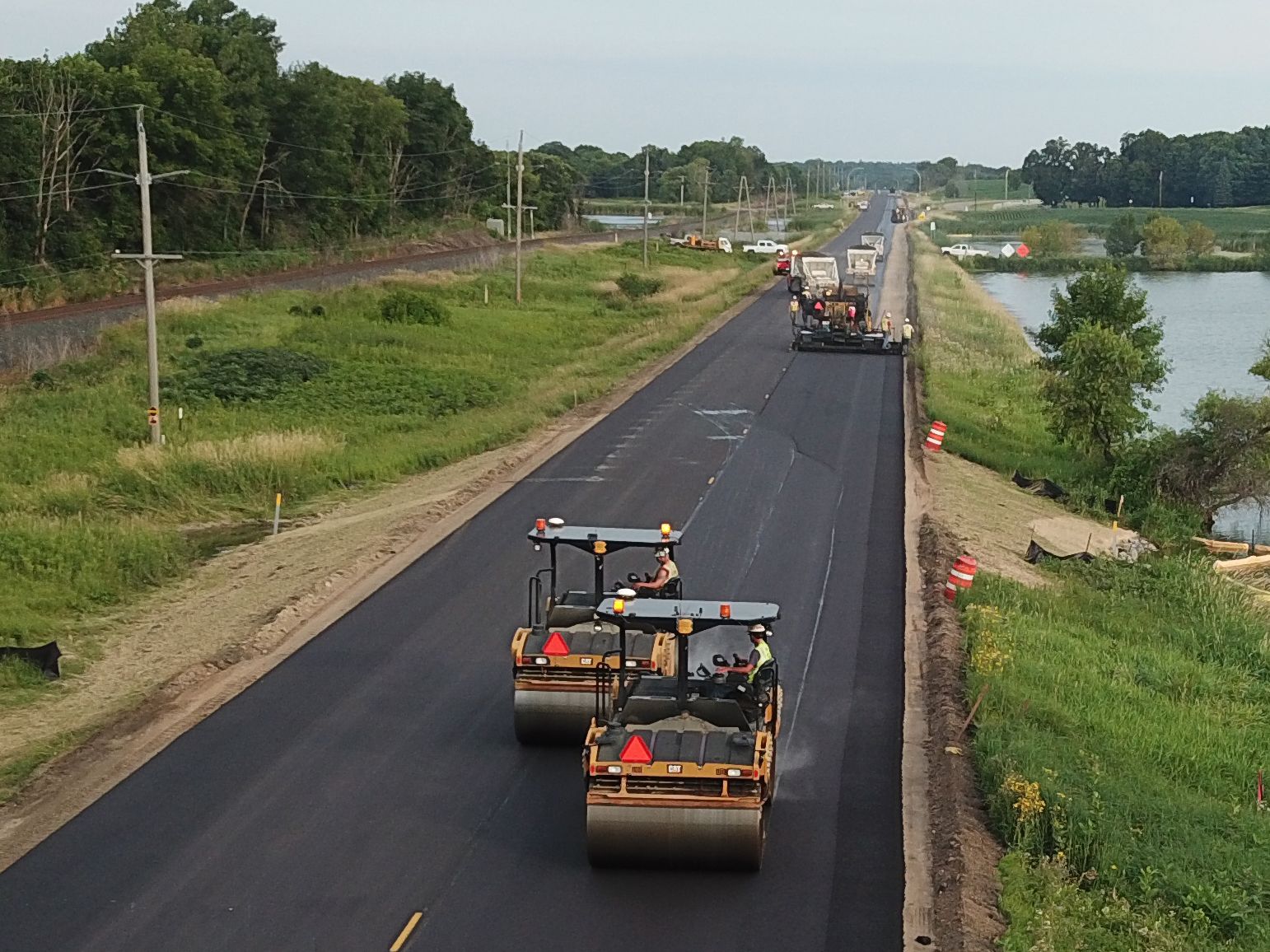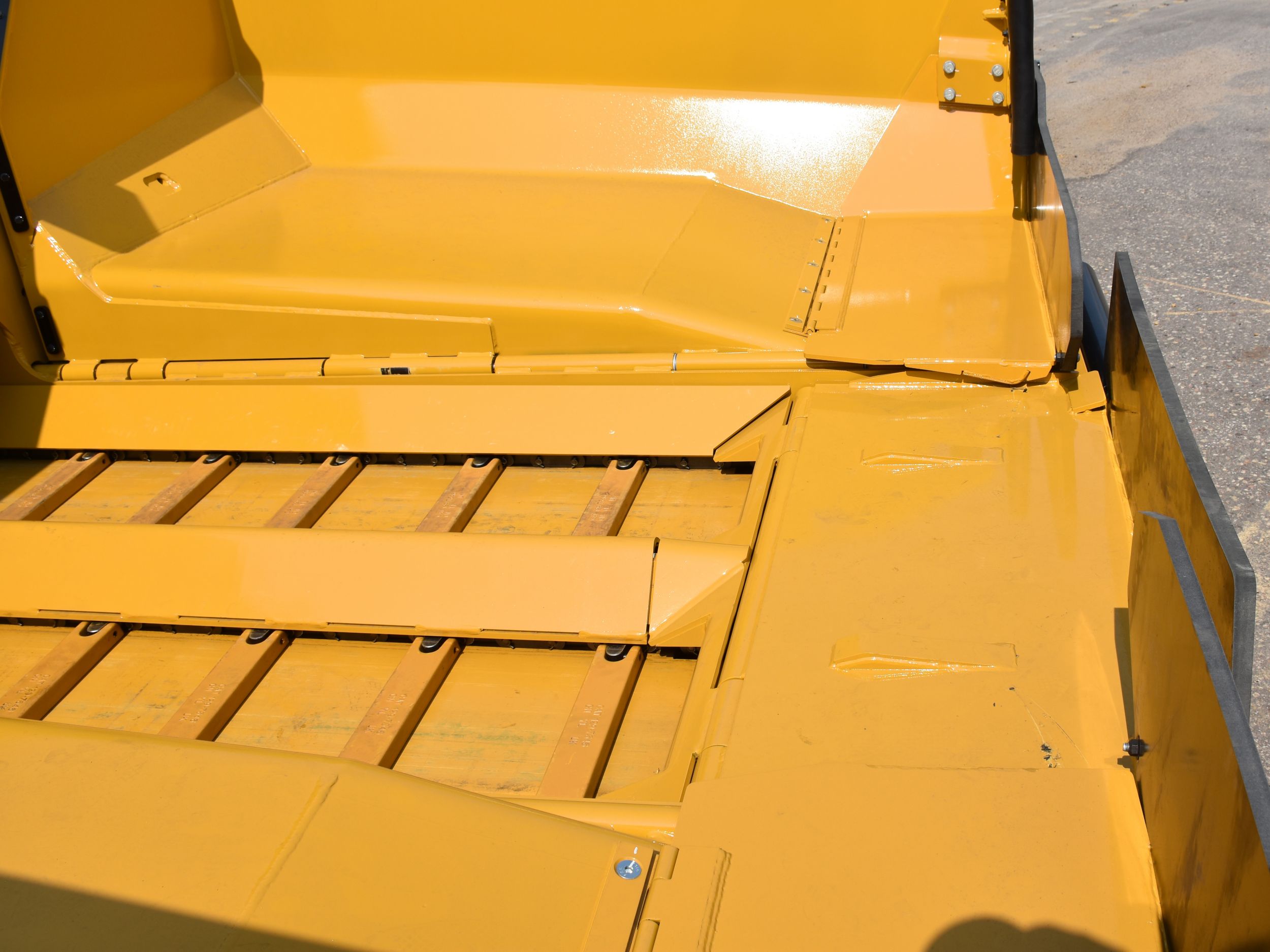 Low Owning and Operating Costs
Exclusive Eco-mode and Automatic Engine Speed Control, reduce fuel consumption and lower sound levels for better comfort and communication
4-pump feeder system is designed for high production in Eco-mode, leads to lower fuel consumption
Million cycle switches provide reliability
Conveyor bed plates and chain guards designed to minimize labor requirements and provide lower cost replacement
Heating elements slide-out for easy replacement
Machined screed frames simplify screed plate replacement
Enhanced hopper flashing with increased memory and temperature resiliency offers better performance during truck exchanges
More Comfort
Ventilation system draws fumes from the auger chamber and redirects them away from the operator for a more comfortable working environment
Dual operating station provide back-up capability and complete control from either side of the machine, each station can swing-out beyond the frame for good all-around visibility
Heated seat option, pneumatic suspension, multiple adjustments, and tilting consoles provide day-long comfort
Eco-mode provides low sound levels that supports clear communication with the crew
High visibility 76 mm (3") seat belt helps with crew safety compliance
USB port simplifies software updates
Cup holders offer convenience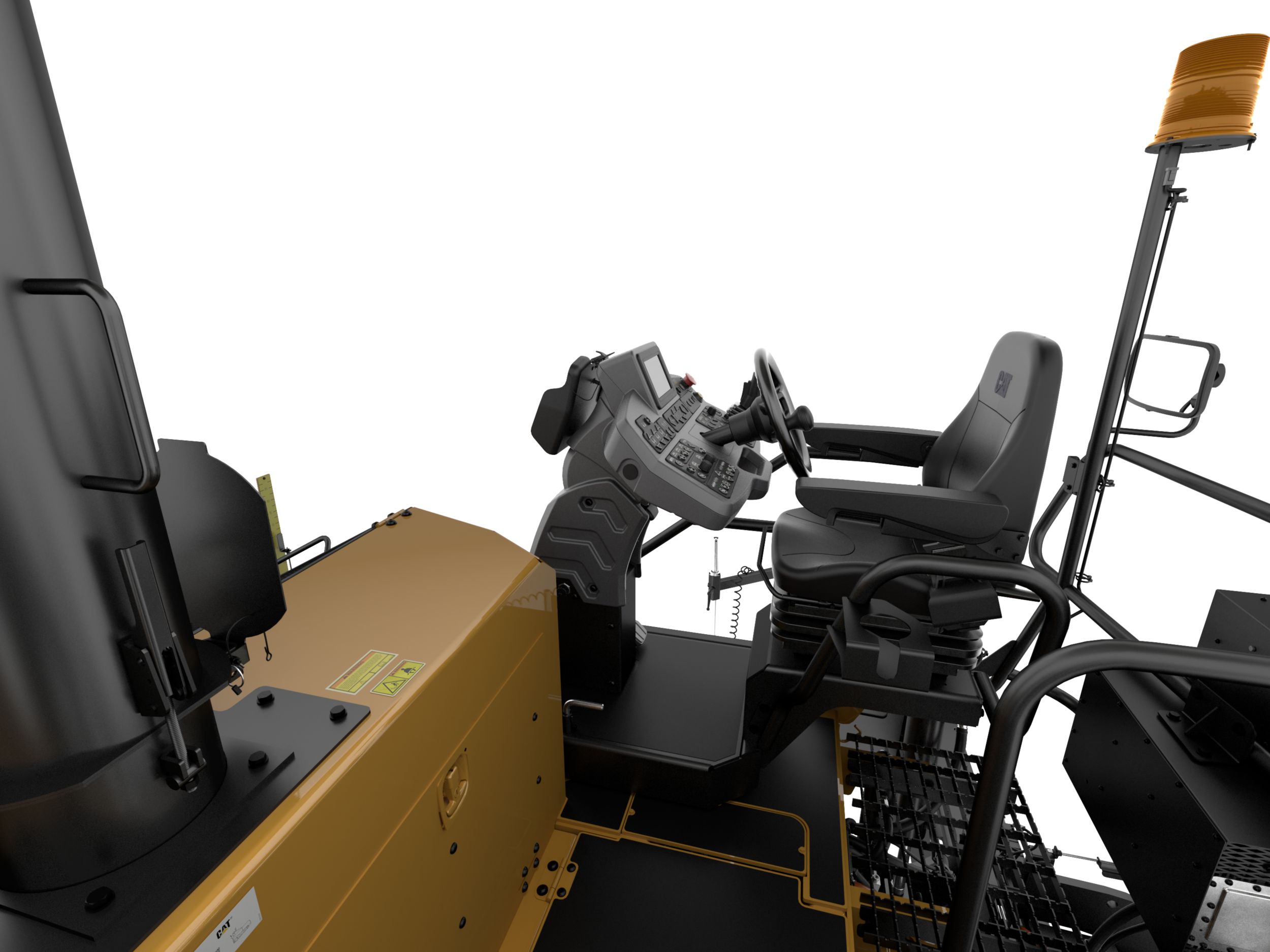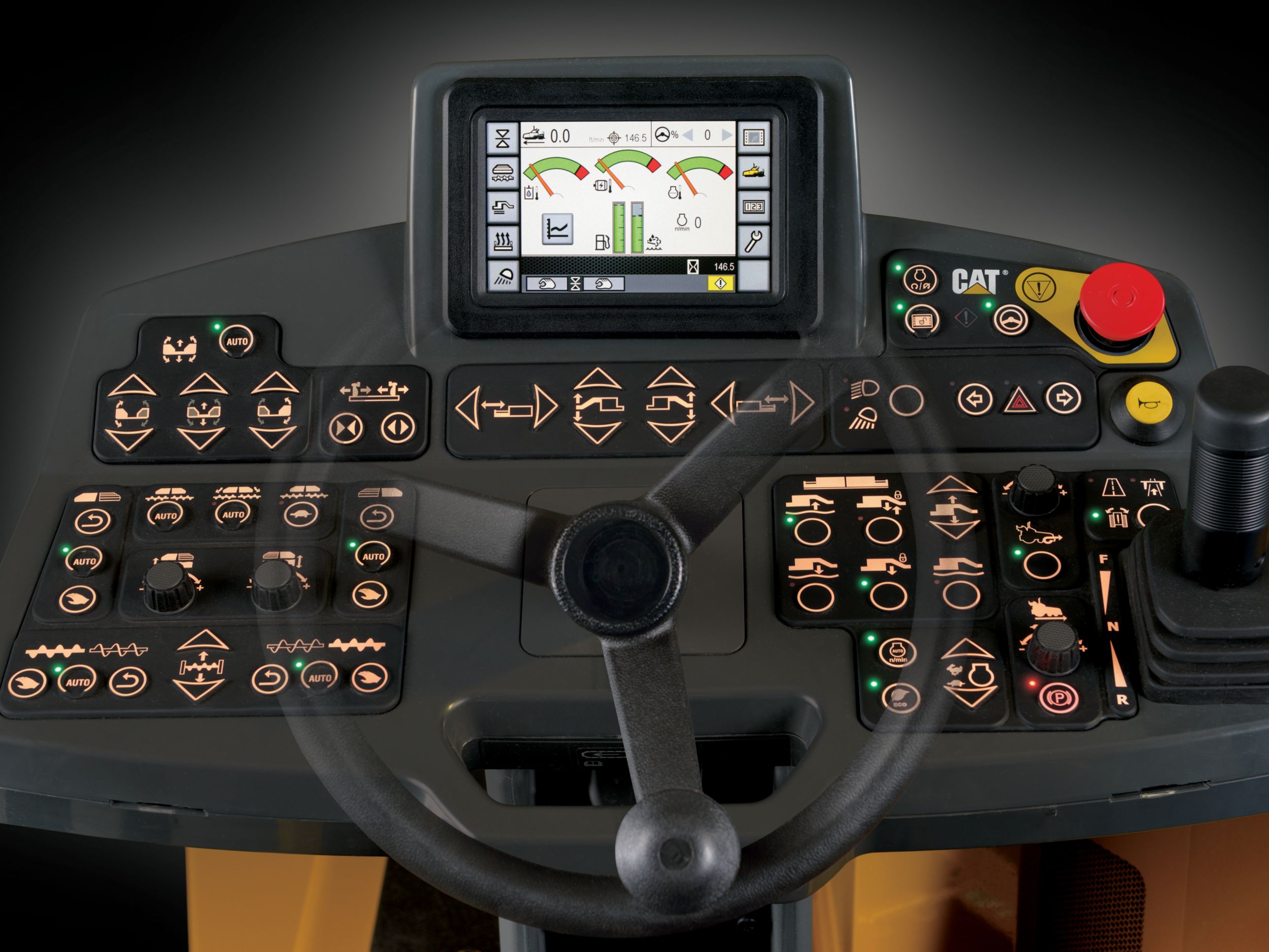 Easy Viewing Displays
Touch-screen displays with adjustable brightness control enable operators to fine-tune performance in various lighting conditions
Touch-screen access simplifies activation of the generator and auxiliary power, while also providing easy adjustments to screed plate heating temperatures, tamper and vibratory speeds, Cat Grade Control (option), and stored operator preferences
Operating displays can be tailored to specific language requirements with multiple options available
Product Link™ Elite
Make timely, fact-based decisions to maximize efficiency, improveproductivity, and lower owning and operating costs
Easily track location, machine hours, fuel usage, and idle time
Diagnostic codes are made available through online web applications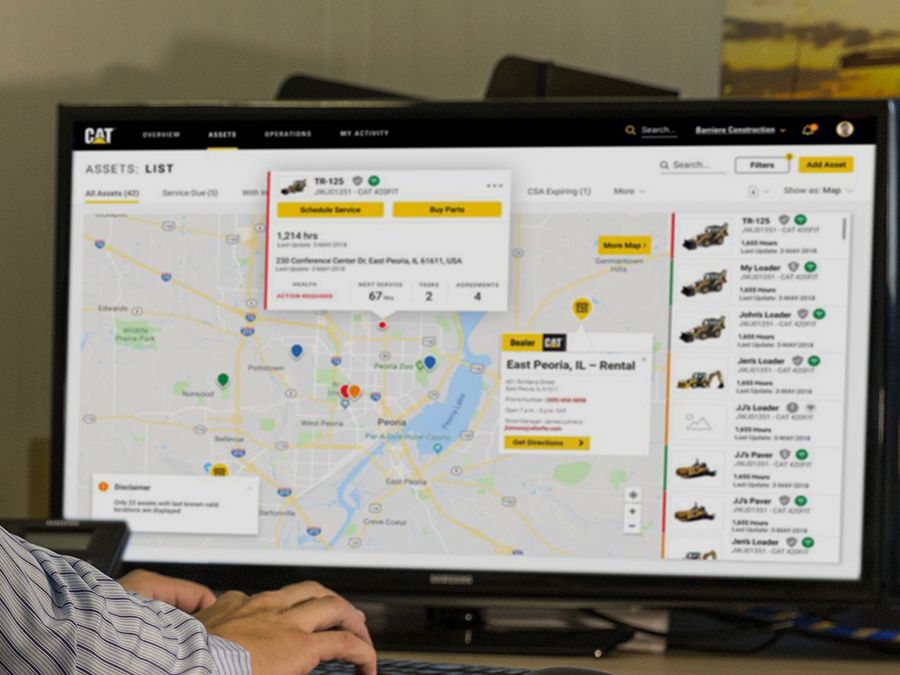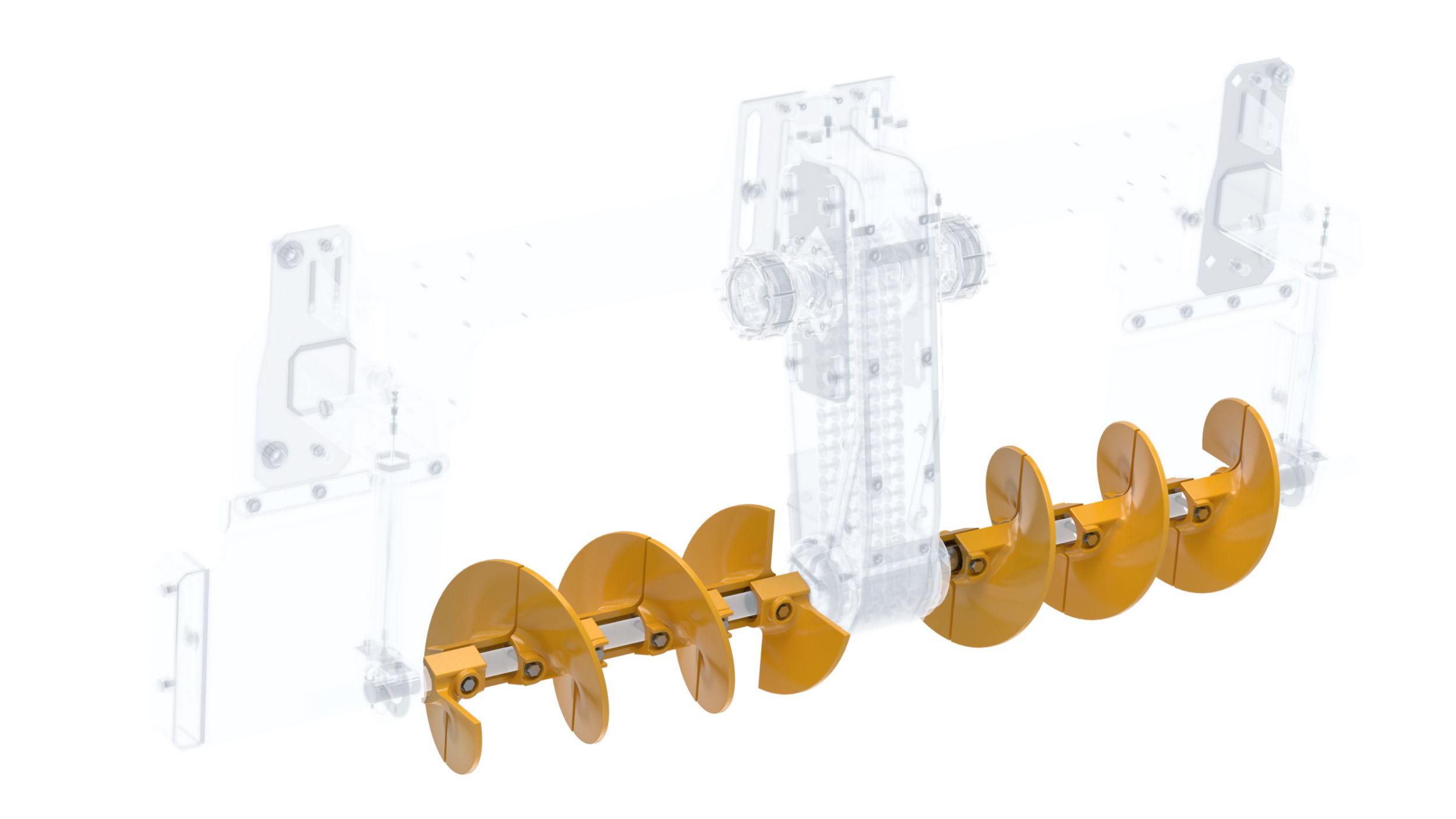 Service and Repair Kits
Paver and screed service and repair kits include the parts necessary to complete specific repairs
Cat genuine parts are manufactured to precise specifications and designed for optimal performance and maximum uptime
Repair kits are identified by a single part number to make ordering easy
Select kits are available to be packaged as a kit by the dealer for over the counter purchases or through the dealer service shop
Standard Equipment
Optional Equipment
Specs
Docs
Specs
Long Name:
AP1055 Mobil-Trac Paver
Paving Range with SE60 V
3.0 m - 7.65 m (9' 10" - 25')
Engine Power (1)
225 HP / 168 kW
Engine Model (1)
Cat C7.1
Maximum Travel Speed
9 mile/h / 14.5 km/h
Maximum Paving Speed
210 ft/min / 64 m/min
Maximum Paving Speed - With Tamper Bar Screed
82 ft/min / 25 m/min
Inside Turn Radius
1.5 ft / 0.5 m
Operating weight with SE60 V
45087 lb / 20451 kg
Paving Range with SE60 FM
3.0 m - 7.8 m (10' - 25' 6")
Paving Range with SE60 V XW
3.0 m - 10 m (10' - 33')
Paving Range with SE60 VT XW
3.0 m - 10 m (10' - 33')
Maximum Throughput Capacity
1602 ton(US)/h / 1766 tonnes/hr
Operating weight with SE60 FM
45352 lb / 20571 kg
Operating weight with SE60 V XW
46573 lb / 21125 kg
Shipping Weight - Paver Only
36800 lb / 16691 kg
Operating Length
22.3 ft / 6.8 m
Operating Width
10.8 ft / 3.3 m
Overall Height
12.25 ft / 3.7 m
Transport Length
21.9 ft / 6.6 m
Transport Width
9.8 ft / 3 m
Transport Height
9.7 ft / 2.9 m
Service Refill Capacities
Fuel Tank Capacity
92 gal (US) / 348 l
DEF Tank
5 gal (US) / 19.1 l
Cooling System
12 gal (US) / 45 l
Hydraulic Oil Tank
58 gal (US) / 219 l
Washdown Tank
7.9 gal (US) / 30 l
SEE HOW AP1055 COMPARES AGAINST FREQUENTLY COMPARED PRODUCTS.
Track Asphalt Pavers
AP1055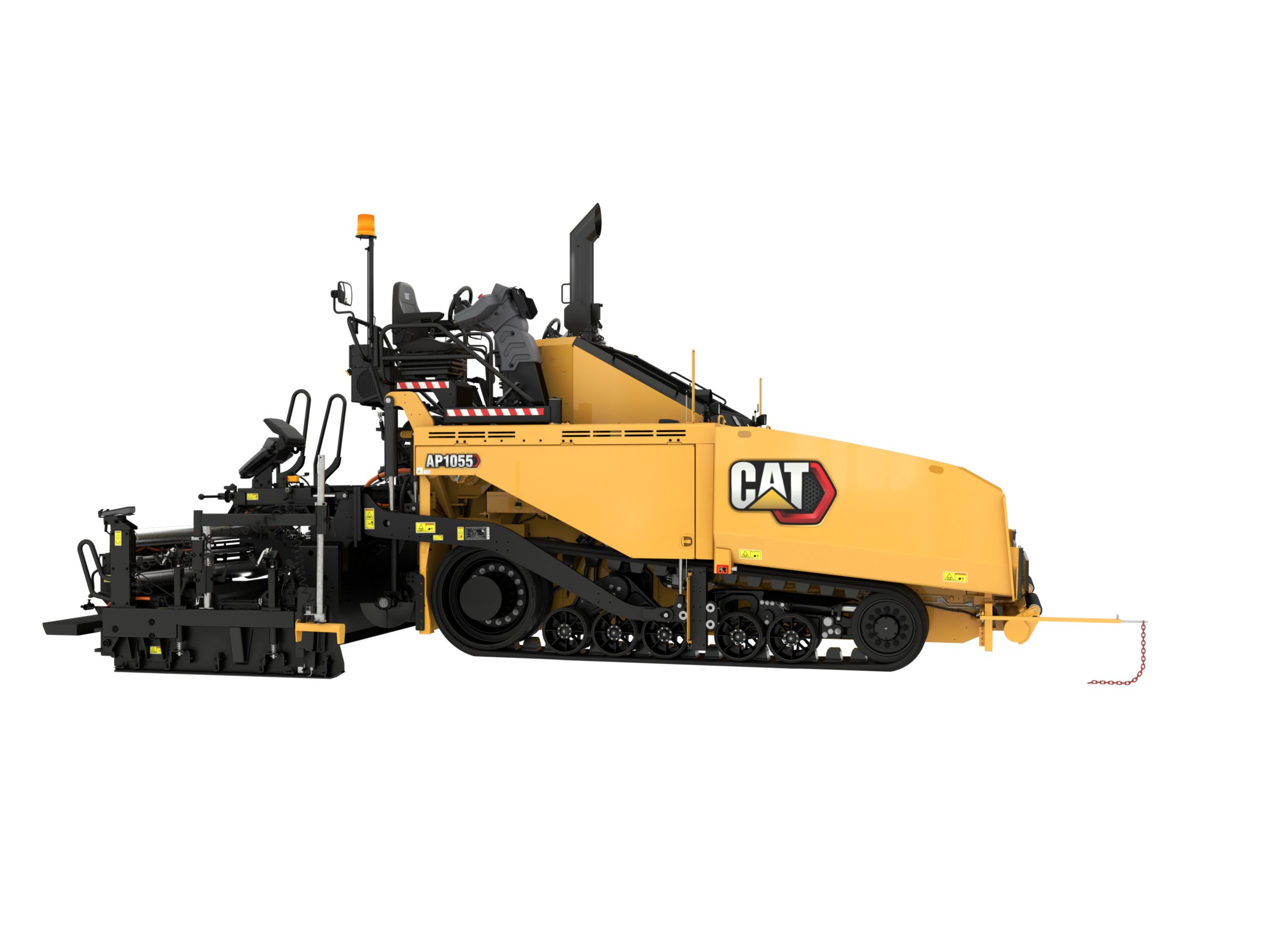 Track Asphalt Pavers
AP455