C1.1 China NR4
C1.1 NA and T China Nonroad IV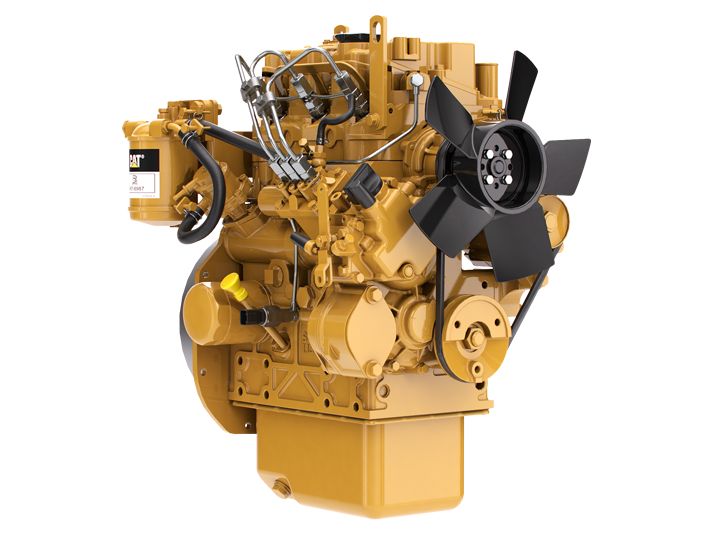 DESCRIPTION
The C1.1 and C1.1T are indirect injection industrial diesel engines meeting China Nonroad Stage IV emission standards without the need for electronic control, aftertreatment or exhaust gas recirculation. Available as naturally aspirated or turbocharged for improved low speed torque, we also offer a range of factory configurable options to minimize the cost of machine development and of manufacturing if equipped with e-controller
Features
Reliable Power

Manufactured in some of the world's most modern and highly automated production facilities, the Cat® C1.1 is proven to
deliver durable power and offers a wide range of customization options that refuse to compromise quality and durablity.

Compact Size

With a 16.1-21 kW (21.6-28.2 hp) power rating, the C1.1 and the C1.1 turbo allows OEMs to consider different
installation, operating and commercial requirements. These models are particularly adapted to machines where power
from a small package is crucial. And for jobs that require that extra bit of power, there's a turbocharged option that
delivers in almost any condition, at any altitude.
Quiet Work

The stiff block and indirect injection system make this a quiet engine, minimizing operator fatigue and saving money forOEMs in sound attenuation measures.
Standard Equipment
Specs
Docs
Specs
Long Name:
C1.1 NA and T China Nonroad IV
Maximum Power
28.2 HP / 21 kW
Maximum Torque
63.4 lb/ft / 86 N·m
Minimum Power
21.6 HP / 16.1 kW
Emissions
China Nonroad Stage IV
Engine Configuration
In-line-3
Displacement
67.1 in³ / 1.1 l
Aspiration
Naturally aspirated (NA)/turbocharged (T)
Combustion System
indirect injection
Rotation from Flywheel End
counterclockwise
Engine Dimensions - Approximate
Weight - Net Dry - Basic Operating Engine Without Optional Attachments
211 lb / 96 kg
SEE HOW C1.1 China NR4 COMPARES AGAINST FREQUENTLY COMPARED PRODUCTS.
Industrial Diesel Engines
C1.1 China NR4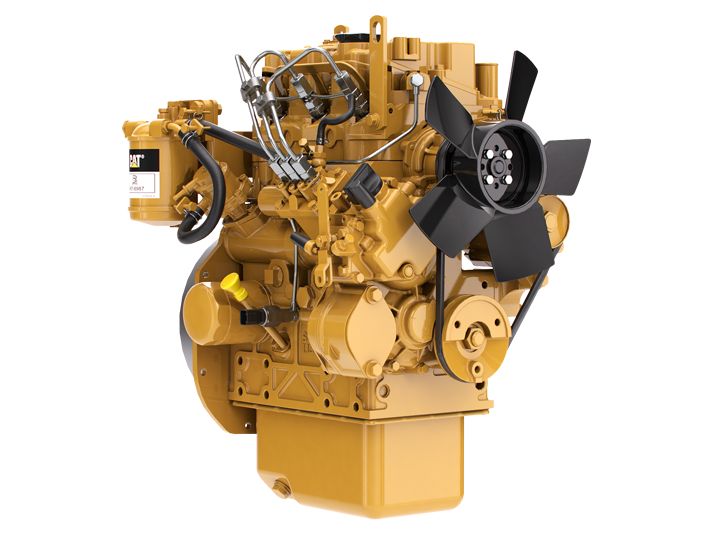 Brand

Caterpillar

Status

Current

Maximum Power

28.2 HP / 21 kW

Maximum Torque

63.4 lb/ft / 86 N·m

Rated Speed

3400 rpm

Minimum Power

21.6 HP / 16.1 kW

Emissions

China Nonroad Stage IV

Engine Configuration

In-line-3

Bore

3 in / 77 mm

Stroke

3.2 in / 81 mm

Displacement

67.1 in³ / 1.1 l

Compression Ratio

23:1

Aspiration

Naturally aspirated (NA)/turbocharged (T)

Combustion System

indirect injection

Rotation from Flywheel End

counterclockwise

Length

19.3 in / 491 mm

Width

15.8 in / 400 mm

Height

22.7 in / 576 mm

Weight - Net Dry - Basic Operating Engine Without Optional Attachments

211 lb / 96 kg
Industrial Diesel Engines
C1.1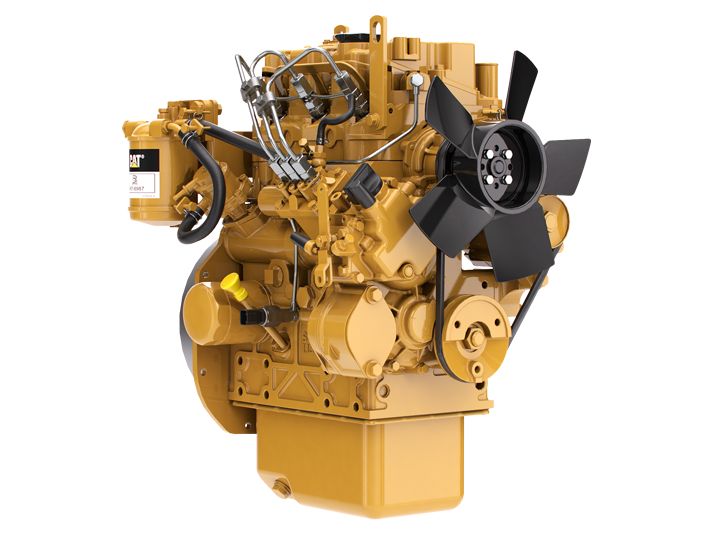 Brand

Caterpillar

Status

Current

Maximum Power

24 HP / 18.4 kW

Maximum Torque

63 lb-ft @ 1600 rpm / 86 Nm @ 1600 rpm

Rated Speed

2800 rpm

Minimum Power

19.3 HP / 14.4 kW

Emissions

U.S. EPA Tier 4 Final, EU Stage V

Engine Configuration

In-Line 3

Bore

3 in / 77 mm

Stroke

3.2 in / 81 mm

Displacement

69 in³ / 1.13 l

Compression Ratio

23.0:1

Aspiration

Naturally Aspirated (NA)/Turbocharged (T)

Combustion System

Indirect Injection

Rotation from Flywheel End

Counterclockwise

Length

19.3 in / 491 mm

Width

15.8 in / 400 mm

Height

22.7 in / 576 mm

Weight - Net Dry - Basic Operating Engine Without Optional Attachments

211 lb / 96 kg
Industrial Diesel Engines
C1.5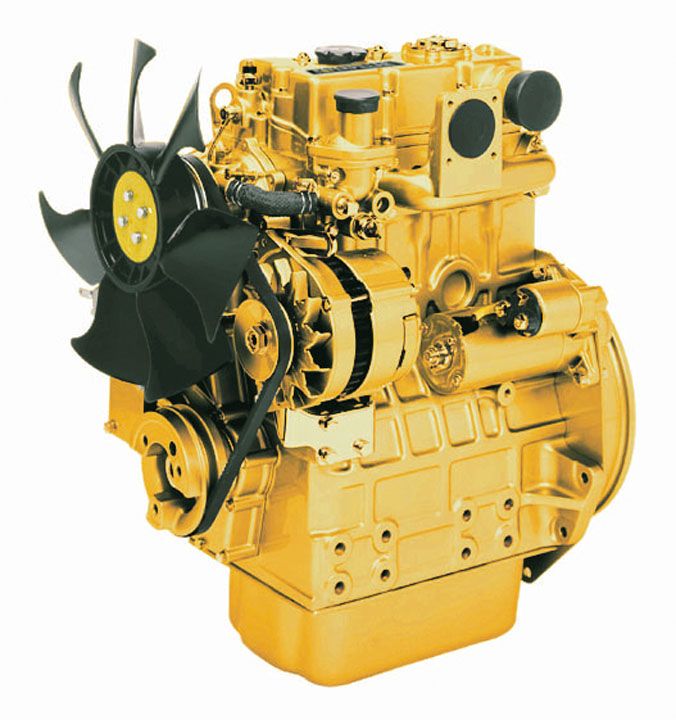 Brand

Caterpillar

Status

Current

Maximum Power

40.2 HP / 30 kW

Maximum Torque

83 lb-ft @ 1800 rpm / 112 Nm @ 1800 rpm

Rated Speed

2200-3000 rpm

Minimum Power

27.8 HP / 20.7 kW

Emissions

U.S. EPA Tier 4 Interim Equivalent

Engine Configuration

Inline 3, 4-Stroke-Cycle Diesel

Bore

3.3 in / 84 mm

Stroke

3.5 in / 90 mm

Displacement

91 in³ / 1.496 l

Compression Ratio

22.5:1

Aspiration

Naturally Aspirated (NA) or Turbocharged (T)

Combustion System

Indirect Injection

Rotation from Flywheel End

Counterclockwise

Length

22.5 in / 572 mm

Width

20.3 in / 512 mm

Height

25.3 in / 643 mm

Weight - Net Dry - Basic Operating Engine Without Optional Attachments

345 lb / 157 kg