C32 ACERT Tier 3
Cat C32 ACERT Marine Propulsion Engine (EPA Tier 3)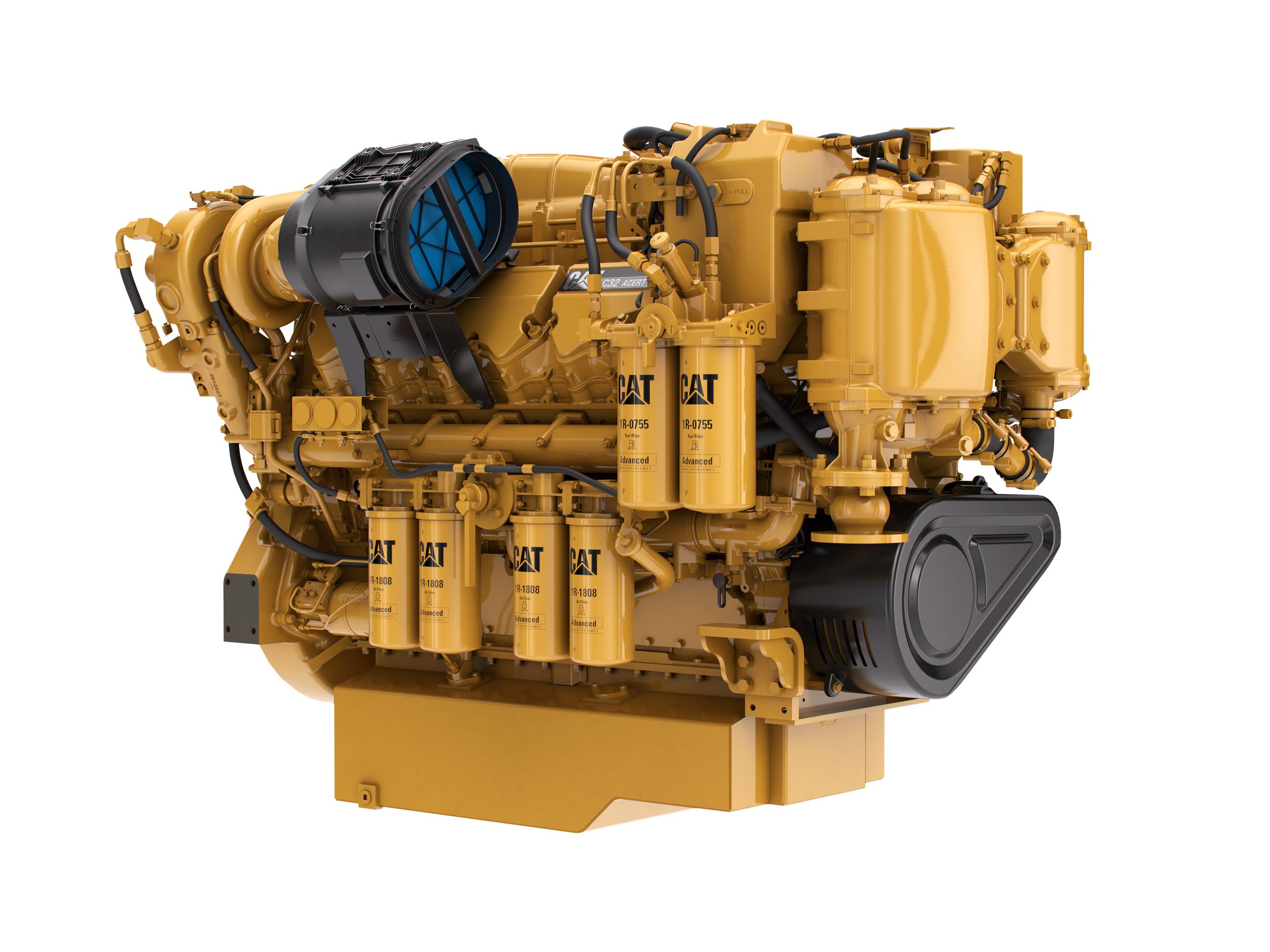 DESCRIPTION
The C32 ACERT marine propulsion engine is available at ratings that meet both EPA Tier 3 and IMO II emissions regulations. It has a separate circuit aftercooling system (SCAC) for A through C ratings and a seawater aftercooling system (SWAC) for D and E ratings. The C32 ACERT has seven ratings with Wide Operating Speed Range (WOSR) and extended oil change intervals. Other benefits include proven engine operating history and performance iron with thousands of validation testing hours for quality and durability. The C32 ACERT marine engine is supported by the extensive Cat global dealer network and standard warranty.
Emissions
IMO II/EPA Tier 3 Compliant Ratings
Separate Circuit Aftercooling System (SCAC) for A-C ratings
No seawater circulating through the aftercooling system to prevent corrosion.
Seven Ratings with Wide Operating Speed Range (WOSR)
Full power & torque are available for a broader operating speed range. For example: With an A rating at 1800 rpm - you have full power from 1500 to 1800 rpm.
Extended Oil Change Intervals
A Ratings: 1000 hours, B Ratings: 750 hours, C Ratings: 500 hours
The Cat Global Dealer Network
Extensive service network of CAT dealers as well as unparalleled service from certified authorized marine dealers.
Durability
Proven engine operating history: performance iron with thousands of hours of validation testing for quality and durability
Reliability
Backed by Caterpillar's standard warranty
Standard Equipment
Optional Equipment
Specs
Docs
Specs
Long Name:
Cat C32 ACERT Marine Propulsion Engine (EPA Tier 3)
Power Range
750-1800 bhp (559-1342 bkW)
Speed Range
1600-2300 rpm
Emissions
EPA Tier 3, IMO II, EU IW
Displacement
1959 in³ / 32.1 l
Rotation from Flywheel End
Counterclockwise
Configuration
Vee 12, 4-Stroke-Cycle Diesel
Maximum Height
62.5 in / 1587 mm
Minimum Length
77.8 in / 2121 mm
Minimum Height
60.9 in / 1547 mm
Maximum Width
60.17 in / 1528 mm
Maximum Length
83.5 in / 2284 mm
Minimum Dry Weight
6950 lb / 3152 kg
Minimum Width
60.17 in / 1528 mm
SEE HOW C32 ACERT Tier 3 COMPARES AGAINST FREQUENTLY COMPARED PRODUCTS.
Commercial Propulsion Engines
C32 ACERT Tier 3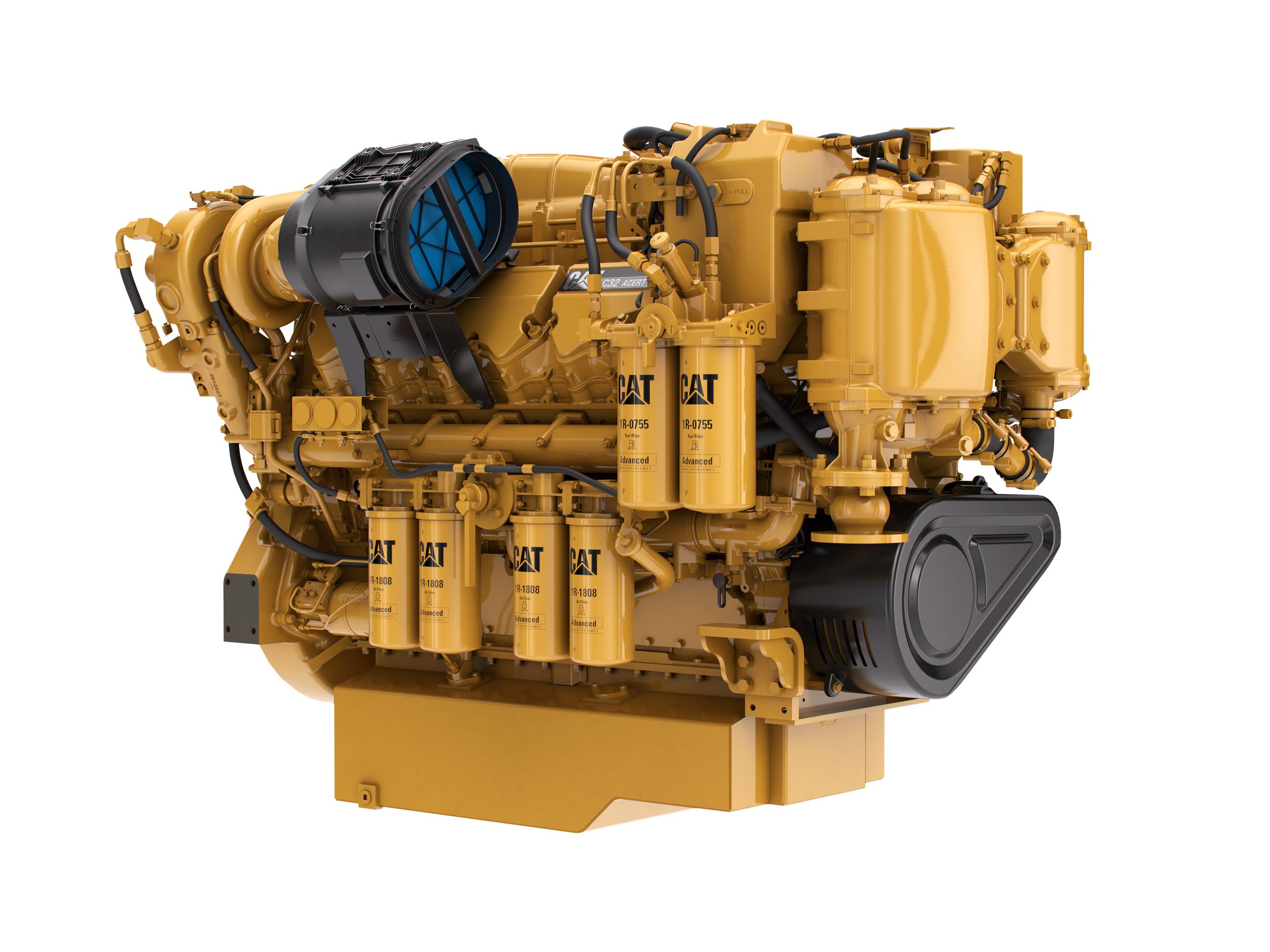 Brand

Caterpillar

Status

Current

Power Range

750-1800 bhp (559-1342 bkW)

Speed Range

1600-2300 rpm

Emissions

EPA Tier 3, IMO II, EU IW

Aspiration

TTA

Bore

5.71 in / 145 mm

Stroke

6.38 in / 162 mm

Displacement

1959 in³ / 32.1 l

Rotation from Flywheel End

Counterclockwise

Configuration

Vee 12, 4-Stroke-Cycle Diesel

Maximum Height

62.5 in / 1587 mm

Minimum Length

77.8 in / 2121 mm

Minimum Height

60.9 in / 1547 mm

Maximum Width

60.17 in / 1528 mm

Maximum Length

83.5 in / 2284 mm

Minimum Dry Weight

6950 lb / 3152 kg

Minimum Width

60.17 in / 1528 mm
Commercial Propulsion Engines
C280-8 Tier 4/ IMO III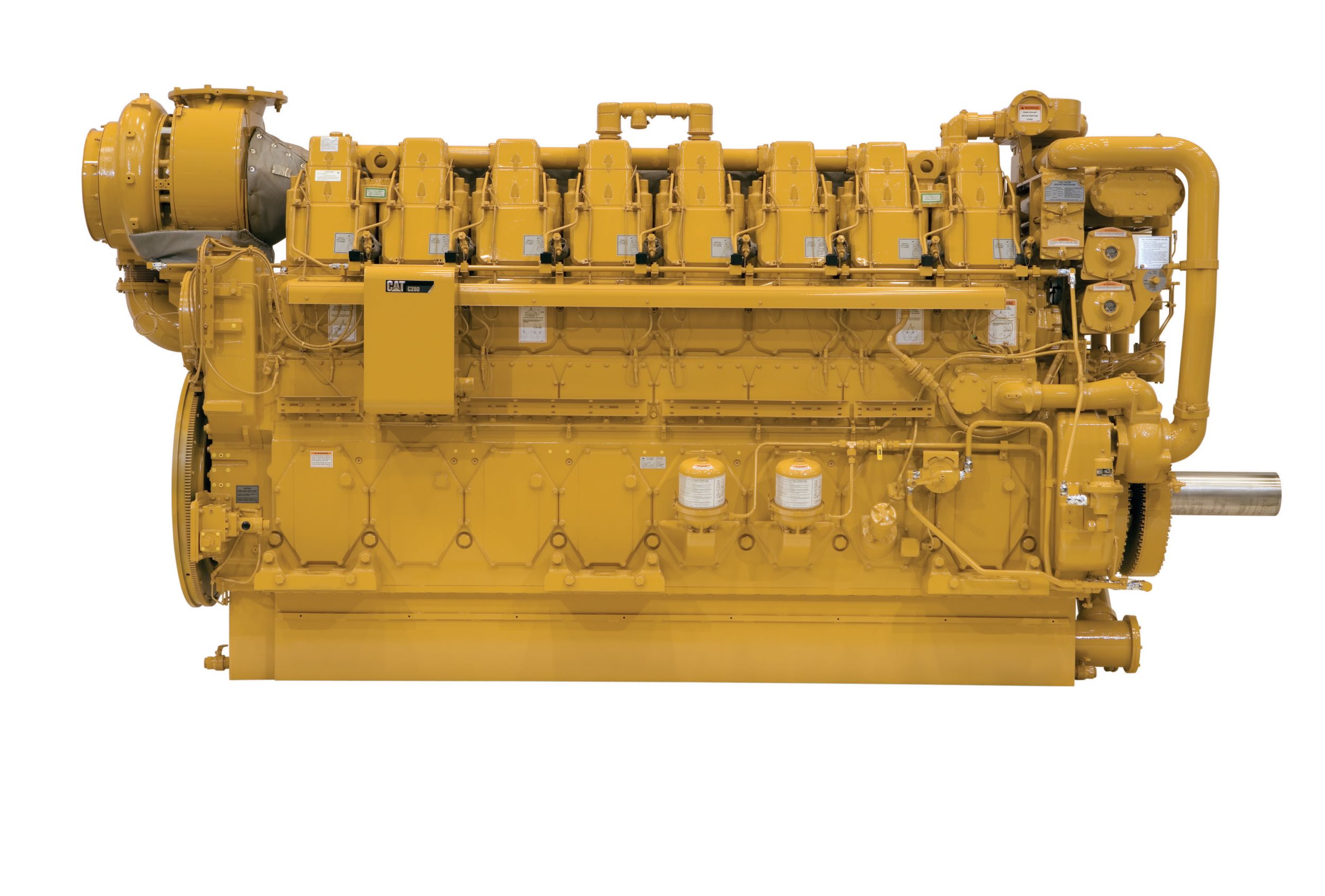 Brand

Caterpillar

Status

Current

Power Range

3299-3634 bhp (2460-2530 bkW)

Speed Range

1000 rpm

Emissions

EPA Tier 4, IMO III

Aspiration

TA

Bore

11 in / 280 mm

Stroke

11.8 in / 300 mm

Displacement

9031 in³ / 148 l

Rotation from Flywheel End

Counterclockwise or clockwise

Configuration

In-line 8, 4-Stroke-Cycle Diesel

Maximum Height

104 in / 2642 mm

Minimum Length

195 in / 4953 mm

Minimum Height

104 in / 2642 mm

Maximum Width

71 in / 1803 mm

Maximum Length

195 in / 49536 mm

Minimum Dry Weight

41800 lb / 19000 kg

Minimum Width

71 in / 1803 mm
Commercial Propulsion Engines
C32 IMO II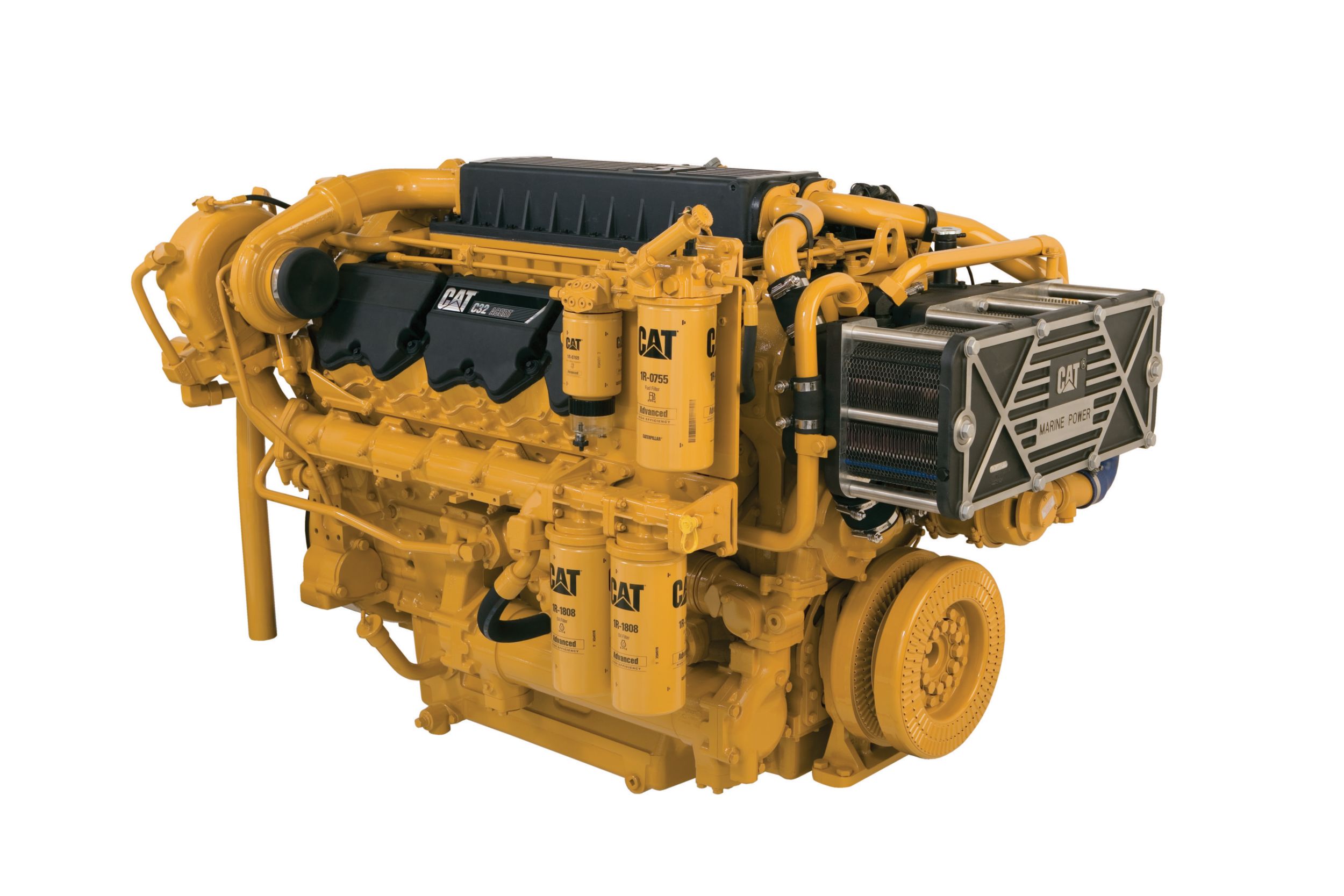 Brand

Caterpillar

Status

Current

Power Range

660-1450 bhp (492-1081 bkW)

Speed Range

1600-2300 rpm

Emissions

IMO II, EU IW

Aspiration

TTA

Bore

5.71 in / 145 mm

Stroke

6.38 in / 162 mm

Displacement

1959 in³ / 32.1 l

Rotation from Flywheel End

Counterclockwise

Configuration

Vee 12, 4-Stroke-Cycle Diesel

Maximum Height

62.5 in / 1587 mm

Minimum Length

77.8 in / 2121 mm

Minimum Height

60.9 in / 1547 mm

Maximum Width

60.17 in / 1528 mm

Maximum Length

83.5 in / 2284 mm

Minimum Dry Weight

6950 lb / 3152 kg

Minimum Width

60.17 in / 1528 mm