CB2.7 GC
CB2.7 GC Utility Compactor
The CB2.7 GC is a 2.7 metric ton machine with 1000 mm (39 in) drums. It's a versatile machine with a high amplitude and is an excellent match for car parks, shoulders, small parking lots, lane additions, and other similar sized jobs.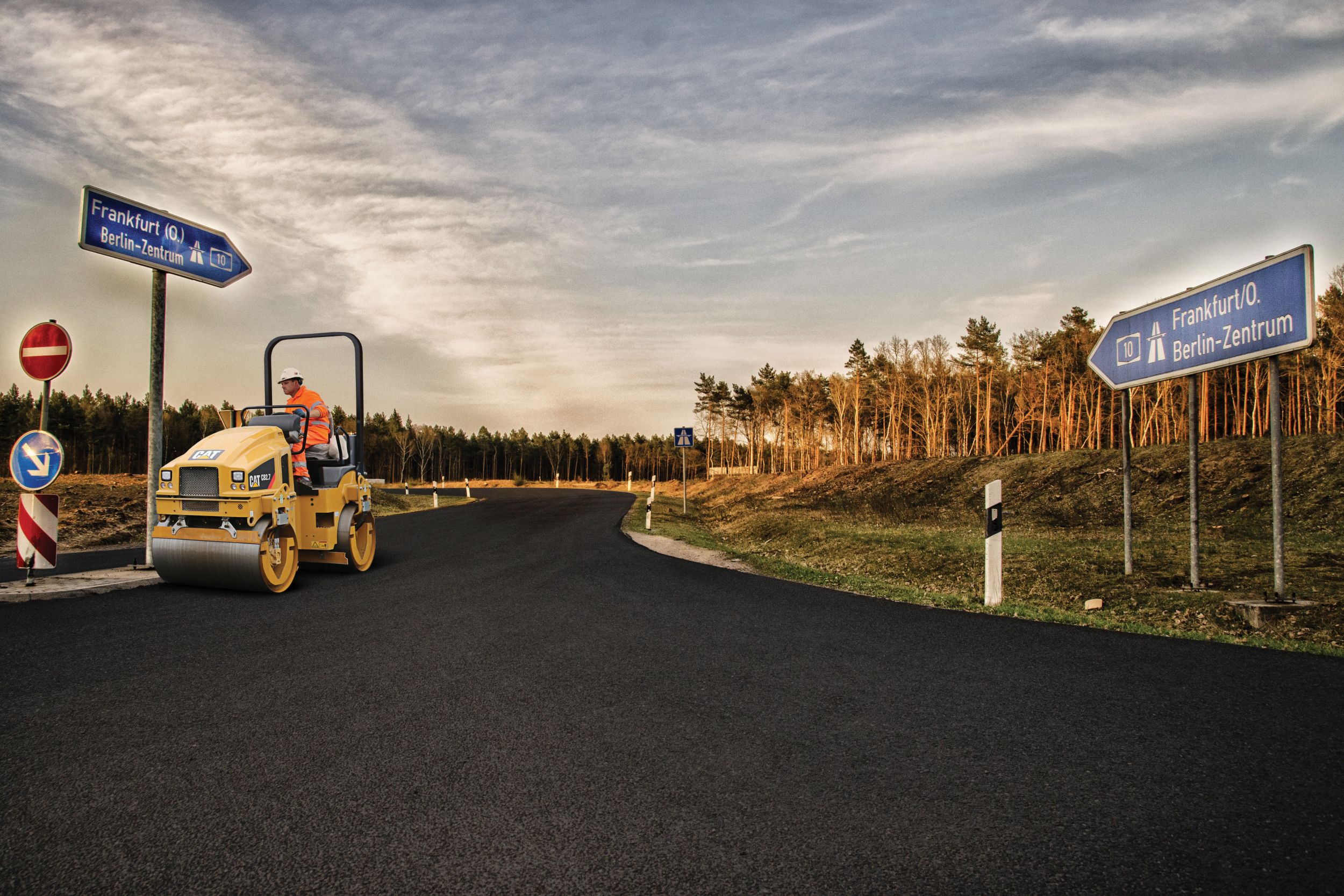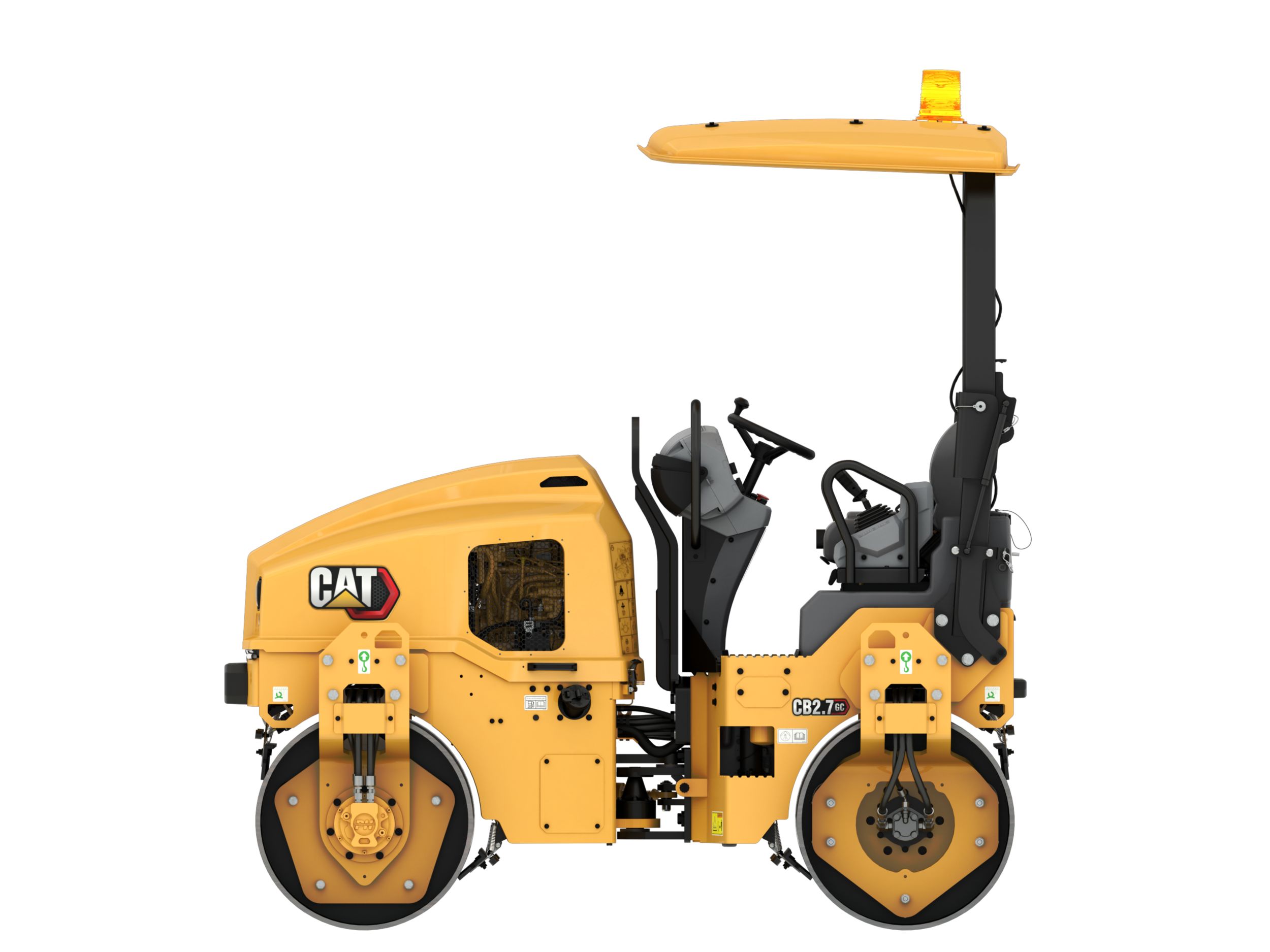 DESCRIPTION
The CB2.7 GC is a 2.7 metric ton machine with 1000 mm (39 in) drums. It's a versatile machine with a high amplitude and is an excellent match for car parks, shoulders, small parking lots, lane additions, and other similar sized jobs.
Features
Simple to Operate

• Rocker switches and Cat gauge cluster with water tank gauge to help make operation easy
• Variable water spray system to extend time between water fills
• Optional sliding operator seat and dual propel levers for reducing

Proven Productivity

• Large 720 mm (28 in) drum diameters for smooth mat finish
• 14 mm (0.55 in) thick drum shells for longer durability
• Dual vibratory frequencies and ballast options to maximize compactive effort
• C1.7T engine with 18.4 kW (24.7 hp) (gross)

Technology Ready

• Product link for remote monitoring of machine location and status
• Optional Compaction Measurement Value (CMV) displayed to the operator for improved compaction performance and consistency
Superior Safety

• High visability 75 mm (3 in) orange seatbelt to make job site safety visible
• Seat with operator presence sensor to prevent unintended operation while out of the seat
• Slip resistant steps and platform for improved operator safety
• Optional rotating amber beacon

Easy to Service

• Cat controls with ET capability for easy troubleshooting
• Reduced maintenance tasks for quick servicing
• 500 hour oil change interval to reduce maintenance time and costs
• Uptime kits and customer value agreements available to ensure maximum uptime
• LED lighting for durable and reliable performance
• External fuel fill for easy access

Sustainability

The Cat® C1.7T engine meets U.S. EPA Tier 4 Final and EU Stage V emission standards.

Cat diesel engines are required to use ULSD (ultra-low sulfur diesel fuel with 15 ppm of sulfur or less) or ULSD blended with the following lower-carbon intensity fuels up to: 20% biodiesel FAME (fatty acid methyl ester)** or 100% renewable diesel, HVO (hydrogenated vegetable oil) and GTL (gas-to-liquid) fuels. Refer to guidelines for successful application. Please consult your Cat dealer or "Caterpillar Machine Fluids Recommendations" (SEBU6250) for details.

Auto engine idle shutdown helps reduce unnecessary fuel burn and greenhouse gas emissions by allowing the engine to automatically go into idle mode when the machine is not working.

A well-trained operator is worth the investment. Skilled operators benefit your bottom line by maximizing productivity, avoiding costly downtime, and maintaining jobsite safety – which can help to improve fuel efficiency and reduce greenhouse gas emissions.

Extended maintenance intervals not only reduce downtime but can decrease the amount of fluid and filters that are replaced over the life of the machine. The hydraulic oil can be replaced every 3000 hours, eccentric housing oil can be replaced every 3000 hours, and engine oil changes can be 500 hours.

Cat Compact technologies help you consistently meet compaction targets faster, more uniformly, and in fewer passes - saving on fuel and reducing rework and material costs.

Cat Scheduled Oil Sampling (S•O•S℠) Services helps reveal excessive wear, contaminated fluids or other "unseen" issues that can shorten component life. In many cases, you can extend oil and coolant change intervals by using fluid monitoring. Consult your Cat dealer or the machine's operation and maintenance manual for more information.

Remote Flash for engines helps to minimize downtime and maintenance time while keeping your asset running with maximum efficiency. Alerts for machine updates are sent virtually from your Cat dealer and updates can be deployed without a dealer technician needing to be onsite.

Remote Troubleshoot decreases maintenance time and keeps your machine running with maximum efficiency by allowing your Cat dealer to virtually test the machine while working. Once a problem is identified, a technician can fix it the first time, saving time and money.

**Engines with no aftertreatment devices can use higher blends, up to 100% biodiesel.
Standard Equipment
Optional Equipment
Specs
Docs
Specs
Long Name:
CB2.7 GC Utility Compactor
Standard Operating Weight with ROPS
5936 lb / 2698 kg
Maximum Operating Weight with ROPS
7036 lb / 3198 kg
Maximum Weight at Rear Drum
3075 lb / 1398 kg
Maximum Weight at Front Drum
2861 lb / 1301 kg
Compaction Width
47.2 in / 1200 mm
Curb Clearance
17.8 in / 453 mm
Ground Clearance
11.2 in / 285 mm
Static Linear Load
66.2 lb/in / 11.85 kg/cm
Travel Speed - Maximum
5.8 mile/h / 9.4 km/h
Turning Radius - Inside Drum Edge
100 in / 2540 mm
Turning Radius - Outside Drum Edge
147.2 in / 3740 mm
Gross Power
24.6 HP / 18.4 kW
Net Power - ISO 9249
24.4 HP / 18.2 kW
Drum Diameter
28.3 in / 720 mm
Drum Width
47.2 in / 1200 mm
Height - ROPS
102.2 in / 2595 mm
Overall Length
102.2 in / 2596 mm
Overall Width
51.7 in / 1312 mm
Wheel Base
70.9 in / 1800 mm
Centrifugal Force - Maximum
6968.8 lb / 31 kN
Nominal Amplitude - High
0.02 in / 0.52 mm
Service Refill Capacities
Water Spray Tank Capacity
52.8 gal (US) / 200 l
Fuel Tank Capacity
14.37 gal (US) / 55 l
SEE HOW CB2.7 GC COMPARES AGAINST FREQUENTLY COMPARED PRODUCTS.
Tandem Vibratory Rollers
CB2.7 GC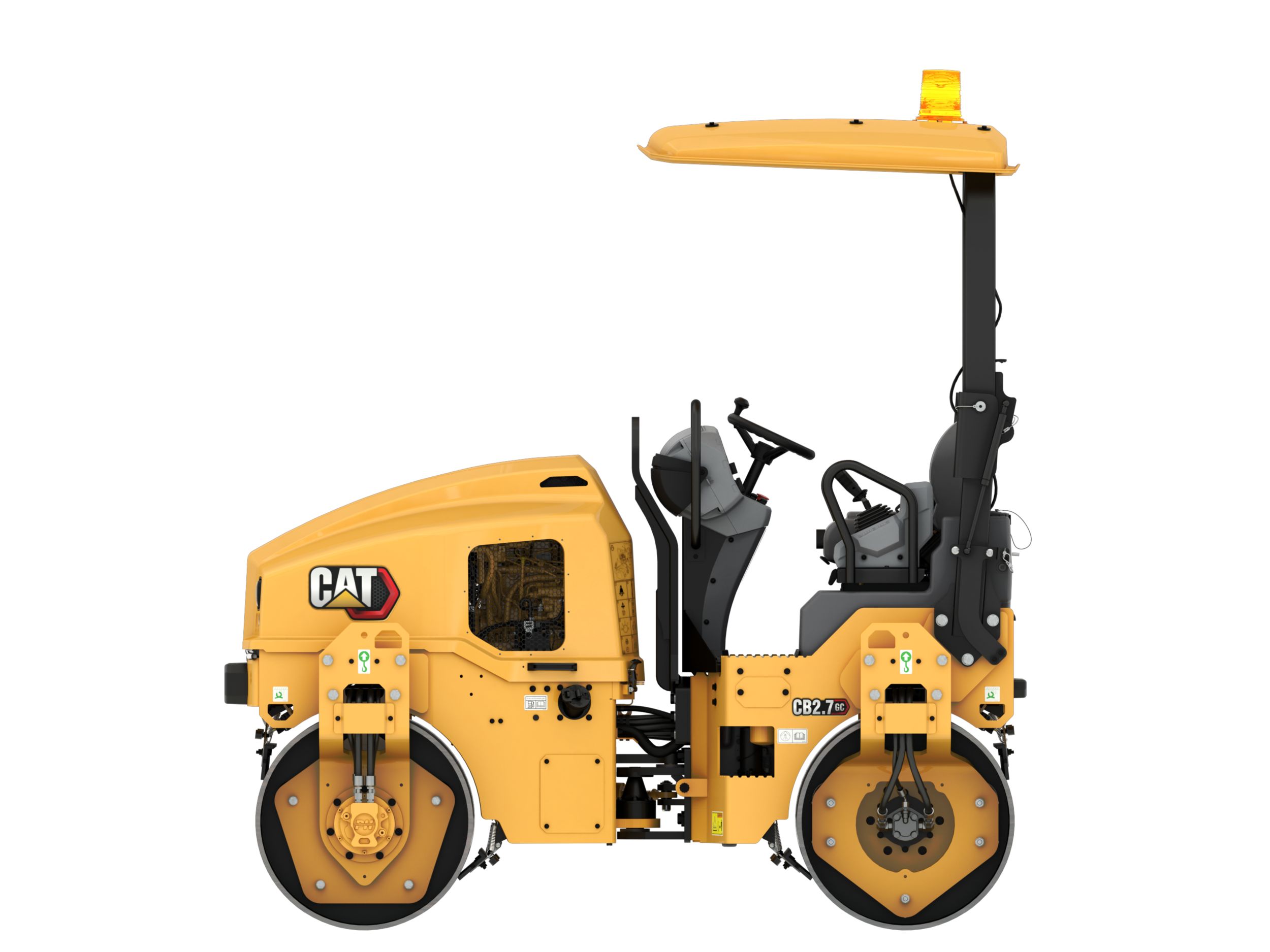 Brand

Cat

Status

Current

Standard Operating Weight with ROPS

5936 lb / 2698 kg

Maximum Operating Weight with ROPS

7036 lb / 3198 kg

Maximum Weight at Rear Drum

3075 lb / 1398 kg

Maximum Weight at Front Drum

2861 lb / 1301 kg

Compaction Width

47.2 in / 1200 mm

Curb Clearance

17.8 in / 453 mm

Drum Offset

2 in / 50 mm

Ground Clearance

11.2 in / 285 mm

Static Linear Load

66.2 lb/in / 11.85 kg/cm

Travel Speed - Maximum

5.8 mile/h / 9.4 km/h

Turning Radius - Inside Drum Edge

100 in / 2540 mm

Turning Radius - Outside Drum Edge

147.2 in / 3740 mm

Gross Power

24.6 HP / 18.4 kW

Engine Model

C1.7T

Net Power - ISO 9249

24.4 HP / 18.2 kW

Drum Diameter

28.3 in / 720 mm

Drum Width

47.2 in / 1200 mm

Height - ROPS

102.2 in / 2595 mm

Overall Length

102.2 in / 2596 mm

Overall Width

51.7 in / 1312 mm

Wheel Base

70.9 in / 1800 mm

Centrifugal Force - Maximum

6968.8 lb / 31 kN

Nominal Amplitude - High

0.02 in / 0.52 mm

Water Spray Tank Capacity

52.8 gal (US) / 200 l

Fuel Tank Capacity

14.37 gal (US) / 55 l
Tandem Vibratory Rollers
CB2.7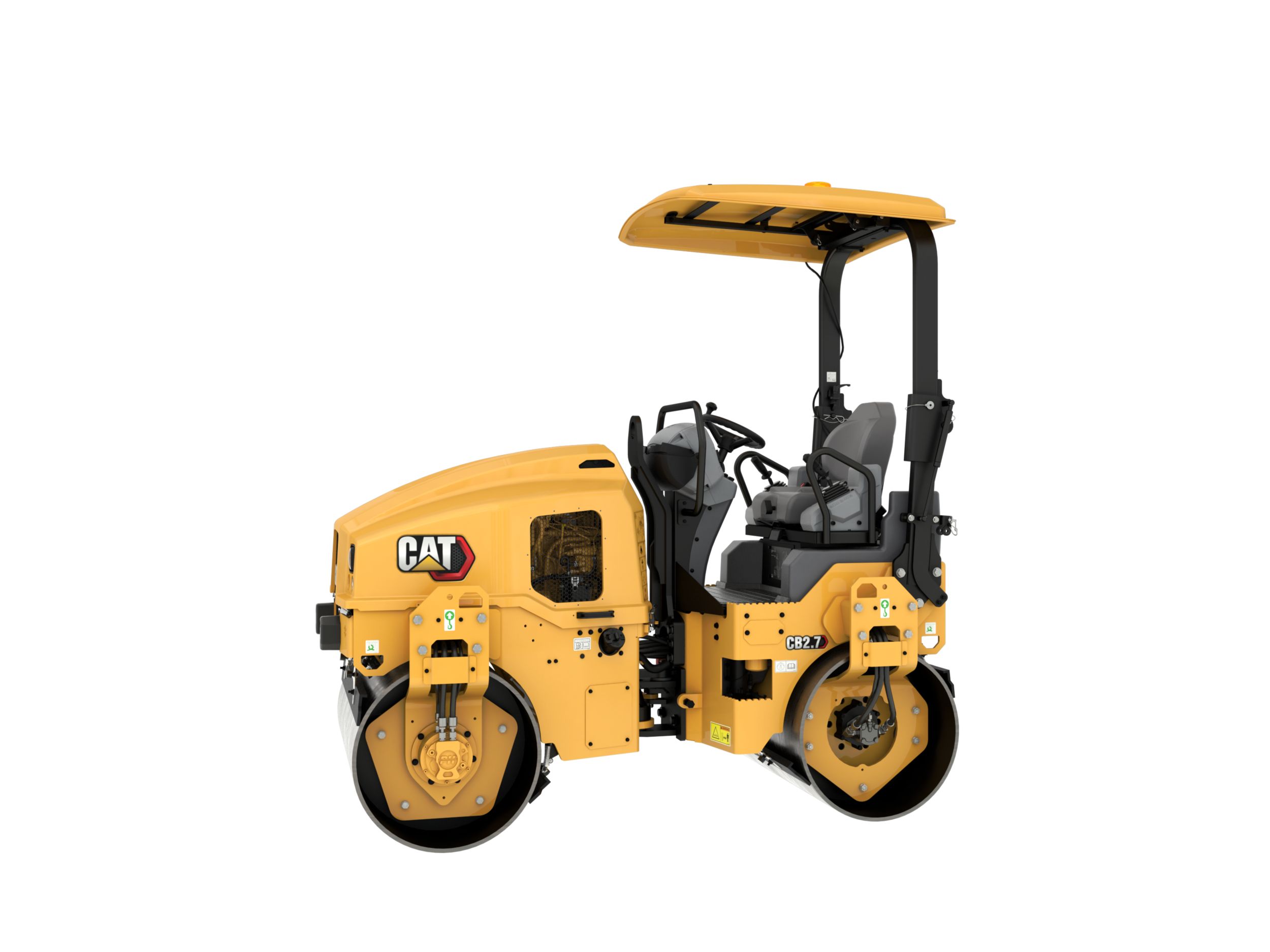 Brand

Cat

Status

Current

Standard Operating Weight with ROPS

5936 lb / 2698 kg

Maximum Operating Weight with ROPS

5936 lb / 2698 kg

Maximum Weight at Rear Drum

1398 lb / 3075 kg

Maximum Weight at Front Drum

2861 lb / 1301 kg

Compaction Width

47.2 in / 1200 mm

Curb Clearance

17.8 in / 453 mm

Drum Offset

2 in / 50 mm

Ground Clearance

11.2 in / 285 mm

Static Linear Load

70.6 lb/in / 12.6 kg/cm

Travel Speed - Maximum

7.5 mile/h / 12 km/h

Turning Radius - Inside Drum Edge

100 in / 2540 mm

Turning Radius - Outside Drum Edge

3740 mm / 147.2 in

Gross Power

48.2 HP / 36 kW

Engine Model

C1.7T

Net Power - ISO 9249

47.6 HP / 35.5 kW

Drum Diameter

28.3 in / 720 mm

Drum Width

47.2 in / 1200 mm

Height - ROPS

70.8 in / 1799 mm

Overall Length

99.2 in / 2520 mm

Overall Width

51.7 in / 1312 mm

Wheel Base

70.9 in / 1800 mm

Centrifugal Force - Maximum

7929 lb / 35 kN

Nominal Amplitude - High

0.02 in / 0.52 mm

Water Spray Tank Capacity

52.8 gal (US) / 200 l

Fuel Tank Capacity

14.37 gal (US) / 55 l
Tandem Vibratory Rollers
CB2.9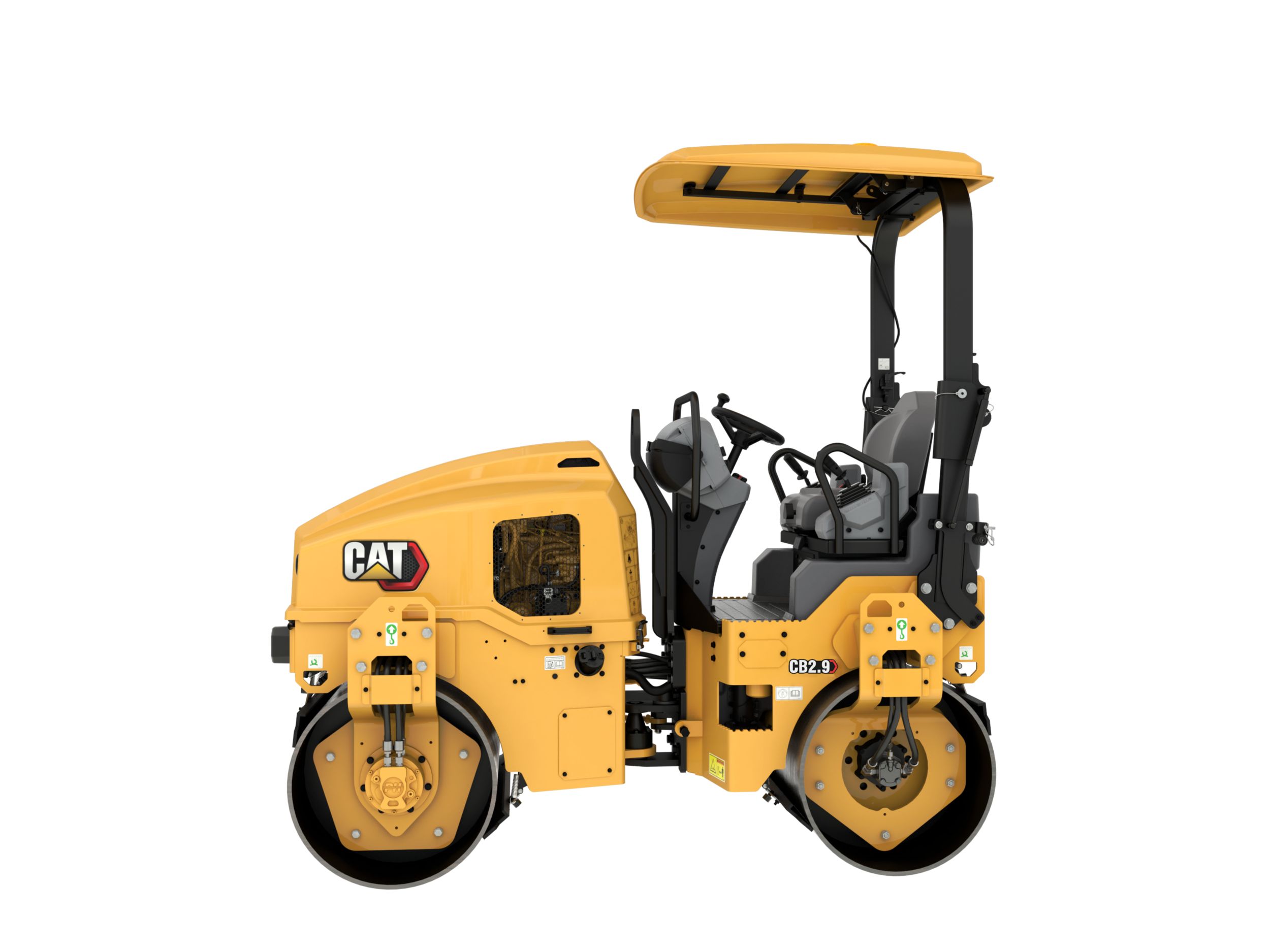 Brand

Cat

Status

Current

Standard Operating Weight with ROPS

6415 lb / 2916 kg

Maximum Operating Weight with ROPS

6415 lb / 2916 kg

Maximum Weight at Rear Drum

3355 lb / 1525 kg

Maximum Weight at Front Drum

3060 lb / 1391 kg

Compaction Width

51.2 in / 1300 mm

Curb Clearance

17.8 in / 453 mm

Drum Offset

2 in / 50 mm

Ground Clearance

11.2 in / 285 mm

Static Linear Load

59.8 lb/in / 13.9 kg/cm

Travel Speed - Maximum

7.5 mile/h / 12 km/h

Turning Radius - Inside Drum Edge

98 in / 2490 mm

Turning Radius - Outside Drum Edge

149.2 in / 3790 mm

Gross Power

48.2 HP / 36 kW

Engine Model

C1.7T

Net Power - ISO 9249

47.6 HP / 35.5 kW

Drum Diameter

28.3 in / 720 mm

Drum Width

51.2 in / 1300 mm

Height - ROPS

70.8 in / 1799 mm

Overall Length

99.2 kg/cm / 2520 mm

Overall Width

55.6 in / 1412 mm

Wheel Base

70.9 in / 1800 mm

Centrifugal Force - Maximum

8109 lb/ft / 36 kN

Nominal Amplitude - High

0.02 in / 0.5 mm

Water Spray Tank Capacity

52.8 gal (US) / 200 l

Fuel Tank Capacity

14.37 gal (US) / 55 l