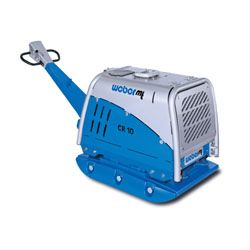 DESCRIPTION
Cat Rental
High engine output. Advantage: ample power reserve.
On/off vibration control by means of a push-button switch. Advantage: the machine can be started without vibration and does not need to be turned off during short work breaks.
Starter module with additional functions: hourmeter, indicators and engine protection functions for oil pressure, battery voltage, engine temperature and air filter restrictor. Advantage: if a malfunction occurs in these assemblies, the machine will stop - in this way, the failure can be repaired immediately before serious damage to the machine occurs.
Frequency adjustment. Advantage: optimum operator support when compacting difficult soils.
Infinitely variable hydraulic control of forward and reverse travel by means of a finger-tip switch. Advantage: easy and comfortable machine operation/control.
Specs
Base Plate Width
27.6 in / 701 mm
Operating Weight
1985 lb / 900.4 kg
Base Plate Length
23.6 in / 599.4 mm
Vibration Frequency
3120 V/m / 52 Hz
Centrifugal Force
22500 lb / 10205.8 kg