CS56B
CS56B Vibratory Soil Compactor
Powered by the 117 kW (156.9 hp) Cat C4.4 engine, the CS56B provides exceptional performance for granular soil compaction applications.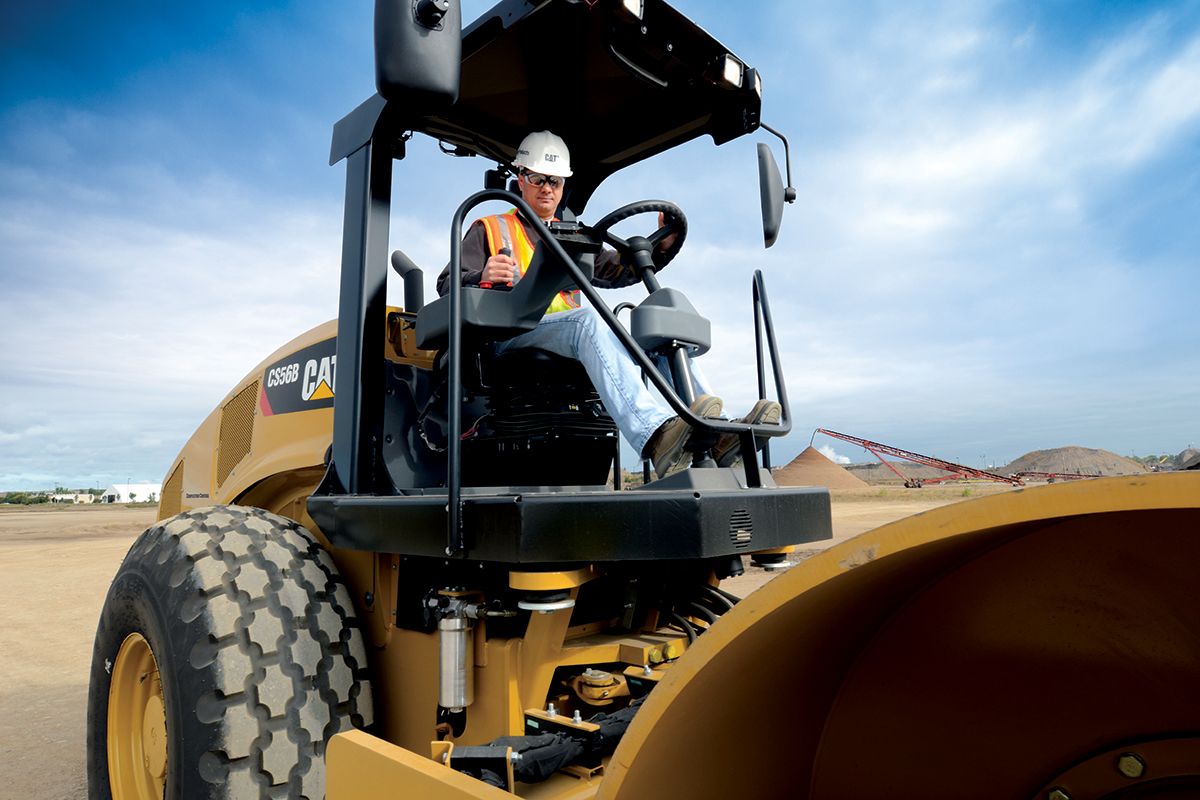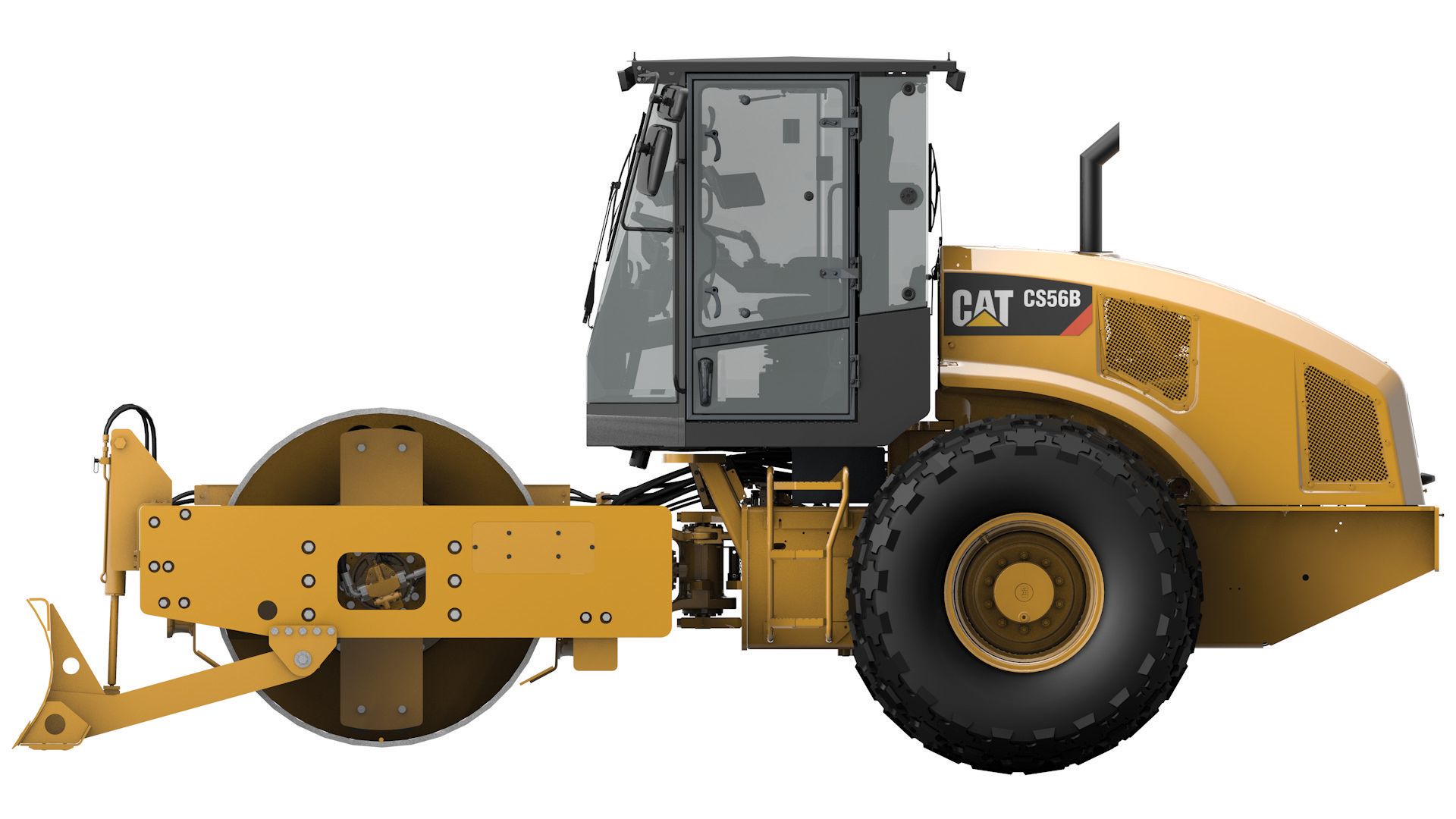 DESCRIPTION
The CS56B provides exceptional performance for granular soil compaction applications.
Comfortable and Ergonomic Operator Station
Features pivoting seat with integrated multifunction LCD display and control console
Outstanding visibility to the front and rear of machine
Low sound levels and vibration for greater operator comfort and productivity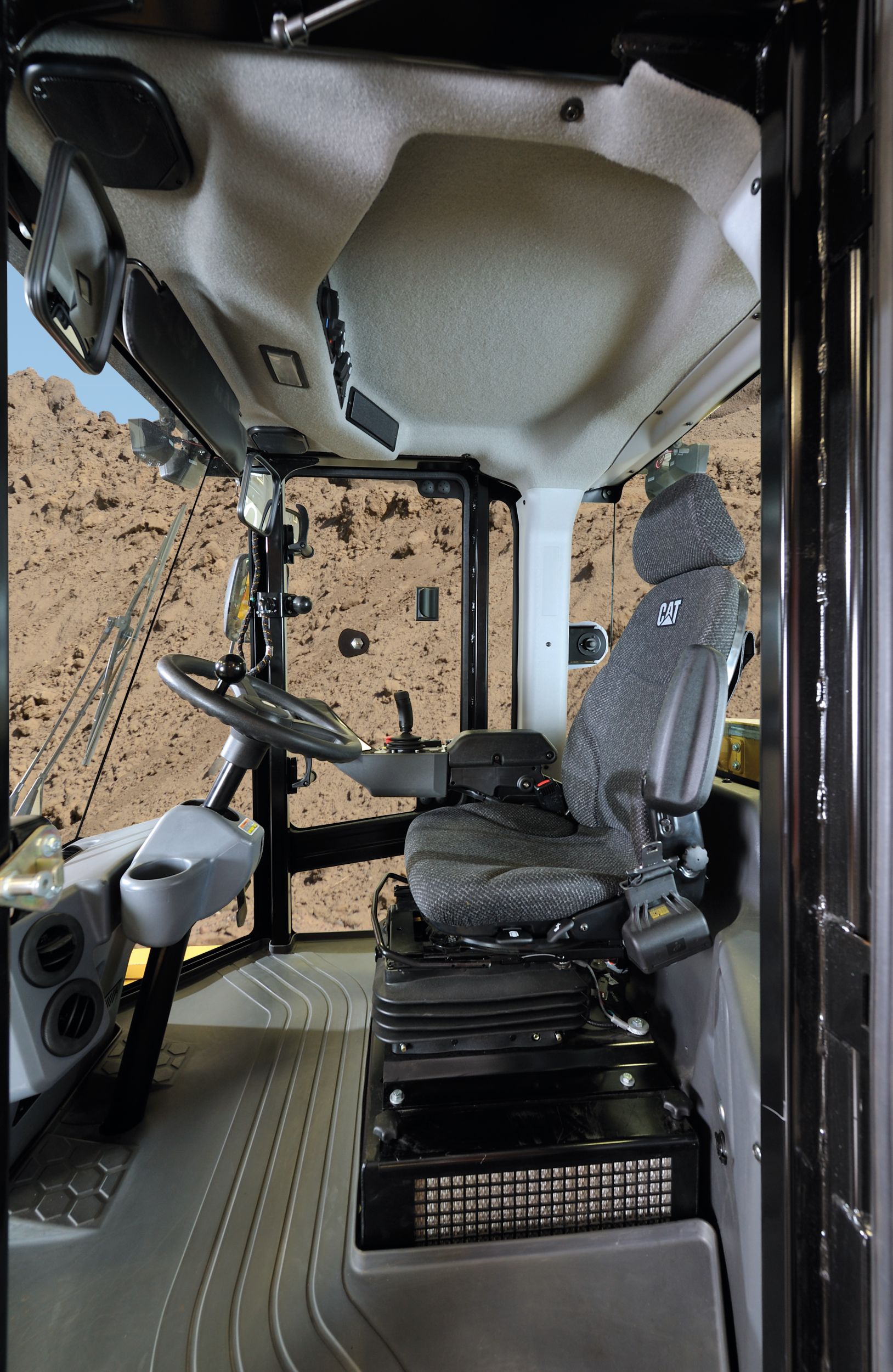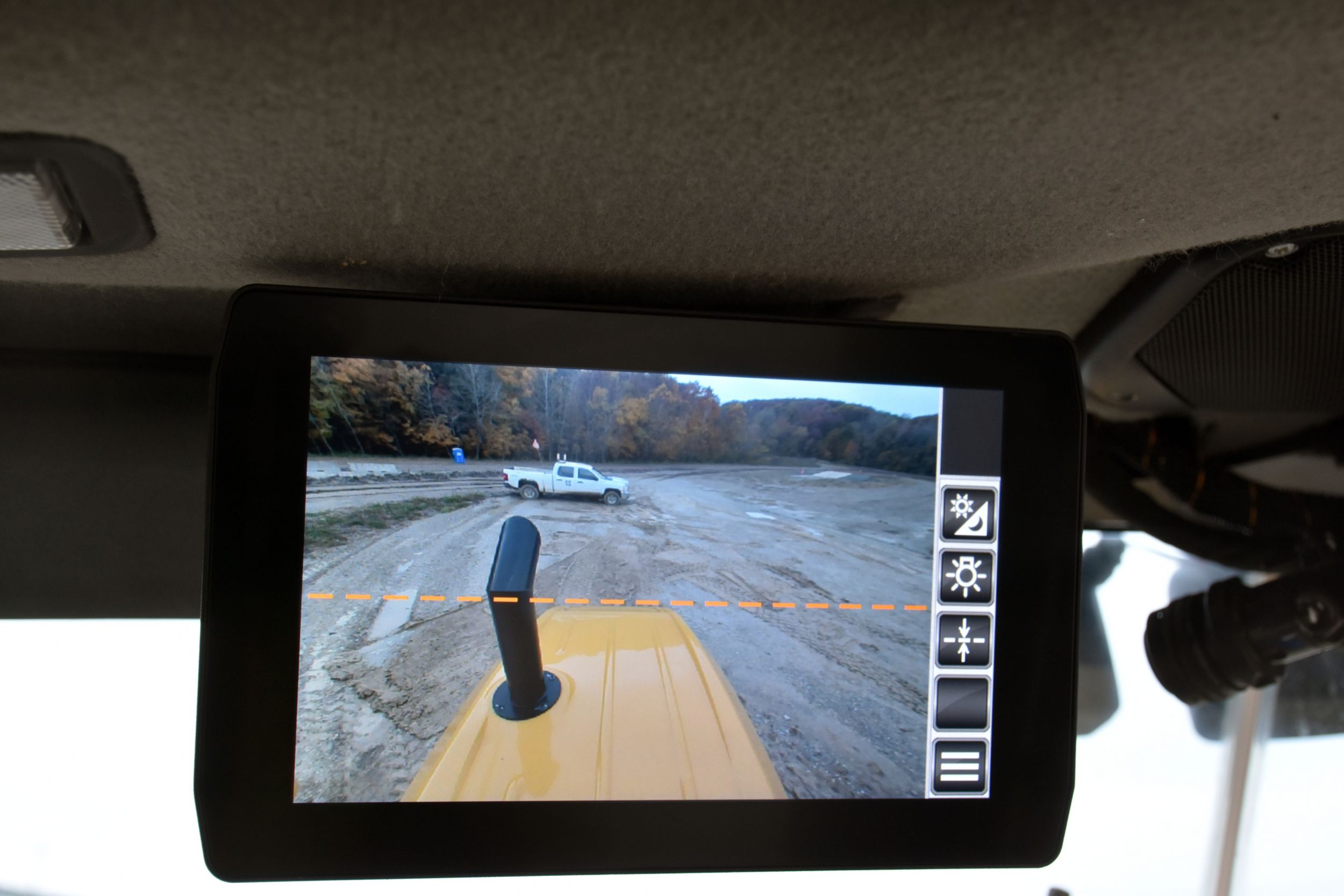 Rear Vision Camera
The rear vision camera enhances visibility for more complete operator control and safety.
Exceptional Propel System
Built around the exclusive Cat dual pump propel system, two pumps provide separate dedicated flow to drum drive motor and rear axle motor for exceptional gradeability and traction in forward and reverse.
Electronic propel control provides more precise machine control.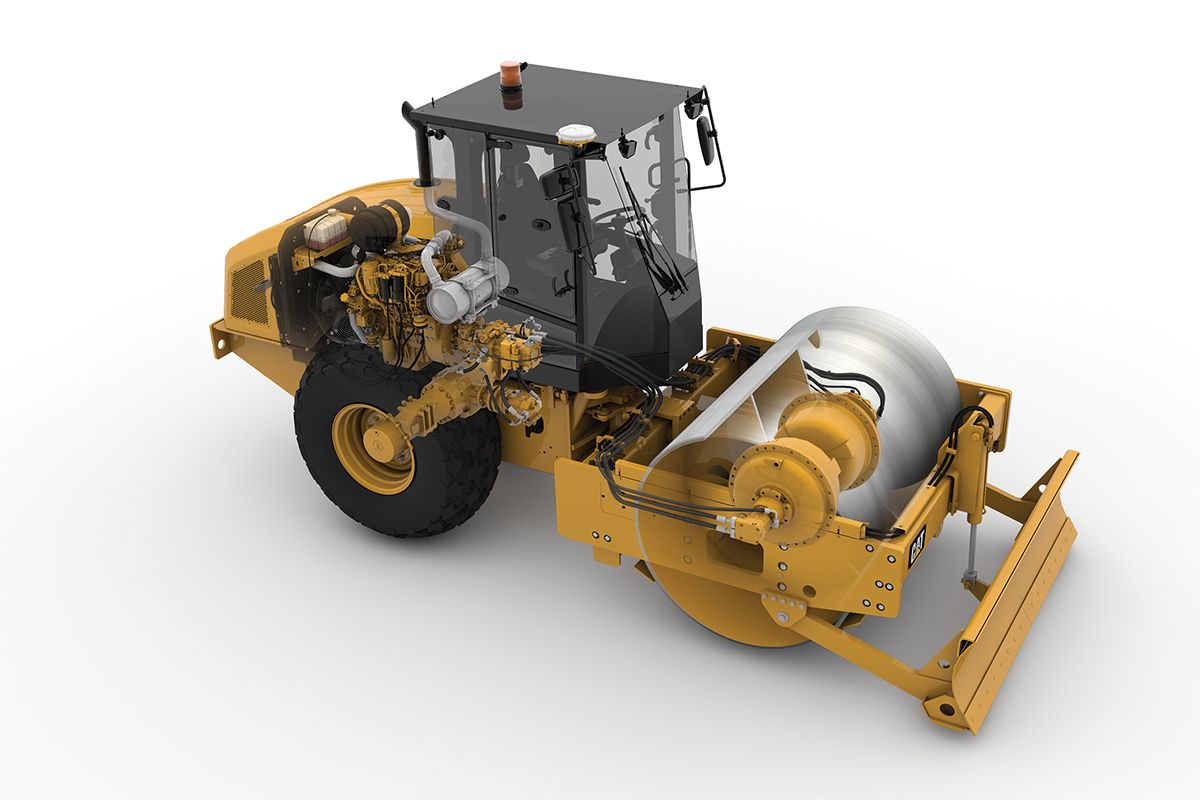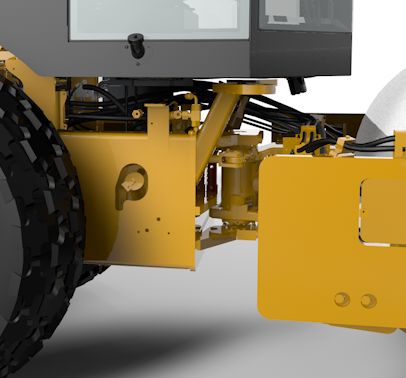 Virtually Maintenance Free
Maintenance-free hitch bearings.
Extended maintenance intervals for vibratory system and hydraulic system, providing more uptime and lower maintenance costs.
Enhanced Compaction Performance
More weight at the drum and greater amplitude.
Automated speed control and vibratory system functions make it easy to ensure consistent, high quality compaction.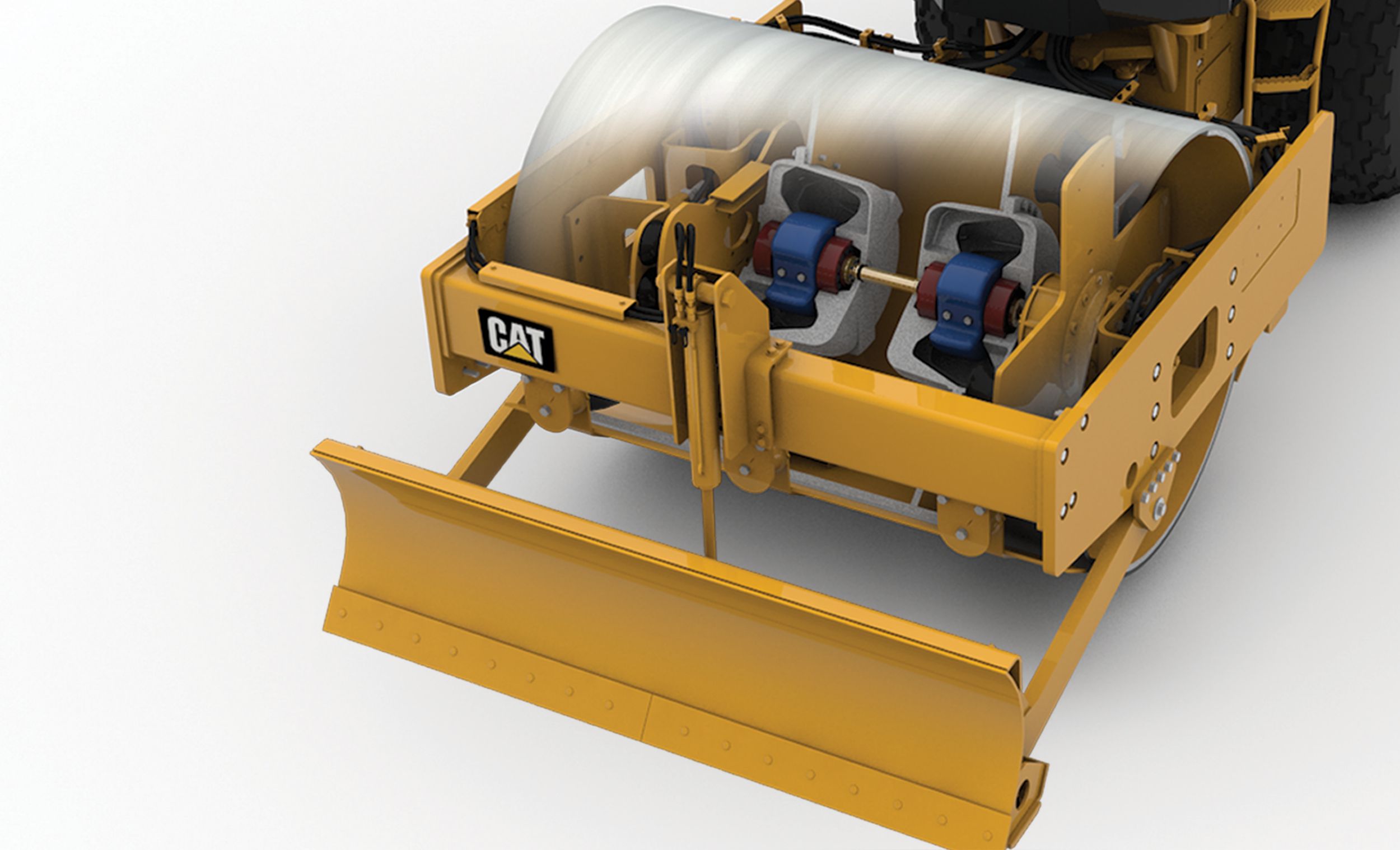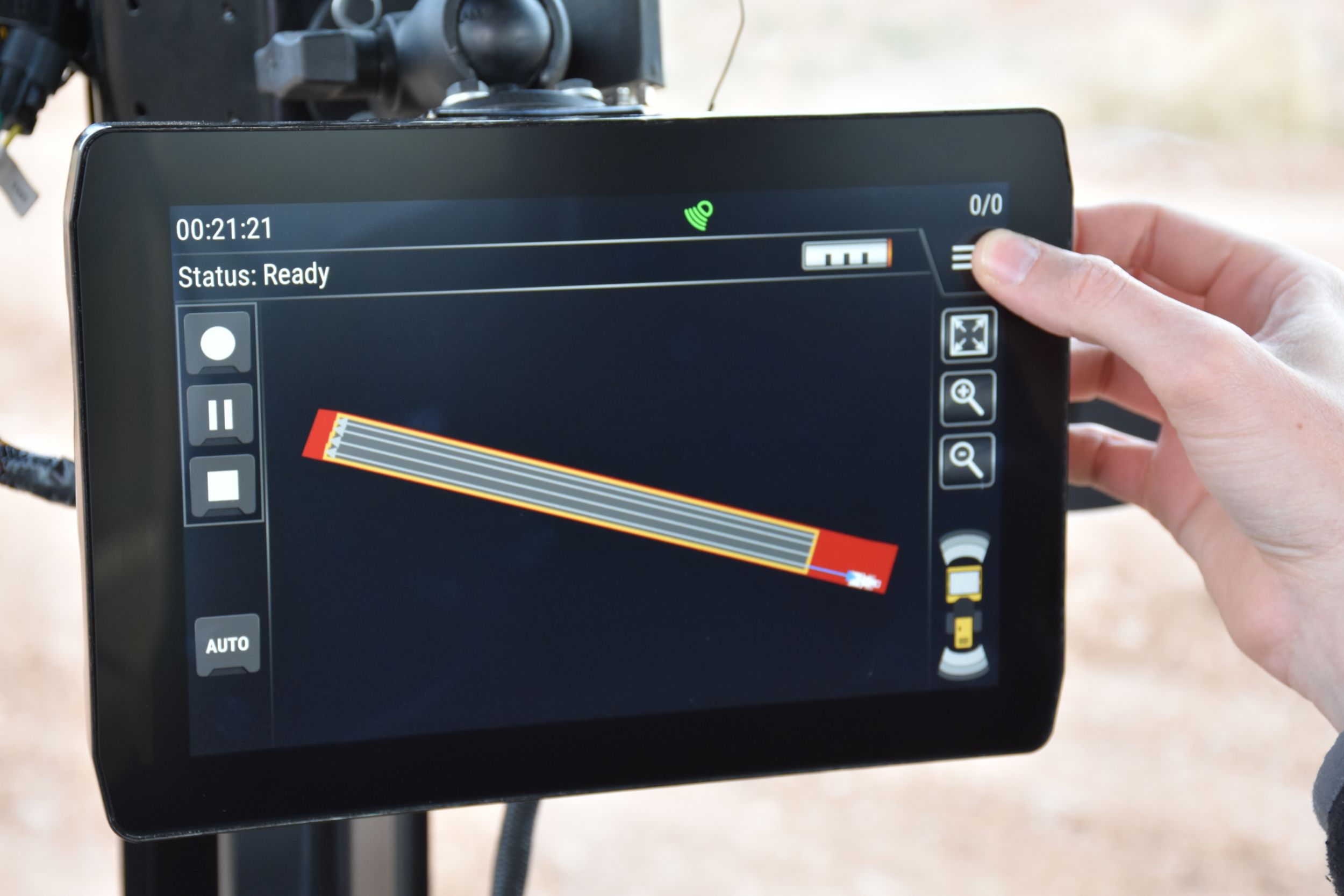 Technologies that Enhance Quality and Productivity
Exclusive semi-autonomous Command for Compaction technology automates compaction to offer complete process control and help promote more uniform results.
Measurement and documentation technologies help the operator determine when compaction has been completed to specification for greater productivity and uniform compaction quality.
Accelerometer-based (CMV) and exclusive Machine Drive Power (MDP) measurement technologies available.
Sustainability
The Cat® C4.4 engine meets U.S. EPA Tier 4 Final and EU Stage IV emission standards.
Cat diesel engines are required to use ULSD (ultra-low sulfur diesel fuel with 15 ppm of sulfur or less) or ULSD blended with the following lower-carbon intensity fuels up to: 20% biodiesel FAME (fatty acid methyl ester)** or 100% renewable diesel, HVO (hydrogenated vegetable oil) and GTL (gas-to-liquid) fuels. Refer to guidelines for successful application. Please consult your Cat dealer or "Caterpillar Machine Fluids Recommendations" (SEBU6250) for details.
Auto engine idle shutdown helps reduce unnecessary fuel burn and greenhouse gas emissions by allowing the engine to automatically go into idle mode when the machine is not working.
A well-trained operator is worth the investment. Skilled operators benefit your bottom line by maximizing productivity, avoiding costly downtime, and maintaining jobsite safety – which can help to improve fuel efficiency and reduce greenhouse gas emissions.
Extended maintenance intervals not only reduce downtime but can decrease the amount of fluid and filters that are replaced over the life of the machine. The hydraulic oil can be replaced every 3000 hours, eccentric housing oil can be replaced every 3000 hours, and engine oil changes can be 500 hours.
Performance and safety can be augmented with standard and optional cameras that are viewed on in-cab displays.
Cat Compact technologies help you consistently meet compaction targets faster, more uniformly, and in fewer passes - saving on fuel and reducing rework and material costs.
Cat Scheduled Oil Sampling (S•O•S℠) Services helps reveal excessive wear, contaminated fluids or other "unseen" issues that can shorten component life. In many cases, you can extend oil and coolant change intervals by using fluid monitoring. Consult your Cat dealer or the machine's operation and maintenance manual for more information.
Remote Flash for engines helps to minimize downtime and maintenance time while keeping your asset running with maximum efficiency. Alerts for machine updates are sent virtually from your Cat dealer and updates can be deployed without a dealer technician needing to be onsite.
**Engines with no aftertreatment devices can use higher blends, up to 100% biodiesel.
Standard Equipment
Optional Equipment
Specs
Docs
Specs
Long Name:
CS56B Vibratory Soil Compactor
Operating Weight - With Cab
25346 lb / 11500 kg
Weight - Drum with ROPS/FOPS
13788 lb / 6255 kg
Weight - Drum with Cab
13990 lb / 6350 kg
Compaction Width
84 in / 2134 mm
Turning Radius - Inside Drum Edge
12.08 ft / 3.68 m
Ground Clearance
17.4 in / 442 mm
Static Linear Load - With Cab
166.5 lb/in / 29.8 kg/cm
Static Linear Load - With ROPS/FOPS
164.1 lb/in / 29.3 kg/cm
Travel Speed - Maximum
7 mile/h / 11.4 km/h
Gross Power
157 HP / 117 kW
Drum Diameter
60.4 in / 1534 mm
Optional Blade Height
27.1 in / 688 mm
Drum Width
84 in / 2134 mm
Overall Width
7.58 ft / 2.3 m
Wheel Base
9.58 ft / 2.9 m
Overall Width - With Blade Option
8.25 ft / 2.5 m
Overall Length
19.25 ft / 5.86 m
Overall Length - With Blade Option
21 ft / 6.4 m
Height - With ROPS/FOPS or Cab
10.25 ft / 3.11 m
Centrifugal Force - Minimum
31670 lb / 141 kN
Nominal Amplitude - Low
0.039 in / 0.98 mm
Centrifugal Force - Maximum
67600 lb / 301 kN
Variable Frequency Option Range
23.3 - 30.5 Hz (1400-1830 vpm)
Vibratory Frequency - Standard
30.5 Hz (1830 vpm)
Nominal Amplitude - High
0.083 in / 2.1 mm
Service Refill Capacities
Fuel Tank Capacity
64 gal (US) / 242 l
SEE HOW CS56B COMPARES AGAINST FREQUENTLY COMPARED PRODUCTS.
Vibratory Soil Compactors
CS56B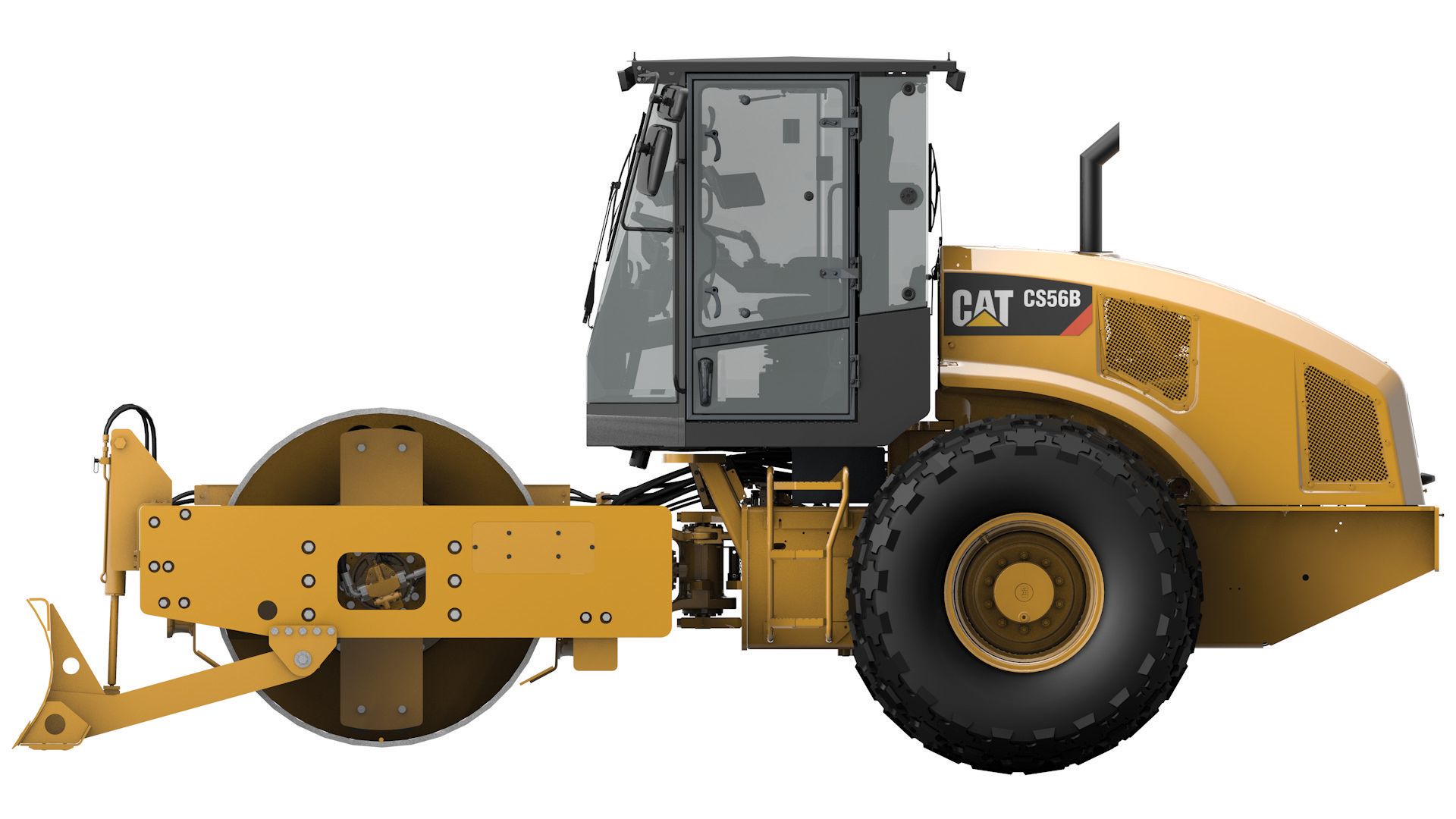 Brand

Cat

Status

Current

Operating Weight - With Cab

25346 lb / 11500 kg

Weight - Drum with Cab

13990 lb / 6350 kg

Compaction Width

84 in / 2134 mm

Turning Radius - Inside Drum Edge

12.08 ft / 3.68 m

Ground Clearance

17.4 in / 442 mm

Static Linear Load - With Cab

166.5 lb/in / 29.8 kg/cm

Travel Speed - Maximum

7 mile/h / 11.4 km/h

Gross Power

157 HP / 117 kW

Engine Model

Cat C4.4

Drum Diameter

60.4 in / 1534 mm

Drum Width

84 in / 2134 mm

Overall Width

7.58 ft / 2.3 m

Wheel Base

9.58 ft / 2.9 m

Overall Length

19.25 ft / 5.86 m

Height - With ROPS/FOPS or Cab

10.25 ft / 3.11 m

Centrifugal Force - Minimum

31670 lb / 141 kN

Nominal Amplitude - Low

0.039 in / 0.98 mm

Centrifugal Force - Maximum

67600 lb / 301 kN

Variable Frequency Option Range

23.3 - 30.5 Hz (1400-1830 vpm)

Vibratory Frequency - Standard

30.5 Hz (1830 vpm)

Nominal Amplitude - High

0.083 in / 2.1 mm

Tires

23.1 x 26

Fuel Tank Capacity

64 gal (US) / 242 l
Vibratory Soil Compactors
CS54B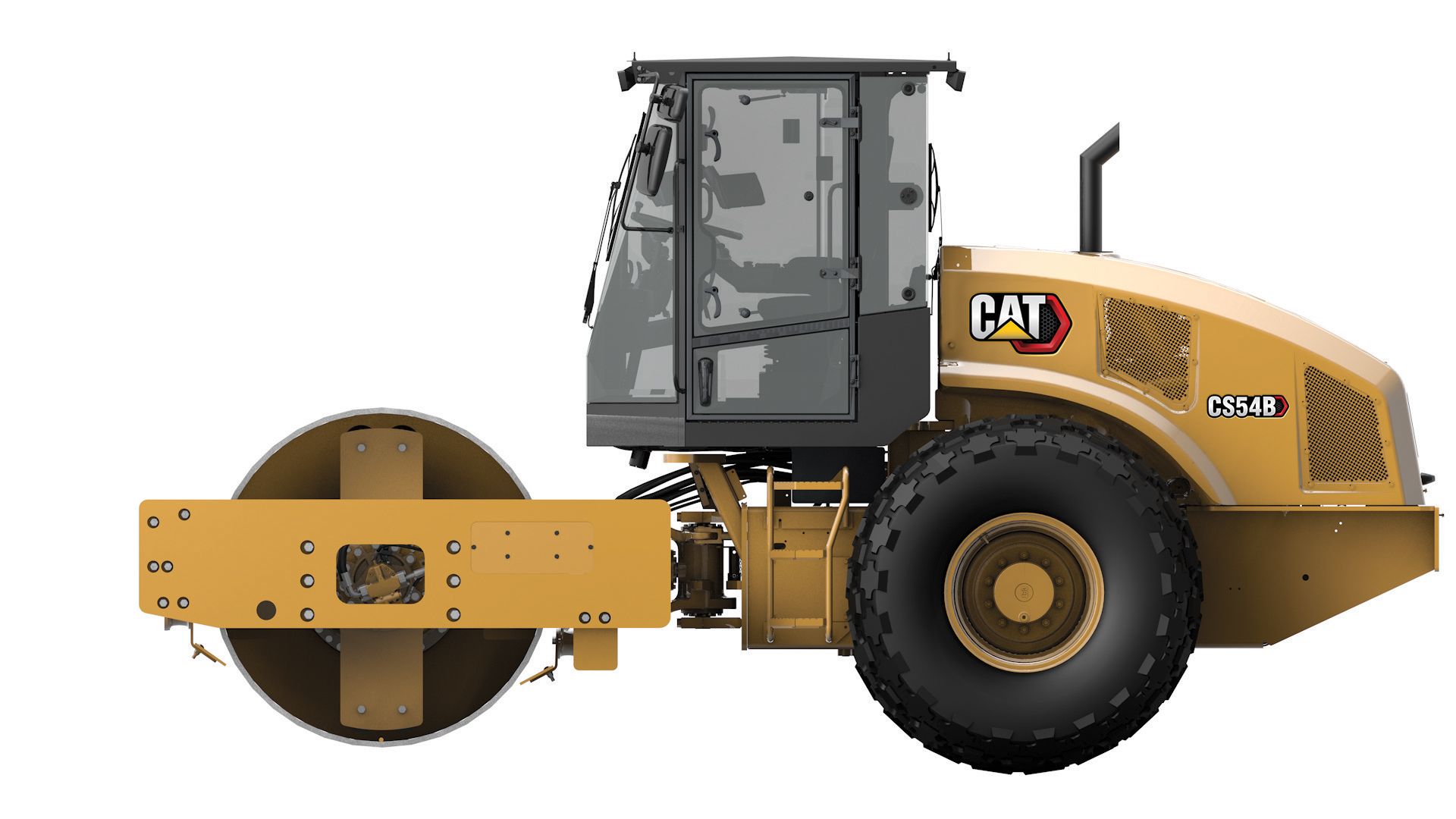 Brand

Cat

Status

Current

Operating Weight - With Cab

23265 lb / 10555 kg

Weight - Drum with Cab

12959 lb / 5880 kg

Compaction Width

84 in / 2134 mm

Turning Radius - Inside Drum Edge

12.08 ft / 3.68 m

Ground Clearance

17.4 in / 442 mm

Static Linear Load - With Cab

154.3 lb/in / 27.6 kg/cm

Travel Speed - Maximum

6.8 mile/h / 11 km/h

Gross Power

131 HP / 98 kW

Engine Model

Cat C4.4 with ACERT

Drum Diameter

60.4 in / 1534 mm

Drum Width

84 in / 2134 mm

Overall Width

7.58 ft / 2.3 m

Wheel Base

9.58 ft / 2.9 m

Overall Length

19.17 ft / 5.85 m

Height - With ROPS/FOPS or Cab

10.25 ft / 3.11 m

Centrifugal Force - Minimum

29900 lb / 133 kN

Nominal Amplitude - Low

0.037 in / 0.95 mm

Centrifugal Force - Maximum

52600 lb / 234 kN

Variable Frequency Option Range

23.3 - 30.5 Hz (1400-1830 vpm)

Vibratory Frequency - Standard

30.5 Hz (1830 vpm)

Nominal Amplitude - High

0.075 in / 1.9 mm

Tires

23.1 x 26

Fuel Tank Capacity

64 gal (US) / 242 l
Vibratory Soil Compactors
CS64B
Brand

Cat

Status

Current

Operating Weight - With Cab

26569 lb / 12055 kg

Weight - Drum with Cab

15690 lb / 7120 kg

Compaction Width

84 in / 2134 mm

Turning Radius - Inside Drum Edge

12.08 ft / 3.68 m

Ground Clearance

17.4 in / 442 mm

Static Linear Load - With Cab

186.8 lb/in / 33.4 kg/cm

Travel Speed - Maximum

6.8 mile/h / 11 km/h

Gross Power

131 HP / 98 kW

Engine Model

Cat C4.4 with ACERT

Drum Diameter

60.4 in / 1534 mm

Drum Width

84 in / 2134 mm

Overall Width

7.58 ft / 2.3 m

Wheel Base

9.58 ft / 2.9 m

Overall Length

19.17 ft / 5.85 m

Height - With ROPS/FOPS or Cab

10.25 ft / 3.11 m

Centrifugal Force - Minimum

29900 lb / 133 kN

Nominal Amplitude - Low

0.037 in / 0.95 mm

Centrifugal Force - Maximum

52600 lb / 234 kN

Variable Frequency Option Range

23.3 - 30.5 Hz (1400-1830 vpm)

Vibratory Frequency - Standard

30.5 Hz (1830 vpm)

Nominal Amplitude - High

0.075 in / 1.9 mm

Tires

23.1 x 26

Fuel Tank Capacity

64 gal (US) / 242 l