CS68B
CS68B Vibratory Soil Compactor
Powered by the 117 kW (156.9 hp) Cat C4.4 engine, the CS68B provides exceptional performance for granular soil compaction applications.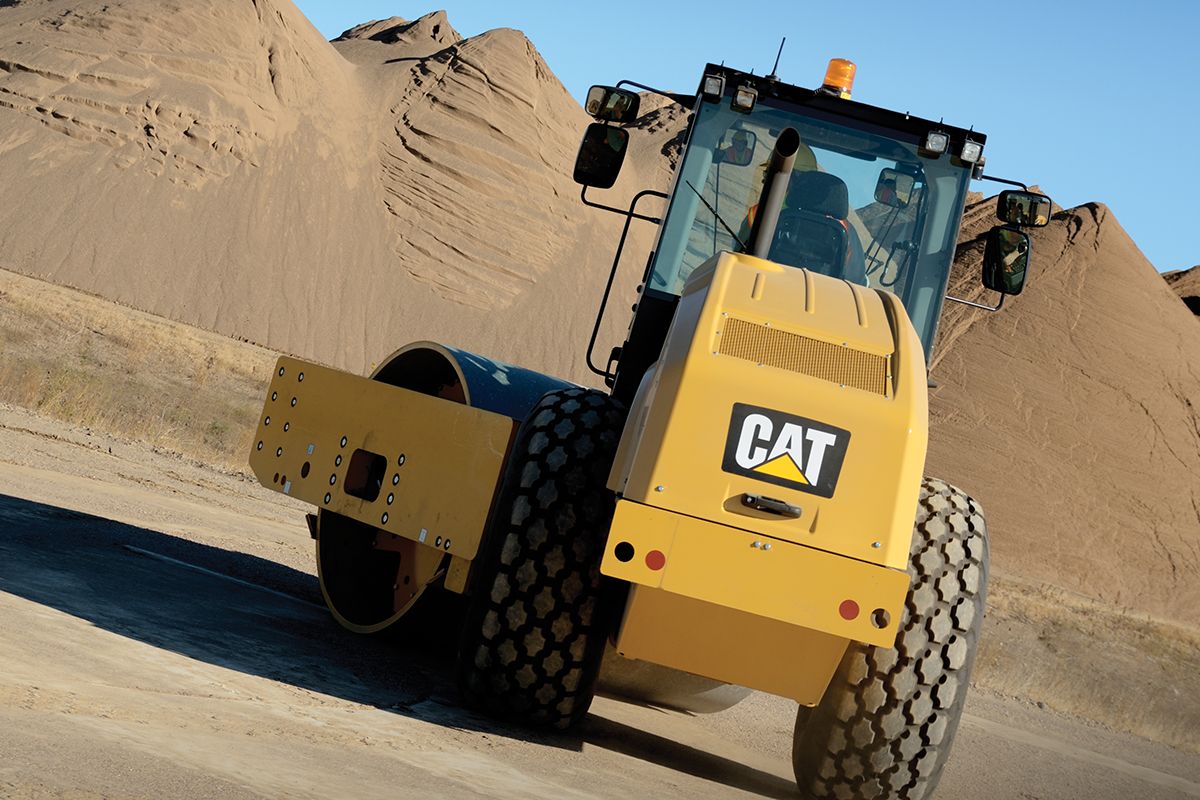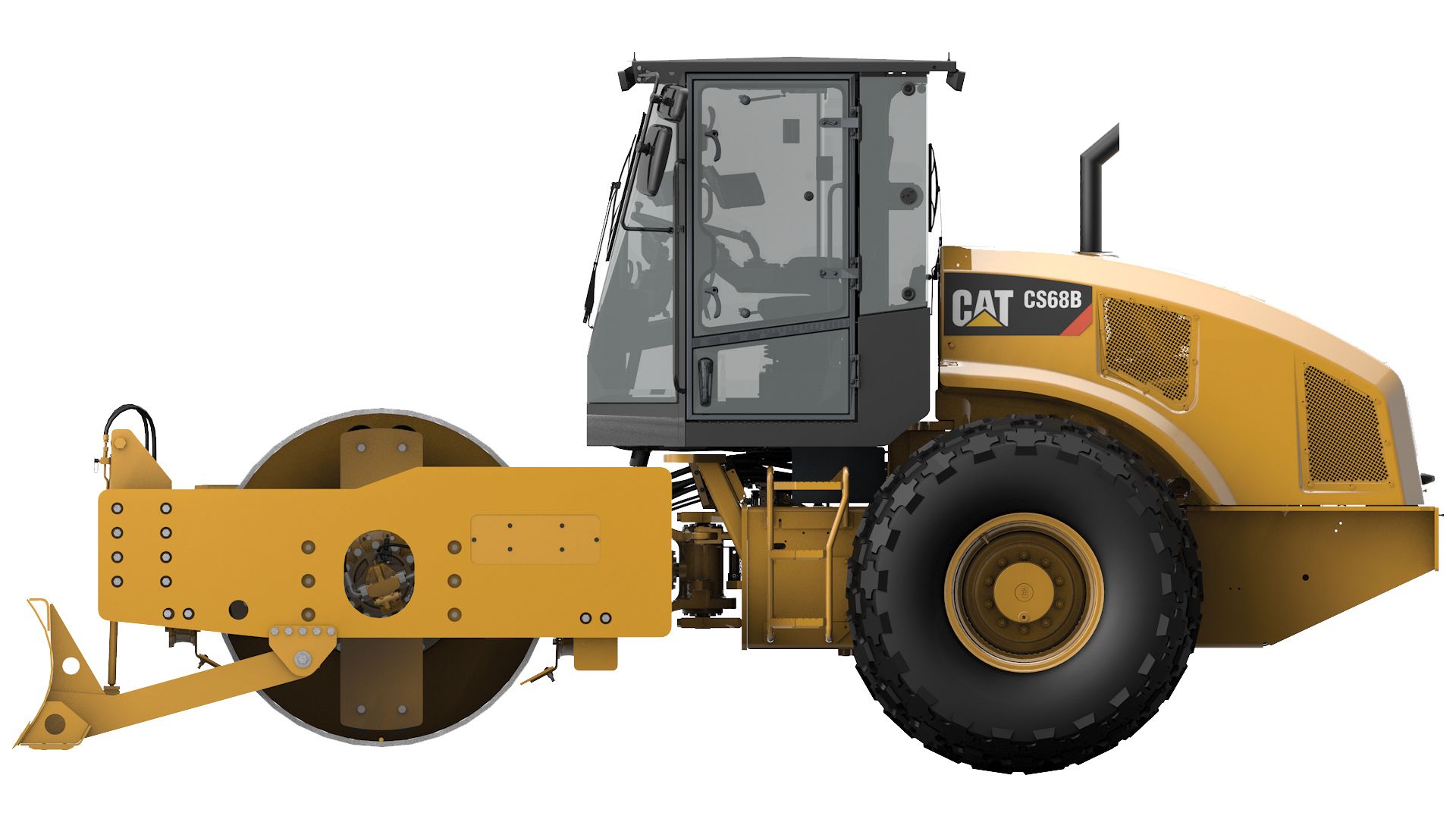 DESCRIPTION
The CS68B provides exceptional performance for granular soil compaction applications.
Pod-style Eccentric Weights
The B-Series utilizes the proven Cat pod-style vibratory system. The system design significantly reduces the risk of contamination common to conventional designs that employ metal weights. Providing unrivaled reliability and performance, the Cat pod-style vibratory system is virtually maintenance free, with the first scheduled maintenance period at 3 years or 3,000 hours.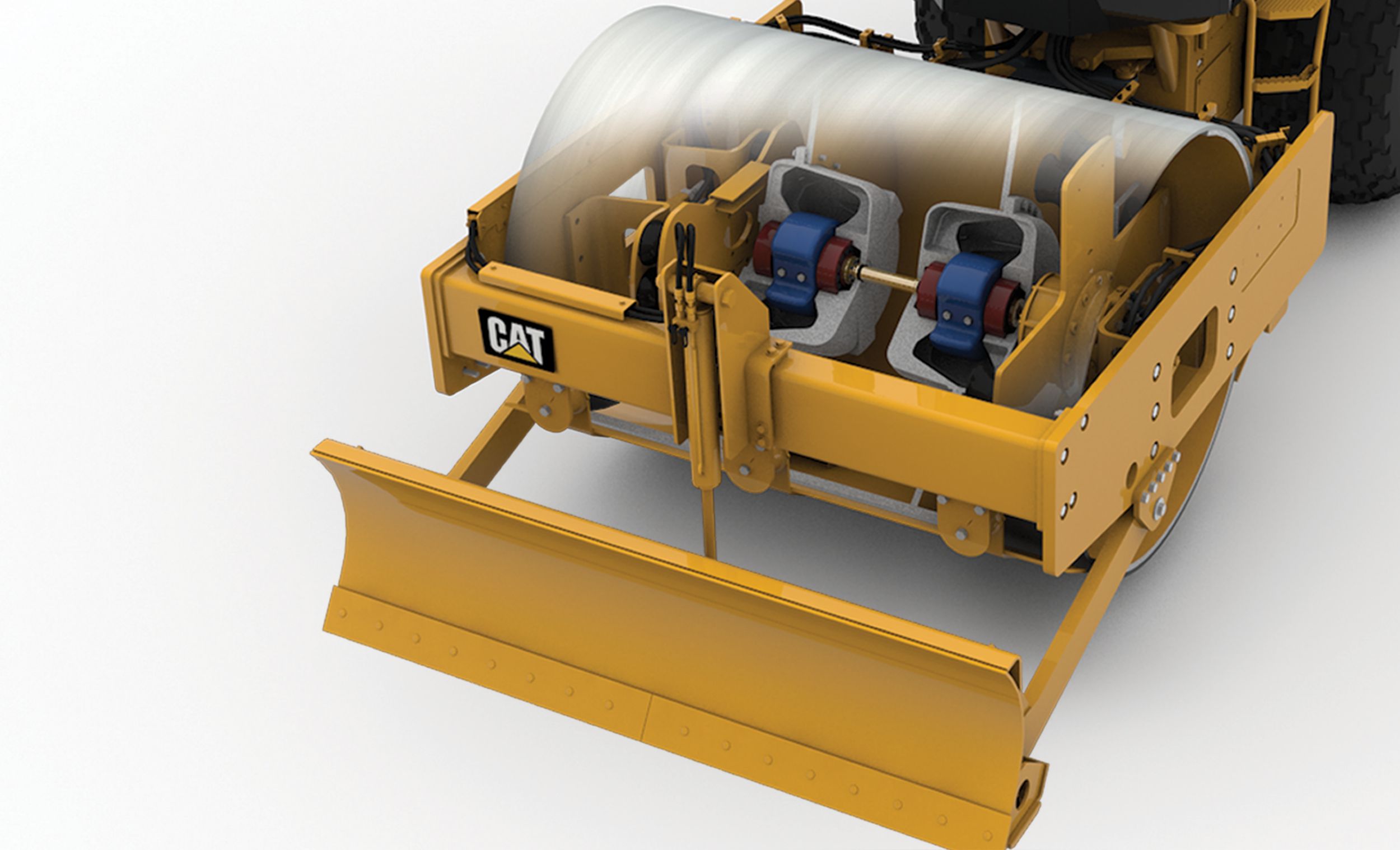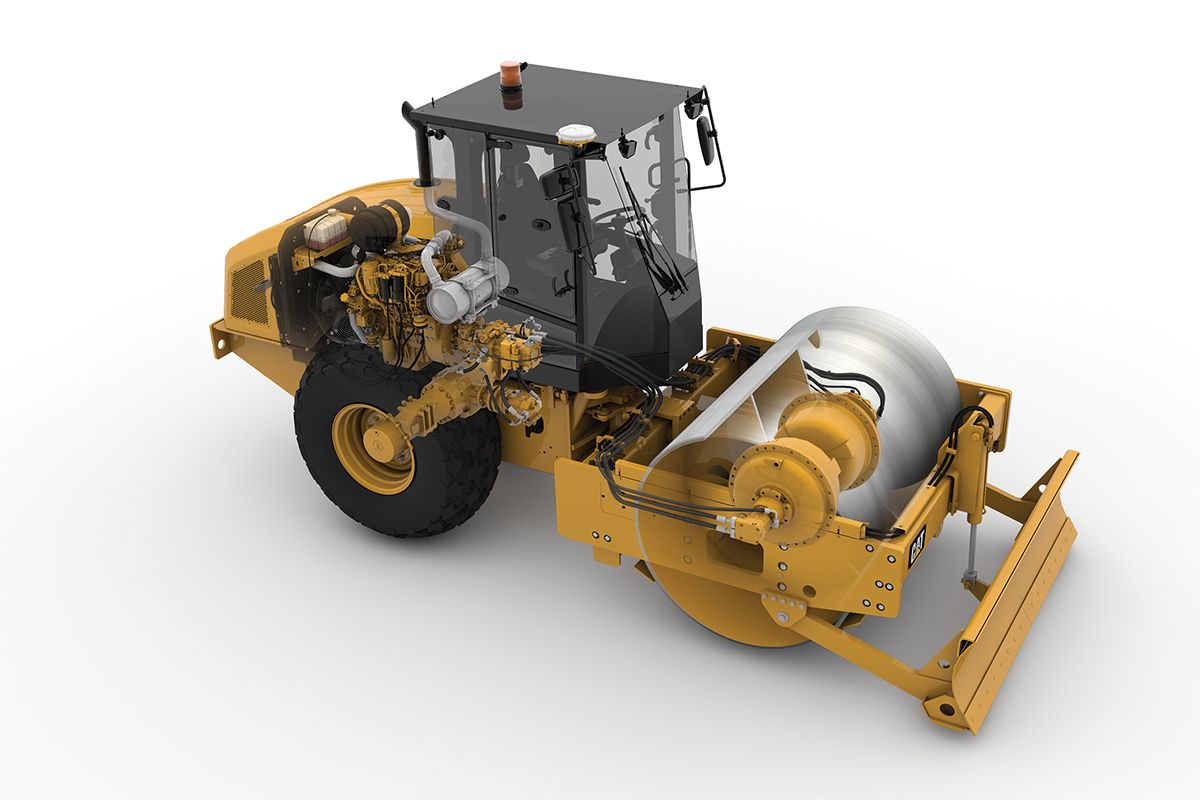 Dual-pump Propel System
The exclusive Cat dual pump propel system provides steady hydraulic flow for unmatched gradeability and blade function and now has been enhanced with electronic control for even better performance. The dual pump propel system provides separate hydraulic flow to the rear wheels and the drum for exceptional tractive effort in thick lifts, soft underfoot conditions or steep slope applications and allows for superior control on a grade in forward and reverse.
ROPS/FOPS Cab Configuration
The ROPS/FOPS Cab is an enhanced design that provides greater comfort for the operator. The cab features a multi-position steering wheel that adjusts for operator comfort. An adjustable, pivoting cloth seat with seat belt and integrated operator's display keeps controls and operating information within easy reach. A 12-volt adapter provides power for personal electronic devices. A floor mat reduces vibration. Glass panels and large exterior mirrors provide excellent views to the rear of the machine. Operator comfort is enhanced with climate control, including a heater and air conditioning. Large windows on the door and right side of the cab open wide for maximum ventilation. The cab is pre-wired for the addition of a radio (not included). A cloth headliner provides a smart, finished appearance. An interior mirror package and a deluxe, high-back cloth seat are available as an option.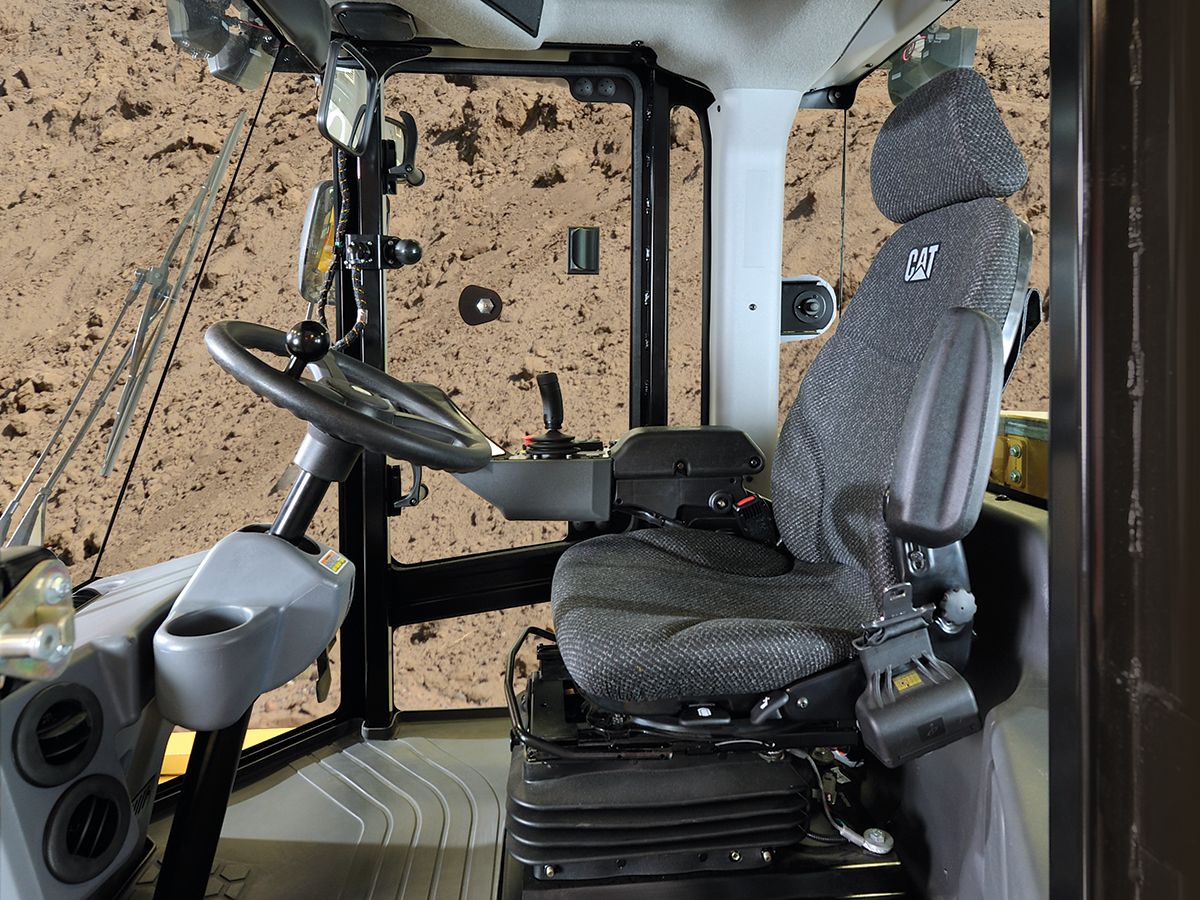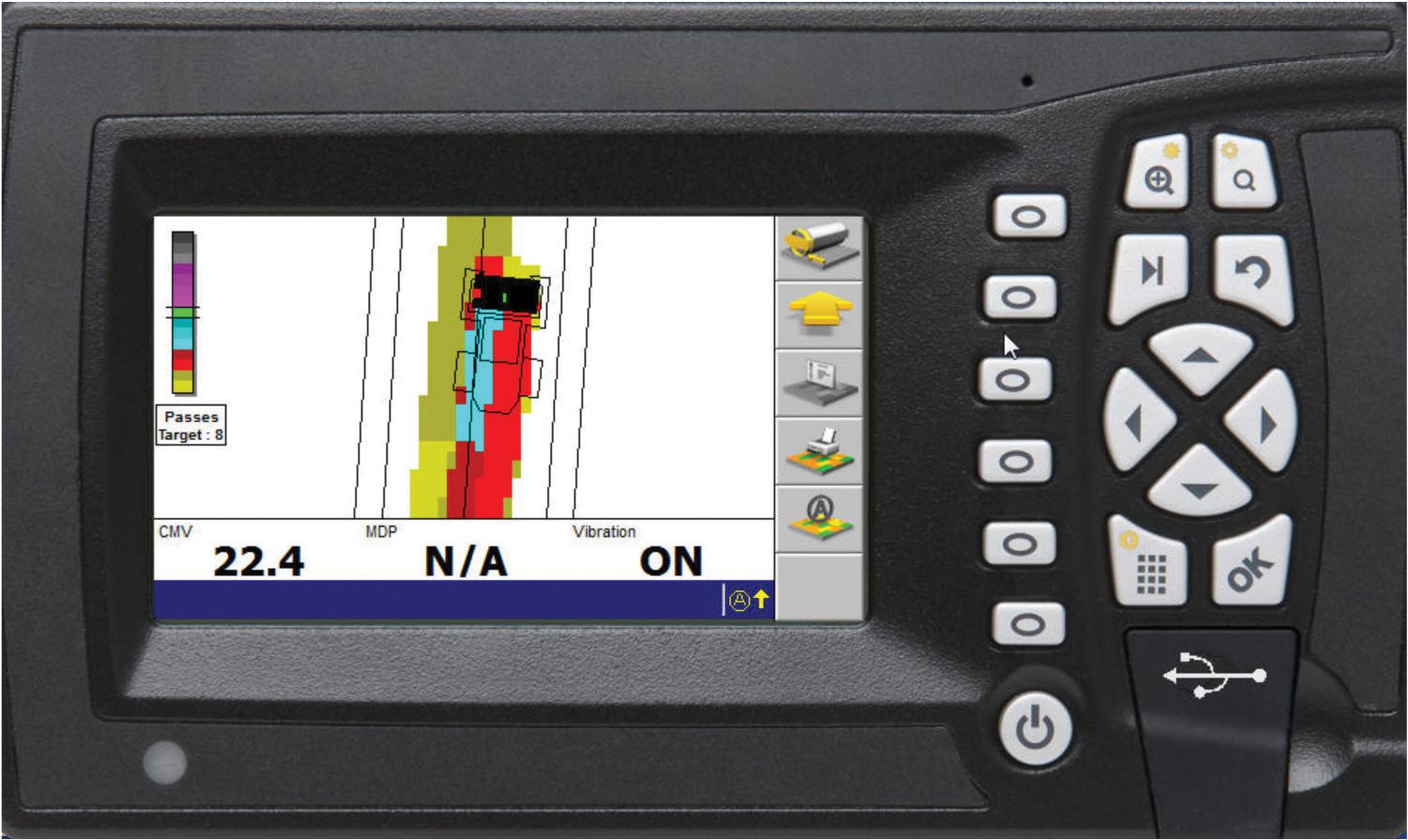 Two Compaction Measurement Technologies Available
Two different compaction measurement technologies are available: Compaction Meter Value (CMV) or Machine Drive Power (MDP). Both technologies display real time measurements on the LCD display.
Tilting Cooling Package
The cooling package tilts for easy cleaning. Normal cleaning ensures that the cooling systems protects the engine to full capacity.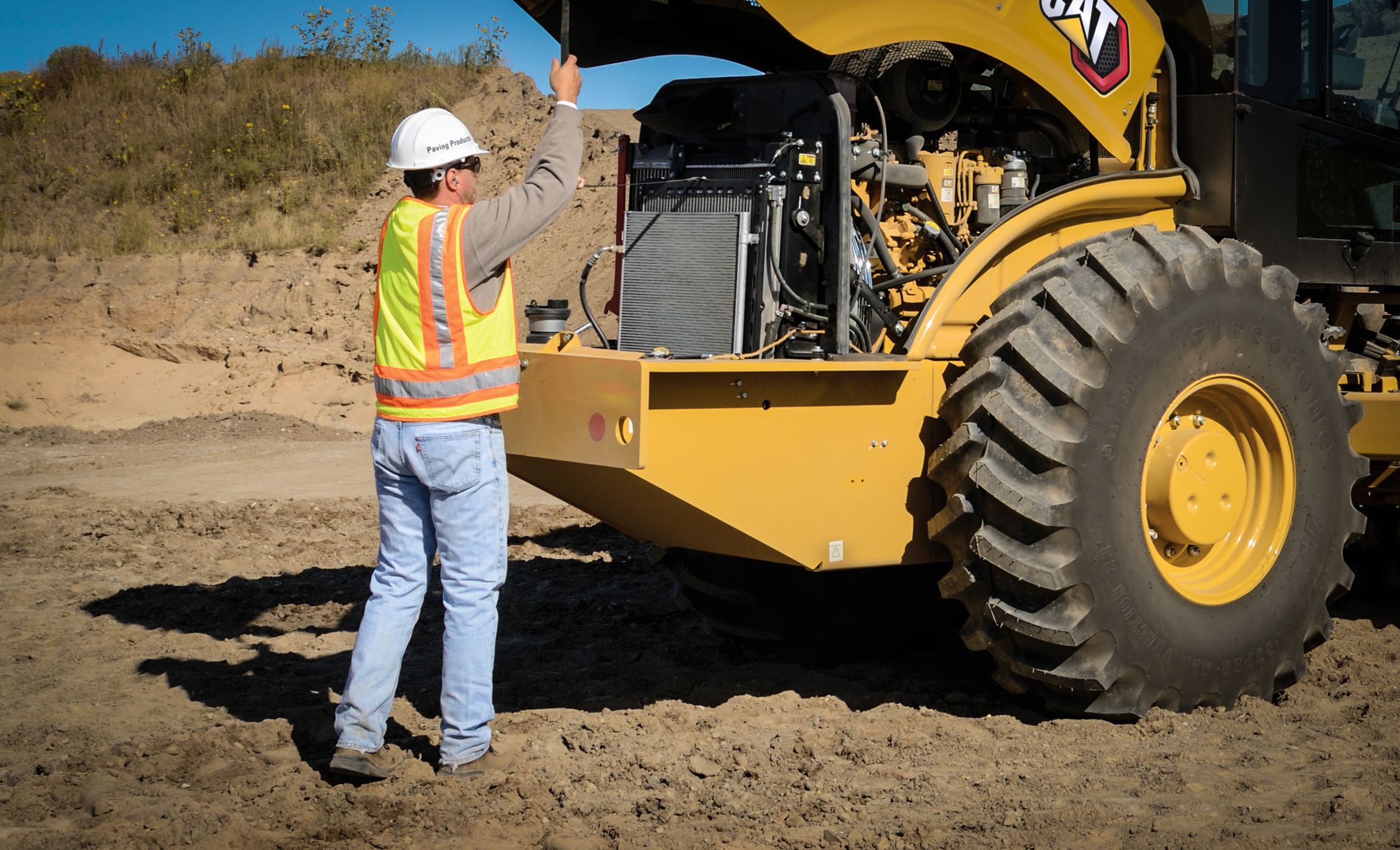 Features
More Amplitude

The B-Series vibratory soil compactors deliver enhanced compaction performance as the result of an increase in amplitude. Maximum amplitude is now amongst the highest in the industry, and provides a greater ability to put compaction energy into the ground.

Auto-vibe

There is a new automatic vibration function. When vibration is engaged, vibration will cease as the compactor slows beneath a predetermined speed. When propel resumes, vibration recommences at a predetermined speed. This feature contributes to uniform, high-quality work.

Smooth Drum

Smooth drums are ideal for compacting granular materials and can be equipped with an optional padfoot shell kit for compacting cohesive and semi-cohesive materials.

Universal Bumper

The universal bumper helps add weight to the drum as well as making it easier to equip the machine with the optional padfoot shell kit.

Cat Diesel Engine

The B-Series Vibratory Soil Compactors feature a Cat engine that offers enhanced efficiency, better serviceability, ample power, and less noise. Cat engines utilize technologies to meet emission standards. This innovative engine yields cleaner combustion and delivers steady power in all operating conditions with optimal fuel efficiency.

Large Cooling Package

B-Series Vibratory Soil Compactors are equipped with a large cooling package and a variable speed fan. The large system helps to keep operating temperatures within optimal ranges. The variable speed fan reduces power draw by only operating at the speed that is necessary to cool the system. The reduced power draw contributes to more efficient use of fuel.

Eco-mode

The B-Series vibratory soil compactors are equipped with Eco-mode, a function which helps to economize the use of fuel. When the machine idles for a predetermined amount of time, Eco-mode is engaged and the engine rpm is lowered. When the propel is engaged, higher engine speeds resume. For certain applications, Eco-mode can be engaged to operate the engine at lower rpm than normal. The lower engine speed results in less fuel burn. Eco-mode can also be programmed to shut down the engine entirely after a user-defined amount of time.

Automatic Speed Control

Automatic Speed Control is a feature that allows the operator to select a maximum working speed. Once selected, the speed can consistently be reached by engaging the propel lever to the full stroke. Consistent speed contributes to compaction quality by making it easier to maintain compaction uniformity.
Operator's Seat

A new standard cloth operator's seat design rotates to the right 20 degrees and integrates the propel stick and control console with LCD user display on the right armrest. The design allows the controls and display to comfortably follow the operator as the seat is rotated. The seat has a retractable seat belt. A deluxe, high-back, air-ride seat is available as an option on Cab-equipped machines.

Multi-function LCD Display

The operator's seat has a standard control console with a multi-function LCD display unit integrated with the seat arm. The display functions as a gauge cluster as well as provides diagnostics and additional data to the operator. Machines that are equipped with Cat Compaction Control output compaction measurements to the display as well.

Compaction Meter Value (CMV)

Compaction Meter Value (CMV) is an accelerometer-based measurement system for granular soils. It is only available on smooth-drum soil compactors (CS models). Functioning while the drum vibrates, it measures deep into the ground, 1.0 to 1.2 m (3-4 ft), providing the operator with a picture of what is beneath the surface. CMV can reveal many things to a trained operator, such as the location of hidden anomalies (buried objects, rocks, clay balls, etc.) or areas of poor compaction. It can even indicate the need for more moisture to aid compaction.

Machine Drive Power (MDP)

Machine Drive Power (MDP) is an exclusive technology only available from Caterpillar. MDP indicates soil stiffness by measuring rolling resistance. It is available on all Cat B-Series soil compactors- both smooth drums and padfoots. It can also be used by smooth drum machines equipped with padfoot shell kits. It is effective on all soil types, and can function when the drum is static or vibrating. MDP measures closer to depth of the lifts of materials being compacted, around 30-60 cm (1-2 ft) deep. MDP is more flexible than CMV because it can be used on all soil types, and because it measures more shallow than CMV, which allows results to be correlated with portable measuring equipment such as lightweight falling deflectometers and nuclear gauges. Because it does not require the drum to vibrate, there is less risk of de-compaction when used for proofrolling.

GNSS Mapping Capability

Cat Compaction Control can be augmented by adding an optional Global Navigation Satellite System (GNSS) mapping antenna and a dedicated display unit, which provides SBAS-level accuracy and allows the operator to visually monitor results, map them to locations and save the data for analysis or documentation purposes. An RTK GNSS mapping capability is also available that provides greater accuracy than SBAS

Long Service Intervals

Long service intervals contribute to more productivity and lower owning and operating costs. The vibratory system scheduled oil change interval is 3 years/3,000 hours. The hydraulic oil service interval is 3,000 hours. Engine oil service is every 500 hours.

Maintenance-free Hitch

The hitch features sealed-for-life bearings that never need greasing.
Specs
Long Name:
CS68B Vibratory Soil Compactor
Operating Weight - With Cab
31572 lb / 14325 kg
Weight - Drum with Cab
20164 lb / 9150 kg
Compaction Width
84 in / 2134 mm
Travel Speed - Maximum
7 mile/h / 11.4 km/h
Ground Clearance
17.2 in / 437 mm
Static Linear Load - With Cab
240.1 lb/in / 42.9 kg/cm
Turning Radius - Inside Drum Edge
12.08 ft / 3.68 m
Gross Power
157 HP / 117 kW
Engine Model
Cat C4.4 with ACERT
Height - With ROPS/FOPS or Cab
10.25 ft / 3.11 m
Drum Width
84 in / 2134 mm
Overall Width - With Blade Option
8.25 ft / 2.5 m
Overall Length
19.83 ft / 6.05 m
Drum Diameter
60.4 in / 1534 mm
Wheel Base
9.58 ft / 2.9 m
Overall Width
7.67 ft / 2.33 m
Overall Length - With Blade Option
21.5 ft / 6.55 m
Optional Blade Height
27.1 in / 688 mm
Centrifugal Force - Maximum
67600 lb / 301 kN
Nominal Amplitude - High
0.083 in / 2.1 mm
Vibratory Frequency - Standard
30.5 Hz (1830 vpm)
Centrifugal Force - Minimum
31670 lb / 141 kN
Nominal Amplitude - Low
0.039 in / 0.98 mm
Variable Frequency Option Range
23.3 - 30.5 Hz (1400-1830 vpm)
Service Refill Capacities
Fuel Tank Capacity
64 gal (US) / 242 l
SEE HOW CS68B COMPARES AGAINST FREQUENTLY COMPARED PRODUCTS.
Vibratory Soil Compactors
CS68B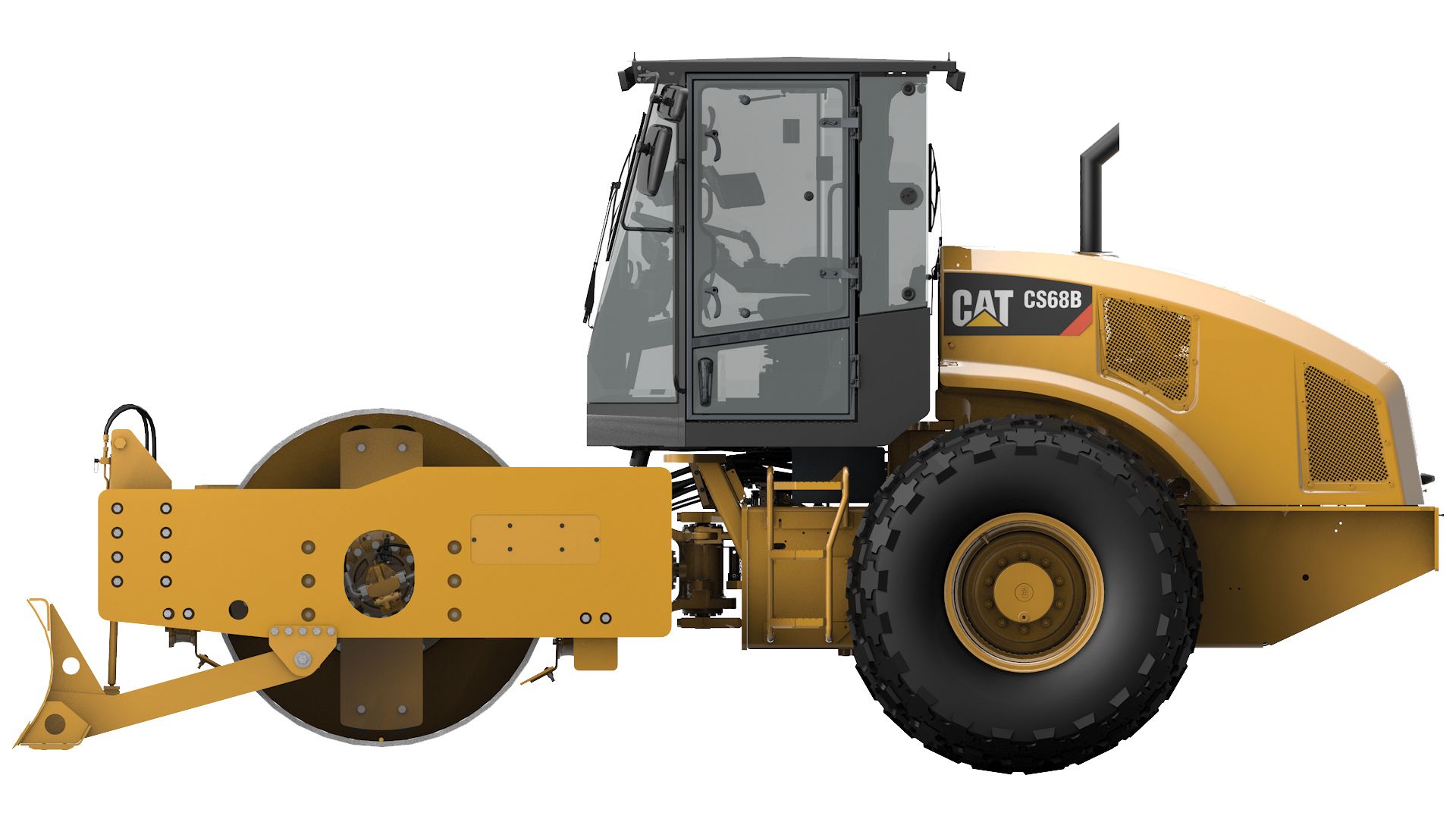 Brand

Cat

Status

Current

Operating Weight - With Cab

31572 lb / 14325 kg

Weight - Drum with Cab

20164 lb / 9150 kg

Compaction Width

84 in / 2134 mm

Travel Speed - Maximum

7 mile/h / 11.4 km/h

Ground Clearance

17.2 in / 437 mm

Static Linear Load - With Cab

240.1 lb/in / 42.9 kg/cm

Turning Radius - Inside Drum Edge

12.08 ft / 3.68 m

Gross Power

157 HP / 117 kW

Engine Model

Cat C4.4 with ACERT

Height - With ROPS/FOPS or Cab

10.25 ft / 3.11 m

Drum Width

84 in / 2134 mm

Overall Length

19.83 ft / 6.05 m

Drum Diameter

60.4 in / 1534 mm

Wheel Base

9.58 ft / 2.9 m

Overall Width

7.67 ft / 2.33 m

Centrifugal Force - Maximum

67600 lb / 301 kN

Nominal Amplitude - High

0.083 in / 2.1 mm

Vibratory Frequency - Standard

30.5 Hz (1830 vpm)

Centrifugal Force - Minimum

31670 lb / 141 kN

Nominal Amplitude - Low

0.039 in / 0.98 mm

Variable Frequency Option Range

23.3 - 30.5 Hz (1400-1830 vpm)

Tires

23.1 x 26

Fuel Tank Capacity

64 gal (US) / 242 l
Vibratory Soil Compactors
CS64B
Brand

Cat

Status

Current

Operating Weight - With Cab

26569 lb / 12055 kg

Weight - Drum with Cab

15690 lb / 7120 kg

Compaction Width

84 in / 2134 mm

Travel Speed - Maximum

6.8 mile/h / 11 km/h

Ground Clearance

17.4 in / 442 mm

Static Linear Load - With Cab

186.8 lb/in / 33.4 kg/cm

Turning Radius - Inside Drum Edge

12.08 ft / 3.68 m

Gross Power

131 HP / 98 kW

Engine Model

Cat C4.4 with ACERT

Height - With ROPS/FOPS or Cab

10.25 ft / 3.11 m

Drum Width

84 in / 2134 mm

Overall Length

19.17 ft / 5.85 m

Drum Diameter

60.4 in / 1534 mm

Wheel Base

9.58 ft / 2.9 m

Overall Width

7.58 ft / 2.3 m

Centrifugal Force - Maximum

52600 lb / 234 kN

Nominal Amplitude - High

0.075 in / 1.9 mm

Vibratory Frequency - Standard

30.5 Hz (1830 vpm)

Centrifugal Force - Minimum

29900 lb / 133 kN

Nominal Amplitude - Low

0.037 in / 0.95 mm

Variable Frequency Option Range

23.3 - 30.5 Hz (1400-1830 vpm)

Tires

23.1 x 26

Fuel Tank Capacity

64 gal (US) / 242 l
Vibratory Soil Compactors
CS74B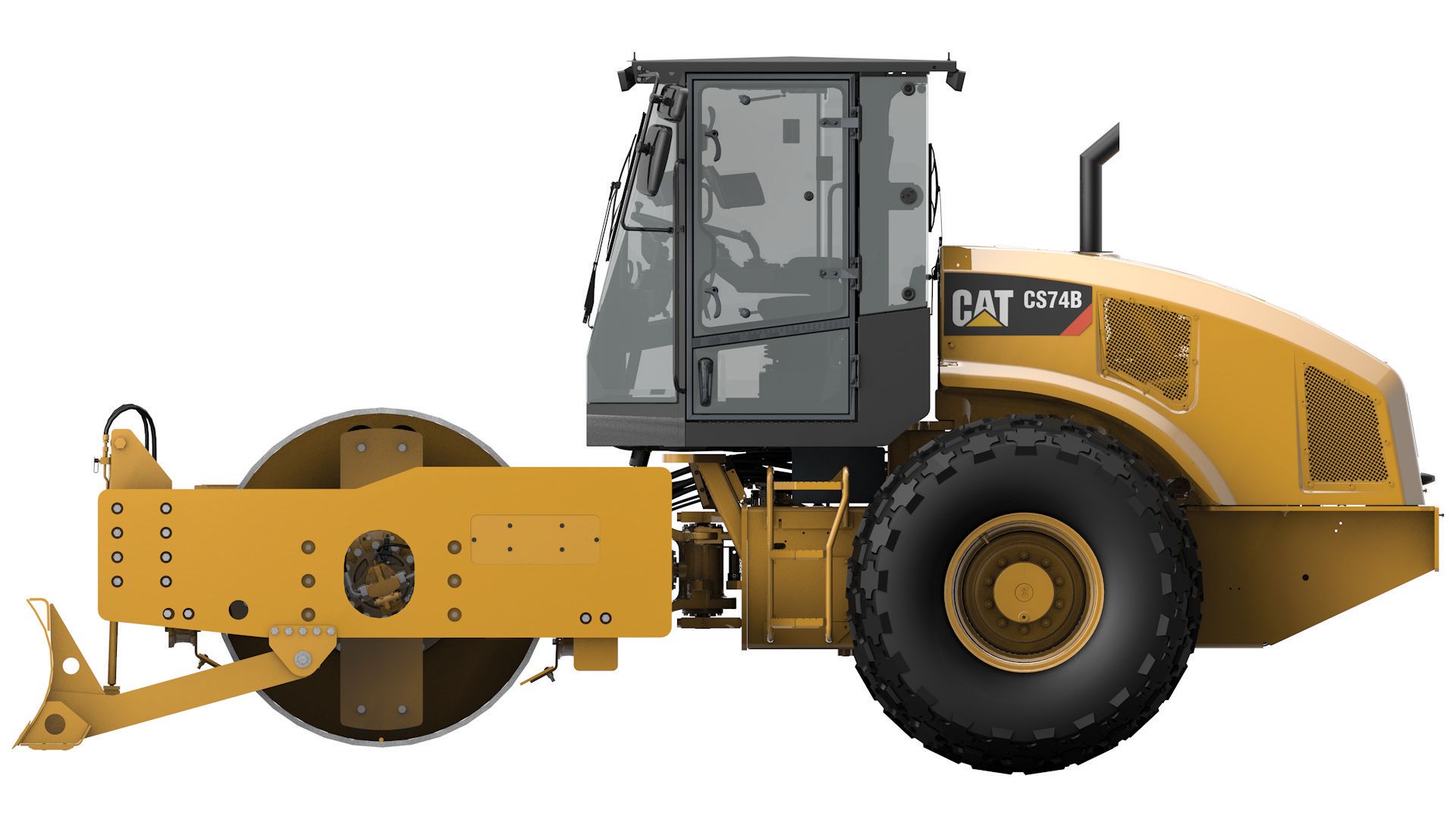 Brand

Cat

Status

Current

Operating Weight - With Cab

35264 lb / 16000 kg

Weight - Drum with Cab

23410 lb / 10620 kg

Compaction Width

84 in / 2134 mm

Travel Speed - Maximum

7 mile/h / 11.4 km/h

Ground Clearance

17.2 in / 437 mm

Static Linear Load - With Cab

278.7 lb/in / 49.7 kg/cm

Turning Radius - Inside Drum Edge

12.08 ft / 3.68 m

Gross Power

173.7 HP / 129.5 kW

Engine Model

Cat C4.4 with ACERT

Height - With ROPS/FOPS or Cab

10.25 ft / 3.11 m

Drum Width

84 in / 2134 mm

Overall Length

19.83 ft / 6.05 m

Drum Diameter

60.4 in / 1534 mm

Wheel Base

9.58 ft / 2.9 m

Overall Width

7.67 ft / 2.33 m

Centrifugal Force - Maximum

74600 lb / 332 kN

Nominal Amplitude - High

0.083 in / 2.1 mm

Vibratory Frequency - Standard

28 Hz (1680 vpm)

Centrifugal Force - Minimum

37300 lb / 166 kN

Nominal Amplitude - Low

0.039 in / 0.98 mm

Variable Frequency Option Range

23.3 - 28 Hz (1400-1680 vpm)

Tires

23.1 x 26

Fuel Tank Capacity

88 gal (US) / 332 l