G318 WH Demolition & Sorting Grapple: 587-8976
G318 WH Demolition & Sorting Grapple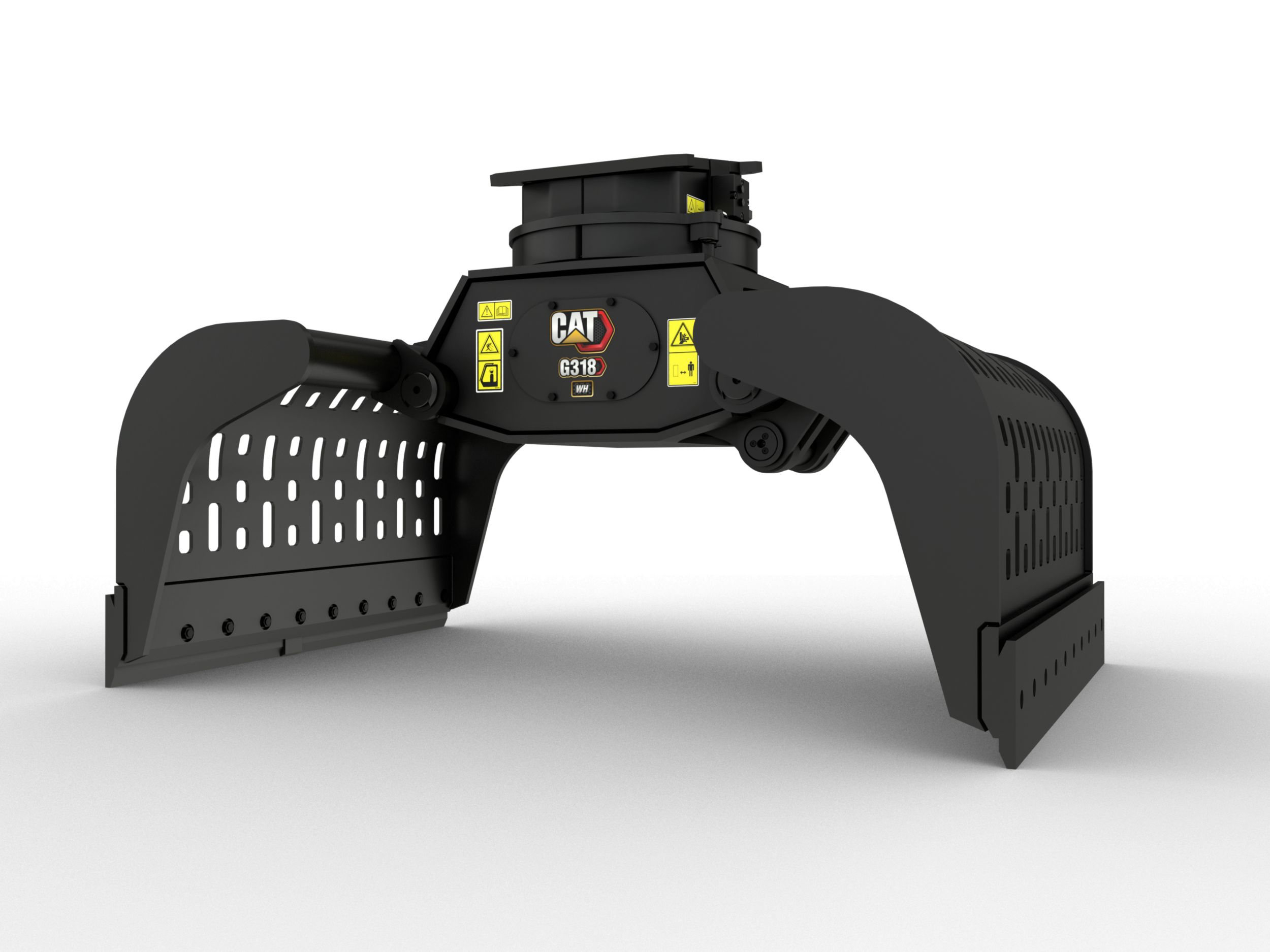 DESCRIPTION
Cat® Demolition & Sorting Grapples are designed for fast, productive material handling. Capable of high-volume, production loading and precise sorting, to enhance the productivity and efficiency of your operation. The grapples can handle anything from primary and secondary demolition to recycling to get the job done.
Precise Control
Move production-sized loads with wide shell opening for material handling.
Synchronized shells and total load control every move with the cross-mounted cylinder.
Maintain grip on large loads or pick, sort, and place small materials with overbite stops for edge-to-edge jaw contact and prevent overbite.
Screen dirt and other fine materials out through skeleton and perforated shells, which also give operator good visibility to the load.
Material sorting is quick, making it easier to sort on-site and saving on tipping fees.
Shell movement is smooth and controlled with cylinder damping.
Integrated stop locks the rotator and keeps the shells from drifting open during transport.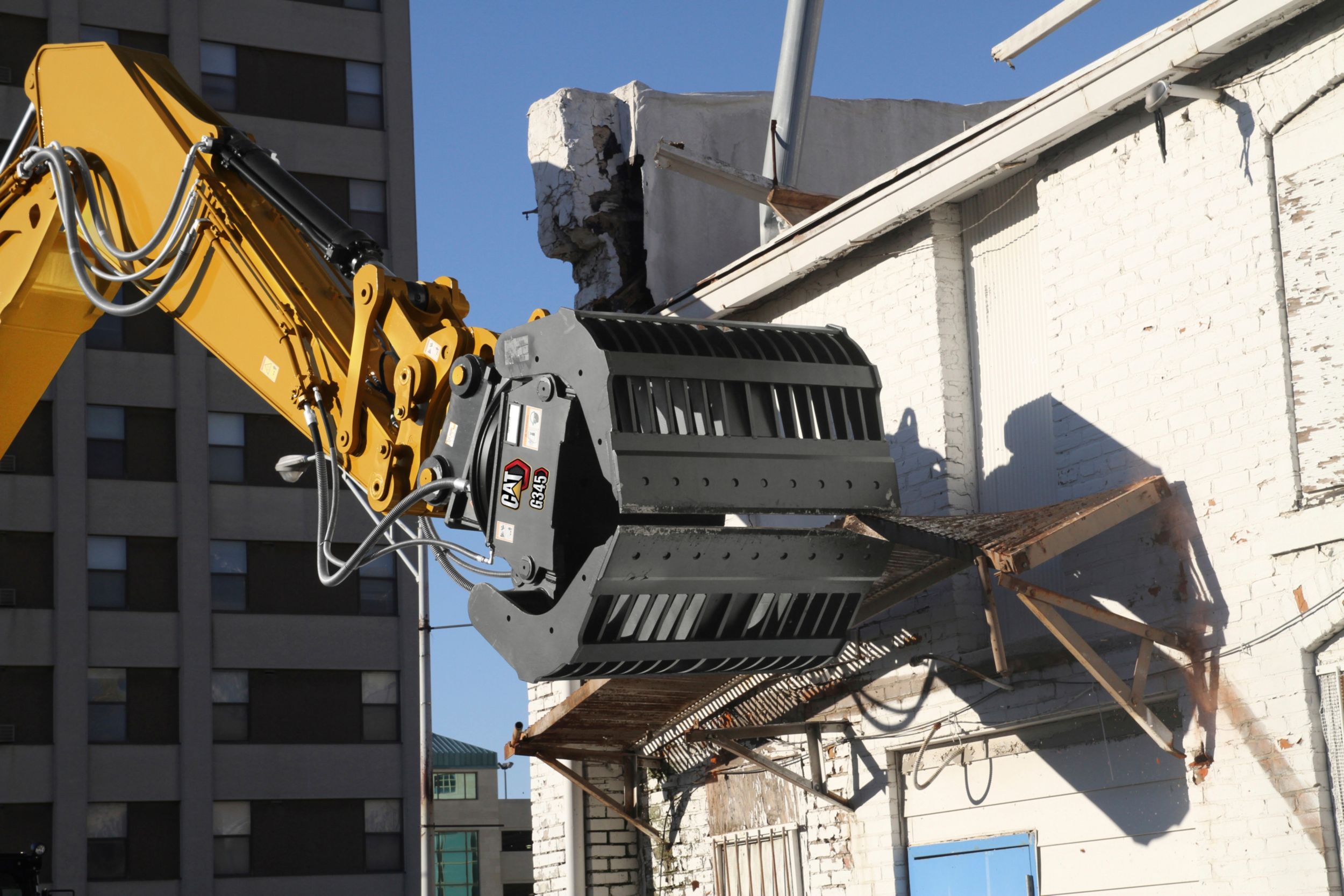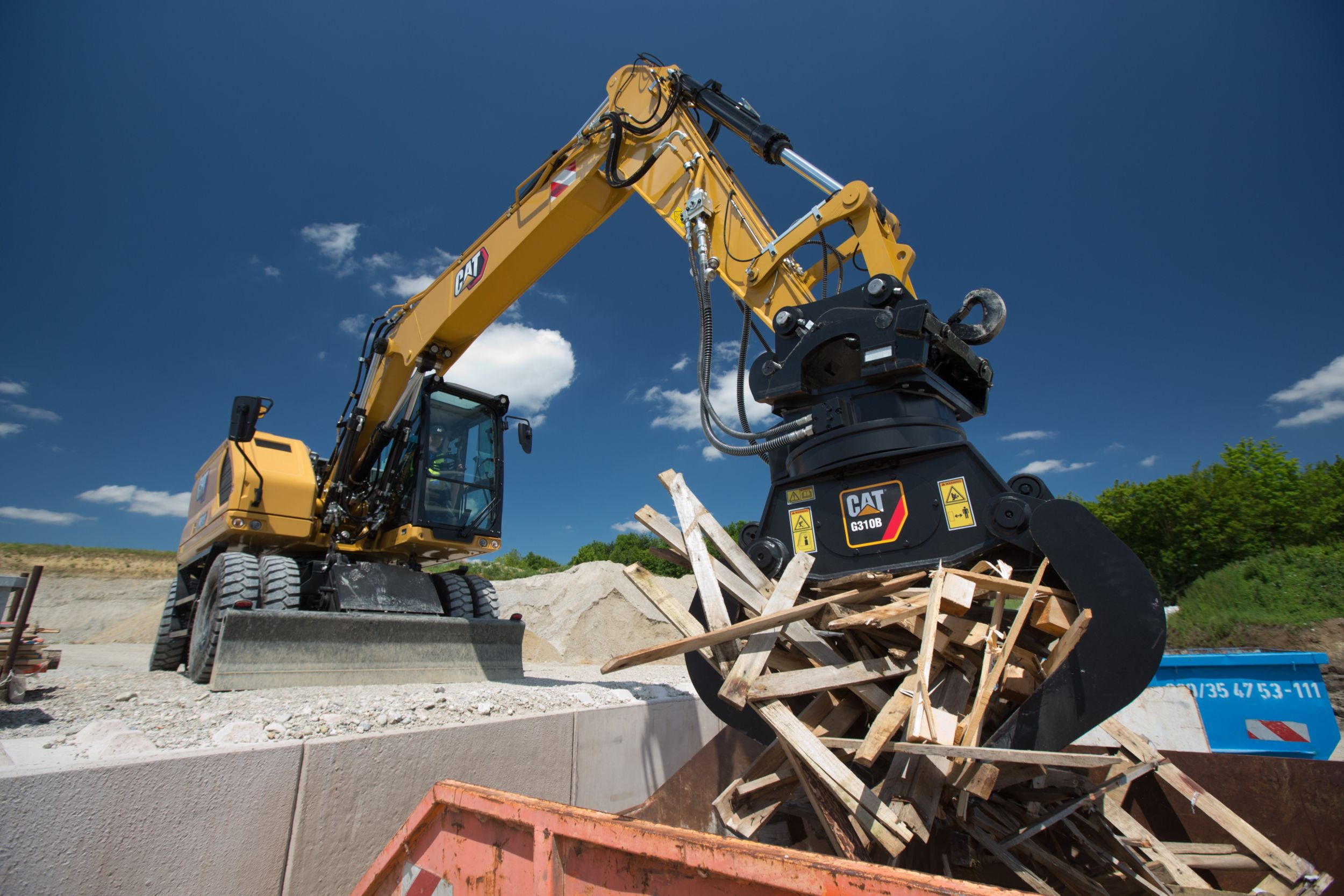 Powerful Performance
High clamping force and fast cycle times are the result of a single,large-bore cylinder design.
Standard Load Holding Valve:

Maintains pressure on cylinder and load without operator constantly engaging close function, improving operator comfortand ergonomics.
Keeps material secure in case of hydraulic pressure loss orhose damage for added safety.
When active, oil flow to the grapple is blocked, which reducesfuel consumption.

Work close to container edges and walls. Grapple shell profile haszero clearance from cutting edge against vertical walls and edges,providing access to corners in trucks, trailers, containers, bins, and90 degree angles.
Easy access to internal parts through large maintenance panels.
Get the most out of your grapple with a high torque motor andlonger service intervals.
Durable and Tough
Reinforced shells made of high-strength steel are designed forthe most demanding conditions and applications, such as: primaryand secondary demolition, recycling, waste transfer stations, treeremoval, building retaining walls, and more.
Material fills and flows smoothly and efficiently due to countersunkbolts in the cutting edge and smooth inner profile of the shell.
Grapple has ample rotation power to handle twisting and pullingmaterial apart with the motor located on the outer ring.
Increased reliability in the hydraulic system with swivel and open/close functions run independently of rotation.
Rotate and align the grapple to pick up and grab material from anyangle without moving the machine, saving wear and tear on yourundercarriage.
Operator stays safe in the cab while having the ability to strip downentire structures with the grapple.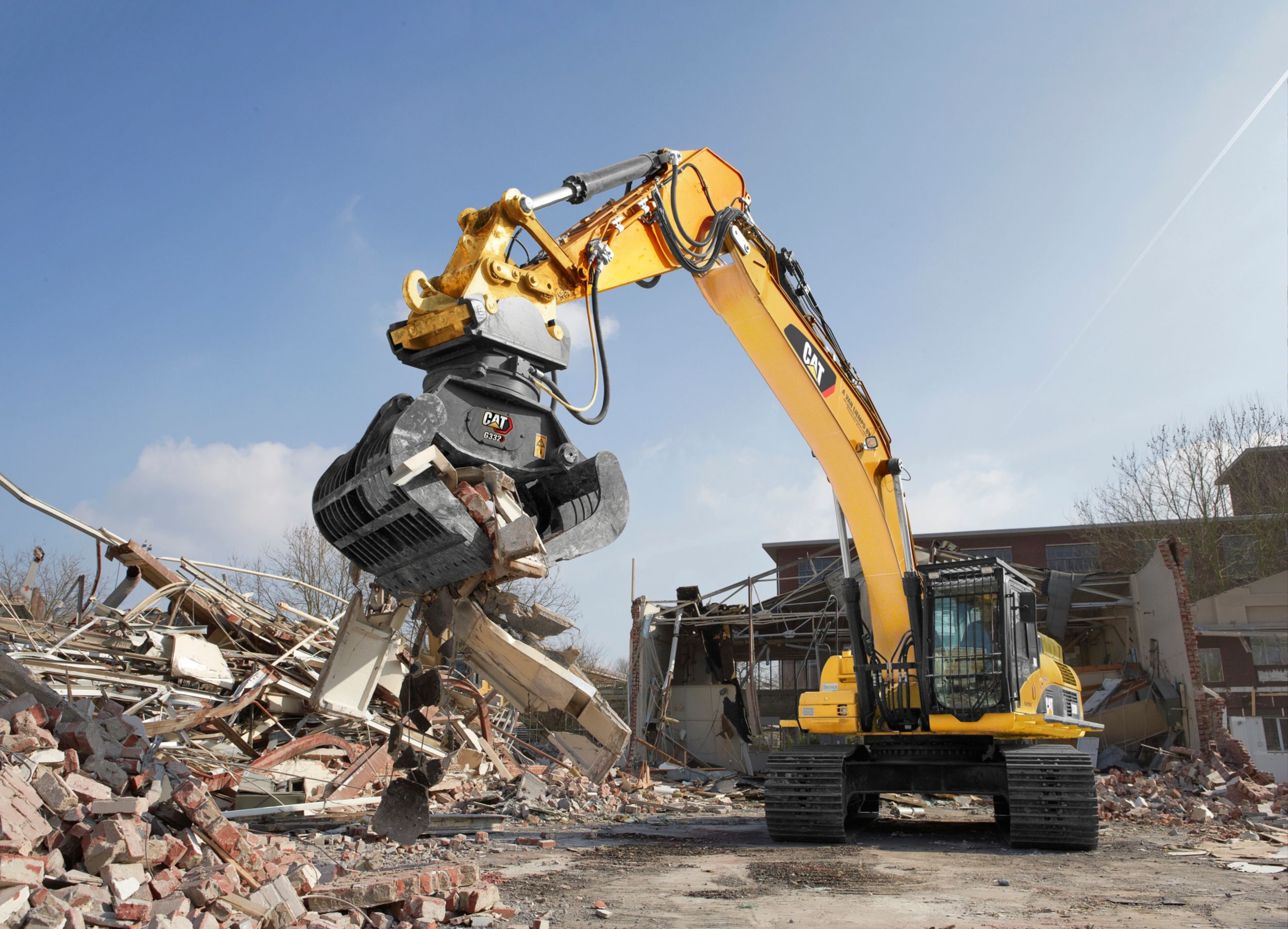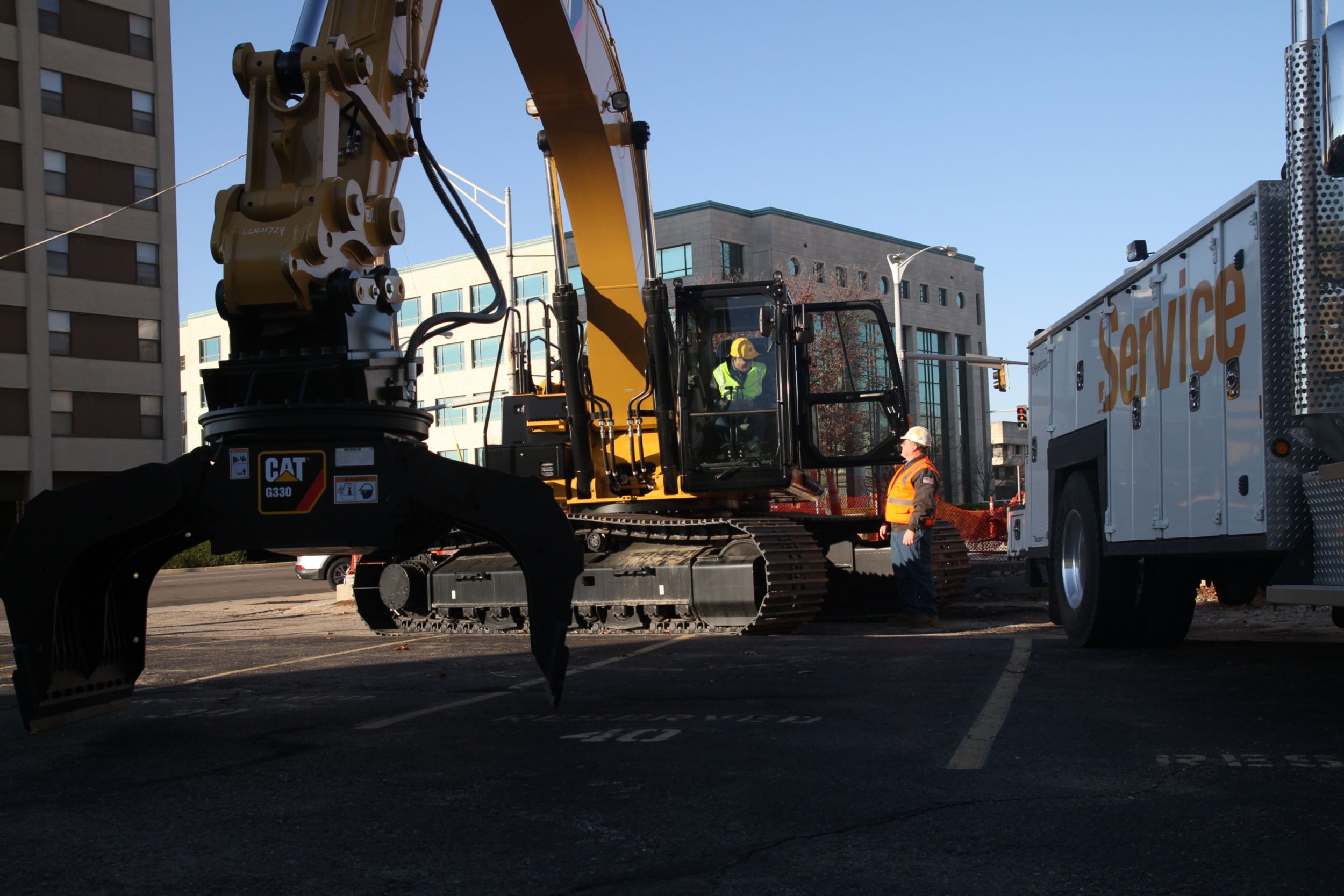 Reliable and Easy to Maintain
Protected rotation with high torque motor for a long service life.
Bearings and dust seals are inside and protected from damageand debris.
Internal dust seals provide less axial play, additionally machinedsurface, optimal protection against damage, and less greaseconsumption.
Minimize downtime with the easy-to-replace, abrasion-resistantcutting edge for your grapple.
Ground level access to all grease points and removable panels makegrapple maintenance simple.
Options to Meet Your Needs
Meet your specific needs with rotating and static grapples and different shell options.
G300 and G300 GC Grapples – Rotating

Rotate G300 Series grapples 360 degrees in either direction, with no limit due to the slewing ring and motor, for precise positioning.
Standard models: Optimal for severe applications and frequent use.
GC models: Optimal for lighter applications and occasional use.

G200 GC Grapples – Static

Non-rotating grapple intended use with Tiltrotator.
Optimal for light applications and occasional use.

Shell Types:

Skeleton shell – Suited for primary and secondary demolition and other harsh applications.
Closed shell – Best when used in high-volume processing and sorting applications for large, bulky materials.
Perforated shell – Largest capacity and best when used in high-volume processing and sorting applications for light material densities.

Grapples with waste handling nomenclature can handle 33-150% more material than the standard models of the same size.
Fixed upper head models: Some models include the CW dedicated coupler hinge plate fixed to the upper head. This creates more stability with the machine due to a lower overall build-up height and less weight.

Specs
Long Name:
G318 WH Demolition & Sorting Grapple
Name:
G318 WH Demolition & Sorting Grapple: 587-8976
Grapple Area
1.44 yd³ / 1100 l
Machine Class
20-25 Ton Excavators
Overall Width (Jaws Open)
86.61 in / 2200 mm
Overall Width (Jaws Closed)
55.43 in / 1408 mm
Overall Height (Jaws Open)
54.57 in / 1386 mm
Overall Height (Jaws Closed)
61.02 in / 1550 mm
Shell Type Options
Perforated