H95s
H95s Hydraulic Hammer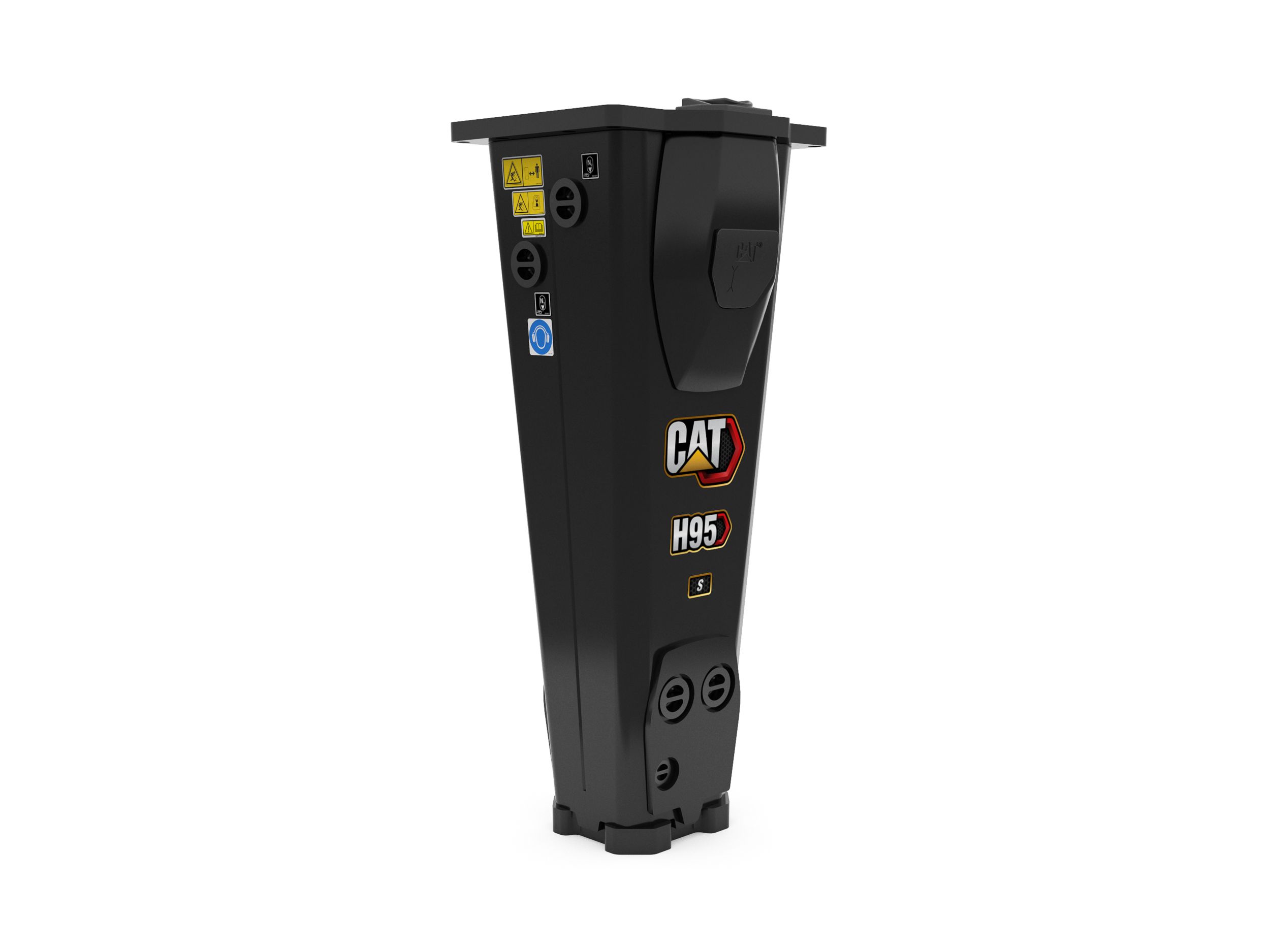 DESCRIPTION
Used for demolition and construction applications.Cat® Hammers for Skid Steer Loaders, Compact Track Loaders, Mini Excavators and Backhoe Loaders are high performance breakers, designed for maximum performance on demolition, construction, and road work.
Cat® H95Es Hydraulic Hammer
How to Charge an Empty Accumulator - Cat® E Series Hammers
An Attachment for Every Job - Cat® Work Tool Attachments
Application
Used in a wide range of construction and light demolition applications - such as breaking concrete sidewalks and driveways, pavement, roads, masonry, site prep and landscaping, and breaking frozen ground for utility repairs.
Silenced
Fully enclosed, silenced housing lowers overall noise level for a quieter, safer job site. Internal power cell is protected, designed and engineered to eliminate stress points.
Flat Top/Top-Mount Style
Flat top/top-mount style provides a larger work area and excellent operator visibility with a common footprint and hole pattern for optimum versatility. Top-mount style increases impact power by keeping breaker force and stick force in line. A top-mount bracket will transfer back significantly less recoil and bending stress into the end of the stick, resulting in reduced impact on machine structures. Full complement of mounting brackets is available to suite coupler or pin-on preference.
Auto Shut Off (ASO)
ASO instantly stops the piston when breaking through material, preventing blank firing, a key contributor to hammer wear. Internal stresses are reduced, hammer is protected regardless of operator skill level.
Tri-Suspension System
Tri-Suspension system comprises the suspension jacket, the upper and lower buffers. Suspension aligns power cell and gives manageable, smooth performance.
Standing Height Grease Point
Standing height grease point makes required maintenance comfortable and easy to perform.
Easy to Tune & Maintain
Gas ports and valves are easy to check and charge while hammer is mounted to machine.
Ports Positioned for Hose Protection
Improved routing protects against force and dirt during impact, eliminating downtime.
Hammer Tools
Tools are heat-treated, matched to piston diameter and provide optimum mass to deliver full blow energy.
Specs
Long Name:
H95s Hydraulic Hammer
Operating Weight - With Tool
1382.3 lb / 627 kg
Energy Class
1500.2 ft·lbf / 2034 J
Machine Class
7-10 Ton Mini Excavators, 415-450 Backhoe Loaders (No Side Shift)
Tool Shaft Diameter
3.4 in / 87.5 mm
Impact Frequency
700-1260 bpm
Minimum Operating Pressure
1450.4 psi / 10000 kPa
Minimum Carrier Weight
15399.3 lb / 6985 kg
Optimal Hydraulic Flow
70-150 lpm (18-40 gpm)
Overall Width
20.2 in / 512 mm
Overall Length
20.5 in / 520 mm
Overall Height
65.6 in / 1666 mm
Height - Without Tool
49.2 in / 1250 mm
Mounting Bracket Size
Extra Large