PM825
PM825 Cold Planer
The PM825 is a high-production, half-lane milling machine with a cutting width of 2505 mm (98.6 in) that performs controlled full-depth removal of asphalt and concrete pavements in a single pass.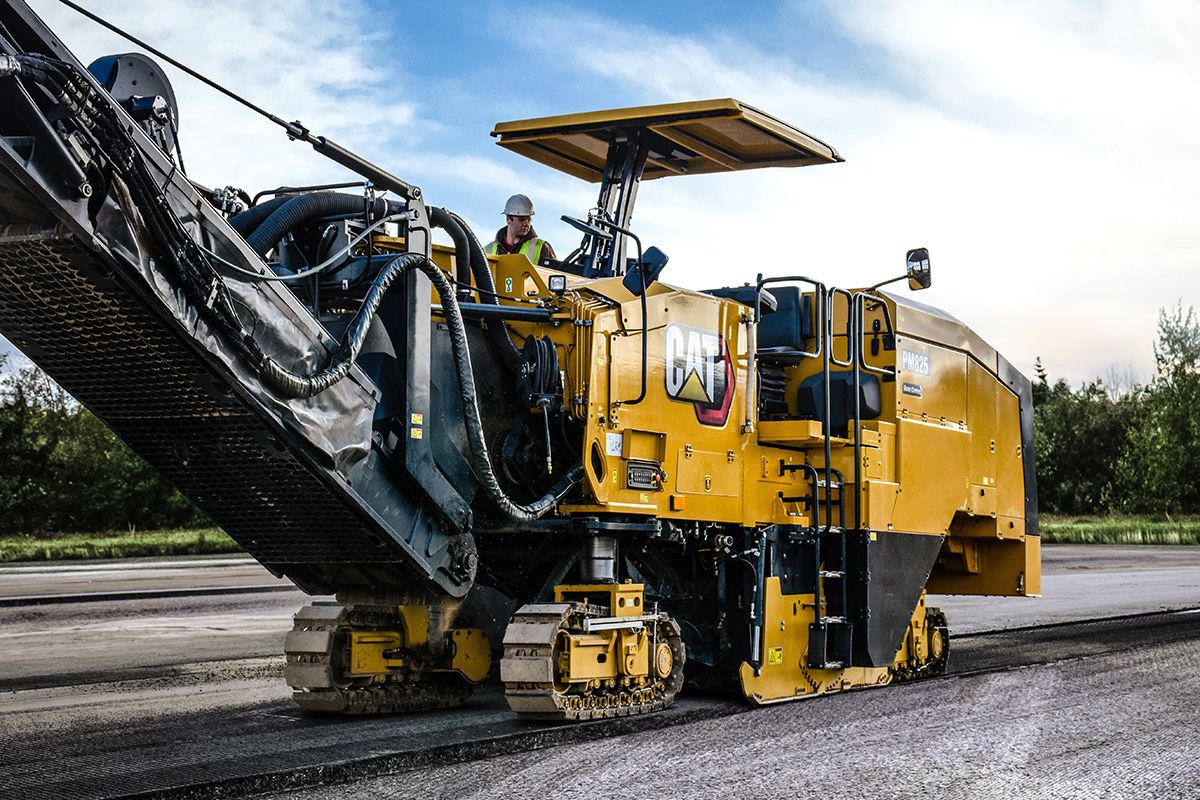 DESCRIPTION
The PM825 is a high-production, half-lane milling machine with a cutting width of 2505 mm (98.6 in) that performs controlled full-depth removal of asphalt and concrete pavements in a single pass.
Ramp In, Ramp Out & Jump Hold on Cat Mills
Cat® PM822 Cold Planer Working on Pikes Peak, Colorado
Efficient Performance
Powerful Cat® C18 twin-turbo engine meets regional emission standards
Smooth and efficient operation with Automatic Idle Control and multiple rotor speeds optimize output and demand on the engine
High capacity cooling system keeps engine at ideal temperatures for optimal fuel efficiency and lower emissions
Automatic load sensing on the rotor adjusts milling speed to prevent stalls and optimize production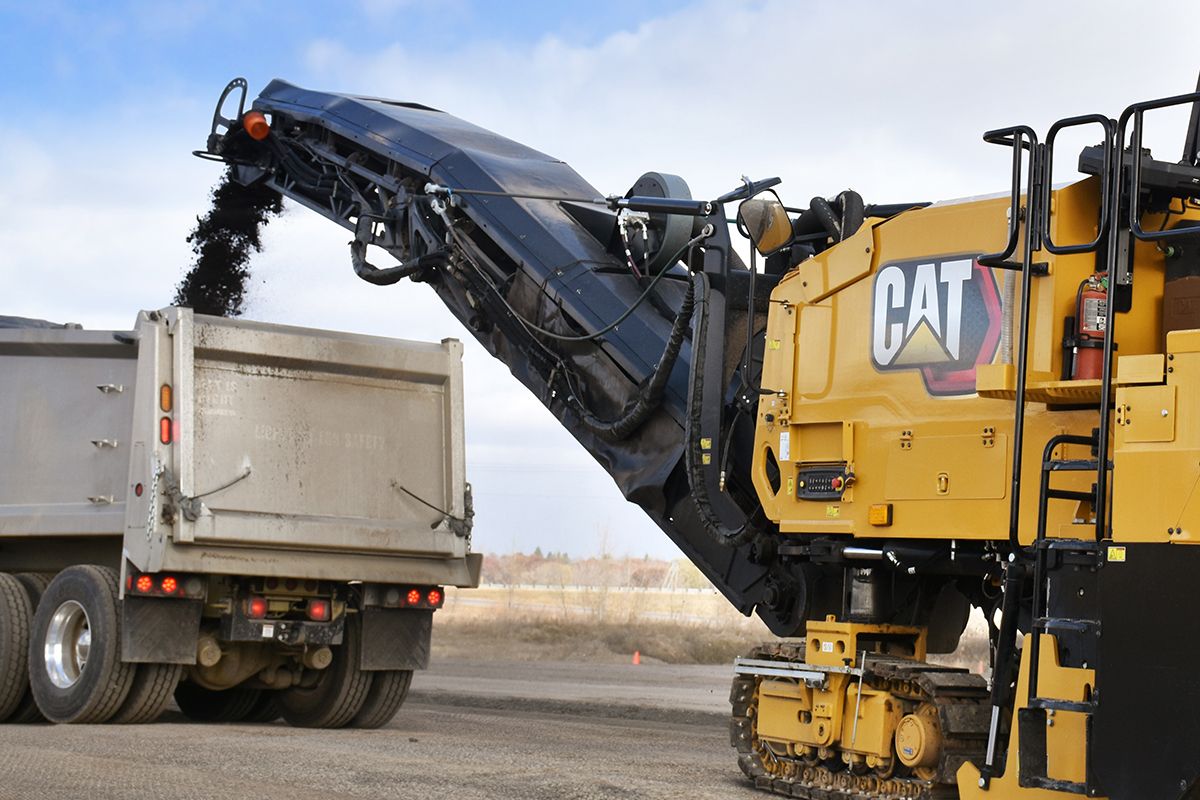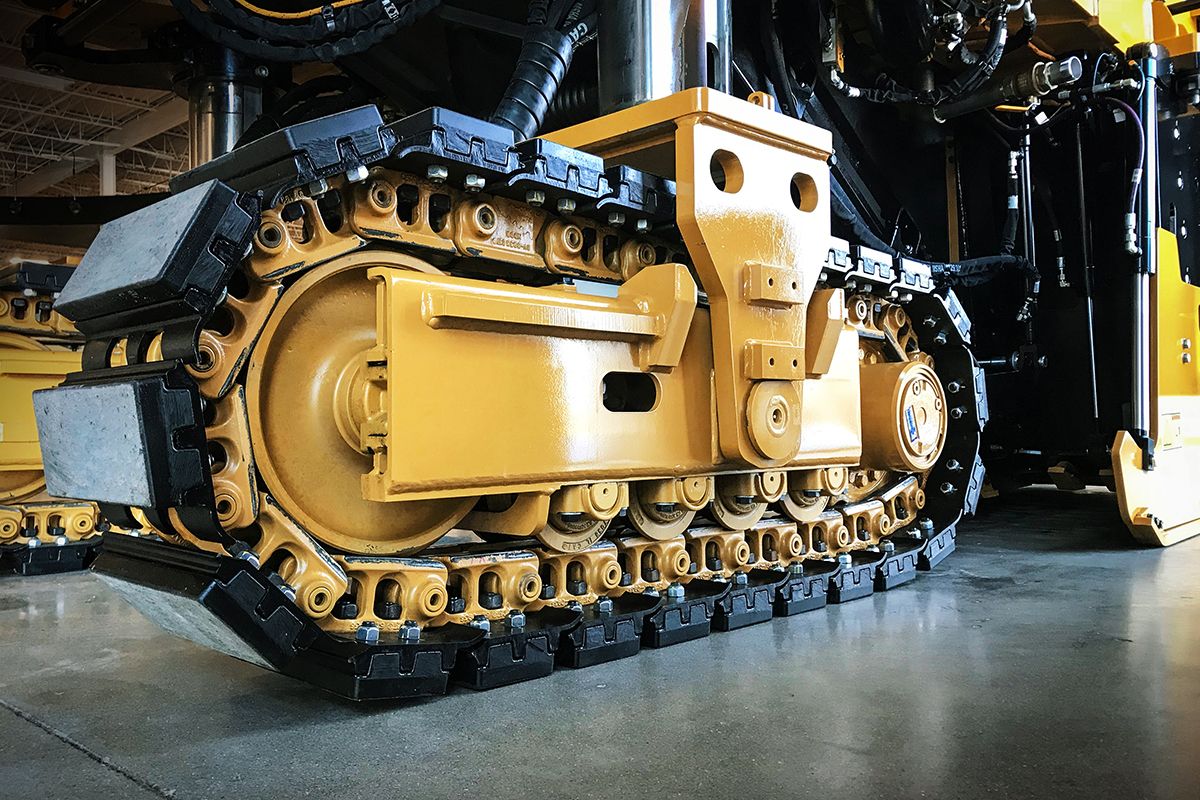 Maneuverability and Control
Reliable track undercarriage leverages proven designs from Cat dozers and an automatic tensioning system to ensure consistent performance and longer track life
Robust propel system features two independent propel pumps to drive two crawler tracks each, in a high-traction, cross-drive pattern
Automatic traction control maintains consistent speed in the most challenging applications
Four steering modes with advanced alignment and tracking provides precise steering geometry and reduces track pad wear
Ability to electronically switch between rotor speeds during operation
Material Removal
High-capacity conveyors provide efficient removal of milled material with outstanding discharge control
A wide opening and seamless belt effectively clear the rotor chamber
Adjust the belt speed to match material type and production rate, while the built in "boost" feature provides a temporary surge in belt speed to eject material faster and farther
The belt reverses for faster clean-up, while magnetic vinyl covers provide quick access to inspect the rollers for wear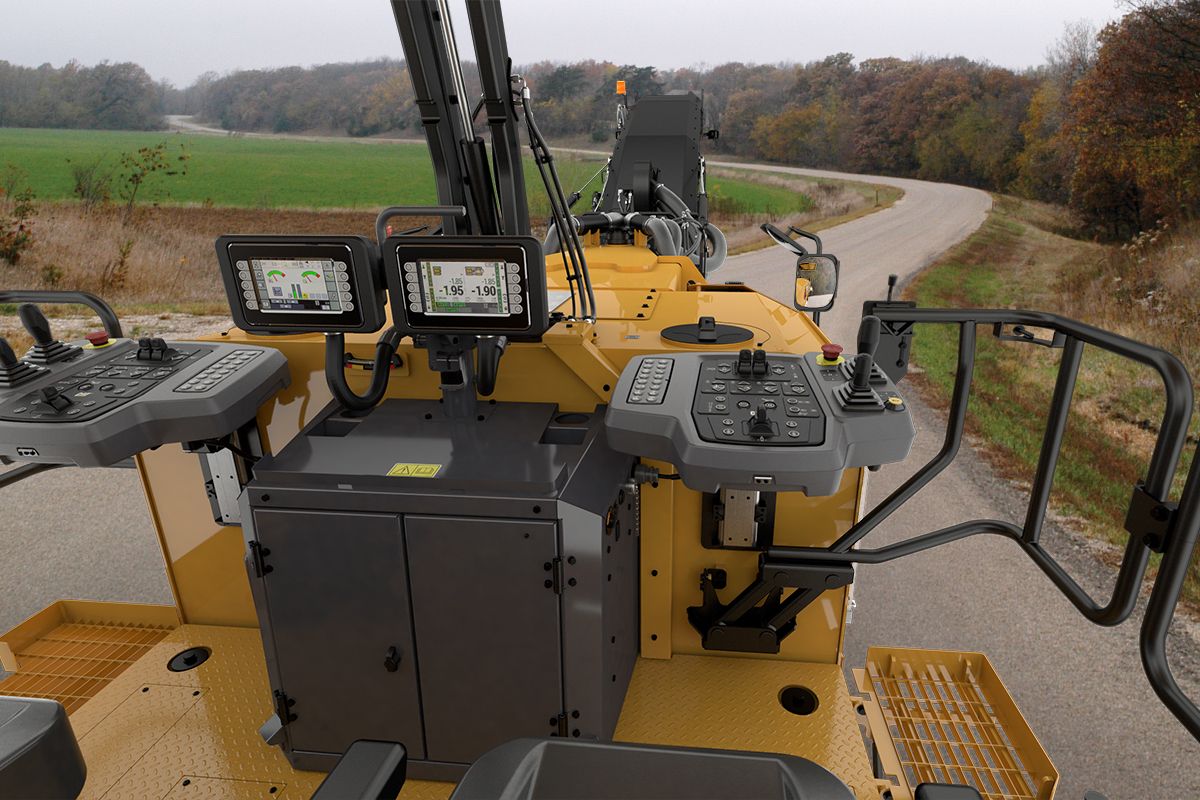 Comfortable Work Environment
Operate in comfort with height-adjustable operating consoles and intuitive, ergonomic controls
Retractable handrails stow and redeploy easily when approaching obstacles
Work day or night with backlit keypads and illuminate the work area around the machine with wide-dispersion and perimeter LED lighting options
Upgrade operator stations with optional suspension seats that reposition for improved visibility and comfort
Optional remote cameras enhance visibility to the cutting edge and conveyor
The single post, forward-folding powered canopy option with overhead LED lighting and integrated side extensions quickly stows and redeploys during operation to clear overhead obstacles with the simple push of a button, and optional windscreens can be added for increased comfort
Maximize dust removal from the working areas with the optional dust abatement system
Durable Cutting System
The rotor drive system features a heavy-duty dry clutch, automatic belt-tensioning to prevent slippage and two high tensile (five-rib) belts to drive the rotor
Reinforced cutting chamber offers enhanced durability
Improved access simplifies rotor changes
Hardened full length side plate skis, inboard ski shoe, and anti-slab shoes reduce wear and maintenance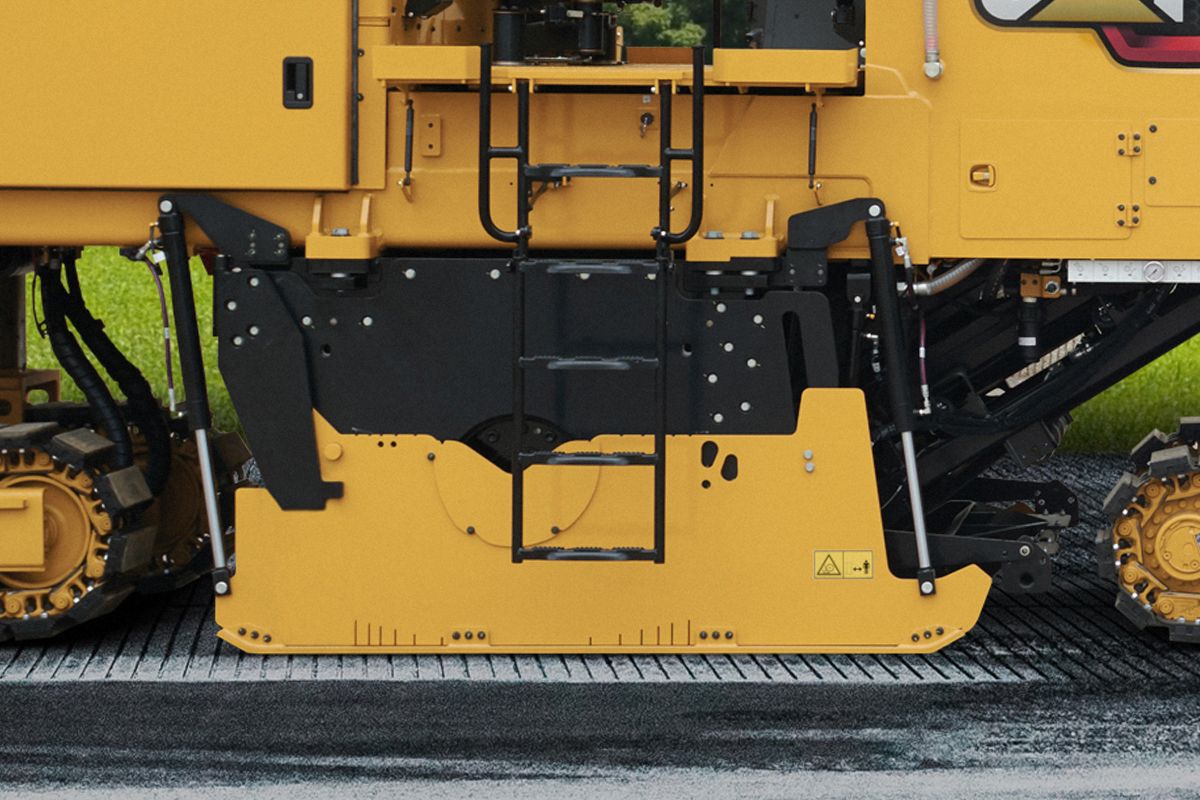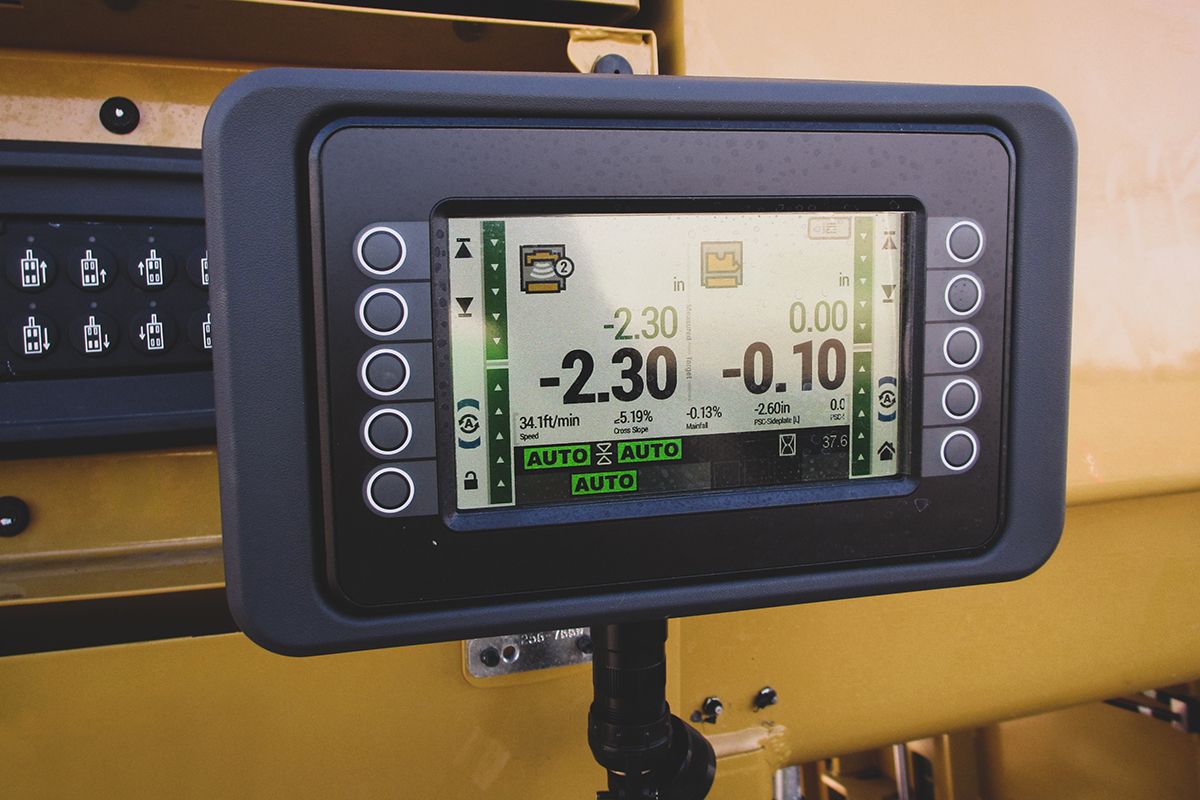 Boost Precision with Integrated Technology
Achieve accurate, repeatable and automatic cutting precision with the integrated Cat GRADE with Grade and Slope system
Control boxes can be repositioned without the need to reconfigure settings and the background color changes to night mode when the work lights are activated
Obtain full control of grade and slope from any control box
Seamlessly switch between multiple grade sensors for uninterrupted accuracy during milling
Adjust the speed at which the rotor drops into the cut for optimal machine control
Set and automate transitions in/out of cuts and save settings for future jobs
Clear obstacles in the cutting path with ease using the obstacle jump feature
Enhance for full 3D milling operation (additional hardware required)
System K Rotors
Cat System K rotors feature efficient material flow with an excellent cutting pattern for numerous applications
A tapered dual-retention design secures toolholders in place without a retaining pin, bolt or setscrew, speeding up replacement and eliminating the need for fasteners or torqueing
Reversible paddles and high strength alloys reduce wear and abrasion to extend rotor life
Optional diamond bits can extend replacement intervals up to 80 times longer than conventional carbide bits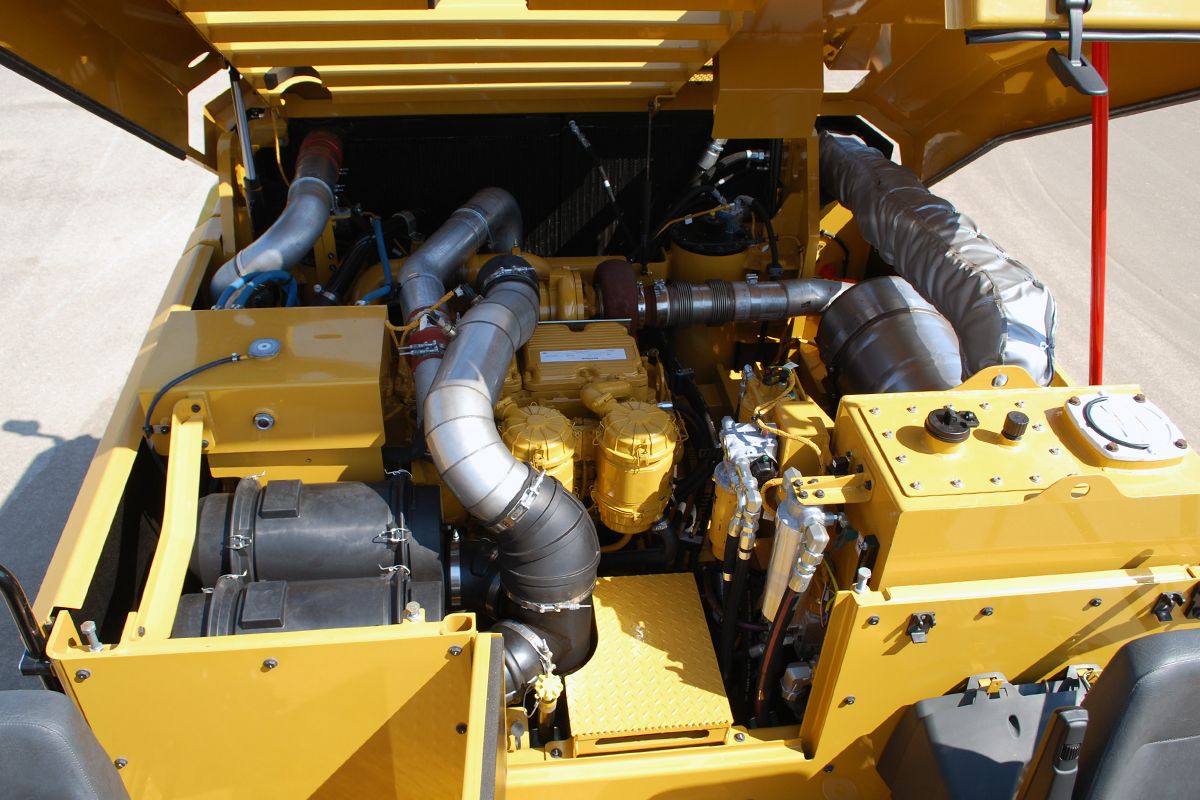 Simplified Service
Maintenance is easier and faster with large service doors and power hood for walk-in access to critical components
Maintenance-free track components and easy to replace track pads lower service costs
Standard ground-level controls and an optional electrically-operated rotor turning device with pendant simplify bit removal and replacement
High and low pressure washdown options connect to the onboard water tank for convenient clean-up
Operate select machine functions during maintenance and service with the accessory drive system
Electrical system wiring is color-coded and numbered for easy identification and wrapped in a protective, abrasion-resistant nylon braid for longer life
Extended hydraulic oil service intervals: 3000 hours without oil sampling, 6000 hours with oil sampling
Track scheduled maintenance with Cat Product Link™ telematics services
Electronic Control Modules (ECMs) monitor machine systems to alert the operator of performance issues and can be paired with Product Link options to enable additional remote services with your local Cat dealer
Multi-piece, cartridge-style engine filters are environmentally friendly, reducing waste and lowering replacement costs
Convenient parts availability, dealer locations and service repair kits simplify ordering of high wear components
Convenience Features
Cat cold planers offer a variety of features and options designed to make daily operation and maintenance tasks easier.
Pause and resume machine functions with the push of a button during truck exchanges
Optional magnetic paint can holders
Hooks for water hose storage
Angled water fill connection
Easily accessible shovel holder
Top and side view rotor depth indicators
Compressed air connection in center operator console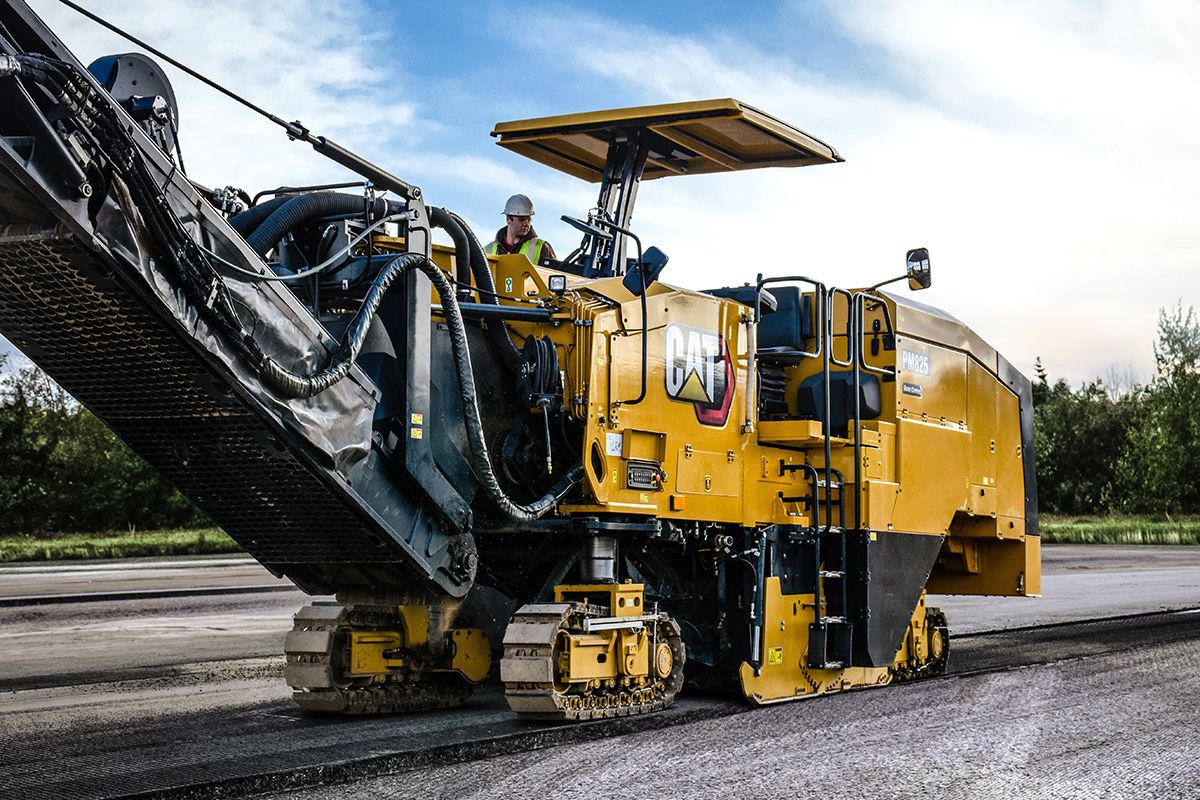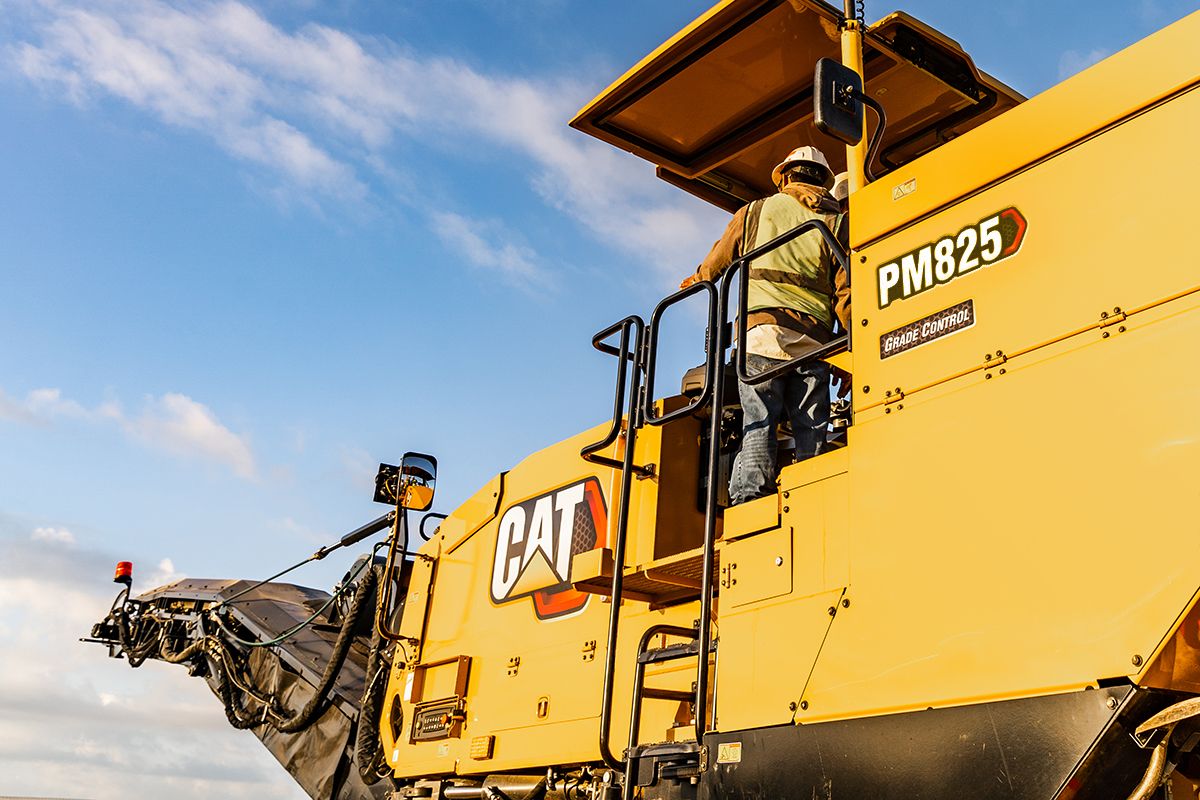 Sustainability
The Cat C18 Twin Turbo engine meets U.S. EPA Tier 4 Final and EU Stage V emission standards.
Cat U.S. EPA Tier 4 Final and EU Stage V diesel engines are required to use ULSD (ultra-low sulfur diesel fuel with 15 ppm of sulfur or less) or ULSD blended with the following lower-carbon intensity fuels up to: 20% biodiesel FAME (fatty acid methyl ester) or 100% renewable diesel, HVO (hydrotreated vegetable oil) and GTL (gas-to-liquid) fuels. Refer to guidelines for successful application. Please consult your Cat dealer or "Caterpillar Machine Fluids Recommendations" (SEBU6250) for details.
Automatic Idle Control helps reduce unnecessary fuel burn and greenhouse gas emissions by allowing the engine to automatically go into idle mode when the machine is not working.
Automatic Load Control helps you save fuel and reduces greenhouse gas emissions by automatically matching milling speed to engine load for maximum production at peak efficiency.
Standby/Resume pauses major machine functions and lowers engine speed to conserve fuel and helps reduce greenhouse gas emissions during truck exchanges.
Traction Control maintains consistent traction to increase machine efficiency, helps reduce fuel burn and greenhouse gas emissions.
The engine, fuel and hydraulic systems are equipped with ecology drains for easy servicing and to help prevent spillage.
Extended maintenance intervals not only reduce downtime but decrease the amount of fluid and filters that are replaced over the life of the machine: hydraulic oil 6000 hours with sampling, coolant 12000 hours with extender.
Cat Scheduled Oil Sampling (S•O•S℠) Services helps reveal excessive wear, contaminated fluids or other "unseen" issues that can shorten component life. In many cases, you can extend oil and coolant change intervals by using fluid monitoring. Consult your Cat dealer or the machine's operation and maintenance manual for more information.
Cat Grade with Grade and Slope for cold planers allows for accurate material planning to help reduce overages during the paving process and increase final project quality for a longer lasting road surface.
Don't waste fuel idling. Cat VisionLink® online fleet monitoring helps you manage idle time and reduce fuel burn and greenhouse gas emissions.
VisionLink displays the CO2 emissions for monitored assets, calculated by fuel type for the Runtime Fuel Burned each day in a selected date range.
Standard Equipment
Optional Equipment
Specs
Docs
Specs
Long Name:
PM825 Cold Planer
Milling Width
98.6 in / 2505 mm
Rated Power
806 HP / 601 kW
Operating Weight
82673 lb / 37500 kg
Maximum Milling Depth
13 in / 330 mm
Rotor Speeds
100 / 109 / 118 rpm
Engine
Cat C18 twin-turbo
Maximum Travel Speed
3.7 mile/h / 5.9 km/h
Maximum Milling Speed
328 ft/min / 100 m/min
Operating Length - Conveyor Up
47.64 ft / 14.52 m
Operating Width
11.02 ft / 3.36 m
Height - Canopy
13.29 ft / 4.05 m
Maximum Truck Clearance
15.94 ft / 4.86 m
Minimum Right Cutting Radius
4.92 ft / 1.5 m
Minimum Left Cutting Radius
6.56 ft / 2 m
Conveyor Swing
60 degrees from center
Transport Length
40.78 ft / 12.43 m
Transport Width
9.88 ft / 3.01 m
Transport Height
9.84 ft / 3 m
Transport Weight
74075 lb / 33600 kg
Service Refill Capacities
Water Spray System Tank
898.2 gal (US) / 3400 l
Cooling System
27.5 gal (US) / 104 l
Fuel Tank
292.7 gal (US) / 1108 l
Engine Oil
17.2 gal (US) / 65 l
Hydraulic Tank
29.9 gal (US) / 113 l
SEE HOW PM825 COMPARES AGAINST FREQUENTLY COMPARED PRODUCTS.
Cold Planer
PM825
Brand

Caterpillar

Status

Current

Milling Width

98.6 in / 2505 mm

Rated Power

806 HP / 601 kW

Operating Weight

82673 lb / 37500 kg

Maximum Milling Depth

13 in / 330 mm

Rotor Speeds

100 / 109 / 118 rpm

Number of Bits

203

Engine

Cat C18 twin-turbo

Maximum Travel Speed

3.7 mile/h / 5.9 km/h

Maximum Milling Speed

328 ft/min / 100 m/min

Operating Length - Conveyor Up

47.64 ft / 14.52 m

Operating Width

11.02 ft / 3.36 m

Height - Canopy

13.29 ft / 4.05 m

Maximum Truck Clearance

15.94 ft / 4.86 m

Minimum Right Cutting Radius

4.92 ft / 1.5 m

Minimum Left Cutting Radius

6.56 ft / 2 m

Conveyor Swing

60 degrees from center

Transport Length

40.78 ft / 12.43 m

Transport Width

9.88 ft / 3.01 m

Transport Height

9.84 ft / 3 m

Transport Weight

74075 lb / 33600 kg

Water Spray System Tank

898.2 gal (US) / 3400 l

Cooling System

27.5 gal (US) / 104 l

Fuel Tank

292.7 gal (US) / 1108 l

Engine Oil

17.2 gal (US) / 65 l

Hydraulic Tank

29.9 gal (US) / 113 l
Cold Planer
PM822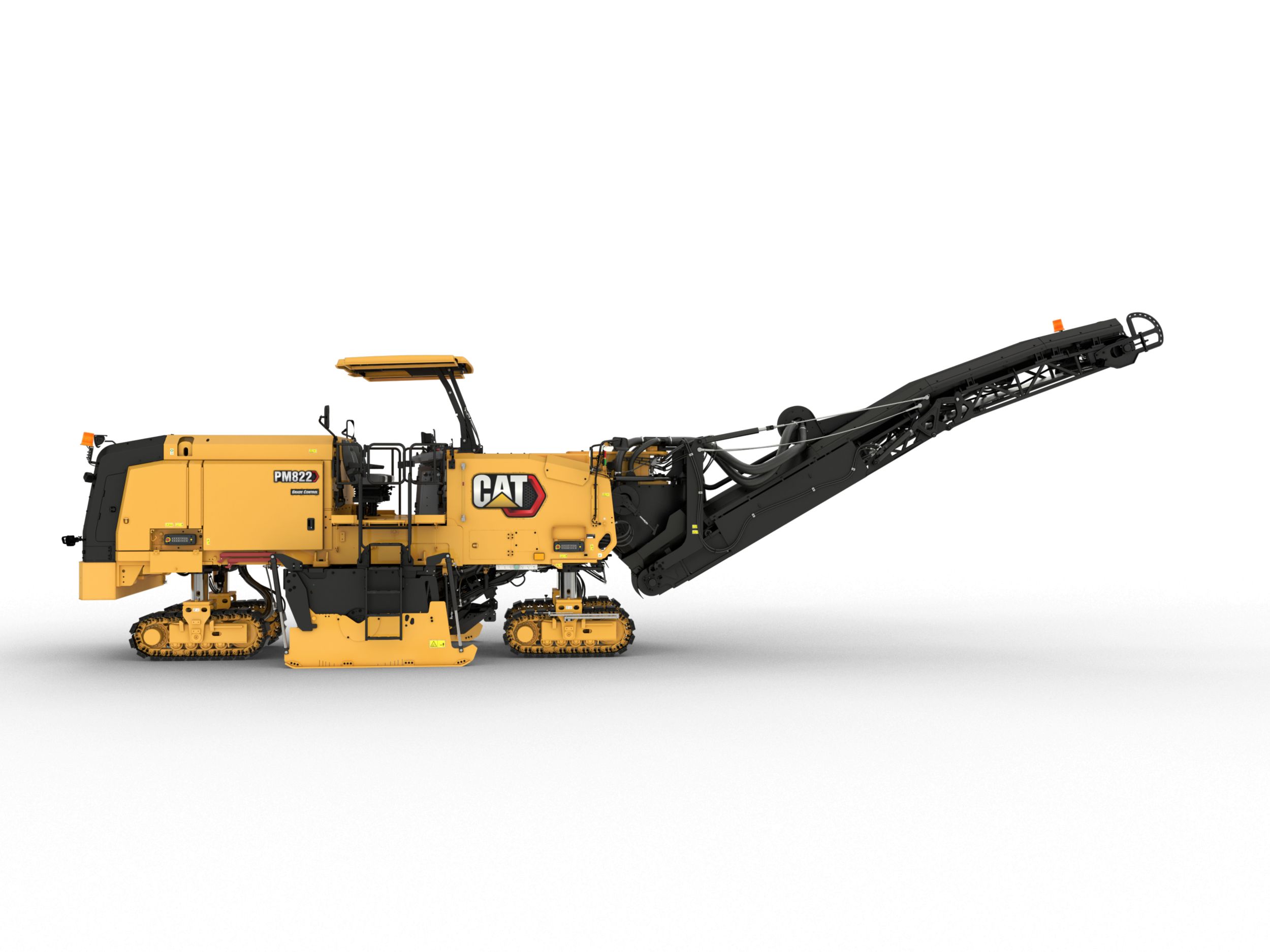 Brand

Caterpillar

Status

Current

Milling Width

88 in / 2235 mm

Rated Power

806 HP / 601 kW

Operating Weight

80910 lb / 36700 kg

Maximum Milling Depth

13 in / 330 mm

Rotor Speeds

100 / 109 / 118 rpm

Number of Bits

193

Engine

Cat C18 twin-turbo

Maximum Travel Speed

3.7 mile/h / 5.9 km/h

Maximum Milling Speed

328 ft/min / 100 m/min

Operating Length - Conveyor Up

47.64 ft / 14.52 m

Operating Width

10.2 ft / 3.11 m

Height - Canopy

13.29 ft / 4.05 m

Maximum Truck Clearance

15.94 ft / 4.86 m

Minimum Right Cutting Radius

5.91 ft / 1.8 m

Minimum Left Cutting Radius

6.56 ft / 2 m

Conveyor Swing

60 degrees from center

Transport Length

40.78 ft / 12.43 m

Transport Width

8.99 ft / 2.74 m

Transport Height

9.84 ft / 3 m

Transport Weight

72312 lb / 32800 kg

Water Spray System Tank

898.2 gal (US) / 3400 l

Cooling System

27.5 gal (US) / 104 l

Fuel Tank

292.7 gal (US) / 1108 l

Engine Oil

17.2 gal (US) / 65 l

Hydraulic Tank

29.9 gal (US) / 113 l
Cold Planer
PM820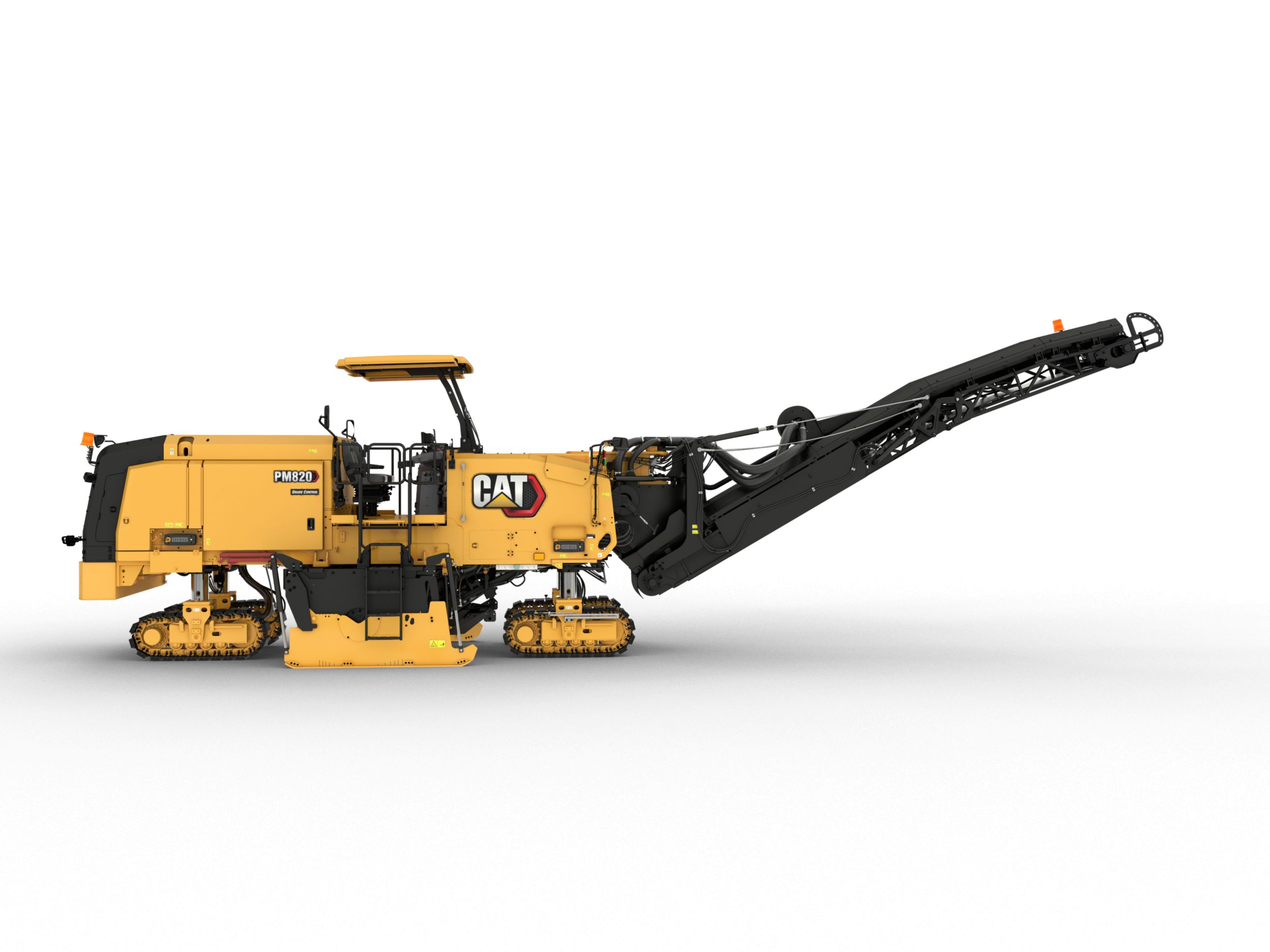 Brand

Caterpillar

Status

Current

Milling Width

79.1 in / 2010 mm

Rated Power

806 HP / 601 kW

Operating Weight

79653 lb / 36130 kg

Maximum Milling Depth

13 in / 330 mm

Rotor Speeds

100 / 109 / 118 rpm

Number of Bits

178

Engine

Cat C18 twin-turbo

Maximum Travel Speed

3.7 mile/h / 5.9 km/h

Maximum Milling Speed

328 ft/min / 100 m/min

Operating Length - Conveyor Up

47.64 ft / 14.52 m

Operating Width

10.2 ft / 3.11 m

Height - Canopy

13.29 ft / 4.05 m

Maximum Truck Clearance

15.94 ft / 4.86 m

Minimum Right Cutting Radius

6.56 ft / 2 m

Minimum Left Cutting Radius

6.56 ft / 2 m

Conveyor Swing

60 degrees from center

Transport Length

40.78 ft / 12.43 m

Transport Width

8.27 ft / 2.52 m

Transport Height

9.84 ft / 3 m

Transport Weight

71055 lb / 32230 kg

Water Spray System Tank

898.2 gal (US) / 3400 l

Cooling System

27.5 gal (US) / 104 l

Fuel Tank

292.7 gal (US) / 1108 l

Engine Oil

17.2 gal (US) / 65 l

Hydraulic Tank

29.9 gal (US) / 113 l